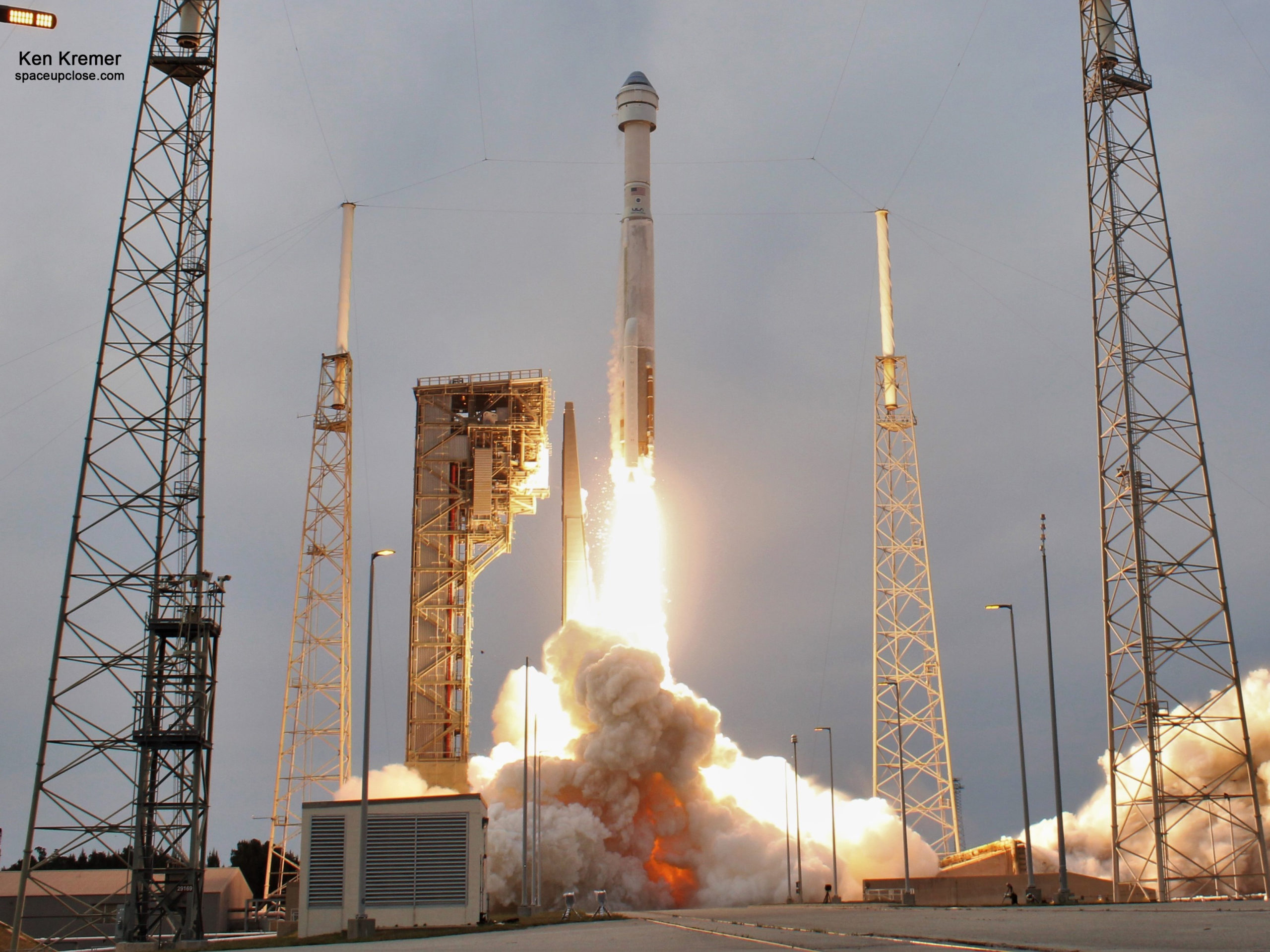 For SpaceUpClose.com & RocketSTEM
KENNEDY SPACE CENTER/CAPE CANAVERAL SPACE FORCE STATION, FL – Boeing's CST-100 Starliner human rated crew capsule magnificently blasted off at last atop a United Launch Alliance (ULA) Atlas V rocket, Wednesday evening, May 19,  on a long delayed and high stakes uncrewed test flight for NASA from launch pad 41 on Cape Canaveral Space Force Station in Florida to the International Space Station – putting on as stunning sky show for crowds gathered around the Space Coast.
The long awaited Orbital Flight Test-2 (OFT-2) mission is a demonstration test flight required to prove that the Boeing capsule can safely and successfully ferry NASA and partners astronauts to and from low Earth orbit and the space station – following the failure of the original OFT-1 mission to dock at the ISS back in 2019 followed by a technical scrub of the OFT-2 mission last year that required some none months of further repairs to the maneuvering thrusters.
Liftoff of the 17-story tall ULA Atlas V carrying the Boeing CST-100 Starliner on the critical OFT-2 mission for NASA took place as scheduled at dinnertime Thursday, May 19 at 6:54 p.m. EDT (2254 GMT) from seaside Space Launch Complex-41 on Cape Canaveral Space Force Station in Florida during an instantaneous launch window.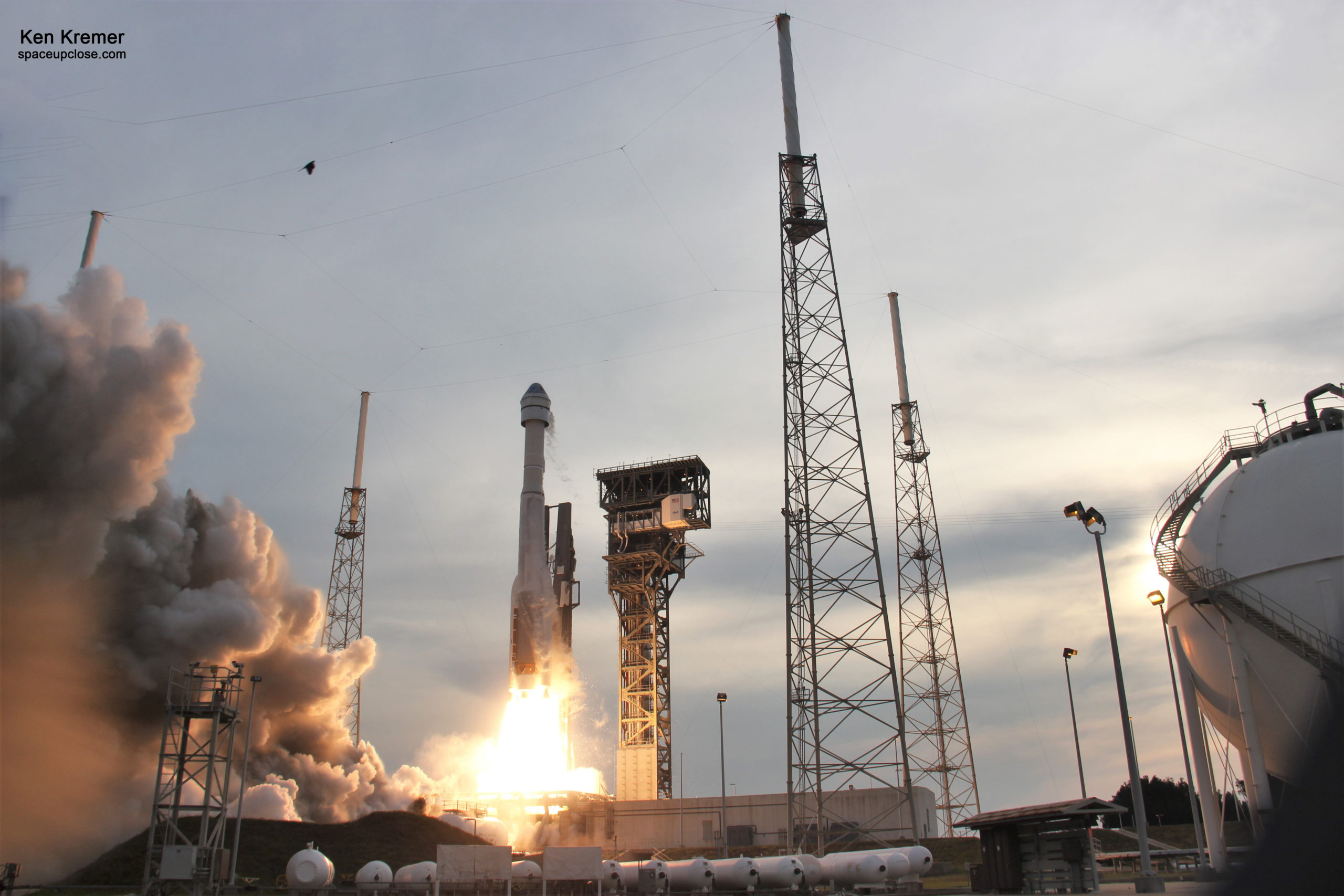 "I am so proud of the NASA, Boeing and United Launch Alliance teams who have worked so hard to see Starliner on its way to the International Space Station," said NASA Administrator Bill Nelson.
"Through adversity, our teams have continued to innovate for the benefit of our nation and all of humanity. I look forward to a successful end-to-end test of the Starliner spacecraft, which will help enable missions with astronauts aboard."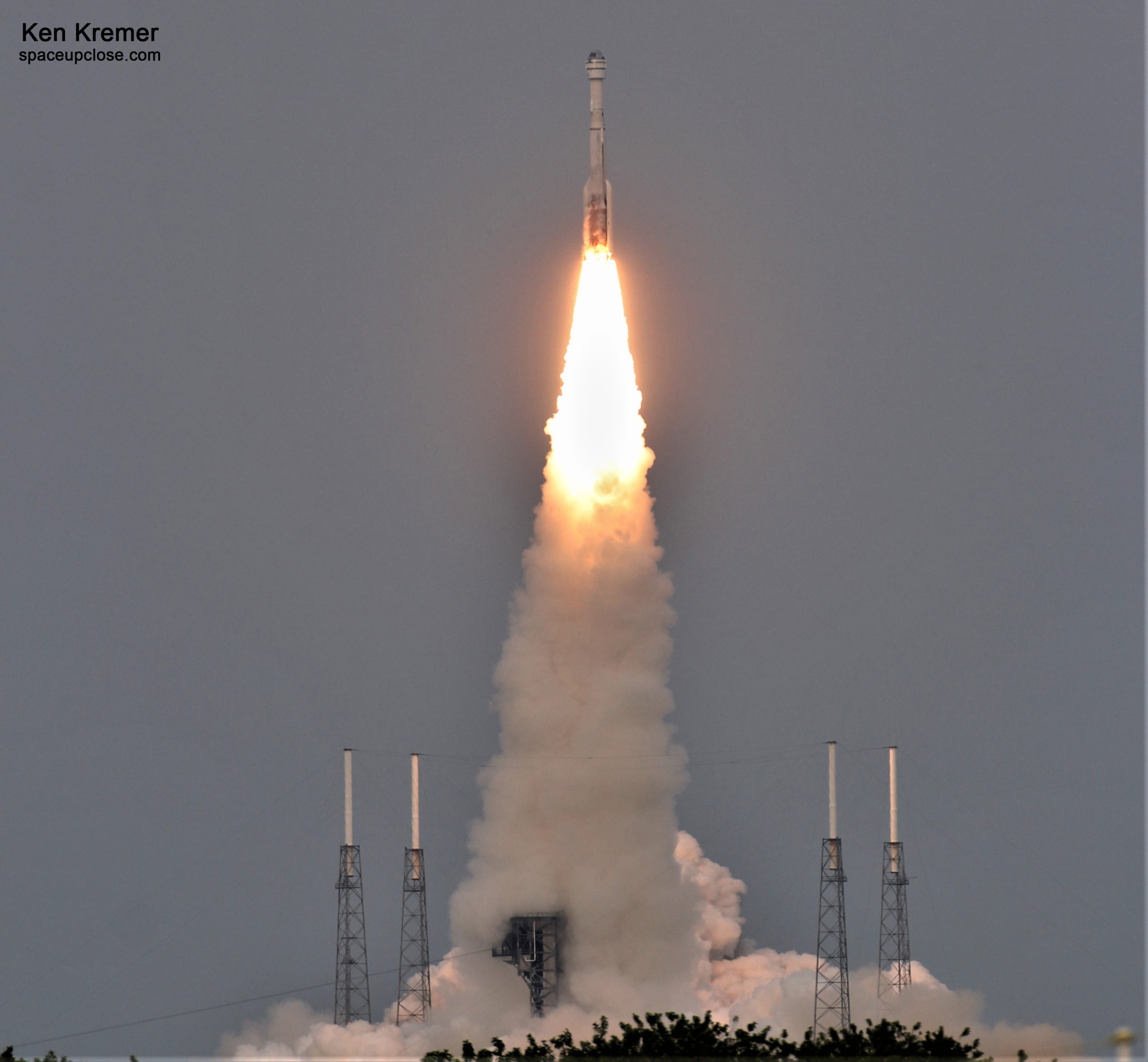 The goal of next-generation Starliner spacecraft on the OFT-2 mission is designed to test the end-to-end capabilities of the crew-capable system as part of NASA's Commercial Crew Program
Furthermore the Starliner capsule fired its OMAC  (Orbital Maneuvering and Attitude Control) maneuvering thrusters 31 minutes after liftoff for 40 seconds to complete the critical Orbital Insertion Burn – thereby further bolstering confidence by placing the spacecraft on course for a rendezvous and docking with the space station just over 24 hours later Friday evening May 20.
At the post launch briefing it was disclosed that 2 of the 12 OMAC thrusters failed but that the remaining ones picked up the slack and  should not negatively impact the mission.
Enjoy our Atlas V/Starliner launch, prelaunch and rocket rollout photos taken by the team of Ken Kremer and Jean Wright for Space UpClose.
The landmark OFT-2 mission finally took flight after years of delay and gets the program back on track to eventually transport astronauts to space and back– as soon as years end if all goes well.
After Starliner successfully completes its mission and is certified the U.S. will achieve the long desired goal of the Commercial Crew Program of having two independent and dissimilar redundant spacecraft systems to ferry our astronauts to the ISS and back.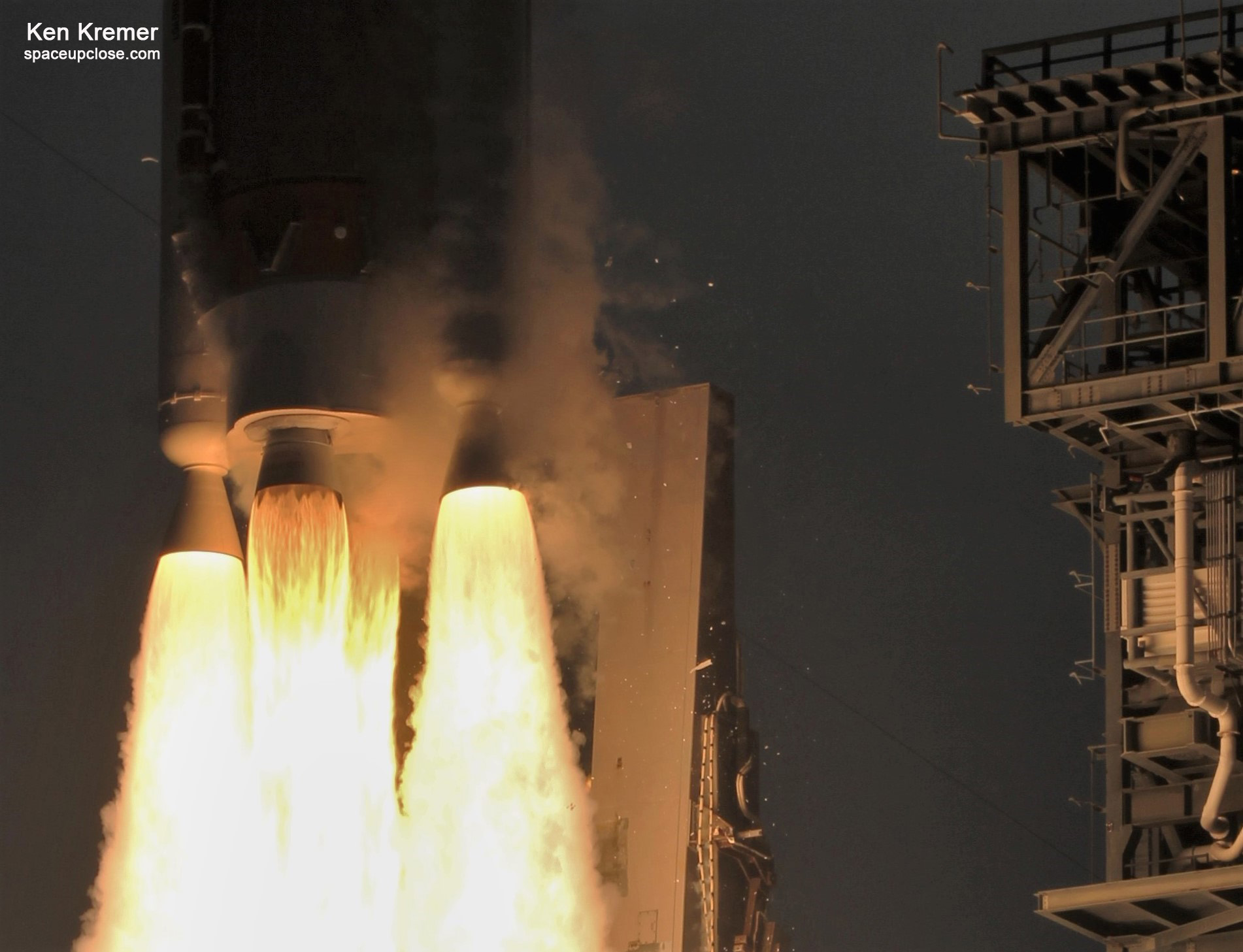 SpaceX Crew Dragon has flown 5 missions for NASA to the ISS over the past two years
"Launch and orbital insertion are major milestones for the company's second uncrewed flight, bringing the U.S. closer to having two independent crew systems flying missions to and from the space station," says NASA.
Starliner is scheduled to dock to the forward facing port of the station's Harmony module just over 24 hours after liftoff at 7:10 p.m. ET on Friday, May 20.
The ISS crew will actively monitor the approach
If all goes well, Starliner will remain docked at the ISS for about 4 or 5 days
After a successful docking, the crew of Expedition 67 will open Starliner's hatch about 11:45 a.m. Saturday, May 21.
Coverage of docking and hatch opening will air live on NASA Television, the NASA app, and the agency's website.
"I am incredibly grateful to our NASA, Boeing, and United Launch Alliance teams that have demonstrated persistence, resolve, and dedication to ensuring we were ready for launch today and for this flight test," said Kathryn Lueders, NASA associate administrator for space operations at NASA Headquarters in Washington.
"We have learned so much as we've worked together to prepare for this mission, and we look forward to watching the spacecraft arrive at the space station for the first time and continuing to learn and improve as we prepare to fly our astronauts on Starliner."
For the flight test, Starliner is carrying about 500 pounds of NASA cargo and crew supplies and more than 300 pounds of Boeing cargo to the International Space Station.
Following certification, NASA missions aboard Starliner will carry up to four crew members to the station, enabling the continued expansion of the crew and increasing the amount of science and research that can be performed aboard the orbiting laboratory.
Boeing added the OFT-2 mission at their own expense totaling about $595 Million to get the Starliner program back on track by making repairs to hardware and software issues uncovered during both launch campaigns and required by a joint investigation board of inquiry that listed some 80 areas of improvement in a formally issued Review document
The OFT-2 mission was initially scheduled to blast off last summer in August 2021 but was scrubbed after heavy rain squalls and after the Boeing team discovered 13 stuck propulsion valves inside the Starliner service module that must function to maneuver the capsule in flight and in orbit.
OFT-2 will provide valuable data toward NASA certifying Boeing's crew transportation system for regular flights with astronauts to and from the space station.
"We've learned a lot about the capability of our spacecraft and the resilience of our team since the first Starliner launch," said Mark Nappi, vice president and program manager, Boeing Commercial Crew Program. "We still have a lot of operational testing ahead as we prepare to rendezvous with the space station, but we're ready to demonstrate the system we've worked so hard on is capable of carrying astronauts to space."
"ULA controlled the launch of the Atlas V rocket from its Atlas Spaceflight Operations Center in Cape Canaveral. As Starliner ascended into space, Boeing commanded the spacecraft from its mission control center at NASA's Kennedy Space Center in Florida. Boeing and ULA teams also provided support to controllers from Kennedy Space Center and Colorado, respectively, throughout the countdown to launch. NASA teams will monitor space station operations throughout the flight from Mission Control Center at the agency's Johnson Space Center in Houston."
"We are proud of our partnership role with Boeing in NASA's Commercial Crew Program and want to thank our mission partners as this is truly a collective accomplishment," said Tory Bruno, president and CEO, United Launch Alliance. "The successful launch today marks the first critical step toward the future of humans spaceflight onboard an Atlas V and we look forward to the remainder of the mission and to safely flying astronauts in the future."
NASA says now that Starliner is scheduled to depart the space station Wednesday, May 25, when it will undock and return to Earth, with a desert landing in the western U.S. at White Sands Space Harbor as the primary landing site – same as the OFT-1 mission in 2019
Starliner will return with more than 600 pounds of cargo, including three Nitrogen Oxygen Recharge System reusable tanks that provide breathable air to station crew members. The tanks will be refurbished on Earth and sent back to station on a future flight.
Inside the Starliner is "Rosie the Rocketeer," an anthropometric test device, and about 800 pounds (362 kilograms) of cargo, 500 pounds (227 kilograms) for NASA, bound for the International Space Station.
The OFT-2 launch marked the 150th ULA launch with 100 percent mission success.
This marks the 93rd successful launch of an Atlas V rocket, and the 104th launch from SLC-41.
The Atlas V RD-180 main engine and two solid rocket boosters ignited to generate more than a million and half pounds of thrust to lift the rocket away from the pad. The RD-180 main engine burns 48,800 gallons of liquid oxygen and 25,000 gallons of RP-1 fuel, a highly refined kerosene, to generate 860,300 pounds of thrust.
The Centaur is powered by two RL10A-4-2 engines that consume 12,300 gallons of liquid hydrogen and 4,150 gallons of liquid oxygen to generate a combined 44,600 pounds of thrust to shape the desired trajectory for Starliner. During the flight, Atlas V accelerated Starliner to 17,475 mph – just shy of orbital velocity.
The powered flight of Atlas V to launch Starliner's OFT-2 lasts about 11 minutes and 55 seconds. The first stage of flight lasted about 4 minutes and 30 seconds. The single burn of the Centaur lasted about 7 minutes and 10 seconds.
Watch Ken's commentary about Starliner, NASA SLS WDR demo test, NASA Crew-3, Crew 4 and SpaceX AX-1 missions and Starlink.
May 19/20:  WFTV ABC Orlando and Fox 35 Orlando fa\eatured my prelaunch and post launch commentary about the critical nature of the Boeing Starliner OFT-2 mission for NASA
https://www.wftv.com/news/local/successful-boeing-starliner-launch-iss-could-pave-way-additional-astronaut-transportation/AZ5D54V5BFH3DAZHDOVG3BJOXY/
https://www.fox35orlando.com/news/ula-to-launch-boeings-starliner-spacecraft-from-florida-on-thursday
May 11: WFTV ABC Orlando News featured my commentary & analysis about Boeing Starliner crew capsule targeting launch May 19 for long delayed OFT2 uncrewed test flight for NASA after completing FRR this afternoon. It must dock at ISS to be considered successful to enable follow-on NASA astronaut flights maybe by late 2022
https://www.wftv.com/news/local/nasa-boeing-teams-provide-update-high-stakes-starliner-flight-test/66HXSRSMNZCIPECB732WGRSVN4/
Apr 29: WKMG CBS 6 with my commentary about the record setting Falcon 9 turnaround of 21 days since the Axiom-1 launch
Apr 22: Fox 35 Orlando features my analysis of the busy week ahead in space with weather delayed Earth return of AX-1 crew this weekend, launch of 4 NASA/ESA Crew-4 astronauts on SpaceX Crew Dragon NET Apr 26 & rollback of NASA SLS to VAB for repairs
https://www.fox35orlando.com/video/1060937
Apr 20:  WFTV ABC News Orlando features my commentary about the SpaceX static fire and impact of weather induced delays to departure of Ax-1 and launch of Crew-4.
https://www.wftv.com/news/local/unfavorable-weather-delays-axiom-1-splashdown/JT7VT5AMLZHU7NHAHTAR2265PA/
Apr 15/16 & Apr 12/13:  WFTV ABC News Orlando and WKMG CBS 6 Orlando featured my comments about NASA SLS WDR wet dress rehearsal countdown and fueling demo test and human launches to ISS:
https://www.wftv.com/news/video-small-valve-forcing-nasa-modify-critical-test-artemis-i/83355ff1-ce09-4b83-bbf0-23446b95abf7/
https://www.clickorlando.com/news/local/2022/04/12/nasa-resumes-final-test-before-launch-of-sls-moon-rocket/
Apr 6: WFTV ABC 9 Orlando featured my comments about 1st fully private astronaut launch to ISS by SpaceX on AX-1 mission:https://www.wftv.com/news/local/brevard-county/first-all-private-astronaut-mission-iss-set-liftoff-kennedy-space-center-this-week/FYE5QAT735BA7G42O6IVCJGB4Q/
Apr 4 & 5: WFTV ABC News Orlando and Fox 35 Orlando featured my comments about NASA SLS WDR wet dress rehearsal countdown and fueling demo test and human launches to ISS
https://www.wftv.com/news/local/nasa-artemis-mission-hold-testing-delayed-second-time/L637Y3454VDJPBZRH4RZMM2XRQ/
https://www.fox35orlando.com/news/nasa-resumes-artemis-i-wet-dress-rehearsal-countdown
Watch Ken's continuing reports about Artemis, SLS, Orion and NASA missions, SpaceX Crew and Cargo Dragons, SpaceX Axiom-1, JWST, IXPE, DART, Lucy Asteroid mission, GOES, SpaceX Starlink, Commercial Crew and Starliner and Crew Dragon, Blue Origin and Space Tourism, and onsite for live reporting of upcoming and recent SpaceX and ULA launches including Crew 1 & 2 & 3 & 4, ISS, Solar Orbiter, Mars 2020 Perseverance and Curiosity rovers, NRO spysats and national security missions and more at the Kennedy Space Center and Cape Canaveral Space Force Station.
Stay tuned here for Ken's continuing Earth and Planetary science and human spaceflight news: www.kenkremer.com –www.spaceupclose.com – twitter @ken_kremer – email: ken at kenkremer.com
Dr. Kremer is a research scientist and journalist based in the KSC area, active in outreach and interviewed regularly on TV and radio about space topics.
………….
Ken's photos are for sale and he is available for lectures and outreach events
Please consider supporting Ken's work by purchasing his photos and/or donating at Patreon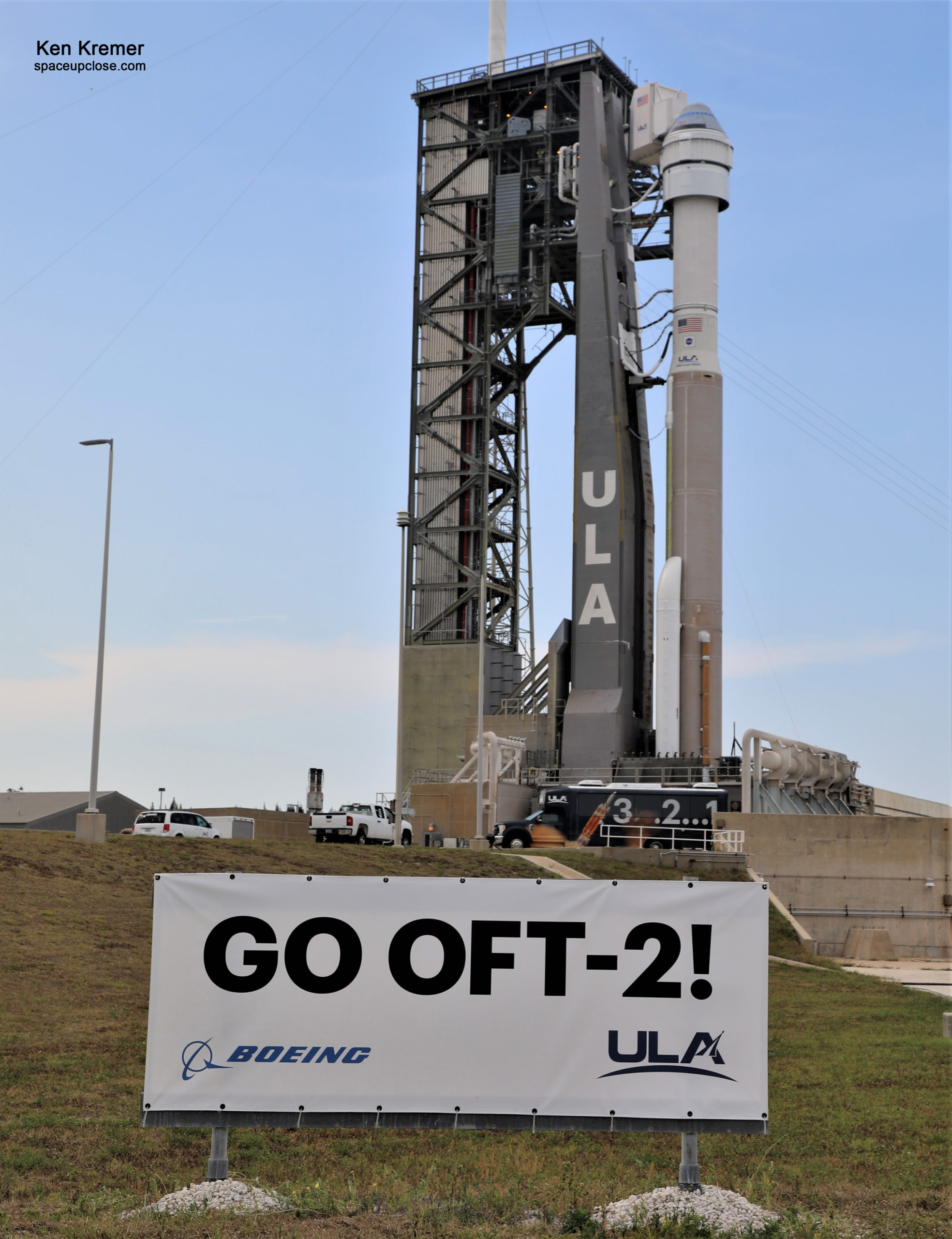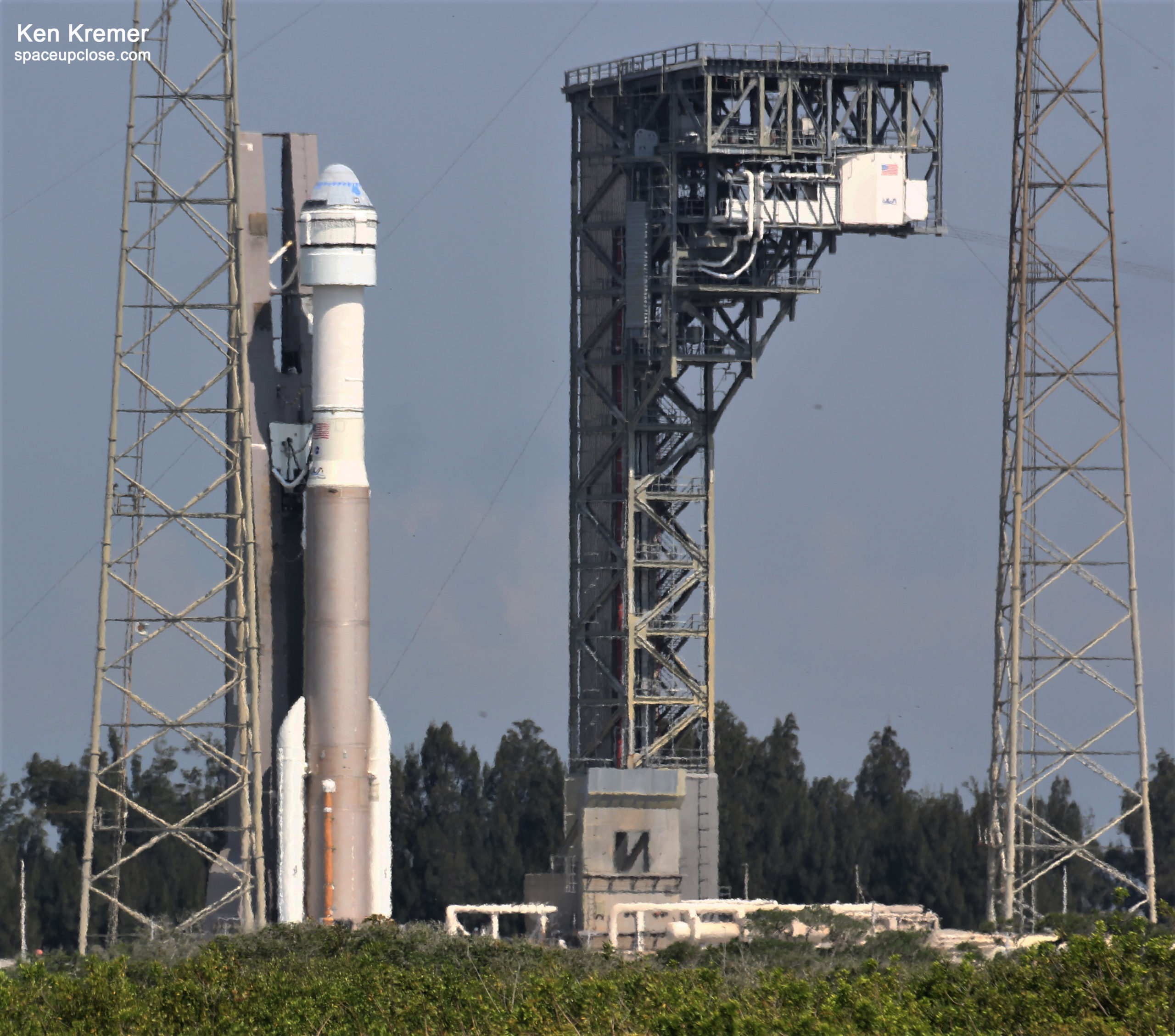 x