For SpaceUpClose.com & RocketSTEM
CAPE CANAVERAL SPACE FORCE STATION, FL – Flyng for only the second time a SpaceX Falcon 9 blasted off into cloudy skies carrying the commercial SES-22 television broadcasting satellite to geosynchronous transfer orbit (GTO) after threatening clouds luckily skirted the Cape in the final hour enabling the launch Wednesday afternoon, June 29 from Florida's Space Coast – and it nailed the droneship landing at sea as well.
The beautiful SES-22 liftoff marked SpaceX's phenomenal 27th launch of the year and 5th of June – continuing a phrenetic launch pace of approximately 1 per week that will soon surpass the company's record breaking 31 launches achieved in all of last year, 2021.
Liftoff of the 229-foot-tall (70-meter) SpaceX recycled Falcon 9 on the SES-22 mission took place at 5:04 p.m. EDT, or 2104 GMT, on Thursday, June 29, from Space Launch Complex 40 (SLC-40) at Cape Canaveral Space Force Station in Florida right at the opening of the 2-hour launch window to GTO
All nine Merlin 1D first stage engines ignited with 1.7 million pounds of thrust fueled by liquid oxygen (LOX) and RP-1 refined kerosene propellants.
The Falcon 9 was visible for a brief time darting in between hefty louds – rumbling loudly as it thundered overhead and soon disappeared behind obscuring clouds on the easterly equatorial trajectory.
"This stuff never gets old. #SES22. Great shot from @ken_kremer #Falcon9 #SpaceX @SES_Satellites," tweeted SES Satellites CEO Steve Collar with my launch photo taken from cape Canaveral Space Force Station.
This stuff never gets old. #SES22. Great shot from @ken_kremer #Falcon9 #SpaceX @SES_Satellites pic.twitter.com/Cj3JcUTb7v

— Steve Collar (@steviecSES) June 29, 2022
The relatively clean reused Falcon 9 first stage booster designated as B1073 performed flawlessly and soared to space and back for the second time.
It landed safely and upright on the 'A Shortfall of Gravitas' (ASOG) droneship prepositioned some 400 miles (650 km) east of Florida about eight and a half minutes after liftoff
"We are thrilled with the successful launch of SES-22, thanks to our partners at Thales Alenia Space and SpaceX," said Steve Collar, CEO of SES.
"The launch of SES-22, together with other upcoming C-band satellite launches scheduled this year, will enable us to continue providing the high-quality services that our customers have been accustomed to over the last several decades, while freeing up spectrum that will enable the US to rapidly unlock the promise of 5G."
SES-22 was deployed from the upper stage about 33 minutes after liftoff in an orbit inclined 16.5 degrees to the equator and an initially elliptical orbit ranging between 192 miles and 22,137 miles (310 x 35,627 kilometers).
SES confirmed the satellite was healthy in contact with ground controllers.
The 7,700 pound (3.5 metric ton) SES-22 satellite was built by Thales Alenia Space based in France.
SES, based in Luxembourg, is one of the largest telecommunications satellite operators in the world.
SES-22 is significant in that it is also marked the first of 5 new upgraded C-Band television satellites set for launch this year by both SpaceX and competitor ULA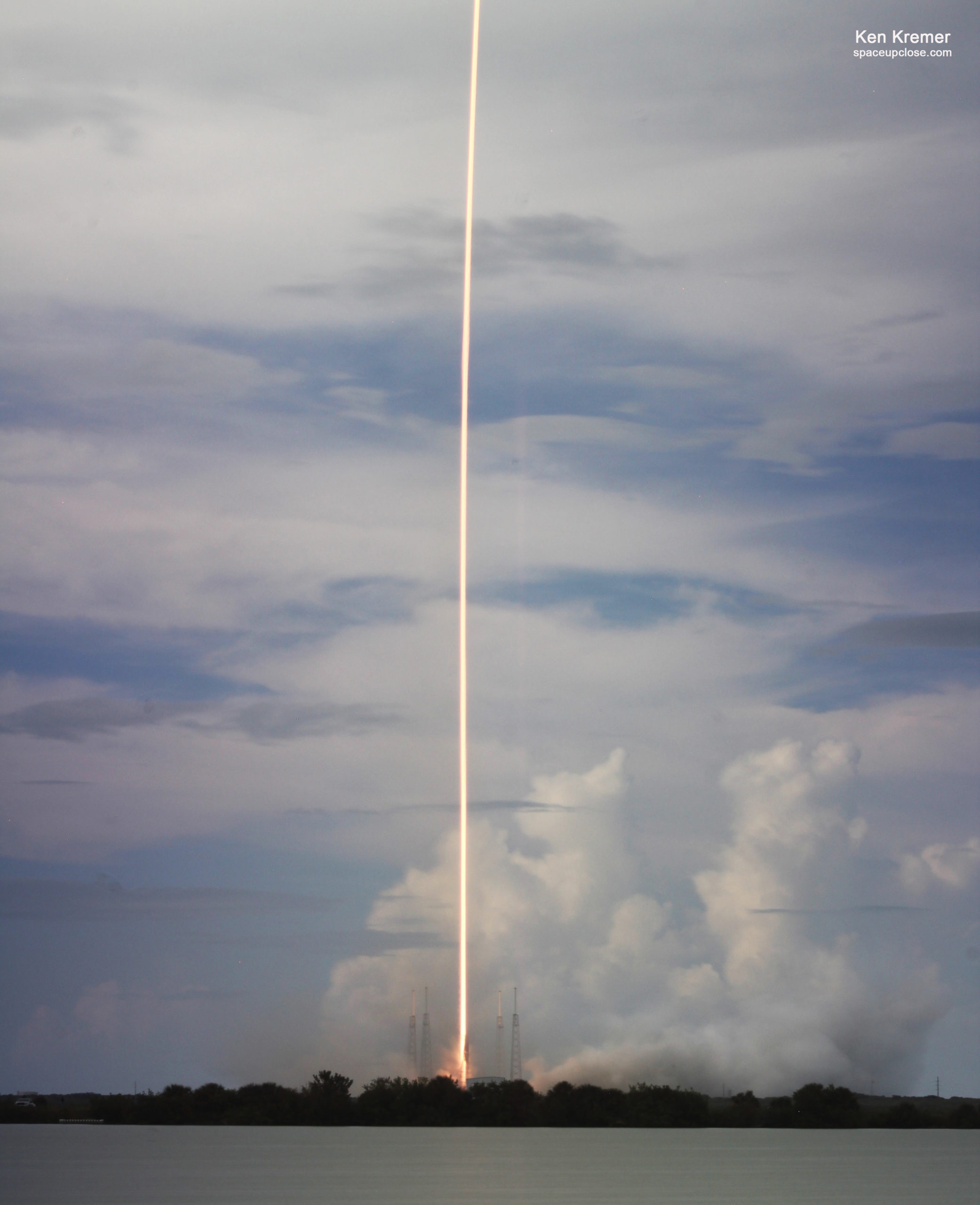 "The first of SES's C-band satellites dedicated to freeing up the lower 300 MHz of C-band spectrum and will operate in the 135 degrees West orbital slot," says SES
It will deliver TV and radio to millions of American homes and provide other critical data transmission services.
SES-22 is expected to start operations by early August 2022.
Watch Ken's commentary about NASA SLS WDR demo test, SpaceX missions including NASA Crew-3 and Crew 4, AX-1, Nilesat 301, Transporter-5, Starlink, Boeing Starliner, and NASA TROPICS  1.
Jun 21/22: WFTV ABC Orlando News featured my commentary about NASA's 4th SLS WDR fueling attempt Jun 20, the results and whats ahead after NASA conducts detailed analysis of the 1st tanking test to completely load both stages with LOX & LH2 and run the terminal count to T-29 sec despite a hydrogen leak – achieving many but not all objectives
https://www.wftv.com/news/local/nasa-calls-artemis-i-dress-rehearsal-success-despite-missed-objectives/R3DRBDMTHZFCRNVAFNTJNQMZ5M/
Jun 17: Fox 35 Orlando featured my commentary about the selection of 2 NASA astronauts to fly on the 1st crewed mission of Boeing Starliner capsule on CFT test flight late 2022 – and what it means for human spaceflight to have a 2nd US commercial crew provider following the successful Boeing Starliner OFT-2 mission for NASA
Jun 9/10: WFTV ABC Orlando features my commentary about the upcoming NASA TROPICS  1 & 2 cubesat science launch on an Astra Rocket 3.3 from pad 46 for NASA which will study the formation and evolution of Tropical Cyclones and Hurricanes. Two more launches will follow for 6 TROPICS cubesats altogether over next few months
https://www.wftv.com/news/local/brevard-county/astra-space-aims-launch-nasa-science-mission-kennedy-space-center-this-weekend/OEJBL6ZCCRCEXDAJF54ENZZ7BI/
https://www.wftv.com/news/video-astra-space-aims-launch-nasa-science-mission-kennedy-space-center-this-weekend/c95c091b-7550-492f-8143-f8227ee9152e/
Jun 8: WFTV ABC Orlando features my commentary about the SpaceX Falcon 9 launch of NileSat301 telecom sat for Egypt
June 6/7: WFTV ABC Orlando features my commentary about completing 2nd rollout to pad 39B for 2nd round WDR tanking test, what's involved in and why its critical to the future of Project Artemis:
https://www.wftv.com/news/video-nasa-takes-one-step-closer-going-back-moon-with-artemis-i-mission/0a9b7f73-1a59-4455-a638-9090ed1736fd/
Watch Ken's continuing reports about SpaceX missions Artemis, SLS, Orion and NASA missions, SpaceX Crew and Cargo Dragons, SpaceX Axiom-1, JWST, IXPE, DART, Lucy Asteroid mission, GOES, SpaceX Starlink, Commercial Crew and Starliner and Crew Dragon, Blue Origin and Space Tourism, and onsite for live reporting of upcoming and recent SpaceX and ULA launches including Crew 1 & 2 & 3 & 4, ISS, Solar Orbiter, Mars 2020 Perseverance and Curiosity rovers, NRO spysats and national security missions and more at the Kennedy Space Center and Cape Canaveral Space Force Station.
Stay tuned here for Ken's continuing Earth and Planetary science and human spaceflight news: www.kenkremer.com –www.spaceupclose.com – twitter @ken_kremer – email: ken at kenkremer.com
Dr. Kremer is a research scientist and journalist based in the KSC area, active in outreach and interviewed regularly on TV and radio about space topics.
………….
Ken's photos are for sale and he is available for lectures and outreach events
Please consider supporting Ken's work by purchasing his photos and/or donating at Patreon
https://www.patreon.com/kenkremer
x
x