For SpaceUpClose.com & RocketSTEM
CAPE CANAVERAL SPACE FORCE STATION, FL –  The U.S. Space Force will launch a new $1.1 Billion experimental missile warning and detection satellite on the venerable United Launch Alliance (ULA) Atlas V rocket on July 1 which is outfitted with an advanced new infrared sensor payload serving as a pathfinder for further future upgrades critical for U.S. national security needs – weather permitting which is not promising.
Following a scrub for multiple significant lightning strikes and stormy weather too close to the launch pad on Thursday June 30, the ULA Atlas V rocket carrying the USSF-12 mission to geosynchronous orbit is retargeted for Friday, July 1.
Liftoff of the ULA Atlas V on the USSF-12 testbed mission for the Space Force is slated for 6:00 p.m. EDT (2200 GMT) from  seaside Space Launch Complex-41 (SLC-41) at Cape Canaveral Space Force Station in Florida, on July 1.
The launch window lasts two hours until closing at 8 p.m. EDT.
Weather is poor and forecast as only 20 to 40% GO.
The ULA Atlas V 541 rocket is launching the USSF-12 mission for the U.S. Space Force's Space Systems Command (SSC).
The USSF-12 mission comprises two co-manifested payloads: The Wide Field of View (WFOV) Testbed for SSC's Space Sensing Directorate as the upper payload and the USSF-12 Ring spacecraft for the Defense Department's Space Test Program as the lower payload which hosts several classified payloads.
WFOV will test new technologies for the Space Force's Overhead Persistent Infrared (OPIR) program and reduce risks associated with the next generation of missile warning satellites. The testbed will inform future systems by demonstrating new capabilities to detect threats to the U.S. and our allies and keep pace with adversary advancements.
You can watch the launch live via ULA broadcast of the USSF-12 launch beginning 20 minutes prior to launch at:  https://www.ulalaunch.com.
"The USSF-12 GEO WFOV Testbed demonstration will mature emerging, large-format, focal-plane sensor technology, and algorithm development, with the ability to continuously monitor up to one-third of the Earth's surface and validate multi-mission capabilities for the future Overhead Persistent Infrared (OPIR) architecture. The co-manifested USSF-12 Ring, based on the Northrop Grumman ESPAStar product line, known as Long Duration Propulsion ESPA (LDPE)-1, provides modular, flexible features that, when combined with available launch opportunities, create a "freight train to space" for experiments and prototypes in geosynchronous Earth orbit (GEO), " says the Space Force.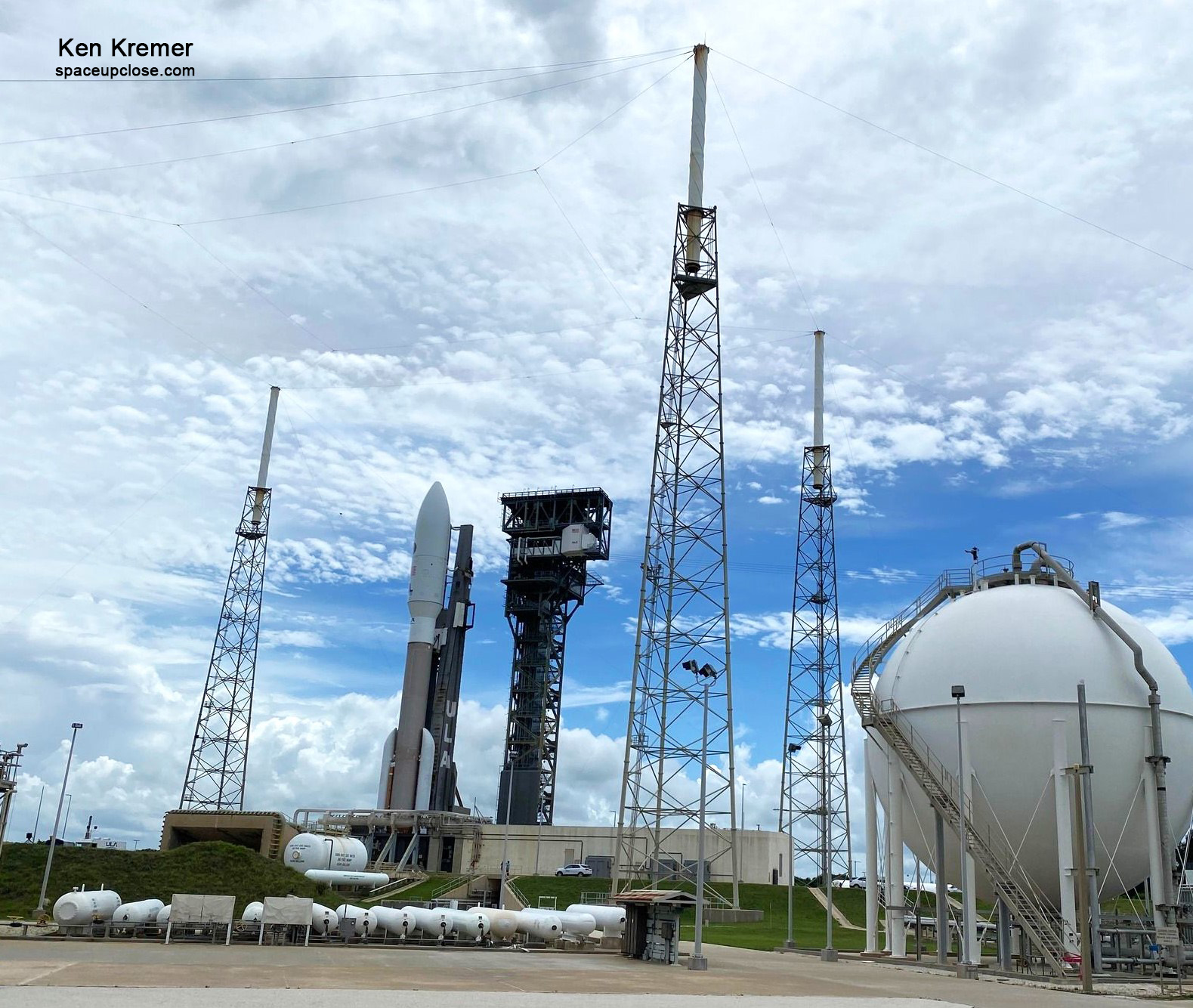 The spacecraft was built by Millennium Space Systems, a Boeing Company, on the AQUILA M8 bus and features the Wide Area Six-degree Payload (WASP) infrared staring sensor built by L3Harris Technologies.
The mission is sponsored by the Space Systems Command (SSC) and managed by NASA's Ames Research Center.
"Our GEO WFOV Testbed can simultaneously perform strategic missions, such as missile warning and battlespace awareness, as well as tactical missions directly supporting the warfighter, by continuously monitoring up to one-third of the Earth's surface with just a single sensor," said Col. Heather Bogstie, senior materiel leader for Resilient Missile Warning, Tracking, and Defense in SSC's Acquisition Delta.
"WFOV is also pathfinding the process to operationalize OPIR data and obtain Integrated Tactical Warning/Attack Assessment (ITW/AA) certification for upcoming Resilient MW/MT/MD missions."
The ULA Atlas V rocket launches in the 541 configuration rocket that includes a 5-meter short payload fairing.
The Atlas booster for this mission was powered by the Russian made RD AMROSS RD-180 main engine.
Aerojet Rocketdyne provided the RL10C-1 engine for the Centaur upper stage and Northrop Grumman provided the four Graphite Epoxy Motor (GEM) 63 solid rocket boosters powering the first stage for a total of 2.3 million pounds of liftoff thrust.
Watch Ken's commentary about NASA SLS WDR demo test, SpaceX missions including NASA Crew-3 and Crew 4, AX-1, Nilesat 301, Transporter-5, Starlink, Boeing Starliner, and NASA TROPICS  1.
Jun 21/22: WFTV ABC Orlando News featured my commentary about NASA's 4th SLS WDR fueling attempt Jun 20, the results and whats ahead after NASA conducts detailed analysis of the 1st tanking test to completely load both stages with LOX & LH2 and run the terminal count to T-29 sec despite a hydrogen leak – achieving many but not all objectives
https://www.wftv.com/news/local/nasa-calls-artemis-i-dress-rehearsal-success-despite-missed-objectives/R3DRBDMTHZFCRNVAFNTJNQMZ5M/
Jun 17: Fox 35 Orlando featured my commentary about the selection of 2 NASA astronauts to fly on the 1st crewed mission of Boeing Starliner capsule on CFT test flight late 2022 – and what it means for human spaceflight to have a 2nd US commercial crew provider following the successful Boeing Starliner OFT-2 mission for NASA
Jun 9/10: WFTV ABC Orlando features my commentary about the upcoming NASA TROPICS  1 & 2 cubesat science launch on an Astra Rocket 3.3 from pad 46 for NASA which will study the formation and evolution of Tropical Cyclones and Hurricanes. Two more launches will follow for 6 TROPICS cubesats altogether over next few months
https://www.wftv.com/news/local/brevard-county/astra-space-aims-launch-nasa-science-mission-kennedy-space-center-this-weekend/OEJBL6ZCCRCEXDAJF54ENZZ7BI/
https://www.wftv.com/news/video-astra-space-aims-launch-nasa-science-mission-kennedy-space-center-this-weekend/c95c091b-7550-492f-8143-f8227ee9152e/
Jun 8: WFTV ABC Orlando features my commentary about the SpaceX Falcon 9 launch of NileSat301 telecom sat for Egypt
June 6/7: WFTV ABC Orlando features my commentary about completing 2nd rollout to pad 39B for 2nd round WDR tanking test, what's involved in and why its critical to the future of Project Artemis:
https://www.wftv.com/news/video-nasa-takes-one-step-closer-going-back-moon-with-artemis-i-mission/0a9b7f73-1a59-4455-a638-9090ed1736fd/
Watch Ken's continuing reports about SpaceX missions Artemis, SLS, Orion and NASA missions, SpaceX Crew and Cargo Dragons, SpaceX Axiom-1, JWST, IXPE, DART, Lucy Asteroid mission, GOES, SpaceX Starlink, Commercial Crew and Starliner and Crew Dragon, Blue Origin and Space Tourism, and onsite for live reporting of upcoming and recent SpaceX and ULA launches including Crew 1 & 2 & 3 & 4, ISS, Solar Orbiter, Mars 2020 Perseverance and Curiosity rovers, NRO spysats and national security missions and more at the Kennedy Space Center and Cape Canaveral Space Force Station.
Stay tuned here for Ken's continuing Earth and Planetary science and human spaceflight news: www.kenkremer.com –www.spaceupclose.com – twitter @ken_kremer – email: ken at kenkremer.com
Dr. Kremer is a research scientist and journalist based in the KSC area, active in outreach and interviewed regularly on TV and radio about space topics.
………….
Ken's photos are for sale and he is available for lectures and outreach events
Please consider supporting Ken's work by purchasing his photos and/or donating at Patreon
https://www.patreon.com/kenkremer
x