For SpaceUpClose.com & RocketSTEM
CAPE CANAVERAL, FL –  China's heavy lift Long March 5B rocket successfully launched a new science module to orbit and docked it to their growing space station, Sunday morning, July 24, with a trio of astronauts serving aboard in another major sign of the country's burgeoning space programs and capabilities.
While the rocket launch and laboratory module docking to China's Tiangong Space Station were a great success, unfortunately the Chinese 1st stage booster apparently will fall to Earth as another uncontrolled reentry with no targeting capability.
Liftoff of the 23 ton Wentian science module protected inside the nose cone atop the 176-foot-tall (53.7-meter) Long March 5B rocket took place at 2:22 a.m. EDT (0622 GMT 2:22 p.m.   Beijing Time) Sunday, July 24 from the Wenchang Spacecraft Launch Site in south China's Hainan Province.
The launch was broadcast live on Chinese TV and also carried live on CGTN English language TV.
A large group of Chinese spectators watched locally on Hainan Island, China's southernmost province, as seen on CGTN video and in photos.
The massive 23 ton core stage booster could reenter Earth's atmosphere sometime Saturday, July 30, but more exact predictions on ground tracks days in advance are difficult due to vagaries in atmospheric conditions
Wentian which means 'quest for the heavens' separated from the carrier rocket about eight minutes later and entered its planned orbit.
The China Manned Space Agency (CMSA) which runs the program declared the launch mission a complete success moments later after the separation.
Just hours later Wentian docked to the axial front facing port on the already orbiting Tianhe module at 3:13 p.m. EDT (1913 GMT) Sunday as the vehicles flew about 240 miles (385 kilometers) at an inclination of about 42 degrees over the Indian Ocean west of Australia.
Tianhe serves as the core module of China's Tiangong Space Station and was launched in April 2021.
The front facing docking port was freed up last week after the Chinese Tianzhou-3 cargo ship undocked on July 17 leaving it available for the upcoming Wentian lab module.
The three person Shenzhou-14 crew onboard watched the launch from orbit.
The two man and one woman Shenzhou-14 crew launched to Tiangong in June and have been eagerly awaiting Wentian.
After the docking they entered Wentian for the first time just a few hours later at 10:03 p.m. EDT Sunday (0203 GMT Monday).
They are about one month into their six month mission and will remain on board the station until December.
Wentian measures 58.7 ft (17.9 meters) in length and has a maximum diameter of 4.2 meters and a mass of 50,000 pounds (23 metric tons).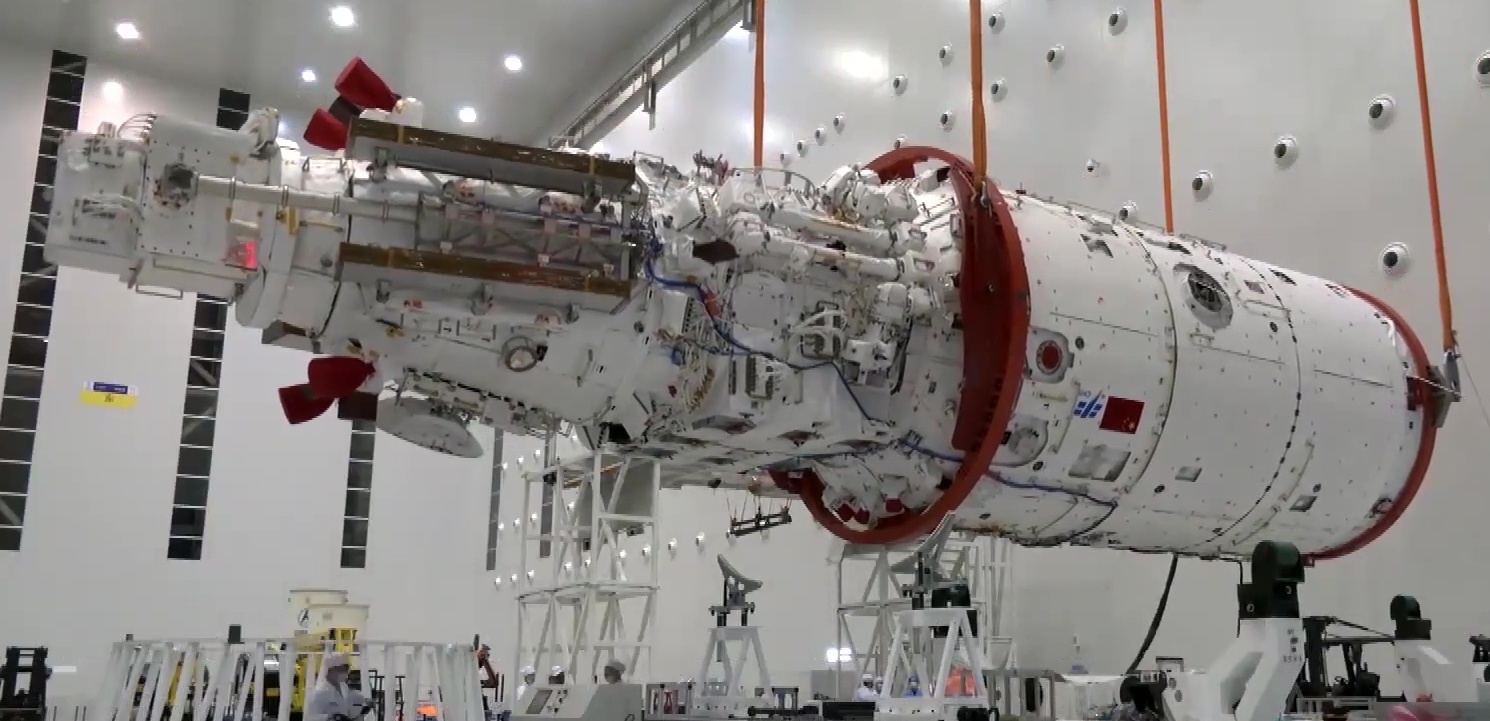 The Wentian laboratory pressurized module is the largest and heaviest spacecraft China has developed, say Chinese space officials.
The addition of a second pressurized will double the size and volume of China's existing Tiangong Space Station – thus constituting a major advance in science research and technological capabilities.
Wentian will be relocated to a side port on Tianhe core module using a station mounted exterior robotic arm.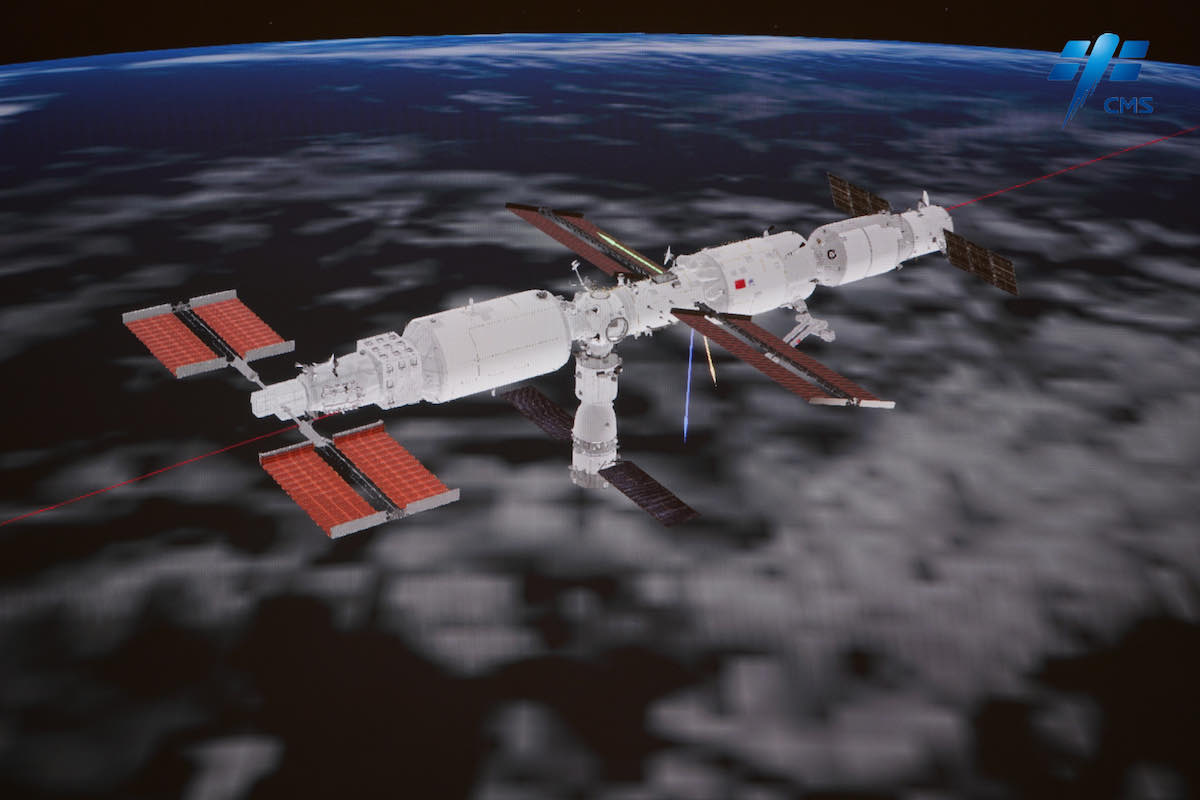 And the Chinese astronauts will conduct 2 or 3 EVA space walks to make the module fully operational.
A third and final (for now) pressurized similar sized module named Mengtian   is scheduled to launch in October to complete the station in its initial and distinctive T shaped configuration.
It will launch and dock in a similar fashion and also be relocated to the other side port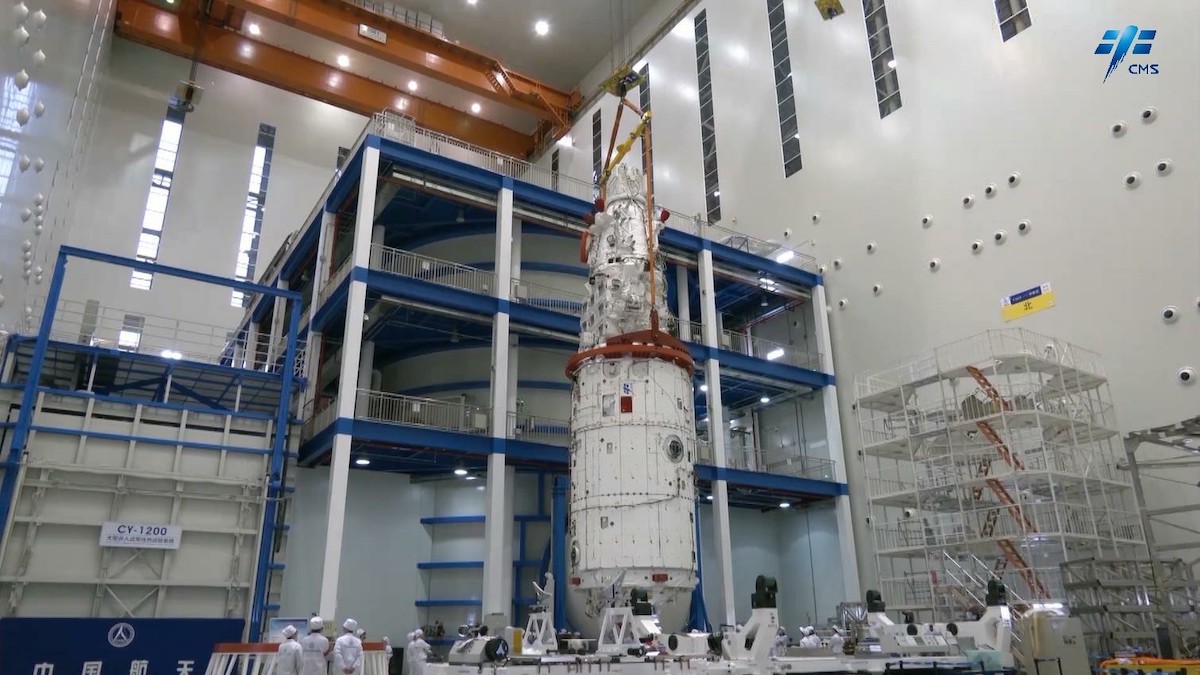 The Long March 5B rocket is China's most powerful booster and generates 2.4 million pounds of liftoff thrust – about equivalent to the more powerful versions of the United Launch Alliance (ULA) Atlas V rocket.
This marked the 8th flight of the Long March 5B but only the 3rd in the 5B configuration which houses the space station modules in place of an upper stage. The booster actually enters orbit and falls to Earth about a week or so later – hence the problem
The prior two Long March 5B boosters launches in 2020 and April 2021 also suffered uncontrolled reentries to Earth with no targeting possible by Chinese space controllers – a major deficiency since it flies over most of the world populated areas.
The Long March 5B core stage measures about 100 feet (30 meters) long.
Its empty mass is about 23.8 tons (21.6 metric tons). Therefore it is one of the largest and most massive artifical human made objects to ever re-enter the atmosphere in an uncontrolled manner.
As much as about one quarter of the mass could survive reentry and hit the ground at very high speed of hundreds of MPH
That about 5 to 9 metric tons (5.5 to 9.9 tons), according to The Aerospace Corporation's Center for Orbital Reentry and Debris Studies.
But the odds of being hit are actually miniscule
Nevertheless its totally irresponsible for China to allow this uncontrolled reentry to happen.
Wentian has the same astronaut living facilities as the Tianhe core module, including three sleeping areas, a toilet and a kitchen.
It also has an EVA hatch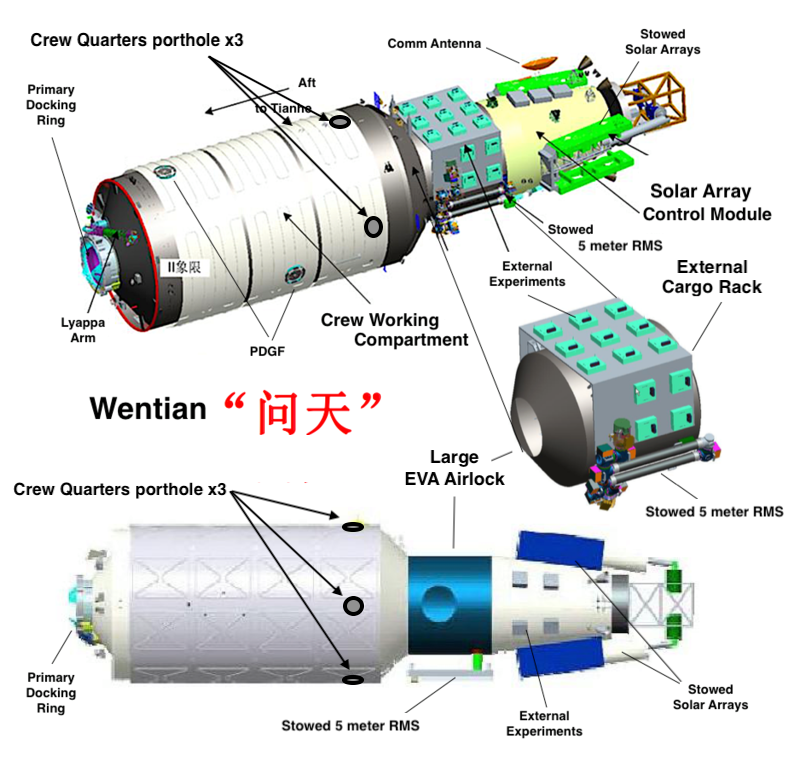 The lab module will provide a bigger platform for scientific experiments in space. It is mainly for space life science research. The module is equipped with laboratory cabinets for life ecology, biotechnology and variable gravity science, say Chinese officials.
A small robotic arm half the weight and length of the existing robotic arm on the space station's core module is aboard the Wentian module. The robotic arm has a load capacity of about one-eighth of its predecessor, and its end positional accuracy is five times higher than its predecessor, allowing it to conduct more elaborate operations.
The small robotic arm will have similar missions to its predecessor, including assisting astronauts during extravehicular activities and carrying out inspections of extravehicular conditions.
Watch Ken's commentary about  Project Artemis, Capstone, NASA SLS WDR demo test, NASA SpaceX Cargo Dragon, JWST, SpaceX missions including NASA Crew-3 and Crew 4, AX-1, Nilesat 301, Transporter-5, Starlink, Boeing Starliner, and NASA TROPICS  1.
Jul 14: Watch Ken's live interview on NewsNation interview about the CRS-25 launch & dangers and threats from falling rockets and on orbit space debris collisions
Jul 14: WFTV ABC Orlando News featured my commentary about the CRS-25 mission
https://www.wftv.com/news/local/brevard-county/spacex-set-launch-falcon-9-rocket-space-coast/7YHKUAC54VH4HJKDNDW4IZJ56M/
Jul 12: Watch Ken's live interview on NewsNation interview about the release of the stunning first science images taken by NASA Webb and the spectacular discoveries about star birth, star death, galactic evolution, exoplanet atmospheres and much more and what it means.
Watch Ken's BBC World TV interview about Webb achieving final orbit and the goals ahead on Jan 24, 2022.
Watch Ken's continuing reports about NASA's Project Artemis, SLS, Orion and NASA missions, Chinese Space Programs,  SpaceX Crew and Cargo Dragons, SpaceX Axiom-1, JWST, IXPE, DART, Lucy Asteroid mission, GOES, SpaceX Starlink, Commercial Crew and Starliner and Crew Dragon, Blue Origin and Space Tourism, and onsite for live reporting of upcoming and recent SpaceX and ULA launches including Crew 1 & 2 & 3 & 4, ISS, Solar Orbiter, Mars 2020 Perseverance and Curiosity rovers, NRO spysats and national security missions and more at the Kennedy Space Center and Cape Canaveral Space Force Station.
Stay tuned here for Ken's continuing Earth and Planetary science and human spaceflight news: www.kenkremer.com –www.spaceupclose.com – twitter @ken_kremer – email: ken at kenkremer.com
Dr. Kremer is a research scientist and journalist based in the KSC area, active in outreach and interviewed regularly on TV and radio about space topics.
………….
Ken's photos are for sale and he is available for lectures and outreach events
Please consider supporting Ken's work by purchasing his photos and/or donating at Patreon
https://www.patreon.com/kenkremer
UpComing Presentations & Talks by Ken Kremer & Jean Wright
Aug 11: Fairbanks Museum & Planetarium, St Johnsbury, VT
https://www.fairbanksmuseum.org/blog/eyewitness-to-nasa/
"Eyewitness to NASA Human and Robotic Explorers"
Aug 19: McAuliffe-Shepard Discovery Center, Concord, NH
https://www.starhop.com/special-programs
"Sew Sister to the Stars: How the Humble Art of Sewing Transformed the World of Flight"
x