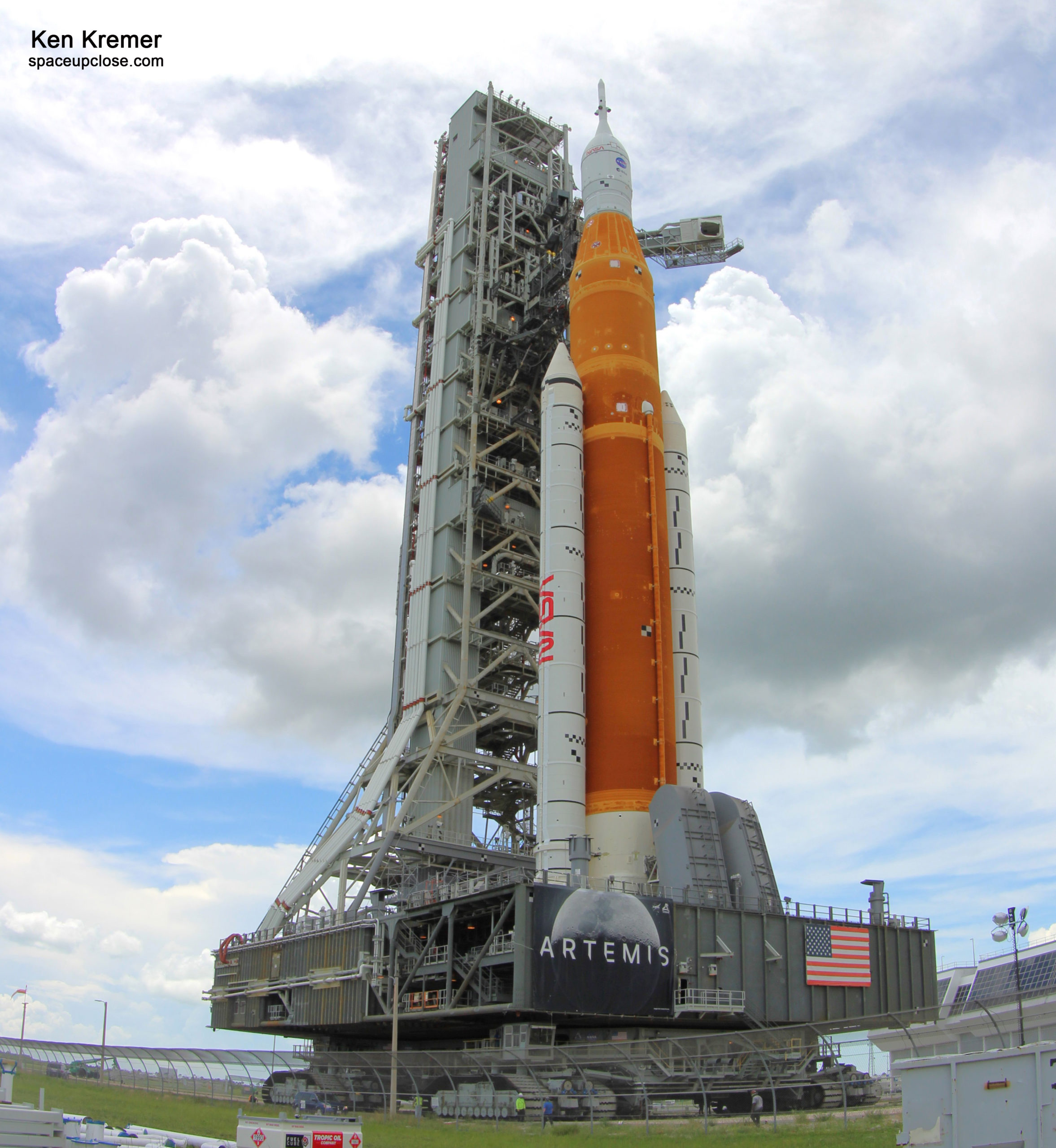 For SpaceUpClose.com & RocketSTEM
KENNEDY SPACE CENTER, FL – NASA announced the agency is tentatively targeting August 29 as the launch date for the maiden flight of the mammoth SLS Mega Moon rocket on the Artemis 1 unpiloted lunar test flight from NASA's Kennedy Space Center (KSC).
NASA officials determined that the 4th Wet Dress Rehearsal (WDR) Tanking Test conducted on the repaired rocket on June 20 was sufficiently successful to declare completion of the practice countdown and cryogenic fueling test campaign objectives despite a new hydrogen leak detected in the Artemis 1 moon rocket – thus paving the path to moving forward with the tentative launch target date of Aug. 29.
Much work remains to be done to continue final repairs on a hydrogen leak discovered during the last WDR cryogenic tanking test and more and other preparations for NASA's 32- story tall Space Launch System (SLS) rocket integrated with the Orion human rated deep space capsule.
Therefore an official launch date will not be announced until sometime later this summer in August following an official launch review of all systems.
But NASA is currently planning for the launch to take place during the second half of the launch period 25 window which runs from Aug. 23 to Sept. 6.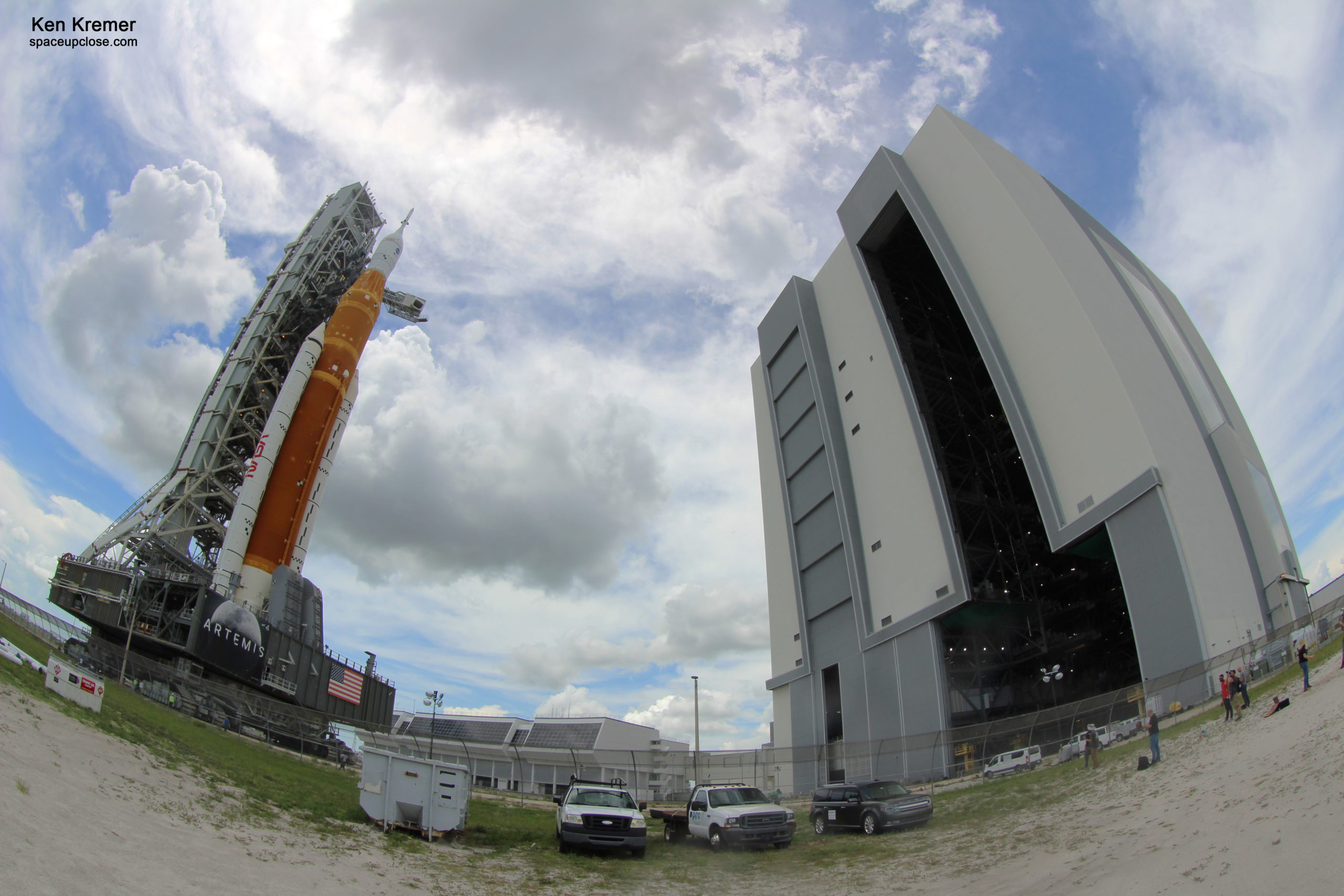 For an SLS launch on Aug. 29, the window opens at 8:38 a.m. EDT and runs for 2 hours unto 10:38 a.m. EDT
NASA teams have identified and reserved three launch dates on the Eastern Range as "placeholder dates" for "potential launch opportunities": Aug. 29 at 8:38 a.m., Sept. 2 at 12:48 p.m., and Sept. 5, at 5:12 p.m.  EDT.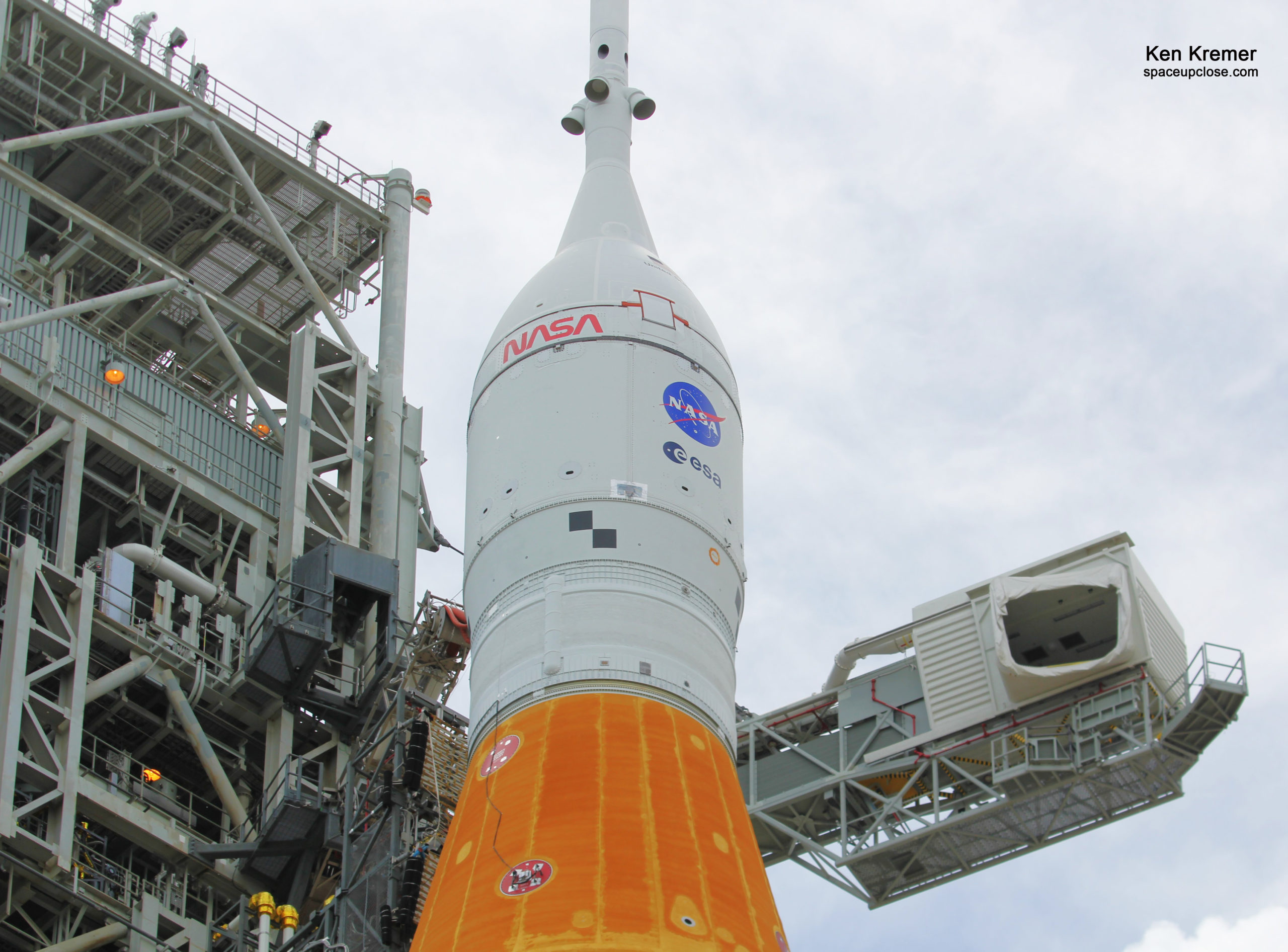 These dates are only possible if all goes well with final preparations, said Jim Free, NASA's associate administrator of exploration systems, at a media briefing for reporters
Thus Free made clear this is not yet a NASA commitment to an official launch target date until after the Flight Readiness Review (FRR) is completed in early August.
"It's not an agency commitment,"   Jim Free, NASA's associate administrator of exploration systems at the media briefing.
"Those are dates just like other missions hold, so it's not an agency commitment," he said. "We'll make the agency commitment at the flight readiness review, just a little over a week before launch. But these are the dates that the team is working to."
An SLS launch on any of these three dates will enable a 'long-class' Orion mission of greater than 5 weeks to the Moon and back to give the spacecraft the best workout possible before a crew of human astronauts fly aboard the Artemis 2 mission about 2 years later – now targeted for late 2024.
Artemis 1 will be uncrewed and is the first test flight in NASA's Project Artemis program to return humans to the Moon for the first time in five decades.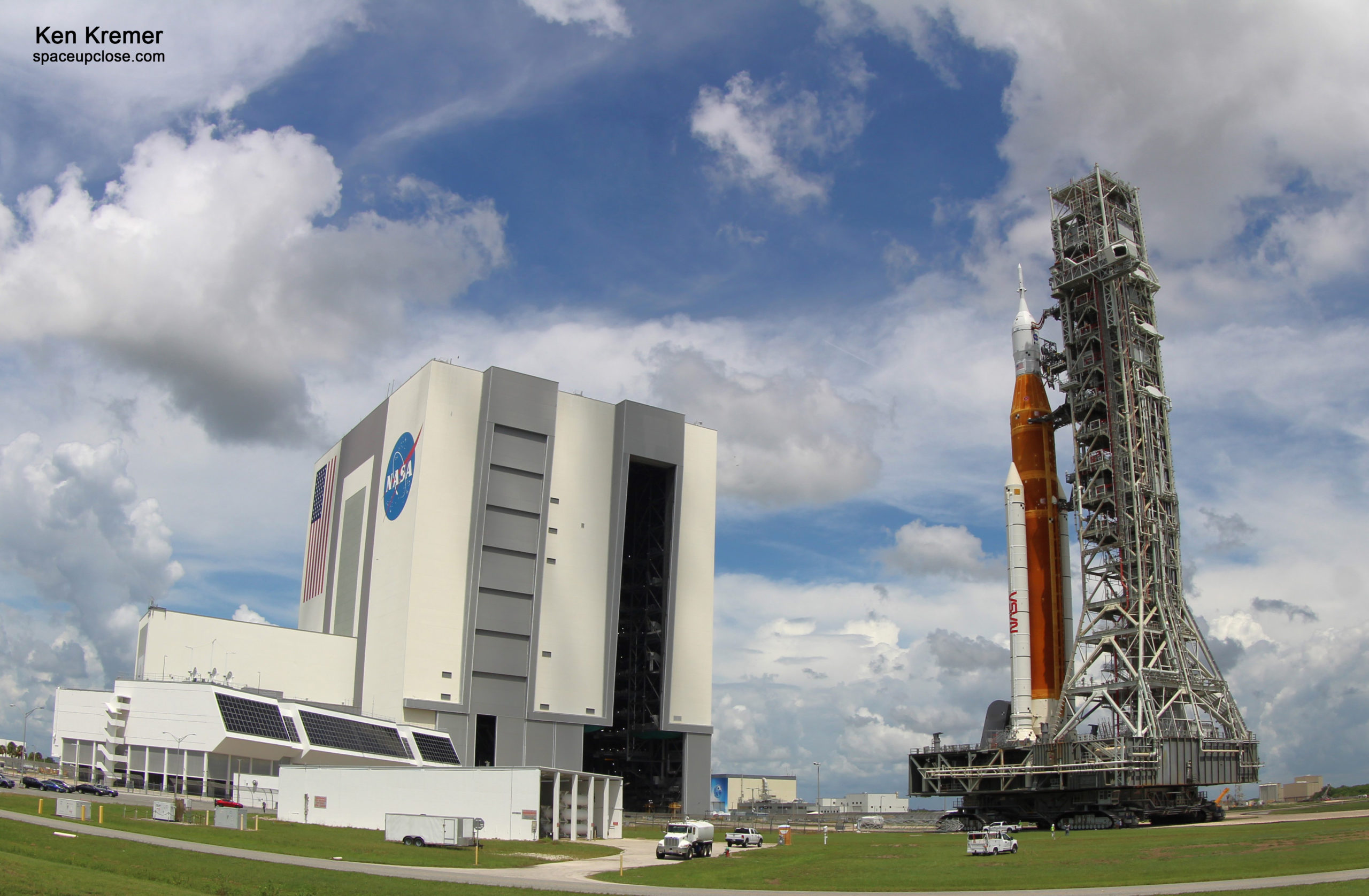 "The schedule gets us aligned for Aug. 29 with what we know today, said Free.
Meanwhile a flurry of activity is already in progress at KSC and other NASA Centers to enable the inaugural SLS launch as soon as possible – whenever it happens.
Teams are now completing final repairs and testing and accomplishing checkouts to ready the rocket for launch now NET August 29.
Technicians replaced seals on the disconnect of the tail service mast umbilical and are now testing them to confirm there are no additional leaks.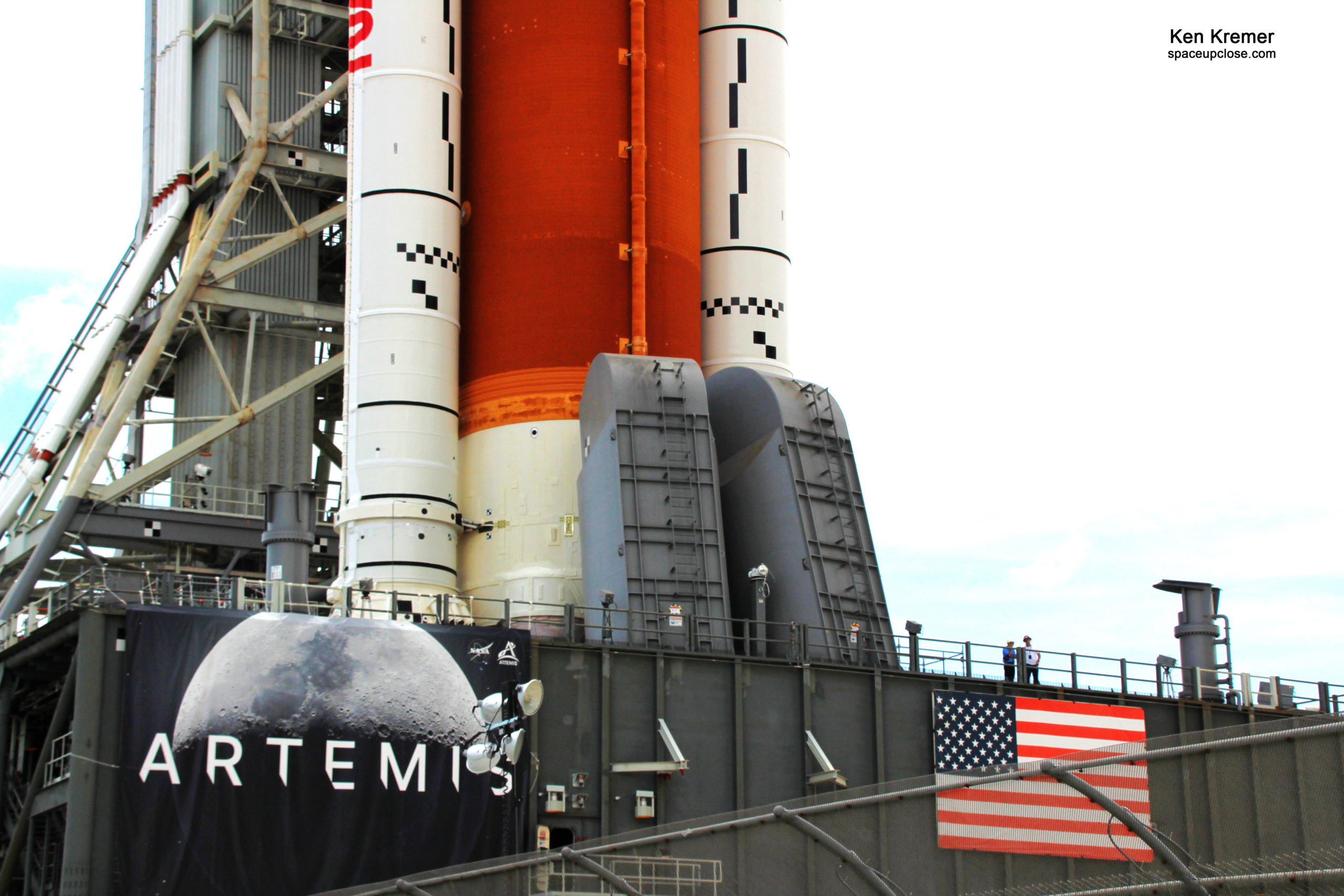 The work was made more difficult by the need to enter the engine section
The seals were replaced to address a hydrogen leak during the final wet dress rehearsal in June.
"During work to repair the source of a hydrogen leak, engineers identified a loose fitting on the inside wall of the rocket's engine section, where the quick disconnect for the liquid hydrogen umbilical attaches. The component, called a "collet," is a fist-sized ring that guides the quick disconnect during assembly operations. Teams will repair the collet by entering the engine section in parallel with other planned work for launch preparations. Technicians have replaced the seals on the quick disconnect of the tail service mast umbilical and will reattach the umbilical plate once the loose collet is addressed," said NASA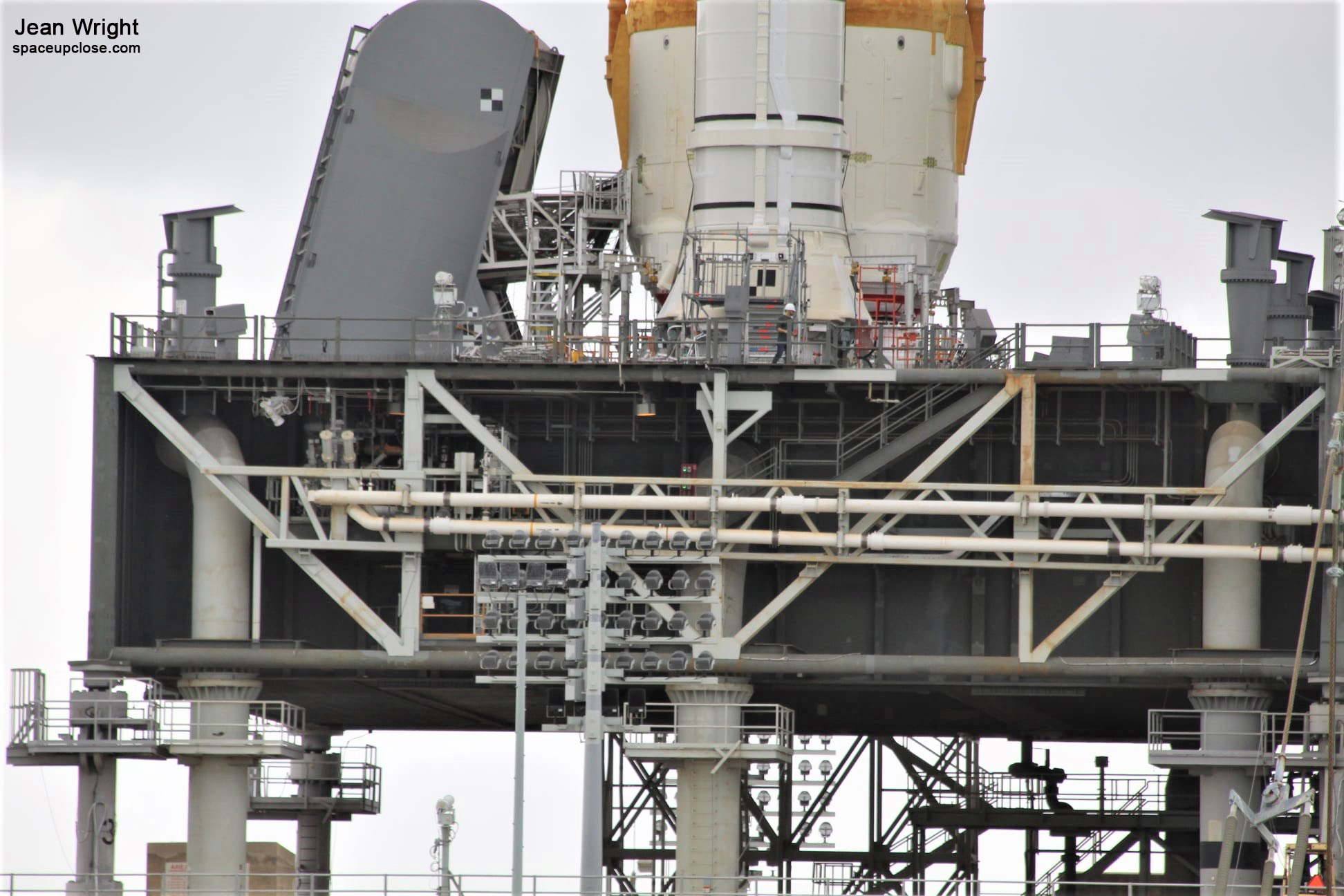 Following testing, teams will complete closeouts to ready that section for flight.
Engineers are also finishing installation of the flight batteries. Teams installed the batteries for the solid rocket boosters and interim cryogenic propulsion stage this week and will install the core stage batteries next week.
They are also installing the FTS flight termination system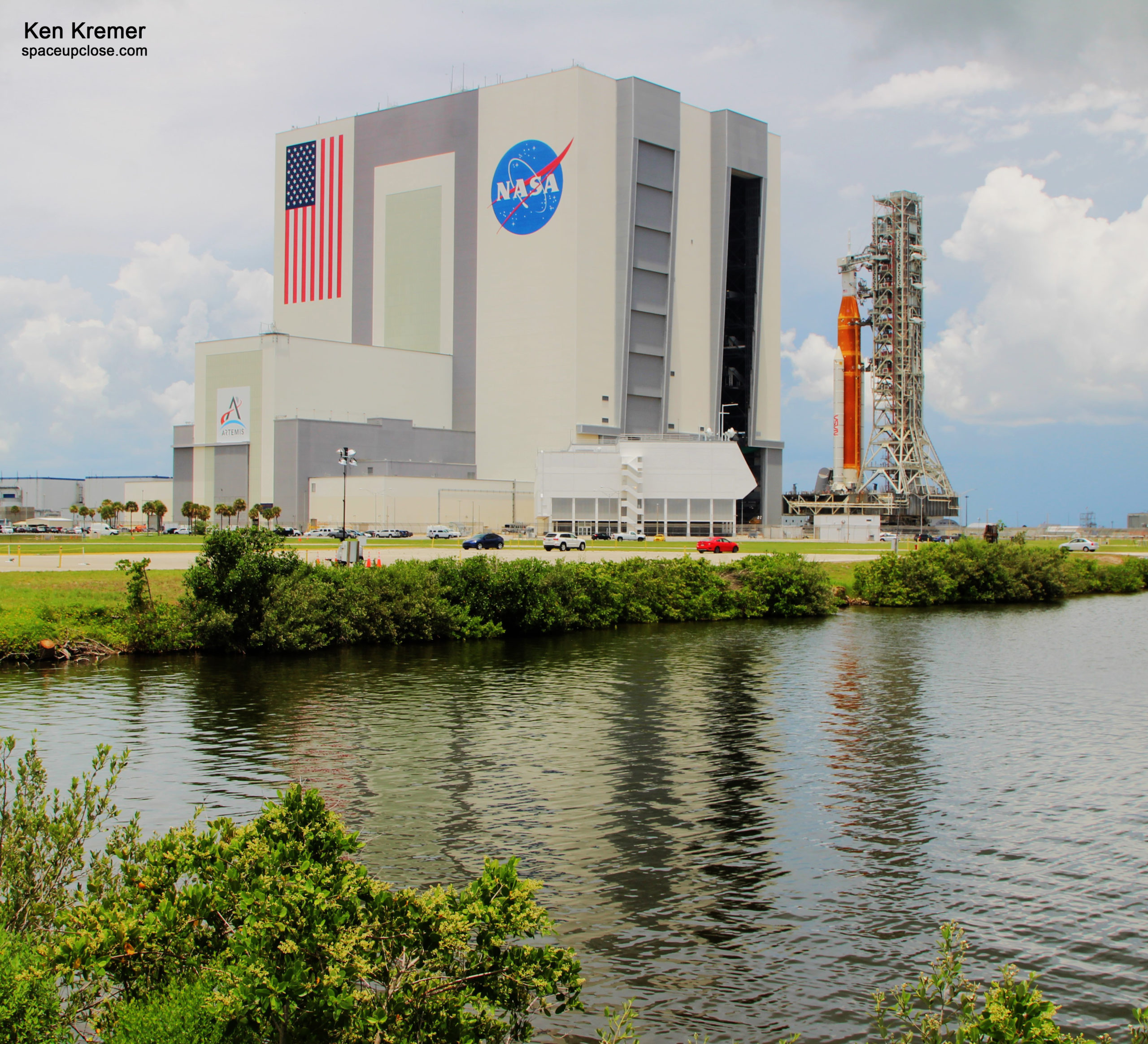 If all goes well, the integrated SLS/Orion stack would roll back out for the 3rd time to pad 39B.
After SLS rolls back out for the 3rd time to pad 39B the team needs 10 to 14 days for pad preparations.
However the FTS is only verified for 20 days starting from the VAB rollout day. It is limited due to battery lifetime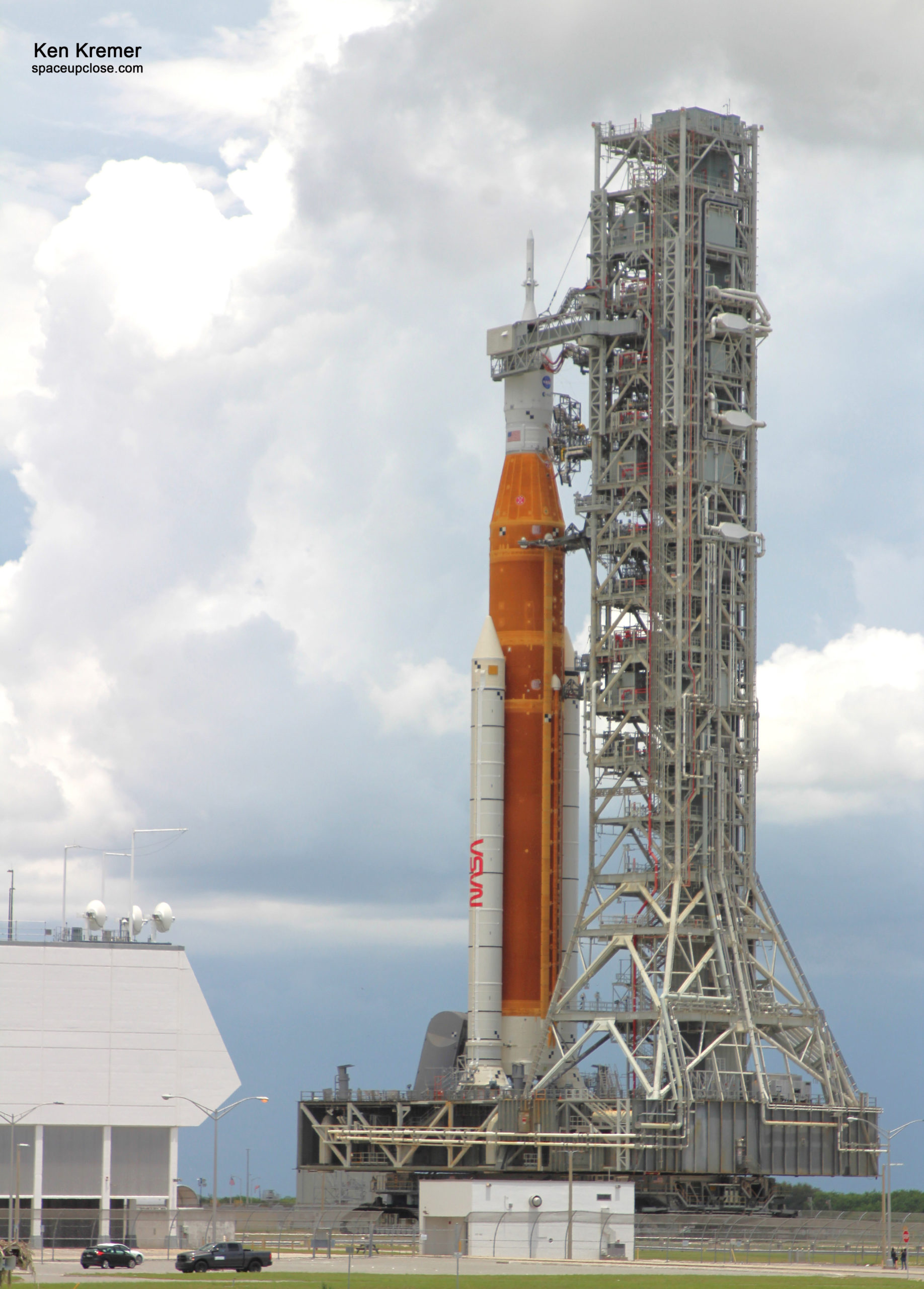 After 20 days  the entire stack has to rollback to the VAB for battery replacement – thus requiring another month of delays for th trip back and forth.
They can do 3 launch attempts in 7 days out at the pad – which would conclude on Sept. 6 for Launch Period 25.
The next launch period doesn't opne until Sept. 19 – in case of further delays
The final launch preparation can now take place after the SLS arrived back in the VAB  just in the nick of time from approaching thunder and rainstorms after the 32- story tall rocket was transported back from Launch Complex-39B and arrived inside the mammoth VAB) at KSC on Saturday afternoon, July 2, after finishing the 4th and final Wet Dress Rehearsal (WDR) Tanking Test.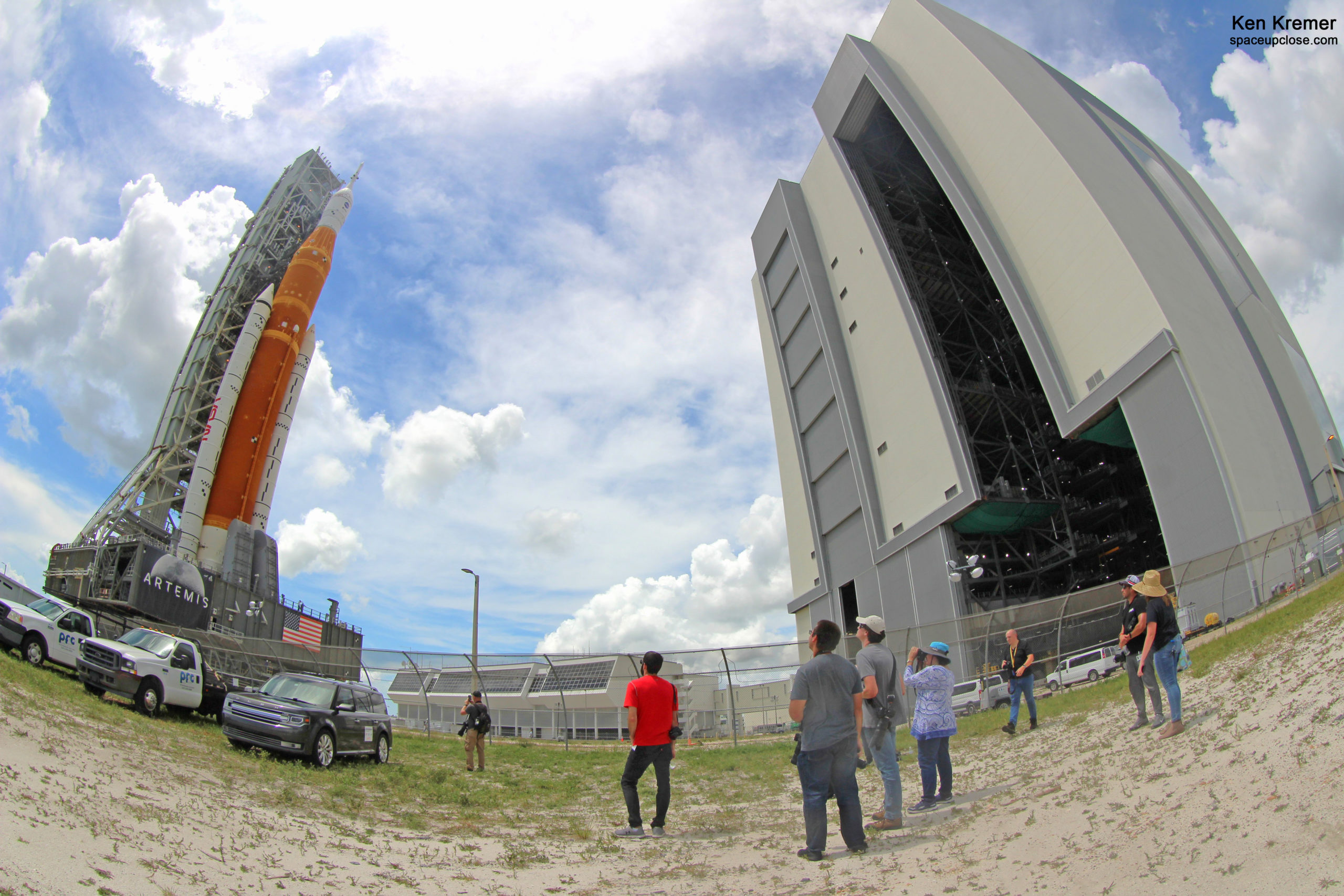 NASA's Space Launch System (SLS) rocket and Orion spacecraft for the Artemis I mission arrived at the doors to the VAB around 1:30 p.m. ET, rolled inside at 2 p.m. ET  (1800 GMT) and they were fully secured inside High Bay 3 and protected from the weather at approximately 2:30 p.m. ET (1830 GMT).
Drenching rainstorms and lightning strikes inundated KSC and the Space Coast shortly thereafter – as the Space UpClose team of Ken Kremer and Jean Wright witnessed first hand, being on site at the Launch Complex-39 Press Site to observe and photograph the rollback
The 4.2 mile (6.8 km) trek of NASA's  322-foot-tall (98-meter) SLS Artemis 1 moon rocket atop the crawler-transporter on launch pad 39B began at approximately 4:12 a.m. ET (0812 GMT)moving down the incline, along the crawler-way rocky path and concluded 10 hours later inside the VAB.
The Apollo era crawler-transporter-2 (CT-2) moves at a top speed of about 0.8 mph (1.3 kilometers per hour).
Over the next several days, the team would extend a slew of work platforms to allow engineers and technicians access to the SLS rocket and Orion crew capsule at multiple different levels to ready the rocket for flight by making necessary repairs and to complete testing and install the flight termination system.
Here are the Artemis 1 launch windows for late August/early September: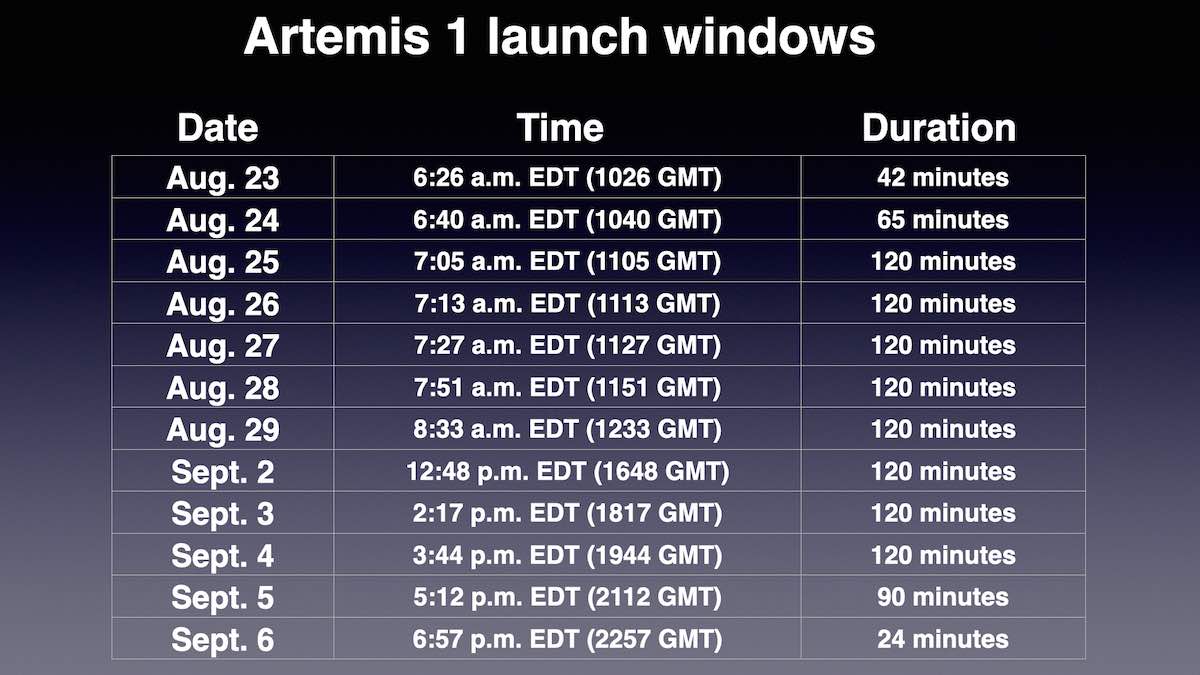 The Space UpClose team of Ken Kremer and Jean Wright attended and witnessed the SLS/Orion 1st and 2nd rollouts and rollbacks from KSC Press Site.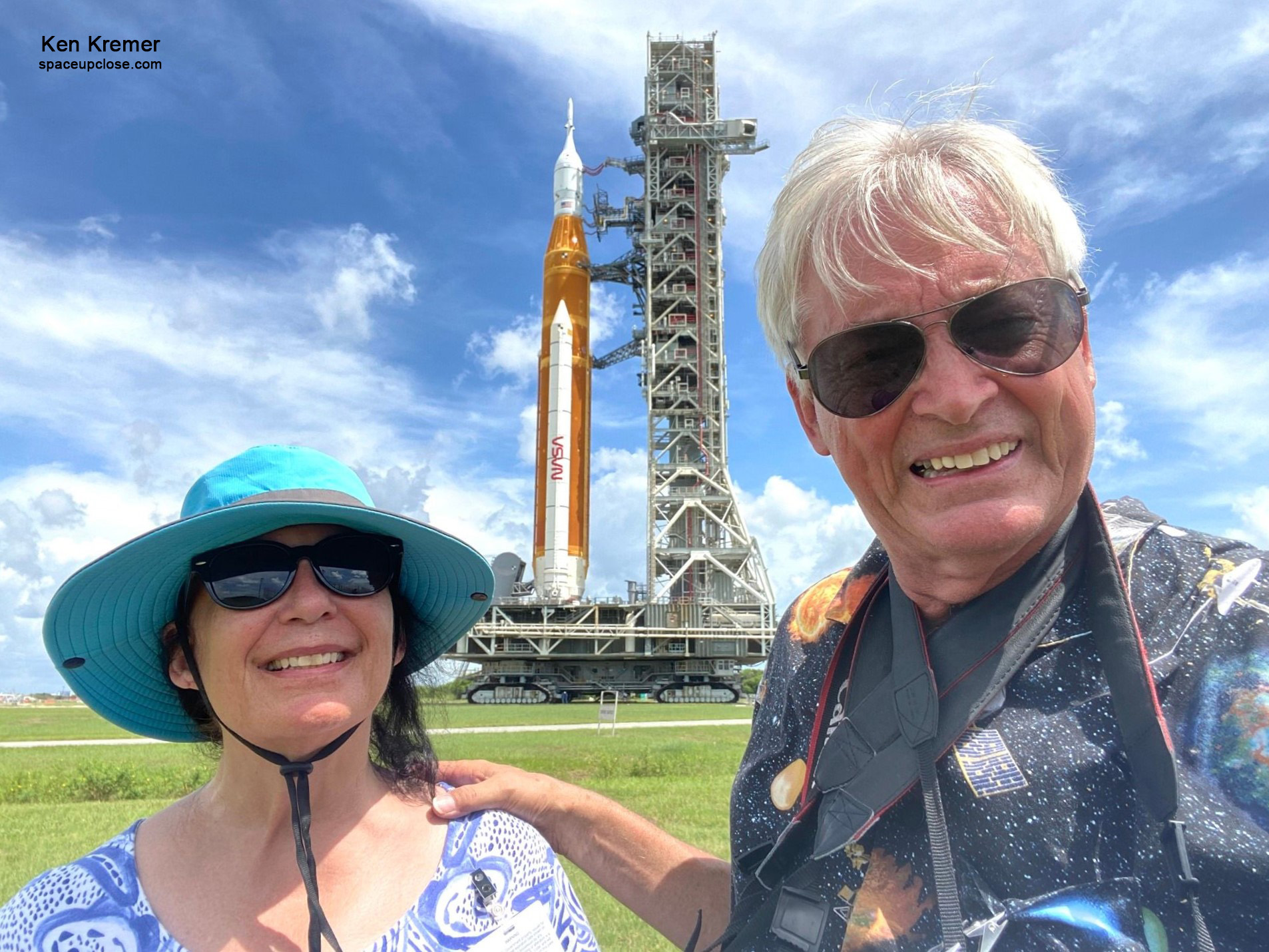 Enjoy our photos of SLS/Orion rolling out and back between the VAB and pad 39B.
Read my earlier detailed stories about the rollout, rollback and repairs illustrated with our photos
Watch Ken's commentary about  Project Artemis, Capstone, NASA SLS WDR demo test, NASA SpaceX Cargo Dragon, JWST, SpaceX missions including NASA Crew-3 and Crew 4, AX-1, Nilesat 301, Transporter-5, Starlink, Boeing Starliner, and NASA TROPICS  1.
Jul 14: Watch Ken's live interview on NewsNation interview about the CRS-25 launch & dangers and threats from falling rockets and on orbit space debris collisions
Jul 14: WFTV ABC Orlando News featured my commentary about the CRS-25 mission
https://www.wftv.com/news/local/brevard-county/spacex-set-launch-falcon-9-rocket-space-coast/7YHKUAC54VH4HJKDNDW4IZJ56M/
Jul 12: Watch Ken's live interview on NewsNation interview about the release of the stunning first science images taken by NASA Webb and the spectacular discoveries about star birth, star death, galactic evolution, exoplanet atmospheres and much more and what it means.
Watch Ken's BBC World TV interview about Webb achieving final orbit and the goals ahead on Jan 24, 2022.
Dr. Ken Kremer of Space UpClose live interview on BBC World News TV on Jan. 24, 2022 ET (Jan. 25 GMT) about NASA James Webb Space Telescope (JWST) just hours after achieving orbit at its final destination, why at L2, what's ahead with spacecraft checkouts, what are the science goals and when are first pictures expected
Jul 6/7:  Fox 35 Orlando featured my commentary about NASA Capstone cubesat mission – communications just reestablished after 2 day loss. Capstone is a pathfinder mission for NASA's Gateway mini lunar space station. Now preparing for 1st trajectory correction maneuver (TCM) and heading to lunar orbit
Jul 5/6:  WKMG CBS 6 Orlando News featured my commentary about todays loss of contact with NASA's CAPSTONE lunar cubesat mission. CAPSTONE had been healthy until a 2nd comm pass. Team is attempting to reestablish contact. Goal: test the stability of the unique orbit planned for NASA Gateway mini human space station:
https://www.clickorlando.com/tech/2022/07/05/nasa-contact-lost-with-spacecraft-on-way-to-test-moon-orbit/
Jul 5/6:  WFTV ABC Orlando News featured my commentary about today's loss of contact with NASA Capstone cubesat mission which is a pathfinder test for the Gateway mini human lunar space station
Jun 21/22: WFTV ABC Orlando News featured my commentary about NASA's 4th SLS WDR fueling attempt Jun 20, the results and whats ahead after NASA conducts detailed analysis of the 1st tanking test to completely load both stages with LOX & LH2 and run the terminal count to T-29 sec despite a hydrogen leak – achieving many but not all objectives
https://www.wftv.com/news/local/nasa-calls-artemis-i-dress-rehearsal-success-despite-missed-objectives/R3DRBDMTHZFCRNVAFNTJNQMZ5M/
Jun 17: Fox 35 Orlando featured my commentary about the selection of 2 NASA astronauts to fly on the 1st crewed mission of Boeing Starliner capsule on CFT test flight late 2022 – and what it means for human spaceflight to have a 2nd US commercial crew provider following the successful Boeing Starliner OFT-2 mission for NASA
Jun 9/10: WFTV ABC Orlando features my commentary about the upcoming NASA TROPICS  1 & 2 cubesat science launch on an Astra Rocket 3.3 from pad 46 for NASA which will study the formation and evolution of Tropical Cyclones and Hurricanes. Two more launches will follow for 6 TROPICS cubesats altogether over next few months
https://www.wftv.com/news/local/brevard-county/astra-space-aims-launch-nasa-science-mission-kennedy-space-center-this-weekend/OEJBL6ZCCRCEXDAJF54ENZZ7BI/
https://www.wftv.com/news/video-astra-space-aims-launch-nasa-science-mission-kennedy-space-center-this-weekend/c95c091b-7550-492f-8143-f8227ee9152e/
Jun 8: WFTV ABC Orlando features my commentary about the SpaceX Falcon 9 launch of NileSat301 telecom sat for Egypt
June 6/7: WFTV ABC Orlando features my commentary about completing 2nd rollout to pad 39B for 2nd round WDR tanking test, what's involved in and why its critical to the future of Project Artemis:
https://www.wftv.com/news/video-nasa-takes-one-step-closer-going-back-moon-with-artemis-i-mission/0a9b7f73-1a59-4455-a638-9090ed1736fd/
Watch Ken's continuing reports about SpaceX missions Artemis, SLS, Orion and NASA missions, SpaceX Crew and Cargo Dragons, SpaceX Axiom-1, JWST, IXPE, DART, Lucy Asteroid mission, GOES, SpaceX Starlink, Commercial Crew and Starliner and Crew Dragon, Blue Origin and Space Tourism, and onsite for live reporting of upcoming and recent SpaceX and ULA launches including Crew 1 & 2 & 3 & 4, ISS, Solar Orbiter, Mars 2020 Perseverance and Curiosity rovers, NRO spysats and national security missions and more at the Kennedy Space Center and Cape Canaveral Space Force Station.
Stay tuned here for Ken's continuing Earth and Planetary science and human spaceflight news: www.kenkremer.com –www.spaceupclose.com – twitter @ken_kremer – email: ken at kenkremer.com
Dr. Kremer is a research scientist and journalist based in the KSC area, active in outreach and interviewed regularly on TV and radio about space topics.
………….
Ken's photos are for sale and he is available for lectures and outreach events
Please consider supporting Ken's work by purchasing his photos and/or donating at Patreon
https://www.patreon.com/kenkremer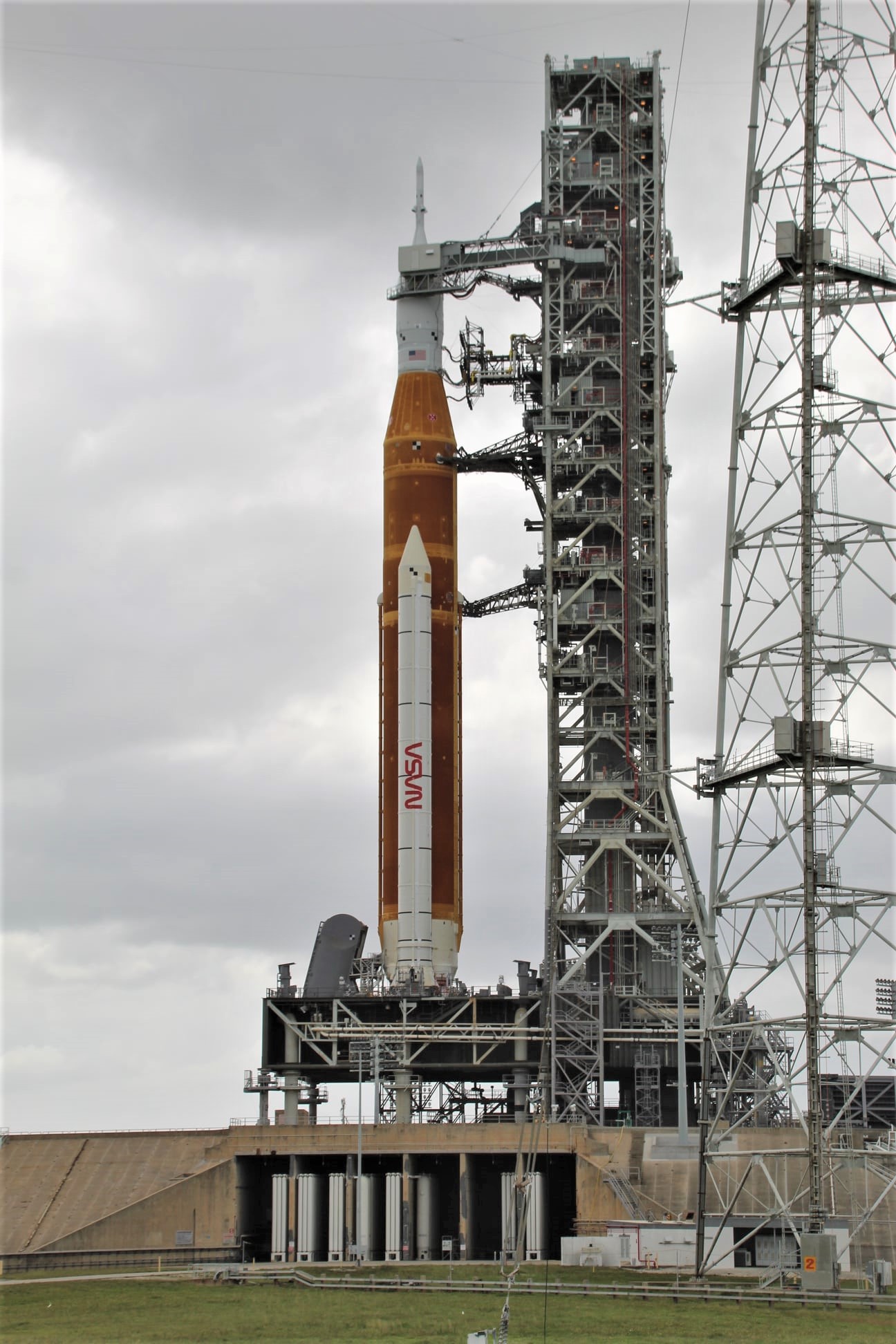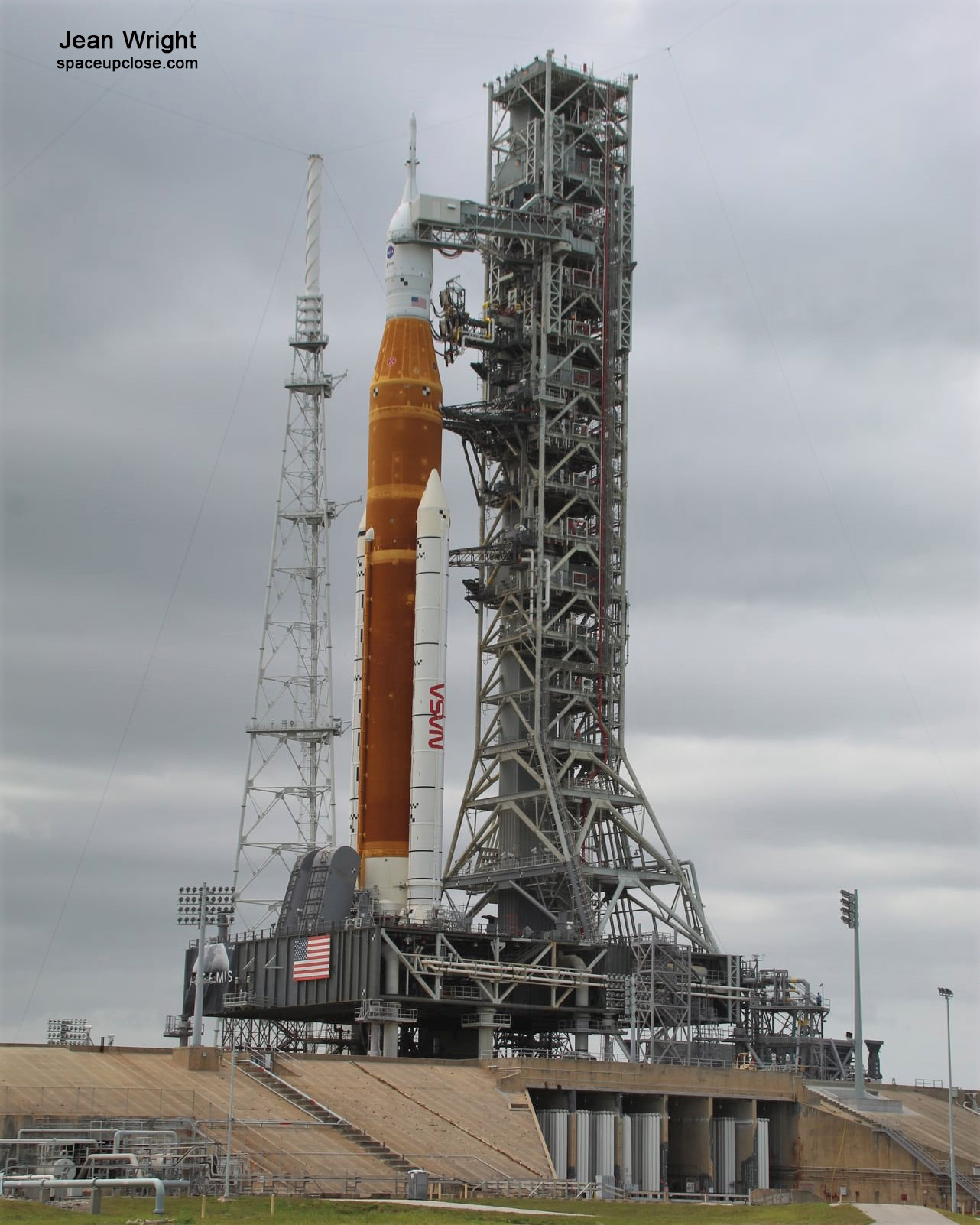 x