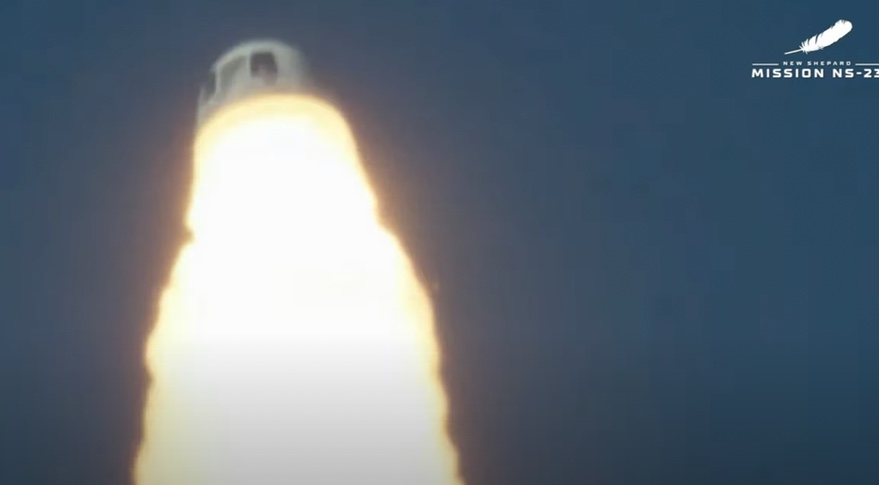 For SpaceUpClose.com & RocketSTEM
CAPE CANAVERAL, FL – Blue Origin and company founder Jeff Bezos suffered a significant setback when their commercial New Shepard rocket failed for the first time ever about one minute after liftoff Monday morning, Sept. 12 from West Texas. Fortunately, however the capsule survived when it was saved by the abort motor which was automatically triggered in flight while on a suborbital science mission.
The abort motor kicked in when it detected a rocket emergency about 65 seconds after blastoff and pushed the capsule, named RSS H.G. Wells, safely away – exactly as it should have.
Thus the capsule abort system functioned exactly as it was designed to do – a major confidence builder in Bule Origin's New Shepard rocket and capsule system.
No crew were on board Blue Origin's NS-23 capsule mission which was dedicated to science – including three dozen science payloads – about half supplied by NASA as well as from other entities.  Furthermore no one was injured at the launch site.
The New Shepard rocket lifted off on the NS-23 mission at 10:27 a.m. EDT (1426 GMT) from Blue Origin's Launch Site One north of Van Horn in West Texas.
Neither the cause nor the exact nature of the malfunction is known at this time.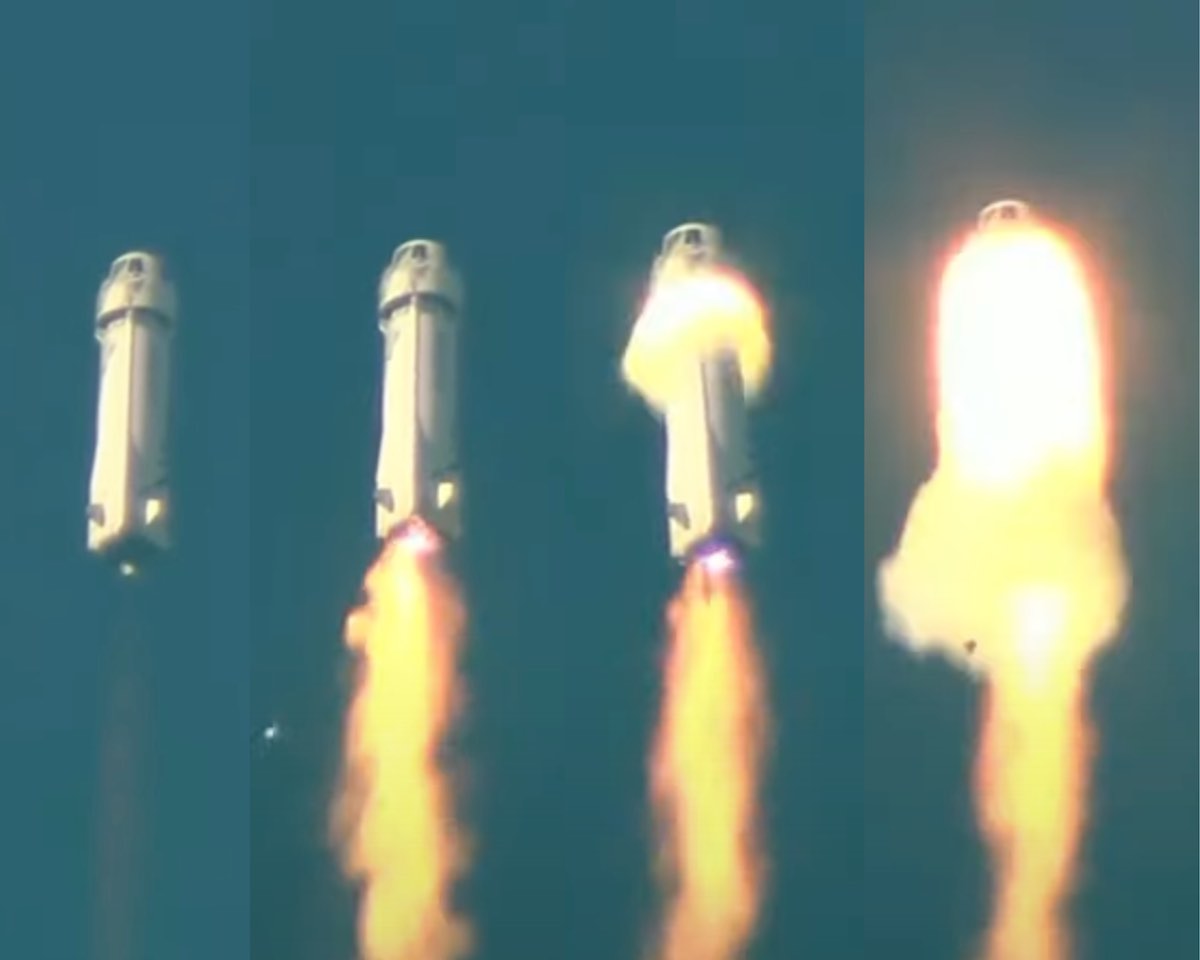 However it appeared the rocket started to go off course and the color of the engine exhaust plume changed just moments before the capsule abort motor fired – right around max q or maximum aerodynamic pressure at approximately 5 mi (8.0 km) altitude.
The booster appeared to fail and flames could be seen emanating from it.
"It appears that we have experienced an anomaly on today's flight. This wasn't planned and we have no details yet," said Blue Origin's launch commentator Erika Wagner on the launch webcast shortly after the abort motor fired.
The four-ton R.S.S H.G. Wells capsule deployed its drogue chute and three main parachutes and soft landed about five and a half minutes later
Booster failure on today's uncrewed flight. Escape system performed as designed. pic.twitter.com/xFDsUMONTh

— Blue Origin (@blueorigin) September 12, 2022
The booster rocket was destroyed on impact since the did not refire for soft touchdown as is normally the case so it can be recycled and reflown again.
This tweet from Blue Origin shows the launch, capsule abort and safe touchdown.
During today's flight, the capsule escape system successfully separated the capsule from the booster. The booster impacted the ground. There are no reported injuries; all personnel have been accounted for.

— Blue Origin (@blueorigin) September 12, 2022
Blue Origin's New Shepard rocket has been grounded and the FAA which is responsible for ensuring public safety during commercial spaceflight operations has initiated a complete investigation of the incident determine the root cause, make recommend fixes and certify changes have been implemented successfully before any rocket flights can resume.
"The anomaly that occurred triggered the capsule escape system," the FAA said in a statement. "The capsule landed safely and the booster impacted within the designated hazard area. No injuries or public property damage have been reported."
"This was a payload only mission; there were no humans aboard," the FAA said. "
Before the New Shepard vehicle can return to flight, the FAA will determine whether any system, process, or procedure related to the mishap affected public safety. This is standard practice for all mishap investigations."
Blue Origin has had little to say.
"We are not prepared to talk about what actually happened," said Jarrett Jones, senior vice president for New Glenn at Blue Origin, speaking on a panel at World Satellite Business Week in Paris on Sept. 13, when asked about the accident during the panel, as reported by Jeff Foust of Space News on Sept. 14.
"It's a little premature to assume that it was something related to the engine."
The New Shepard launch was carried live on a Blue Origin webcast – which cut out after the capsule was shown safely soft landing on the ground after a trio of parachutes deployed at altitude and slow the descent for a safe touchdown at the firms sprawling West Texas launch base.
The six-story tall rocket is powered by Blue Origin's BE-3 engine and normally flies to the edge of space to an altitude of approx. 65 miles (100 km) above Earth.
This particular rocket is dedicated to uncrewed missions and was the first in more than a year following a series of crewed missions.
Presumably since this was the only New Shepard built for uncrewed flights they will have to build another one
Blue Origin used a separate rocket for human missions – which is also the only one currently available.
Thus far Blue Origin has safely and successfully launched six New Shepard crew flights with human passengers – including the billionaire Jeff Bezos, founder of Blue Origin and Amazon.com on the first crewed one on July 20, 2021.
We're responding to an issue this morning at our Launch Site One location in West Texas. More information to come as it is available.

— Blue Origin (@blueorigin) September 12, 2022
The solid-fueled abort motor at the base of the crew capsule fired instantaneously ater the rocket failure with 70,000 pounds of thrust to push the ship away from the failing New Shepard rocket.
Watch my commentary about the Blue Origin NS-23 launch failure:
Sept. 12:  Watch my comments at Fox 35 Orlando about the failed rocket launch by Blue Origin in which the booster failed but the capsule safely aborted. No crew members aboard only science experiments, This will halt Blue Origin flights and there will be a full FAA investigation with corrective actions before they can resume:
Video: https://www.fox35orlando.com/video/1116991
Watch Ken's continuing reports about Artemis, SpaceX missions, SLS, Orion and NASA missions, SpaceX Crew and Cargo Dragons, SpaceX Axiom-1, JWST, IXPE, DART, Lucy Asteroid mission, GOES, SpaceX Starlink, Commercial Crew and Starliner and Crew Dragon, Blue Origin and Space Tourism, and onsite for live reporting of upcoming and recent SpaceX and ULA launches including Crew 1 & 2 & 3 & 4, ISS, Solar Orbiter, Mars 2020 Perseverance and Curiosity rovers, NRO spysats and national security missions and more at the Kennedy Space Center and Cape Canaveral Space Force Station.
Stay tuned here for Ken's continuing Earth and Planetary science and human spaceflight news: www.kenkremer.com –www.spaceupclose.com – twitter @ken_kremer – email: ken at kenkremer.com
Dr. Kremer is a research scientist and journalist based in the KSC area, active in outreach and interviewed regularly on TV and radio about space topics.
………….
Ken's photos are for sale and he is available for lectures and outreach events
Please consider supporting Ken's work by purchasing his photos and/or donating at Patreon
https://www.patreon.com/kenkremer
Upcoming and recent space events and talks by Ken Kremer & Jean Wright
Sep 2, 4, 9,10,13 from 7 to 9 PM Quality Inn, Titusville, FL:  Join Ken and Jean for Artemis 1 outreach. ask us anything. plus display our photos and space apparel items for sale
Ken's space/rocket photos & Jean's  custom sewn space apparel and space items for sale to support our ad free space news website: SpaceUpClose.com
Aug 11: Fairbanks Museum & Planetarium, St Johnsbury, VT
https://www.fairbanksmuseum.org/blog/eyewitness-to-nasa/
"Eyewitness to NASA Human and Robotic Explorers"
Aug 19: McAuliffe-Shepard Discovery Center, Concord, NH
https://www.starhop.com/special-programs
"Sew Sister to the Stars: How the Humble Art of Sewing Transformed the World of Flight"
Contact us if you wish to meet, attend a talk or schedule a talk
Ken's space/rocket photos & Jean's  custom sewn space apparel and space items for sale to support our ad free space news website: SpaceUpClose.com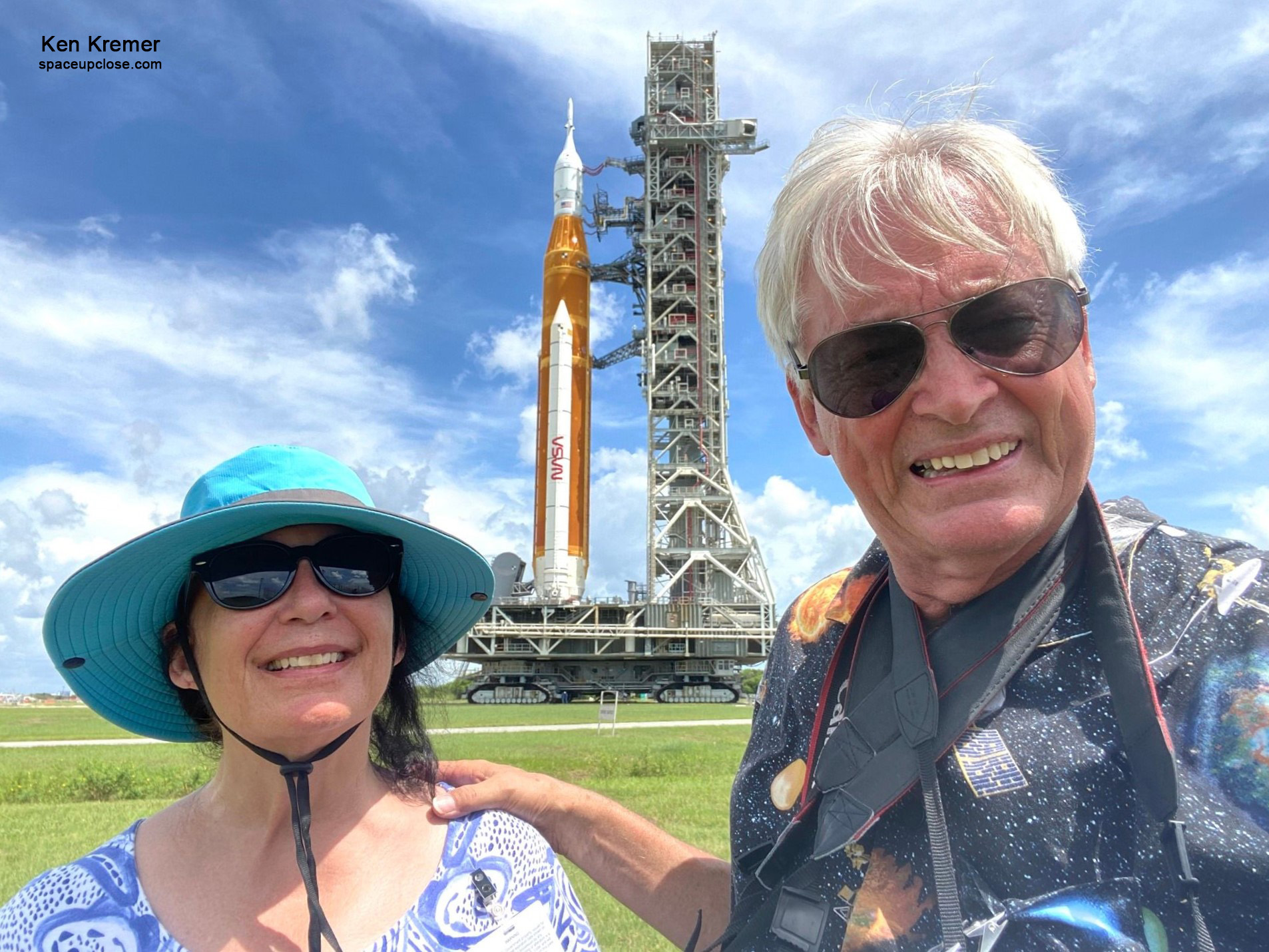 X