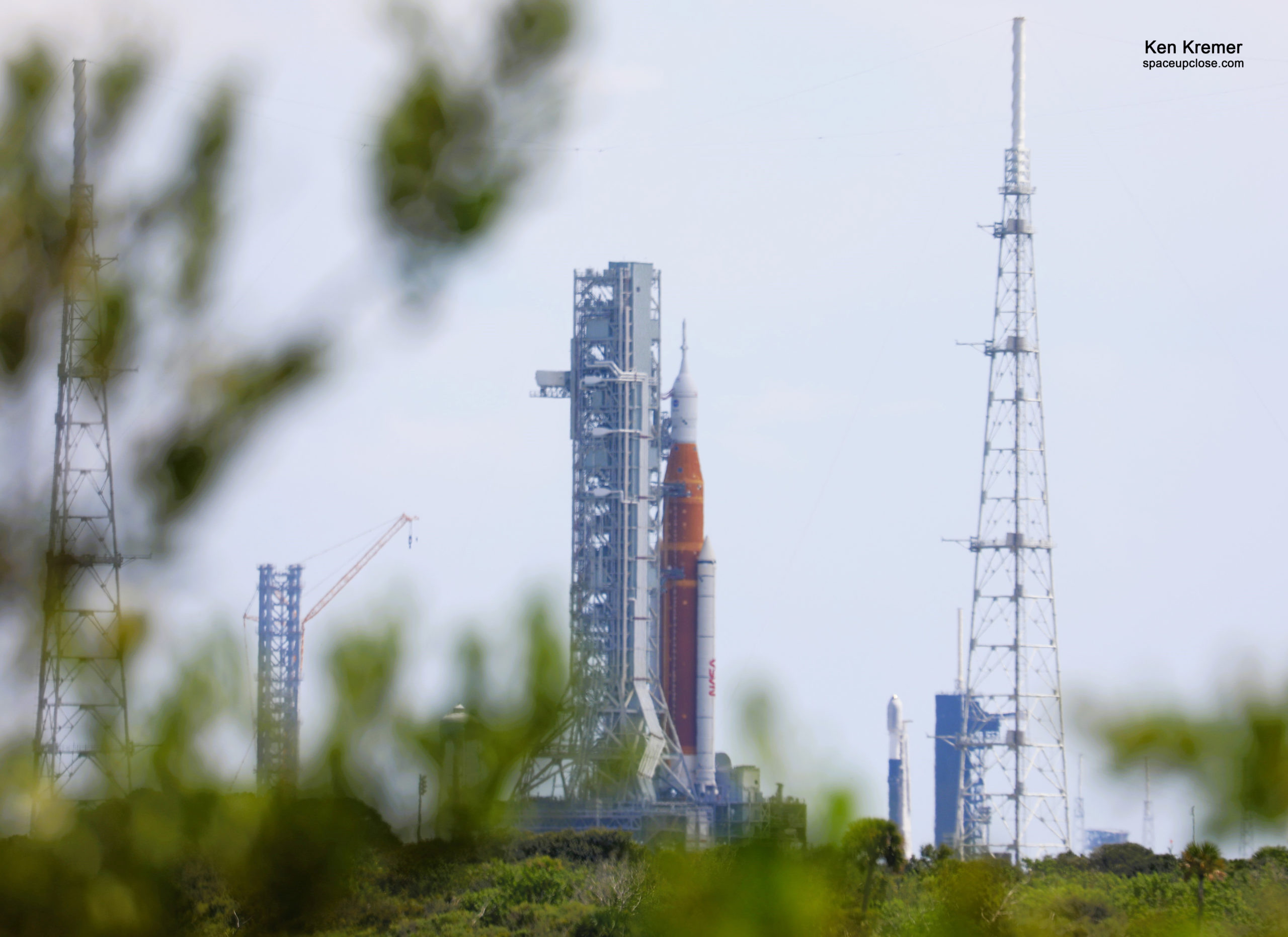 For SpaceUpClose.com & RocketSTEM
CANAVERAL NATIONAL SEASHORE/KENNEDY SPACE CENTER, FL – For a brief day in early September a darling rocket duo were standing simultaneously vertical at the sister pads Launch Pads 39B and 39A at the Kennedy Space Center (KSC) in Florida – namely NASA's Artemis 1 maiden SLS/Orion Mega Moon rocket and SpaceX's record-breaking recycled Falcon 9 rocket hosting a payload of Starlink internet satellites.
NASA's Artemis 1 SLS/Orion lunar test flight rocket remains at pad 39B following a pair of scrubs from launch attempts on Aug. 29 and Sept. 3.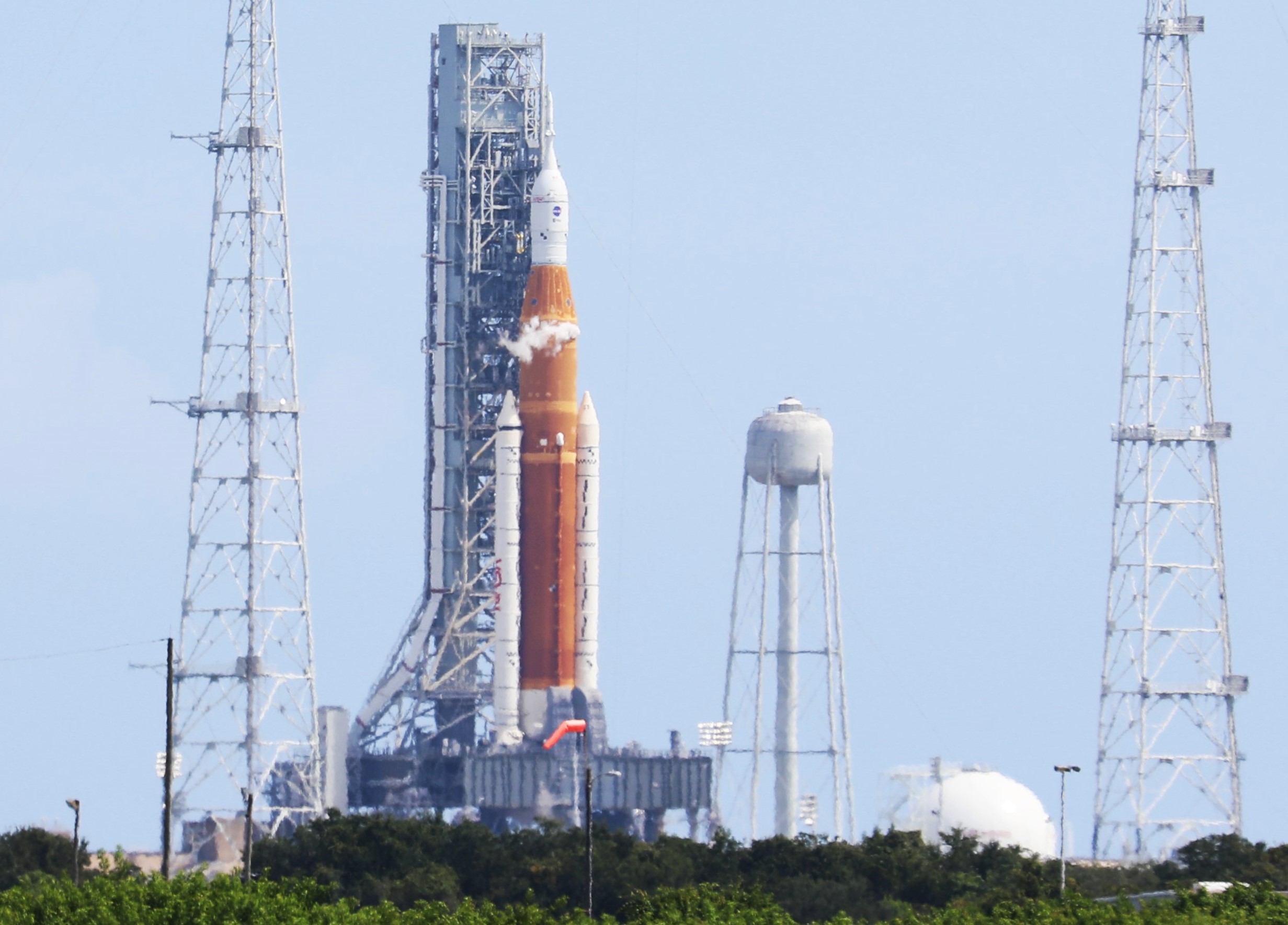 Meanwhile SpaceX engineers rolled the reused Falcon 9 to pad 39A on Friday, Sept. 9, and raised it vertical on Saturday, Sept. 10, amidst ongoing construction work on the mammoth Super Heavy/Starship tower which just grew higher with 8th segment just added.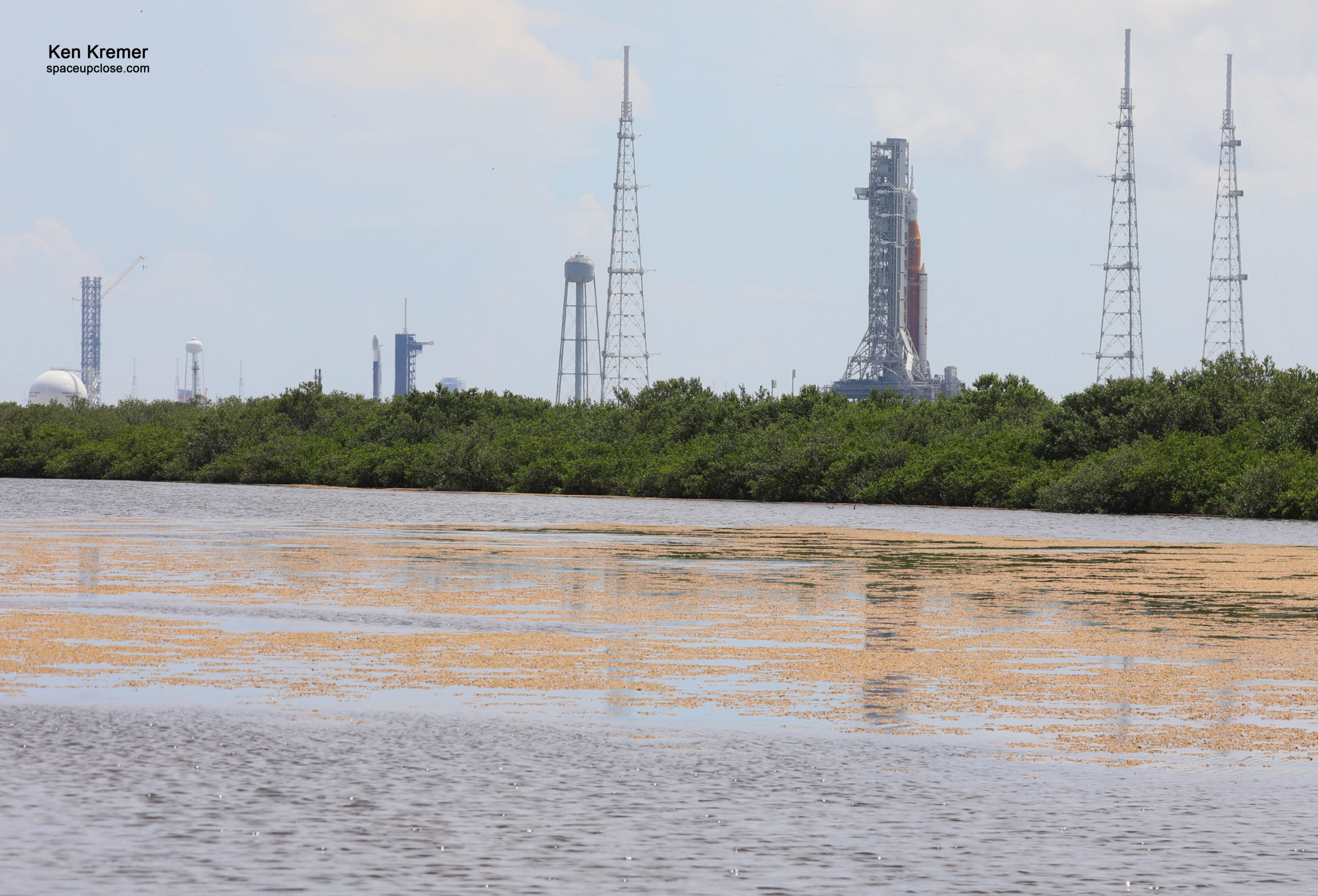 Liftoff of the veteran SpaceX Falcon 9 booster B1058.14 on its record-breaking 14th mission carrying another batch of Starlink internet satellites to LEO was targeted for 9:10 p.m. EDT Saturday evening. Sept. 10 from pad 39A.
The Falcon 9 payload on the Starlink 4-2 mission comprised 34 Starlink internet satellites and AST SpaceMobile Blue Walker 3 satellite rideshare.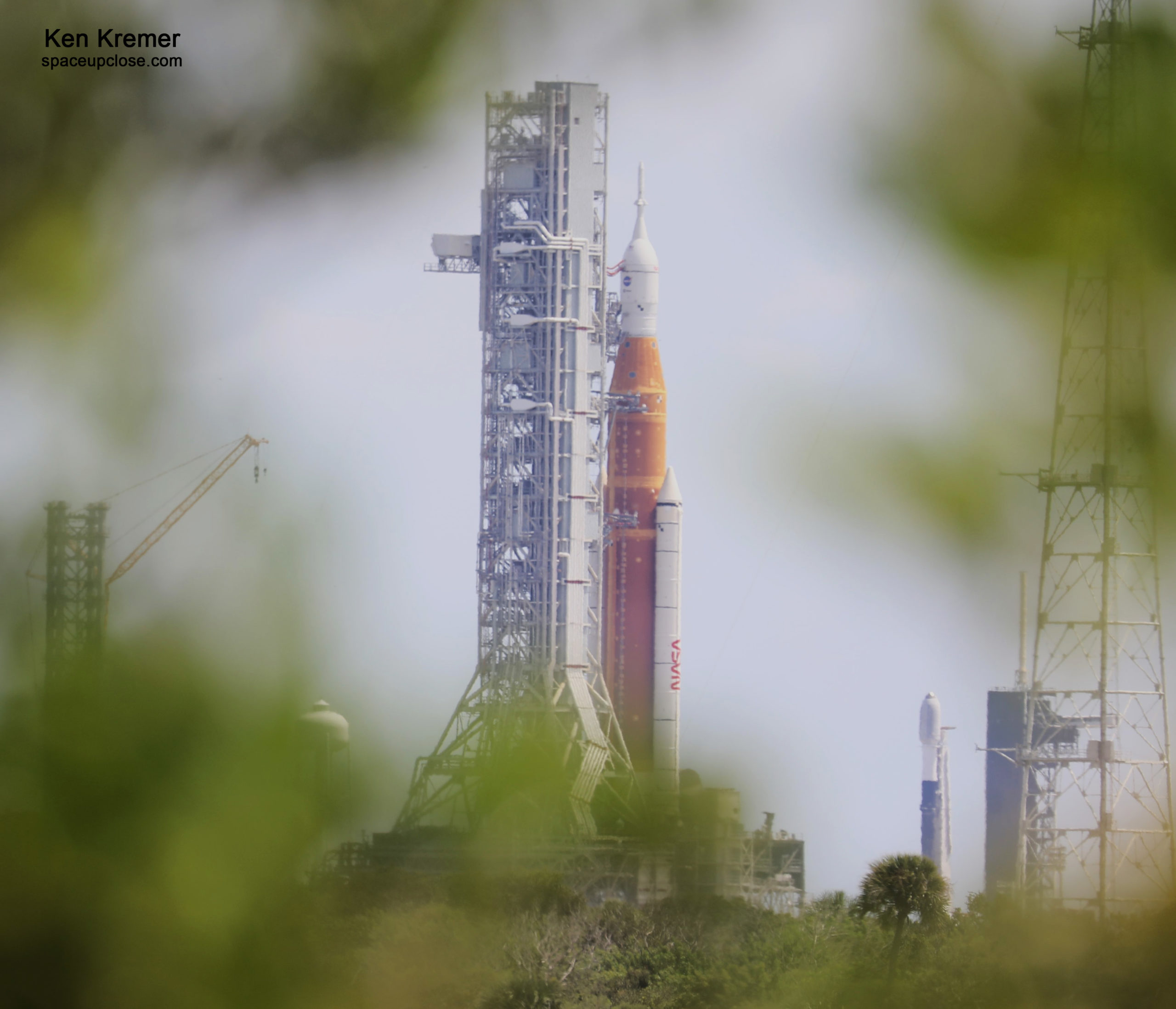 Engineers were in the process of replacing and repairing seals in the fuel lines leaking hydrogen on the mammoth Artemis 1 Moon rocket out at launch pad 39B which in turn will enable the team to carry out a full tanking demonstration test of super cold cryogenics to verify whether the dangerous leak has been fixed out at the pad under cryogenic conditions, rather than back inside the Vehicle Assembly Building (VAB) where cryo cooling is not possible – and furthermore set up late September for the next launch attempt from Florida's Space Coast.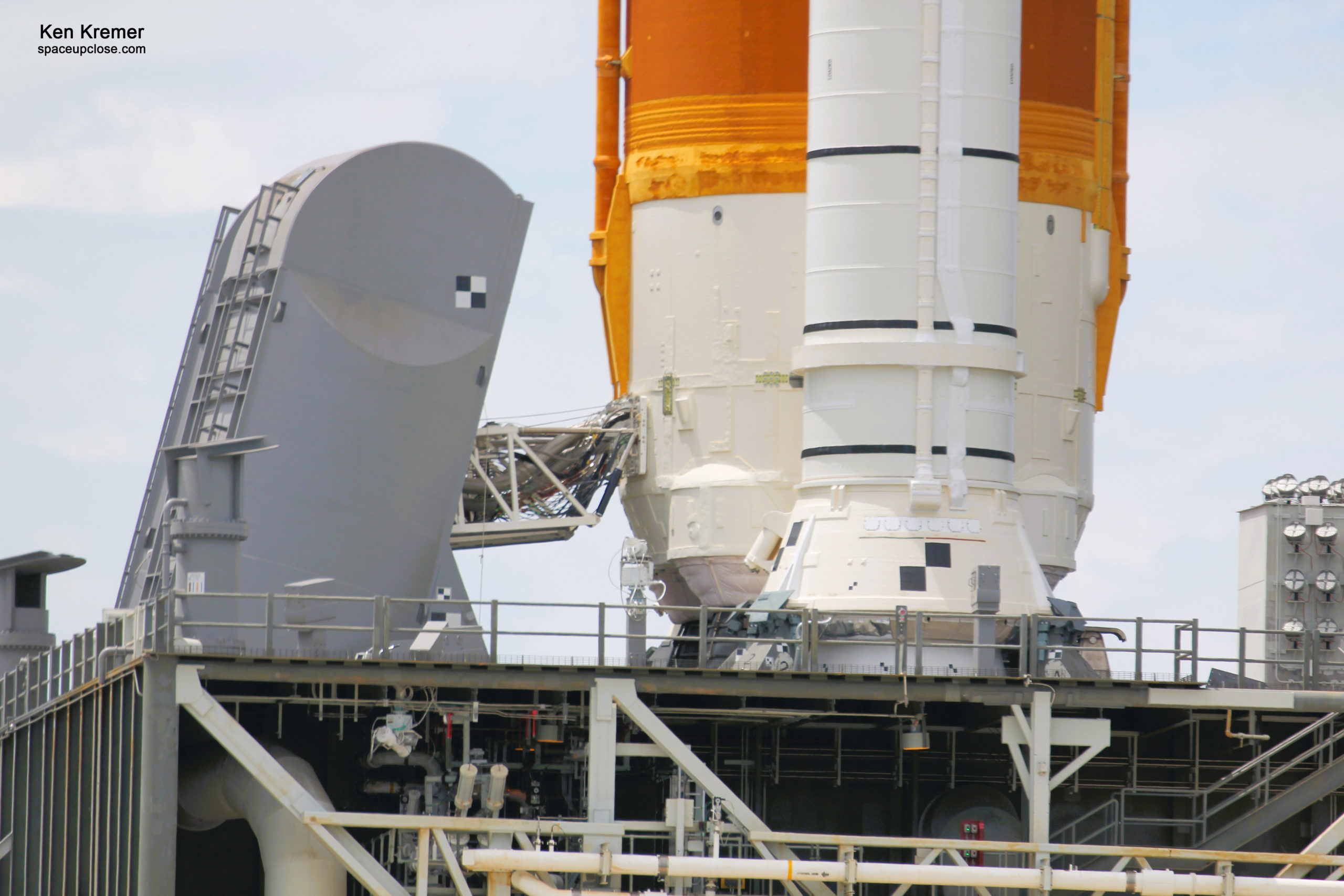 Enjoy our photos of the NASA SLS moon rocket and Space Falcon 9 vertical at pads 39B and 39A taken on Saturday, Sept. 10, for Space UpClose team by Ken Kremer offsite on Canaveral National Seashore and Playalinda Beach.
The brief reprise of SLS and Falcon 9 simultaneously vertical follows the first ever such coincidence that took place earlier this year in April when the Falcon 9 hosted the Crew Dragon destined for Axiom-1 – the first all private crewed mission to the International Space Station (ISS).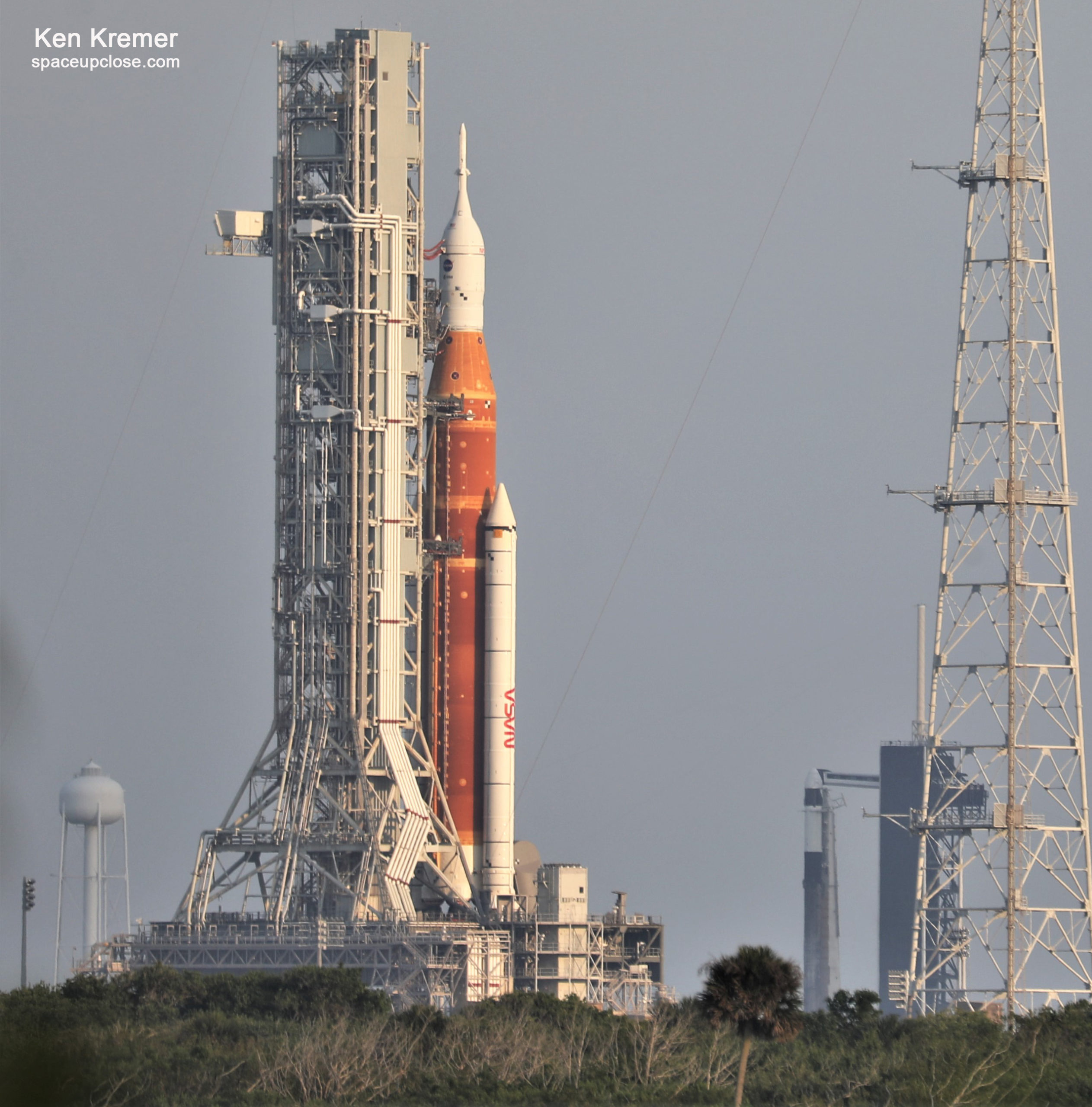 "This is the first time two totally different types of rockets and spacecraft designed to carry humans are on the sister pads at the same time—but it won't be the last as NASA's Kennedy Space Center in Florida continues to grow as a multi-user spaceport to launch both government and commercial rockets," NASA officials announced in April.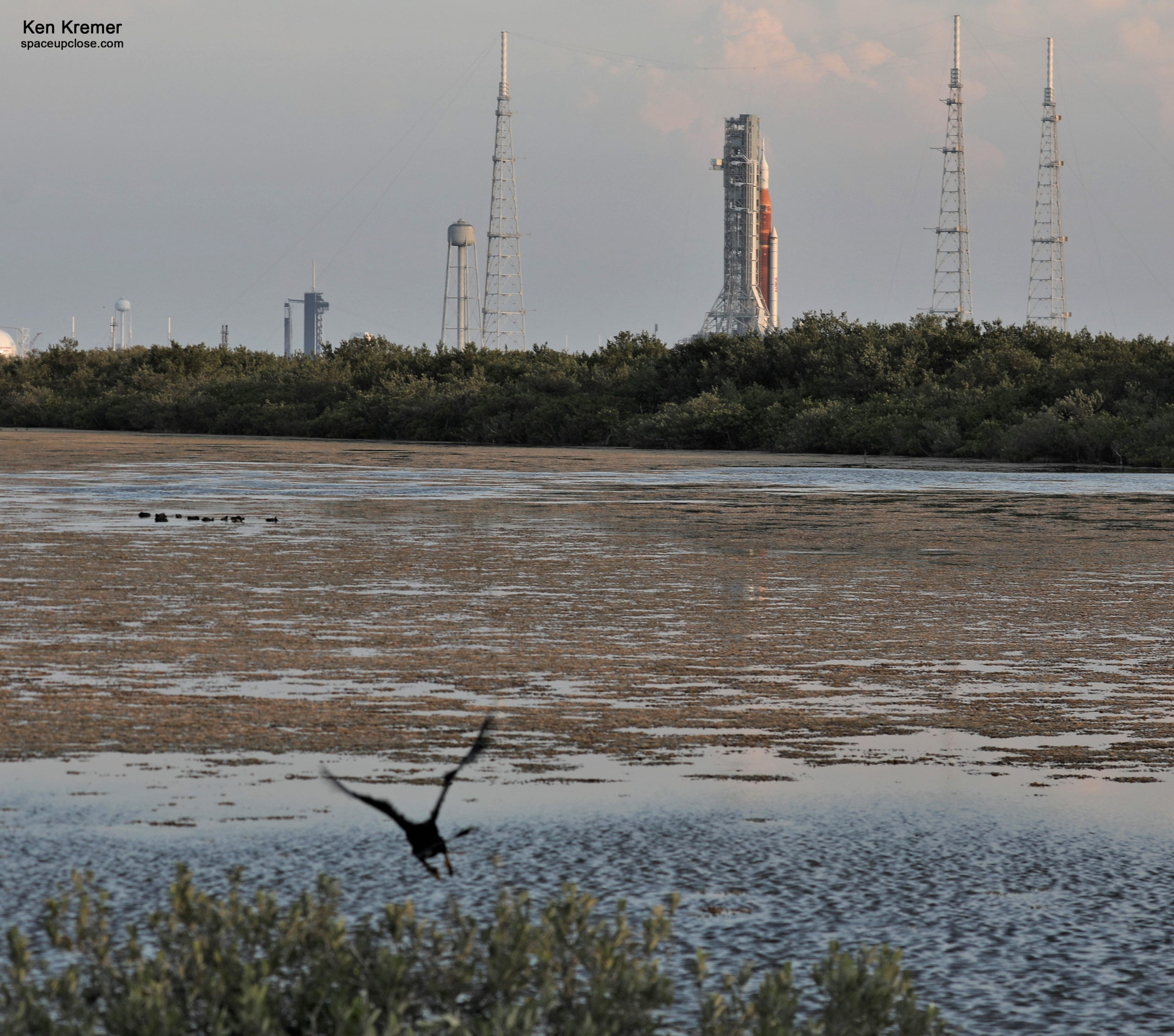 It was a remarkable feat of coincidence in April when the NASA SLS Mega Moon rocket for the Artemis 1 lunar mission and the SpaceX Falcon 9 rocket for the Axiom mission 1 (AX-1) to the ISS were both designed to carry humans to space and both inhabiting adjacent launch pads 39B and 39A for the first time ever – as well as marking the first time since 2009 that both KSC pads were occupied with rockets of any kind.
Our prior photos of the NASA SLS moon rocket and Space Falcon 9 vertical at pads 39B and 39A were taken on Wednesday, April 6 by the Space UpClose team of Ken Kremer and Jean Wright from offsite on Canaveral National Seashore, following a WDR scrub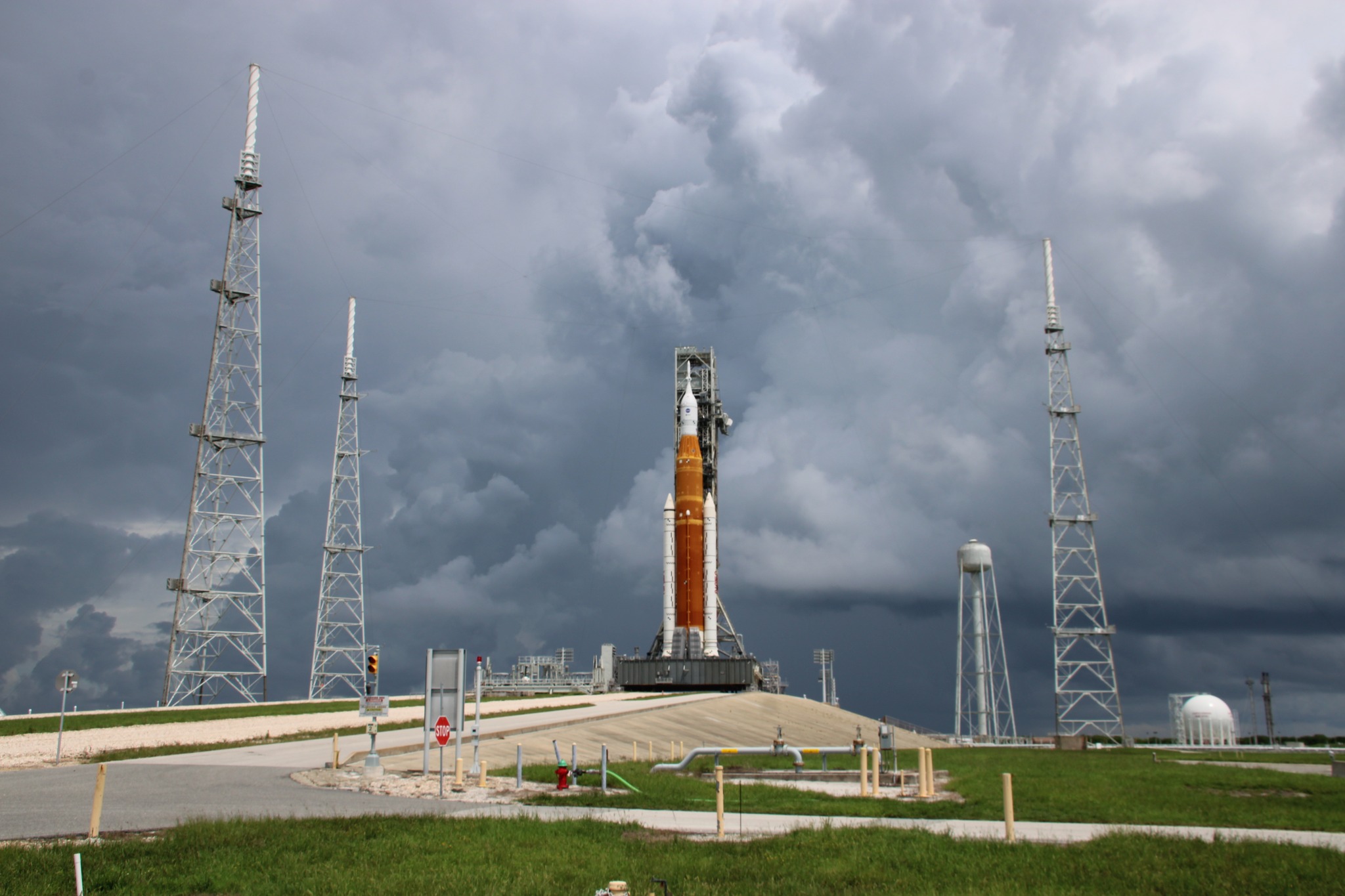 Watch Ken's continuing reports about Artemis, SpaceX missions, SLS, Orion and NASA missions, SpaceX Crew and Cargo Dragons, SpaceX Axiom-1, JWST, IXPE, DART, Lucy Asteroid mission, GOES, SpaceX Starlink, Commercial Crew and Starliner and Crew Dragon, Blue Origin and Space Tourism, and onsite for live reporting of upcoming and recent SpaceX and ULA launches including Crew 1 & 2 & 3 & 4, ISS, Solar Orbiter, Mars 2020 Perseverance and Curiosity rovers, NRO spysats and national security missions and more at the Kennedy Space Center and Cape Canaveral Space Force Station.
Stay tuned here for Ken's continuing Earth and Planetary science and human spaceflight news: www.kenkremer.com –www.spaceupclose.com – twitter @ken_kremer – email: ken at kenkremer.com
Dr. Kremer is a research scientist and journalist based in the KSC area, active in outreach and interviewed regularly on TV and radio about space topics.
………….
Ken's photos are for sale and he is available for lectures and outreach events
Please consider supporting Ken's work by purchasing his photos and/or donating at Patreon
https://www.patreon.com/kenkremer
Upcoming and recent space events and talks by Ken Kremer & Jean Wright
Sep 2, 4, 9,10,13  from 7 to 9 PM Quality Inn, Titusville, FL:  Join Ken and Jean for Artemis 1 outreach. ask us anything. plus display our photos and space apparel items for sale
Ken's space/rocket photos & Jean's  custom sewn space apparel and space items for sale to support our ad free space news website: SpaceUpClose.com
Aug 11: Fairbanks Museum & Planetarium, St Johnsbury, VT
https://www.fairbanksmuseum.org/blog/eyewitness-to-nasa/
"Eyewitness to NASA Human and Robotic Explorers"
Aug 19: McAuliffe-Shepard Discovery Center, Concord, NH
https://www.starhop.com/special-programs
"Sew Sister to the Stars: How the Humble Art of Sewing Transformed the World of Flight"
Contact us if you wish to meet, attend a talk or schedule a talk
Ken's space/rocket photos & Jean's  custom sewn space apparel and space items for sale to support our ad free space news website: SpaceUpClose.com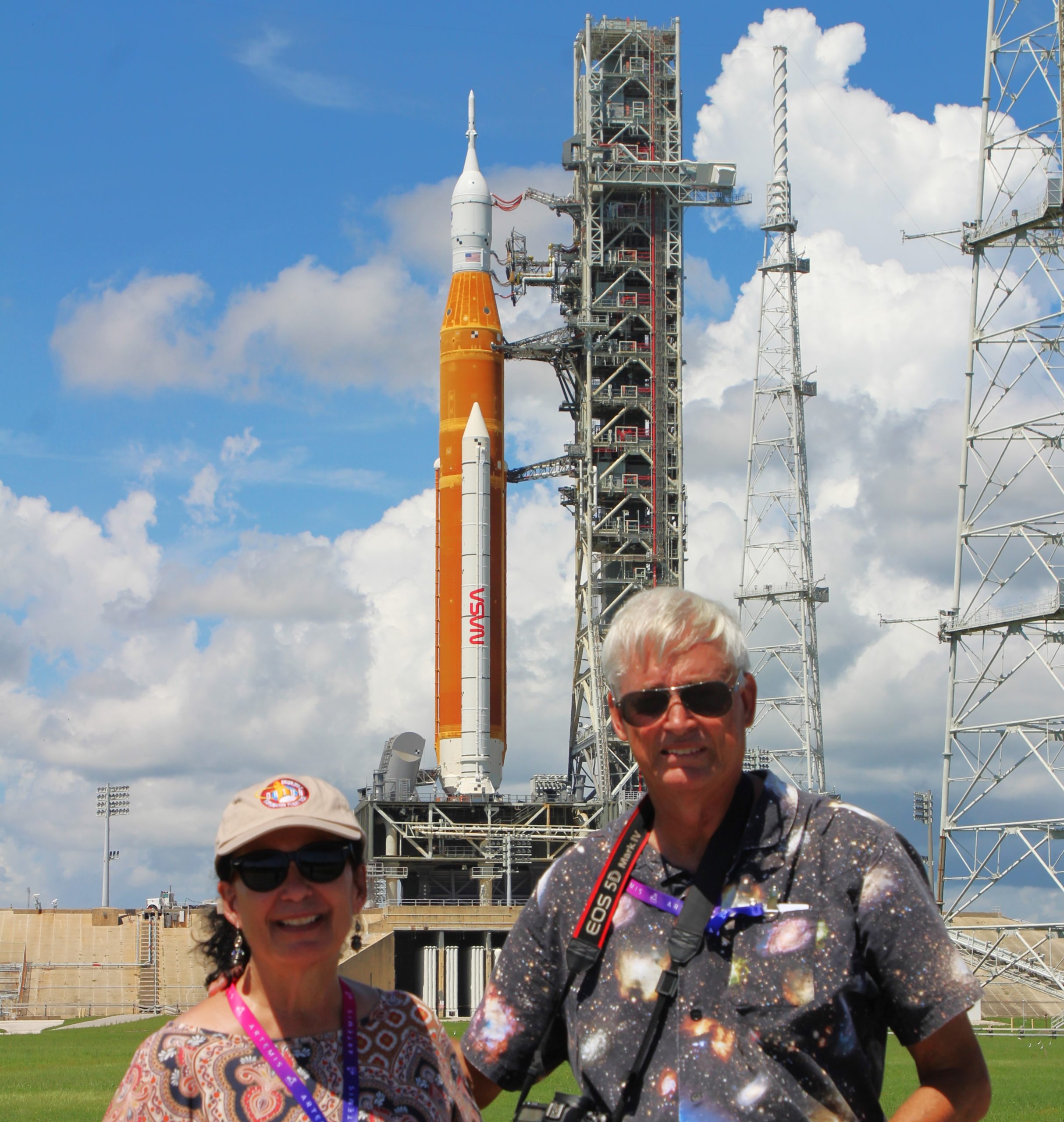 X