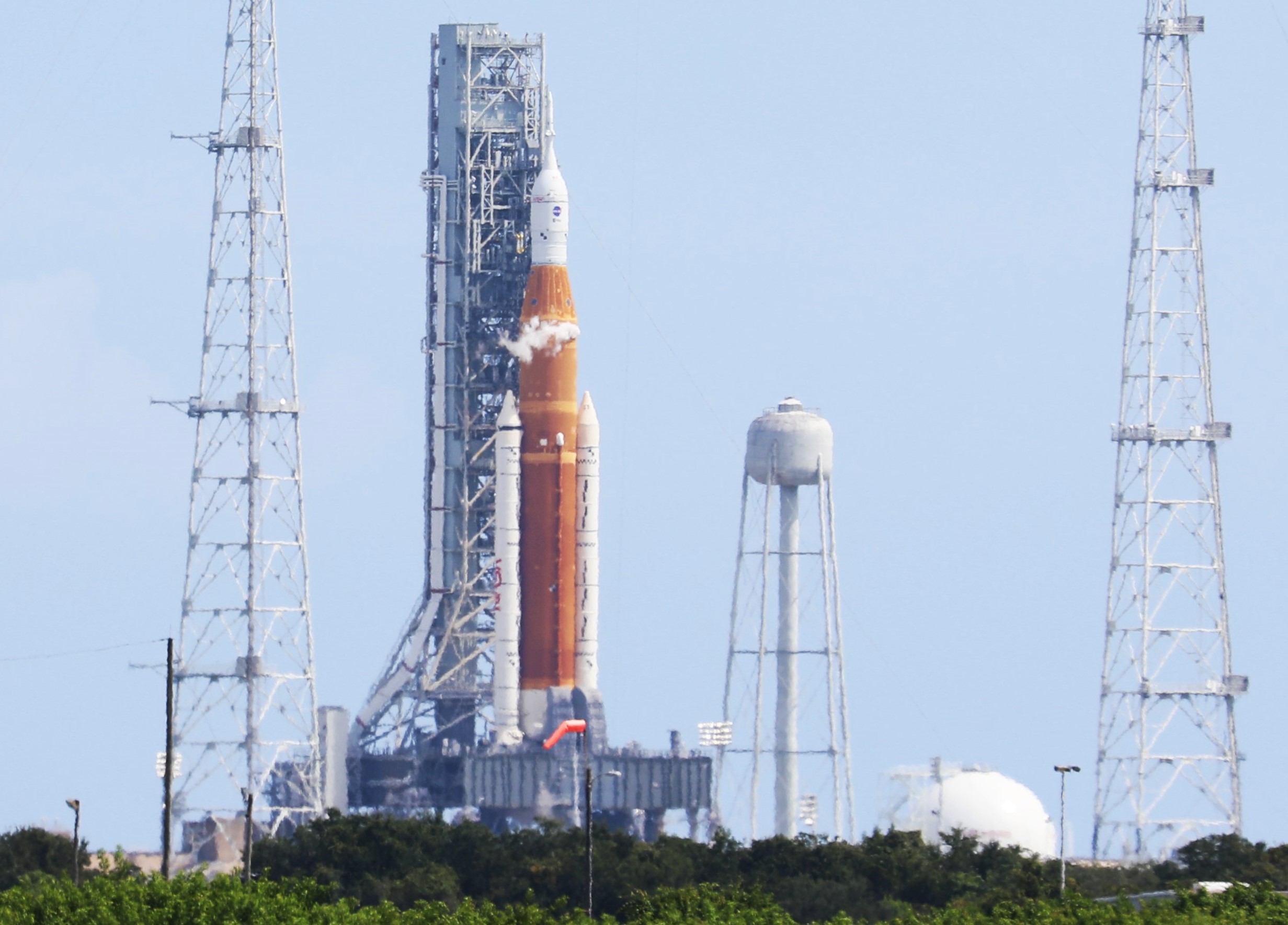 For SpaceUpClose.com & RocketSTEM
KENNEDY SPACE CENTER, FL –  A significant hydrogen fuel leak discovered in a quick disconnect fitting near the beginning of loading of cryogenic propellants forced NASA to scrub the 2nd attempt to launch the Artemis 1 Moon rocket in five days on a lunar test flight mission scheduled for Saturday, Sept. 3 from the Kennedy Space Center (KSC) and Florida's Spaceport.
The large hydrogen leak will delay the liftoff of the maiden flight of the mammoth Space Launch System (SLS) Mega Moon rocket on its unpiloted lunar test flight by at least several weeks – and most likely even into mid-October from NASA's Kennedy Space Center as managers and technicians endeavor to determine the ultimate cause of the leak, make repairs and ready the $4 Billion SLS rocket for the next new launch attempt from Launch Complex 39B.
NASA engineers are considering to carry out repairs to the faulty quick disconnect seal at pad 39B and then conduct a mini cryo fueling test to accelerate the determination of the integrity of the seal and verify whether the leak has been fixed
The hydrogen leak can really only be detected at the super cold loading temperatures around minus 423 degrees F during an actual launch attempt or alternatively during a partial tanking test or a full wet dress rehearsal (WDR) at the pad – not at ambient or room temperature and cannot be done in the Vehicle Assembly Building (VAB) after rollback.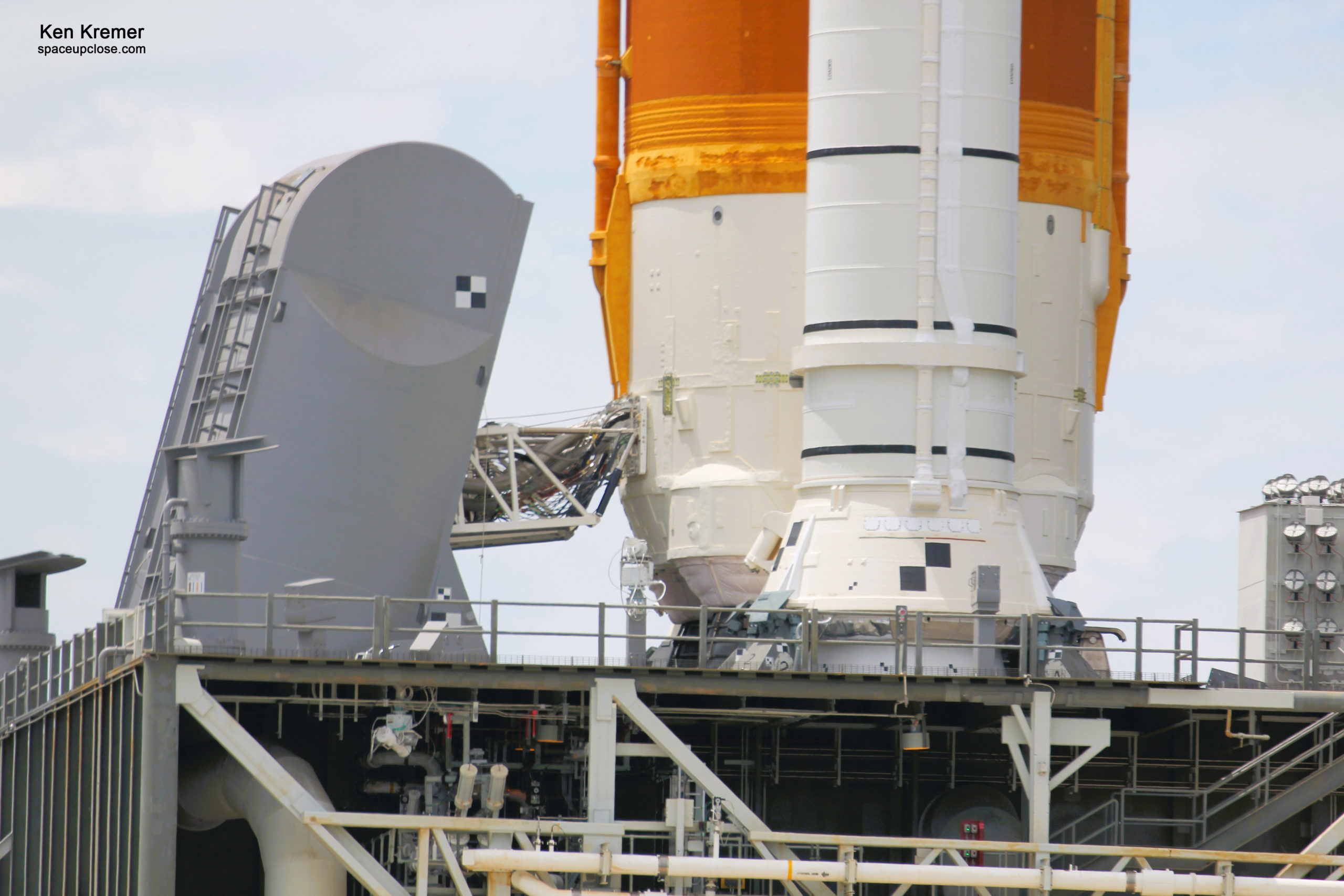 Liftoff of the Artemis 1 mission was slated for Saturday, Sept. 3 at 2:17 p.m. EDT from seaside Launch Complex 39B on NASA's Kennedy Space Center on the first integrated test flight of NASA's Orion spacecraft, Space Launch System (SLS) rocket, and the ground systems at the agency's Kennedy Space Center in Florida.
The two-hour window for Artemis 1 extended until 4:17 p.m. EDT.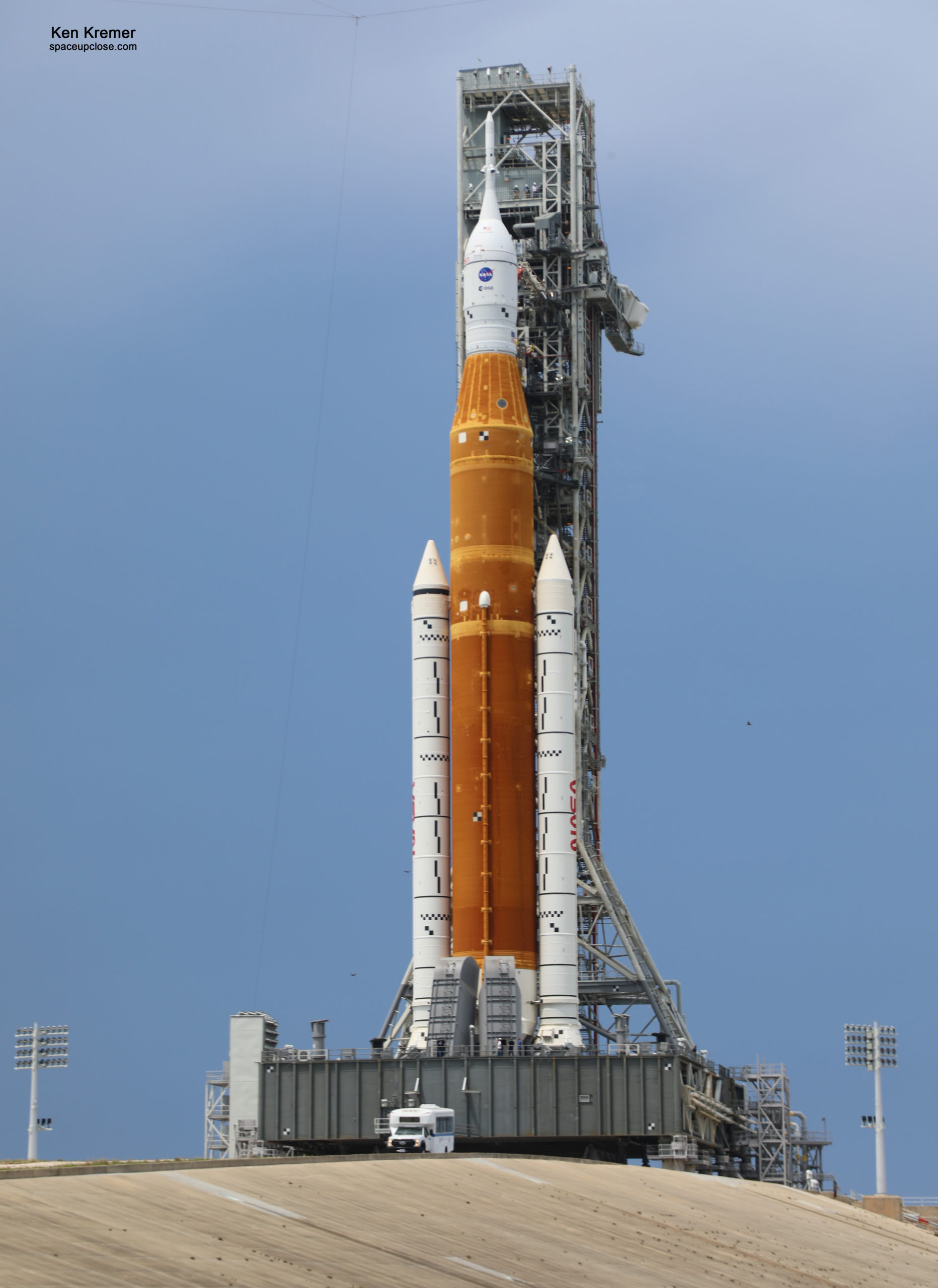 The hydrogen leak was discovered in an 8 inch quick disconnect fitting leading from the ground systems at the pad to an interface between the liquid hydrogen fuel feed line  and the core stage Space Launch System (SLS) rocket in the Tail Service Mast Umbilical (TSMU) soon after the start of the flow liquid hydrogen commenced after 6 a.m. EDT Sept. 3
The large leak was discovered around 7:15 a.m. in a cavity in different location from the leak on Aug. 29 (which was manageable) whereupon the hydrogen flow was temporarily halted.
The large hydrogen leak on Sept. 3 was in a different quick disconnect fitting spot and the concentration was much larger compared to the prior one on Aug. 29.
On Saturday the hydrogen leak concentration exceeded the flammability limit of 4% by two or three times, said Mike Sarafin, NASA's Artemis 1 mission manager at NASA Headquarters in Washington, D.C. at a post scrub briefing.
"In terms of the leak that we saw on Monday [Aug. 29], it was a manageable leak. This was not a manageable leak," Sarafin said at the post scrub briefing a few hours after the scrub was called.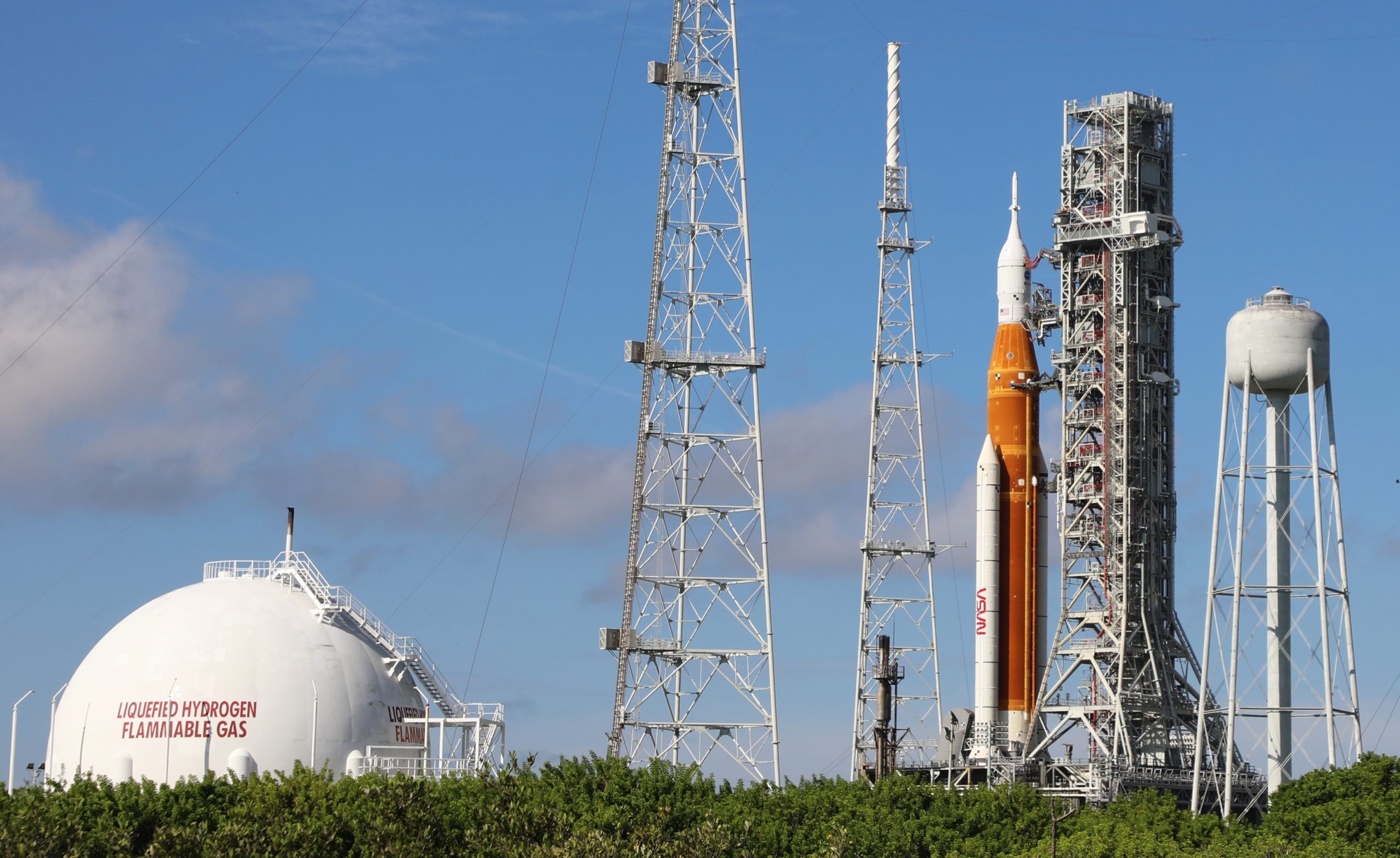 Three attempts to fix the hydrogen leak by trying to reseat a loose seal in the quick disconnect all failed.
"During today's launch attempt, engineers saw a leak in a cavity between the ground side and rocket side plates surrounding an 8-inch line used to fill and drain liquid hydrogen from the SLS rocket," NASA said later in a blog post.
"Three attempts at reseating the seal were unsuccessful. While in an early phase of hydrogen loading operations called chilldown, when launch controllers cool down the lines and propulsion system prior to flowing super cold liquid hydrogen into the rocket's tank at minus 423 degrees F, an inadvertent command was sent that temporarily raised the pressure in the system. While the rocket remained safe and it is too early to tell whether the bump in pressurization contributed to the cause of the leaky seal, engineers are examining the issue."
Thus any significant hydrogen flow into the Artemis 1 SLS core stage could not be restarted safely
NASA's Artemis 1 Launch Director Charlie Blackwell-Thompson ultimately waived off the 2nd SLS launch attempt called the scrub at 11:17 a.m. EDT – some three hours prior to the opening of the launch window.
The team was able to fully load the liquid oxygen (LOX) tank of the core stage and it was being replenished as some of the super cooled propellant boils off.
The integrated stack of NASA's Space Launch System (SLS) rocket and Orion crew capsule stands 322 foot tall.
Hundreds of thousands of disappointed spectators from the general public to space workers to dignitaries had gathered from across America and around the globe and clogged local parks and beaches to witness the Artemis 1 blastoff on its second launch attempt this past week because it signifies the start of our astronauts returning to the Moon after a gap of 50 years.
But disappointment is far better than disaster because there is really no margin for error and the launch must proceed nearly flawlessly to keep Project Artemis on track and safe from the clutches of short-sighted budget cutters.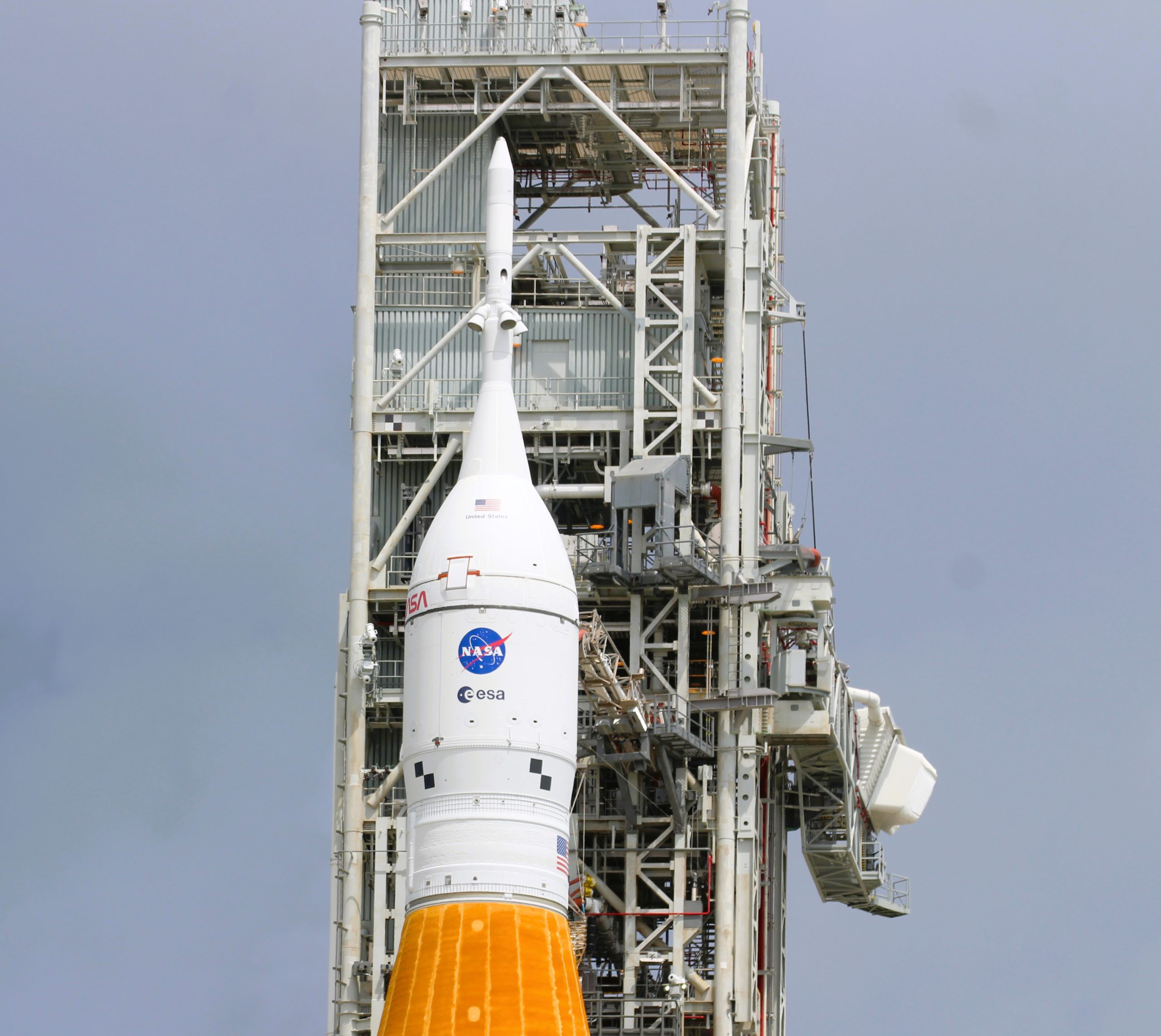 The latest delay of the Artemis 1 blastoff forecloses any possibility to launch the moon rocket inside the current launch period which expires on Sept. 6 when the celestial mechanics between the orbits of the Earth and the Moon no longer line up favorably to allopw the mission top proceed ahead.
A new launch date has not been set and will not be set until the team satisfactorily fixes the hydrogen leak and assesses multiple options for how to proceed on the way forward such as potentially carrying out a partial cryogenic tanking test to confirm no further hydrogen leaks and move ahead with more confidence.
Safafin told me at the briefing that only a small portion of the cryogenics would need to be loaded into the core stage to carry out a test, on the order of 5+% until after the start of the fast fill of LH2.
But that's all TBD at this time.
Furthermore, the certified lifetime of the critical batteries required to power the Flight Termination System (FTS) will have simultaneously expired on Sept. 6 on the same date when the launch period also closes
The FTS must function and would be activated to destroy the rocket in case it veers off course and threatens populated areas near the KSC launch site.
All rockets are equipped with an FTS system to protect the public and property from grievous harm and destruction.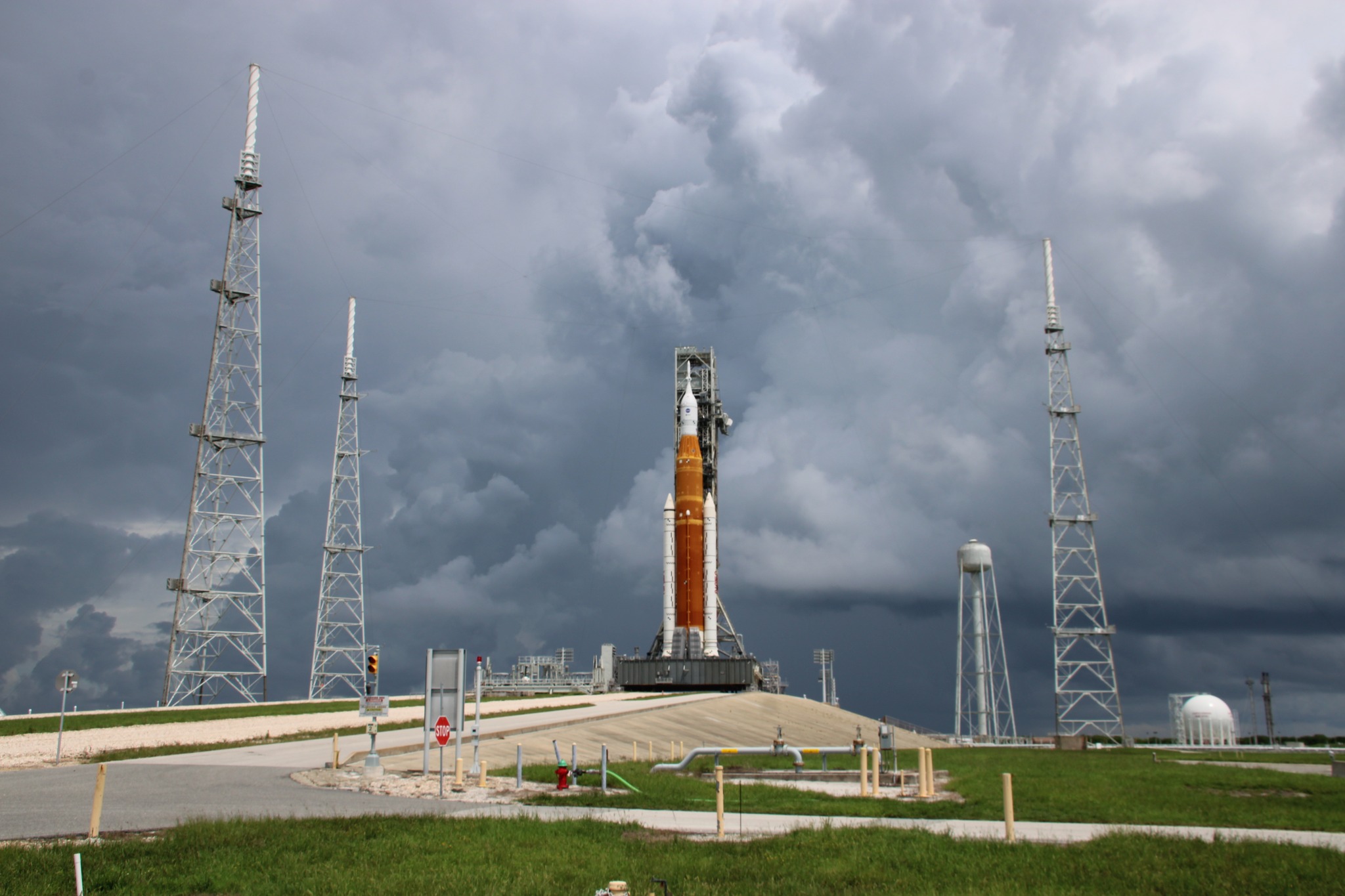 Currently the FTS batteries are certified for only 25 days (recently up from 20 days) and the SLS/Orion stack must be rolled back to the VAB to recharge them .
NASA would need to rapidly request a lengthy weeks long extension  of FTS battery lifetime to  avoid the necessity of a rollback to the VAB  for the work.
"We don't have an FTS waiver right now beyond 25 days. Until we have that, we have to roll back," said Jim Free, NASA associate administrator for exploration systems development.. "We'll work with the range to try and get that."
As of Sept. 3 Free told me that NASA had not yet made such a request.
If the FTS lifetime were to be extended, NASA could potentially launch Artemis 1 as soon as the opening of the next launch period on Sept. 19.
But that seems highly unlikely and NASA officials said at the briefing that they would roll the 32 story stack back to the VAB for all the work
Artemis 1 will be uncrewed and is the first test flight in NASA's Project Artemis program to return humans to the Moon for the first time in five decades.
NASA officials waved off the Artemis 1 launch attempt on Aug, 29 because of a combination of poor weather and multiple technical issues that left insufficient time to institute fixes.
Despite a favorable weather outlook, the weather was red almost the entire window and would have forced a scrub even if the rocket had been ready with no technical show stoppers.
Following the scrub called on the first launch attempt of the Artemis 1 Moon rocket on Monday, Aug 29, NASA officials had decided to postpone the launch date for the maiden flight of the mammoth SLS Mega Moon rocket on its unpiloted lunar test flight from NASA's Kennedy Space Center (KSC) by a day from the original target of Friday, Sept. 2 to Saturday, Sept. 3 to allow more time for managers and technicians to evaluate the rocket, fix a hydrogen leak and hope for better weather.
The Space UpClose team of Ken Kremer and Jean Wright attended and witnessed both SLS/Orion launch attempts and the rollouts and rollbacks from KSC Press Site
Enjoy our photos of SLS/Orion launch attempts at pad 39B and rolling out and back between the VAB and pad 39B.
Read my earlier detailed stories about the launch attempts rollout, rollback and repairs illustrated with our photos
Watch Ken's commentary about  Project Artemis, Capstone, NASA SLS WDR demo test, NASA SpaceX Cargo Dragon, JWST, SpaceX missions including NASA Crew-3 and Crew 4, AX-1, Nilesat 301, Transporter-5, Starlink, Boeing Starliner, and NASA TROPICS  1.
Sept. 4: Interview on BBC Breakfast about 2nd Artemis 1 scrub and whats ahead with repairs and launch opportunities:
Aug 31: Interview on BBC Breakfast about Artemis 1 scrub and whats ahead with launch reset to Sep 3
Aug 31:  Interview on BBC 5 Live Radio about Artemis 1 scrub and whats ahead with launch reset to Sep 3
Starts at about the 55 minute point
https://www.bbc.co.uk/sounds/play/m001bkc1
Aug 30:  Interview on BBC Breakfast about Artemis 1 scrub and whats ahead:
Aug 30:  Interview on WFTV Channel 9 ABC Orlando about Artemis 1 scrub and whats ahead :
https://www.wftv.com/news/video-nasa-crews-evaluating-artemis-1-scrubbed-launch-attempt/05348583-b9be-440f-afd9-9cb52cfa894a/
Aug 30: 3 different anchor and reporter interviews on Fox 35 Orlando about Artemis 1 scrub and whats ahead:
"Ken Kremer, research scientist and founder/managing editor of Space UpClose, discusses the upcoming launch of Artemis l after being scrubbed on Monday."
https://www.fox35orlando.com/video/1111720
Aug 29: Two Prescrub interviews on BBC World TV and BBC TV about Artemis 1 launch attempt on Aug 29
Aug 29:  Pre and Post Artemis 1 scrub interviews on NewsNation
https://www.newsnationnow.com/space/nasa-artemis-1-launch/
Aug 29:  Pre and Post scrub interviews on Fox 35 Orlando
Aug 29: Post scrub interview on WKMG CBS 6 Orlando:
Aug 28: Preview to Artemis 1 launch my live half hour interview on WKMG CBS 6 Orlando with news anchor Justin Warmoth on 'The Weekly':
https://www.clickorlando.com/news/local/2022/08/29/little-margin-for-error-nasa-faces-pressure-over-artemis-mission/
Aug 27: Interview on WFTV Channel 9 ABC Orlando about Artemis 1
https://www.wftv.com/news/local/brevard-county/space-coast-is-getting-ready-artemis-i-launch-this-weekend/CNZ2AIOJYRC4XMGC7Y2HIBAYVU/
Watch Ken's continuing reports about Artemis, SpaceX missions, SLS, Orion and NASA missions, SpaceX Crew and Cargo Dragons, SpaceX Axiom-1, JWST, IXPE, DART, Lucy Asteroid mission, GOES, SpaceX Starlink, Commercial Crew and Starliner and Crew Dragon, Blue Origin and Space Tourism, and onsite for live reporting of upcoming and recent SpaceX and ULA launches including Crew 1 & 2 & 3 & 4, ISS, Solar Orbiter, Mars 2020 Perseverance and Curiosity rovers, NRO spysats and national security missions and more at the Kennedy Space Center and Cape Canaveral Space Force Station.
Stay tuned here for Ken's continuing Earth and Planetary science and human spaceflight news: www.kenkremer.com –www.spaceupclose.com – twitter @ken_kremer – email: ken at kenkremer.com
Dr. Kremer is a research scientist and journalist based in the KSC area, active in outreach and interviewed regularly on TV and radio about space topics.
………….
Ken's photos are for sale and he is available for lectures and outreach events
Please consider supporting Ken's work by purchasing his photos and/or donating at Patreon
https://www.patreon.com/kenkremer
Upcoming and recent space events and talks by Ken Kremer & Jean Wright
Sep 2, 4 and 10 from 7 to 9 PM Quality Inn, Titusville, FL:  Join Ken and Jean for Artemis 1 outreach. ask us anything. plus display our photos and space apparel items for sale
Aug 26 to 28 from 7 to 9 PM at Quality Inn, Titusville, FL:  Join Ken and Jean for Artemis 1 outreach. ask us anything. plus display our photos and space apparel items for sale
Ken's space/rocket photos & Jean's  custom sewn space apparel and space items for sale to support our ad free space news website: SpaceUpClose.com
Aug 11: Fairbanks Museum & Planetarium, St Johnsbury, VT
https://www.fairbanksmuseum.org/blog/eyewitness-to-nasa/
"Eyewitness to NASA Human and Robotic Explorers"
Aug 19: McAuliffe-Shepard Discovery Center, Concord, NH
https://www.starhop.com/special-programs
"Sew Sister to the Stars: How the Humble Art of Sewing Transformed the World of Flight"
Contact us if you wish to meet, attend a talk or schedule a talk
Ken's space/rocket photos & Jean's  custom sewn space apparel and space items for sale to support our ad free space news website: SpaceUpClose.com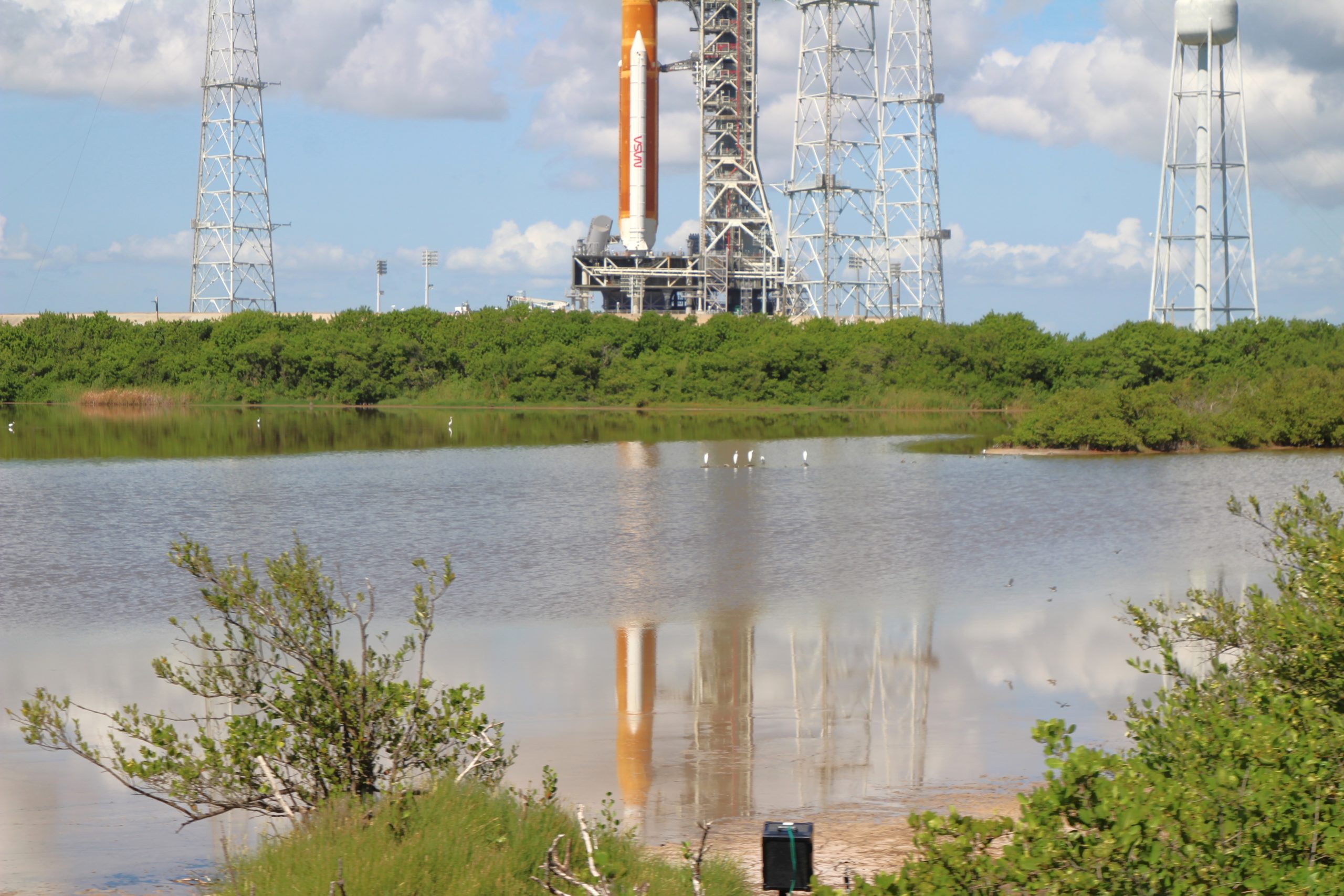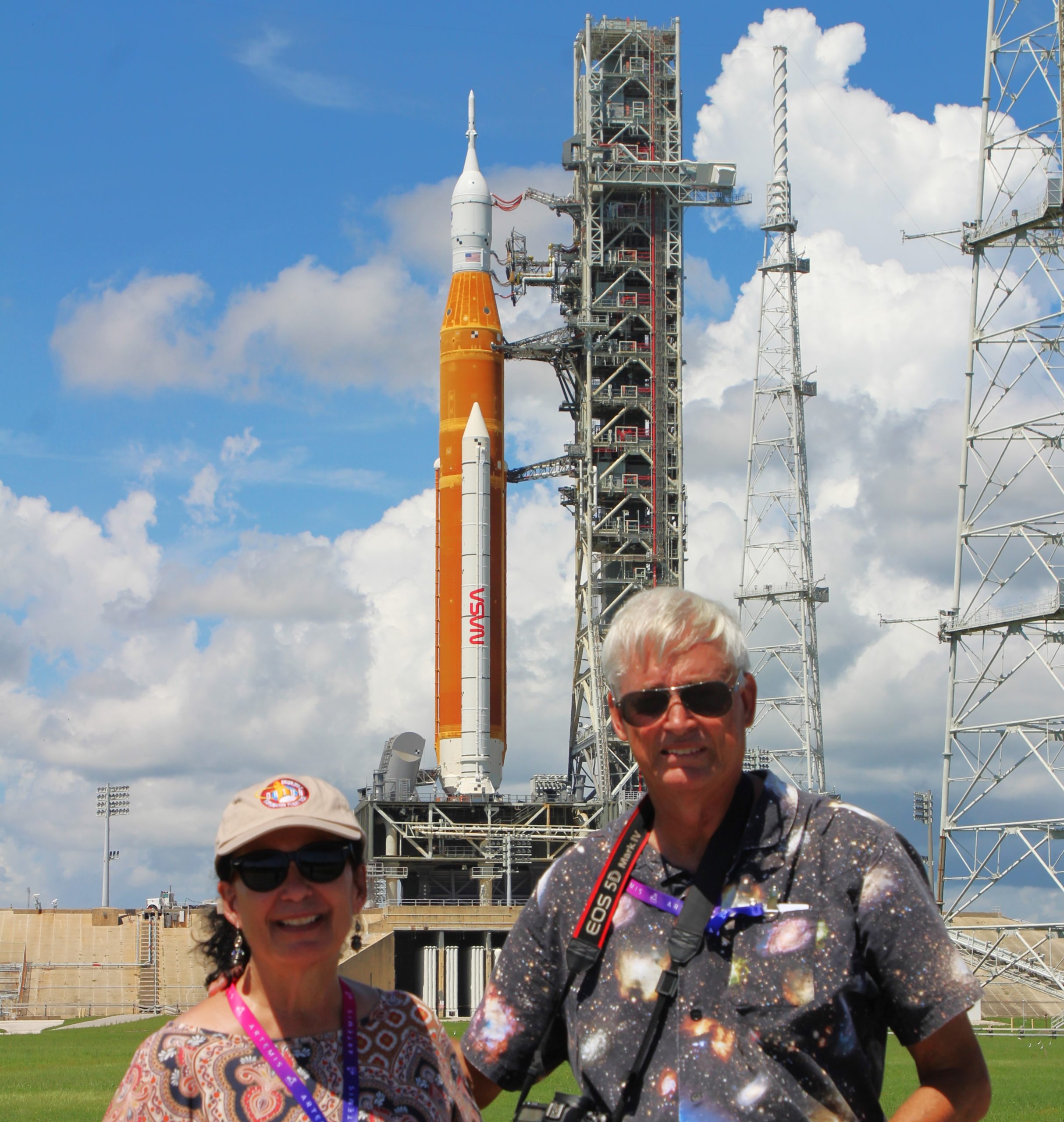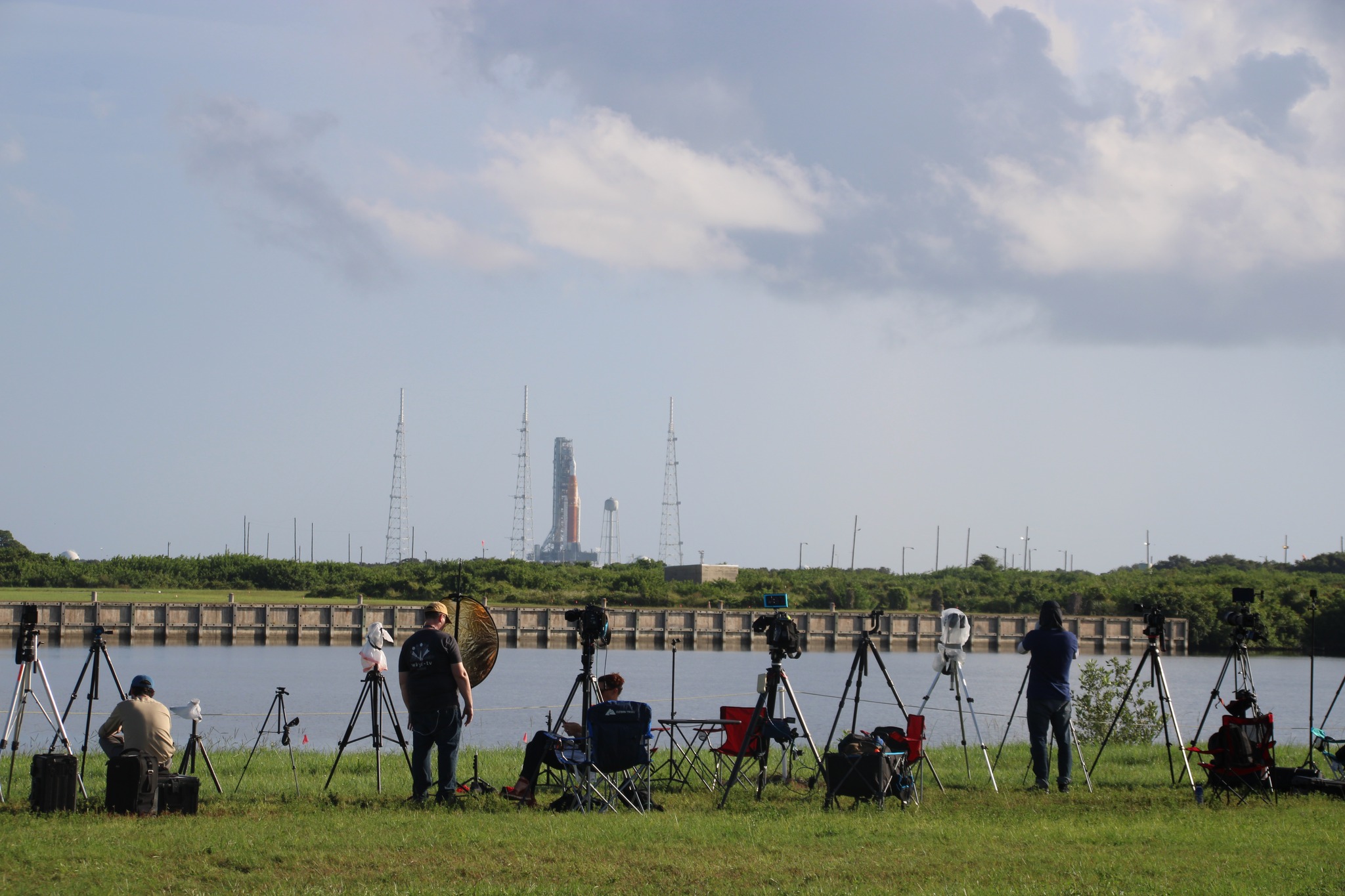 x