For SpaceUpClose.com & RocketSTEM
KENNEDY SPACE CENTER, FL –  Following the scrub called on the first launch attempt of the Artemis 1 Moon rocket on Monday, Aug 29, NASA officials have decided to postpone the launch date for the maiden flight of the mammoth SLS Mega Moon rocket on its unpiloted lunar test flight from NASA's Kennedy Space Center (KSC) by a day from Friday, Sept. 2 to Saturday, Sept. 3.
The scrub was called primarily because one of  the engines on the core stage, #3, apparently could not be chilled down to its requited operating temperature of -420 degrees F.
The other three engines 1, 2 and 4 were trending downwards.
Engine 3 had reached only about -380 degrees F, far from the target operating temperature which could have caused it to fail in flight
However the chilldown issue may not have been caused by the #3 engine itself, rather as a result of a faulty sensor still under evaluation.
The delay gives the team another 24 hours to investigate, evaluate and fix the multiple technical issues that forced Monday's scrub at the T Minus 40 minute mark around 8:30 a.m. ET.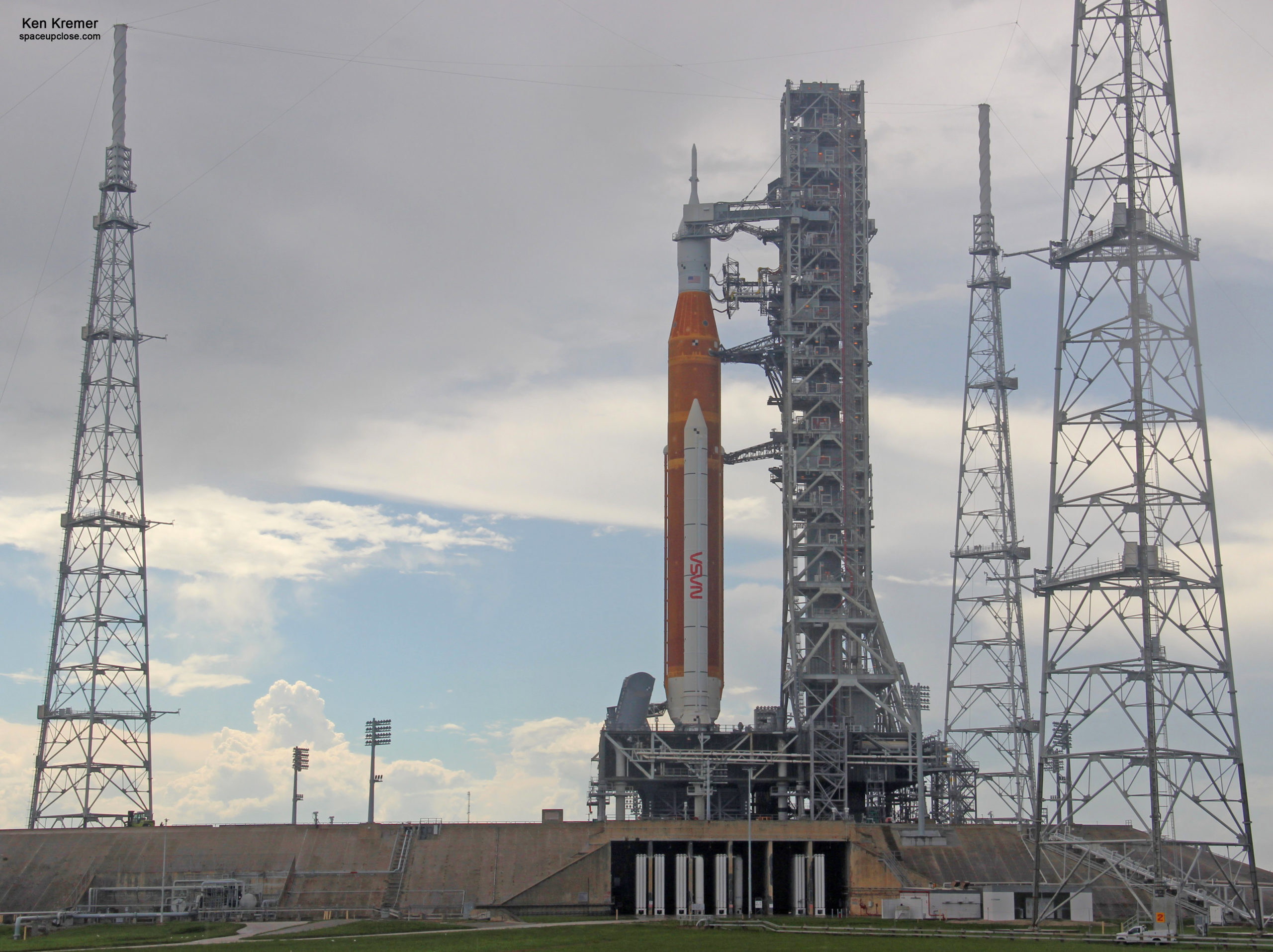 The launch director halted Mondays' Artemis I launch attempt at approximately 8:34 a.m. EDT. And held the clock at T Minus 40 minute mark.
The Space Launch System rocket and Orion spacecraft remained in a safe and stable configuration and were successfully detanked.
The NASA team is also hoping for better weather on Saturday for launch of the 322 foot tall stack integrated of NASA's Space Launch System (SLS) rocket and Orion crew capsule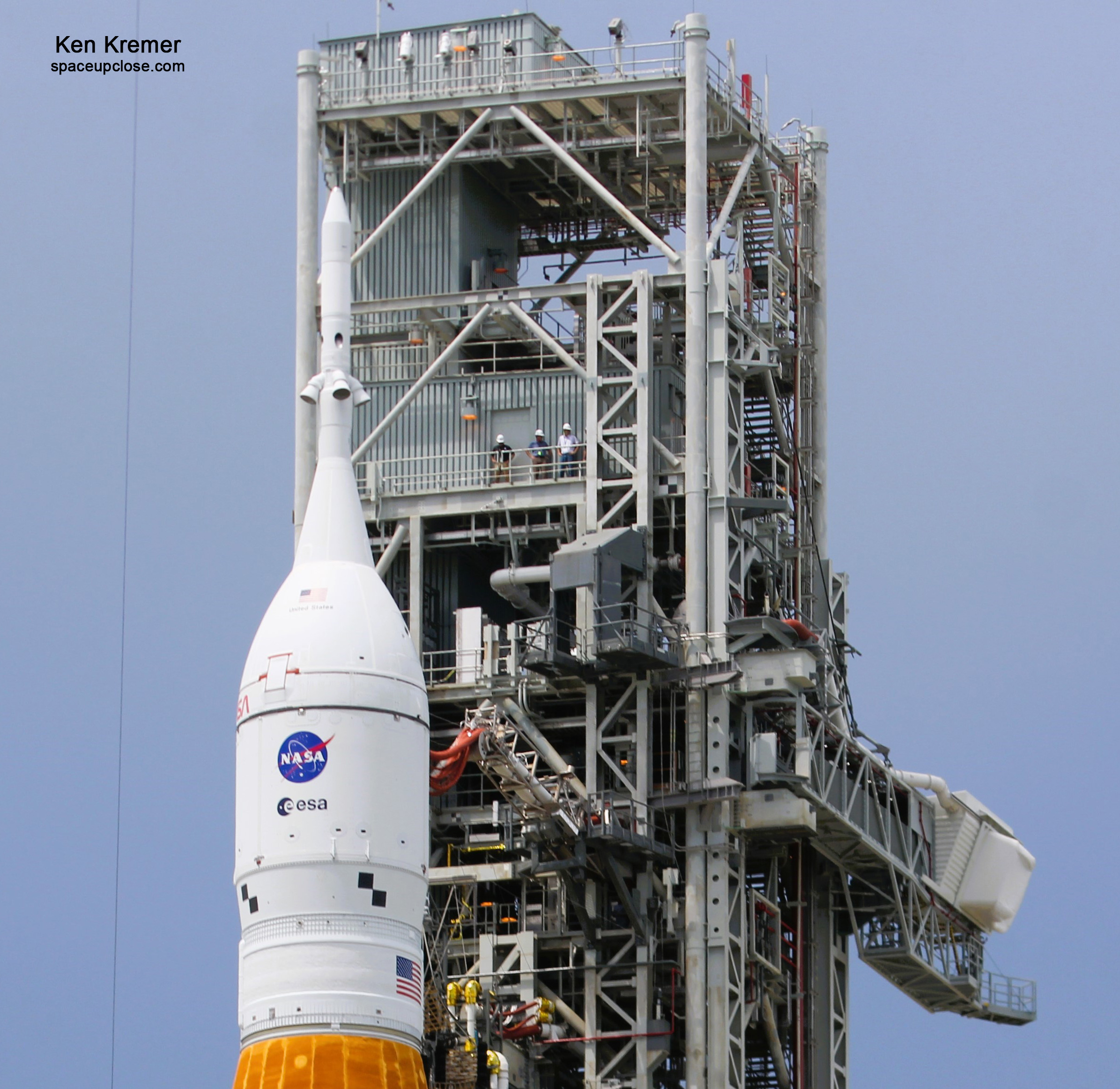 Liftoff of the Artemis 1 mission is slated for Saturday, Sept. 3 at 2:17 p.m. EDT from seaside Launch Complex 39B on NASA's Kennedy Space Center on the first integrated test flight of NASA's Orion spacecraft, Space Launch System (SLS) rocket, and the ground systems at the agency's Kennedy Space Center in Florida.
The two-hour window for Artemis 1 runs until 4:17 p.m. EDT.
If the launch takes place on Sept. 3 it will nominally run 37 days and conclude with a splashdown in the Pacific on Oct. 11
NASA can adjust the splashdown zone slightly in case of poor weather and sea states
The team can also extend the mission by weeks if needed by continuing in the stable lunar retrograde orbit.
A backup launch opportunity is available on Sept 5 shortly after 5 p.m. EDT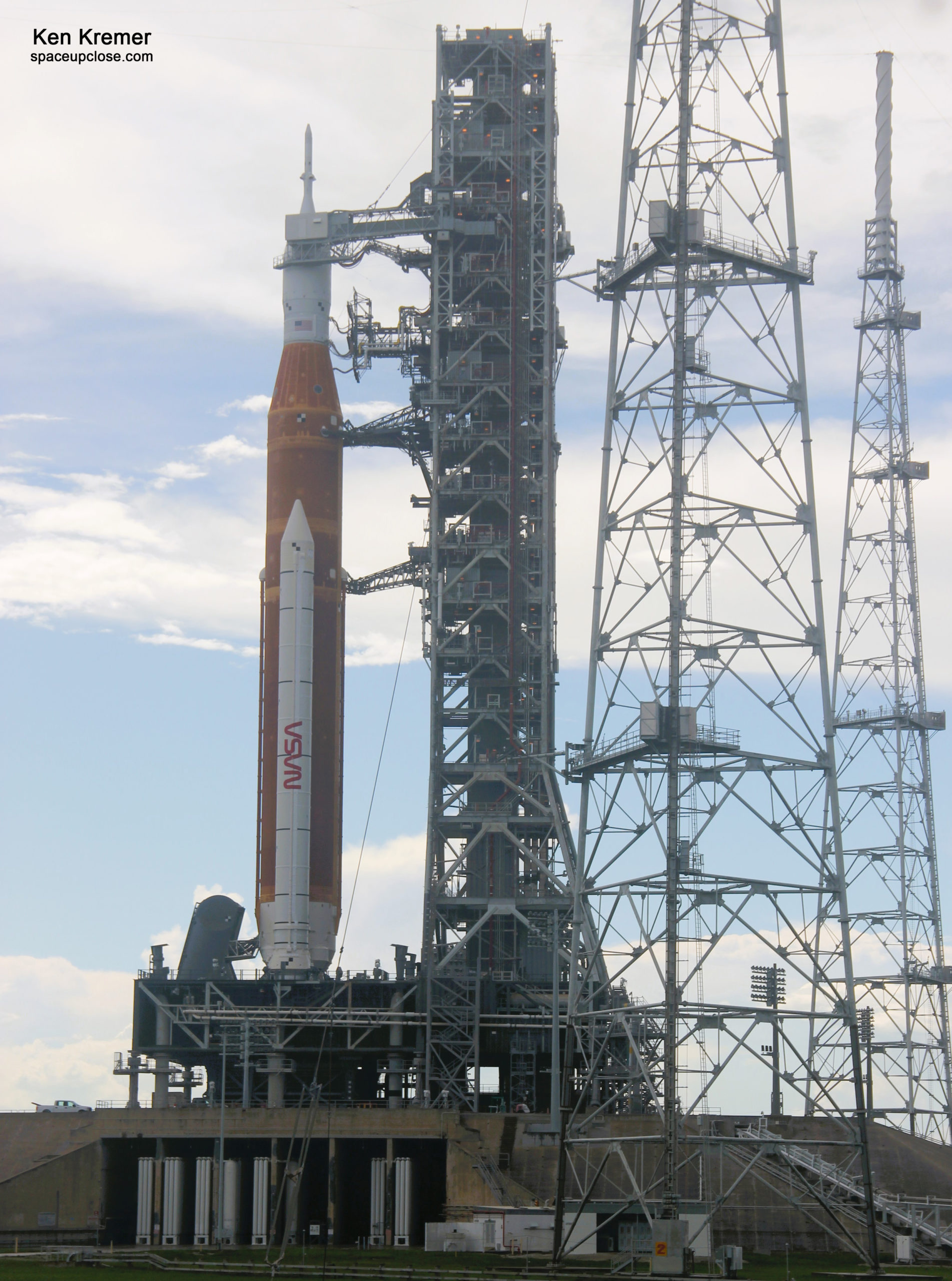 Furthermore local officials predict that a weekend launch over the Labor Day holiday could double the already massive crowd of spectators to many hundreds of thousands
Indeed meteorologists with the U.S. Space Force Space Launch Delta 45 predict 60% favorable weather conditions, improving throughout the window for Saturday – a significant improvement of the only 40% GO conditions initially forecast.
Live coverage will begin on NASA TV on the agency's website and the NASA app at 5:45 a.m. with commentary and views of the rocket during tanking operations.
Full launch coverage begin at 12:15 p.m. EDT on NASA Television and the agency's website, as well as YouTube, Twitter, Facebook, LinkedIn, Twitch, Daily Motion, Theta.TV, and the NASA app. NASA en espanol broadcast coverage will begin at 1 p.m. EDT.
NASA officials waved off the Artemis 1 launch attempt on Aug, 29 because of a combination of poor weather and multiple technical issues that left insufficient time to institute fixes.
Despite a favorable weather outlook, the weather was red almost the entire window and would have forced a scrub even if the rocket had been ready with no technical show stoppers.
The Space Launch System's four RS-25 engines in the core stage must be thermally conditioned before super cold propellant begins flowing through them for liftoff.
"Launch controllers condition them by increasing the pressure on the core stage liquid hydrogen tank to route, or "bleed" as it is often called, a portion of the approximately minus 423 F liquid hydrogen to the engines. Managers suspect the issue, seen on engine 3, is unlikely to be the result of a problem with the engine itself," said NASA.
During the countdown, launch controllers worked through several additional issues, including storms and lightning strikes in the area around mignight and later that delayed the start of propellant loading operations by a full hour.
The Space UpClose team of Ken Kremer and Jean Wright attended and witnessed the SLS/Orion 1st and 2nd rollouts and rollbacks from KSC Press Site
Enjoy our photos of SLS/Orion at pad 39B and rolling out and back between the VAB and pad 39B.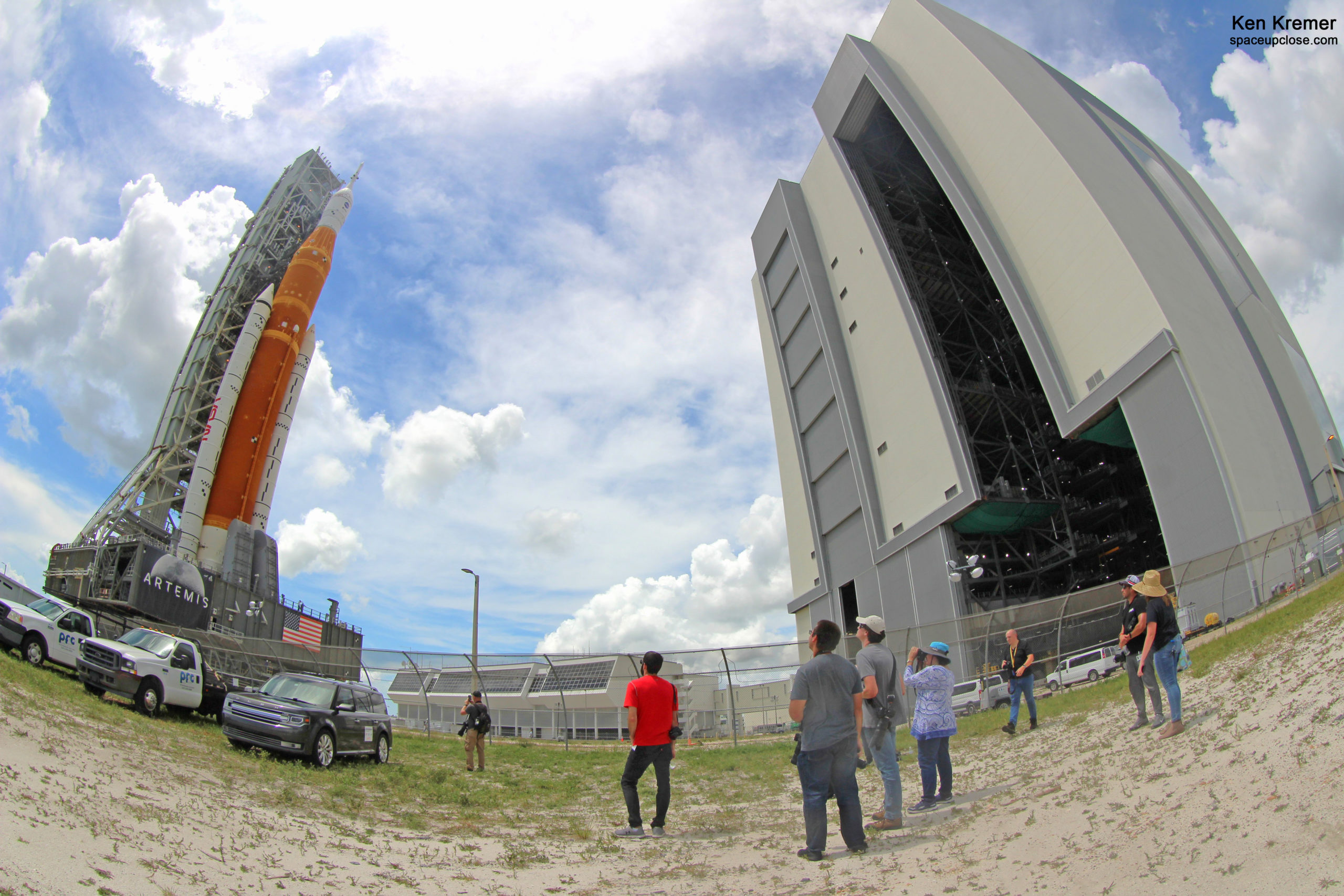 Read my earlier detailed stories about the rollout, rollback and repairs illustrated with our photos
Watch Ken's commentary about  Project Artemis, Capstone, NASA SLS WDR demo test, NASA SpaceX Cargo Dragon, JWST, SpaceX missions including NASA Crew-3 and Crew 4, AX-1, Nilesat 301, Transporter-5, Starlink, Boeing Starliner, and NASA TROPICS  1.
Aug 31: Interview on BBC Breakfast about Artemis 1 scrub and whats ahead with launch reset to Sep 3
Aug 31:  Interview on BBC 5 Live Radio about Artemis 1 scrub and whats ahead with launch reset to Sep 3
Starts at about the 55 minute point
https://www.bbc.co.uk/sounds/play/m001bkc1
Aug 30:  Interview on BBC Breakfast about Artemis 1 scrub and whats ahead:
Aug 30:  Interview on WFTV Channel 9 ABC Orlando about Artemis 1 scrub and whats ahead :
https://www.wftv.com/news/video-nasa-crews-evaluating-artemis-1-scrubbed-launch-attempt/05348583-b9be-440f-afd9-9cb52cfa894a/
Aug 30: 3 different anchor and reporter interviews on Fox 35 Orlando about Artemis 1 scrub and whats ahead:
"Ken Kremer, research scientist and founder/managing editor of Space UpClose, discusses the upcoming launch of Artemis l after being scrubbed on Monday."
https://www.fox35orlando.com/video/1111720
Aug 29: Two Pre scrub interviews on BBC World TV and BBC TV about Artemis 1 launch attempt on Aug 29
Aug 29:  Pre and Post Artemis 1 scrub interviews on NewsNation
https://www.newsnationnow.com/space/nasa-artemis-1-launch/
Aug 29:  Pre and Post scrub interviews on Fox 35 Orlando
Aug 29: Post scrub interview on WKMG CBS 6 Orlando:
Aug 28: Preview to Artemis 1 launch live half hour interview on WKMG CBS 6 Orlando:
https://www.clickorlando.com/news/local/2022/08/29/little-margin-for-error-nasa-faces-pressure-over-artemis-mission/
Aug 27: Interview on WFTV Channel 9 ABC Orlando about Artemis 1
https://www.wftv.com/news/local/brevard-county/space-coast-is-getting-ready-artemis-i-launch-this-weekend/CNZ2AIOJYRC4XMGC7Y2HIBAYVU/
Watch Ken's continuing reports about Artemis, SpaceX missions, SLS, Orion and NASA missions, SpaceX Crew and Cargo Dragons, SpaceX Axiom-1, JWST, IXPE, DART, Lucy Asteroid mission, GOES, SpaceX Starlink, Commercial Crew and Starliner and Crew Dragon, Blue Origin and Space Tourism, and onsite for live reporting of upcoming and recent SpaceX and ULA launches including Crew 1 & 2 & 3 & 4, ISS, Solar Orbiter, Mars 2020 Perseverance and Curiosity rovers, NRO spysats and national security missions and more at the Kennedy Space Center and Cape Canaveral Space Force Station.
Stay tuned here for Ken's continuing Earth and Planetary science and human spaceflight news: www.kenkremer.com –www.spaceupclose.com – twitter @ken_kremer – email: ken at kenkremer.com
Dr. Kremer is a research scientist and journalist based in the KSC area, active in outreach and interviewed regularly on TV and radio about space topics.
………….
Ken's photos are for sale and he is available for lectures and outreach events
Please consider supporting Ken's work by purchasing his photos and/or donating at Patreon
https://www.patreon.com/kenkremer
Upcoming and recent space events and talks by Ken Kremer & Jean Wright
Sep 2 from 7 to 9 PM Quality Inn, Titusville, FL:  Join Ken and Jean for Artemis 1 outreach. ask us anything. plus display our photos and space apparel items for sale
Aug 26 to 28 from 7 to 9 PM at Quality Inn, Titusville, FL:  Join Ken and Jean for Artemis 1 outreach. ask us anything. plus display our photos and space apparel items for sale
Ken's space/rocket photos & Jean's  custom sewn space apparel and space items for sale to support our ad free space news website: SpaceUpClose.com
Aug 11: Fairbanks Museum & Planetarium, St Johnsbury, VT
https://www.fairbanksmuseum.org/blog/eyewitness-to-nasa/
"Eyewitness to NASA Human and Robotic Explorers"
Aug 19: McAuliffe-Shepard Discovery Center, Concord, NH
https://www.starhop.com/special-programs
"Sew Sister to the Stars: How the Humble Art of Sewing Transformed the World of Flight"
Contact us if you wish to meet, attend a talk or schedule a talk
Ken's space/rocket photos & Jean's  custom sewn space apparel and space items for sale to support our ad free space news website: SpaceUpClose.com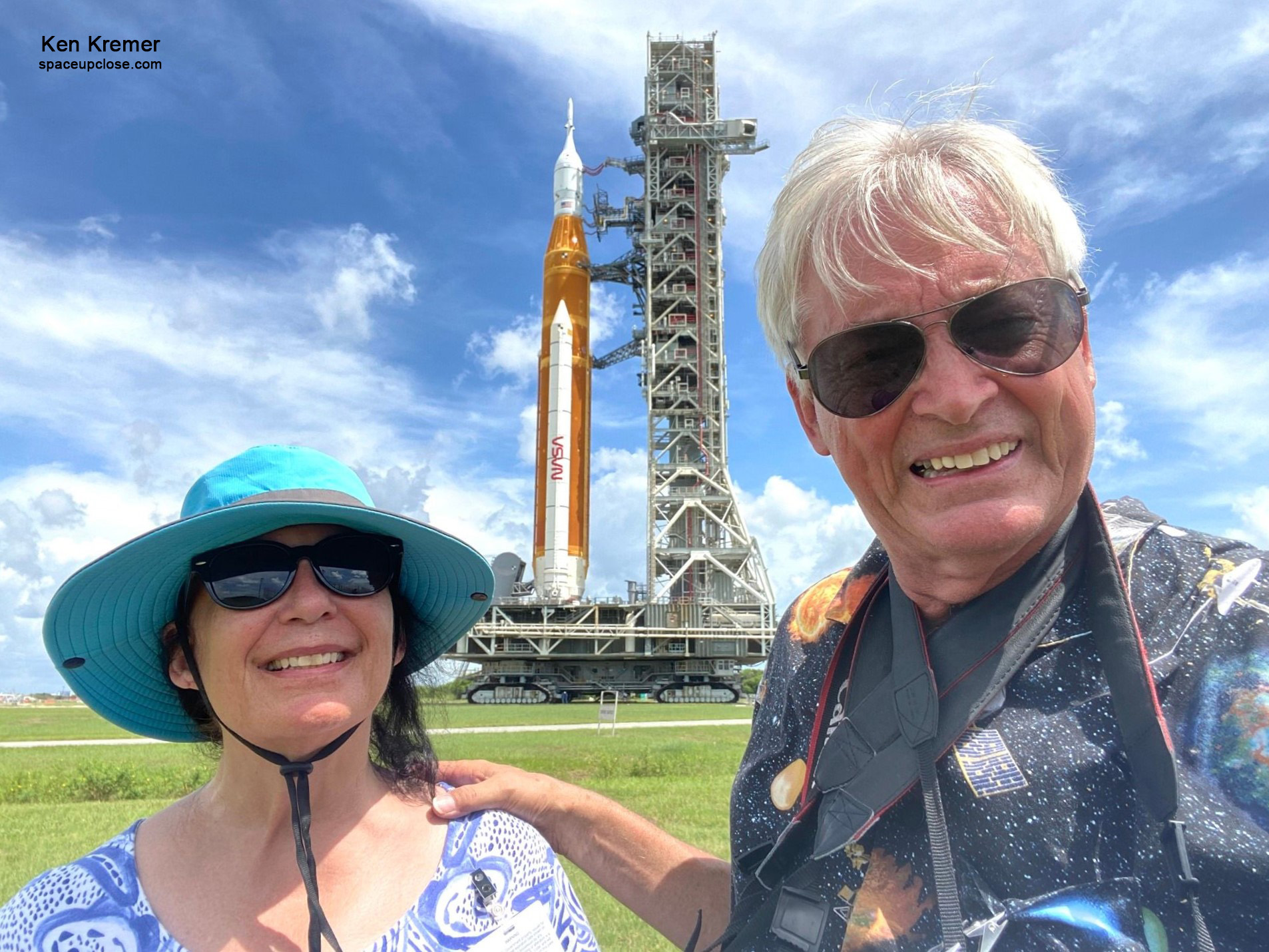 x