KENNEDY SPACE CENTER, FL –  The multinational NASA Crew-5 quartet of spaceflyers blasted off beautifully at 12 Noon, Wednesday, Oct. 5 from NASA's Kennedy Space Center (KSC) in Florida on a history making science mission bound for the International Space Station (ISS) that for the first time comprises a mixed crew of NASA and Japanese astronauts as well as the first ever Russian cosmonaut to fly on a commercial SpaceX Crew Dragon from U.S. soil – despite the ongoing terrible war in Ukraine.
The international U.S., Russian and Japanese crew of four astronauts and cosmonauts including three rookies and a lone veteran lifted off precisely at 12 noon EDT (1600 GMT) Wednesday, Oct. 5, seated inside SpaceX's Crew Dragon Endurance spacecraft atop a brand new SpaceX Falcon 9 booster from Launch Complex 39A at the Kennedy Space Center from Florida's Spaceport destined for the ISS on the half year Crew-5 science expedition to the orbiting research laboratory.
Weather was absolutely perfect for the spectacular and successful Crew-5 launch to orbit into mostly clear blue skies with patches of white clouds.
The historic Crew-5 team comprises NASA astronauts Nicole Mann as mission commander, and Josh Cassada, pilot. JAXA (Japan Aerospace Exploration Agency) astronaut Koichi Wakata and Roscosmos cosmonaut Anna Kikina, also aboard the Dragon, will serve as mission specialists for their science expedition in microgravity aboard the space station.
Mann, Cassada and Kikina are all rookies space flyers whereas Wakata is zooming aloft on his incredible 5th mission to space and 3rd long term expedition to the ISS.
Kikina is the first Russian cosmonaut to fly on an American human spacecraft in 20 years.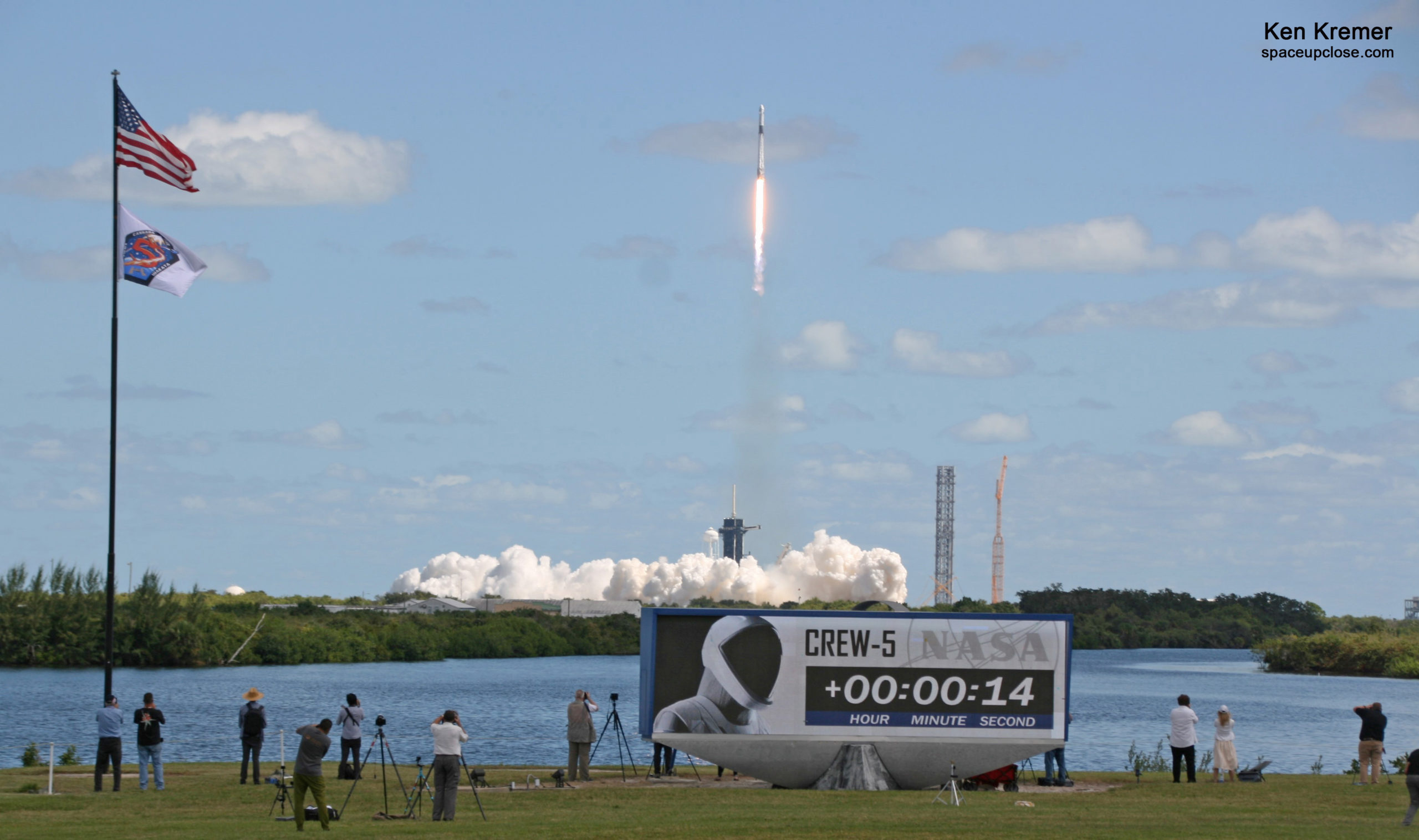 The 215-foot-tall (65-meter) Falcon 9 lifted off flawlessly with ignition of all 9 Merlin 1D engines performing perfectly and generating 1.7 million pounds of liftoff thrust soaring aloft on a northeasterly trajectory along the U.S. East Coast.
Stages separated two and a half minutes later and the crew continued to orbit on the upper stage firing until about eight minutes into the flight.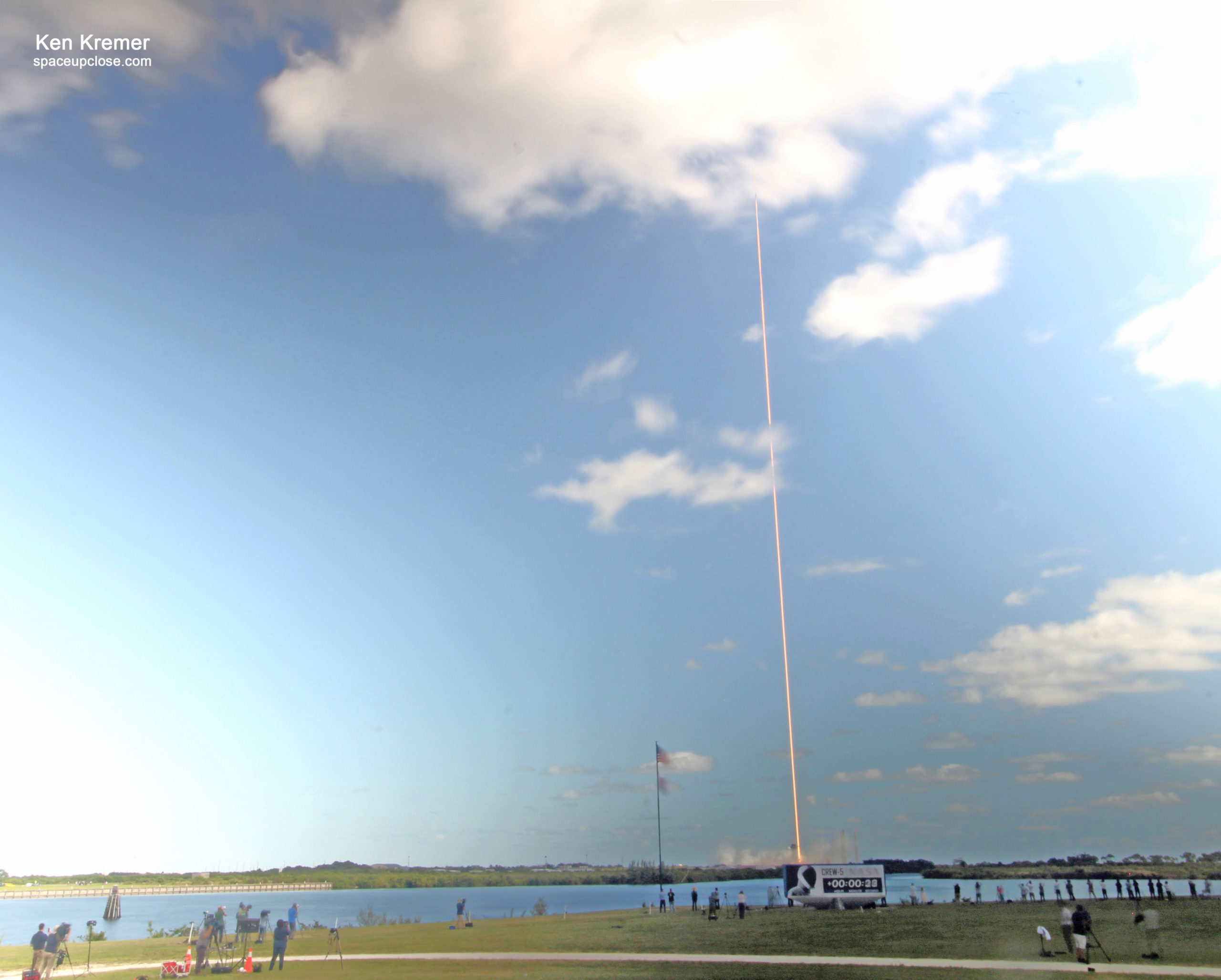 Some twelve minutes after blastoff the Dragon crew capsule separated from the upper stage and propelled the spaceflyers into orbit and the ISS.
"Thank you so much to the Falcon team," Mann radioed from the Crew Dragon spacecraft after separation from the upper stage. "Woo! That was a smooth ride uphill. We've got three rookies that are pretty happy to be floating in space right now, and one veteran astronaut who's pretty happy to be back as well."
Mann is the first native American to fly into space and the first woman to command a Crew Dragon spacecraft.
Kikina was added to the crew in July after NASA and Roscosmos signed a seat swap agreement whereby each country will fly spaceflyers on the others  spaceships – Soyuz and Crew Dragon for now
This will guarantee the continuous presence of astronauts and cosmonauts on the station in case any of the rocket launch systems or capsule fail or become unavailable for any reason.
Both countries operate their own segments and aren't really trained to operate the others station systems.
"With the flight of Soyuz and flight of Crew-5, we will start what we call integrated crews, or exchange flights, when one crew member from the Russian segment will fly on an American vehicle and one American will fly on a Russian vehicle," said Sergei Krikalev, a 6 time veteran cosmonaut and executive director of human spaceflight programs at Roscosmos, at the post launch briefing.
"This type of exchange will increase the robustness of our program, and we will continue this practice to make our program more reliable," Krikalev said.
The first barter swap seat involved NASA astronaut Frank Rubio who launched to the ISS on Sept. 21 on a Soyuz capsule together with Russian cosmonauts Sergey Prokopyev and Dmitry Petelin.
After a carefully choreographed sequence of thruster firings and maneuvers ISS docking is planned just over a day later on Thursday afternoon, Oct. 6 and scheduled around 4:57 p.m. EDT (2057 GMT) at the forward-facing port of the Harmony module.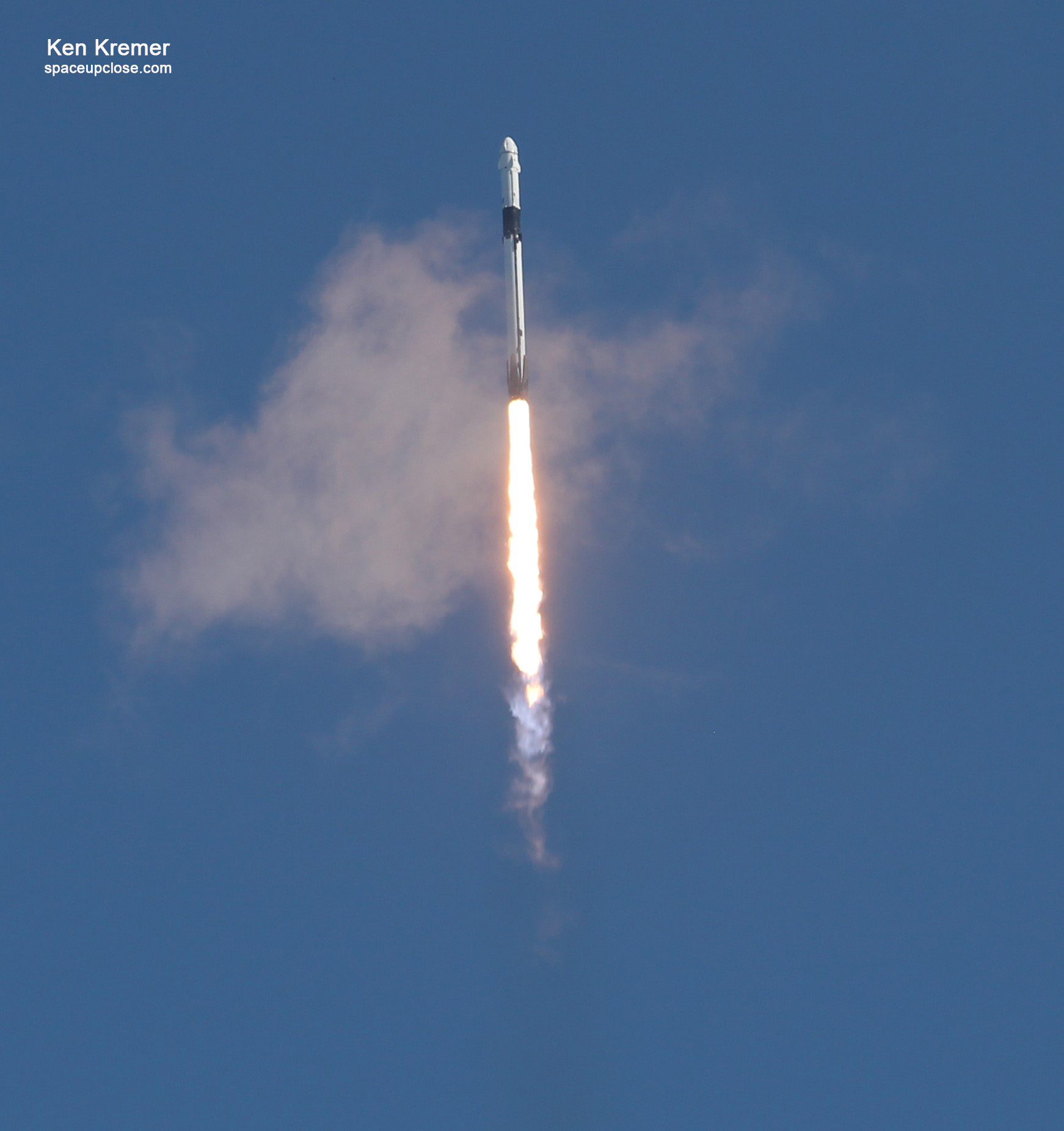 NASA Television, the NASA app, and the agency's website will provide live coverage of docking and hatch opening. NASA also will cover the ceremony to welcome the crew aboard the orbital outpost about 8:15 p.m.
The new Falcon 9 booster nailed a soft landing on a droneship at sea some eight minutes after liftoff
Hordes of spectators ringed the Space Coast and were delighted and cheered the stunning soar to space – just days after deadly Hurricane ravaged central and southwestern Florida on a path that brought the center directly on a beeline between NASA's twin historic Launch pads 1 & B at Launch Complex 39 on the Kennedy Space Center.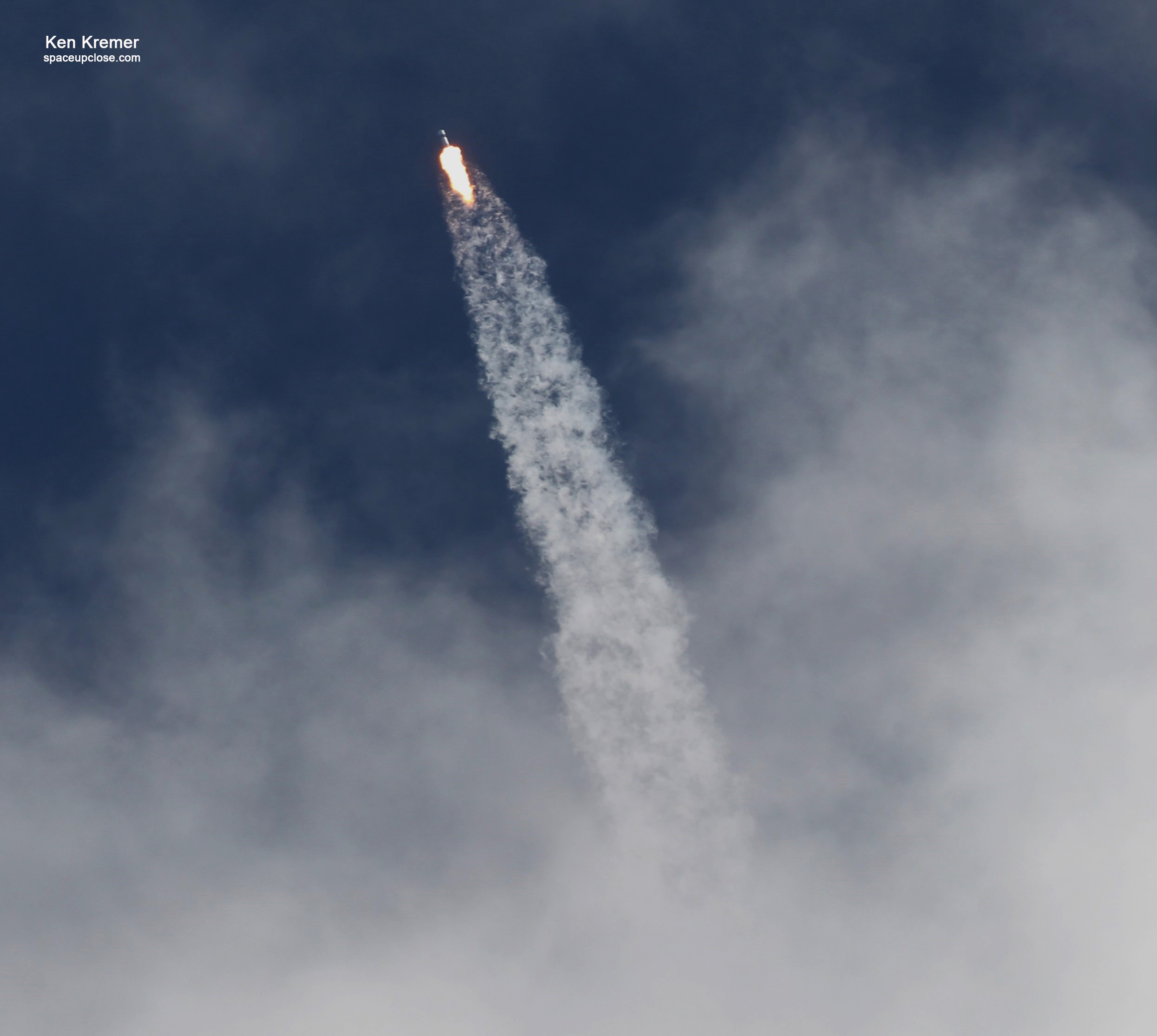 In fact Hurricane Ian delayed this SpaceX Crew Dragon launch as well as two others from ULA and SpaceX from last week into this week – thereby lining up a unique triple header of back to back Space Coast launches on Oct. 4, 5 and 6 from the Kennedy Space Center and Cape Canaveral Space Force Station.
Just over 3 hours before liftoff the astronauts and cosmonaut departed their temporary crew quarters for final training at the Neil Armstrong Operations & Checkout Building at KSC and greeted the media and their families to cheers and with waves and heartfelt hugs and kisses for loved ones – before boarding two vans that brought them to pad 39A.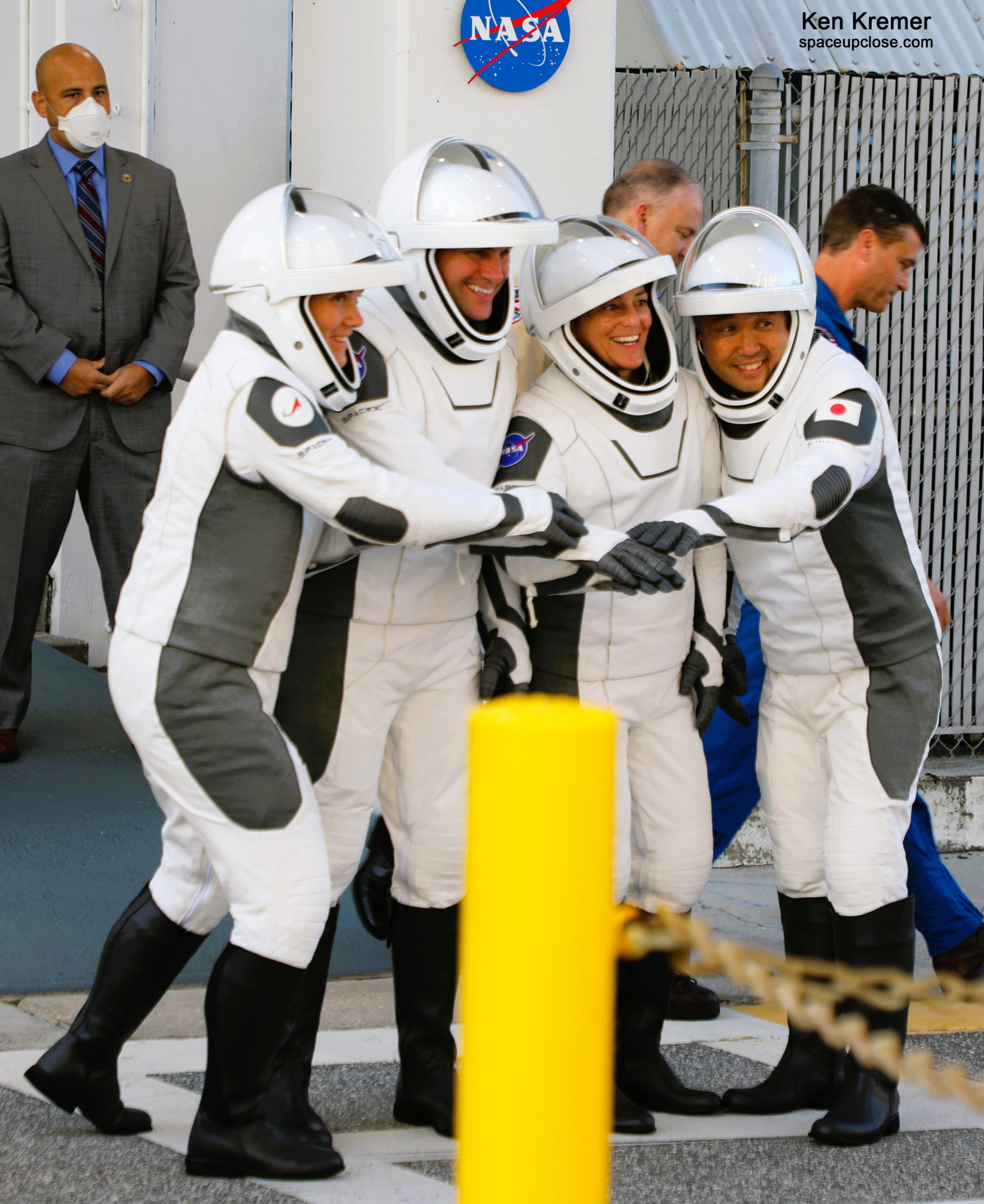 They rode up the elevator and were seated in Crew Dragon by the boarding team.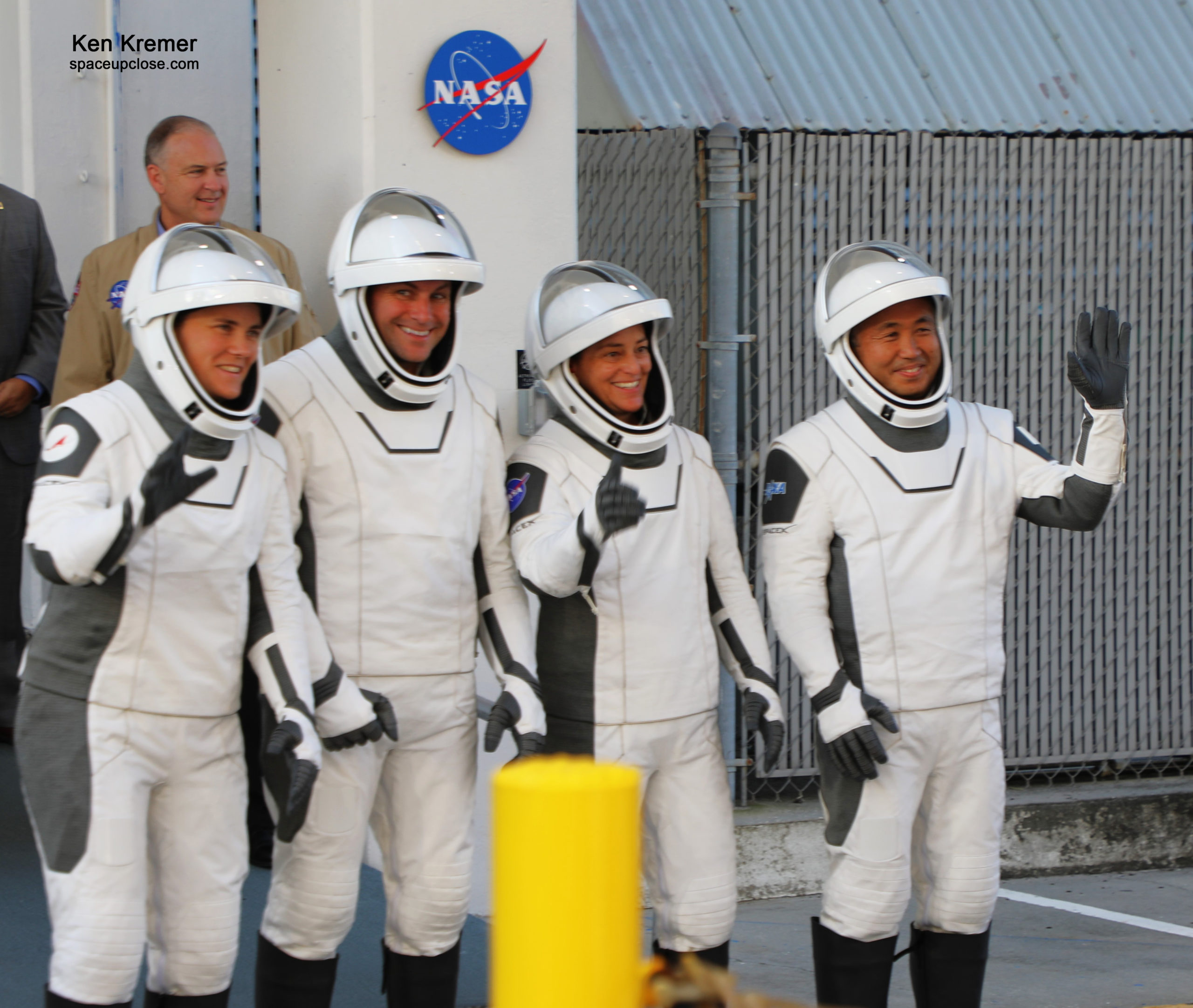 Crew-5 counts as the agency's fifth commercial crew rotation mission with SpaceX aboard the orbital laboratory.
Overall Crew-5 is SpaceX's 8th human spaceflight mission on Crew Dragon spacecraft in only two and a half years since inaugurating in May 2020 with the maiden Demo-2 test flight for NASA to the space station – as part of the agency's Commercial Crew Program.
This list includes six commercial crew contracted flights for NASA to the ISS and two private space missions – one of which went to the ISS on Axiom-1 and the other was Inspiration-4 paid for by billionaire Jared Isaacman which orbited Earth for three days.
"Missions like Crew-5 are proof we are living through a golden era of commercial space exploration. It's a new era powered by the spirit of partnership, fueled by scientific ingenuity, and inspired by the quest for new discoveries," said NASA Administrator Bill Nelson, in a statement.
"During their stay aboard the International Space Station, Crew-5 will conduct more than 200 science experiments and technology demonstrations, including studies on printing human organs in space and better understanding heart disease. While our eyes are focused upward on the heavens, let us never forget these missions will also better life here on Earth."
After the four new crew members arrive aboard, the stations crew complement will temporarily increase to 11 people during a brief handover period of a few days until Crew-4 departs and returns to Earth.
Mann, Cassada, Wakata, and Kikina will join the space station's Expedition 68 crew from Crew-4 and Soyuz of NASA astronauts Bob Hines, Kjell Lindgren, Frank Rubio, and Jessica Watkins, ESA (European Space Agency) astronaut Samantha Cristoforetti, and Roscosmos cosmonauts Sergey Prokopyev and Dmitri Petelin.
For a short time, the number of crew aboard the space station will increase to 11 people until
Crew-4 comprises astronauts Hines Lindgren, Watkins, and Cristoforetti.
Crew-5 will spend several months aboard the space station conducting new scientific research in areas, such as cardiovascular health, bioprinting, and fluid behavior in microgravity to prepare for human exploration beyond low-Earth orbit and to benefit life on Earth.
"The International Space Station continues to serve a critical role in helping NASA and our partners understand and maximize the unique attributes of the microgravity environment," said Kathryn Lueders, associate administrator for NASA's Space Operations Mission Directorate in Washington, in a statement.
"I am grateful to the many people who worked to ensure a safe Crew-5 launch despite the recent hurricane so the crew can fulfill their mission to the orbiting laboratory."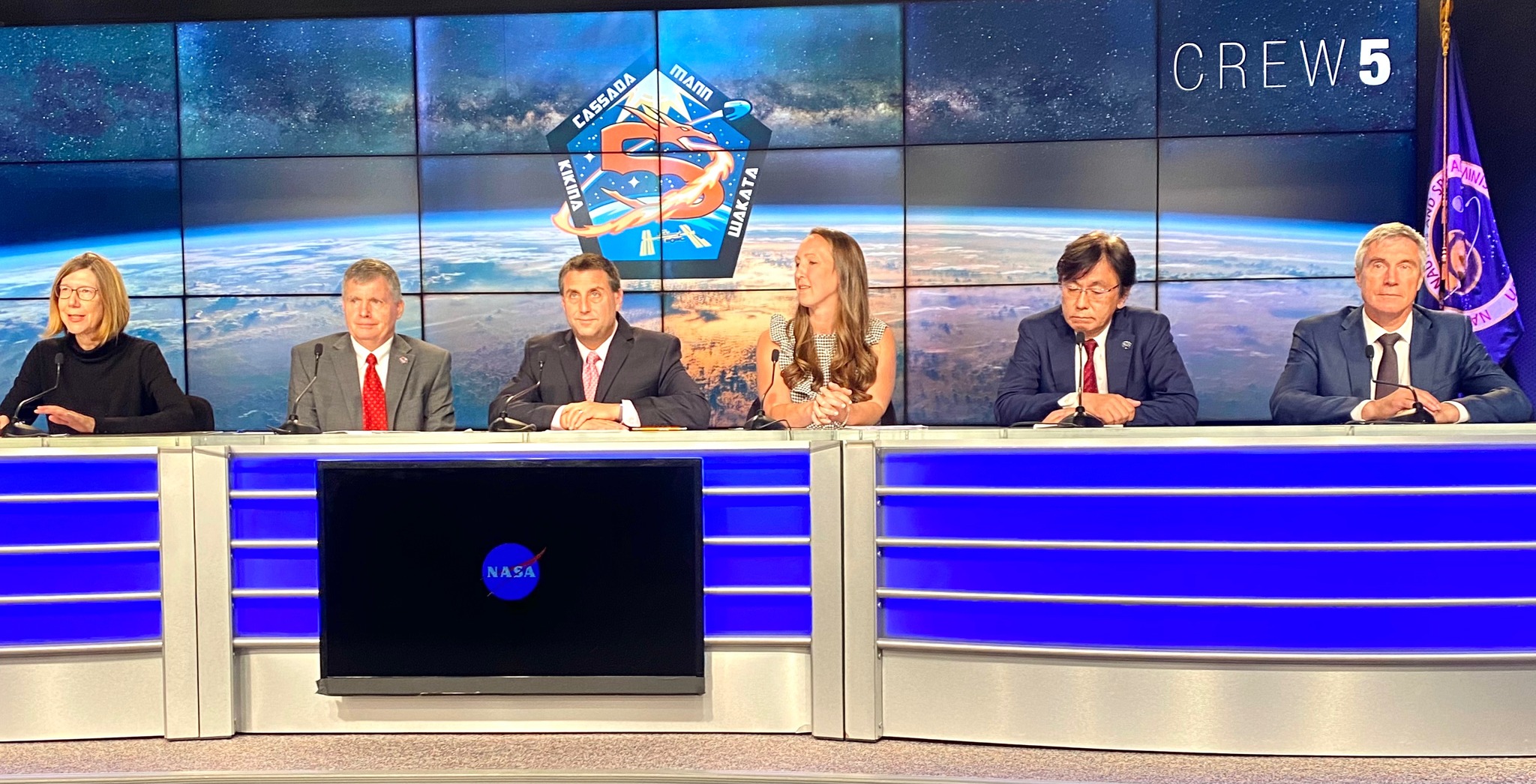 The Crew-5 quartets prelaunch arrival at KSC from the Johnson Space Center (JSC) was delayed by Hurricane Ian
They flew from their JSC training base and finally arrived on Sat. 29 aboard a Gulfstream jet and landed at the former Shuttle Landing Facility.
Enjoy my photos of the astronaut arrival media event.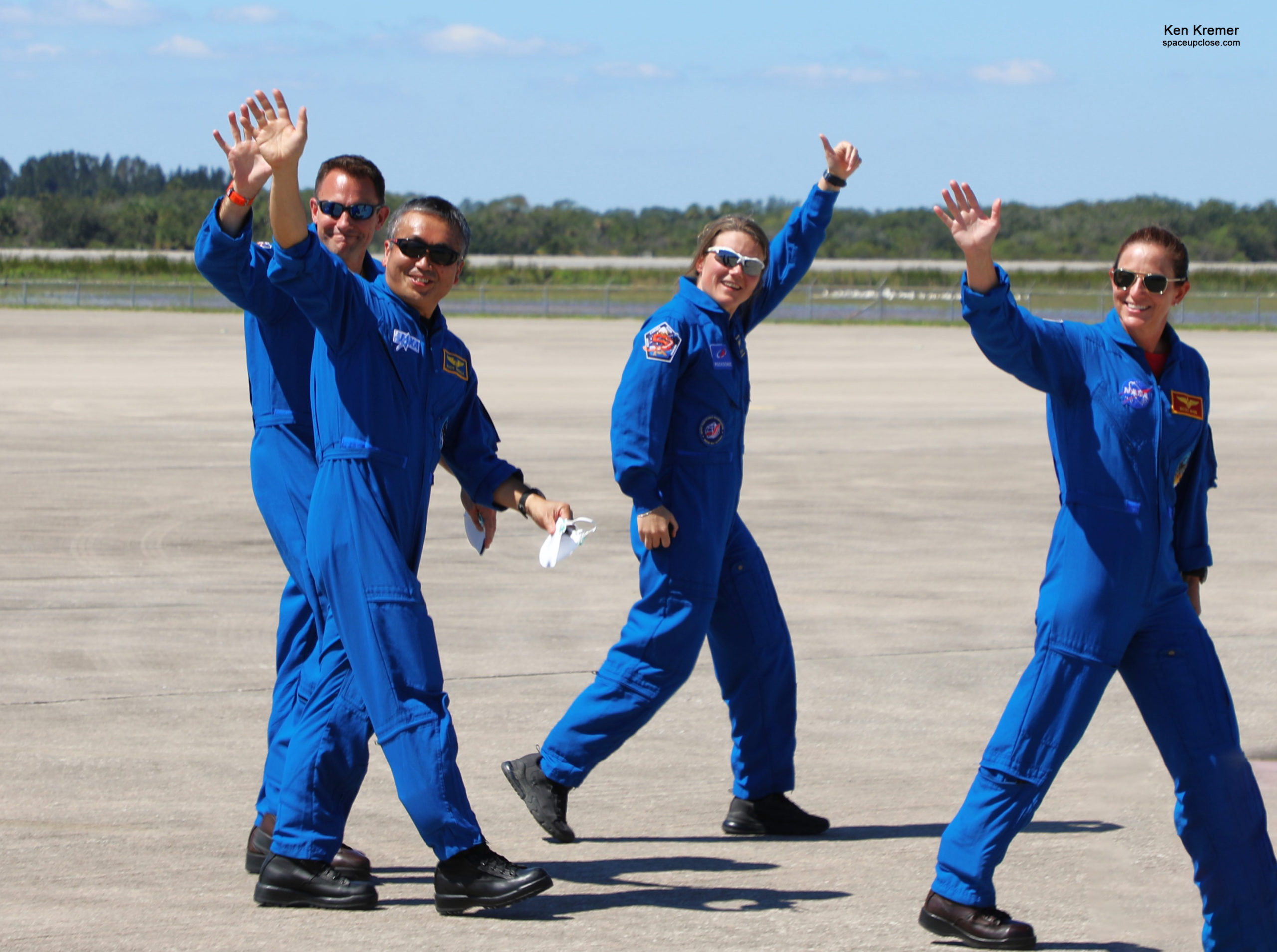 Next spring Crew-5 will be replaced by a new multinational quartet on the Crew-6 mission
Watch Ken's commentary about Crew-5 and Project Artemis, NASA SLS WDR demo test, NASA SpaceX Cargo Dragon and more
Oct 5: Two Fox 35 interviews –
Live prelaunch interview on Fox 35 Orlando about NASA Crew-5 launch: 'Whats' the purpose of the Crew-5 mission"
https://www.fox35orlando.com/video/1126638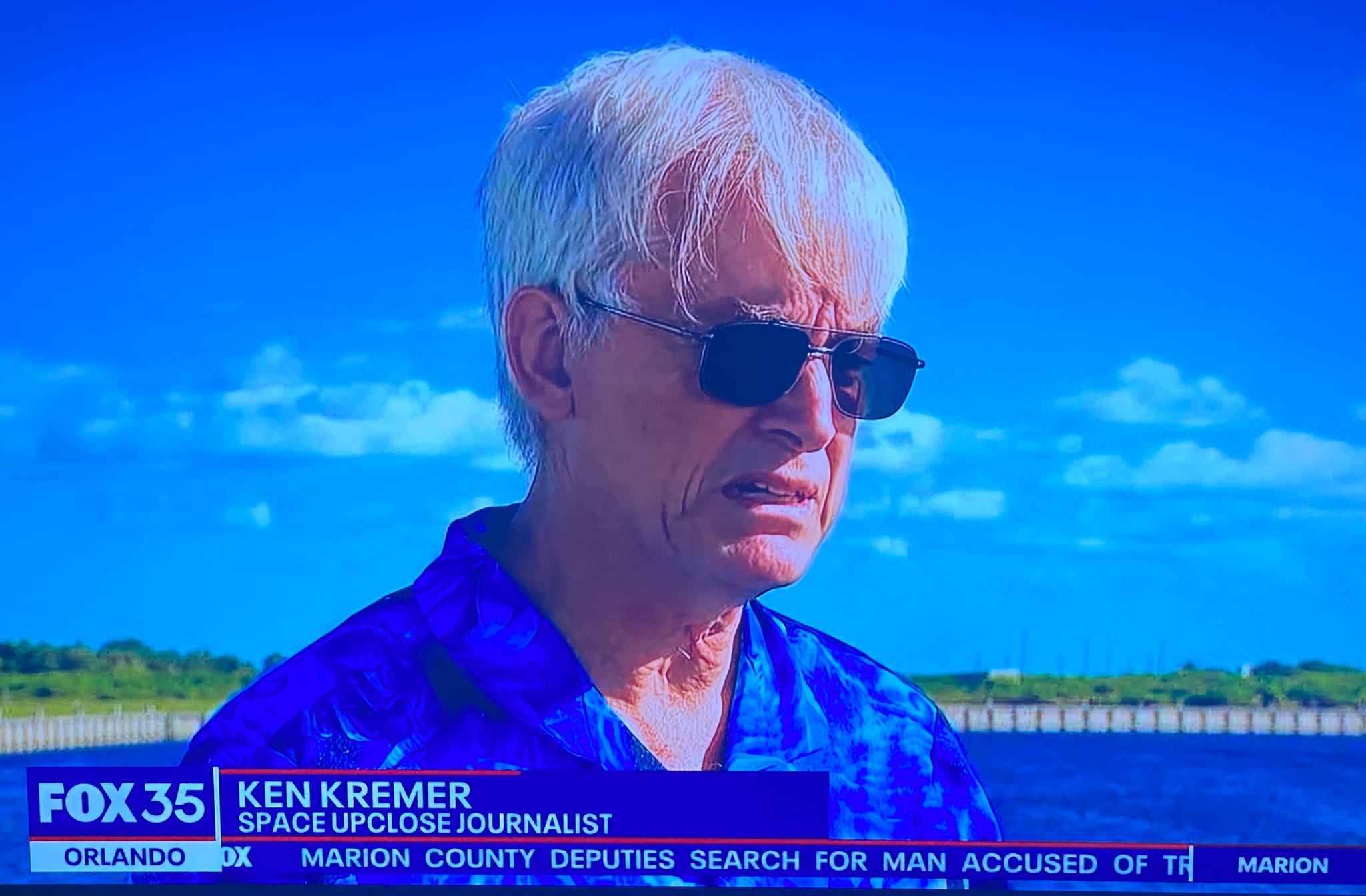 Post-launch interview with Fox 35 Orlando about successful Crew-5 blastoff to ISS on Oct 5
Oct 3:  Interview with Fox 35 Orlando previewing the Crew-5 mission
Sep 27: Live interview on Fox 35 Orlando about why NASA rolled the Artemis1 moon rocket stack off pad 39B and back into the VAB as a safe haven from threat of Hurricane Ian approaching central FL and Space Coast and the launch date impact
https://www.fox35orlando.com/video/1123047
Sep 26/27:  Watch my interview comments at WFTV ABC News and Fox 35 Orlando about why NASA has decided to roll $4 Billion Artemis1 moon rocket back to VAB protective processing hangar from pad 39B due to Hurricane Ian approaching and the launch date impact
WFTV ABC Orlando:   https://www.wftv.com/news/local/brevard-county/nasa-move-artemis-1-rocket-vab-over-hurricane-ian-concerns/X5NFTUGF45DBBFDNCHX7MSYXTE/
Fox 35 Orlando:  https://www.fox35orlando.com/news/nasa-to-move-artemis-i-rocket-back-to-vehicle-assembly-building-due-to-hurricane-ian
Sep 25:  Update on Artemis 1 launch with my live half hour interview on WKMG CBS 6 Orlando with news anchor Justin Warmoth on 'The Weekly': "Artemis I: Explaining NASA's latest repairs and the mission's greater significance"
https://www.clickorlando.com/news/local/2022/09/25/artemis-i-explaining-nasas-latest-repairs-and-the-missions-greater-signifigance/
Sep 21/22:  Watch my Artemis1 comments at WFTV ABC 9 Orlando about NASA's successfully cryogenic tanking test for Artemis 1 moon rocket and whats ahead
https://www.wftv.com/news/local/brevard-county/nasa-conducting-critical-test-repairs-made-mega-moon-rocket/HSWI7P55LNEJNNSN5ZQ75XQHSI/
Sep 21/22:  Interview with Fox 35 Orlando about NASA's successfully cryogenic tanking test for Artemis 1 moon rocket and whats ahead
Sep 21:  Interview with Fox News MMR local station about NASA's successfully cryogenic tanking test for Artemis 1 moon rocket and whats ahead
NEW: Artemis-1 moon rocket fueling test complete after NASA engineers overcome hydrogen leak – @WestfallAustin on @FOX9 from the Kennedy Space Center in Florida pic.twitter.com/11cLcKOwvu

— Fox News MMR (@FoxNewsMMR) September 22, 2022
https://twitter.com/FoxNewsMMR/status/1572747493208915969
Sep 21:  Interview with NEWSY about NASA's plan to conduct a cryogenic tanking test of both stages of Artemis1 SLS Moon rocket on Sep 21 to verify whether repairs to the hydrogen lines and QD seals have stopped the dangerous leaks
Sep 19/20: Interview with Fox 35 Orlando about NASA's plan to conduct a cryogenic tanking test of both stages of Artemis1 SLS Moon rocket on Sep 21 to verify whether repairs to the hydrogen lines and QD seals have stopped the dangerous leaks
Video: https://www.fox35orlando.com/video/1119798
Watch Ken's continuing reports about Artemis, SpaceX missions, SLS, Orion and NASA missions, SpaceX Crew and Cargo Dragons, SpaceX Axiom-1, JWST, IXPE, DART, Lucy Asteroid mission, GOES, SpaceX Starlink, Commercial Crew and Starliner and Crew Dragon, Blue Origin and Space Tourism, and onsite for live reporting of upcoming and recent SpaceX and ULA launches including Crew 1 & 2 & 3 & 4, ISS, Solar Orbiter, Mars 2020 Perseverance and Curiosity rovers, NRO spysats and national security missions and more at the Kennedy Space Center and Cape Canaveral Space Force Station.
Stay tuned here for Ken's continuing Earth and Planetary science and human spaceflight news: www.kenkremer.com –www.spaceupclose.com – twitter @ken_kremer – email: ken at kenkremer.com
Dr. Kremer is a research scientist and journalist based in the KSC area, active in outreach and interviewed regularly on TV and radio about space topics.
………….
Ken's photos are for sale and he is available for lectures and outreach events
Please consider supporting Ken's work by purchasing his photos and/or donating at Patreon
https://www.patreon.com/kenkremer
Upcoming and recent space events and talks by Ken Kremer & Jean Wright
Oct 5, 12 from 7 to 9 PM Quality Inn, Titusville, FL:  Join Ken and Jean for Artemis 1 and space mission and rocket launch triple header outreach. Ask us anything. plus display our photos and space apparel items for sale
Ken's space/rocket photos & Jean's  custom sewn space apparel and space items for sale to support our ad free space news website: SpaceUpClose.com
Aug 11: Fairbanks Museum & Planetarium, St Johnsbury, VT
https://www.fairbanksmuseum.org/blog/eyewitness-to-nasa/
"Eyewitness to NASA Human and Robotic Explorers"
Aug 19: McAuliffe-Shepard Discovery Center, Concord, NH
https://www.starhop.com/special-programs
"Sew Sister to the Stars: How the Humble Art of Sewing Transformed the World of Flight"
Contact us if you wish to meet, attend a talk or schedule a talk
Ken's space/rocket photos & Jean's  custom sewn space apparel and space items for sale to support our ad free space news website: SpaceUpClose.com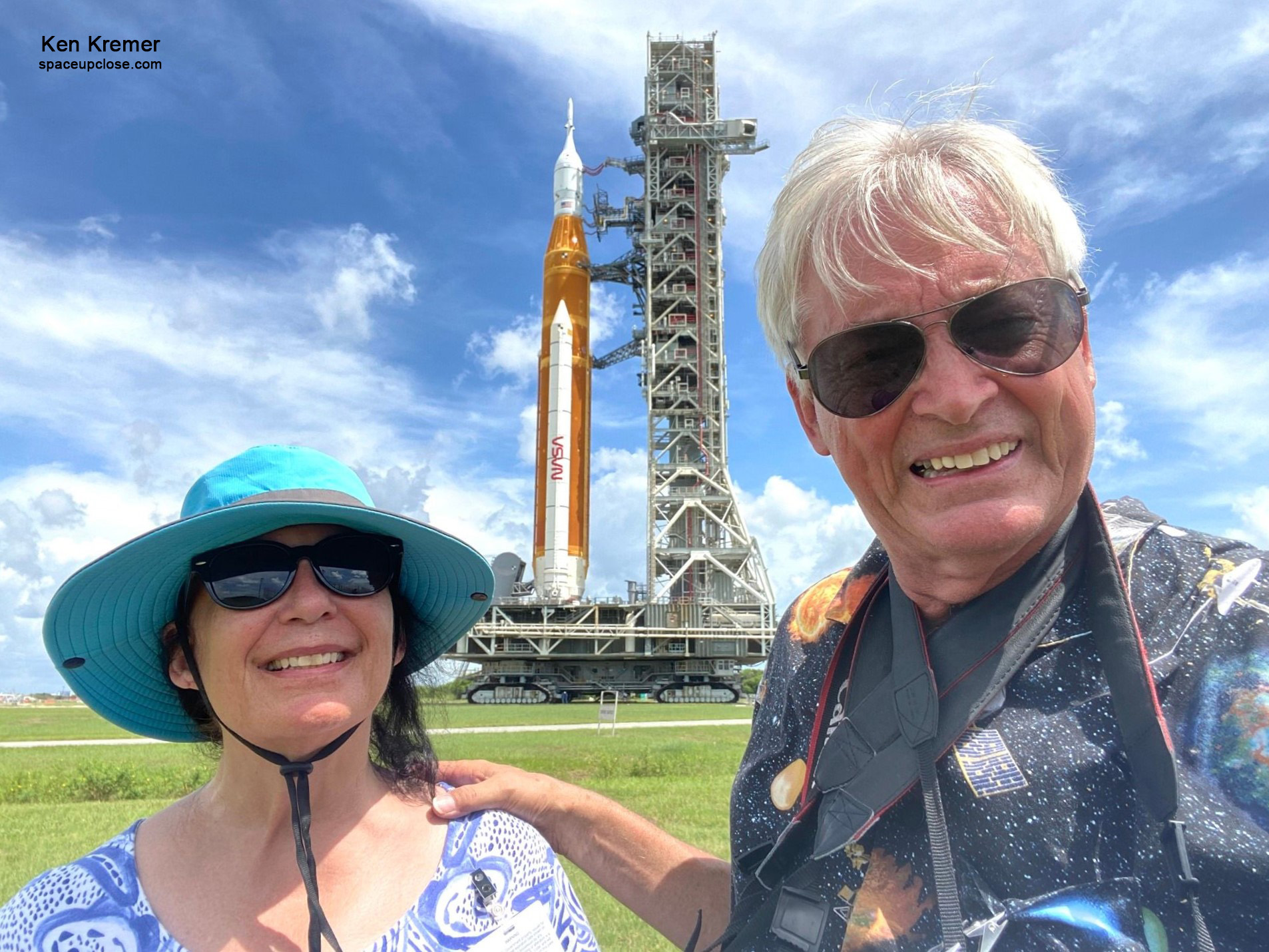 x