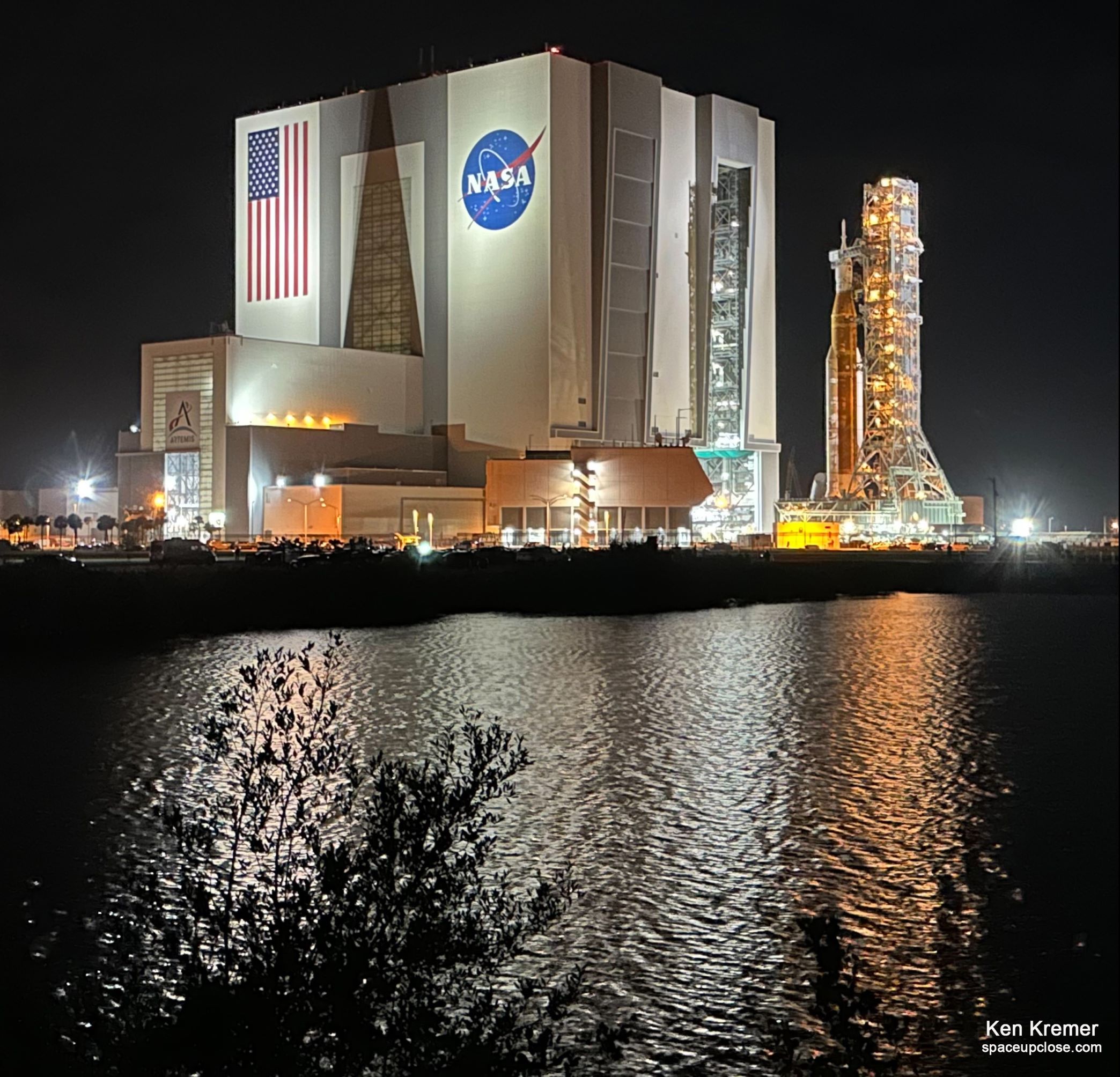 KENNEDY SPACE CENTER, FL – For the fourth and hopefully final time NASA's Space Launch System (SLS) rocket integrated with the Orion crew spacecraft for the Artemis I mission rolled out to launch pad 39B from the iconic Vehicle Assembly Building (VAB) at NASA's Kennedy Space Center in Florida starting just before midnight Friday, Nov. 4, ahead of the next launch attempt currently scheduled for just past midnight, Monday, Nov. 14, on a test flight around the Moon and back.
This first ever try at a nighttime launch attempt for Artemis 1 is scheduled for Nov. 14 at 12:07 a.m. EST with a launch window that extends for 69 minutes until 1:16 a.m. EST.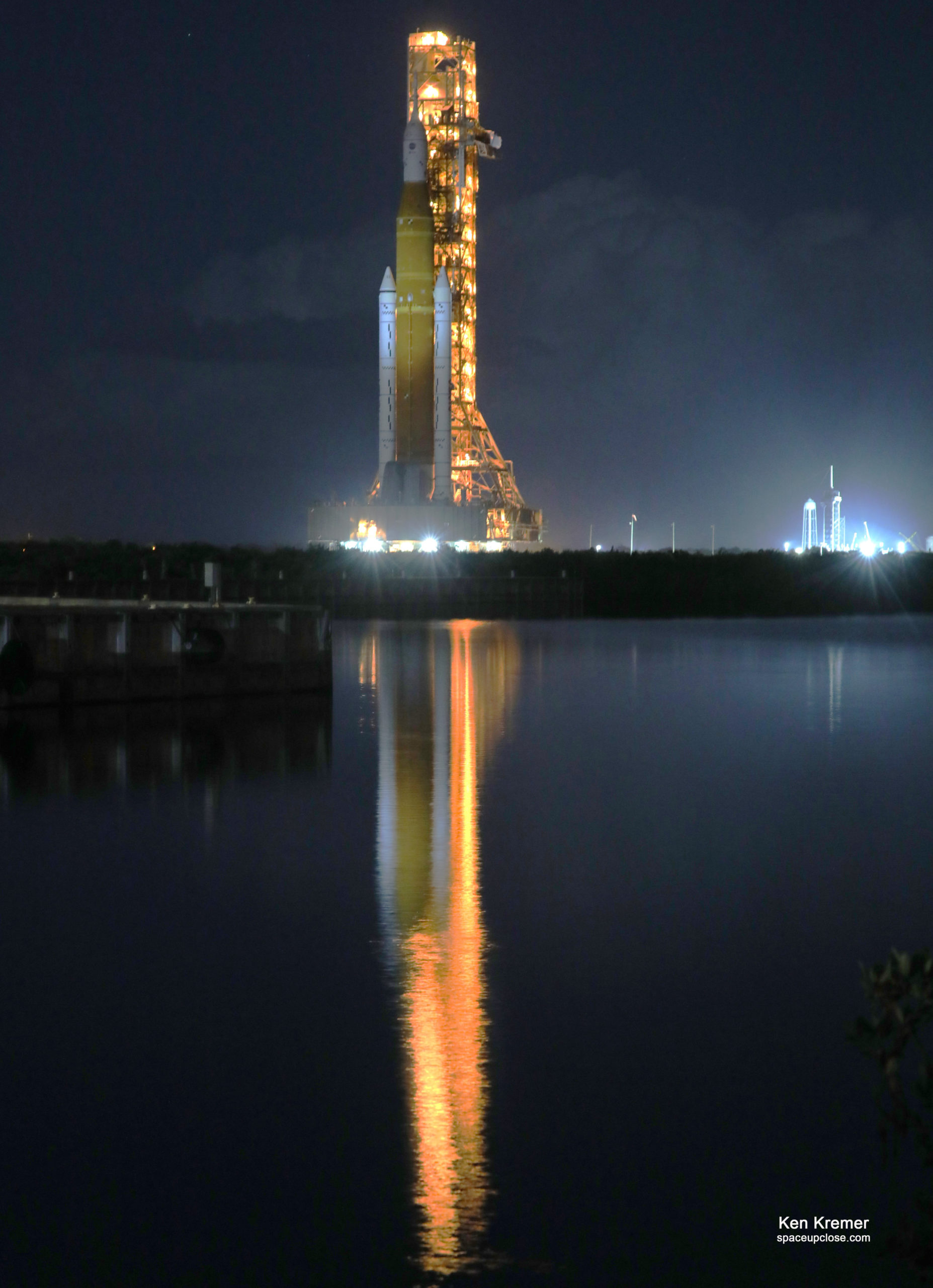 The crawler-transporter hoisted the 322-foot-tall integrated Space Launch System (SLS) rocket and Orion spacecraft stack standing atop the mobile launcher inside the VAB and began the approximately 4.2-mile (6.8 km) nighttime journey from the VAB to the launch pad at about 11:17 p.m. EDT. Thursday Nov. 3, under excellent weather conditions.
The nighttime pad trek began about 40 minutes earlier than scheduled since preparations were running ahead of scheduled.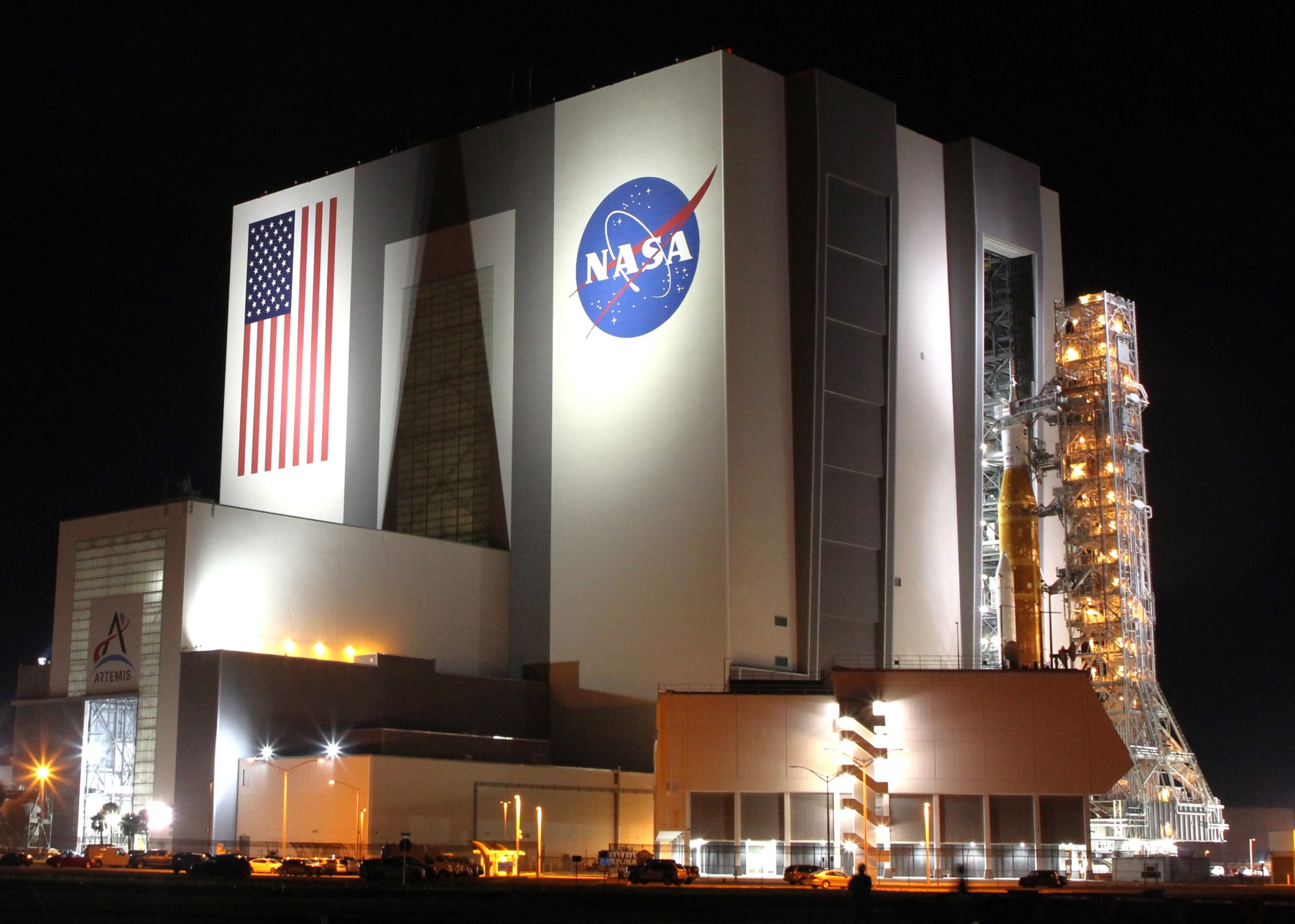 The rollout took place after NASA managers determined it was safe to do so despite the formation of a tropical wave in the Atlantic with the at that time unknown but estimated to lower risk potential to grow in strength and impact KSC
The 32 story tall stack soon emerged from the opened doors of the VAB High Bay 3 where the Artemis 1 mega moon rocket initially underwent assembly and then repairs and refurbishments for the earlier pair of launch attempts and wet dress rehearsal propellant loading and countdown tests.
Once outside the VAB high-bay doors, the Moon rocket made a planned pause of about an hour allowing the team to reposition the crew access arm on the mobile launcher by swinging it outwards from the Orion crew capsule before continuing to the launch pad.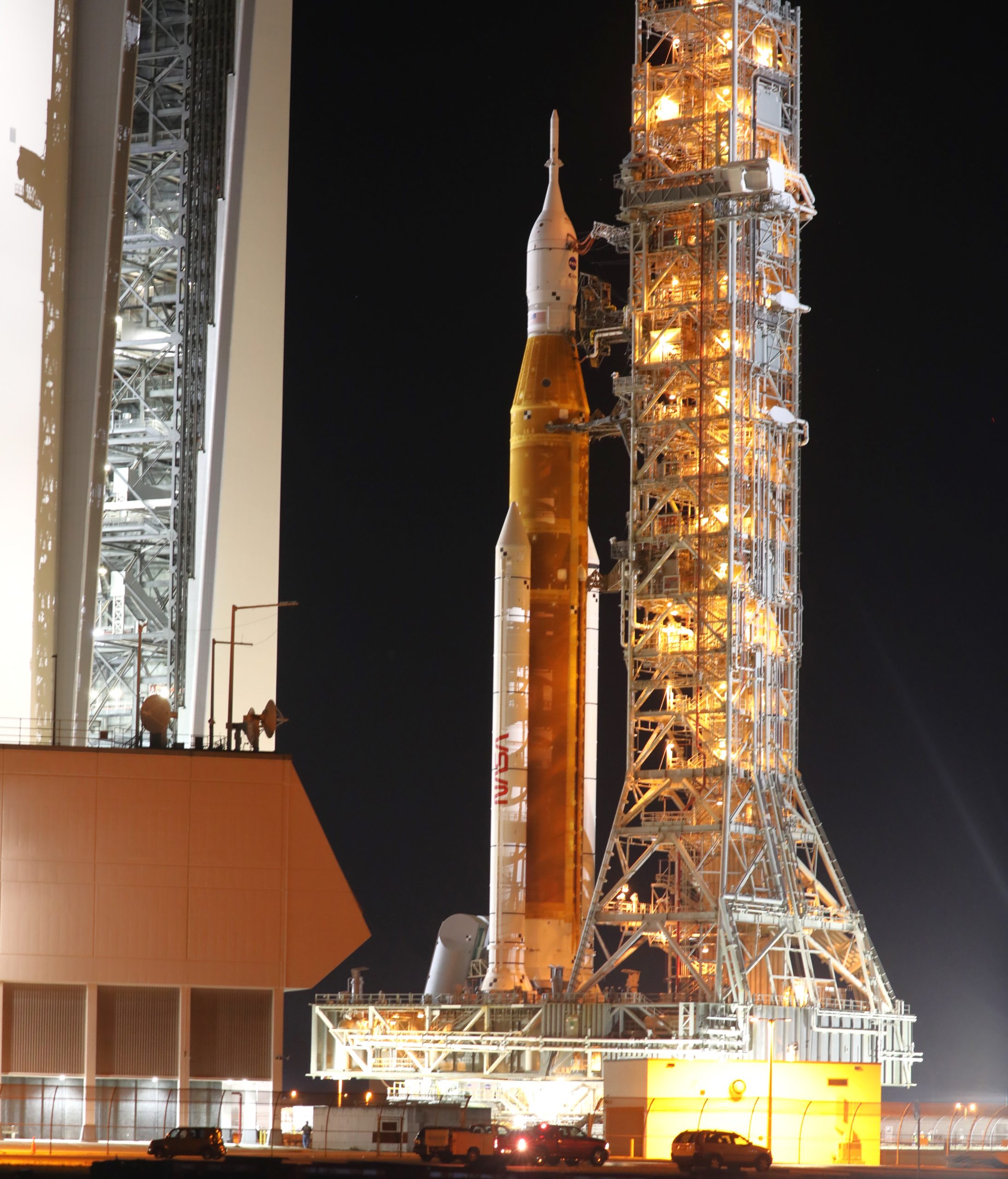 Artemis 1 arrived at pad 39B after a nearly nine-hour journey from the VAB at around 8:30 a.m. EDT (1230 GMT).
It then moved up the ramp and NASA declared the SLS and mobile launch platform "hard down" on the launch pad at 10:07 a.m. EDT (1407 GMT) Friday, Nov. 4 after about a 10-hour trek.
The crawler-transporter moves at a maximum speed of about 0.8 MPH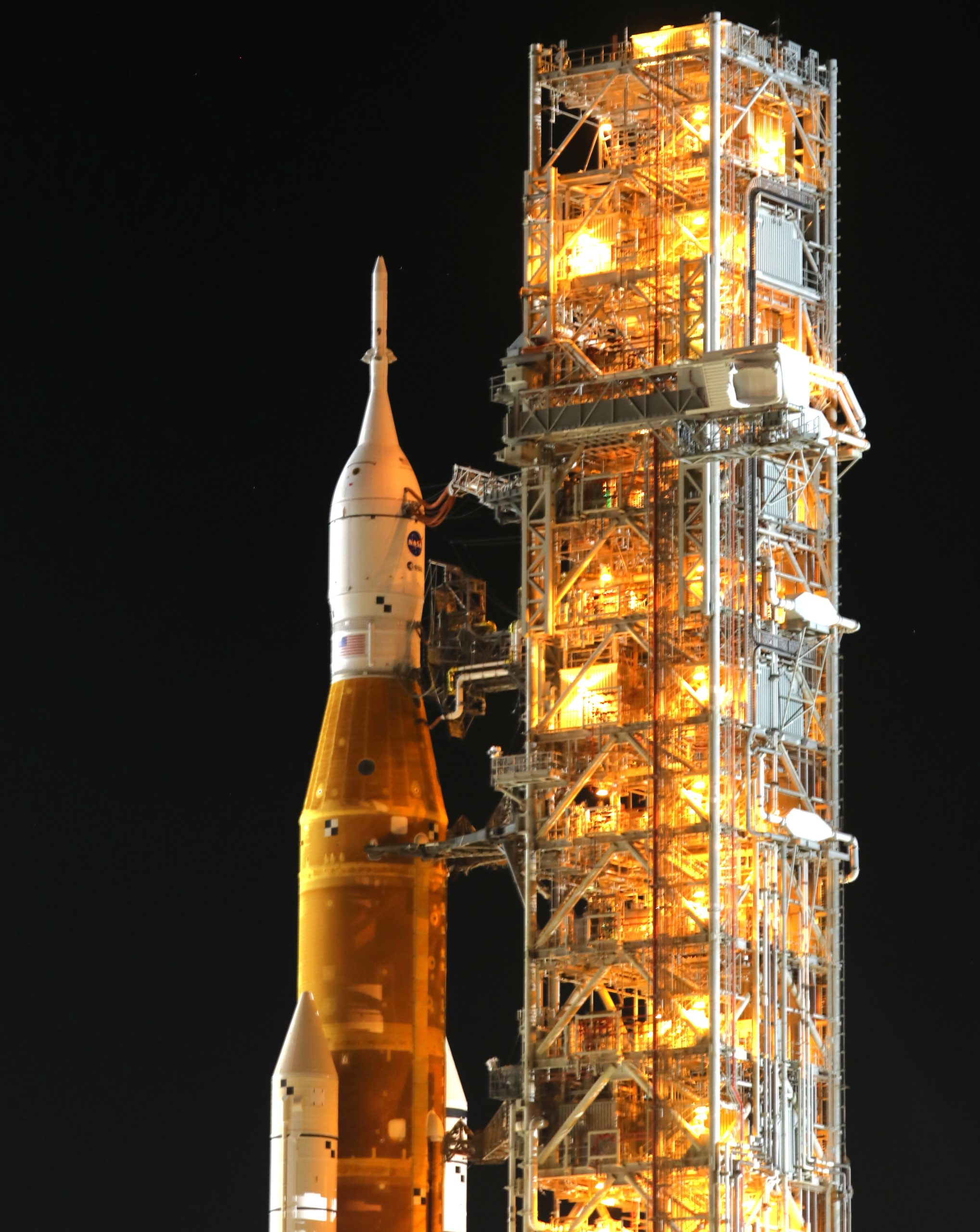 The Artemis 1 stack has a mass of 21.4 million pounds and is comprised of the 32 story tall SLS/Orion rocket, its mobile launch platform, and the crawler-transporter
"Teams will continue working to configure SLS and Orion for the upcoming Nov. 14. launch attempt," NASA said.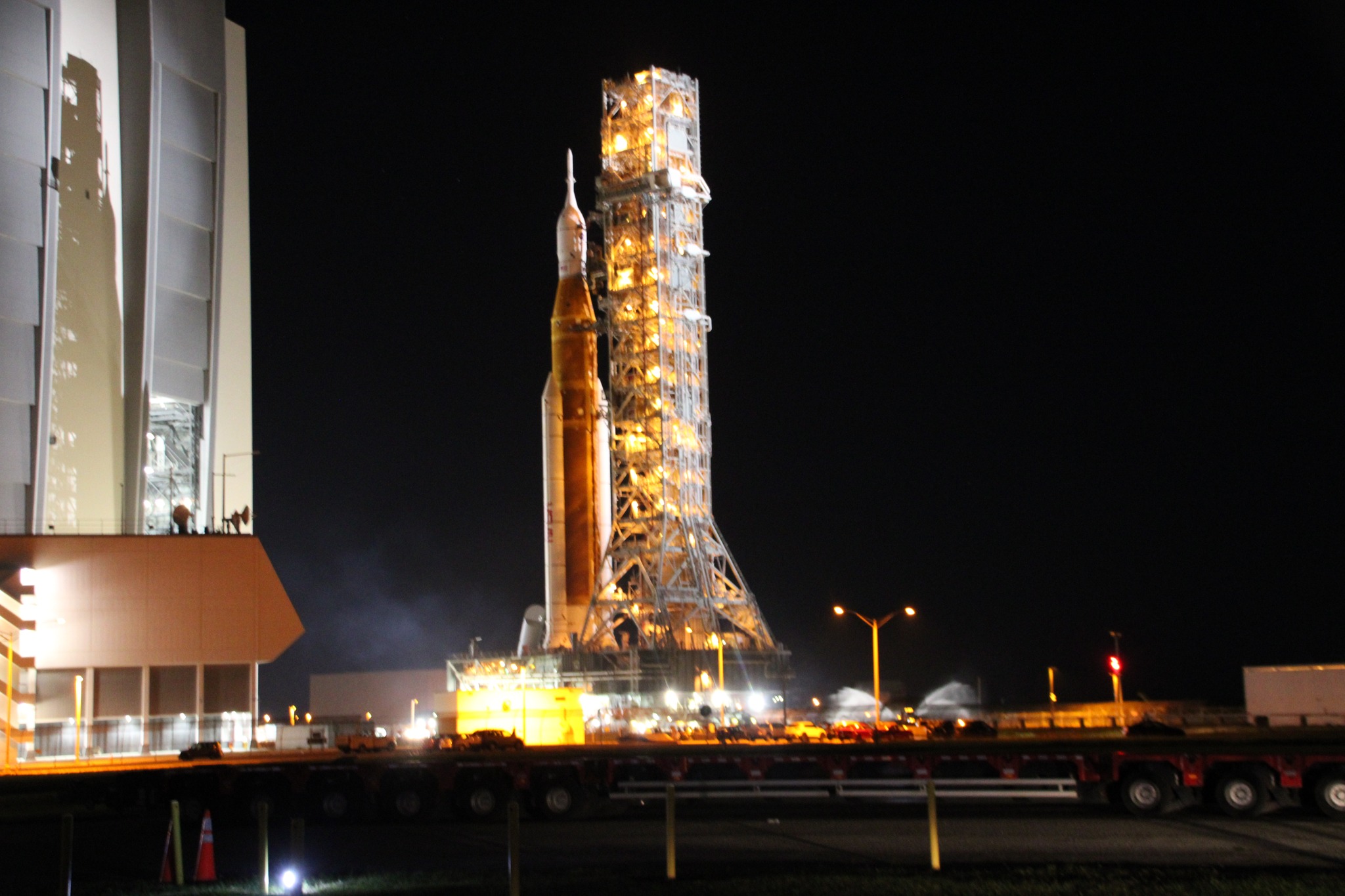 Enjoy our photos showing Artemis 1 emerging from the VAB and the overnight trek towards launch complex 39B taken by Ken Kremer and Jean Wright for Space UpClose.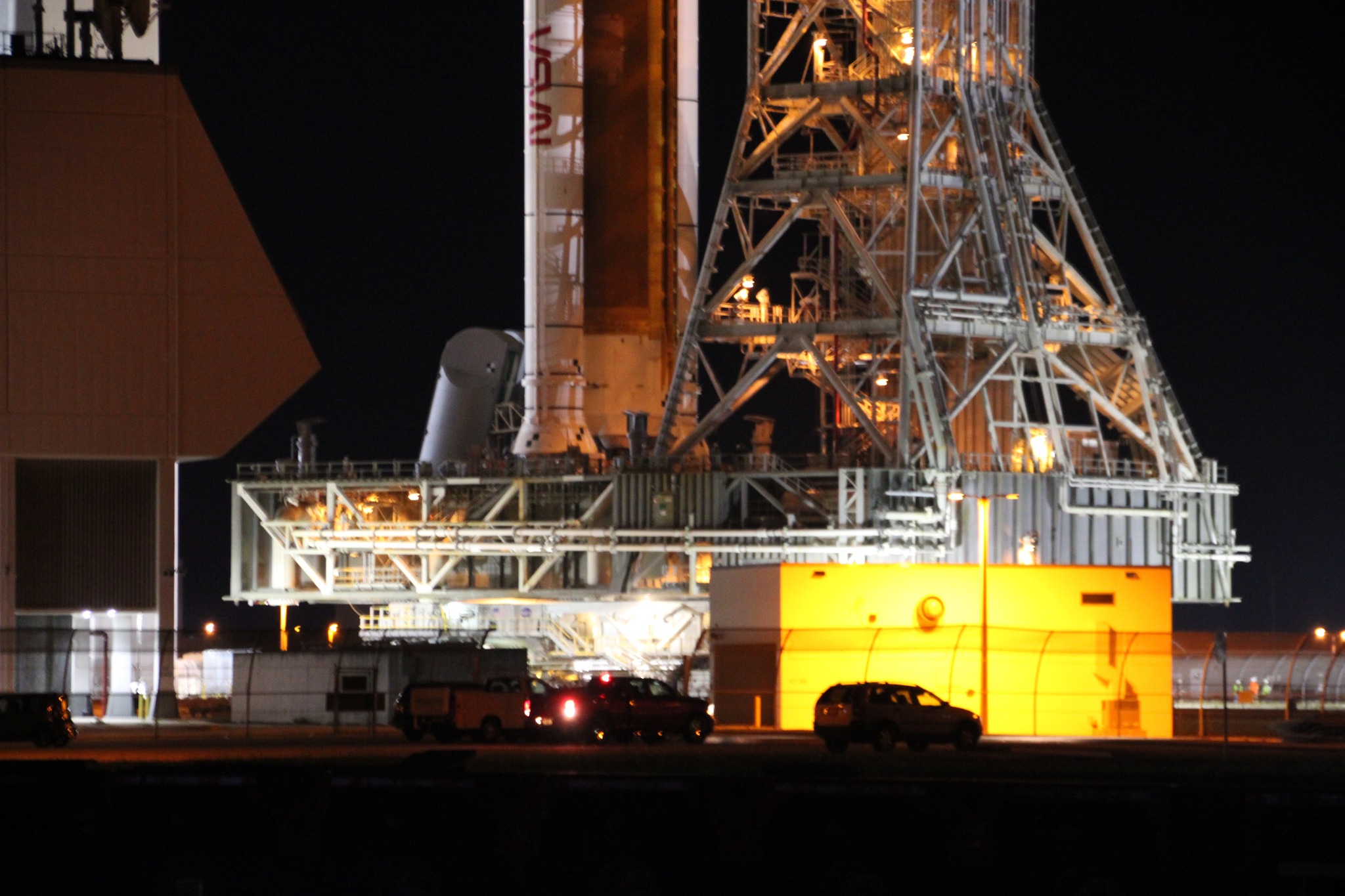 NASA's Artemis I flight test is the first integrated test of the agency's deep space exploration systems: the Orion spacecraft, SLS rocket, and supporting ground systems.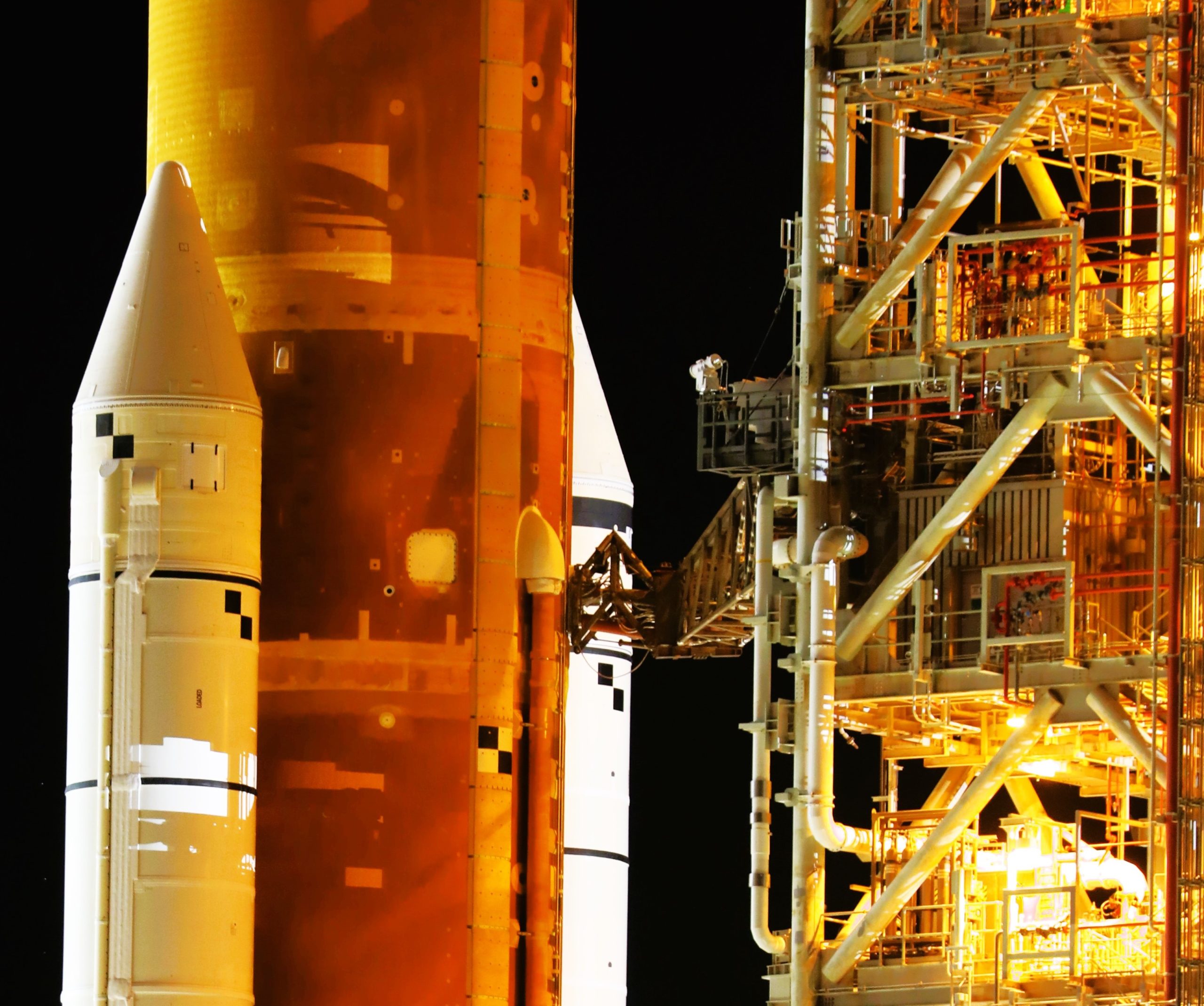 Back-up Artemis 1 launch opportunities are available on Wednesday, Nov. 16, at 1:04 a.m. and Saturday, Nov. 19, at 1:45 a.m., which are both two-hour launch windows.
If Artemis 1 does launch on Nov. 14 it would result in an Orion spacecraft  mission duration of about 25-and-a-half days with a splashdown in the Pacific Ocean Friday, Dec. 9.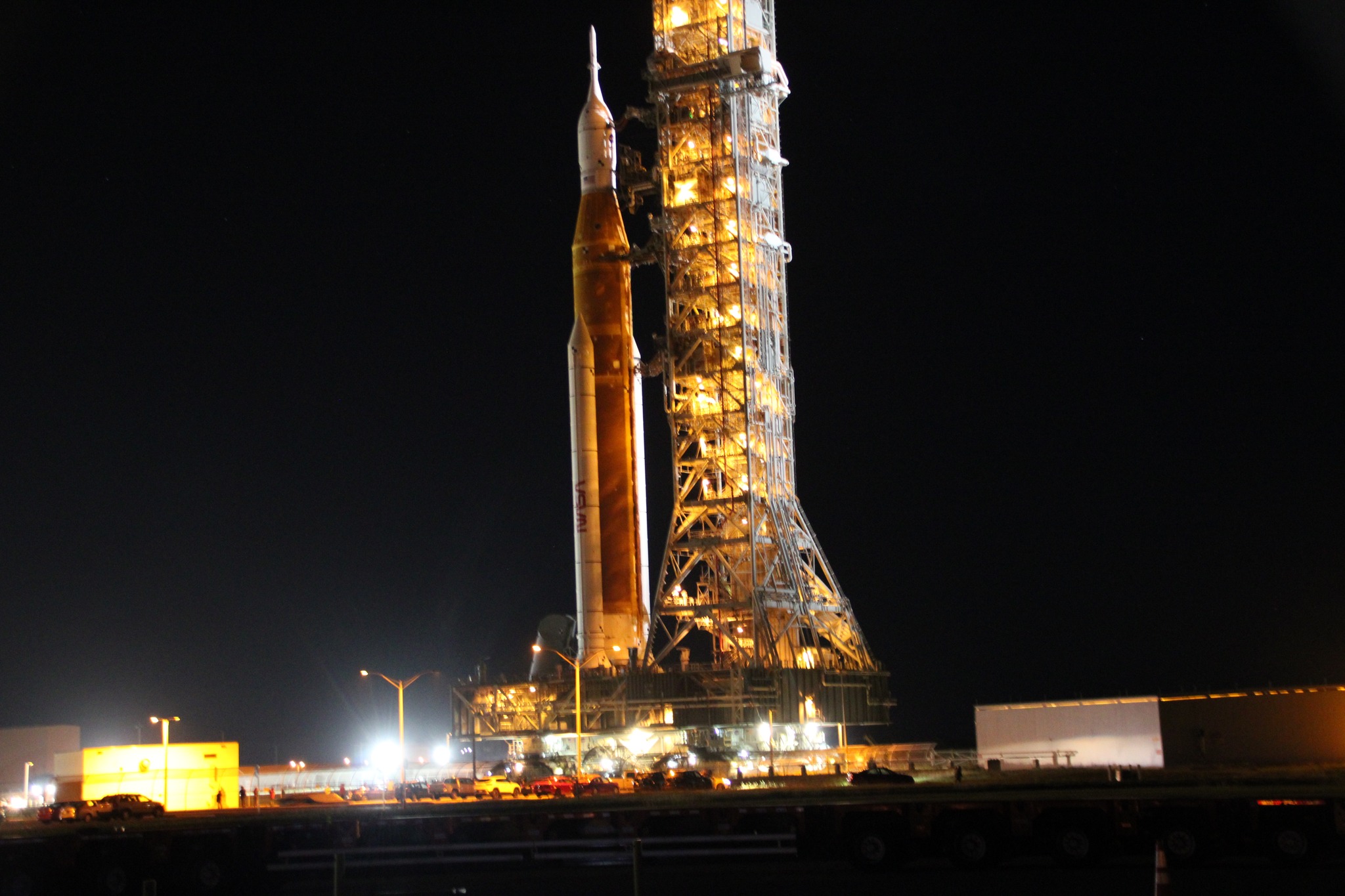 Daylight launch windows don't open up until Nov.22 at 7:06 a.m. EST.
However due to the Thanksgiving holidays NASA does not have permission from the FAA to launch on potential dates of Nov. 22, 23 and 24.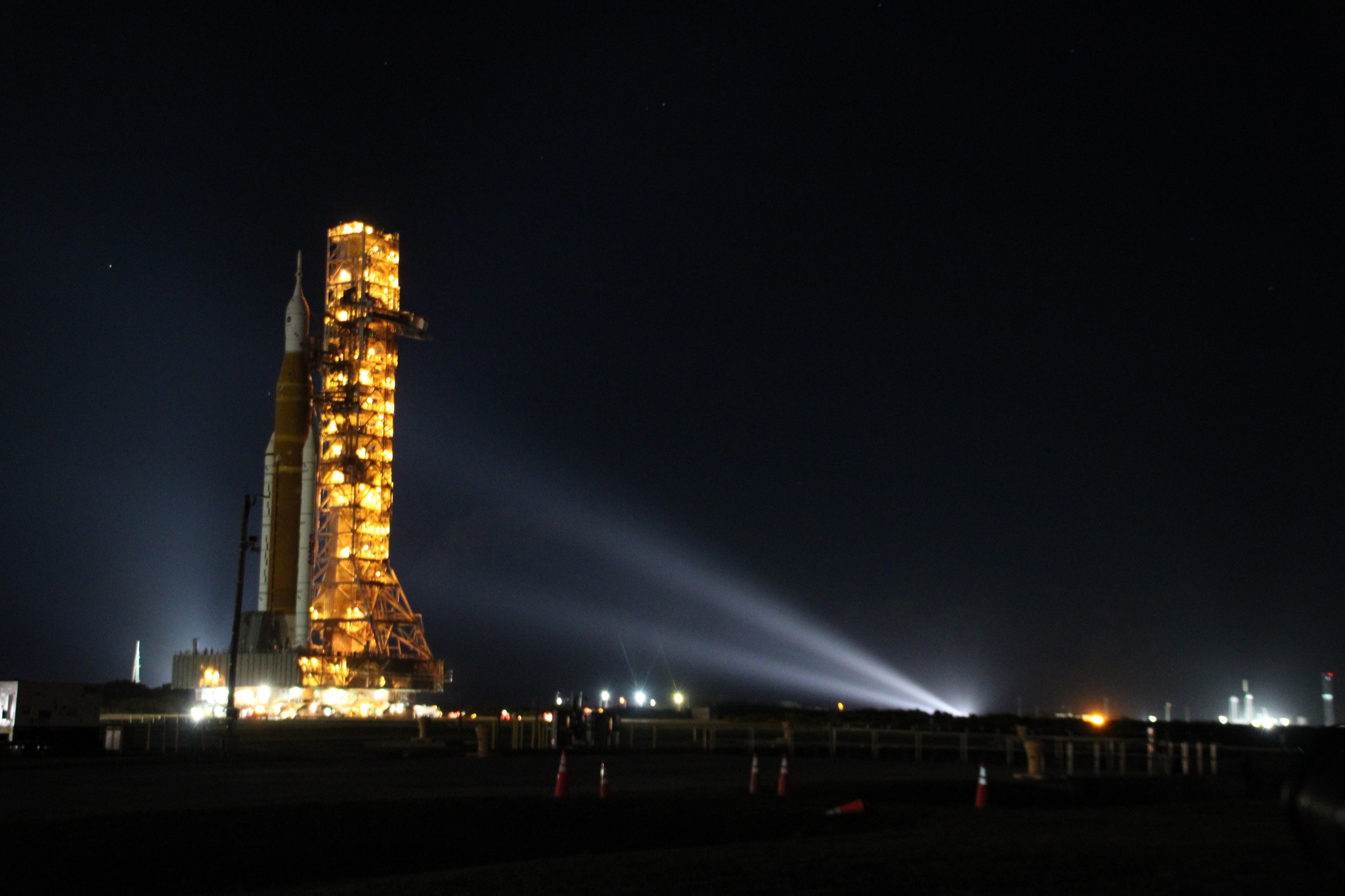 NASA is exploring the possibility of a launch attempt on Nov. 25 if needed in case its delayed beyond Nov. 19.
"The daytime launches start around the 22nd in terms of when they would be daytime launches," Free said.
"We don't have access to those days in the window right now due to the Holiday Airspace Release Program that is run by the FAA. Our next opportunity beyond the 16th and 19th that we have clear is is the 25th. We'd have to again work with our federal partners if we needed to open up one of those days to have access to launch."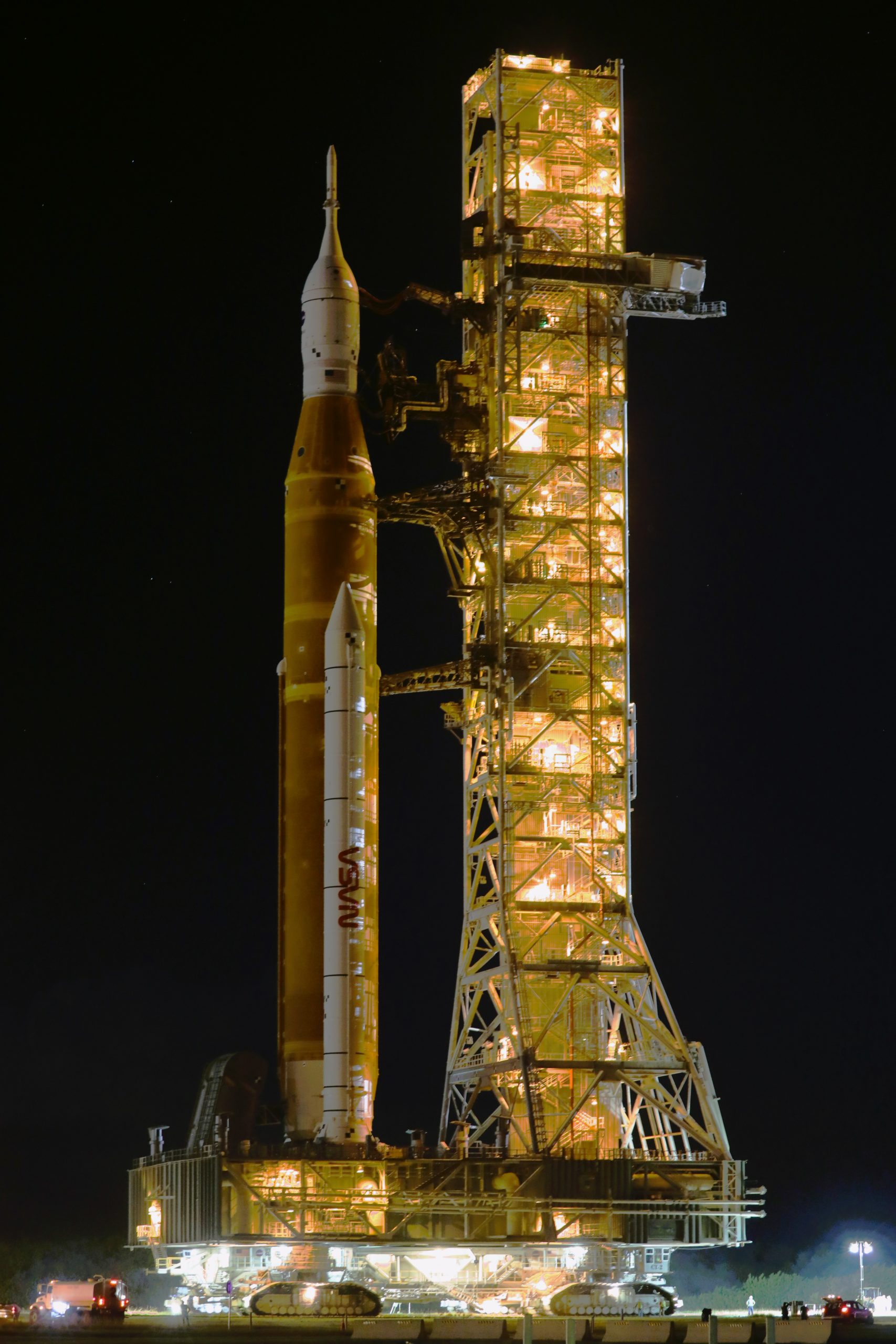 NASA preferred a daylight launch for the 1st SLS launch.
However, they are also comfortable with a nighttime launch and can gather virtually all the photographic and technical data required. 
"It's a preference. It's not a requirement," said Jim Free, who leads NASA's exploration systems mission development programs, at a media briefing
"I did ask the technical teams to go back and take a look and get everybody to weigh in again. After everything we've learned on the launch attempts, we're closer to launch than they were a year-and-a-half ago when the decision was made that it was OK to launch at night."
"Everyone is comfortable with launching in the evening, and I think everybody feels really good about the launch."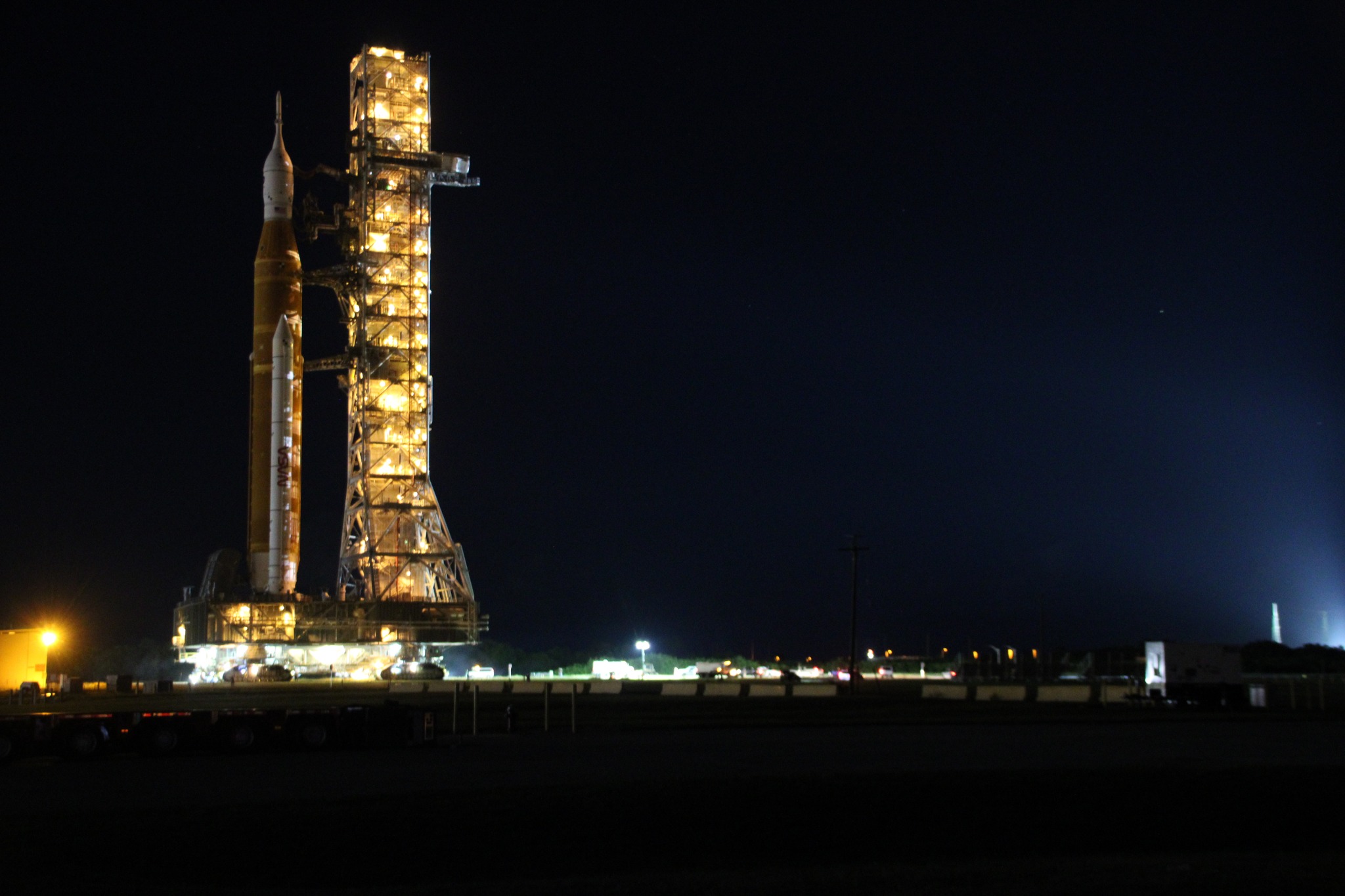 NASA was forced to wave off the last Artemis 1 launch attempt period in late September and early October in the face of the impending devastating threat from monster Hurricane Ian as it was approaching the Florida peninsula including the Space Coast – and roll the 32 story tall stack back to the VAB processing hangar for protective shelter on Sept. 26/27.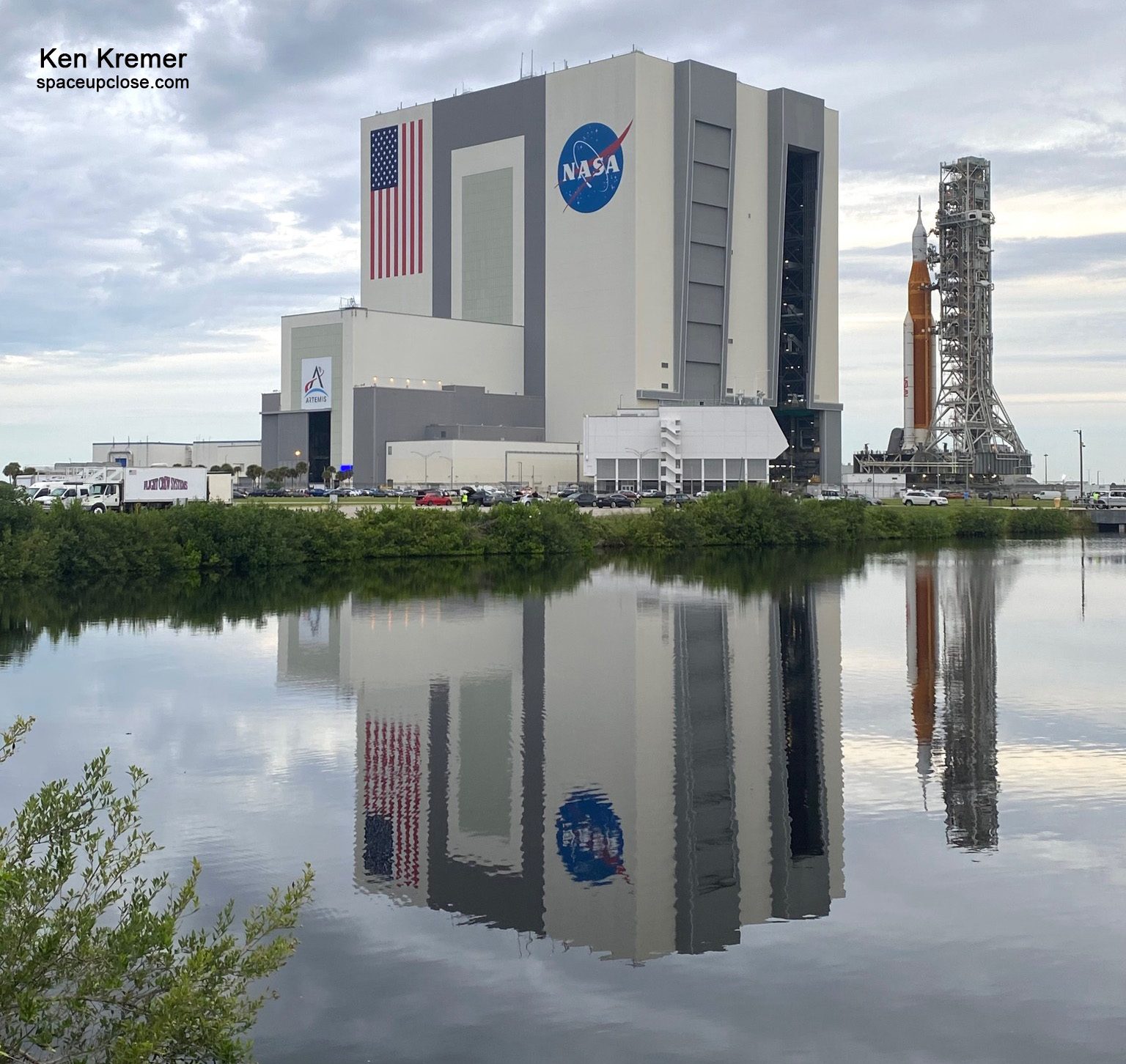 NASA's Artemis 1 SLS/Orion lunar test flight rocket had remained at pad 39B following a pair of scrubs from launch attempts on Aug. 29 and Sept. 3.
The vehicle arrived back inside the VAB just in the nick of time because Ian stuck Florida and weather was atrocious 24 hours later.
Initial inspections confirmed no damage inflicted by Ian on the SLS rocket and Orion crew capsule.
Ultimately Hurricane Ian caused over 100 deaths and widespread destruction and flooding across a wide swath of the state as it hit the southwest Coast near Fort Meyers and continued on a northeasterly track across much of central Florida to the east coast including vast regions around Orlando, the Space Coast and up to Daytona Beach and more.
After several earlier weather delays for Ian NASA had been hoping to launch Artemis 1 on Oct. 2 after successfully completing the critical cryogenic tanking test for the Artemis 1 Moon rocket on Wednesday, Sept. 21, after teams encountered another significant hydrogen leak near the start of the loading process engineers and then effectively resolved them in a timely manner at Launch Complex 39B at the Kennedy Space Center (KSC) in Florida.
Watch Ken's commentary about Project Artemis, SpaceX Falcon Heavy, Crew-5,  NASA SLS cryo and WDR tests, NASA SpaceX Crew & Cargo Dragons and more
Nov 7/8: Fox 35 Orlando – As subtropical storm Nicole approaches KSC and Florida watch my comments about NASA deciding for the moment to keep Artemis 1 moon rocket at pad 39b and not roll back to VAB
https://www.fox35orlando.com/news/nasa-says-its-keeping-artemis-outside-during-major-storm
Video:  https://twitter.com/MarieEdinger/status/1590055149342404608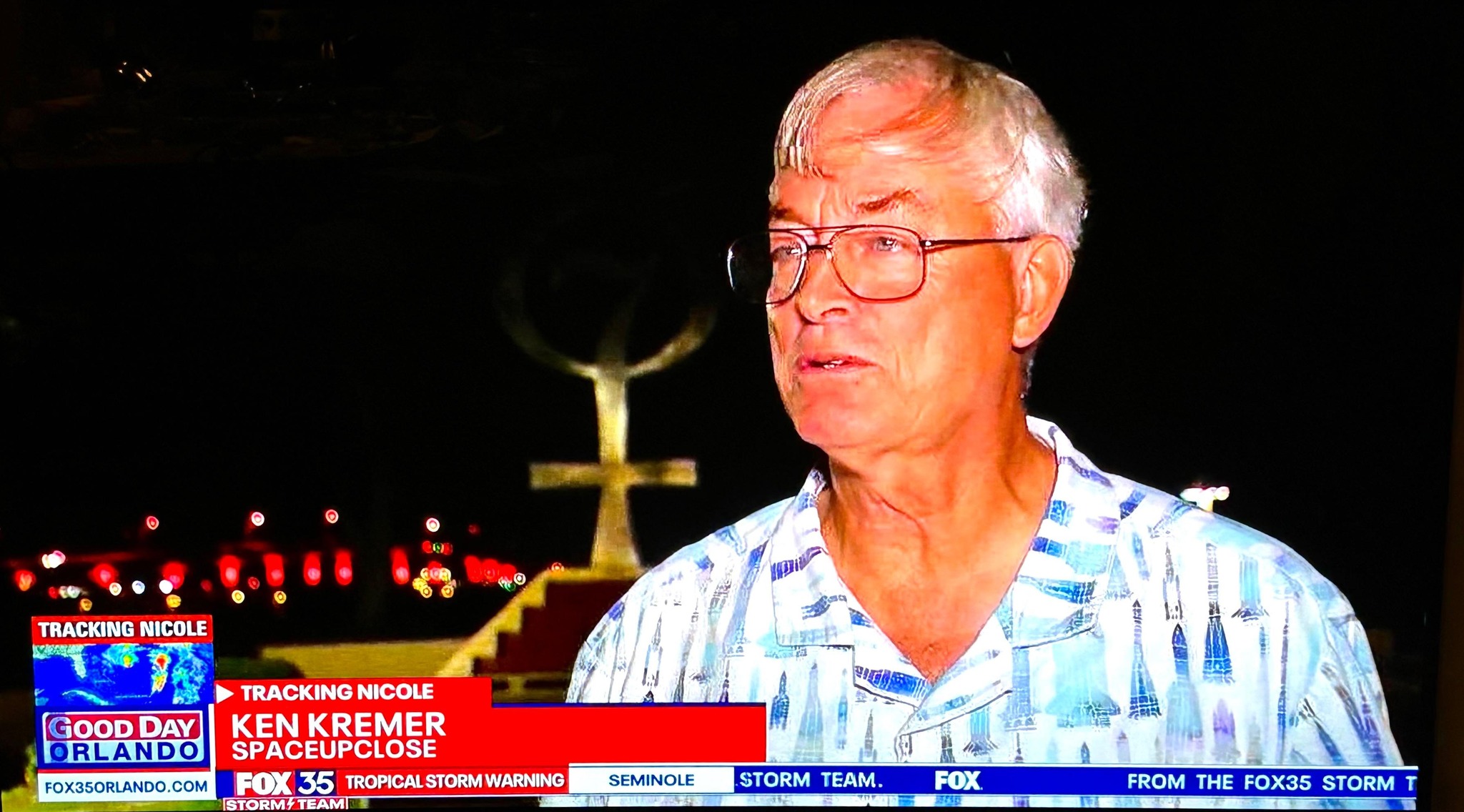 Nov 4/5: WFTV ABC News Orlando featured my commentary about Artemis 1 rollout overnight and goals of NASA lunar test flight mission launching Nov 14 at 1207 AM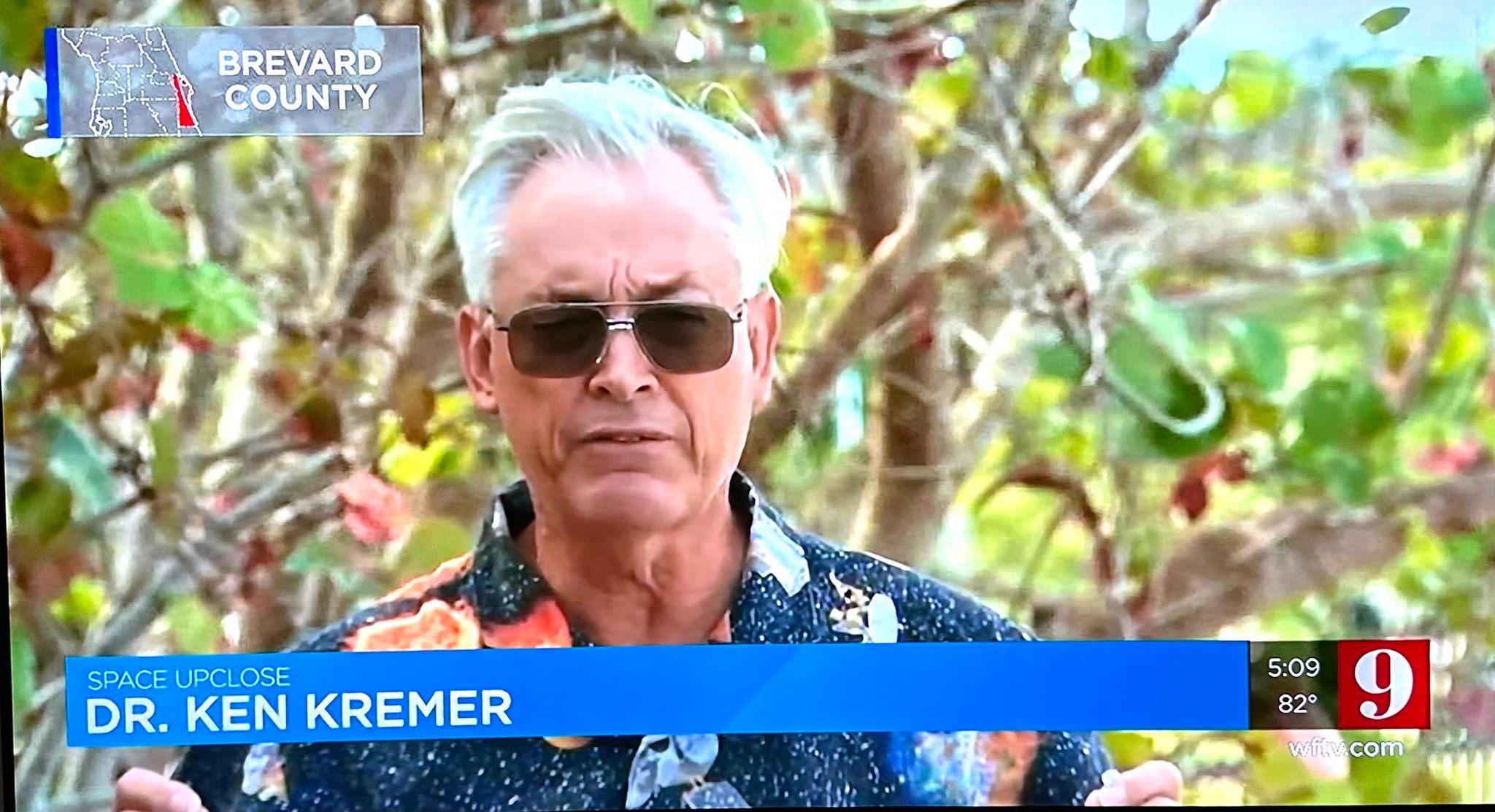 Nov 4:  Fox 35 Orlando featured my commentary about Artemis 1 rollout overnight and goals of NASA lunar test flight mission launching Nov 14
Nov 1: Fox 35 Good Day Orlando morning show featured my live and taped prelaunch interview commentary about SpaceX Falcon Heavy launch with Space Force national security payloads
Nov 1: WFTV ABC News featured my commentary about SpaceX Falcon Heavy launch with Space Force national security payloads
https://news.yahoo.com/watch-lve-spacex-launches-falcon-100341265.html
Oct 31: WFTV ABC News featured my commentary about SpaceX Falcon Heavy launch with Space Force national security payloads
https://www.wftv.com/news/local/spacex-falcon-heavy-ready-launch-tuesday-morning-double-sonic-boom-expected/CJVF25UEABACDMUOOCO2NEK7CQ/
Oct 27: WFTV ABC News and Fox 35 Orlando featured my commentary about Falcon Heavy and the Space Force national security payloads
https://www.wftv.com/news/local/brevard-county/spacex-aiming-first-falcon-9-heavy-launch-years/2T6SWE5KCNFA3LDJ4M25HWLH4M/
https://www.fox35orlando.com/video/1137117
Watch Ken's continuing reports about Artemis, SpaceX missions, SLS, Orion and NASA missions, SpaceX Crew and Cargo Dragons, SpaceX Axiom, JWST, DART, Lucy Asteroid mission, GOES, SpaceX Starlink, Commercial Crew and Starliner and Crew Dragon, Blue Origin and Space Tourism, and onsite for live reporting of upcoming and recent SpaceX and ULA launches including Crew 1 & 2 & 3 & 4 & 5, ISS, Solar Orbiter, Mars 2020 Perseverance and Curiosity rovers, NRO spysats and national security missions and more at the Kennedy Space Center and Cape Canaveral Space Force Station.
Stay tuned here for Ken's continuing Earth and Planetary science and human spaceflight news: www.kenkremer.com –www.spaceupclose.com – twitter @ken_kremer – email: ken at kenkremer.com
Dr. Kremer is a research scientist and journalist based in the KSC area, active in outreach and interviewed regularly on TV and radio about space topics.
………….
Ken's photos are for sale and he is available for lectures and outreach events
Please consider supporting Ken's work by purchasing his photos and/or donating at Patreon
https://www.patreon.com/kenkremer
Upcoming and recent space events and talks by Ken Kremer & Jean Wright
Nov 11/12/13 from 7 to 9 PM Quality Inn, Titusville, FL:  Join Ken and Jean for Artemis 1, Falcon Heavy and space mission and rocket launch outreach. Ask us anything. plus display our photos and space apparel items for sale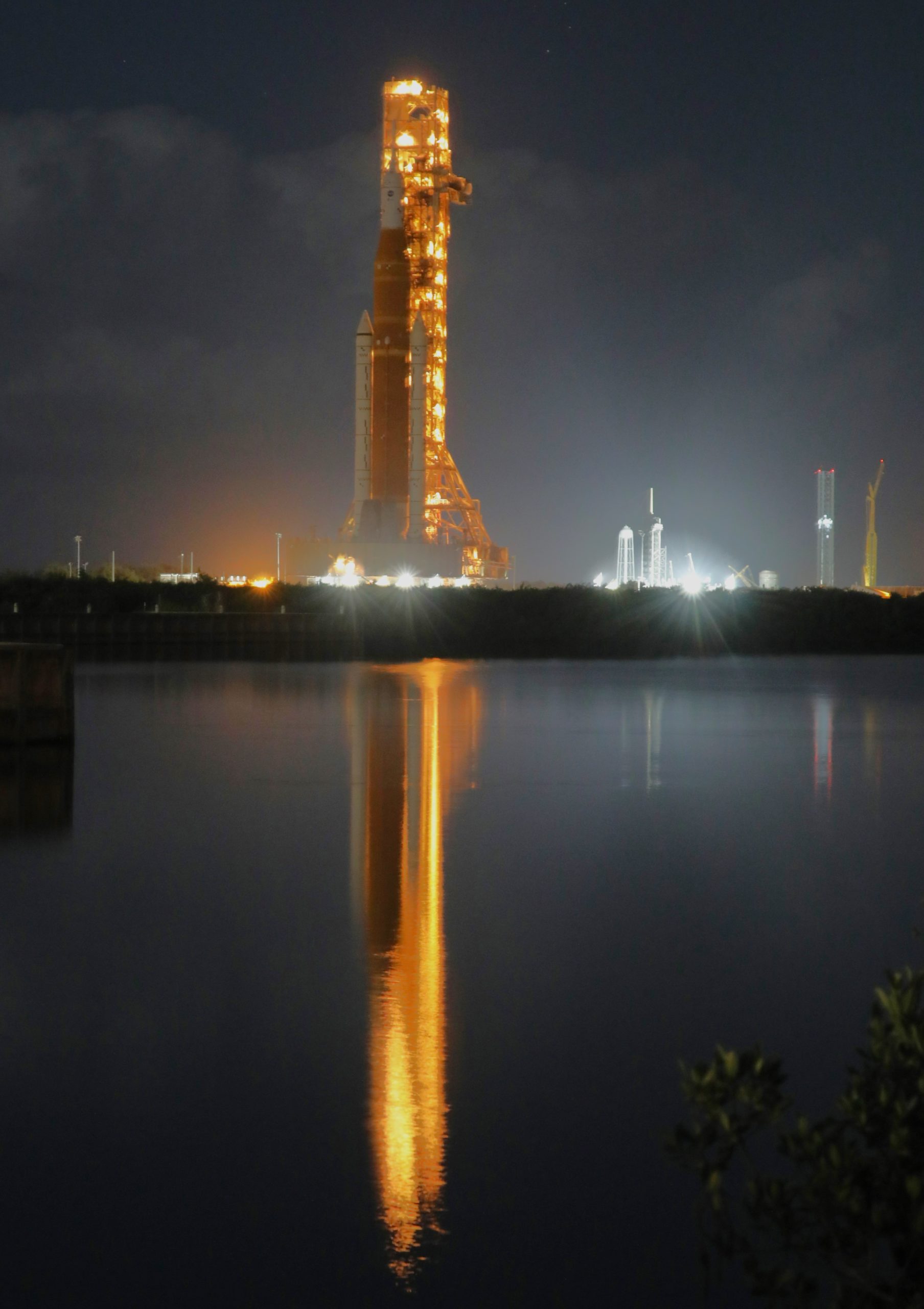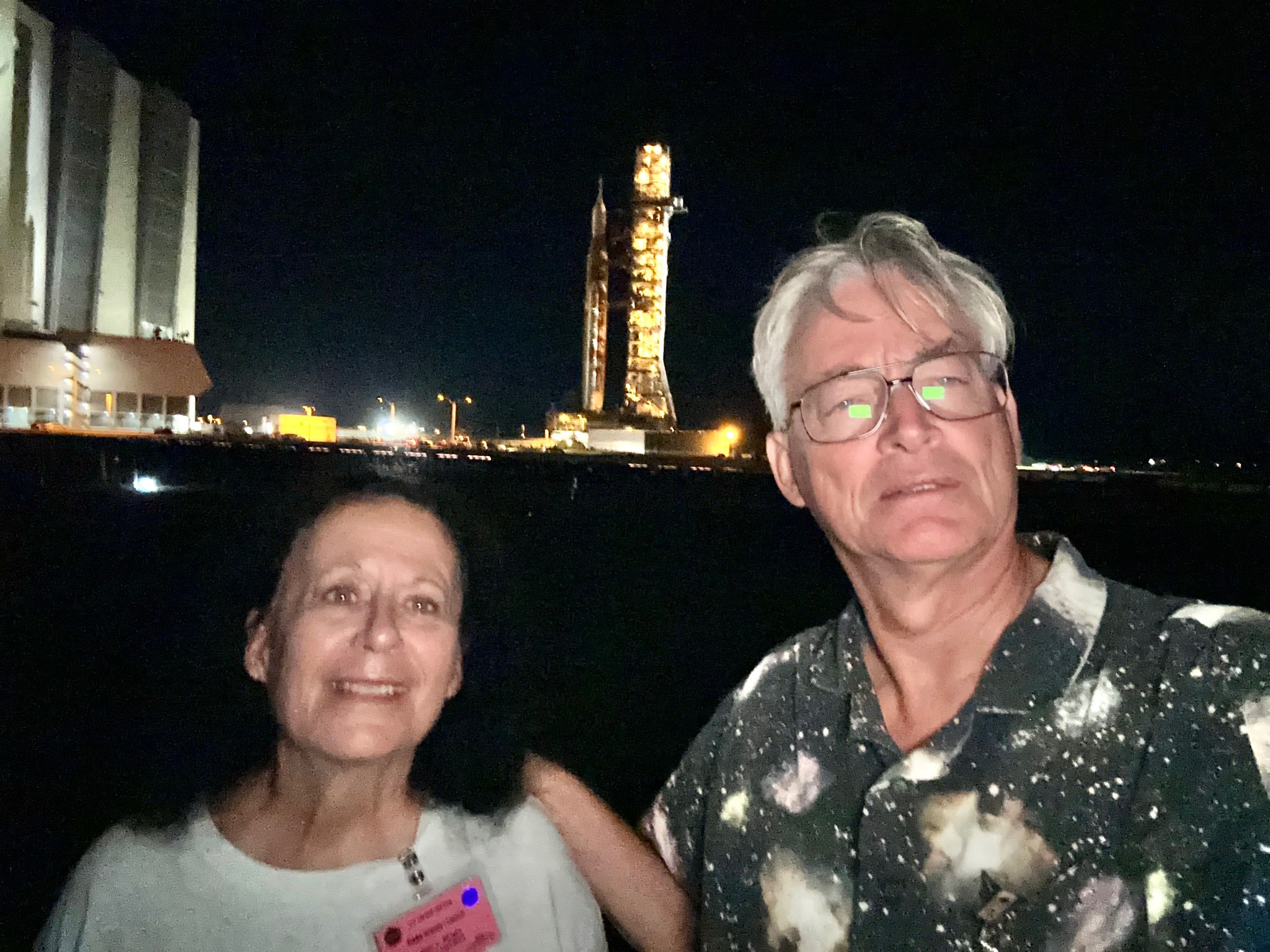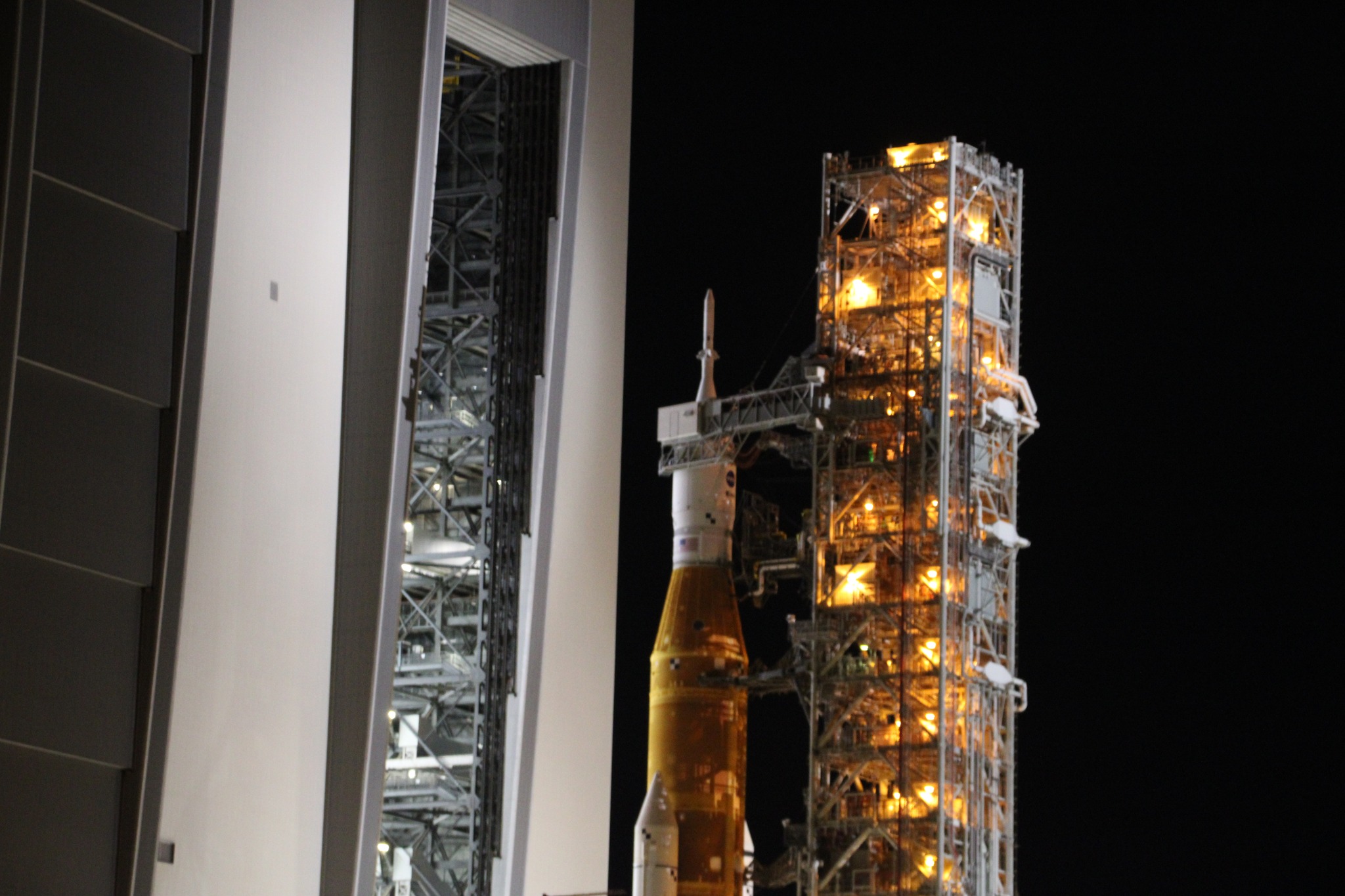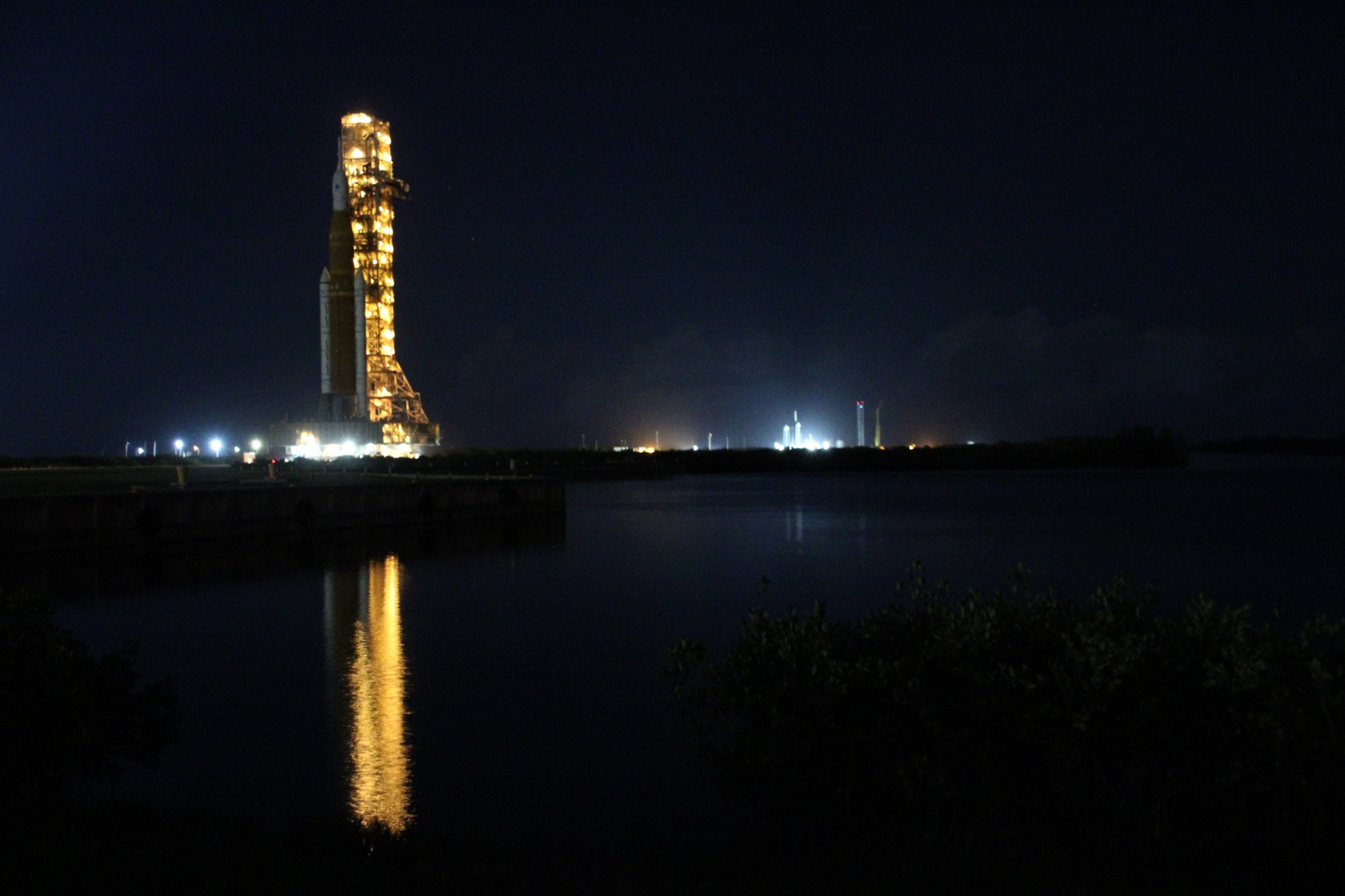 x