For SpaceUpClose.com & RocketSTEM
KENNEDY SPACE CENTER, FL –  A SpaceX Falcon Heavy blasted off on its very first National Security Space Launch (NSSL) while carrying a clandestine payload suite for the United States Space Force  directly into a high-altitude geosynchronous orbit that appropriately was shrouded in thick morning fog enveloping the rocket making it virtually invisible to most spectators ringing the Space Coast in Florida – but with a "simply outstanding" performance, said military commanders.
The mammoth triple stick SpaceX Falcon Heavy successfully delivered the mysterious and top secret U.S. Space Force (USSF)-44 mission with at least six satellite payloads critical to U.S. national defense needs to geosynchronous orbit – and did so on its first flight in more than three years from the Kennedy Space Center in Florida.
SpaceX's Falcon Heavy rocket lifted off at 9:41 a.m. EDT (1341 GMT) Nov. 1 from seaside Launch Complex LC-39A at NASA's Kennedy Space Center, Florida, right at the opening of the 30-minute-long window.
The USSF-44 mission successfully launched several classified payloads including the Long Duration Propulsive EELV (Evolved Expendable Launch Vehicle) Secondary Payload Adapter (ESPA), or LDPE-2 and Shepherd Demonstration mission on the first National Security Space Launch (NSSL) aboard SpaceX's Falcon Heavy.
The USSF-44 payload of multiple satellites was injected into a geosynchronous orbit and some 22,000 miles above the equator by the single engine upper stage after a six hour coast phase – making it the longest mission in SpaceX history.
The upper stage was painted with a special insulating paint to keep the propellant cooled during the long coast phase.
Eight minutes later the twin side booster landed safely and nearly simultaneously back at the Cape sending multiple sonic booms screaming across the Space Coast and heard for dozens of miles away.
They count as the 150th and 151st landings of SpaceX boosters and will be reused on a future Space Force mission.
The Falcon Heavy is currently the most powerful operational rocket in the world
It was launched only 3 time previously since its debut test flight mission in 2018 with a Tesla Roadster car from SpaceX CEO Elon Musk.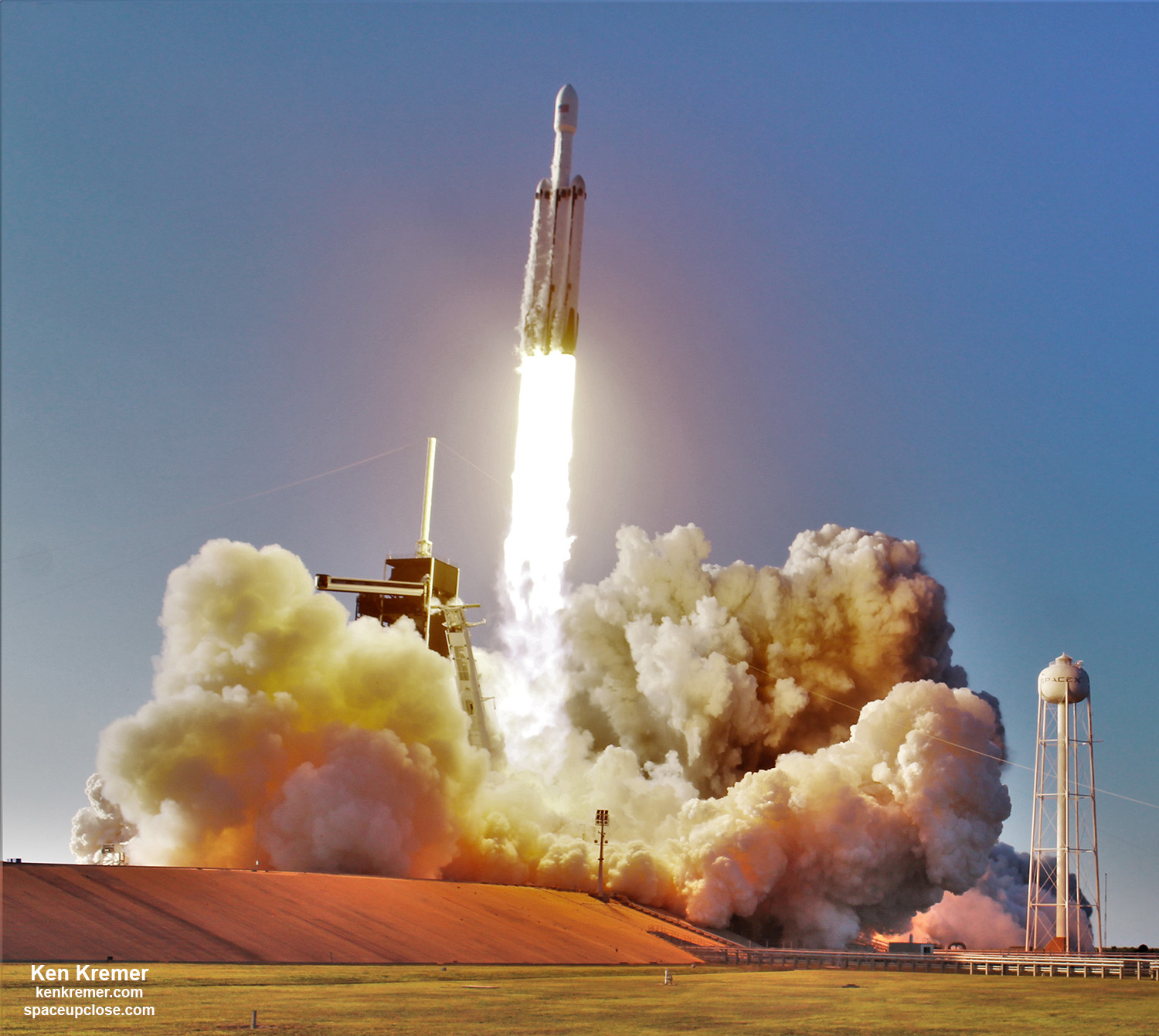 The USSF-44 mission for the United States Space Force counts as the fourth Falcon Heavy mission.
It was comprised of three brand new Falcon 9 cores manufactured especially for this Space Force mission.
The center core was expended since the Space Force needed to use all the thrust available from the rocket.
It is powered by 27 Merlin engines, generating more than 5.1 million pounds of first stage thrust
However, it was completely covered in dense morning fog that made the liftoff invisible to most spectators gathered around the space coast until it was briefly seen several miles overhead before the rocket and its mysterious payload again quickly disappeared into the prevalent fog.
"This was our first National Security Space Launch on a Falcon Heavy, and it was simply outstanding," said Brig. Gen. Stephen Purdy, Program Executive Officer for Assured Access to Space, in a statement.
"Our mission brought together several teams on the payload side, Assured Access to Space, and SpaceX. Everyone worked so well together preparing for the launch and that dedication paid off with our 95th consecutive successful NSSL mission. We should all be proud of this combined team and their drive and focus on mission success in delivering these satellites to orbit. Adding to the nation's on-orbit capability is absolutely critical in staying ahead of the threats posed by our very active foreign adversaries."
Overall this counts as SpaceX's 50th launch of the year.
Falcon Heavy launches USSF-44 to orbit, and its two side boosters return to Earth – SpaceX's 50th mission of 2022 pic.twitter.com/t0ZXCTGFrM

— SpaceX (@SpaceX) November 1, 2022
The LDPE-2 space vehicle will deliver six payloads that advance communications, space weather sensing and other technologies into near-geosynchronous orbits. Multiple commercial and government partners worked together to ensure the success of this multifaceted and important mission, said the Space Force.
The Shepherd Demonstration is designed to test new technologies to enhance safe and responsible rendezvous and proximity operations. It will accelerate risk reduction efforts to inform future Programs of Record.
"We envision the LDPE program as a 'freight train to space'," said Brig. Gen. Tim Sejba, Program Executive Officer for Space Domain Awareness and Combat Power at Space Systems Command, in a statement.
"This capability provides our mission partners with frequent and low-cost access to orbit to accelerate technology insertion into new space architectures."
The LDPE-2 spacecraft was built by Northrop Grumman
"ESPAStar vehicles can use excess payload space on launches and our streamlined integration process allows for unification at the launch site,"said Troy Brashear, vice president, national security systems, Northrop Grumman. "These capabilities enhance mission value and redefine rapid access to space as we provide the U.S. Space Force with the technology to make their missions more efficient."
LDPE-2 was built using a Northrop Grumman ESPAStar bus, which serves as a rideshare service for a variety of payloads. ESPAStar employs a standard ESPA ring and provides added propulsion, power and avionic subsystems enabling operation as a fully functioning satellite. A SpaceX Falcon heavy launch vehicle will deliver LDPE-2 to near-geosynchronous Earth orbit for a one-year mission life.
The fully integrated Falcon Heavy stands 229 feet (70 meters) tall and 40 feet (12.2 meters) wide.
Enjoy our launch, pad 39A and nighttime static test fire photos of the SpaceX Falcon Heavy on the USSF-44 mission and photos from Playalinda Beach taken for Space UpClose by Ken Kremer and Jean Wright.
SpaceX conducted a successful nighttime static fire test of their brand new triple stick Falcon Heavy rocket standing vertical and minus the nose cone on the launch pad, Thursday evening, Oct. 27, rumbling across the Space Coast and paving the path towards the first launch of the mammoth vehicle in over three years from the Kennedy Space Center in Florida.
After SpaceX engineers fueled the Falcon Heavy with RP-1 and liquid oxygen propellants they ignited all 27 first stage Merlin 1D engines on all three Falcon 9 cores at 8 PM EDT Thursday (0000 GMT Friday )– thereby generating 5.1 million pounds of thrust while hold down clamps kept the rocket firmly on top of the pad at Launch Complex 39A on NASA's Kennedy Space Center.
The Falcon Heavy was tested in the 'headless' configuration of the first and second stages – meaning there was no nose cone or payload on top to keep the multi-billion dollar collection of U.S. Space Force satellites codenamed USSF-44 safe in case something went awry during the engine firing.
Watch Ken's commentary about Falcon Heavy, Crew-5 and Project Artemis, NASA SLS WDR demo test, NASA SpaceX Crew & Cargo Dragons and more
Nov 1: Fox 35 Good Day Orlando morning show featured my live and taped prelaunch interview commentary about SpaceX Falcon Heavy launch with Space Force national security payloads
Nov 1: WFTV ABC News featured my commentary about SpaceX Falcon Heavy launch with Space Force national security payloads
https://news.yahoo.com/watch-lve-spacex-launches-falcon-100341265.html
Oct 31: WFTV ABC News featured my commentary about SpaceX Falcon Heavy launch with Space Force national security payloads
https://www.wftv.com/news/local/spacex-falcon-heavy-ready-launch-tuesday-morning-double-sonic-boom-expected/CJVF25UEABACDMUOOCO2NEK7CQ/
Oct 27: WFTV ABC News and Fox 35 Orlando featured my commentary about Falcon Heavy and the Space Force national security payloads
https://www.wftv.com/news/local/brevard-county/spacex-aiming-first-falcon-9-heavy-launch-years/2T6SWE5KCNFA3LDJ4M25HWLH4M/
https://www.fox35orlando.com/video/1137117
Watch Ken's continuing reports about Artemis, SpaceX missions, SLS, Orion and NASA missions, SpaceX Crew and Cargo Dragons, SpaceX Axiom-1, JWST, IXPE, DART, Lucy Asteroid mission, GOES, SpaceX Starlink, Commercial Crew and Starliner and Crew Dragon, Blue Origin and Space Tourism, and onsite for live reporting of upcoming and recent SpaceX and ULA launches including Crew 1 & 2 & 3 & 4, ISS, Solar Orbiter, Mars 2020 Perseverance and Curiosity rovers, NRO spysats and national security missions and more at the Kennedy Space Center and Cape Canaveral Space Force Station.
Stay tuned here for Ken's continuing Earth and Planetary science and human spaceflight news: www.kenkremer.com –www.spaceupclose.com – twitter @ken_kremer – email: ken at kenkremer.com
Dr. Kremer is a research scientist and journalist based in the KSC area, active in outreach and interviewed regularly on TV and radio about space topics.
………….
Ken's photos are for sale and he is available for lectures and outreach events
Please consider supporting Ken's work by purchasing his photos and/or donating at Patreon
https://www.patreon.com/kenkremer
Upcoming and recent space events and talks by Ken Kremer & Jean Wright
Oct 30/31, Nov 1 from 7 to 9 PM Quality Inn, Titusville, FL:  Join Ken and Jean for Artemis 1, Falcon Heavy and space mission and rocket launch outreach. Ask us anything. plus display our photos and space apparel items for sale
SpaceX Falcon Heavy rocket undergoes successful nighttime static fire test of its 27 first stage engines on Launch Complex 39A at NASA's Kennedy Space Center in Florida on Oct. 27, 2022. As seen from Titusville along the Indian River Lagoon. Liftoff of the USSF-44 classified mission targeted for Nov. 1, 2022. Credit: Ken Kremer/SpaceUpClose.com
Ken Kremer and Jean Wright of Space UpClose watch SpaceX Falcon Heavy roll up pad 39A on Oct 31, 2022, prior to USSF-44 mission launch from Launch Complex-39A at NASA's Kennedy Space Center, Florida, on Nov. 1, 2022. Credit: Ken Kremer / SpaceUpClose.com
x