For SpaceUpClose.com & RocketSTEM
KENNEDY SPACE CENTER, FL – NASA's uncrewed Orion spacecraft has departed lunar orbit after successfully completing the critical distant retrograde orbit departure burn on Thursday afternoon, Dec. 1 – the first of two thruster firings that sets the spacecraft up for its final close lunar flyby and starts the return journey to Earth with a splashdown in the Pacific Ocean in a week and a half.
The spacecraft successfully completed the distant retrograde departure (DRD) burn at 4:53 p.m. EST (2153 GMT), Dec. 1, upon firing its main engine for 1 minute 45 seconds that exits it from distant retrograde orbit (DRO) it had been traveling in since Nov. 25, and places it on course for a close lunar flyby to just 79 miles above the lunar surface on Dec. 5 before its return home.
"Nominal Burn," NASA officials and flight controllers in the White Control room at NASA JSC announced during a live webcast of the DRD burn by the OMS main engine.
"Orion has left its distant lunar orbit and is on its return journey home," NASA confirmed.
We've left lunar orbit! @NASA_Orion fired its main engine today to exit distant retrograde orbit and set itself on a course for Earth. The burn is one of two maneuvers we'll make ahead of splashdown on Dec 11. Next up? Return powered fly by on Dec 5. https://t.co/3gPLuhoFxD pic.twitter.com/RHjM2ATsWY

— Jim Free (@JimFree) December 1, 2022
Orion was traveling about 237,600 miles from Earth and 52,900 miles from the Moon, cruising at 2,300 mph at the time of the burn.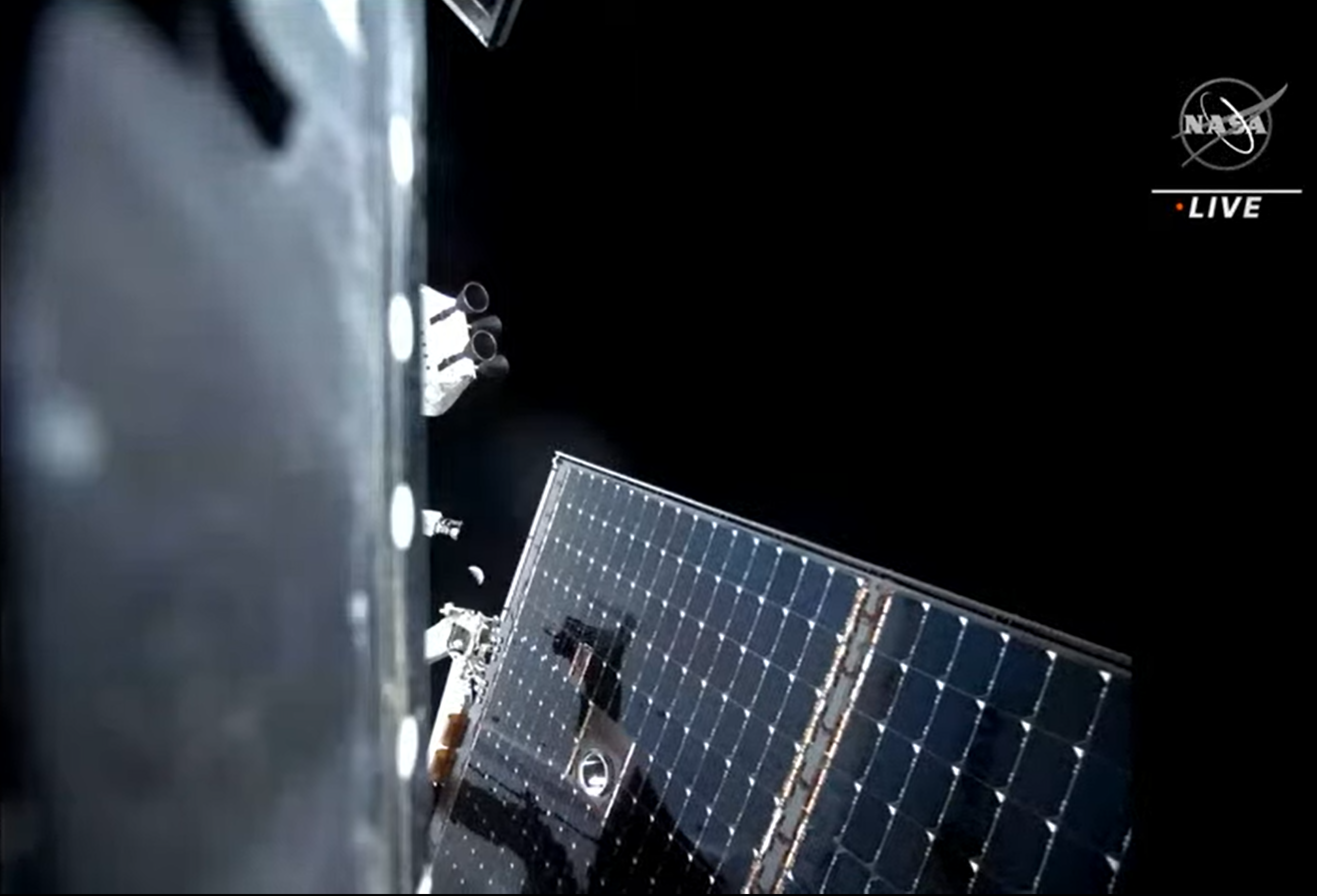 The burn performed by Orion's Orbital Maneuvering System (OMS) main engine changed its velocity by about 454 feet per second, 310 mph or 498 kph.
The OMS main engine is attached to the base of the European Service Module and  provides about 6000 pounds of thrust to slingshot Orion around the Moon.
The OMS engines are recycled from the space shuttle and repurposed for Orion and built by Aerojet Rocketdyne.
This flight proven engine flying on Artemis I previously flew on 19 space shuttle flights, beginning with STS-41G in October 1984 and ending with STS-112 in October 2002.
The burn is one of two maneuvers required ahead of Orion's splashdown in the Pacific Ocean on Dec. 11 – concluding the 25.5 day Artemis 1 test flight that began with liftoff from KSC on Nov. 16.
The second will occur on Monday, Dec. 5, when the spacecraft will fly 79.2 miles above the lunar surface and perform the return powered flyby burn, which will commit Orion on its course toward Earth.
These two are the last two firings of five total for the OMS main engine
Orion entered its a distant retrograde orbit (DRO) trajectory around the Moon after completing a critical thruster firing on Friday afternoon, Nov. 25, of the OMS main engine also required for the lunar orbit insertion firing on Flight Day 10 of the Artemis 1 unpiloted test flight mission.
To date now just past the halfway point the Artemis 1 mission has performed flawlessly – with no significant technical issues arising.
As a result of Orion's outstanding performance the team has also added 7 additional test objectives!
"With how well the mission is going, we have found ourselves, rather than having to work anomalies, able to push the boundaries," said Zebulon Scoville, deputy chief flight director, at a Nov. 30 media briefing.
"We all came into the mission expecting to have challenges. Instead, it's kind of purring along and staying very smooth. The kinds of discussions we're having are how to rev the engine a little bit harder and how to push it a little bit harder and faster."
We continue to add test objectives to #Artemis I to help reduce risk for future missions. Two new objectives will look at pressure valves, a third will test @NASA_Orion's ability to change orientation, and a fourth will examine flying using three degrees of freedom. pic.twitter.com/u4PRxWAFIV

— Jim Free (@JimFree) December 1, 2022
In fact Orion is using less power and fuel compared to pre-flight estimates
Our propellant margins for @NASA_Orion continue to exceed expectations. We've used about 150 pounds less than expected and have about 2,040 pounds of margin available beyond what we plan to use for the remainder of the mission. Get the latest at https://t.co/gqViM3Tl9Q. pic.twitter.com/dAb9U3ltb4

— Jim Free (@JimFree) December 3, 2022
The team also continues to gather important science data such as radiation measurements that will aid in planning for the next flight with a human crew on the Artemis 2 mission targeted to launch by late 2024.
We're downlinking lots of data from @NASA_Orion during #Artemis I. In addition to spacecraft data and the imagery you see, we're gathering science data from onboard radiation experiments to help characterize the radiation environment inside the spacecraft at deep space distances. pic.twitter.com/aMri3JpNfc

— Jim Free (@JimFree) December 3, 2022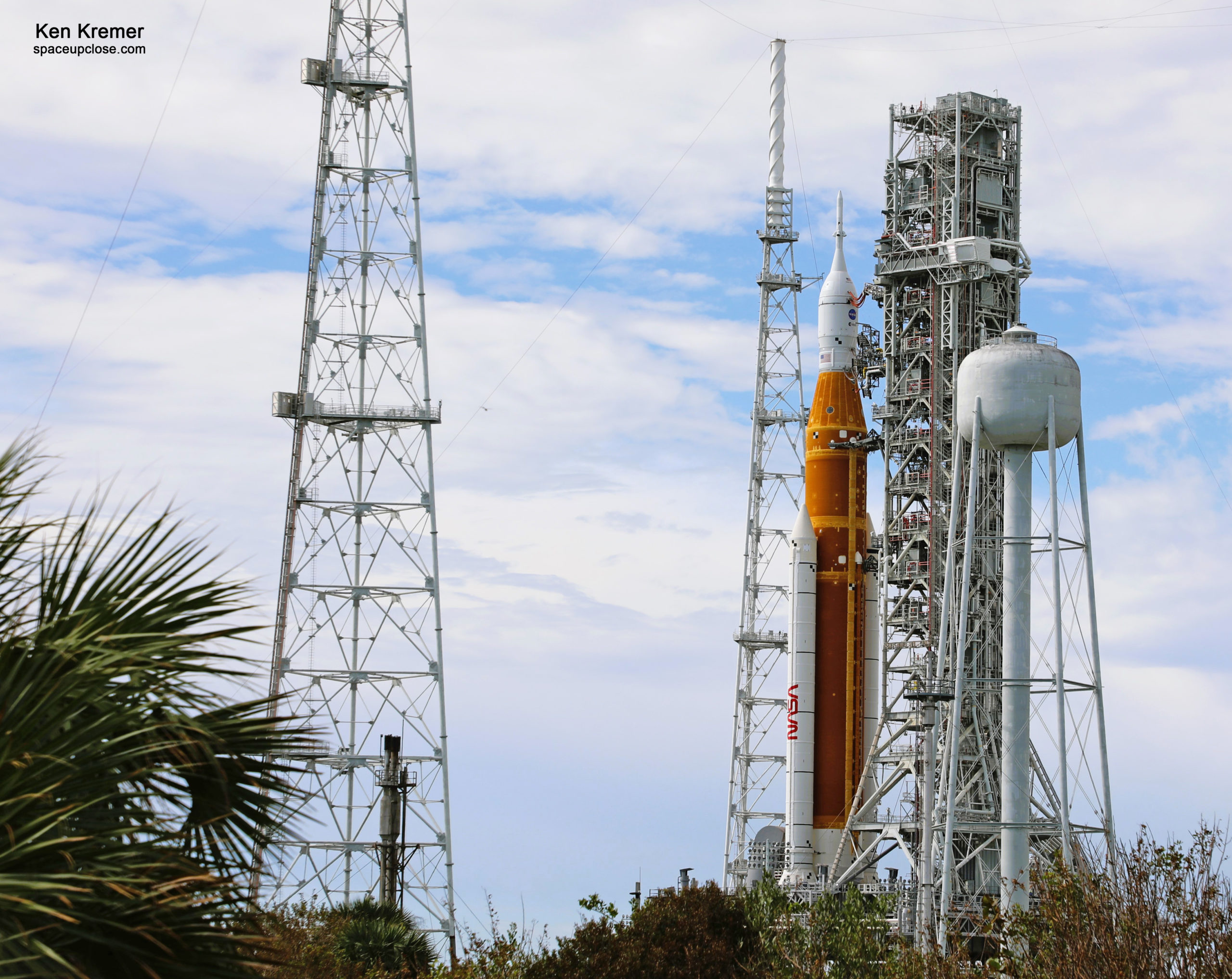 Stay tuned here for Ken's continuing Earth and Planetary science and human spaceflight news: www.spaceupclose.com – twitter @ken_kremer – email: ken at kenkremer.com
Dr. Kremer is a research scientist and journalist based in the KSC area, active in outreach and interviewed regularly on TV and radio about space topics.
………….
Ken's photos are for sale and he is available for lectures and outreach events
Please consider supporting Ken's work by purchasing his photos and/or donating at Patreon
https://www.patreon.com/kenkremer
Upcoming and recent space events and talks by Ken Kremer & Jean Wright
Nov 29 at UCF, Orlando Florida: Presentation by Jean Wright – "Sew Sister to the Stars- How the Humble Art of Sewing Transformed the World of Flight"
Nov 25/29 and Dec 5 from 7 to 9 PM Quality Inn, Titusville, FL:  Join Ken and Jean for Artemis 1, Falcon Heavy and space mission and rocket launch outreach. Ask us anything. plus display our photos and space apparel items for sale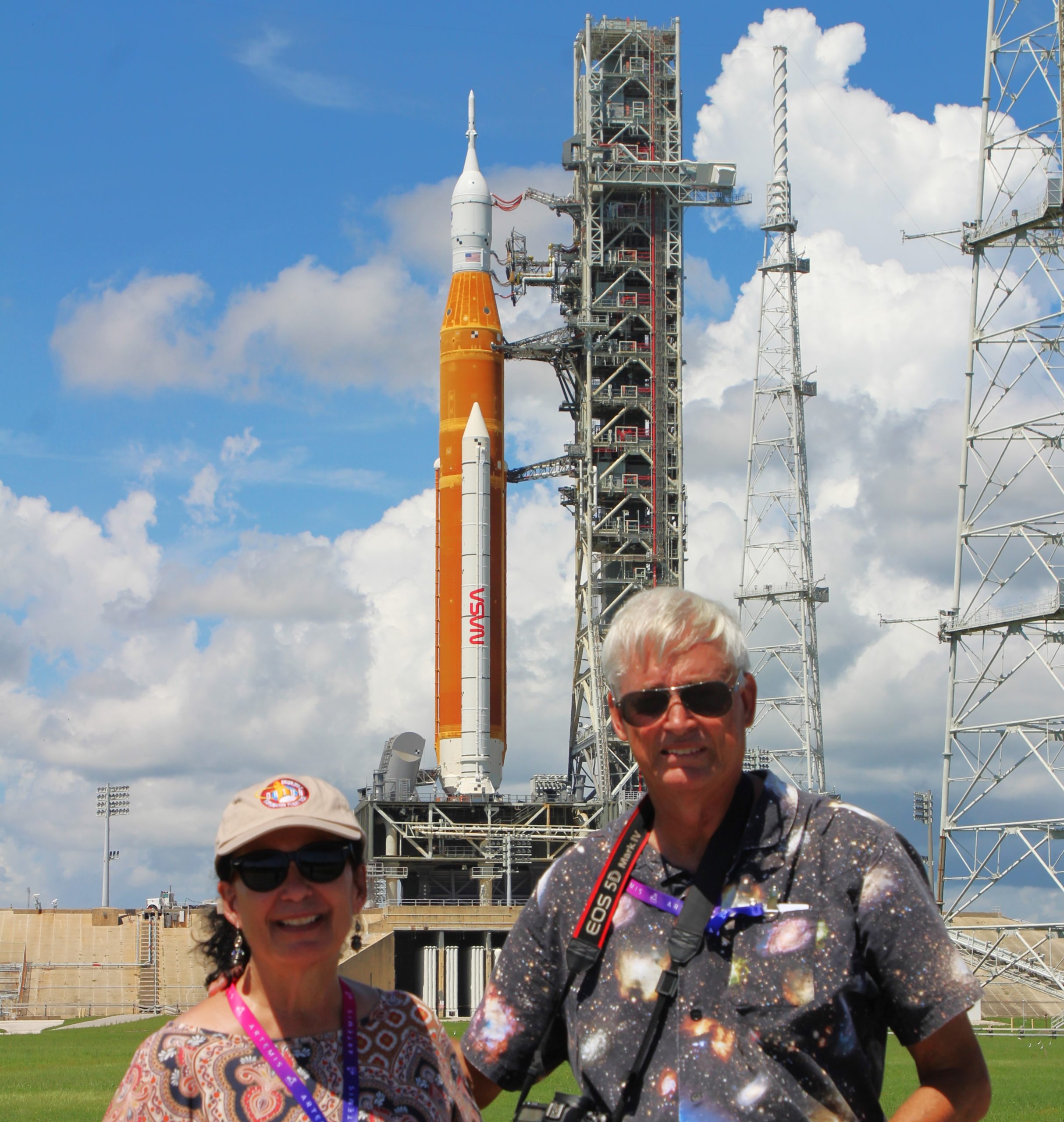 x