For SpaceUpClose.com & RocketSTEM
KENNEDY SPACE CENTER, FL –  Although NASA's Crew-6 astronauts didn't launch to the International Space Station early Monday morning Feb. 27 from NASA's Kennedy Space Center due to a technical glitch with the flow of critical igniter fluids, SpaceX did manage a splendid sunset launch of another Falcon 9 rocket from a nearby pad  on Cape Canaveral later the same day – carrying the first batch of the firms upgraded and more powerful Starlink internet satellite to orbit from Florida's Space Coast.
Thus one SpaceX Falcon 9 soared while another awaits another day just a few miles apart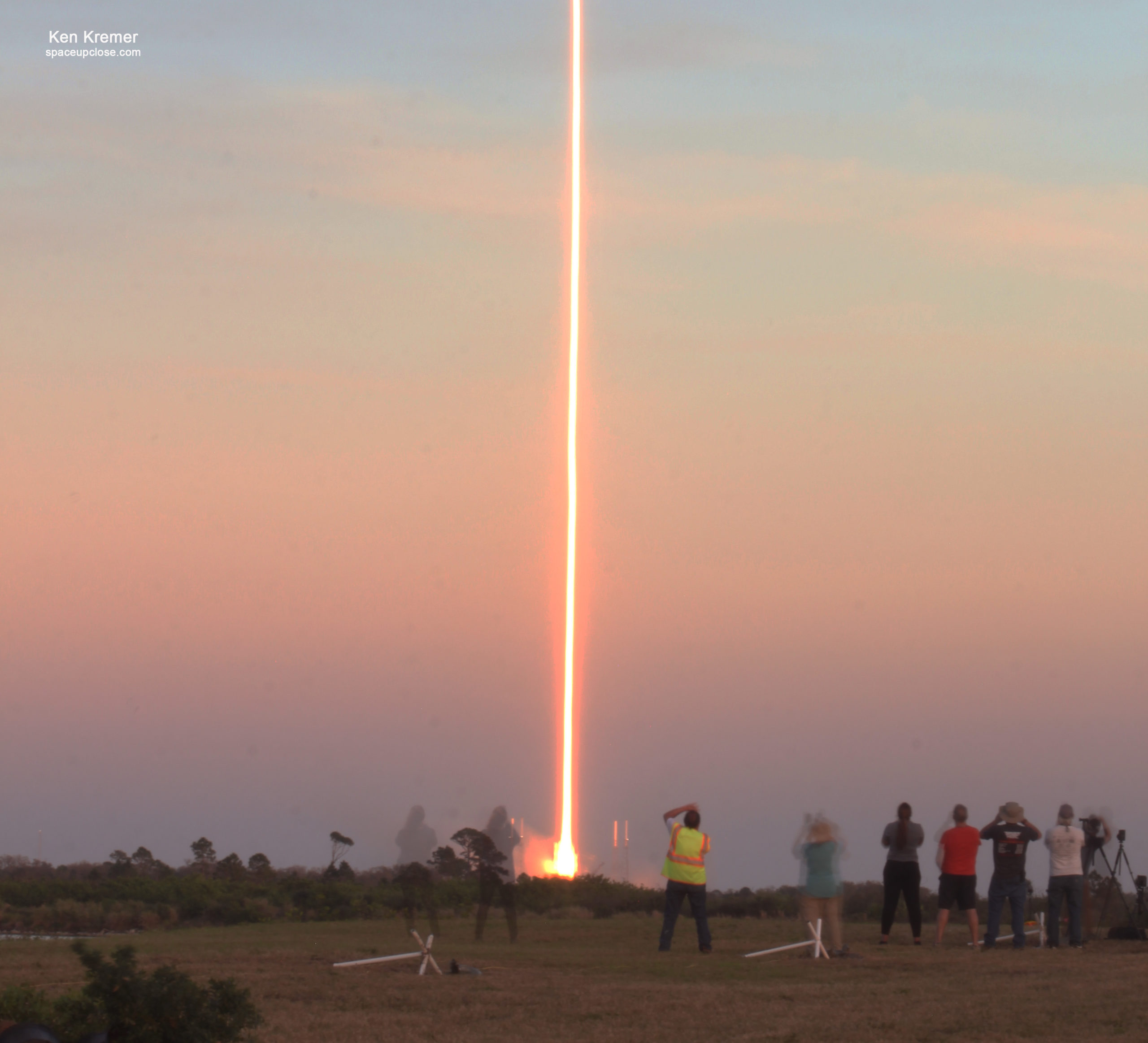 Liftoff of the veteran 229-foot-tall (70-meter) Falcon 9 booster B1076.3 on the Starlink 6-1 mission delivered the first tranche of 21 second generation V2 Mini Starlinks to orbit and took place shortly just before sunset at 6:13 p.m. EDT (2313 GMT) Monday, February 27, from Space Launch Complex 40 (SLC-40) at Cape Canaveral Space Force Station in Florida, at the opening of a 2-minute long launch window.
The launch was delayed from the initial slot Monday afternoon as teams waited for solar radiation levels to calm down following an intense solar storm.
That storm created auroral displays visible across Northern Europe and Canada.
We watched from the KSC Press site about 4 miles away as the Falcon 9 ignited and rose mightily soaring on a southeasterly trajectory.
The 21 Starlink satellites were deployed as planned into a 230-mile-high (370-km) orbita at 1 hour and 4 minutes after liftoff.
First Starlink v2 satellites reach orbit pic.twitter.com/0l08568mJ9

— Elon Musk (@elonmusk) February 28, 2023
Deployment of 21 Starlink V2 Mini satellites confirmed

— SpaceX (@SpaceX) February 28, 2023
The Starlink satellite constellation is thus fortified to over 4000 strong!
There are two versions of Starlink's second generation of satellites, V2 designed to fly on Starship, and V2 Mini, designed to fly on Falcon 9.
V2 is 10 times the size of the V2 Mini
V2 mini has 4 times the capability of the earlier V1.5 version launching the past few years
From SpaceX
"The V2 Minis are smaller than the V2 satellites (hence the name) but don't let the name fool you.  The V2 Minis include more advanced phased array antennas and the use of E-band for backhaul, which will enable Starlink to provide ~4x more capacity per satellite than earlier iterations.
The V2 Minis are also equipped with new argon Hall thrusters for on orbit maneuvering. Developed by SpaceX engineers, they have 2.4x the thrust and 1.5x the specific impulse of our first gen thrusters. This will also be the first time ever that argon Hall thrusters are operated in space."
The first stage booster supporting this mission previously launched CRS-26 and OneWeb Launch 16.
Following stage separation, Falcon 9's first stage landed on the 'A Shortfall of Gravitas' (ASOG) droneship stationed in the Atlantic Ocean.
Falcon 9's first stage has landed on the A Shortfall of Gravitas droneship pic.twitter.com/CFdhCVuOby

— SpaceX (@SpaceX) February 27, 2023
Each Starlink V2 satellite weight about 1700 pounds (800 kg) – thus over 3 times the weight of V1.5
They measure about 100 ft (30 m) across after the solar arrays are deployed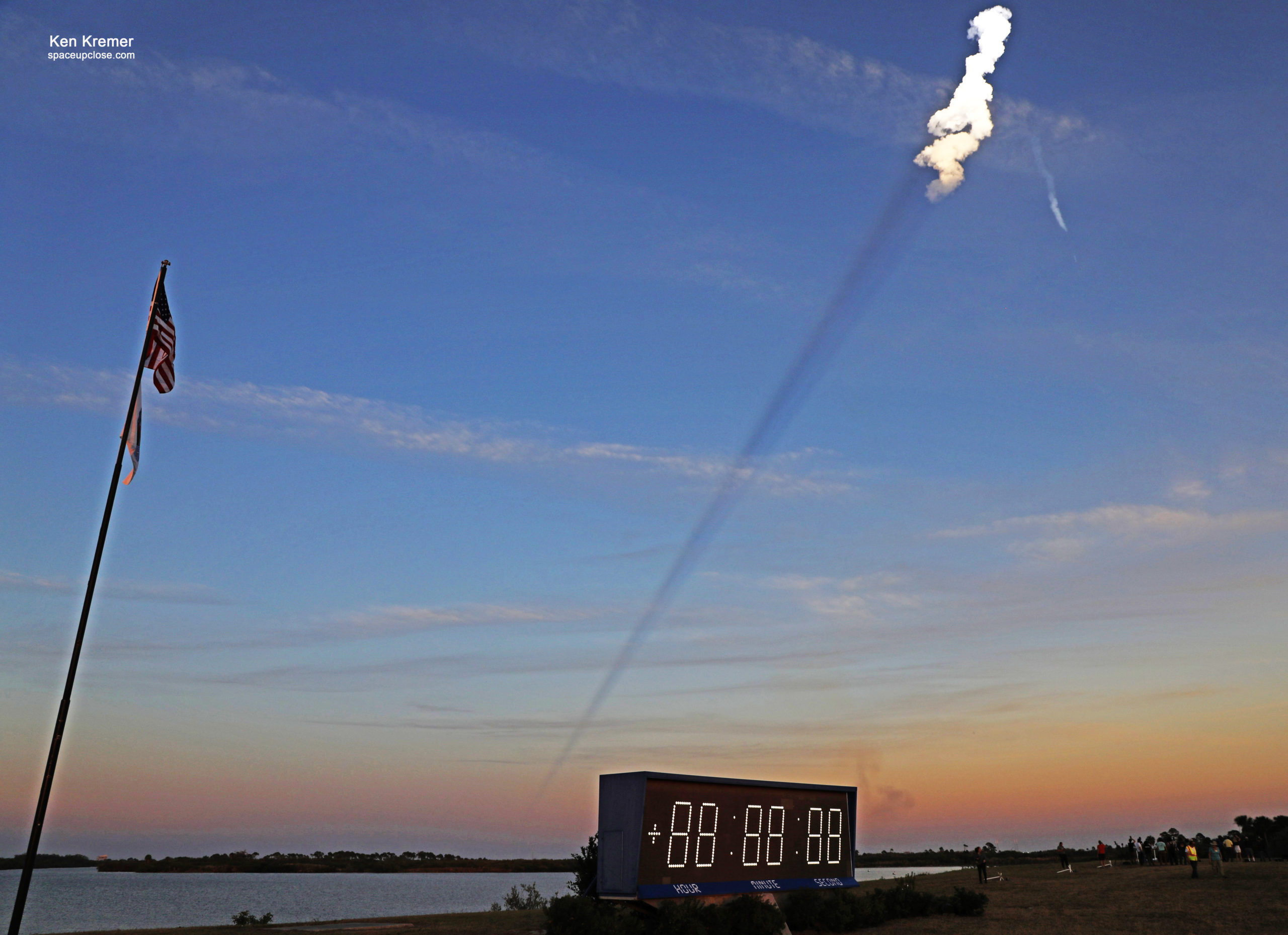 The visibility was so good we could see stage separation 2.5 minutes after liftoff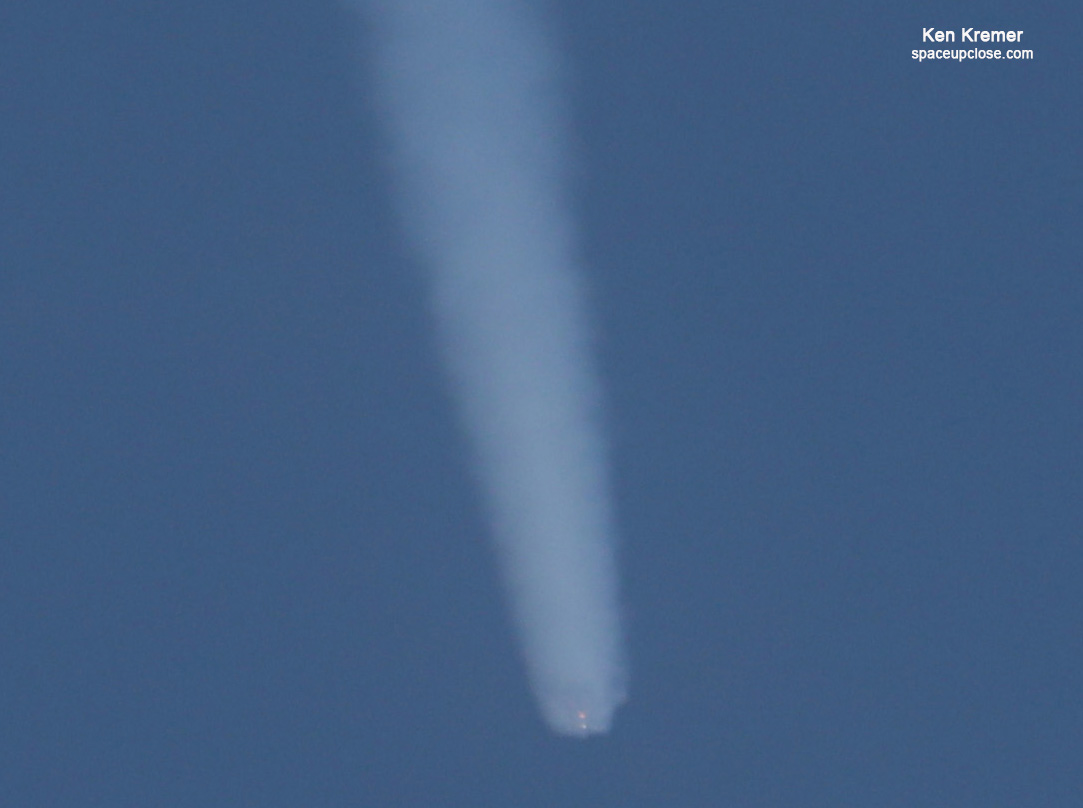 A collage of my launch photos were featured at Alive Space – an Italian space news website.
https://aliveuniverse.today/immagine-del-giorno/7550-i-nuovi-starlink-in-orbita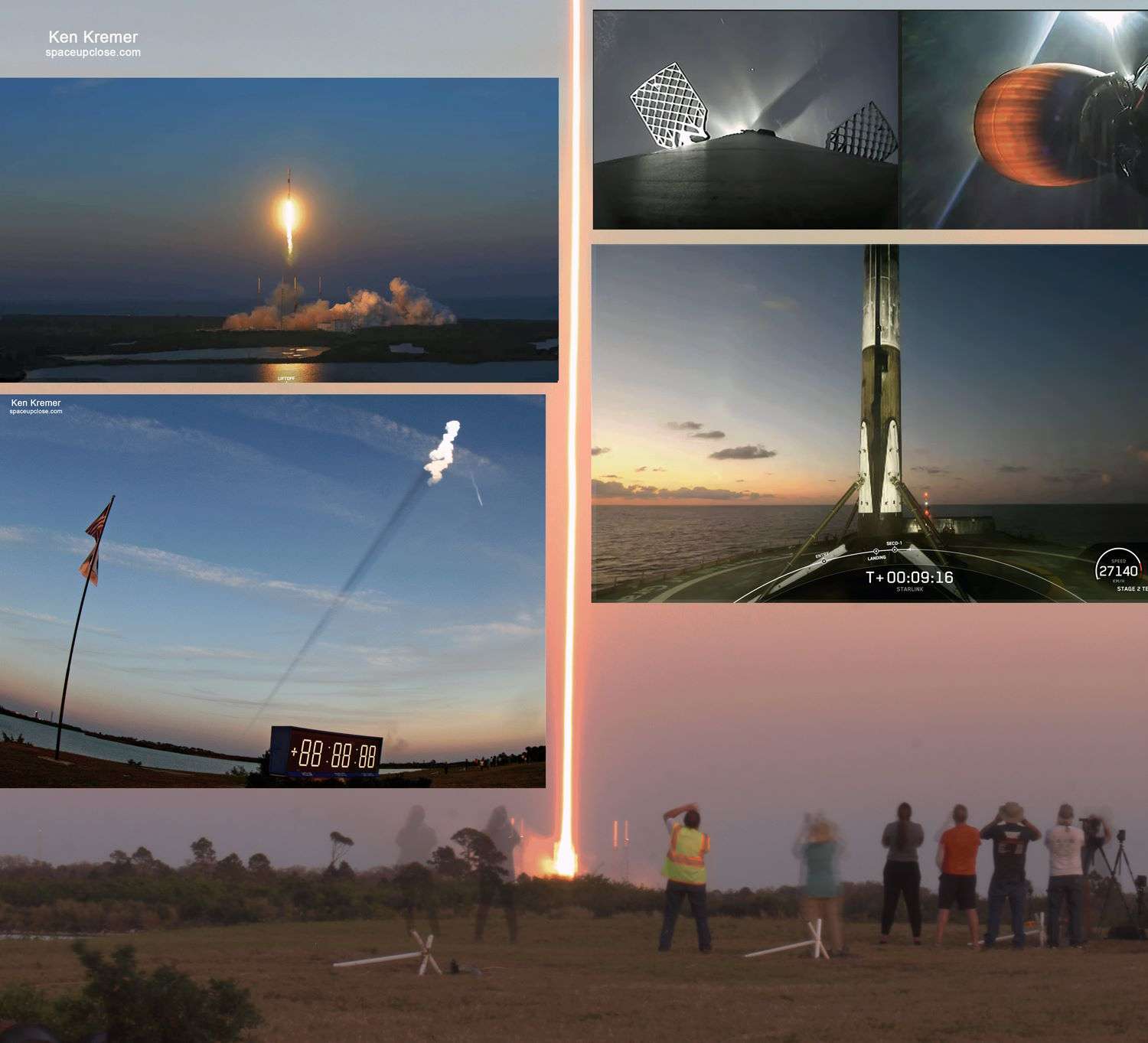 Watch Ken's commentary about NASA. Project Artemis SLS and Orion, SpaceX Falcon Heavy, Crew-5 & 6, NASA SpaceX Crew & Cargo Dragons and more
Mar 2: Fox 35 Orlando live interview about the Crew-6 mission launch to the ISS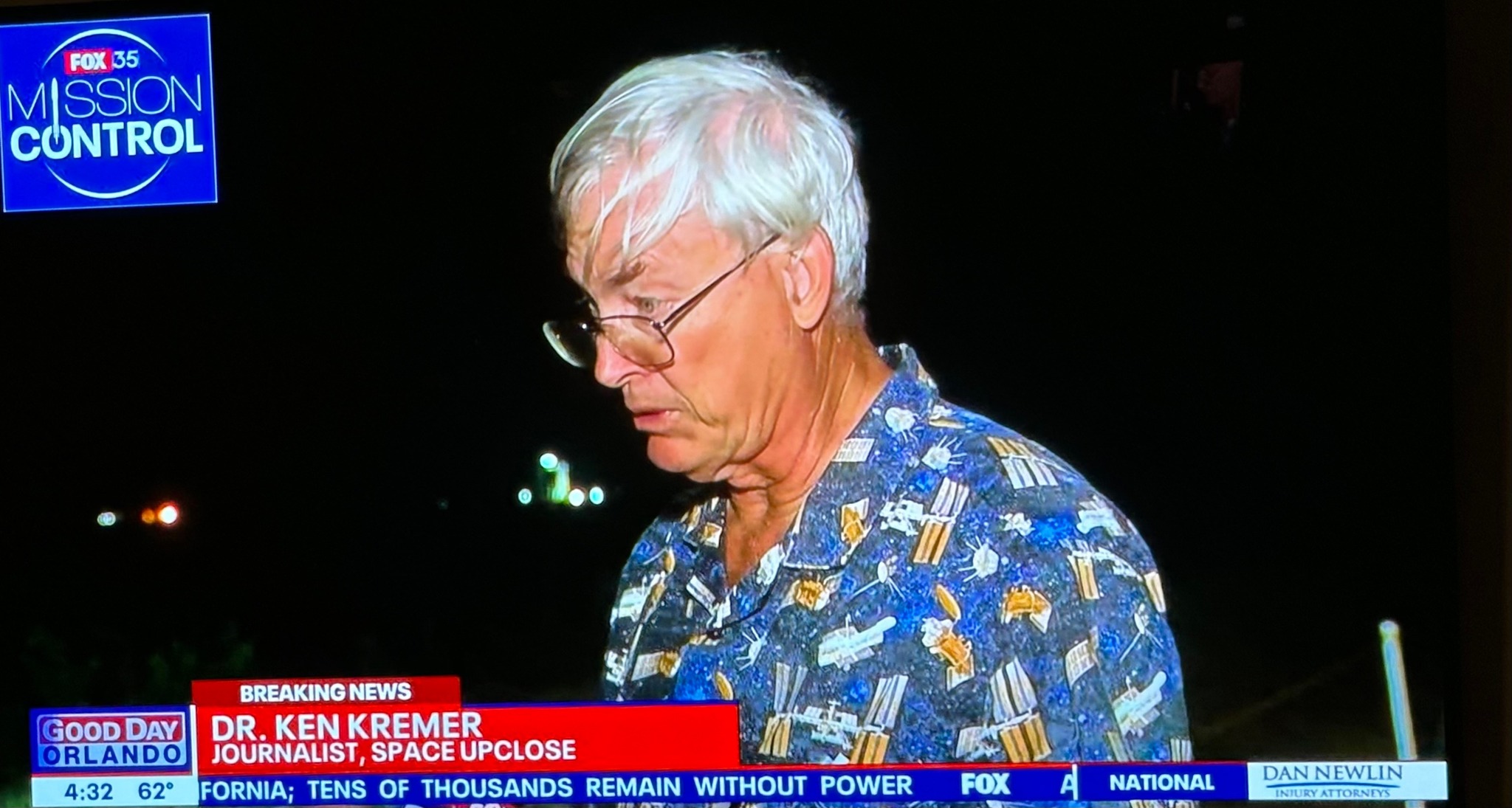 Feb 26/27/28: On 3 local Networks CBS WKMG , ABC WFTV and Fox 35 Orlando -I did series of live and taped interviews pre and post scrub explaining why NASA  SpaceX Crew6 astronaut launch to ISS was scrubbed at T Minus 2 minutes to keep the crew and rocket safe and what needs to be done to resolve the issue why TEA-TEB (triethylaluminum triethylboron) igniter fluid failed to fully load on Falcon 9 rocket
Feb 9/10:  WFTV ABC News Orlando interview about SpaceX Starship successful static fire test of 31 Raptor engines at Boca Chica
https://www.wftv.com/news/local/brevard-county/spacex-completes-successful-static-fire-test-33-engine-starship-booster/LDYL2CDXS5ETHG7TGG2RH2JV7I/
Feb 8/9:  WFTV ABC News Orlando interview about how NASA needs a definitive and fully funded plan to deorbit the ISS safely in case of an emergency and serious debris hit causing it to lose control b4 it's terminated in 2030- in light of the recent Soyuz crew capsule leak from micrometeoroid impact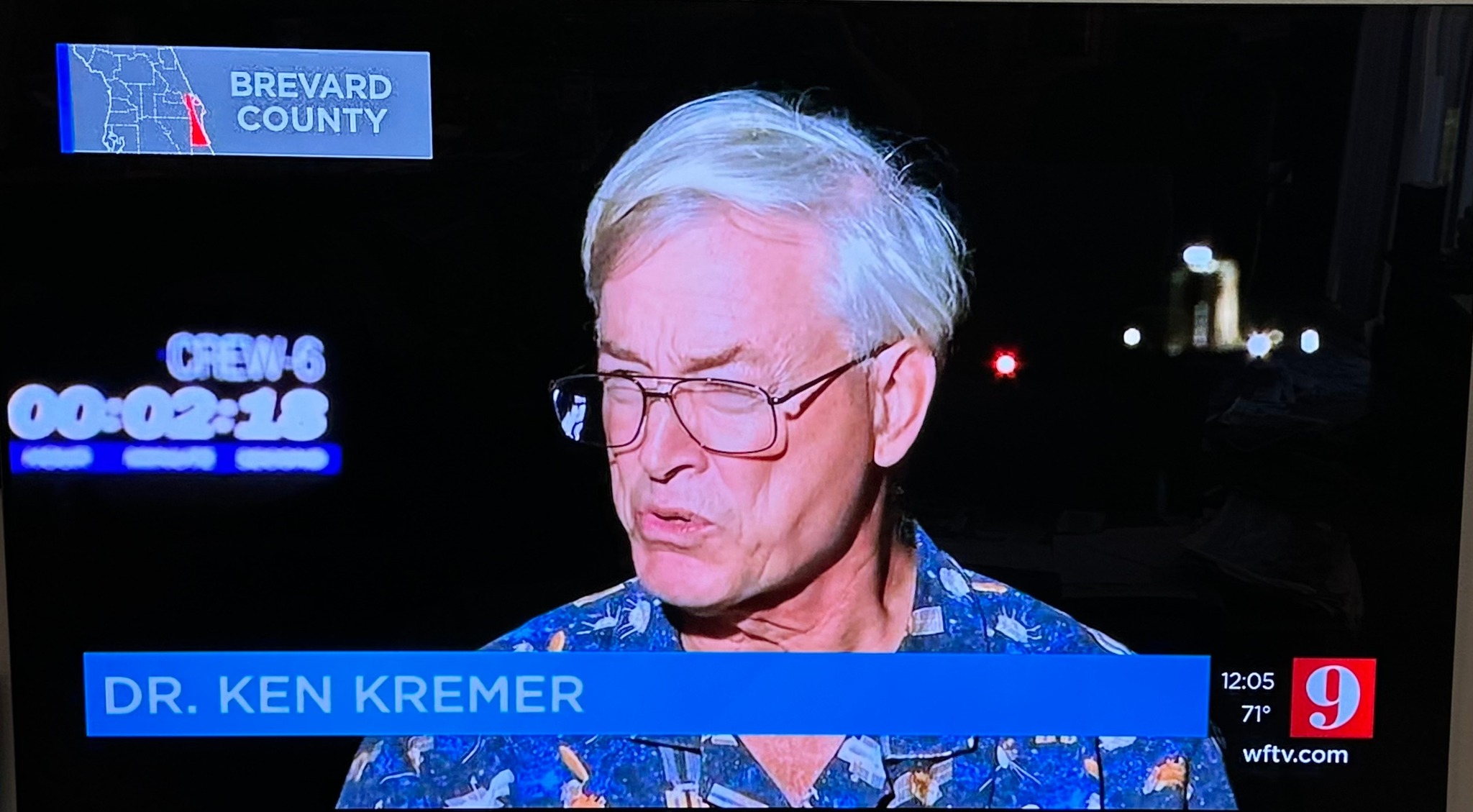 Jan 3/4: WFTV ABC News Orlando interview about Jan 3 SpaceX Transporter 6 launch – 1st of 2023 – and record setting year ahead with many exciting missions for NASA and private astronauts, science probes, mission, US Space Force, new rockets like ULA Vulcan & more!
Dec 28/29: Fox 35 Orlando – Watch my commentary about NASA's fantastic success in space exploration in 2022 and ambitious schedule of whats ahead in 2023:
https://www.fox35orlando.com/video/1159922
Dec 11/12: BBC World News TV interview about  successful splashdown of NASA Orion concluding the 25 day Artemis 1 lunar test flight around the Moon and back, and how that sets up a human return to the Moon on Artemis 2 and landing on Artemis 3. Plus what's beyond for NASA deep space exploration to Mars and the search for life beyond Earth
Watch Ken's continuing reports about Artemis, SpaceX missions, SLS, Orion and NASA missions, SpaceX Crew and Cargo Dragons, SpaceX Axiom, JWST, DART, Lucy Asteroid mission, GOES, SpaceX Starlink, Commercial Crew and Starliner and Crew Dragon, Blue Origin and Space Tourism, and onsite for live reporting of upcoming and recent SpaceX and ULA launches including Crew 1 & 2 & 3 & 4 & 5, ISS, Solar Orbiter, Mars 2020 Perseverance and Curiosity rovers, NRO spysats and national security missions and more at the Kennedy Space Center and Cape Canaveral Space Force Station.
Stay tuned here for Ken's continuing Earth and Planetary science and human spaceflight news: www.spaceupclose.com – twitter @ken_kremer – email: ken at kenkremer.com
Dr. Kremer is a research scientist and journalist based in the KSC area, active in outreach and interviewed regularly on TV and radio about space topics.
………….
Ken's photos are for sale and he is available for lectures and outreach events
Please consider supporting Ken's work by purchasing his photos and/or donating at Patreon
https://www.patreon.com/kenkremer
Upcoming and recent space events and talks by Ken Kremer & Jean Wright
Jan 21-28: Carnival Cruise Ship Mardi Gras: "What Happening at NASA and Space Exploration" & SpaceX Falcon 9 Starlink 5-2 launch viewing party Jan 26
Jan 12, 2023: 10 AM at Westminster Retirement Center in Orlando/Winter Park, Florida: Presentation by Jean Wright – "Sew Sister to the Stars- How the Humble Art of Sewing Transformed the World of Flight"+ Artemis 1 Moon rocket update
Nov 29 at UCF, Orlando Florida: Presentation by Jean Wright – "Sew Sister to the Stars- How the Humble Art of Sewing Transformed the World of Flight"
Mar 1, 2; Feb 4, 11, 24, 25, 26; Jan 7,11- 2023; from 7 to 9 PM Quality Inn, Titusville, FL:  Join Ken and Jean for Artemis 1, Falcon Heavy and space mission and rocket launch outreach. Ask us anything. plus display our photos and space apparel items for sale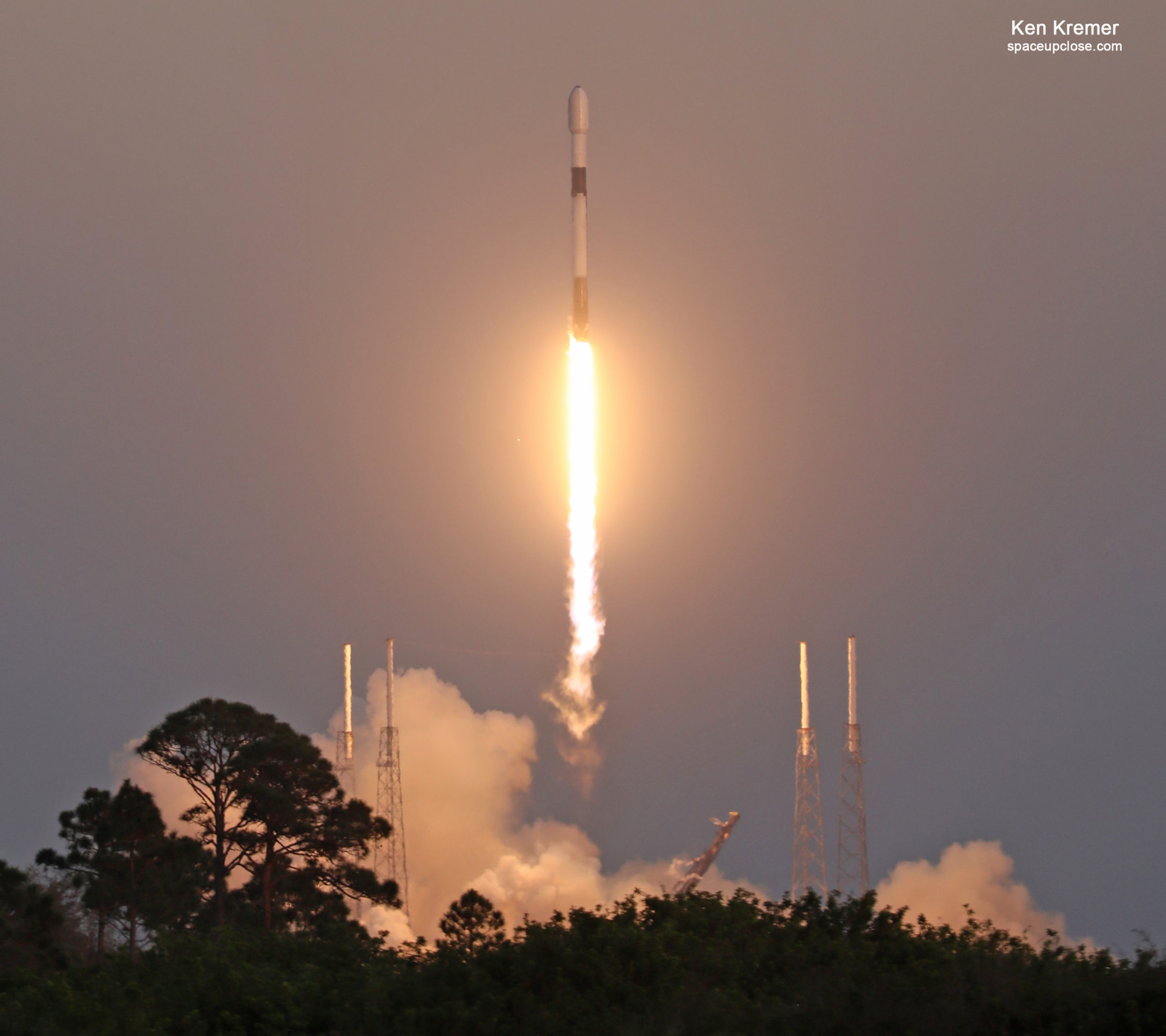 SpaceX Starlink 6-1 mission soars to orbit from Space Launch Complex-40 on Cape Canaveral Space Force Station, FL – carrying 1st batch 21 'V2 Mini" version internet satellites at 6:13 p.m. ET, Feb. 27, 2023. As seen from NASA's Kennedy Space Center press site. Credit: Ken Kremer/spaceupclose.com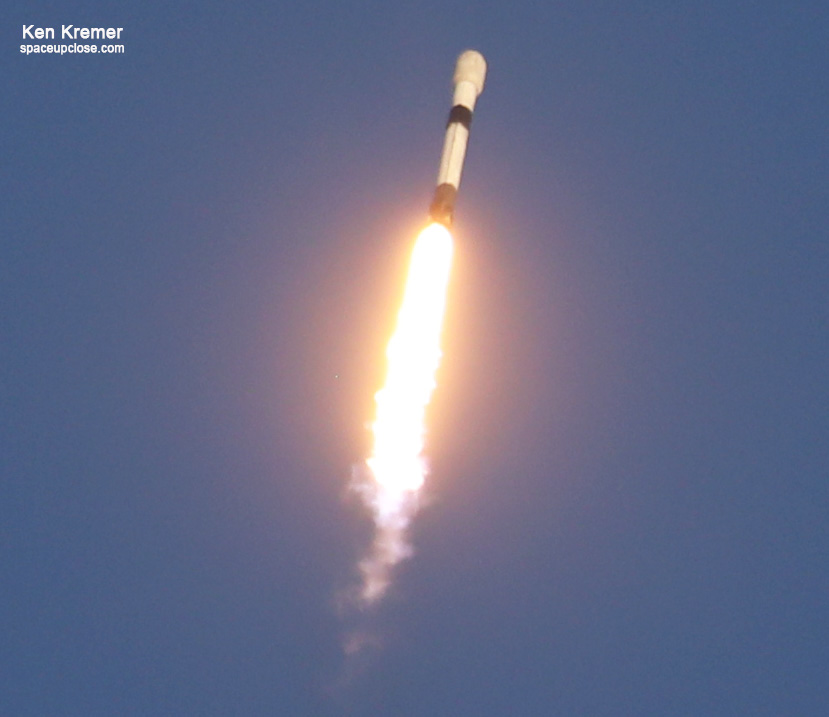 SpaceX Starlink 6-1 mission soars to orbit from Space Launch Complex-40 on Cape Canaveral Space Force Station, FL – carrying 1st batch 21 'V2 Mini" version internet satellites at 6:13 p.m. ET, Feb. 27, 2023. As seen from NASA's Kennedy Space Center press site. Credit: Ken Kremer/spaceupclose.com
x