For SpaceUpClose.com & RocketSTEM
KENNEDY SPACE CENTER, FL – A last minute technical issue with the flow of ignition fluid into the rocket engines scrubbed the liftoff of the four person multinational team of NASA Crew-6 mission spaceflyers at NASA's Kennedy Space Center in Florida – under ideal weather conditions in the wee hours of Monday, Feb. 27.
Liftoff of the four astronauts and cosmonauts as part of NASA's commercial crew program has been retargeted to no earlier than (NET) March 2 from NASA's historic launch pad 39A on the Kennedy Space Center and Florida's Spaceport.
"Hold, Hold, Hold" was called moments prior to the quartet's blastoff on a brand new SpaceX Falcon 9 and veteran Crew Dragon spacecraft that had been targeting a dead of night liftoff overnight Monday, Feb. 27 – and bound for a six month science expedition aboard the International Space Station (ISS).
"Launch of NASA's SpaceX Crew-6 mission from Kennedy Space Center's Launch Complex 39A in Florida to the International Space Station has been scrubbed," NASA commentators said on the live NASA TV broadcast.
The halt in the countdown was unexpectedly called at about 1:43 a.m. – just 2 minutes before the scheduled liftoff at 1:45 a.m. EST (0645 GMT) from Kennedy's seaside Launch Complex 39A of the brand new Falcon 9 integrated with the thrice flown Crew Dragon Endeavour spacecraft.
The launch was scrubbed at about T Minus 2 minutes because the launch team discovered problematic indications from ground support equipment that the highly hazardous TEA-TEB (triethylaluminum triethylboron) igniter fluid used and required to ignite the Merlin 1D engines on both the first and second stage was failing to fully load onto the Falcon 9 rocket.
The scrub marks the first time this TEA-TEB loading issue has scrubbed an astronaut launch.
This was also the first scrub for technical issues for a SpaceX human spaceflight launch.
Overall Crew-6 will count as 9th human spaceflight mission for SpaceX.
They include the Demo-2 test flight, another five ISS crew rotation missions and two private astronaut missions namely Inspiration4 and Ax-1.
The weather had been excellent at 95% GO with barely a cloud in the sky and very modest winds.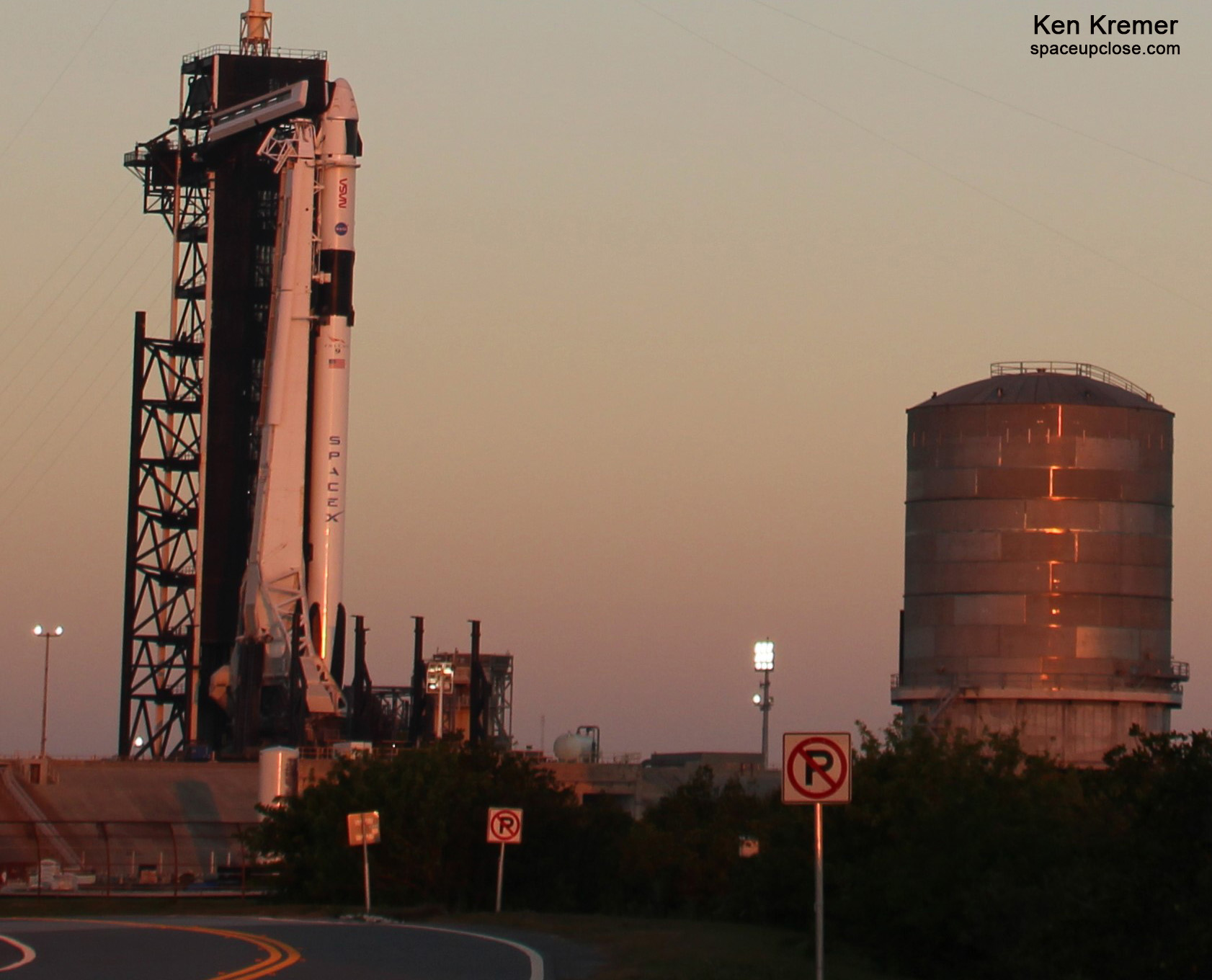 "I'm proud of the NASA and SpaceX teams' focus and dedication to keeping Crew-6 safe," said NASA Administrator Bill Nelson. "Human spaceflight is an inherently risky endeavor and, as always, we will fly when we are ready."
Although the hordes of spectators gathered from around the world and ringing the Florida Space Coast were disappointed, safety MUST be paramount especially since precious human lives are at stake.
"NASA and SpaceX scrubbed Monday's launch attempt of the agency's SpaceX Crew-6 mission to the International Space Station due to a ground systems issue. Mission teams decided to stand down to investigate an issue preventing data from confirming a full load of the ignition source for the Falcon 9 first stage Merlin engines, triethylaluminum triethylboron (or TEA-TEB),"  NASA reported in a blog post.
"Mission teams stood down from a Feb. 27 launch attempt to review an unusual data signature related to the ignition fluid, known as triethylaluminum triethylboron (TEA-TEB), used to start the Falcon 9's first stage kerosene and liquid oxygen Merlin engines."
"SpaceX has removed propellant from the Falcon 9 rocket and the astronauts have exited the Dragon spacecraft for astronaut crew quarters. Both the Falcon 9 and Dragon are in a safe configuration."
NASA and SpaceX have now reset the liftoff to just past midnight, Thursday, March 2, pending resolution of the ignition fluid flow issue that caused this mornings scrub.
They chose to avoid the backup launch opportunity on Tuesday, Feb. 28 due to poor down range abort and first stage booster recovery weather
Under the revised schedule backup launch opportunities are now available on March 3 and 4. March 1 was not available due to unavailable docking opportunities
The team will continue to evaluate the weather while checking the rocket and ground systems to resolve the fluid loading problem.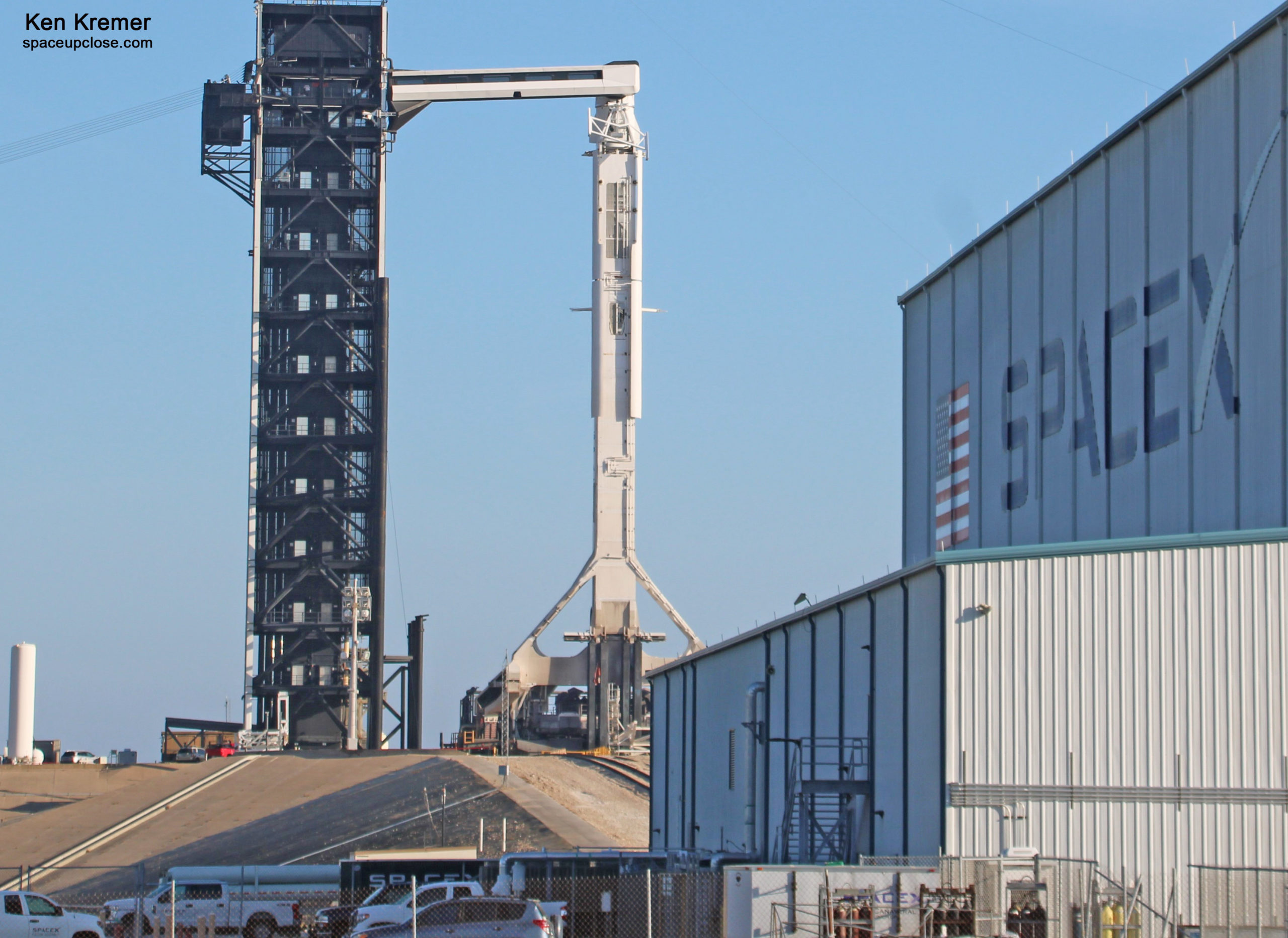 The astronauts will now spend the extra days on Earth to review the final phases of their training involving wide ranging procedures and preparations to launch and life living and working aboard the orbiting microgravity research outpost circling in low Earth orbit.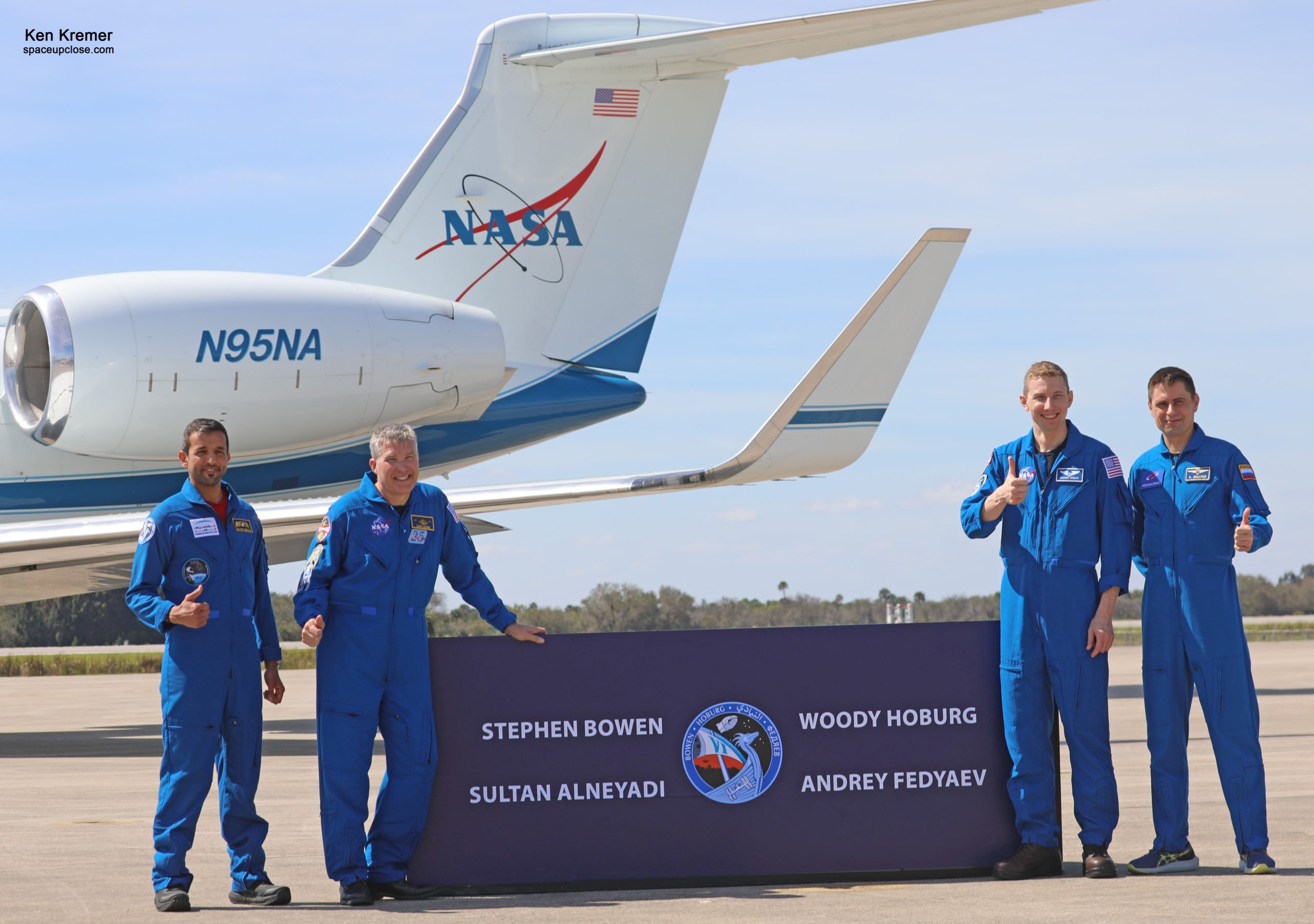 Liftoff from Kennedy's seaside Launch Complex 39A of the brand new Falcon 9 integrated with the thrice flown Crew Dragon Endeavour spacecraft is now slated for Thursday, Feb. 27, at 1:45 a.m. EST (0645 GMT).
Live launch-day coverage on NASA TV and the agency's website begins at 10 p.m. EST. Sunday, Feb. 26.
Enjoy our UpClose photos of the rocket on pad 39A, the launch campaign and the Crew Arrival event taken by the Space UpClose team of Ken Kremer and Jean Wright.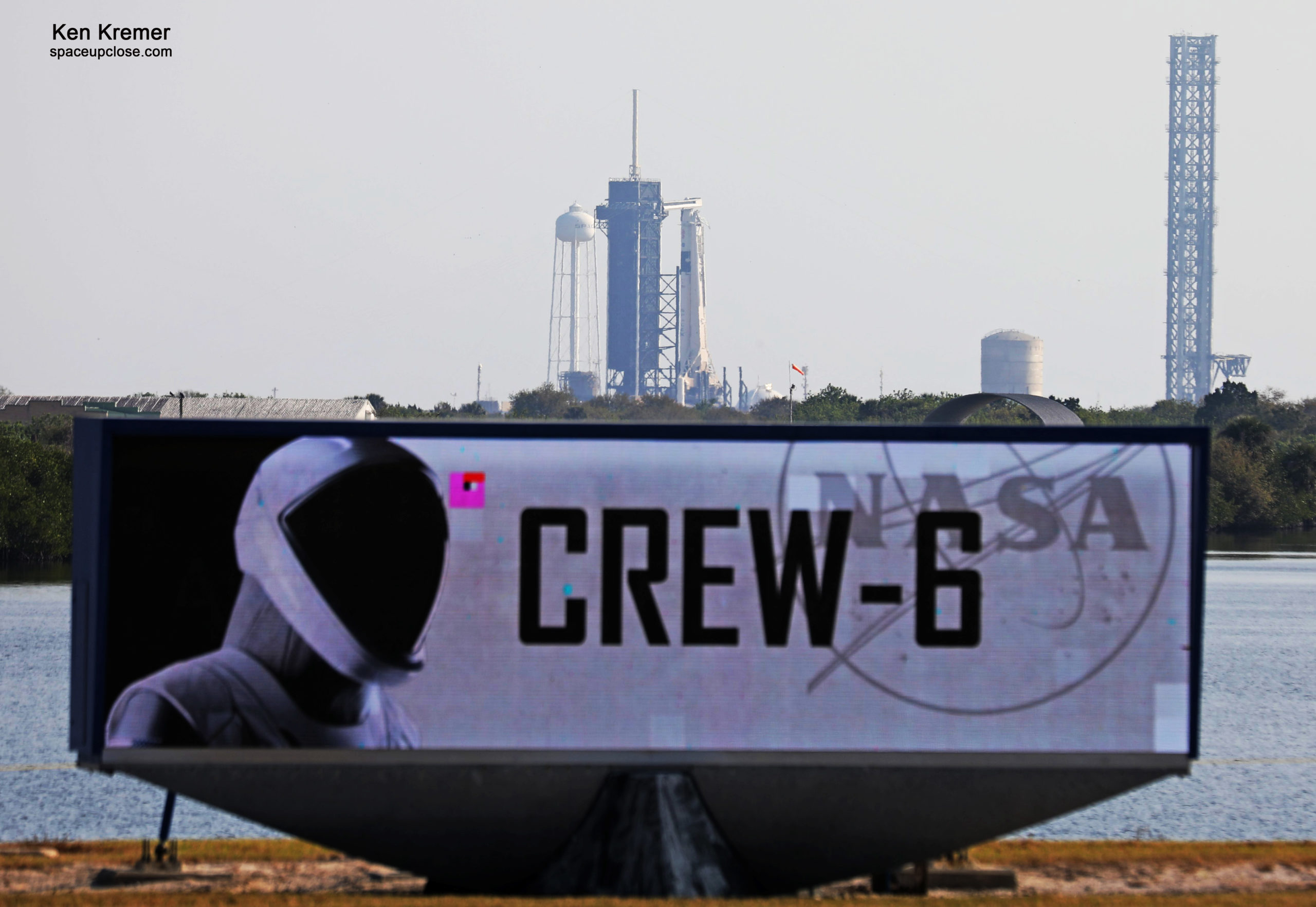 The four man Crew-6 team comprising NASA astronauts Stephen Bowen and Warren "Woody" Hoburg, UAE (United Arab Emirates) astronaut Sultan Alneyadi, and Roscosmos cosmonaut Andrey Fedyaev arrived at Kennedy's Launch and Landing Facility (former Shuttle Landing Facility (SLF) aboard a NASA Gulfstream jet at approximately 12:20 p.m., Feb. 21, for a media event after departing Ellington Field near the agency's Johnson Space Center in Houston.
They represent the US, Russia and the UAE (United Arab Emirates) and are a mix of a veteran commander and trio of rookies.
Bowen serves as Crew-6 Dragon commander and Hoburg serves as pilot.
Alneyadi and Fedyaev serve as mission specialists.
The quartet all expressed excitement to launch to the station and carry out science experiments at the media Q & A opportunity upon their arrival at KSC from JSC.
Crew-6 counts as the sixth SpaceX crew rotation mission for NASA
Crew-6 will spend up to six months at the space station before returning to Earth.
Both NASA and SpaceX are continuing evaluation after each flight and they hope to certify Crew Dragons to fly more than 5 times.
The Falcon 9 1st stage is newly manufactured and flying for the first time on Crew-6
It is designated as tail number B1078.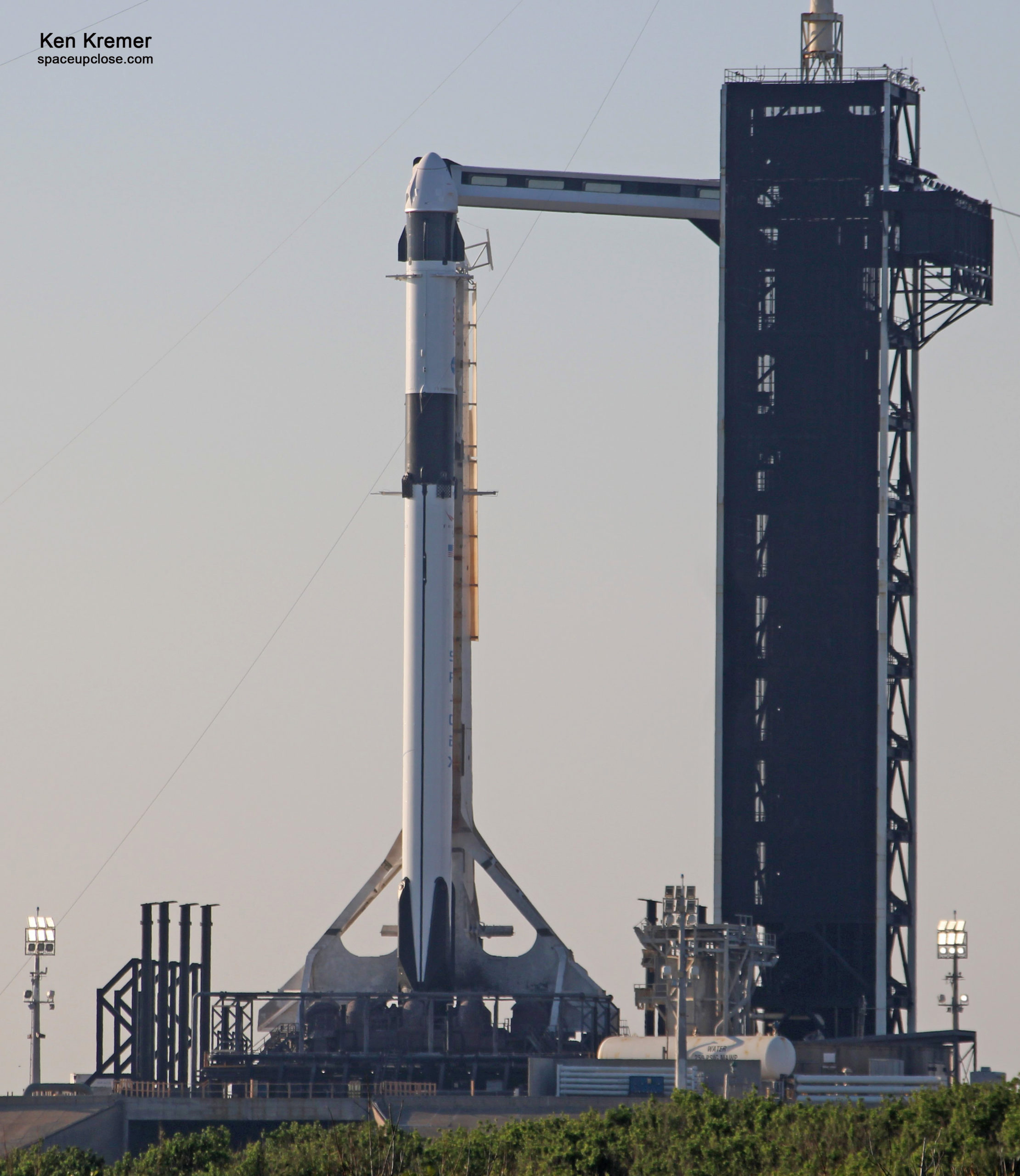 After an approximate 24.5-hour transit, the crew will dock to the space-facing port of the microgravity laboratory's Harmony module about 1:17 a.m. Friday, March 3.
Hatch opening is targeted for approximately 3:27 a.m., followed by the welcome ceremony about 3:40 a.m. Arrival coverage on NASA TV and the agency's website begins Thursday, March 2, at 11:30 p.m.
Watch Ken's commentary about NASA. Project Artemis SLS and Orion, SpaceX Falcon Heavy, Crew-5 & 6, NASA SpaceX Crew & Cargo Dragons and more
Feb 26/27/28: On 3 local Networks CBS WKMG , ABC WFTV and Fox 35 Orlando -I did series of live and taped interviews pre and post scrub explaining why NASA  SpaceX Crew6 astronaut launch to ISS was scrubbed at T Minus 2 minutes to keep the crew and rocket safe and what needs to be done to resolve the issue why TEA-TEB (triethylaluminum triethylboron) igniter fluid failed to fully load on Falcon 9 rocket
Feb 9/10:  WFTV ABC News Orlando interview about SpaceX Starship successful static fire test of 31 Raptor engines at Boca Chica
https://www.wftv.com/news/local/brevard-county/spacex-completes-successful-static-fire-test-33-engine-starship-booster/LDYL2CDXS5ETHG7TGG2RH2JV7I/
Feb 8/9:  WFTV ABC News Orlando interview about how NASA needs a definitive and fully funded plan to deorbit the ISS safely in case of an emergency and serious debris hit causing it to lose control b4 it's terminated in 2030- in light of the recent Soyuz crew capsule leak from micrometeoroid impact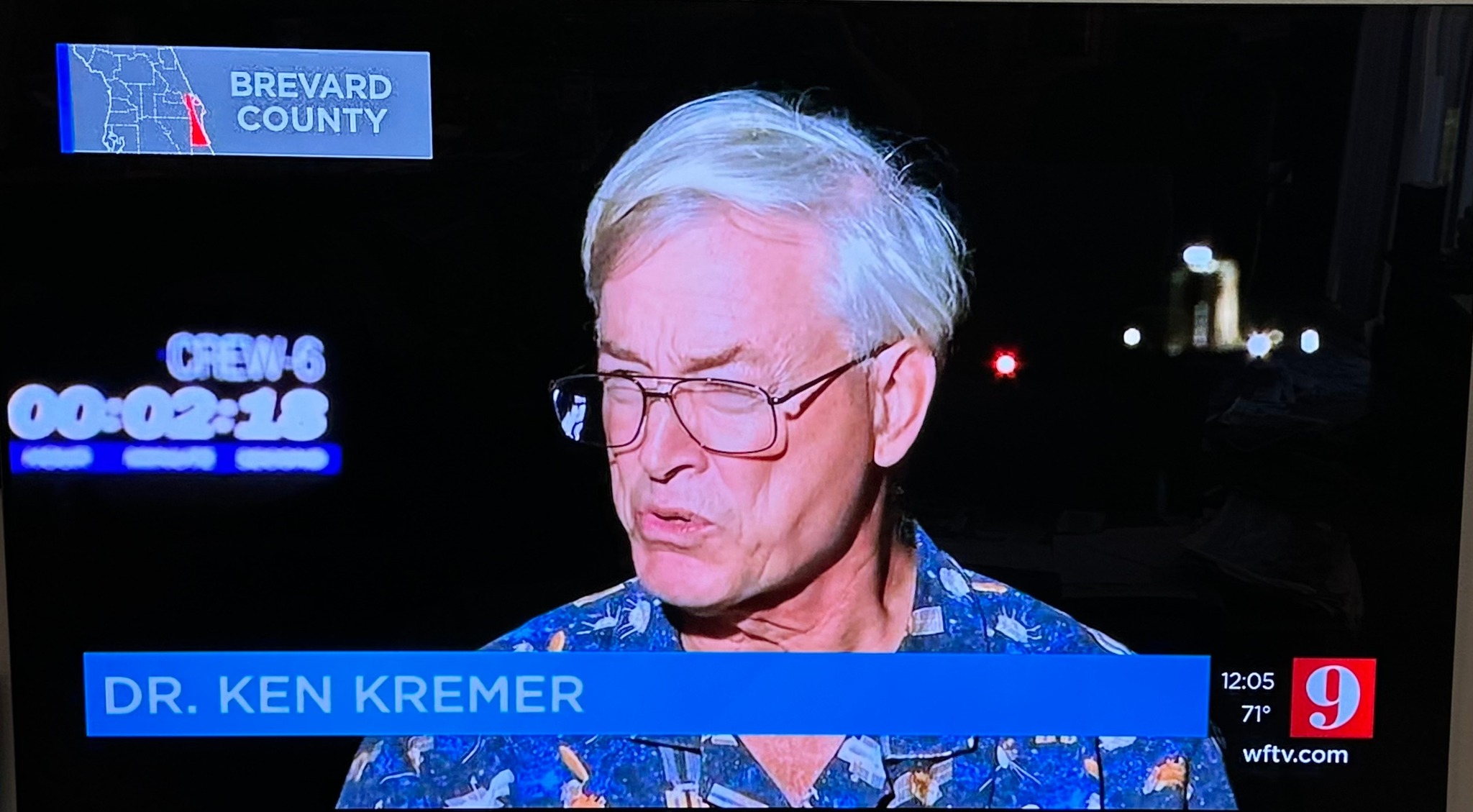 Jan 3/4: WFTV ABC News Orlando interview about Jan 3 SpaceX Transporter 6 launch – 1st of 2023 – and record setting year ahead with many exciting missions for NASA and private astronauts, science probes, mission, US Space Force, new rockets like ULA Vulcan & more!
Dec 28/29: Fox 35 Orlando – Watch my commentary about NASA's fantastic success in space exploration in 2022 and ambitious schedule of whats ahead in 2023:
https://www.fox35orlando.com/video/1159922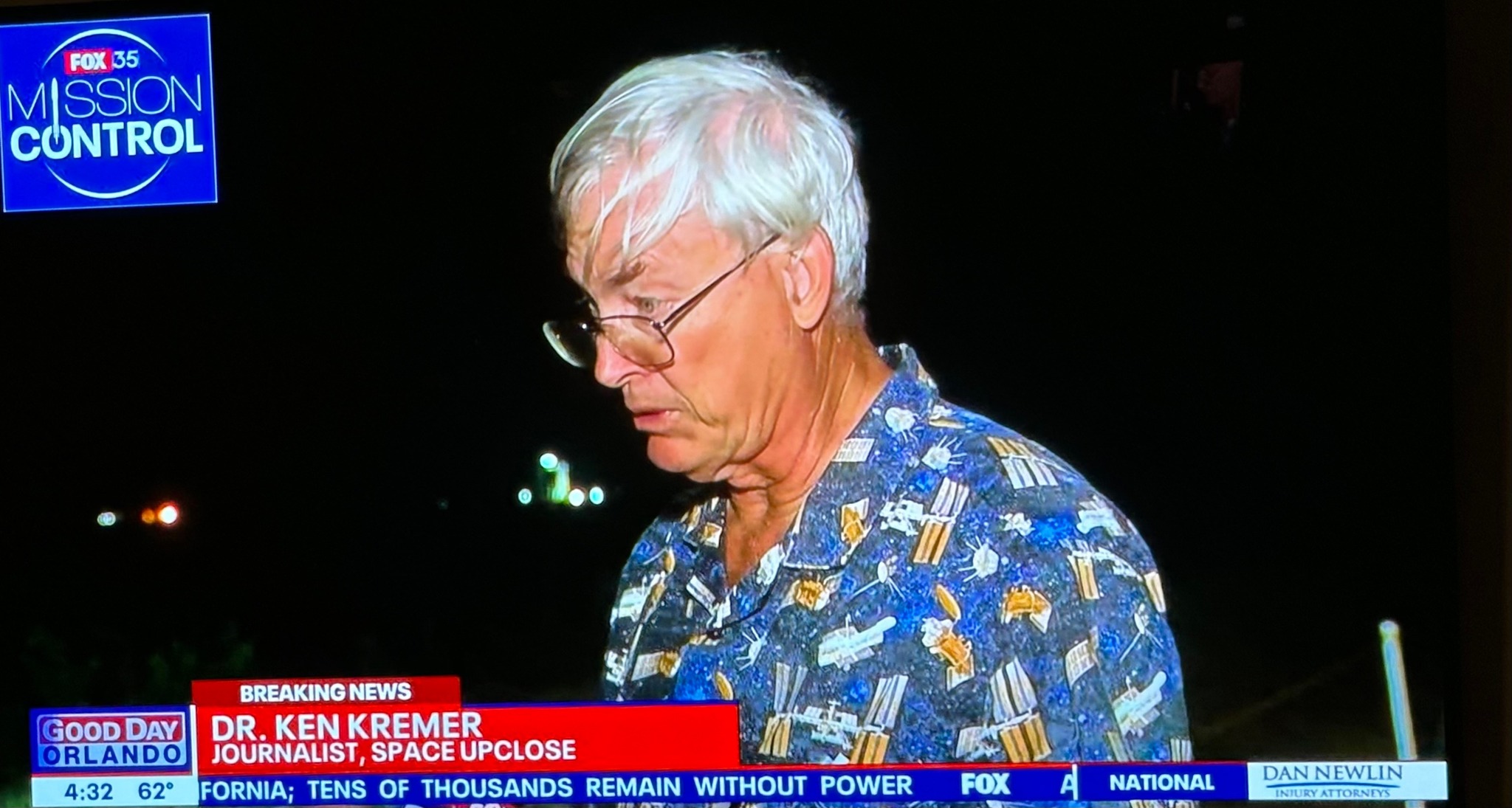 Dec 11/12: BBC World News TV interview about  successful splashdown of NASA Orion concluding the 25 day Artemis 1 lunar test flight around the Moon and back, and how that sets up a human return to the Moon on Artemis 2 and landing on Artemis 3. Plus what's beyond for NASA deep space exploration to Mars and the search for life beyond Earth
Watch Ken's continuing reports about Artemis, SpaceX missions, SLS, Orion and NASA missions, SpaceX Crew and Cargo Dragons, SpaceX Axiom, JWST, DART, Lucy Asteroid mission, GOES, SpaceX Starlink, Commercial Crew and Starliner and Crew Dragon, Blue Origin and Space Tourism, and onsite for live reporting of upcoming and recent SpaceX and ULA launches including Crew 1 & 2 & 3 & 4 & 5, ISS, Solar Orbiter, Mars 2020 Perseverance and Curiosity rovers, NRO spysats and national security missions and more at the Kennedy Space Center and Cape Canaveral Space Force Station.
Stay tuned here for Ken's continuing Earth and Planetary science and human spaceflight news: www.spaceupclose.com – twitter @ken_kremer – email: ken at kenkremer.com
Dr. Kremer is a research scientist and journalist based in the KSC area, active in outreach and interviewed regularly on TV and radio about space topics.
………….
Ken's photos are for sale and he is available for lectures and outreach events
Please consider supporting Ken's work by purchasing his photos and/or donating at Patreon
https://www.patreon.com/kenkremer
Upcoming and recent space events and talks by Ken Kremer & Jean Wright
Jan 21-28: Carnival Cruise Ship Mardi Gras: "What Happening at NASA and Space Exploration" & SpaceX Falcon 9 Starlink 5-2 launch viewing party Jan 26
Jan 12, 2023: 10 AM at Westminster Retirement Center in Orlando/Winter Park, Florida: Presentation by Jean Wright – "Sew Sister to the Stars- How the Humble Art of Sewing Transformed the World of Flight"+ Artemis 1 Moon rocket update
Nov 29 at UCF, Orlando Florida: Presentation by Jean Wright – "Sew Sister to the Stars- How the Humble Art of Sewing Transformed the World of Flight"
Feb 4, 11, 24, 25, 26; Jan 7,11- 2023; from 7 to 9 PM Quality Inn, Titusville, FL:  Join Ken and Jean for Artemis 1, Falcon Heavy and space mission and rocket launch outreach. Ask us anything. plus display our photos and space apparel items for sale
x