For SpaceUpClose.com & RocketSTEM
CAPE CANAVERAL SPACE FORCE STATION, FL – A spectacular golden sunset liftoff by a veteran SpaceX Falcon 9 rocket successfully hurled the twin commercial SES-18 and SES-19 TV and internet communications satellites to orbit for the Luxembourg-based telecommunication giant SES, Friday, March 17, from Florida's ever busy Spaceport and spawned a beautiful 'Space Jellyfish' high in the skies over Cape Canaveral.
The nearly identical SES-18 and SES-19 roared off from pad 40 atop a 6x flown launched Falcon 9 right on time delighting spectators gathered from across the globe – soaring away on an easterly trajectory and then nailed its 6th landing on a droneship at sea some eight minutes after liftoff.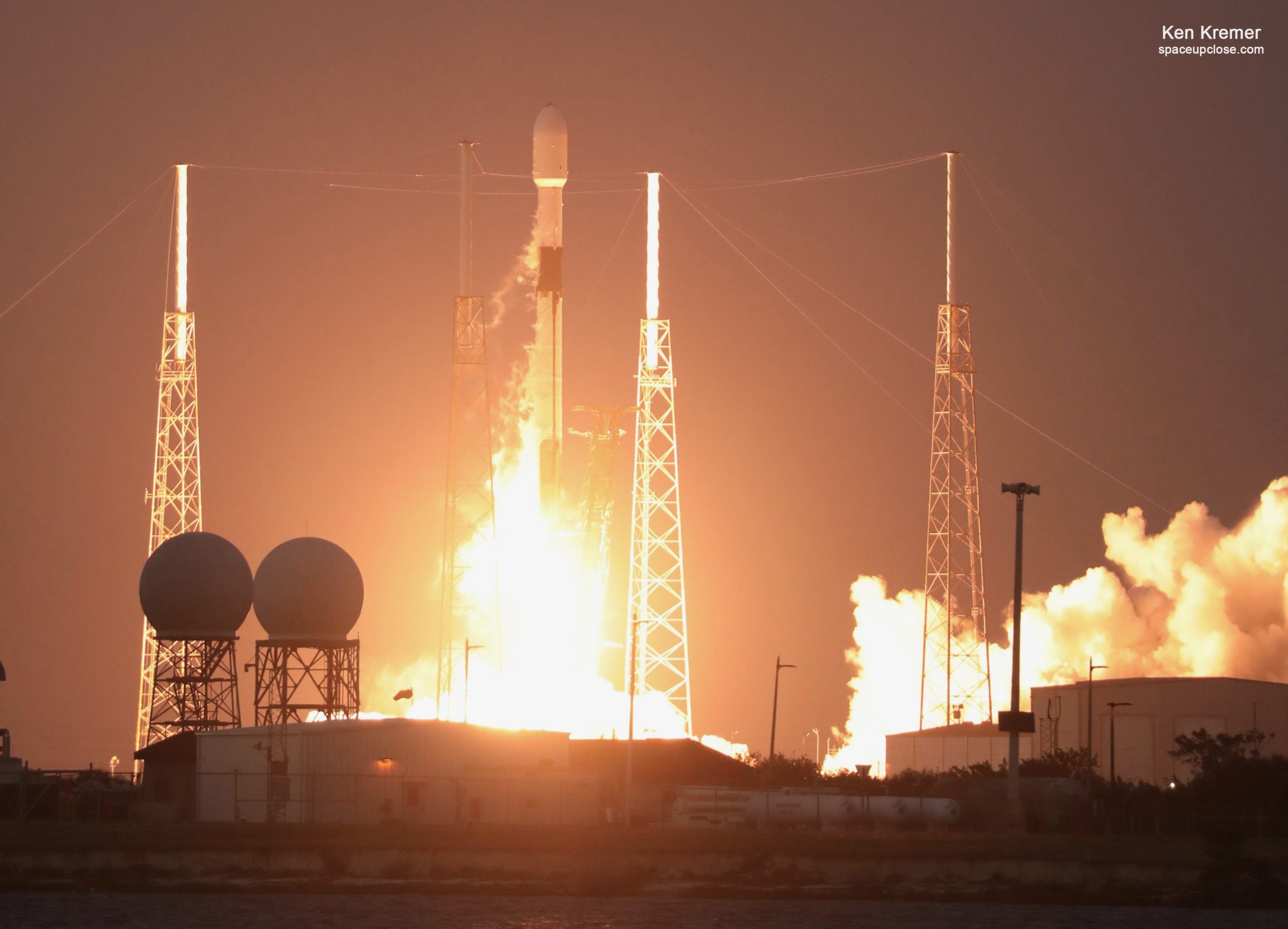 In fact it also capped a stellar launch double header for SpaceX on Friday following a Starlink launch of 52 broadband satellites from Vandenburg SFB, Calif, just four hours earlier at 3:36 PM EDT.
Liftoff of the veteran two stage 229-foot-tall (70-meter) Falcon 9 booster B1069.6 on the SES-18 & SES-19 mission delivered the last pair of SES C-band transition satellite for TV and internet to a geostationary transfer orbit and took place right sunset at 7:38 p.m. EDT (2338 GMT) Friday, March 17, from Space Launch Complex 40 (SLC-40) at Cape Canaveral Space Force Station in Florida, at the opening of a 38-minute long launch window.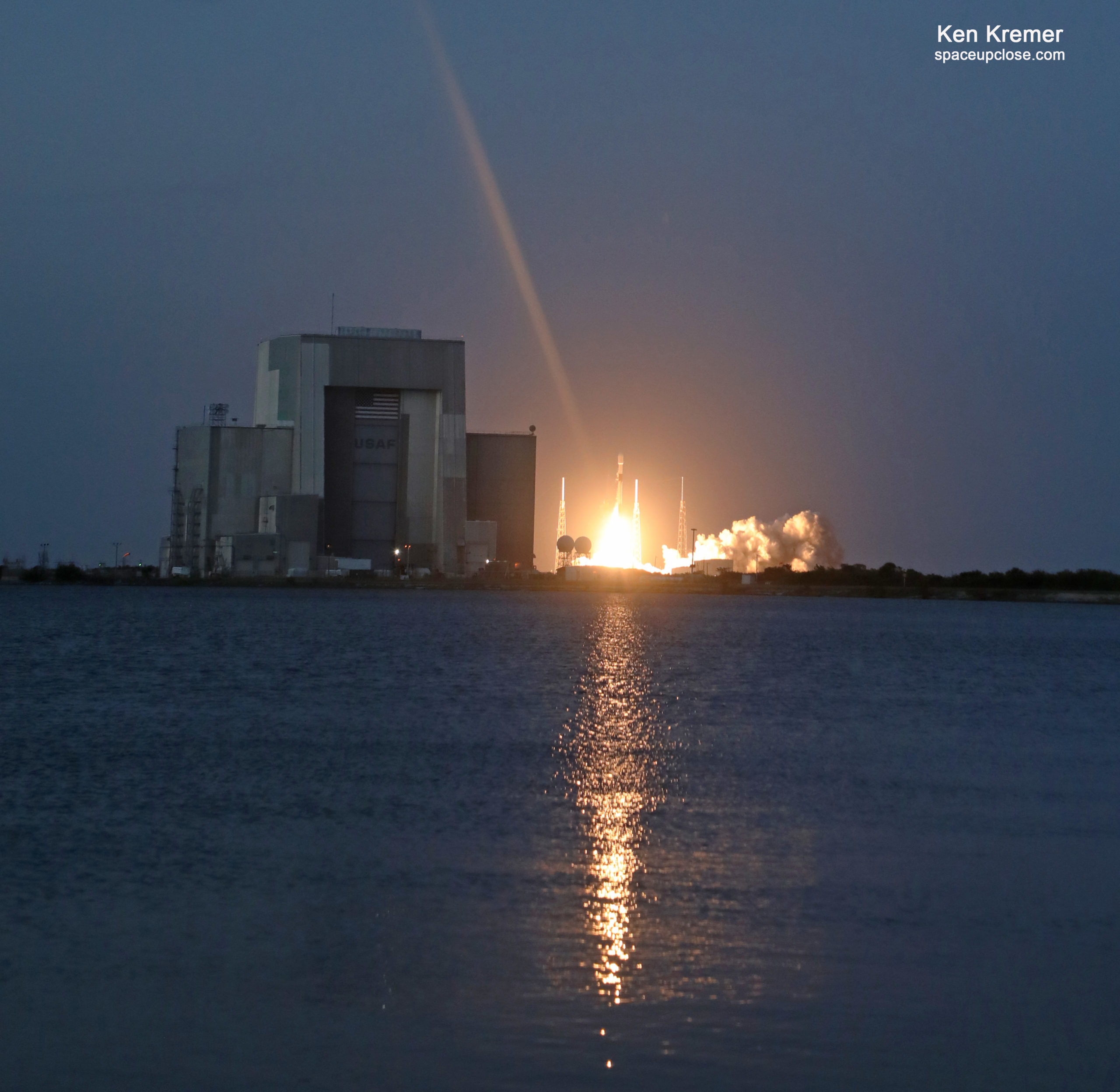 The 9 Merlin 1D engines generated 1.7 million pounds of liftoff thrust fueled by LOX and kerosene
Skies were so clear during the stunning set we could easily see the first and second stages separate followed by jettisoning of the clamshell like pair of payload fairing halves.
They will serve millions of United States customers providing TV, radio, and critical data and internet transmission services.
The satellite duo weighs 15,995 pounds (7,255 kilograms) and completes SES's multi-billion dollar C-band transition plan which is comprised of a constellation of five satellites altogether.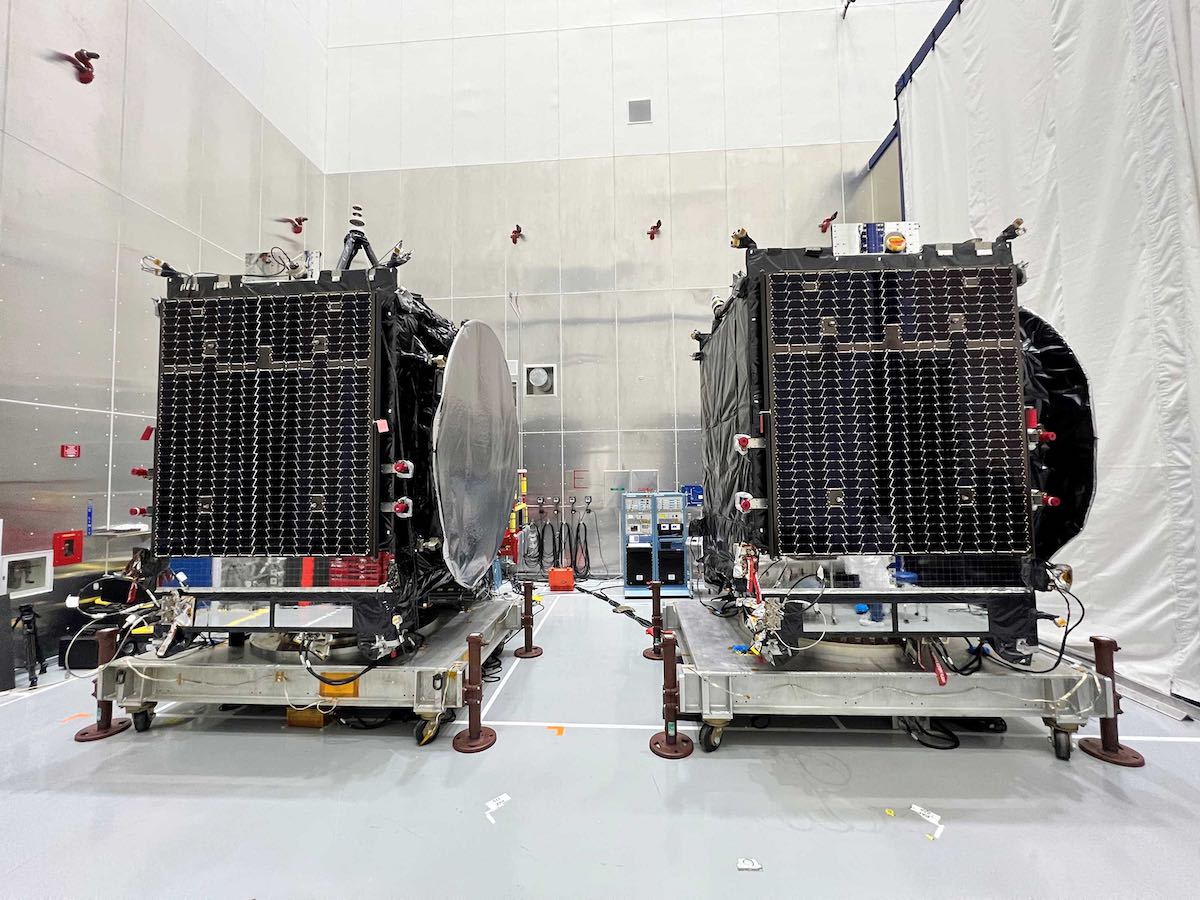 "The two American-made satellites are the fourth and fifth – and final – satellites to be launched as part of SES's C-band transition plan, following the launch of SES-22 in June 2022 and the tandem launch of SES-20 and SES-21 in October 2022," said SES in a statement.
"These satellites are essential parts of SES's plan to achieve the Federal Communications Commission's (FCC) program to clear C-band spectrum to enable wireless operators to deploy 5G services across the contiguous U.S. (CONUS) while ensuring that SES's existing customers continue to enjoy uninterrupted TV, radio, and critical data transmission services to millions of Americans."
Over time the satellites will be checked out technically and maneuvered to their final orbital slots and altitude of some 22,000 miles to operate in Geostationary (GEO) orbit.
The back-to-back SpaceX mission from both US coasts count as SpaceX's 18th and 19th flights of the year, and 211th and 212th flights overall by a Falcon 9 rocket.
"This successful launch marks one of the last remaining milestones on our journey to clear a portion of the C-band, and we are incredibly grateful to Northrop Grumman, SpaceX, and all of our partners who helped make this plan a reality," said Steve Collar, CEO of SES.
"We are now on the home stretch in protecting our customers' broadcasts while freeing crucial 5G spectrum and we look forward to successfully concluding our work well before the FCC's December 2023 accelerated clearing deadline."
SES-18 & SES19 were designed and assembled by prime contractor Northrop Grumman based in Virginia and are based on their GEOStar 3 platform
These satellites are the eighth and ninth GEOStar communications satellites Northrop Grumman has manufactured for SES at facilities in California and Maryland.
"Our GEOStar platform is an affordable and reliable option for a diverse set of commercial and government customers," said Steve Krein, vice president, civil and commercial satellites, Northrop Grumman, in a statement.
"The successful launch of SES-18 and SES-19 builds on our strong partnership with SES and indirectly plays a key role in supporting the rollout of 5G services across the country."
The satellites were deployed from the upper stage as planned at T Plus 32 and 37 minutes after liftoff from the Cape.
The Falcon 9 first stage booster supporting this mission previously launched NASA ISS resupply mission CRS-24, Eutelsat HOTBIRD 13F, OneWeb 1, and two Starlink missions.
After stage separation, the first stage landed on the 'Just Read the Instructions' (JRTI)  droneship, which was stationed downrange in the Atlantic Ocean.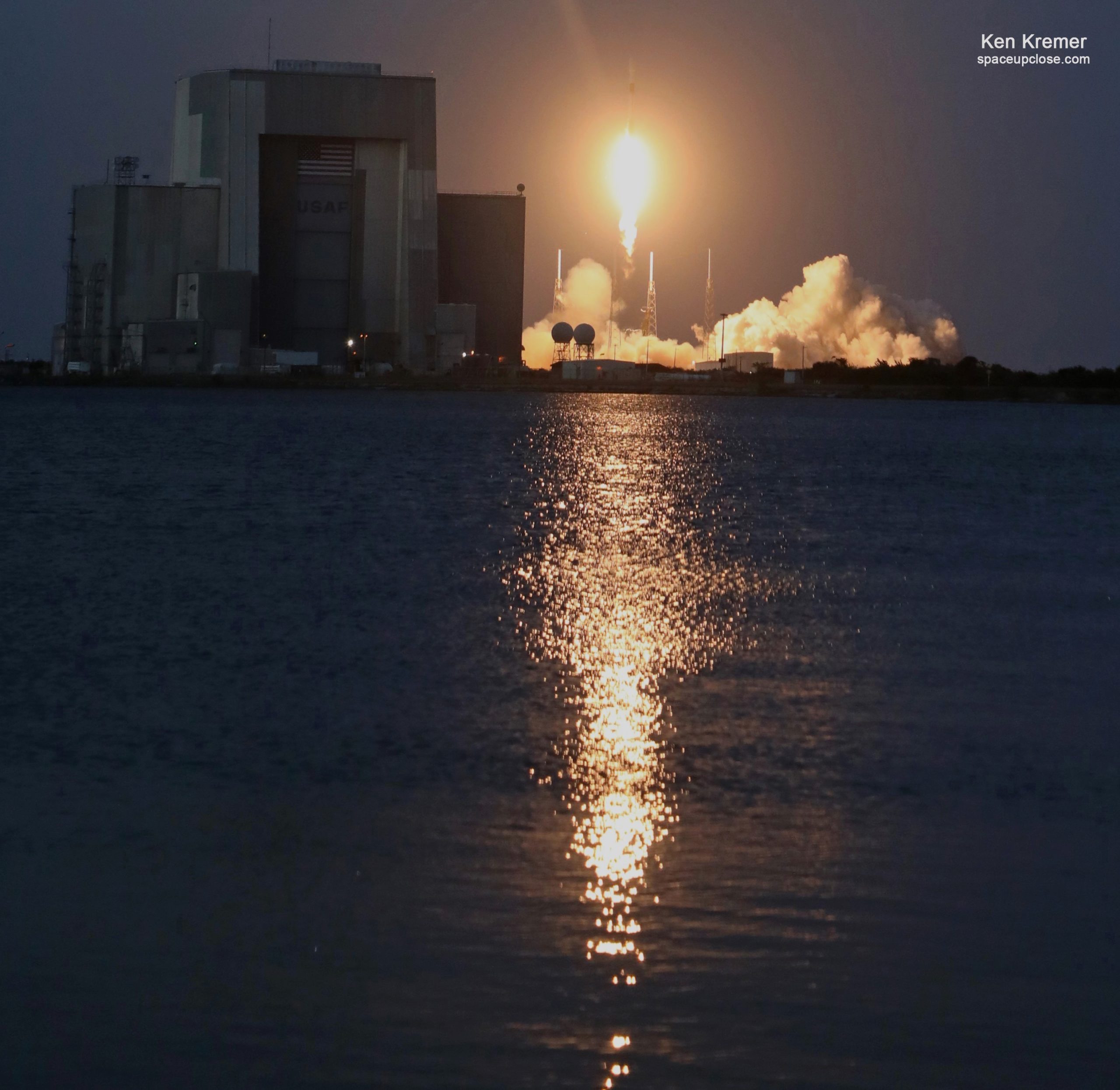 More from SES:
Since 2020, SES, along with other satellite operators, has been clearing 300 MHz of C-band spectrum and transitioning customer services to the remaining allocated 200 MHz of spectrum by launching new satellites, building new ground stations and sending hundreds of satellite earth station technicians across the country to install new filters on customers' antennas.
By providing contractual service protections to customers who receive video services in the U.S., SES-18 and SES-19 will enable SES to safely clear C-band spectrum to help accomplish the FCC's ambitious goals for American 5G innovation. SES-18 is expected to begin operations in June 2023 at 103 degrees West replacing SES-3 C-band payload and SES-19 will be co-located with SES-22 at 135 degrees West.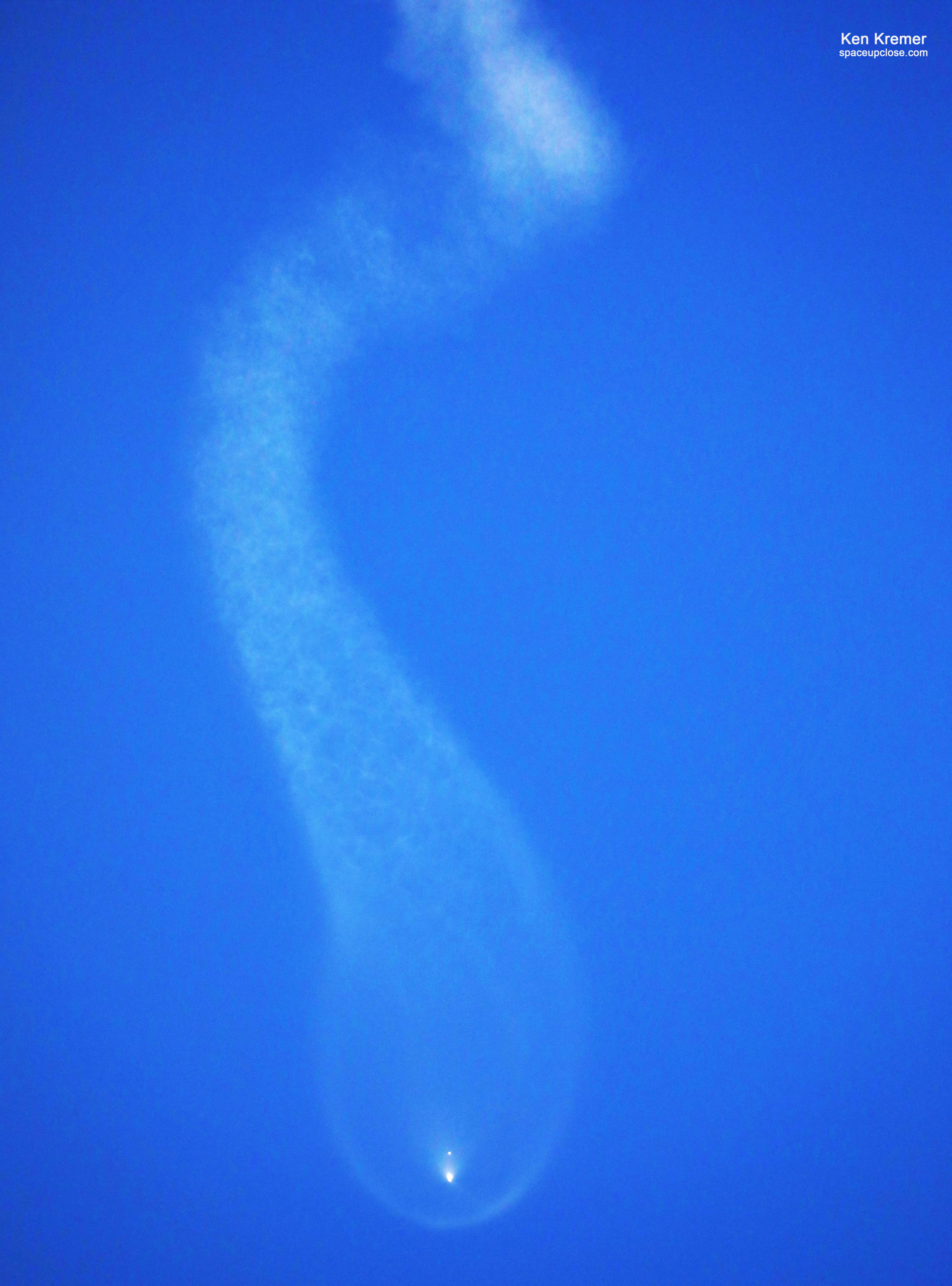 The next SpaceX launch is scheduled for Mar 24
Watch Ken's commentary about NASA. Project Artemis SLS and Orion, SpaceX Falcon Heavy, Crew-5 & 6, NASA SpaceX Crew & Cargo Dragons and more
Mar 22: Fox 35 live interview about next Terran 1 launch attempt on Mar 22:
https://www.fox35orlando.com/video/1196740
Mar 21:  WFTV ABC News Orlando interview about next Terran 1 launch attempt on Mar 22
Mar 17:  Fox 35 News Orlando update about next Terran 1 launch attempt:
https://www.fox35orlando.com/news/new-launch-date-announced-for-first-3d-printed-rocket-from-florida
Mar 16/17:  WKMG CBS 6 Orlando News interview about Virgin Orbit pausing operations today and why this is not a good sign as they seek to enter the small satellite market with many competitors like Relativity Space Terran1 rocket trying 1st launch – as well as established competitors like SpaceX & RocketLab.
https://www.clickorlando.com/news/space-news/2023/03/16/virgin-orbit-pausing-all-work-reportedly-furloughs-staff/
Mar 8/9: WFTV ABC News and Fox 35 New Orlando pre and post scrub interview about maiden Terran 1 launch attempt:
https://www.fox35orlando.com/news/i-will-be-here-scrubbed-3d-printed-rocket-launch-isnt-turning-people-away-from-second-try
Mar 7: WFTV ABC News Orlando interview about upcoming maiden Terran1 launch by Relativity Space on Mar 8
https://www.wftv.com/news/video-3-rocket-launches-planned-floridas-space-coast-this-week/90d4e160-806f-49fd-b7d9-04d46a2c9402/
Mar 6/7: WFTV ABC News Orlando interview about upcoming maiden #Terran1 launch by Relativity Space on Mar 8 from pad 16 CCSFS. Worlds 1st 3D printed rocket:
https://www.wftv.com/news/video-first-3d-printed-rocket-set-blast-off-space-coast-this-week/bab1dd1f-6927-45c9-8359-e1e7d7a08e99/
Mar 2: Fox 35 Orlando live interview about the Crew-6 mission launch to the ISS
Feb 26/27/28: On 3 local Networks CBS WKMG , ABC WFTV and Fox 35 Orlando -I did series of live and taped interviews pre and post scrub explaining why NASA  SpaceX Crew6 astronaut launch to ISS was scrubbed at T Minus 2 minutes to keep the crew and rocket safe and what needs to be done to resolve the issue why TEA-TEB (triethylaluminum triethylboron) igniter fluid failed to fully load on Falcon 9 rocket
Feb 9/10:  WFTV ABC News Orlando interview about SpaceX Starship successful static fire test of 31 Raptor engines at Boca Chica
https://www.wftv.com/news/local/brevard-county/spacex-completes-successful-static-fire-test-33-engine-starship-booster/LDYL2CDXS5ETHG7TGG2RH2JV7I/
Feb 8/9:  WFTV ABC News Orlando interview about how NASA needs a definitive and fully funded plan to deorbit the ISS safely in case of an emergency and serious debris hit causing it to lose control b4 it's terminated in 2030- in light of the recent Soyuz crew capsule leak from micrometeoroid impact
Jan 3/4: WFTV ABC News Orlando interview about Jan 3 SpaceX Transporter 6 launch – 1st of 2023 – and record setting year ahead with many exciting missions for NASA and private astronauts, science probes, mission, US Space Force, new rockets like ULA Vulcan & more!
Watch Ken's continuing reports about Artemis, SpaceX missions, SLS, Orion and NASA missions, SpaceX Crew and Cargo Dragons, SpaceX Axiom, JWST, DART, Lucy Asteroid mission, GOES, SpaceX Starlink, Commercial Crew and Starliner and Crew Dragon, Blue Origin and Space Tourism, and onsite for live reporting of upcoming and recent SpaceX and ULA launches including Crew 1 & 2 & 3 & 4 & 5, ISS, Solar Orbiter, Mars 2020 Perseverance and Curiosity rovers, NRO spysats and national security missions and more at the Kennedy Space Center and Cape Canaveral Space Force Station.
Stay tuned here for Ken's continuing Earth and Planetary science and human spaceflight news: www.spaceupclose.com – twitter @ken_kremer – email: ken at kenkremer.com
Dr. Kremer is a research scientist and journalist based in the KSC area, active in outreach and interviewed regularly on TV and radio about space topics.
………….
Ken's photos are for sale and he is available for lectures and outreach events
Please consider supporting Ken's work by purchasing his photos and/or donating at Patreon
https://www.patreon.com/kenkremer
Upcoming and recent space events and talks by Ken Kremer & Jean Wright
Jan 21-28: Carnival Cruise Ship Mardi Gras: "What Happening at NASA and Space Exploration" & SpaceX Falcon 9 Starlink 5-2 launch viewing party Jan 26
Jan 12, 2023: 10 AM at Westminster Retirement Center in Orlando/Winter Park, Florida: Presentation by Jean Wright – "Sew Sister to the Stars- How the Humble Art of Sewing Transformed the World of Flight"+ Artemis 1 Moon rocket update
Nov 29 at UCF, Orlando Florida: Presentation by Jean Wright – "Sew Sister to the Stars- How the Humble Art of Sewing Transformed the World of Flight"
Mar 1, 2, 12,13, 22; Feb 4, 11, 24, 25, 26; Jan 7,11- 2023; from 7 to 9 PM Quality Inn, Titusville, FL:  Join Ken and Jean for Artemis 1, Falcon Heavy and space mission and rocket launch outreach. Ask us anything. plus display our photos and space apparel items for sale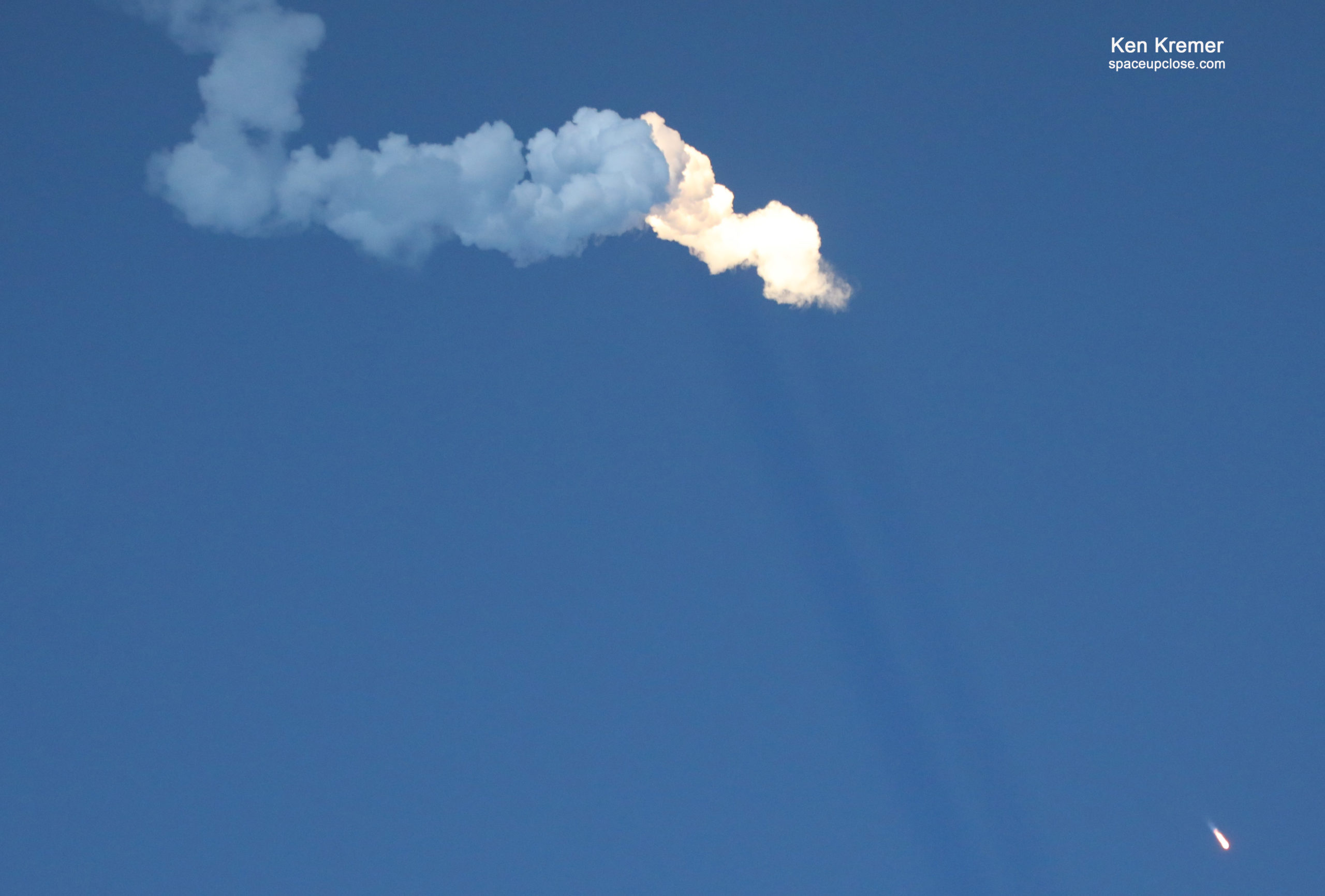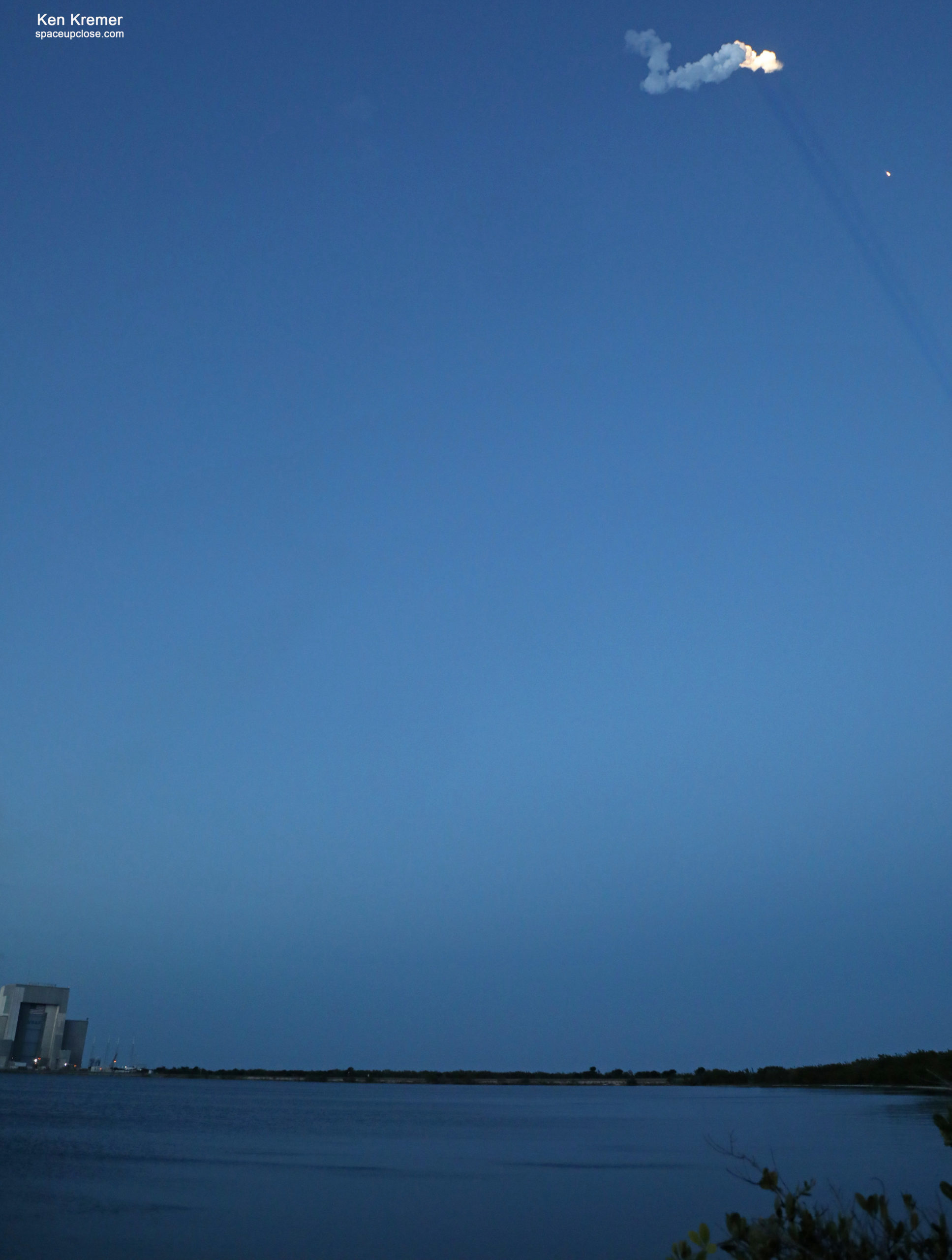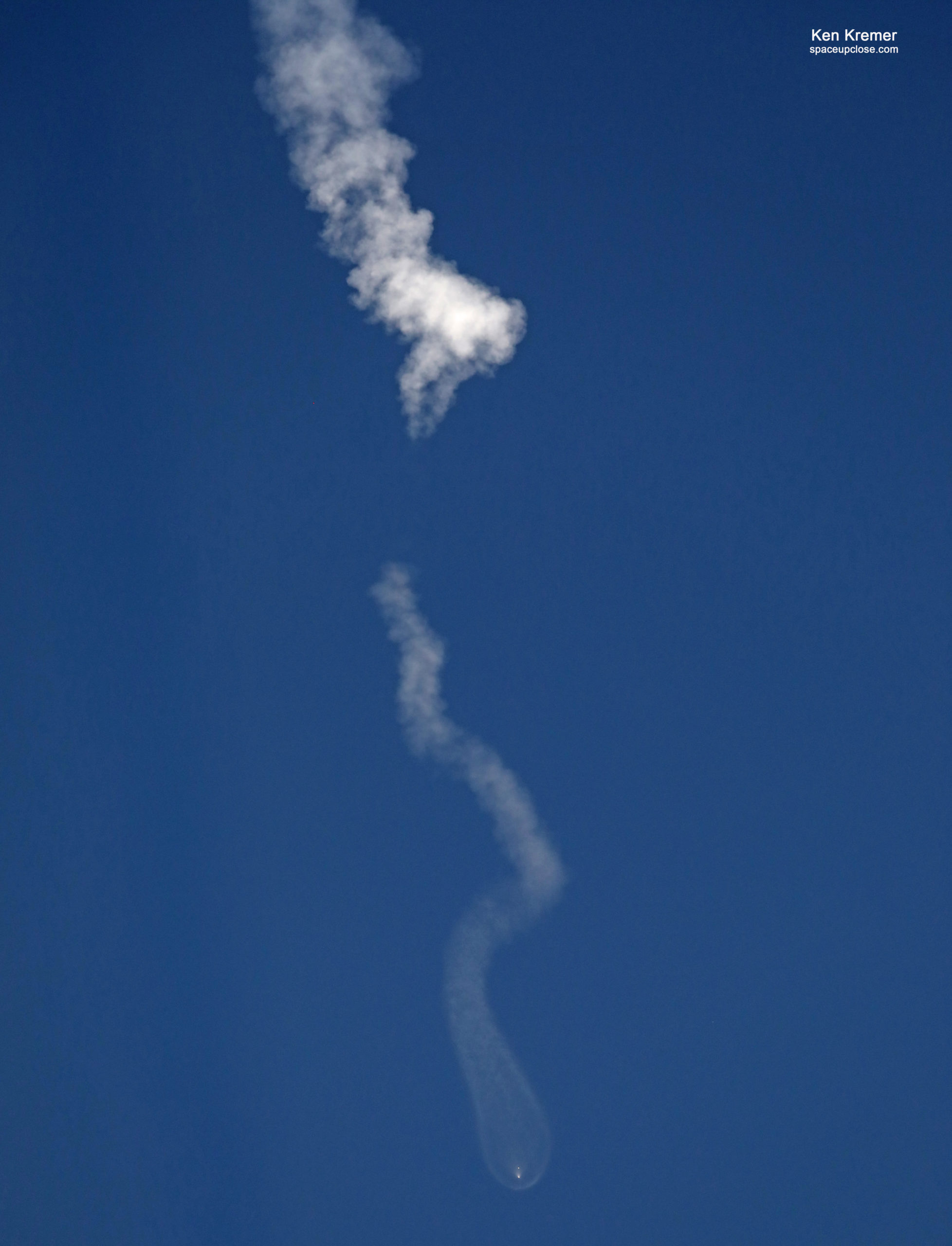 x