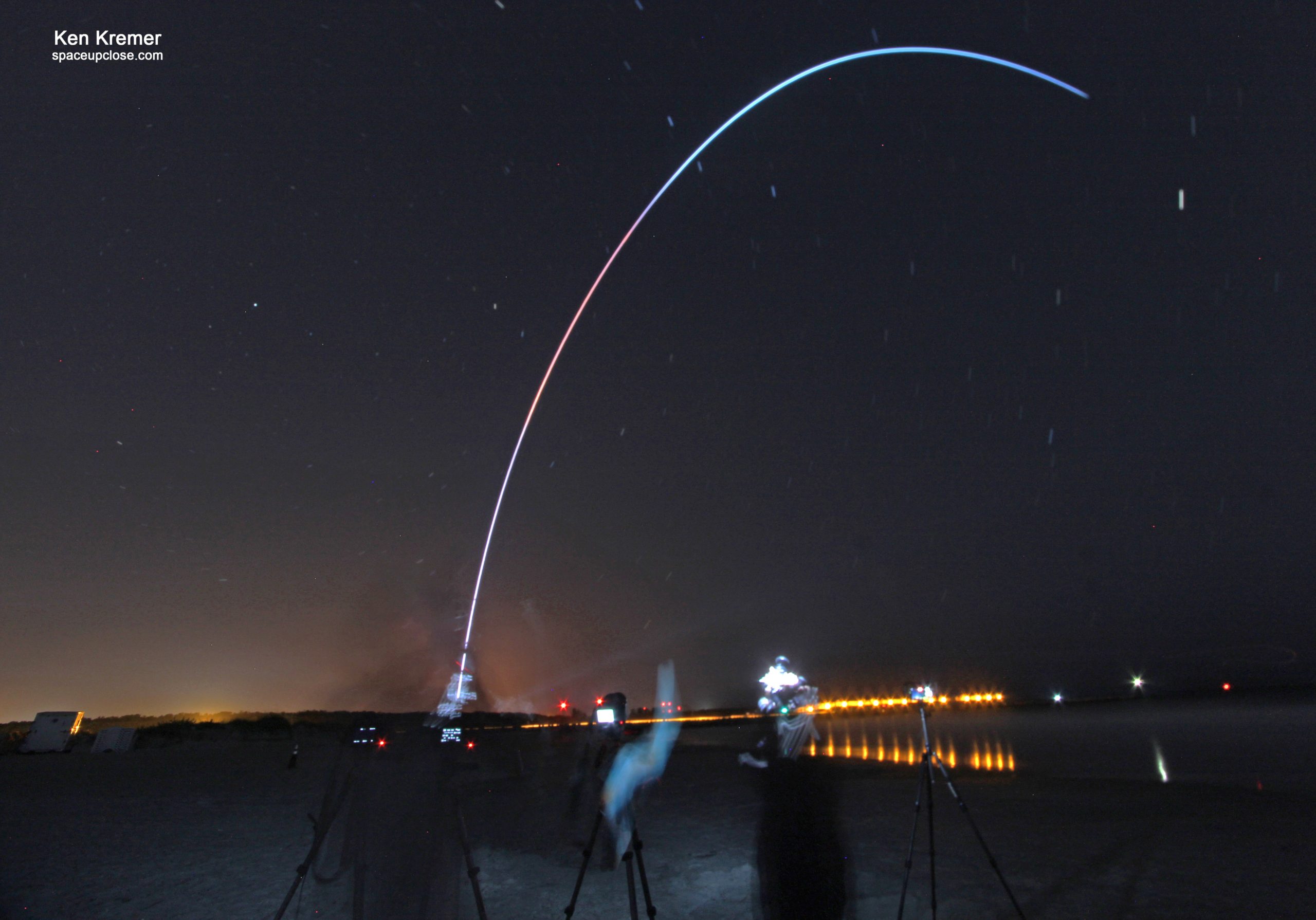 For SpaceUpClose.com & RocketSTEM
JETTY PARK/PORT CANAVERAL, FL –  The 3rd time was finally the charm and Relativity Space finally achieved their dreams and launched their Terran-1 rocket to space on the first ever flight of a 3D printed rocket, late Wednesday evening, Mar. 22, from Florida's Spaceport as the first stage performed well and survived the withering aerodynamic stresses at Max-Q through stage separation. But it failed to achieve orbit when the second stage engine sputtered due to an anomaly and did not properly ignite.
With no thrust available to continue flying upwards to break the bonds of gravity the upper stage fell back to Earth a few  minutes later and crashed into the Atlantic Ocean thereby breaking apart into many debris fragments – thus concluding the history making Terran-1 test flight.
It also counts as the first methane fueled rocket to launch from the Space Coast. Others like the ULA Vulcan are upcoming soon
With extremely clear skies we watched the launch of the 11-story tall Terran-1 rocket nearby at Jetty Park Beach on the Atlantic Ocean and then arc over with spectacular looking purple blue exhaust flames from the methane fuel and visible at night.
Liftoff of Terran 1 took place at 11;25 p.m. ET (0325 GMT), March 22 from Space Launch Complex-16 on Cape Canaveral Space Force Station, Florida, halfway into the 3-hour launch window which ran from 10 p.m. to 1 a.m.
It was unlike any launch we have ever seen with dim red, purple and distinctive blue exhaust flames spewing from the nine Aeon-1 first stage engines.
But after observing stage separation nearly 3 minutes after liftoff we no longer saw any flames emitted from the rocket when the upper stage engine failed to ignite properly.
Terran-1 reached a maximum altitude of about 130 km (81 mi) and reached a top speed of about 4,600 mph (7,400 kilometers per hour) before the webcast cut off.
It flew nearly vertical and arced over for stage separation and then only a few miles offshore.
"Maiden launches are always exciting, and today's flight was no exception," said Arwa Tizani Kelly, Relativity Space's technical program manager for test and launch, during their webcast.
"Although we didn't reach orbit, we significantly exceeded our key objectives for this first launch, and that objective was to gather data at Max-Q, one of the most demanding phases of flight, and achieve stage separation. Today's flight data will be invaluable to our team as we look to further improve our rockets, including Terran R."
Enjoy our photos of the Terran-1 launch taken by the Space UpClose team of Ken Kremer and Jean Wright.
My lead steak shot image was featured at Fox 35 Orlando as well as 'Image of the Day' or  'IMMAGINE DEL GIORNO' by Alive Universe – an Italian space news website.
https://aliveuniverse.today/immagine-del-giorno/7618-un-relativo-successo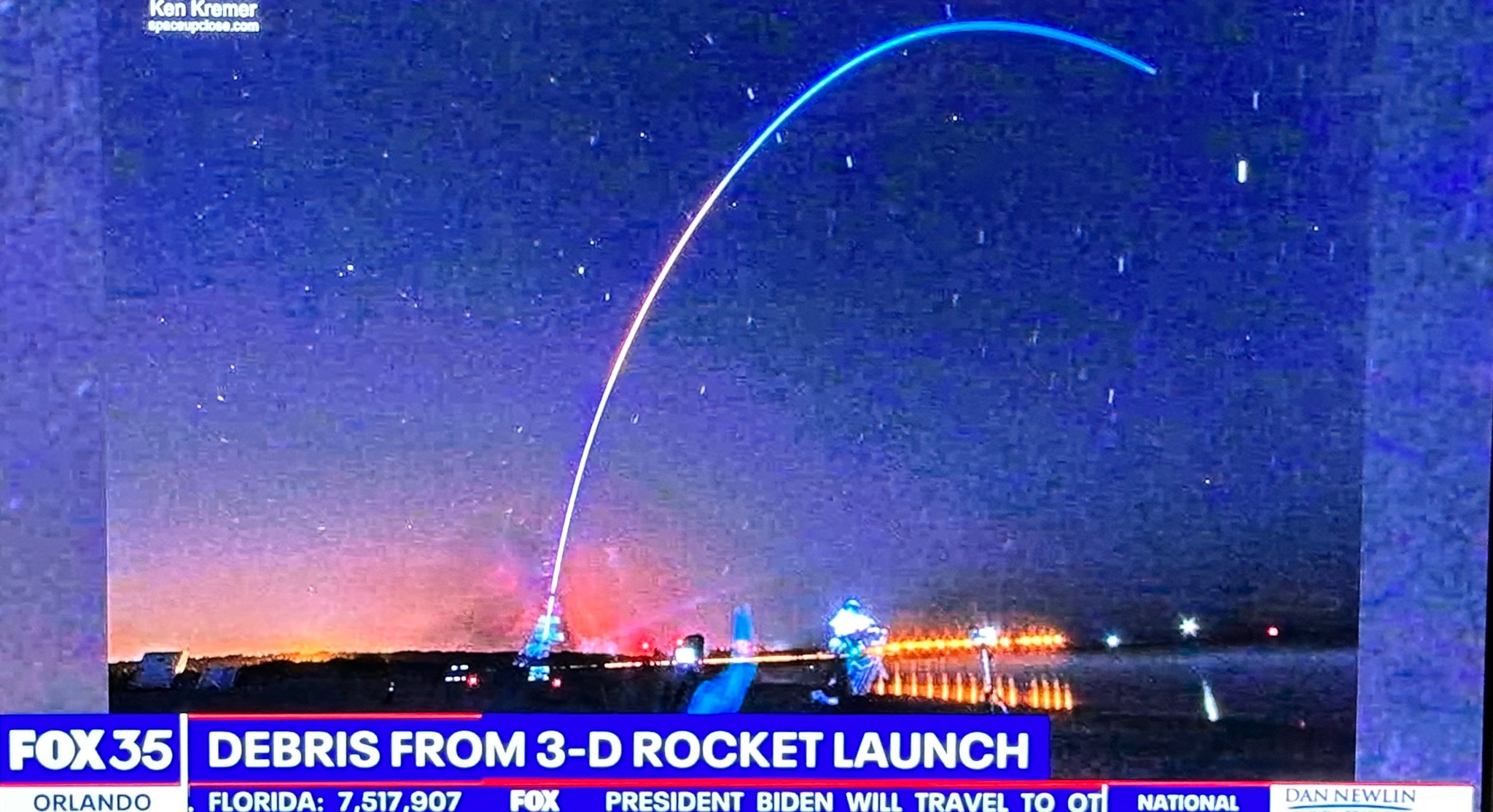 The launch was delayed nearly an hour and a half into the window by a combination of powerful upper level winds and the recurrence of another episode of a totally irresponsible boater who intruded into the keep out zone despite numerous issued warnings – and who was then escorted out of the hazard exclusion zone by the U.S. Coast Guard and back into Port Canaveral before the rocket could soar away.
The first two launch attempts during the afternoon daylight window from 1 to 4 PM ET were scrubbed on March 8 and 11 due to a series of technical issues involving the propellent loading temperature and pressure and issues with the stage separation software – as well as another boater entering the exclusion zone and upper altitude winds
🧵 A quick breakdown of the reasons for our aborts during terminal counts today:

— Relativity Space (@relativityspace) March 11, 2023
The Terran-1 test flight achieved many goals set by Relativity Space and served as a proof of concept for 3D rocket printing technology – and thus can be rated partly successful.
It represents real progress with the best yet to come.
"Today's launch proved Relativity's 3D-printed rocket technologies that will enable our next vehicle, Terran R. We successfully made it through Max-Q, the highest stress state on our printed structures. This is the biggest proof point for our novel additive manufacturing approach," Relativity tweeted post launch.
"Today is a huge win, with many historic firsts. We also progressed through Main Engine Cutoff and Stage Separation. We will assess flight data and provide public updates over the coming days."
Today's launch proved Relativity's 3D-printed rocket technologies that will enable our next vehicle, Terran R. We successfully made it through Max-Q, the highest stress state on our printed structures. This is the biggest proof point for our novel additive manufacturing approach.… pic.twitter.com/9iaFVwYoqe

— Relativity Space (@relativityspace) March 23, 2023
Overall  the Terran-1 mission was a major step forward for Relativity Space and they can be proud of their professional work and move forward.
Teams will now fully investigate what caused the anomaly with the upper stage that caused to to fail to ignite
🚀🤯🥹😭🤘🌌 stunning and visceral first launch, what a first to witness pic.twitter.com/hElSyfMrTw

— Tim Ellis (@thetimellis) March 23, 2023
Terran 1 counts as the world's first almost entirely 3D printed rocket to launch and also is the first rocket to launch fueled by the liquid methane and liquid oxygen propellant combination – known also as methalox.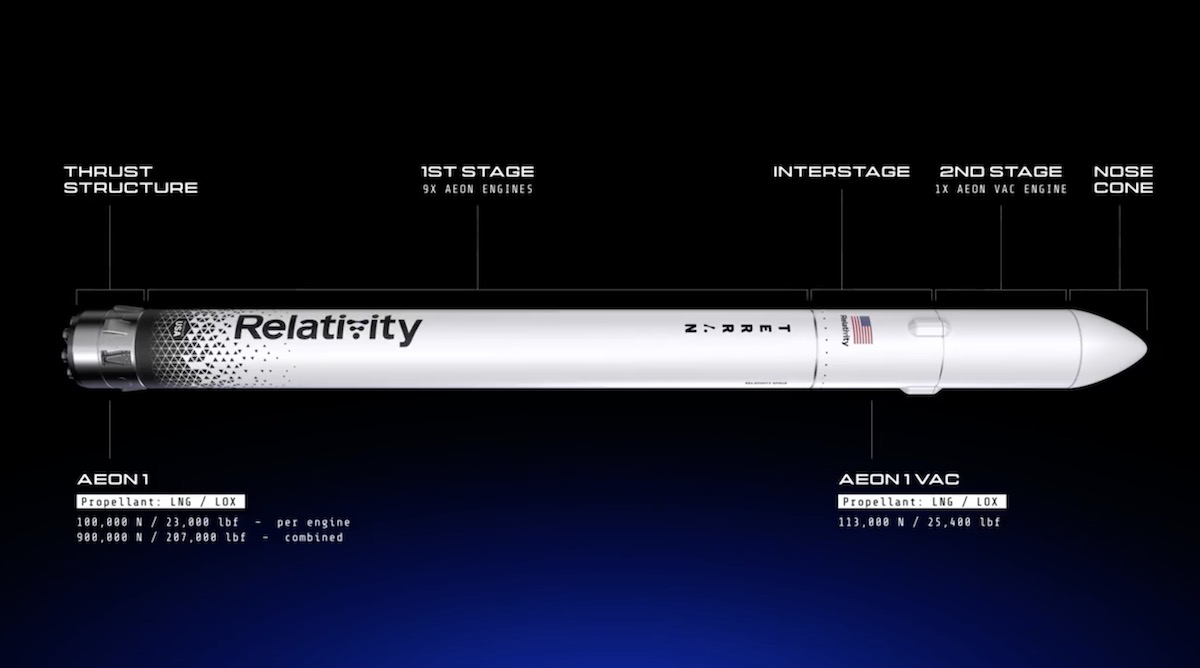 Terran-1 survived the period of Max-Q at 1 minute and 20 seconds into flight a primary goal – where it experiences the maximum aerodynamic pressures and temperatures stresses thus validating the 3D technology design and structural composition of the booster casing and the Aeon-1 engines
The first stage fired as planned for 2 minutes and 40 seconds, and it reached an altitude of about 70 km to that point.
The stages separated as planned 5 seconds later as seen in the Relativity Space live webcast.
Unfortunately  the second stage did not ignite as planned at 2 minutes 53 seconds into flight
It should have continued firing for about 5 minutes and then place Terran-1 upper stage into orbit eight minutes after liftoff.
The next Terran rocket is already in production and could launch in a few months after the investigations results are in to determine root cause, fix the problem and implement the changes to help ensure a full success on the next launch attempt.
I urge everyone:  DO NOT try and recover these dangerous debris fragments covered with toxic chemical residues.
Contact the police and authorities if you happen upon anything in the ocean or that washed ashore
The rocket is nicknamed called "Good luck, have fun" or GLHF
Terran means 'of the Earth.'
The weather forecast was forecast to be >90% GO by Space Force weather forecasters
No payload was aboard for this maiden orbital launch attempt. But there were some 3D printed piece parts from initial 3D tests placed in the nose cone
It  roared off the pad in an easterly trajectory and was targeting a low Earth orbit (LEO) and achieving an altitude of more than 124 miles (200 km) and an inclination of 28.5 degrees to the equator.
"This launch of Terran 1 is the first orbital attempt by Relativity and will not include a customer payload," says Relativity Space.
"Terran 1 is the largest 3D printed object to attempt orbital flight."
The rocket is aimed to the small satellite market where there are already multiple competitors including SpaceX and Rocket Lab.
It is designed to can carry up to 2750 pounds or 1,250 kilograms of payload to a low-altitude orbit.
Relativity Space already has many launch contracts booked.
This inaugural Terran 1 rocket is about 85% 3D printed and Relativity Space hopes to increase that to about 95% in the future
The advantages of 3D printing is that the rocket has far fewer moving parts and reliability should be significantly improved – with the goal of vastly reducing the cost of access to space.
In the future the hope is that 3D printed rockets could be manufactured directly and more easily on the Moon and Mars – slashing costs
The two stage expendable Relativity Space Terran 1 rocket stands 110-foot-tall (33.5-meter) and 7.5 ft wide
We saw Terran 1 vertical at pad 16 while it was standing erect and undergoing testing at pad 16 – at the same time as SpaceX was landing a Falcon 9 first stage boost at Landing Zone-1 a few miles away from our vantage point at Space Launch Complex-34 watching the SpaceX OneWeb launch last Fall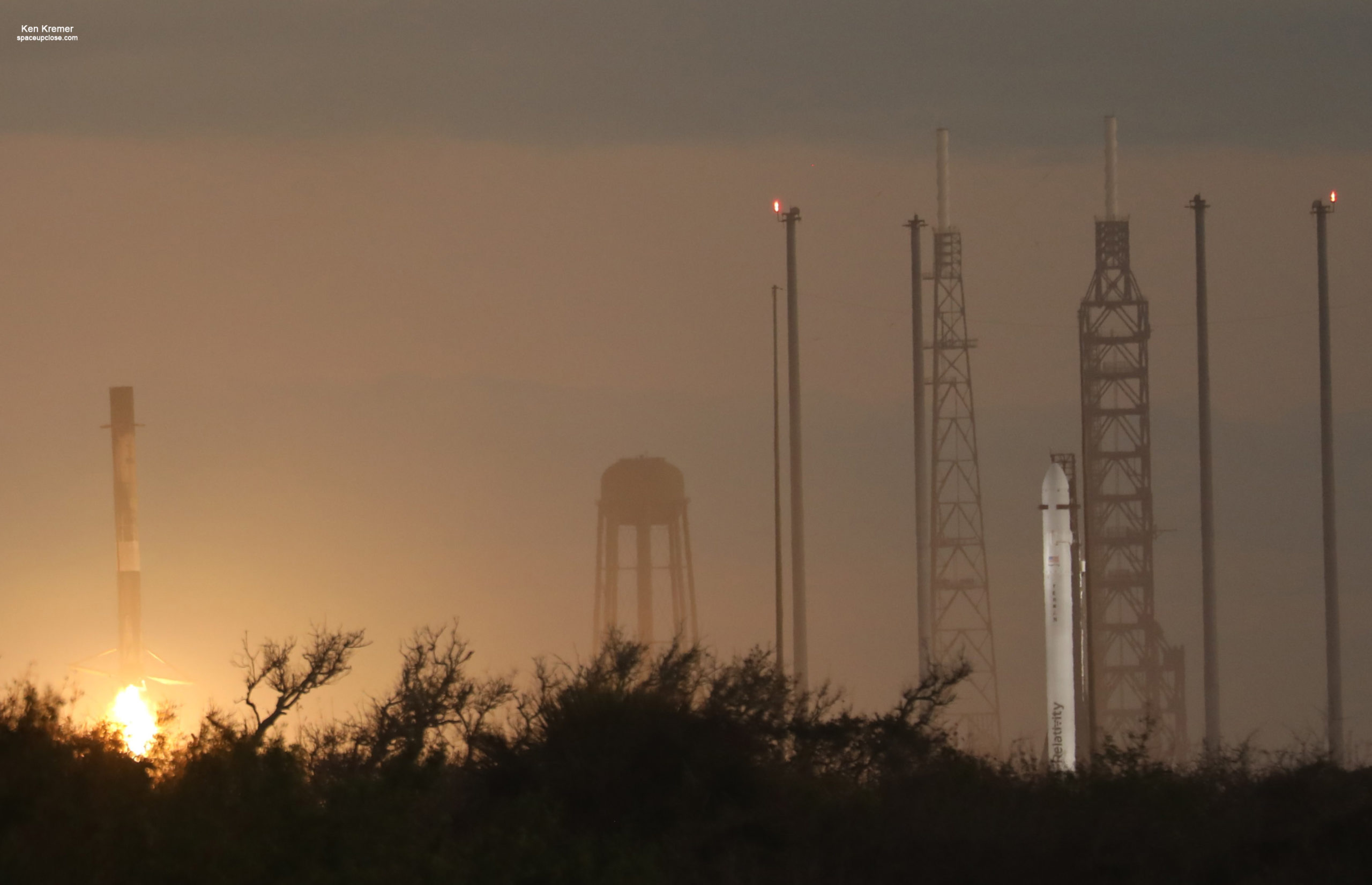 The Terran 1 rocket is fueled by liquid methane natural gas (LNG) and liquid oxygen (LOX).
Propellant load on #Terran1 is underway ahead of its first launch. #GLHF pic.twitter.com/MwzgO4B2gc

— Relativity Space (@relativityspace) March 8, 2023
The first stage is powered by nine 3D printed Aeon-1 engines and one Aeon Vac on its second stage.
"Like its structure, all Relativity engines are entirely 3D printed, and use liquid oxygen (LOX) and liquid natural gas (LNG), which are not only the best for rocket propulsion, but also for reusability, and the easiest to eventually transition to methane on Mars."
The first stage thrust generates about 207,000 pounds of liftoff thrust
The cost of the rocket is some $12 million
Watch Ken's commentary about NASA. Project Artemis SLS and Orion, SpaceX Falcon Heavy, Crew-5 & 6, NASA SpaceX Crew & Cargo Dragons and more
Mar 22/23: Fox 35 News Orlando post launch interview about historic Terran 1 launch on Mar 22:
https://www.fox35orlando.com/news/3d-printed-rocket-fails-to-reach-orbit-now-somewhere-in-atlantic-ocean
Mar 22: Fox 35 live interview about next Terran 1 launch attempt on Mar 22:
https://www.fox35orlando.com/video/1196740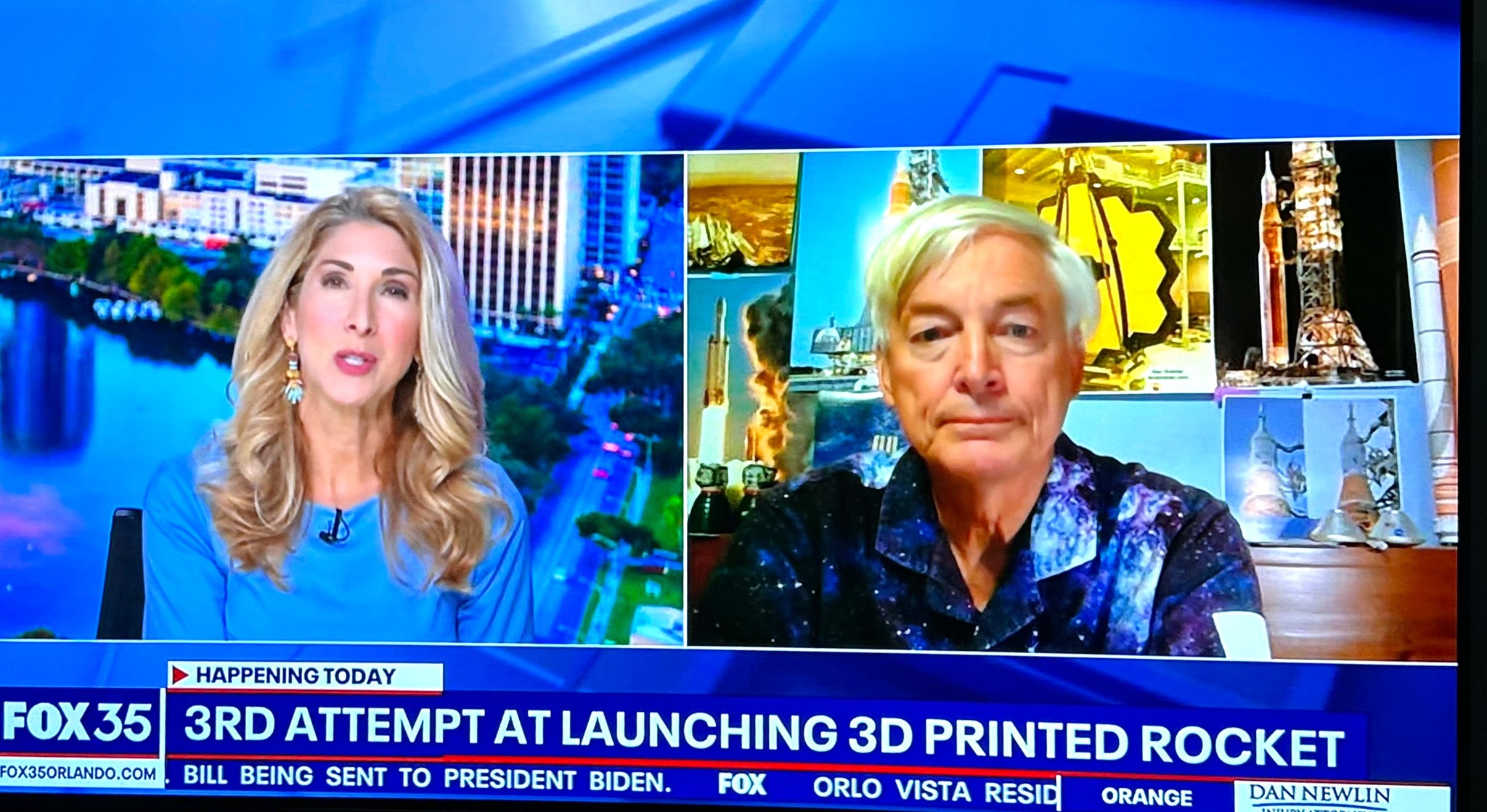 Mar 21:  WFTV ABC News Orlando interview about next Terran 1 launch attempt on Mar 22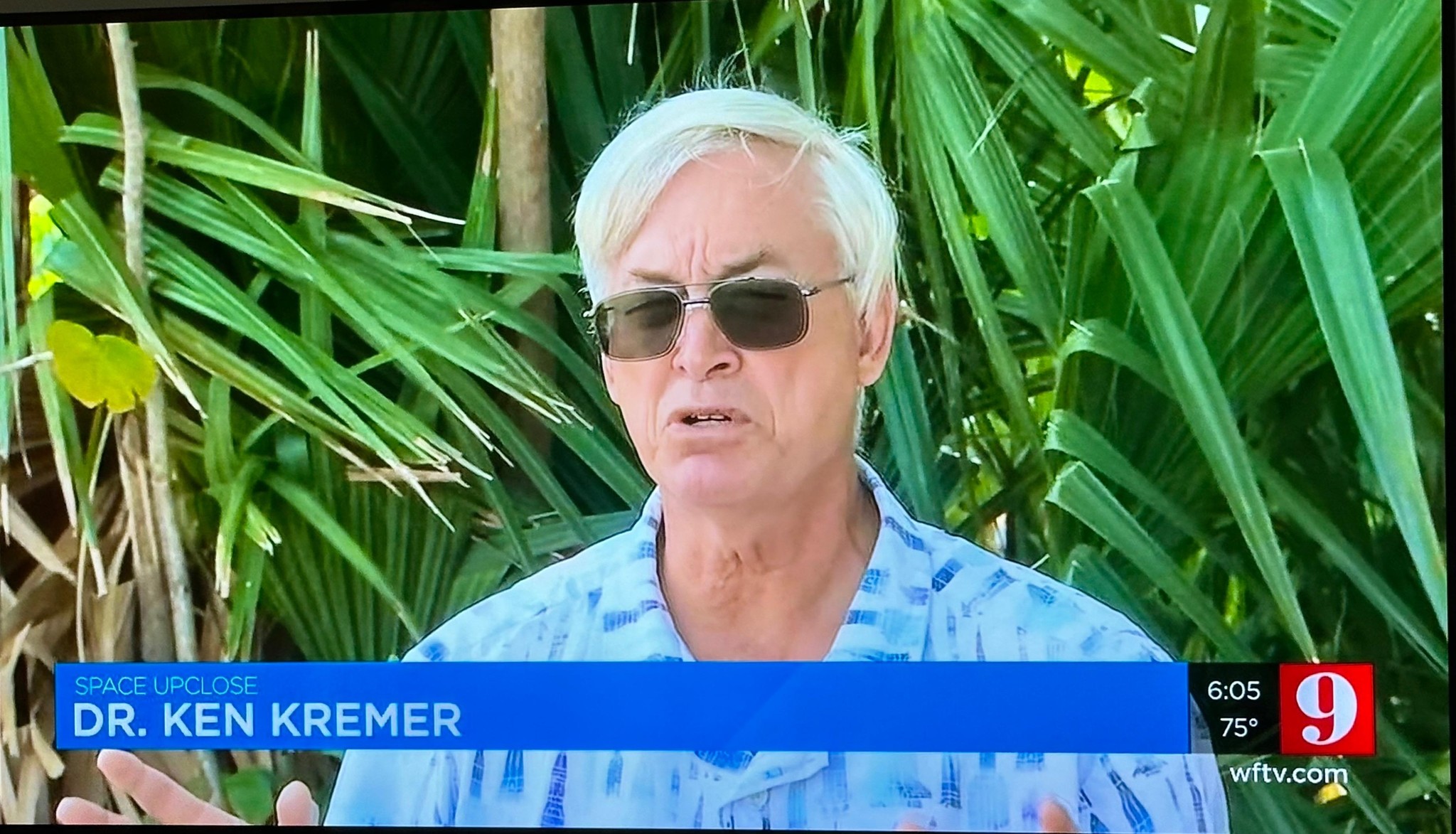 Mar 17:  Fox 35 News Orlando update about next Terran 1 launch attempt:
https://www.fox35orlando.com/news/new-launch-date-announced-for-first-3d-printed-rocket-from-florida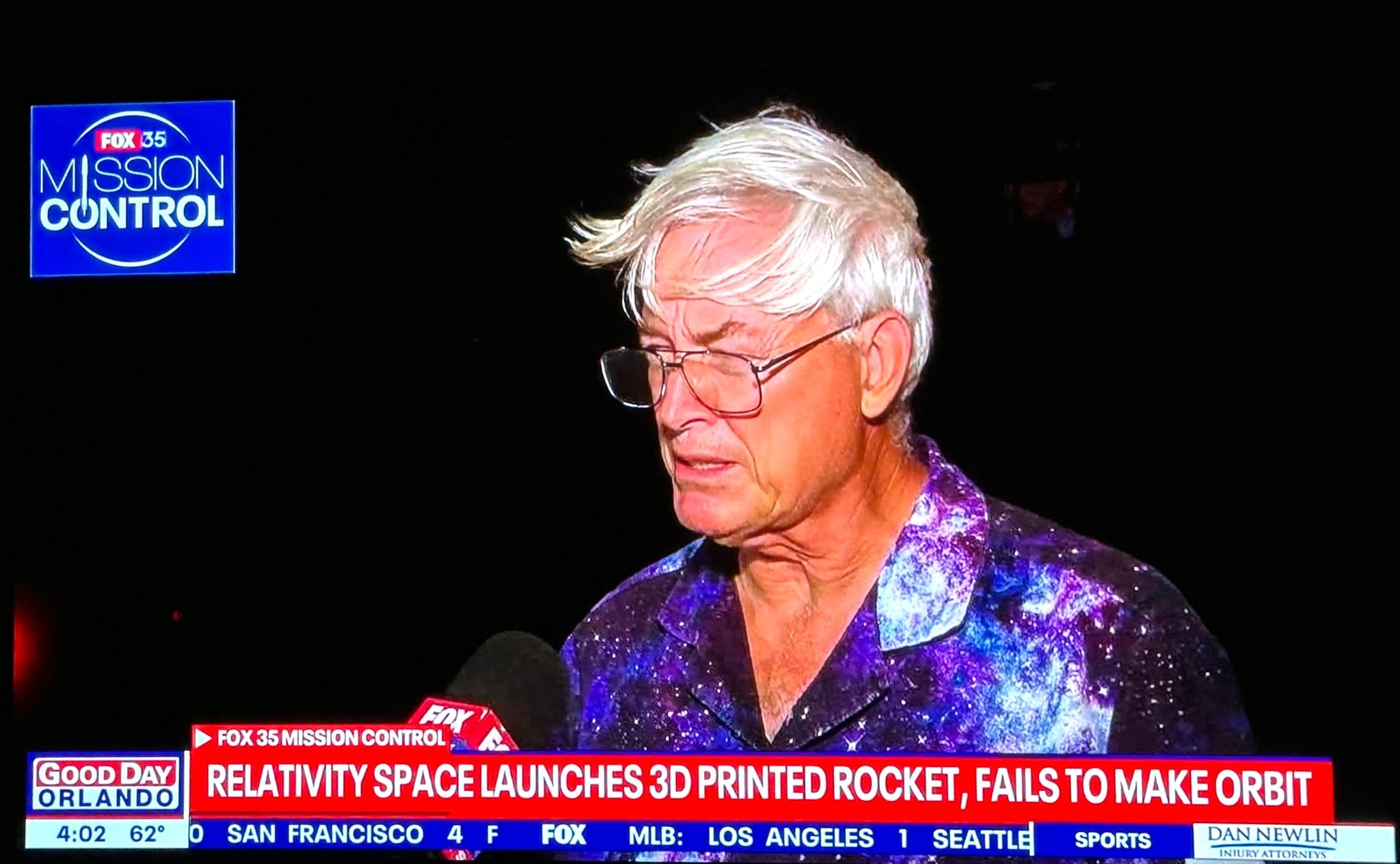 Mar 16/17:  WKMG CBS 6 Orlando News interview about Virgin Orbit pausing operations today and why this is not a good sign as they seek to enter the small satellite market with many competitors like Relativity Space Terran1 rocket trying 1st launch – as well as established competitors like SpaceX & RocketLab.
https://www.clickorlando.com/news/space-news/2023/03/16/virgin-orbit-pausing-all-work-reportedly-furloughs-staff/
Mar 8/9: WFTV ABC News and Fox 35 New Orlando pre and post scrub interview about maiden Terran 1 launch attempt:
https://www.fox35orlando.com/news/i-will-be-here-scrubbed-3d-printed-rocket-launch-isnt-turning-people-away-from-second-try
Mar 7: WFTV ABC News Orlando interview about upcoming maiden Terran1 launch by Relativity Space on Mar 8
https://www.wftv.com/news/video-3-rocket-launches-planned-floridas-space-coast-this-week/90d4e160-806f-49fd-b7d9-04d46a2c9402/
Mar 6/7: WFTV ABC News Orlando interview about upcoming maiden #Terran1 launch by Relativity Space on Mar 8 from pad 16 CCSFS. Worlds 1st 3D printed rocket:
https://www.wftv.com/news/video-first-3d-printed-rocket-set-blast-off-space-coast-this-week/bab1dd1f-6927-45c9-8359-e1e7d7a08e99/
Mar 2: Fox 35 Orlando live interview about the Crew-6 mission launch to the ISS
Feb 26/27/28: On 3 local Networks CBS WKMG , ABC WFTV and Fox 35 Orlando -I did series of live and taped interviews pre and post scrub explaining why NASA  SpaceX Crew6 astronaut launch to ISS was scrubbed at T Minus 2 minutes to keep the crew and rocket safe and what needs to be done to resolve the issue why TEA-TEB (triethylaluminum triethylboron) igniter fluid failed to fully load on Falcon 9 rocket
Feb 9/10:  WFTV ABC News Orlando interview about SpaceX Starship successful static fire test of 31 Raptor engines at Boca Chica
https://www.wftv.com/news/local/brevard-county/spacex-completes-successful-static-fire-test-33-engine-starship-booster/LDYL2CDXS5ETHG7TGG2RH2JV7I/
Feb 8/9:  WFTV ABC News Orlando interview about how NASA needs a definitive and fully funded plan to deorbit the ISS safely in case of an emergency and serious debris hit causing it to lose control b4 it's terminated in 2030- in light of the recent Soyuz crew capsule leak from micrometeoroid impact
Jan 3/4: WFTV ABC News Orlando interview about Jan 3 SpaceX Transporter 6 launch – 1st of 2023 – and record setting year ahead with many exciting missions for NASA and private astronauts, science probes, mission, US Space Force, new rockets like ULA Vulcan & more!
Watch Ken's continuing reports about Artemis, SpaceX missions, SLS, Orion and NASA missions, SpaceX Crew and Cargo Dragons, SpaceX Axiom, JWST, DART, Lucy Asteroid mission, GOES, SpaceX Starlink, Commercial Crew and Starliner and Crew Dragon, Blue Origin and Space Tourism, and onsite for live reporting of upcoming and recent SpaceX and ULA launches including Crew 1 & 2 & 3 & 4 & 5, ISS, Solar Orbiter, Mars 2020 Perseverance and Curiosity rovers, NRO spysats and national security missions and more at the Kennedy Space Center and Cape Canaveral Space Force Station.
Stay tuned here for Ken's continuing Earth and Planetary science and human spaceflight news: www.spaceupclose.com – twitter @ken_kremer – email: ken at kenkremer.com
Dr. Kremer is a research scientist and journalist based in the KSC area, active in outreach and interviewed regularly on TV and radio about space topics.
………….
Ken's photos are for sale and he is available for lectures and outreach events
Please consider supporting Ken's work by purchasing his photos and/or donating at Patreon
https://www.patreon.com/kenkremer
Upcoming and recent space events and talks by Ken Kremer & Jean Wright
Mar 1, 2, 12,13, 22, 23; Feb 4, 11, 24, 25, 26; Jan 7,11- 2023; from 7 to 9 PM Quality Inn, Titusville, FL:  Join Ken and Jean for Artemis 1, Falcon Heavy and space mission and rocket launch outreach. Ask us anything. plus display our photos and space apparel items for sale
Apr 29-May 6 & Jan 21-28: Carnival Cruise Ship Mardi Gras: "What Happening at NASA and Space Exploration" & SpaceX Falcon 9 Starlink 5-2 launch viewing party Jan 26
Jan 12, 2023: 10 AM at Westminster Retirement Center in Orlando/Winter Park, Florida: Presentation by Jean Wright – "Sew Sister to the Stars- How the Humble Art of Sewing Transformed the World of Flight"+ Artemis 1 Moon rocket update
Nov 29 at UCF, Orlando Florida: Presentation by Jean Wright – "Sew Sister to the Stars- How the Humble Art of Sewing Transformed the World of Flight"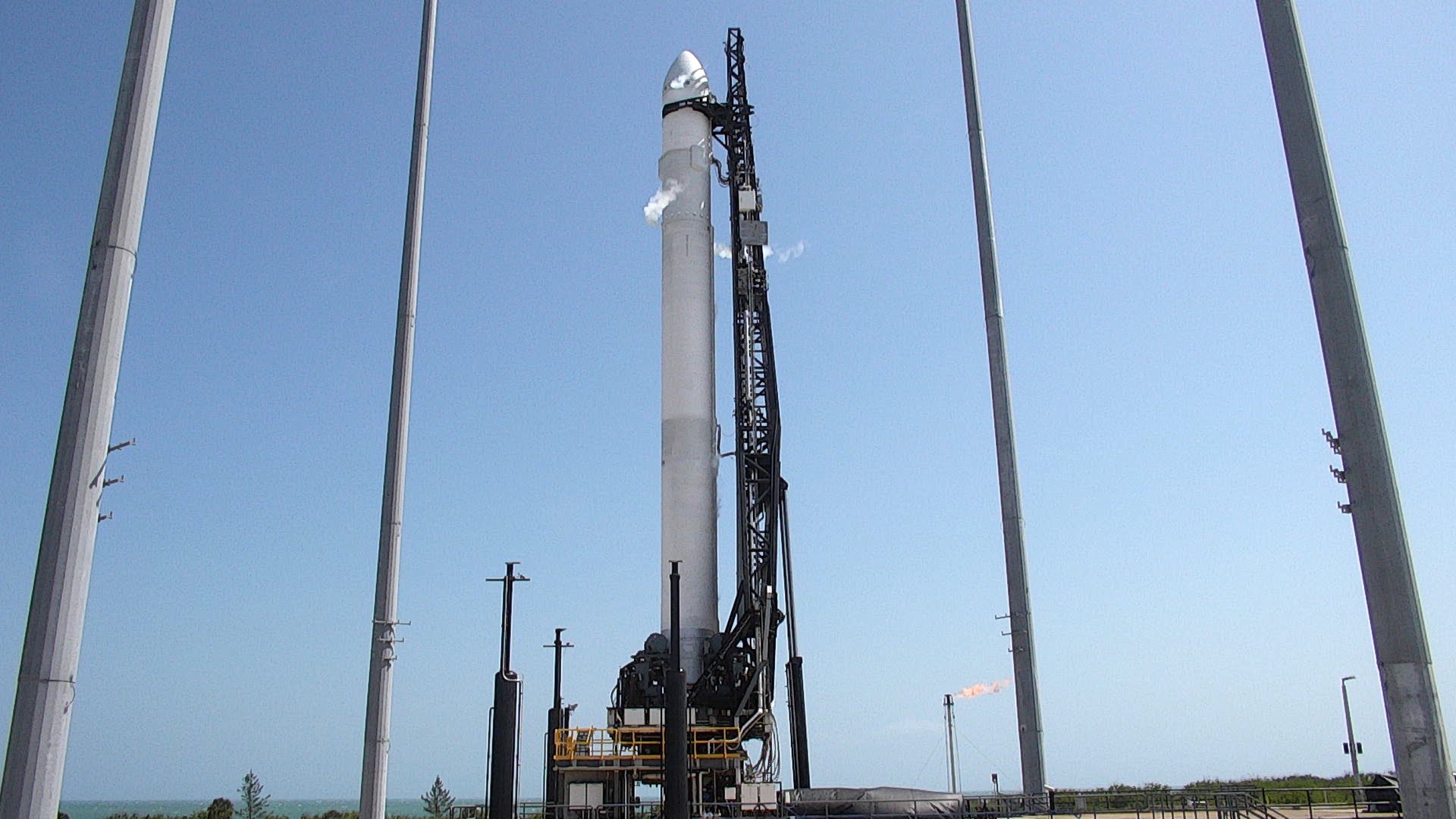 x