For SpaceUpClose.com & RocketSTEM
KENNEDY SPACE CENTER, FL– In a celebration worthy of the momentous spaceflight occasion just before dawn Friday that marks the dawn of a new era in commercial human American spaceflight, Boeing unveiled its first flightworthy CST-100 Starliner spacecraft that will launch on its maiden mission to the International Space Station on the company's uncrewed Orbital Flight Test (OFT) in just about 24 days in mid-December.
In a significant step towards launch, the Boeing Starliner astronaut ferry ship built with funding from NASA's Commercial Crew Program (CCP) rolled out from Boeing's Commercial Crew and Cargo Processing Facility (C3PF) around 6 a.m. EST (1100 GMT) at NASA's Kennedy Space Center in Florida on Friday, Nov. 21, led by members of the Boeing team holding a banner that read "We're All In! Go Starliner!"
The Starliner rollout was greeted by a cheering crowd of workers, employees, astronauts, NASA and Boeing officials and family and media hungry for success and a resumption of human spaceflight launches from American soil on American rockets and American spaceships- after years of development effort and delays in the shadow of the iconic Vehicle Assembly Building (VAB).
"This is critical to our future as a nation," said Kennedy's center director and former space shuttle astronaut Bob Cabana to the gathered crowd. "We've got to get astronauts flying on U.S rockets from U.S. soil, and this is just a huge step forward."
"It is so cool to finally see the Starliner rolling out of that building. It's been a long time since a spaceship rolled out of there on its way to the pad to get stacked up."
Space UpClose was on hand for the Starliner rollout. Enjoy our report and eyewitness photos.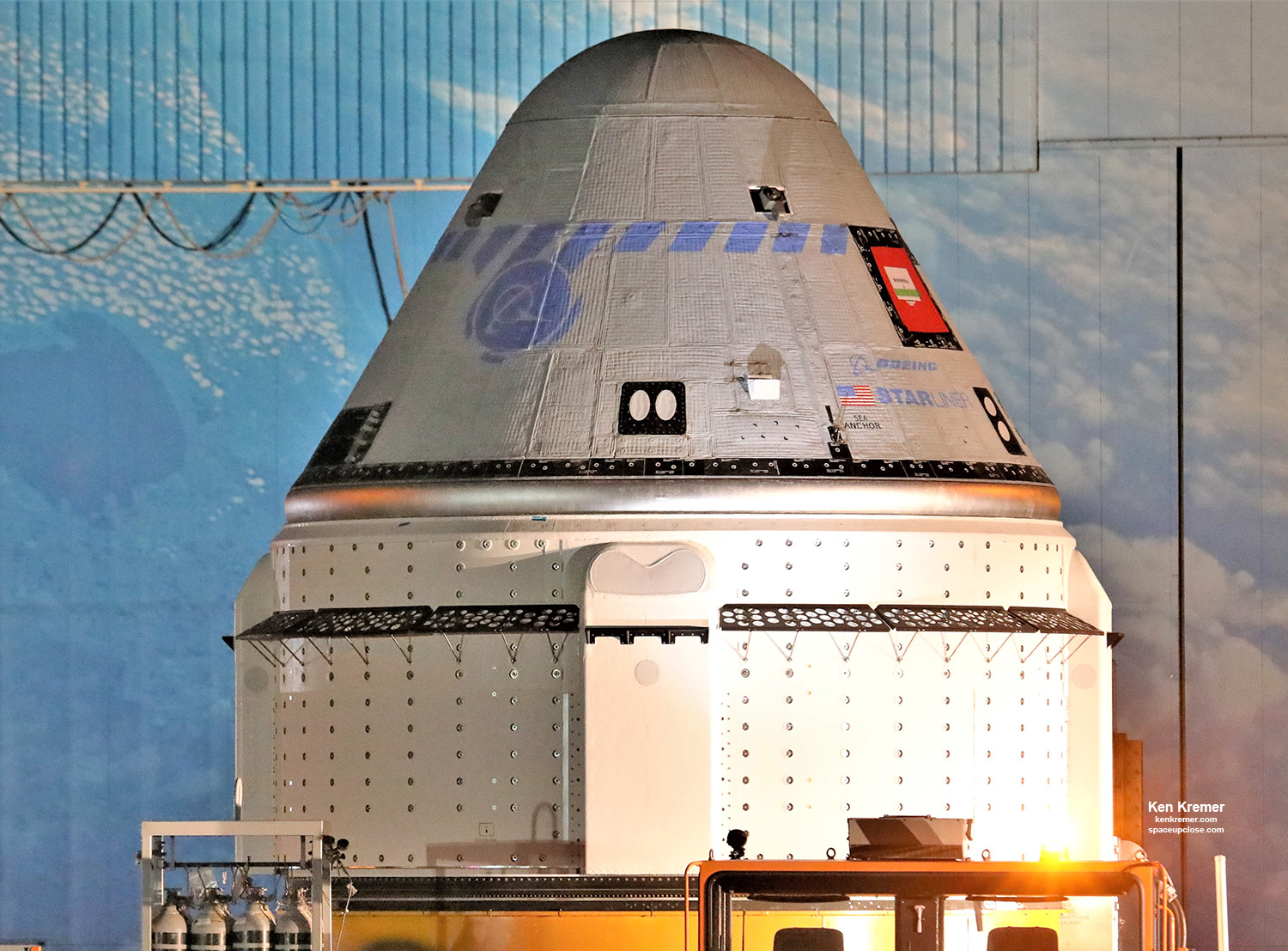 The 16.5-foot-tall (5-meter) Starliner was rolled out from the C3PF manufacturing facility on a KAMAG transport vehicle for a trek of a few miles to Space Launch Complex 41 at Cape Canaveral Air Force Station.
It arrived later Friday morning at pad 41 where it was later hoisted high inside the Vertical Integration Facility (VIF) at pad 41 and placed on top of the United Launch Alliance Atlas V rocket that will propel it to low Earth orbit (LEO) and docking at the ISS on its first test flight on the OFT mission to the ISS.
The Atlas V rocket that will carry Starliner comprises a ULA built 1st stage booster powered by Russian-made RD-180 engines, a dual-engine Centaur upper stage, as well as a pair of strap on first stage solid rocket boosters.
This marks a new configuration for the Atlas V designated as "N22" because these is no payload fairing surrounding the Starliner and includes the dual engine Centuar upper stage with two RL-10 engines and two strap on boosters.
With Starliner the completely rocket stack stands 172 feet (52.4 meters) tall.
Starliner is being manufactured in Boeing's refurbished and repurposed Commercial Crew and Cargo Processing Facility (C3PF) – a cavernous hanger previously used to process NASA space shuttles for 3 decades at the Kennedy Space Center nearby the Vehicle Assembly Building.
The morning was reminiscent of similar rollouts from the space shuttle era that I attended.
Its finally getting real as all the key flight hardware for the maiden uncrewed test flight of the Boeing Starliner commercial crew capsule has coming together for its first blastoff on a shakedown cruise to the International Space Station (ISS) on a contracted mission under NASA's commercial Crew Program (CCP) initiative – just before the Christmas holiday season.
Earlier this month on Nov. 4 Boeing completed the critical emergency Pad Abort Test to demonstrate the spacecraft's ability to quickly separate from the rocket and escape the launch pad and save the astronauts lives in a split second in the event of a catastrophic rocket emergency on the launch pad on launch day.
NASA and Boeing officially announced that the launch of Boeing's Starliner spacecraft on a United Launch Alliance (ULA) Atlas V rocket is targeted for Dec. 17 from Space Launch Complex 41 at Cape Canaveral Air Force Station (CCAFS) in Florida at 7:47 a.m. EST (1247 GMT).
The first Starliner crew comprising a trio of NASA and Boeing astronauts was on hand to welcome the Starliner on this milestone achievement and thank the tremendously hard working efforts of the entire team – namely Boeing astronaut and former NASA astronaut Chris Ferguson and NASA astronauts Mike Fincke and Nicole Mann.
"This is the dawn of a new era," said Ferguson. "For all of you youngsters out there who came out here early to watch, I'm glad you were a part of this. This is really important because this is your future, too."
The goal of the Commercial Crew Program is to end our 100% reliance on the Russian Soyuz capsule for launches to the ISS at a cost of more than $85 million per astronaut seat.
"We're looking forward to the day when we're launching people on a regular basis," said Fincke. "As graduates of military test pilot schools, we are really excited to see how Starliner's going to behave; we know it's going to be awesome, and we're going to get all kinds of really great test data from it."
If all goes well with the week-long OFT mission it will fully demonstrate Starliner and Atlas V's ability to safely carry crew to and from the orbiting laboratory and pave the path to the inaugural crewed liftoff on the Crew Flight Test (CFT) mission launching as soon as early 2020.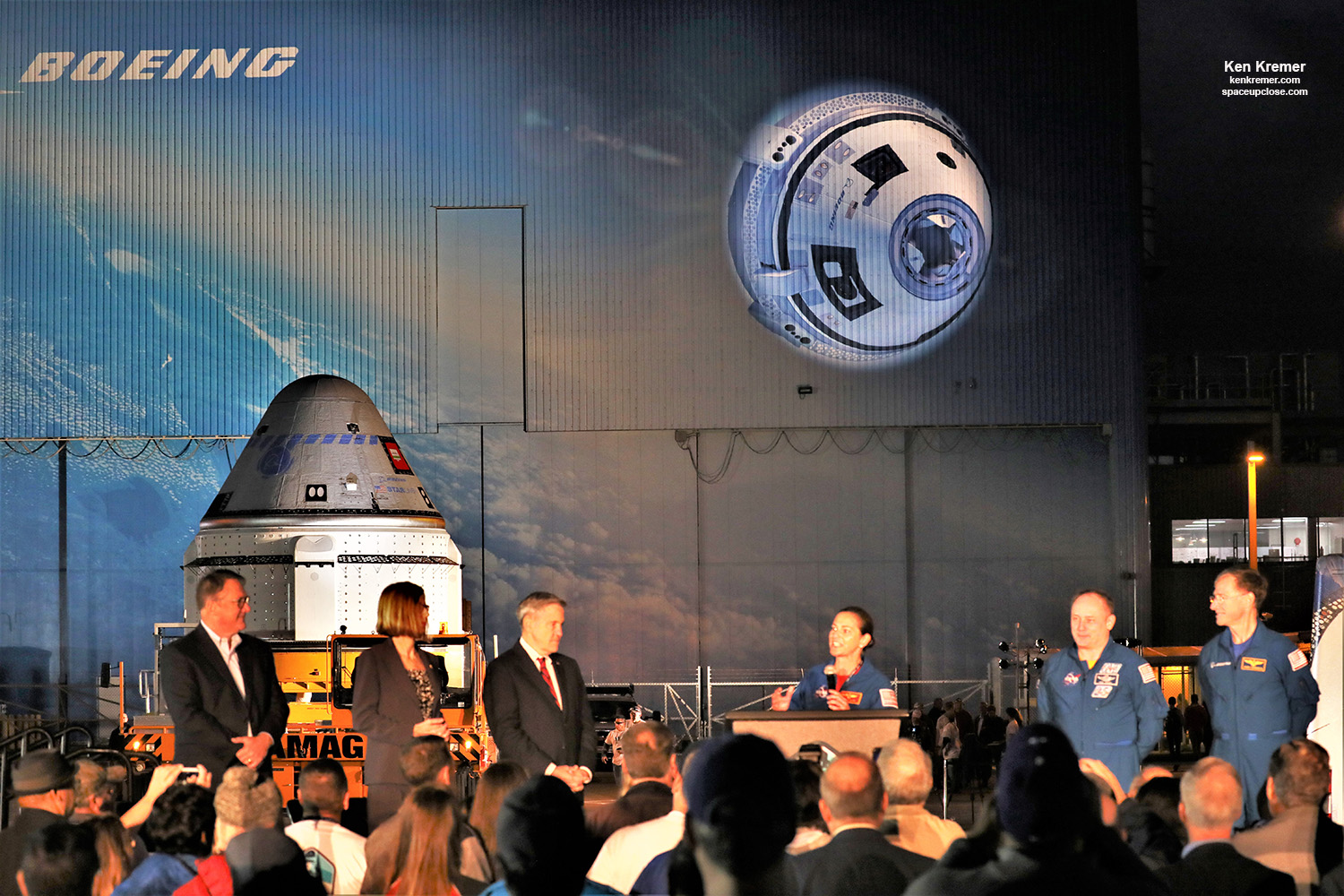 "It comes down to trust," said Mann. "I'm talking about trust in the individuals—our fellow Americans—who are building this spacecraft and making this possible. You walk around the factory and there is this amazing attention to detail, and it gives you this great level of confidence," said Mann.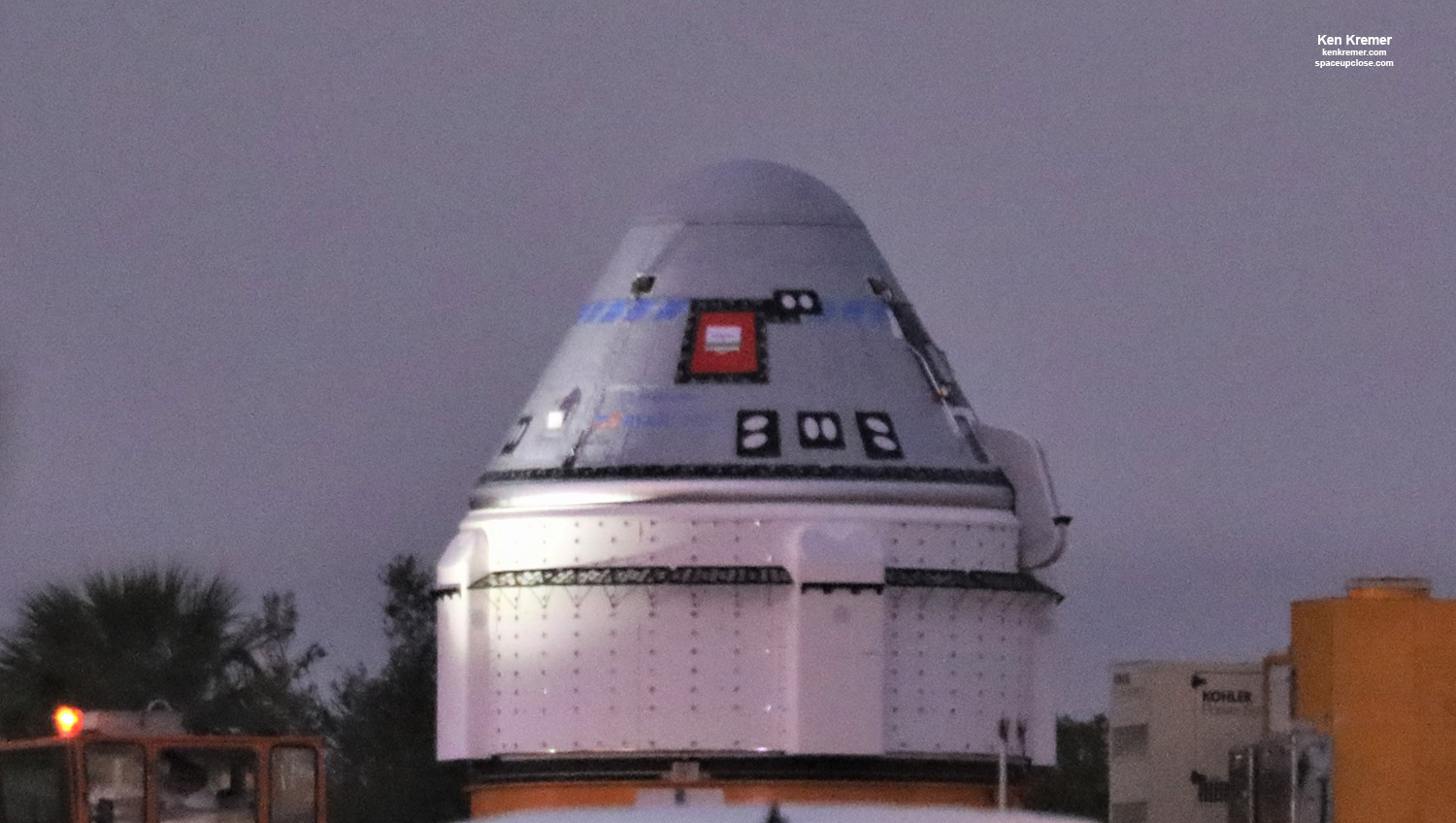 Under contracts with NASA, both Boeing and SpaceX are competing to be the first private company to launch the 1st Americans to low Earth orbit in nearly eight years since NASA's space shuttle orbiters were forcibly retired back in 2011.
SpaceX is also developing the Crew Dragon to ferry NASA astronauts to and from the ISS.
"The uncrewed flight test, targeted to launch Dec. 17, will provide valuable data on the end-to-end performance of the Atlas V rocket, Starliner spacecraft and ground systems, as well as in-orbit, docking and landing operations. The data will be used as part of NASA's process of certifying Boeing's crew transportation system for carrying astronauts to and from the space station," says NASA.
My commentary on WFTV ABC TV News 9 Orlando on Nov. 15, 2019 about the NASA Inspector General report warning about further delays to launching Commercial Crew capsules from Boeing and SpaceX to the ISS and the imperative to begin launches soon before NASA's last contract for Soyuz seats expires:
https://www.wftv.com/news/florida/nasa-audit-warns-of-safety-risks-in-delayed-private-crew-launches/1009107861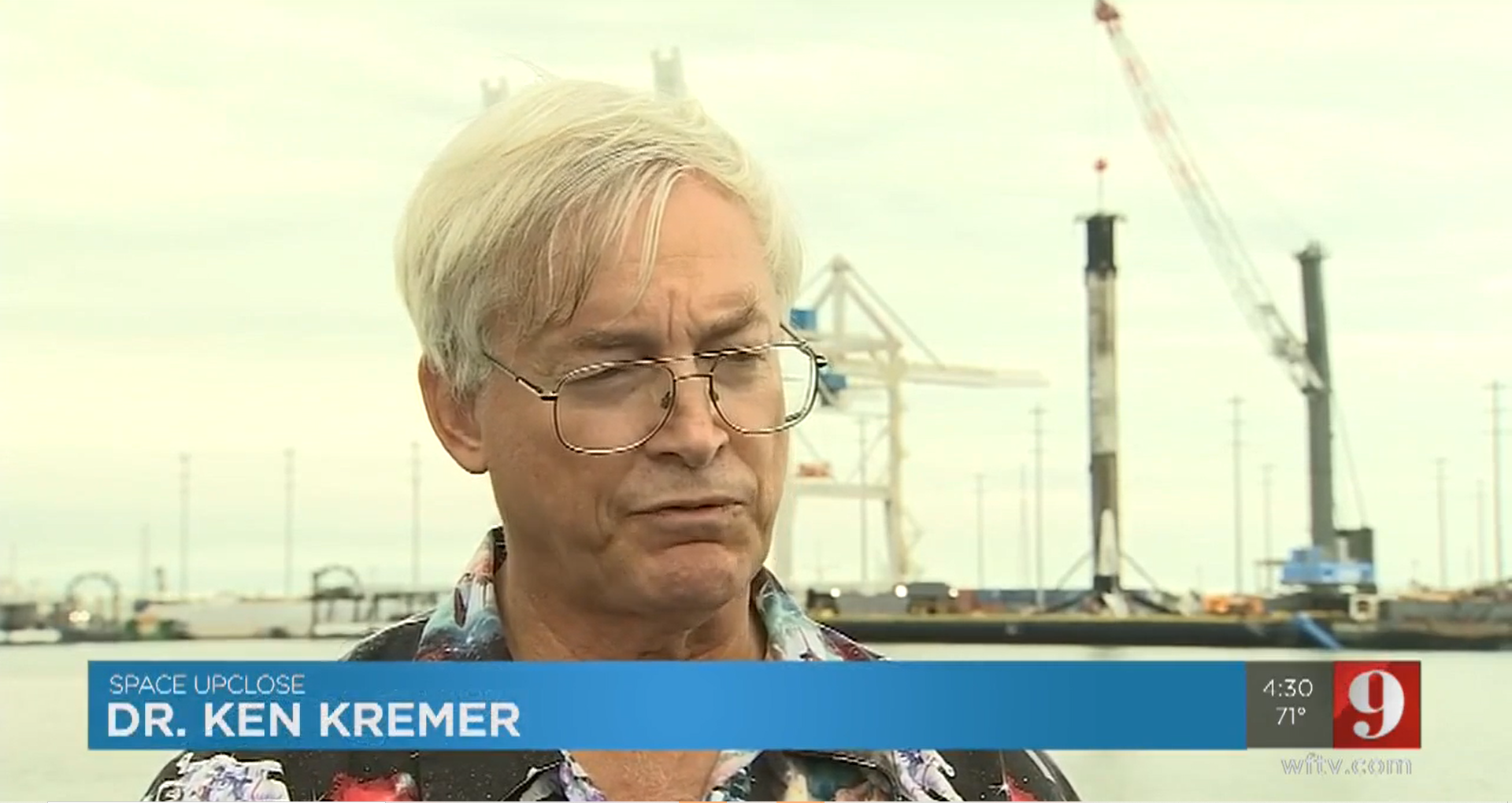 Watch my commentary at Fox 35 TV News Orlando on Nov. 4, 2019 about the outcome of the Boeing Starliner Pad Abort Test:
https://www.fox35orlando.com/news/boeing-capsule-abort-test-successful-despite-third-parachute-gaffe
Stay tuned here for Ken's continuing Earth and Planetary science and human spaceflight news: www.kenkremer.com –www.spaceupclose.com – twitter @ken_kremer – email: ken at kenkremer.com
Dr. Kremer is a research scientist and journalist based in the KSC area, active in outreach and interviewed regularly on TV and radio about space topics.
………….
Ken's photos are for sale and he is available for lectures and outreach events
Ken's upcoming outreach events:
Nov 23, 1 PM, Titusville, FL: "50th Anniversary Apollo 12 and NASA's Human Return to the Moon with Project Artemis" at American Space Museum, Titusville, FL. Lecture free. Open to the public. Photos for sale
Website: www.spacewalkoffame.org
www.spacewalkoffame.org/event/cosmic-christmas-yard-sale-and-apollo12-50th
Dec 3/4: 7 PM, Quality Inn Kennedy Space Center, Titusville, FL. "SpaceX CRS-19 Launch to ISS Dec 4." Free. In hotel lobby. Photos for sale