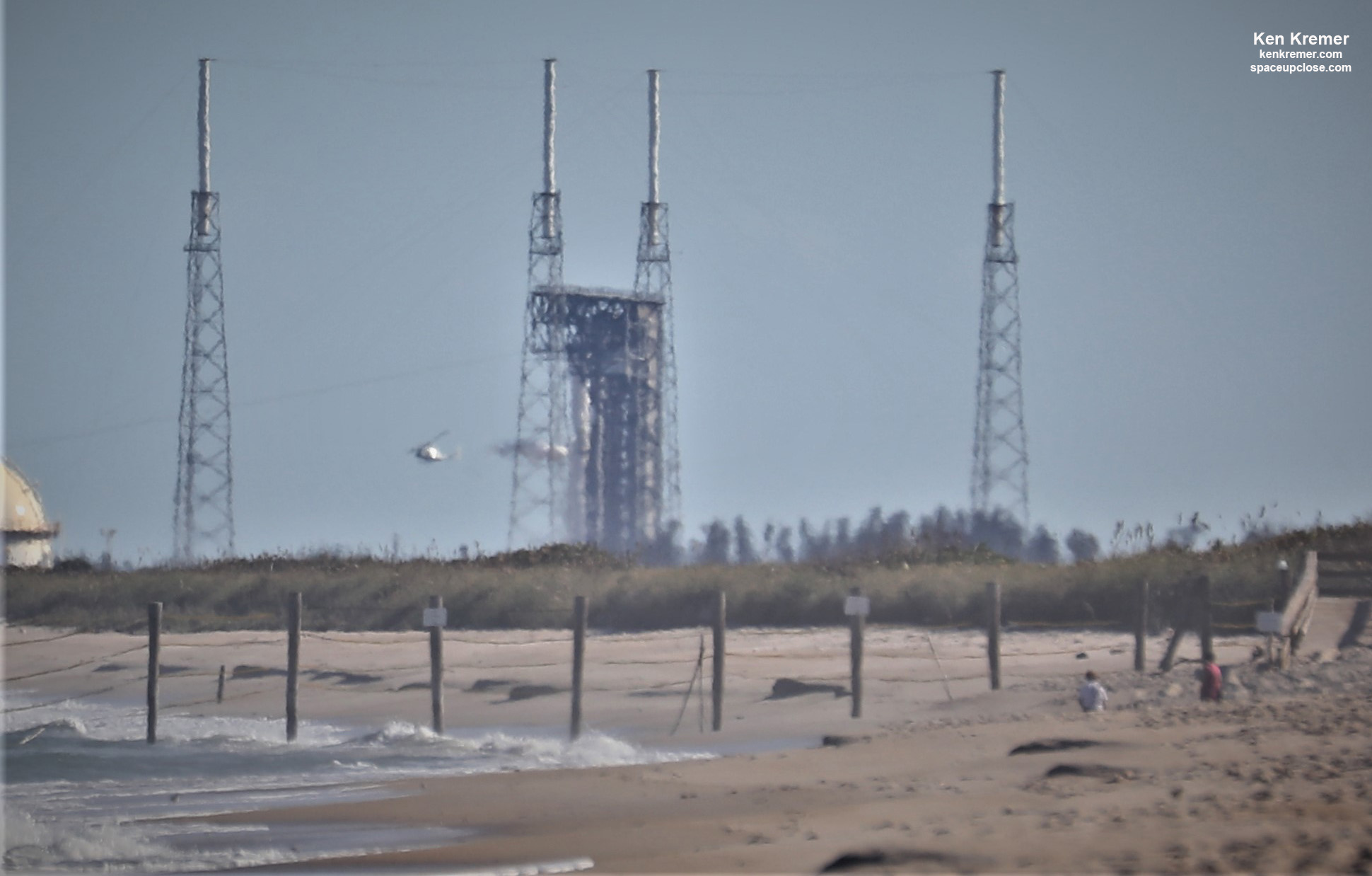 For SpaceUpClose.com & RocketSTEMKENNEDY SPACE CENTER/CAPE CANAVERAL AIR FORCE STATION, FL – The first fully integrated United Launch Alliance (ULA) Atlas V rocket and Boeing Starliner astronaut space taxi have "successfully accomplished" the critical countdown demonstration and fueling test at Launch Pad 41 on Friday, Dec 6, on the Florida Space Coast – paving the path towards launch on the uncrewed Orbital Flight Test (OFT) mission now retargeted to Dec. 20.
The combined NASA, ULA and Boeing space launch team worked through the day on Friday to carry out and complete the wet dress rehearsal (WDR) ahead of the upcoming Orbital Flight Test, an uncrewed mission to the International Space Station (ISS) for NASA's Commercial Crew Program.
Liftoff of the unpiloted OFT flight test is targeted to launch No Earlier Than (NET) Friday, Dec. 20 at 6:36 a.m. EST (1136 GMT) from Space Launch Complex 41 at Cape Canaveral Air Force Station in Florida.
We are now targeting Dec. 20, 6:36 a.m. ET, for #Starliner's Orbital Flight Test. The range is clear, the spacecraft and rocket are healthy, and we successfully completed a launch day dress rehearsal in preparation for our first @Commercial_Crew flight to @Space_Station. pic.twitter.com/zTeFD1Qj65

— Boeing Space (@BoeingSpace) December 6, 2019
The WDR counted as the program's first ever Integrated Day of Launch Test, or IDOLT.
"Today's rehearsal is practice for Boeing's upcoming uncrewed Orbital Flight Test (OFT) to the International Space Station," said NASA.
The launch team conducted a mock countdown demonstration test with the rocket being fully fueled rocket and taken to the point of T-Zero just before the engines are ignited.
Integrated Day of Launch Test ✅

The #Starliner launch day rehearsal is complete! While this mission is uncrewed, rehearsals like this are standard for human spaceflight missions & provide an opportunity to work launch preparations in real time: https://t.co/xkV78Sy1YO pic.twitter.com/T2v2G6BlUF

— NASA's Kennedy Space Center (@NASAKennedy) December 6, 2019
The Atlas rocket's 1st stage booster was filled with liquid oxygen and a form of rocket-grade kerosene called RP-1 by the launch team technicians and engineers.
The Centaur upper stage was loaded with liquid oxygen and liquid hydrogen for Friday's full run-through of the launch countdown.
The countdown was then halted as planned at 2 p.m. EST, Dec. 6 with a simulated launch abort and no 1st stage engine firing.
Today's #AtlasV #Starliner launch day rehearsal has been successfully accomplished, taking the countdown to the final second at Cape Canaveral. The rocket will be drained of fuel and safed this afternoon before rollback to the Vertical Integration Facility tomorrow. pic.twitter.com/W8rasLXPAr

— ULA (@ulalaunch) December 6, 2019
I watched from a safe distance of a few miles away at a public area on Playalinda Beach and easily observed the vigorous venting of liquid oxygen (LOX) for more than an hour.
Enjoy my Space UpClose photos as the mock countdown proceeded.
The Boeing, ULA and NASA teams participated in the IDOLT from several locations:
"The Atlas Spaceflight Operations Center (ASOC) at CCAFS; Boeing's Mission Control Center (BMCC) at nearby Kennedy Space Center; and the flight control room supporting Starliner missions inside the Mission Control Center at the Johnson Space Center, Houston," NASA explained.
The test was delayed a day until after the SpaceX CRS-19 launch was completed and the range was clear for Atlas Starliner WDR operations to resume.
The SpaceX Falcon 9 launch was delayed by 24 hours from Dec 4 to Dec. 5 due to strong upper altitude winds. Read our CRS-19 story and enjoy our photos.
Thus the OFT mission launch was also delayed a day as there is no margin left.
"Boeing and United Launch Alliance (ULA) agreed to target the new date to allow for completion of a critical prelaunch milestone, known as a wet dress rehearsal, on Friday, Dec. 6," NASA officials announced.
"The milestone occurred one day later than planned due to the weather-related launch delay of an International Space Station re-supply mission, which created a resource conflict with the U.S. Air Force Eastern Range."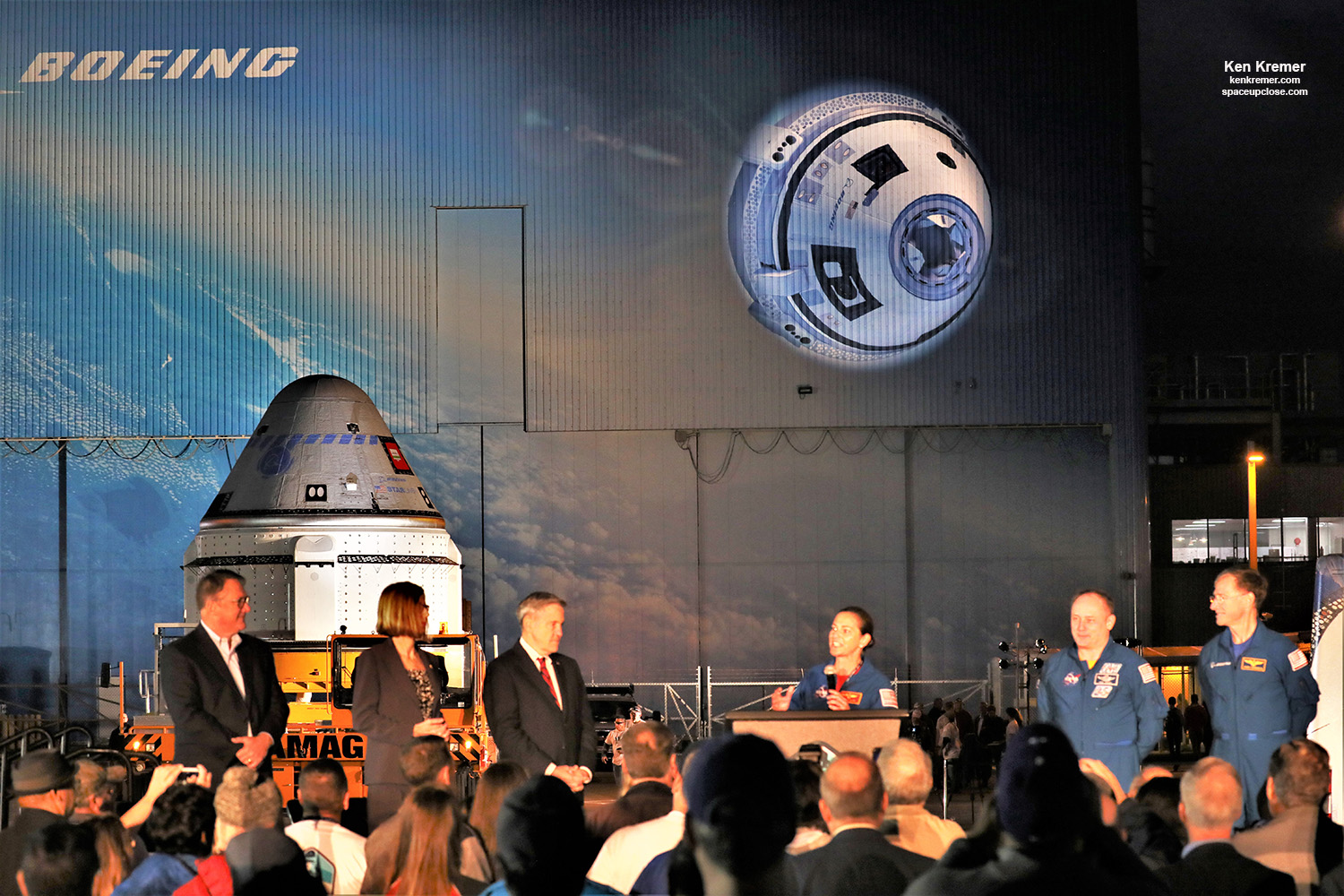 The three person crew that will fly on the first crewed mission known as the 'Crew Test Flight' (CFT) flight were on hand at the Cape consoles.
"NASA astronauts Mike Fincke and Nicole Mann and Boeing astronaut Chris Ferguson, slated to fly to the station on Boeing's Crew Flight Test, monitored the rehearsal from consoles in the ASOC and BMCC," said NASA.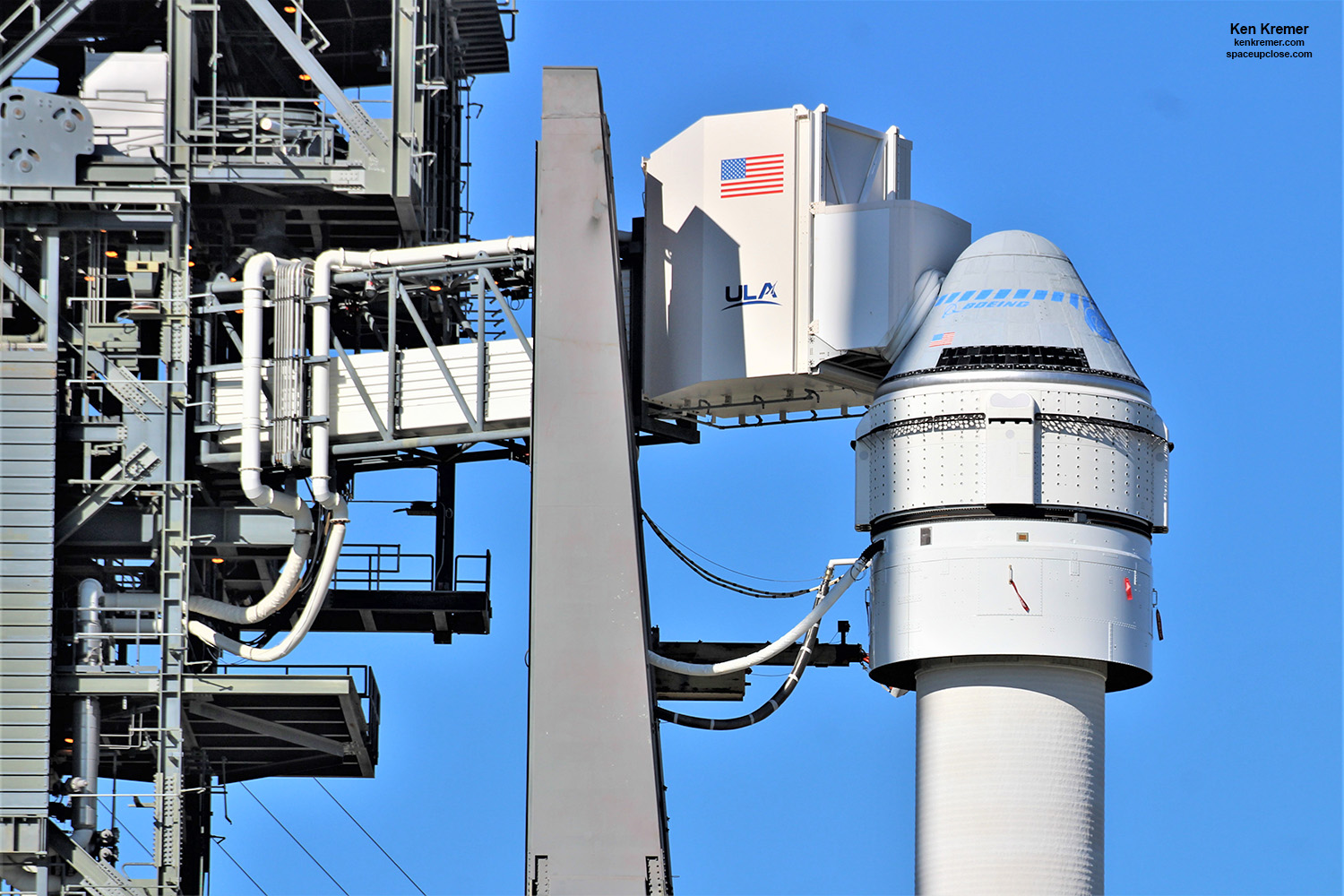 OFT counts as Starliner's first launch to space.
Starliner OFT is the first flight worthy version of the commercial astronaut ferry ship.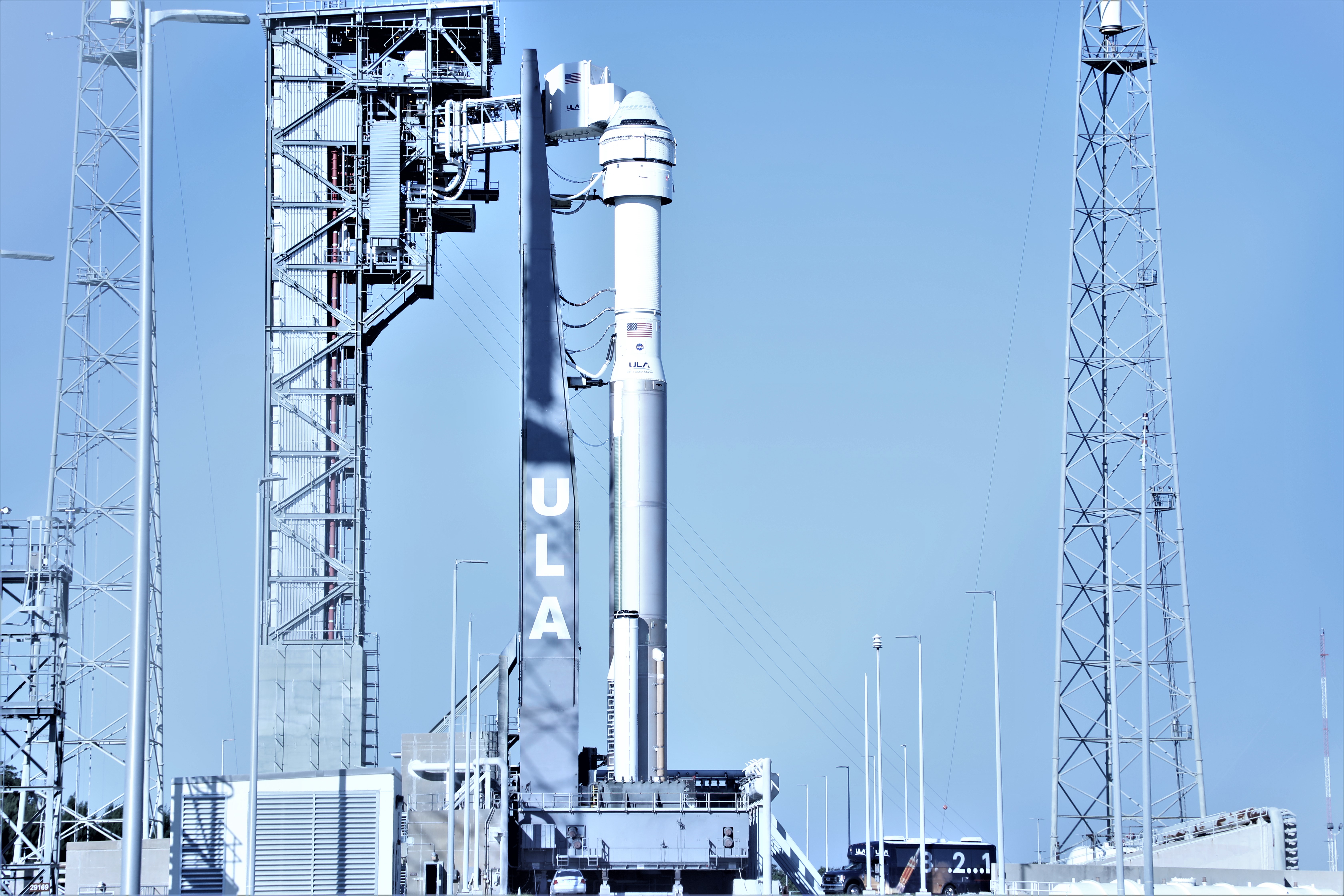 Starliner will launch uncrewed this time on its maiden space flight atop the ULA Atlas V rocket on the Orbital Test Flight (OFT) to low Earth orbit (LEO) and docking at the ISS.
The OFT mission is expected to last 4 or 5 days at the ISS.
The Expedition 61 crew will open the hatches and enter and retrieve some supplies and special items.
This first flightworthy Boeing Starliner commercial crew astronaut ferry spacecraft was just rolled out two weeks ago on Thursday, Nov. 21 from the Commercial Crew and Cargo Processing Facility (C3PF) at NASA's Kennedy Space Center in Florida to its launch pad at Space Launch Complex 41.
Check out my Space UpClose eyewitness articles and photos of the Starliner rollout.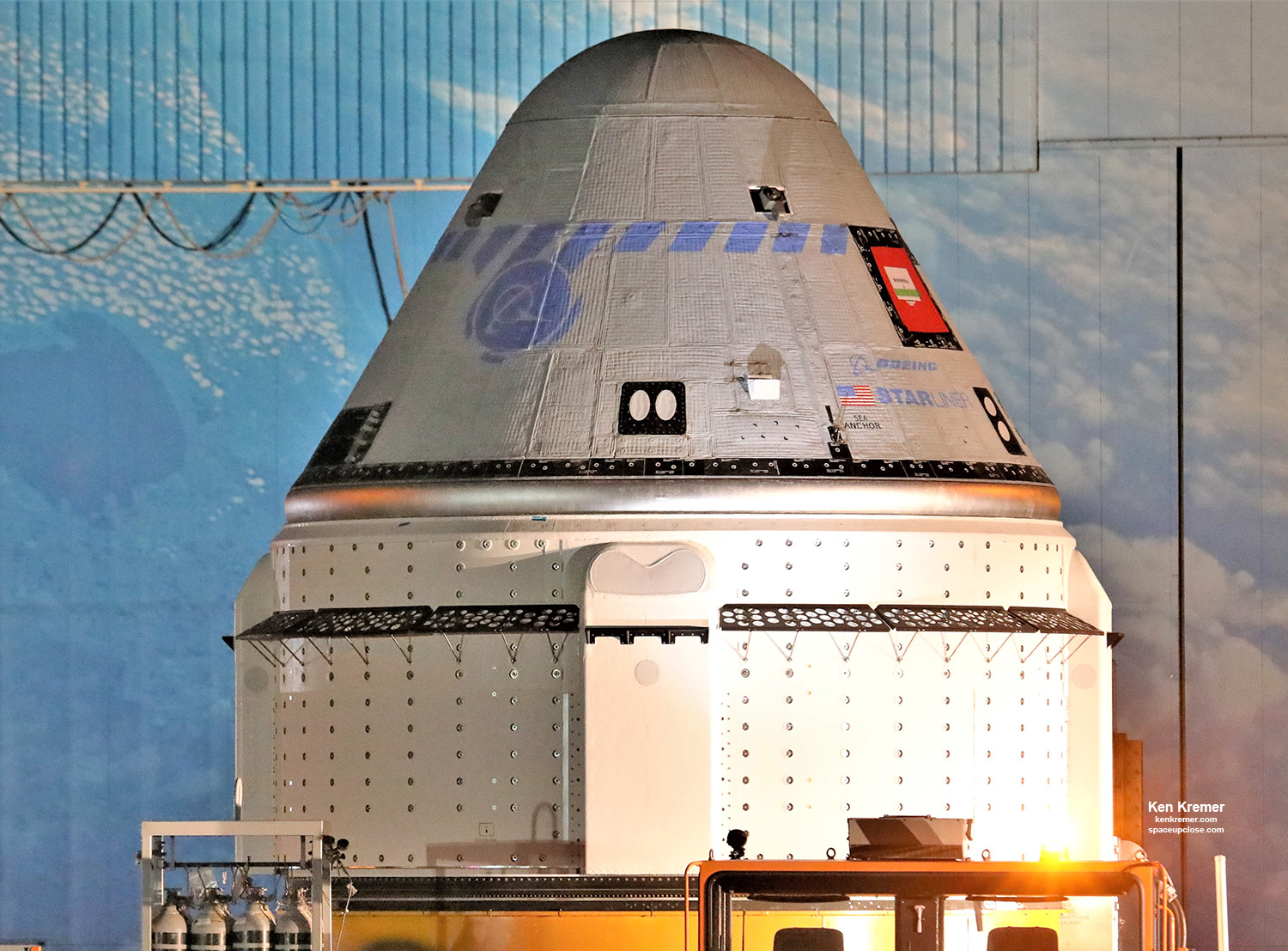 After arriving at pat 41 later in the day Starliner was then stacked atop the ULA Atlas V rocket – that will launch the ship on its first unpiloted voyage to space the Orbital Flight Test (OFT) for NASA to the International Space Station (ISS).
Starliner's attachment to the ULA Atlas V marks a significant milestone in the dawn of a new era in commercial human American spaceflight that will soon lead at last to the long awaited resumption of human spaceflight launches of American astronauts on American capsules and rockets from American soil – thereby ending our 100% reliance on the Russian Soyuz capsule since the forced end to NASA's space shuttle program in 2011 by shortsighted American politicians.
Starliner, and the competing Crew Dragon spacecraft from SpaceX, were both developed with funding under NASA's Commercial Crew Program (CCP) started nearly a decade ago.
So its been a very long haul to reach this point on the verge of blastoff.
The goal of the Commercial Crew Program is to end our 100% reliance on the Russian Soyuz capsule for launches to the ISS at a cost of more than $85 million per astronaut seat.
OFT "will provide valuable data on the end-to-end performance of the Atlas V rocket, Starliner spacecraft and ground systems, as well as in-orbit, docking and landing operations."
If all goes well with the week-long OFT mission it will fully demonstrate Starliner and Atlas V's ability to safely carry crew to and from the orbiting laboratory and pave the path to the inaugural crewed liftoff on the Crew Flight Test (CFT) mission launching as soon as early 2020.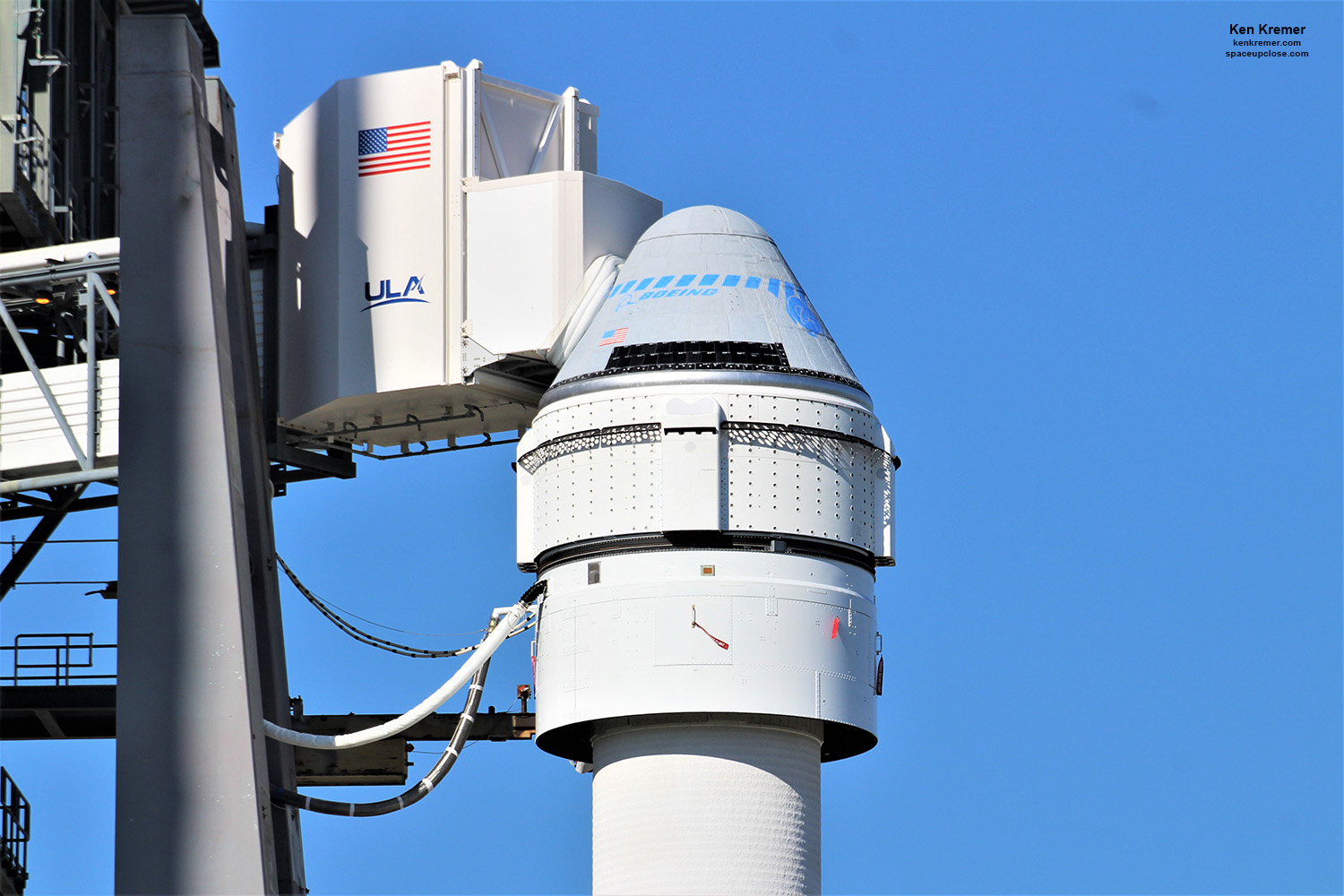 The first Starliner crew on the CFT mission comprises a trio of NASA and Boeing astronauts – who were also was on hand to welcome the Starliner on this milestone achievement and thank the tremendously hard working efforts of the entire team – namely Boeing astronaut and former NASA astronaut Chris Ferguson and NASA astronauts Mike Fincke and Nicole Mann.
Ferguson commanded the final shuttle mission STS-135 in July 2011.
He has been working on Starliner development and manufacturing ever since as a manager on the Boeing team and as a private Boeing test pilot astronaut.
Watch Ken's continuing reports onsite for live reporting of the Starliner OFT mission at the Kennedy Space Center and Cape Canaveral Air Force Station.
Stay tuned here for Ken's continuing Earth and Planetary science and human spaceflight news: www.kenkremer.com –www.spaceupclose.com – twitter @ken_kremer – email: ken at kenkremer.com
Dr. Kremer is a research scientist and journalist based in the KSC area, active in outreach and interviewed regularly on TV and radio about space topics.
………….
Ken's photos are for sale and he is available for lectures and outreach events
Ken's upcoming outreach events:
Dec 14/16: 7 PM, Quality Inn Kennedy Space Center, Titusville, FL. "Boeing Starliner Launches to ISS." Free. In hotel lobby. Photos for sale