For SpaceUpClose.com & RocketSTEM
CAPE CANAVERAL SPACE FORCE STATION, FL – The sixth and final satellite in a constellation of critical and ultra secure military communications satellites for the nations warfighters – namely the Advanced Extremely High Frequency- 6 (AEHF-6) comsat – streaked to geostationary orbit Thursday afternoon March 26 on the venerable Atlas V on the first mission for the newly established U.S. Space Force.
Liftoff of the 20 story tall ULA Atlas V 551 launch vehicle carrying the $1.2 Billion Lockheed Martin built AEHF-6 satellite finally took place at 4:18 p.m. EDT (1857 GMT) Thursday March 26 from seaside Space Launch Complex 41 on Cape Canaveral Space Force Station, FL.
But the Atlas V only lifted off nearer the end of the two-hour window after a last moment delay at approximately T Minus 46 seconds when an abrupt HOLD HOLD HOLD was called to investigate and fix a problem with a ground hydraulics controller.
The countdown clock was reset to T Minus 4 minutes as ULA technicians troubleshoot the problem.
Finally the GO to resume the count was given.
The Atlas V roared off pad 41 in a awesome display of fire and fury and trailing an billowing and humongous exhaust trail generated by 2.5 million pounds of liftoff thrust from the first stage solid and liquid fueled engines
Enjoy our Space UpClose launch and prelaunch photos by Ken Kremer and Jean Wright which luckily was not scrubbed by the burgeoning coronavirus threat.
ULA Atlas V rocket carrying the Advanced Extremely High Frequency AEHF-6 jam resistant military communications satellite on the 1st mission for the U.S. Space Force blasts off on March 26, 2020 at 4:18 p.m. ET from Space Launch Complex-41 on Cape Canaveral Space Force Station, Florida on a national security mission securely connecting US troops globally with US national leadership. Credit: Ken Kremer/kenkremer.com/spaceupclose.comNotably this may have marked the last launch for awhile from the military run Eastern range at Cape Canaveral due to ever expanding threats from the COVID-19 pandemic crisis.
"The success of today's launch is the culmination of years of dedication, hard work and teamwork with several of our mission partners," said Gen. Jay Raymond, Chief of Space Operations, U.S. Space Force.
"From our acquisition experts at SMC, to the satellite developers at Lockheed Martin, to the aircrews at Air Mobility Command, and our range support teams at the 45th Space Wing, we greatly appreciate the collaboration with the ULA team who all contributed to this historic, first National Security Space launch under the U.S. Space Force," added Raymond. "On behalf of the U.S. Space Force and all of our joint warfighters who depend on protected SATCOM, thank you and congratulations on today's successful launch."
The next SpaceX Falcon 9 launch of an Argentinian satellite has been delayed indefinitely due to coronavirus and travel restrictions.
Furthermore the viewing crowds were quite noticeably diminished as a result of the coronavirus pandemic that forced the closure of the Kennedy Space Center Visitor Complex -where many thousands of spectators from all across the globe had been expected – as well as most local beaches and many local public viewing sites in the Cape Canaveral & Port Canaveral area.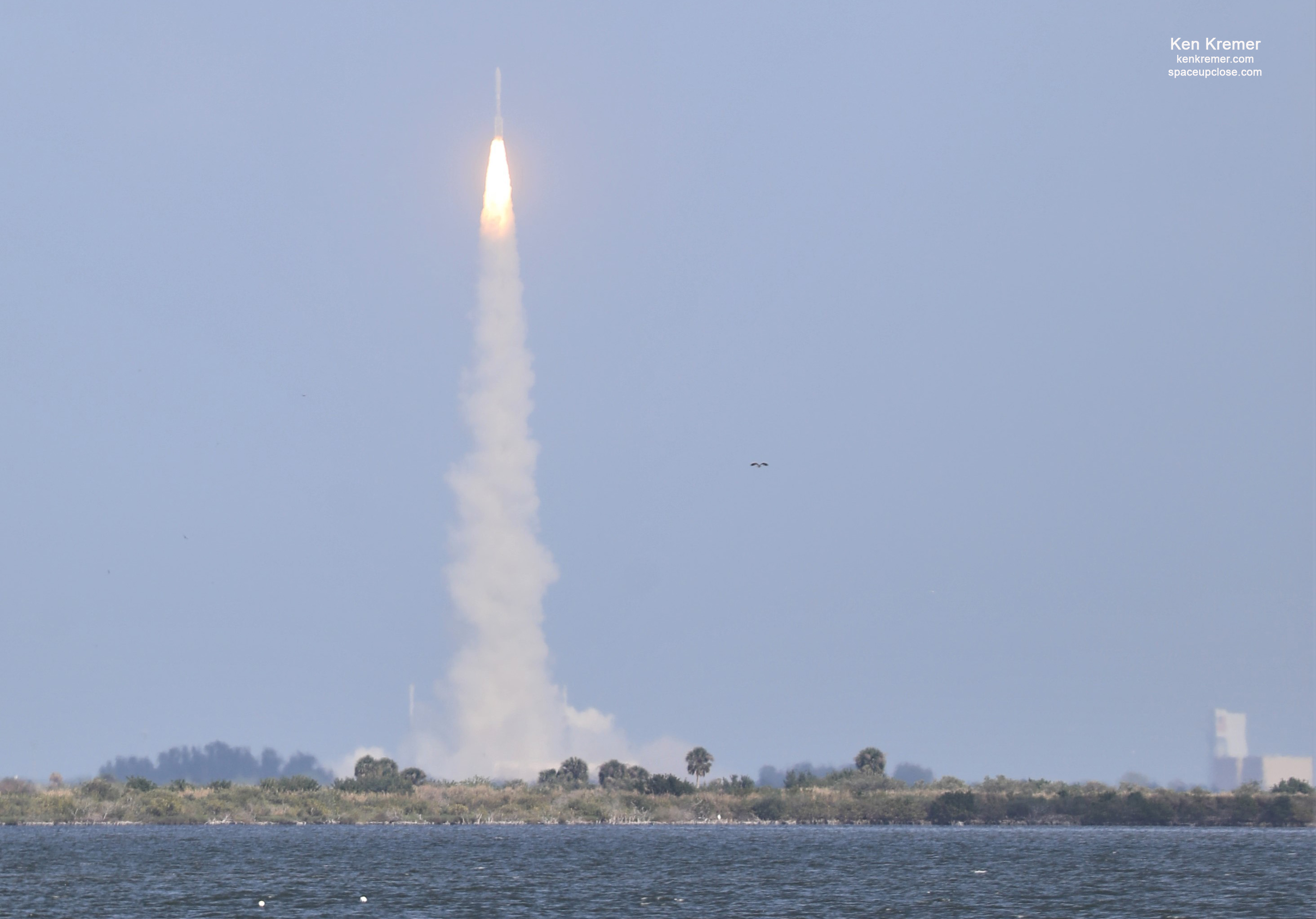 However the viewing locations in Titusville along the Indian River lagoon and the Max Brewer Bridge where we observed from were open to the public.
"Congratulations to the U.S. Space Force on liftoff of your first mission," said Tory Bruno, ULA president and CEO, in a statement.
"We are proud to be your partner for this historic mission and honored to have launched the entire Lockheed Martin produced AEHF constellation on Atlas V rockets. We understand the critical importance of delivering protected communications to strategic command and tactical warfighters operating on ground, sea and air."
Complete success for the mission would not be known and assured for nearly six hours as the Atlas V rockets Centaur upper stage fired for a total of three orbit raising and adjustment burns.
The final Centaur firing took place some 5 hours and 36 minutes after liftoff with AEHF-6 spacecraft separation planned for 5 hours and 41 minutes after liftoff.
The 6.7 ton satellite will now undergo approximately 120 days of further orbit-raising operations following by an additional 30 days of on-orbit testing.
"The U.S. Space Force Space and Missile Systems Center (SMC) successfully launched the sixth Advanced Extremely High Frequency (AEHF) communications satellite, the Space Force and Space and Missiles Systems Center (SMC) confirmed in a statement.
"After these critical events, SMC will be ready to transfer Satellite Control Authority of AEHF-6 to Space Operations Command, which is expected to occur in six to eight months after launch."
"We are thrilled to accomplish this important milestone on the last AEHF satellite. The combined integrated team worked diligently to ensure the success of this mission. The satellite is operating as expected and is ready to undergo orbit raising and on-orbit testing for the next several months after which it will provide mission critical capabilities to our warfighters," said Col. John Dukes, senior materiel leader, SMC Production Corps' Geosynchronous Orbit Division.
AEHF-6 thus joins and expands the existing constellation of five nuclear-hardened AEHF Space Command satellites already operating in geostationary orbit 22,300 miles (36000 kilometers) above Earth to five – from past Atlas V deliveries for the U.S. Air Force – that already provide the most secure voice, video and data links connecting U.S national security commanders up to the President with troops deployed in the field.
The constellation comprising a six satellite fleet is now complete.
The 14,500 pound AEHF-6 satellite completes the six satellite AEHF constellation and will be put to work providing secure jam-resistant military relay communications for US troops across the globe during peacetime and in war in case of a nuclear attack. It is not an orbital spare.
AEHF-6 is the sixth communications satellite in the Advanced Extremely High Frequency (AEHF) series for U.S. Air Force Space Command.
AEHF-6 counts as the newest and most advanced US Air Force jam-resistant protected military communications satellite, and will play a vital role in U.S. national security.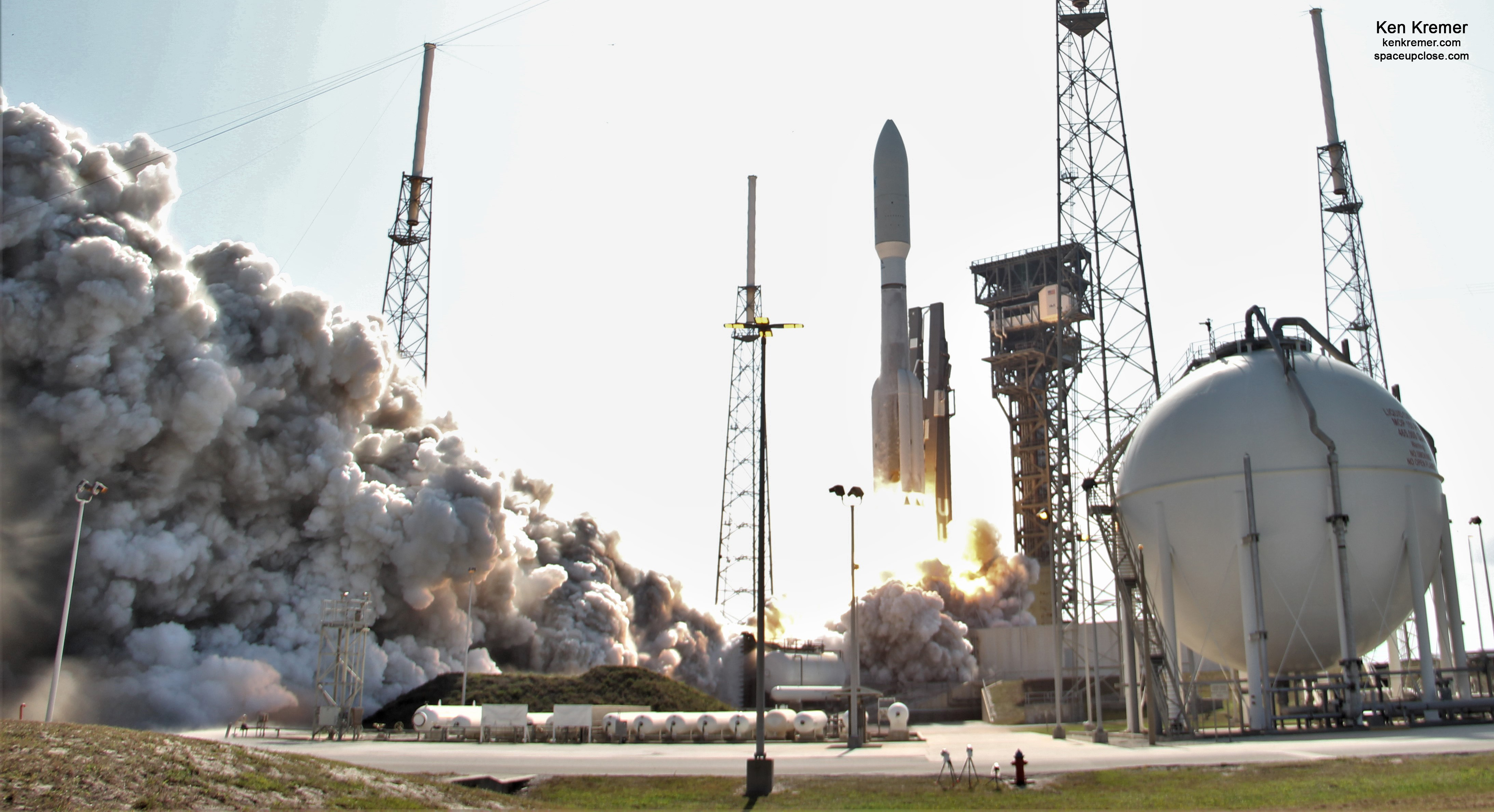 AEHF provides survivable, global, highly secure, protected, and jam-resistant communications for high-priority military ground, sea, and air assets, between U.S. national leadership [meaning the President] and deployed military forces, says USAF Space Command.
The AEHF constellation "provides 10 times the throughput and a substantial increase in coverage compared to the 1990s-era Milstar satellites" that it replaces and are currently in orbit.
The satellite was built by prime contractor Lockheed Martin at the satellite integration facility in Sunnyvale, California, based on the A 2100 series communications satellite spacecraft model and has a mass of some 6100 kg (13600 pounds).
This marked the 138th successful mission for ULA since the company was founded in 2006 and the 50th launch for the Air Force.
Atlas V rockets successfully launched the first five AEHF satellites in 2010, 2012, 2013, 2018 and 2019.
The AEHF-6 launch marks the 83rd Atlas V mission since the inaugural launch in 2002 and the 11th in the 551 configuration.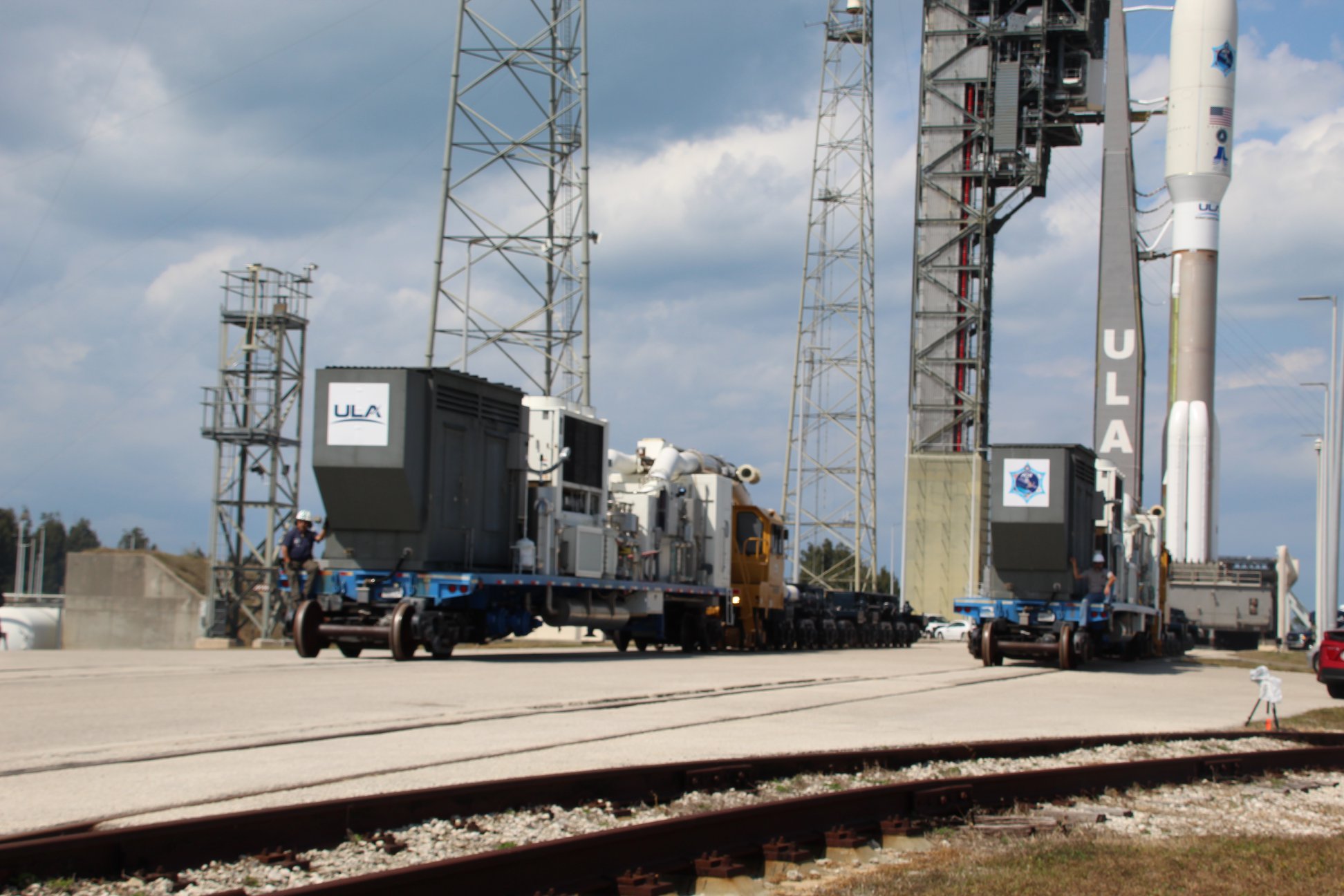 The prior satellite in the AEHF constellation namely AEHF-5 launched on a ULA Atlas 551 vehicle in Aug. 2019. See our Space UpClose photos.
ULA flew their workhorse Atlas V rocket in the commanding 551 configuration to launch the secure AEHF-6 milsatcom for U.S. Space Force.
The 551 configuration includes a LOX & RP-1 kerosene-fueled common core booster, a five-meter-diameter payload fairing (PLF) built by RUAG Space. The Atlas V first stage booster for this mission was powered by the twin nozzle RD AMROSS RD-180 engine and five first stage strap-on Aerojet Rocketdyne AJ-60A solid rocket motors and a single engine LOX & LH2 fueled Centaur upper stage powered by the RL10C-1 engine.
The Atlas V delivered AEHF-6 to geostationary transfer orbit (GTO) on a specialized trajectory to minimize the spacecrafts subsequent orbit adjusting maneuvers.
My commentary about the impact of COVID-19 and potential launch delays from the Cape for NASA, the military and commercial operation is featured at Fox 35 Orlando TV News here:
https://www.fox35orlando.com/news/covid-19-could-delay-important-upcoming-space-missions
My UpClose photos at pad 41 are featured at WKMG CBS 6 TV News and WFTV ABC 9 TV News Orlando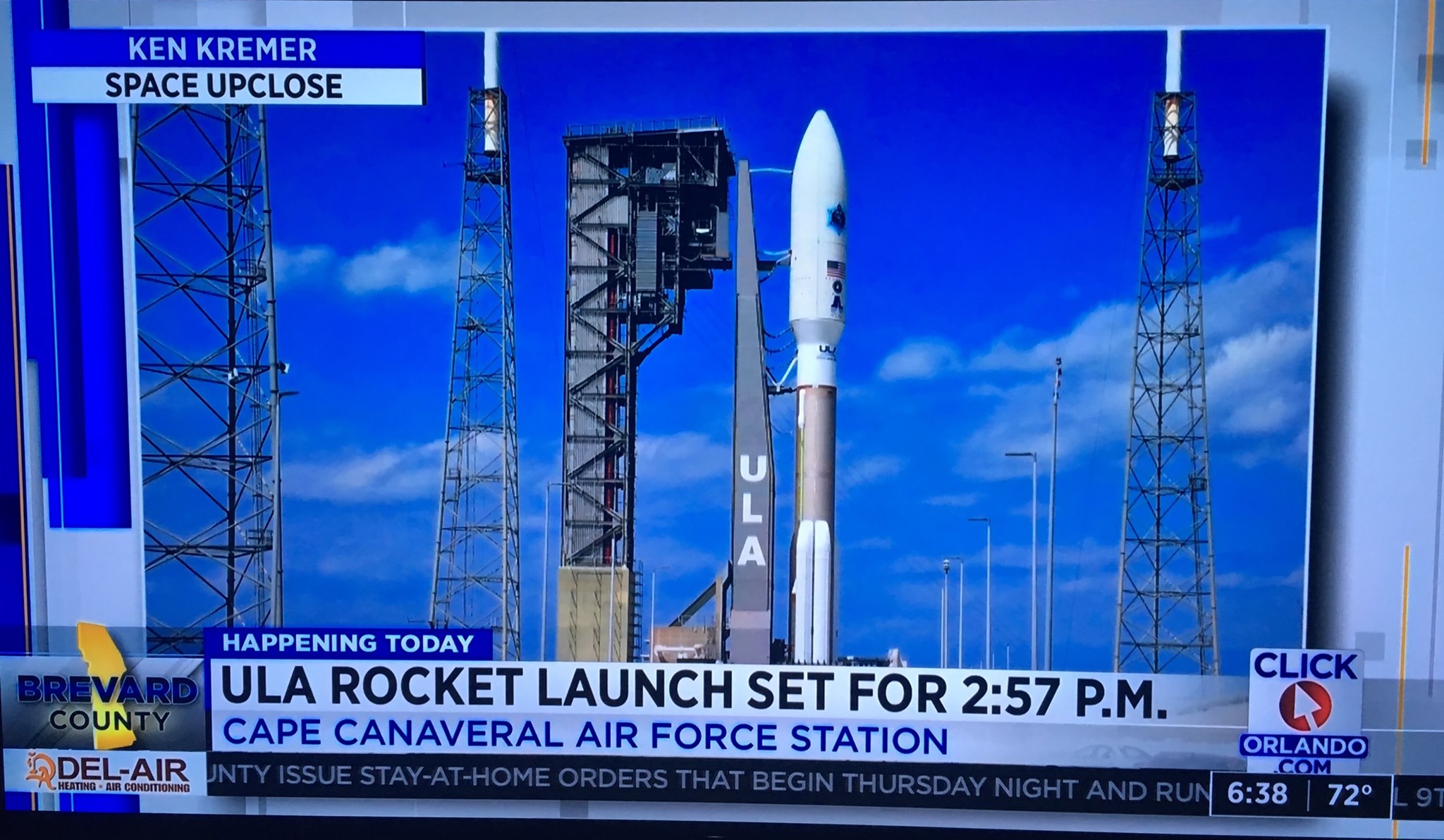 Ken is onsite at the Cape Canaveral Air Force Station for live reporting of the ULA AEHF-6 mission launch.
Watch Ken's continuing reports about onsite for live reporting of upcoming and recent ULA and SpaceX launches including Starlink, Solar Orbiter, In-Flight Abort, Mars 2020 and more at the Kennedy Space Center and Cape Canaveral Air Force Station.
Stay tuned here for Ken's continuing Earth and Planetary science and human spaceflight news: www.kenkremer.com –www.spaceupclose.com – twitter @ken_kremer – email: ken at kenkremer.com
Dr. Kremer is a research scientist and journalist based in the KSC area, active in outreach and interviewed regularly on TV and radio about space topics.
………….
Ken's photos are for sale and he is available for lectures and outreach events