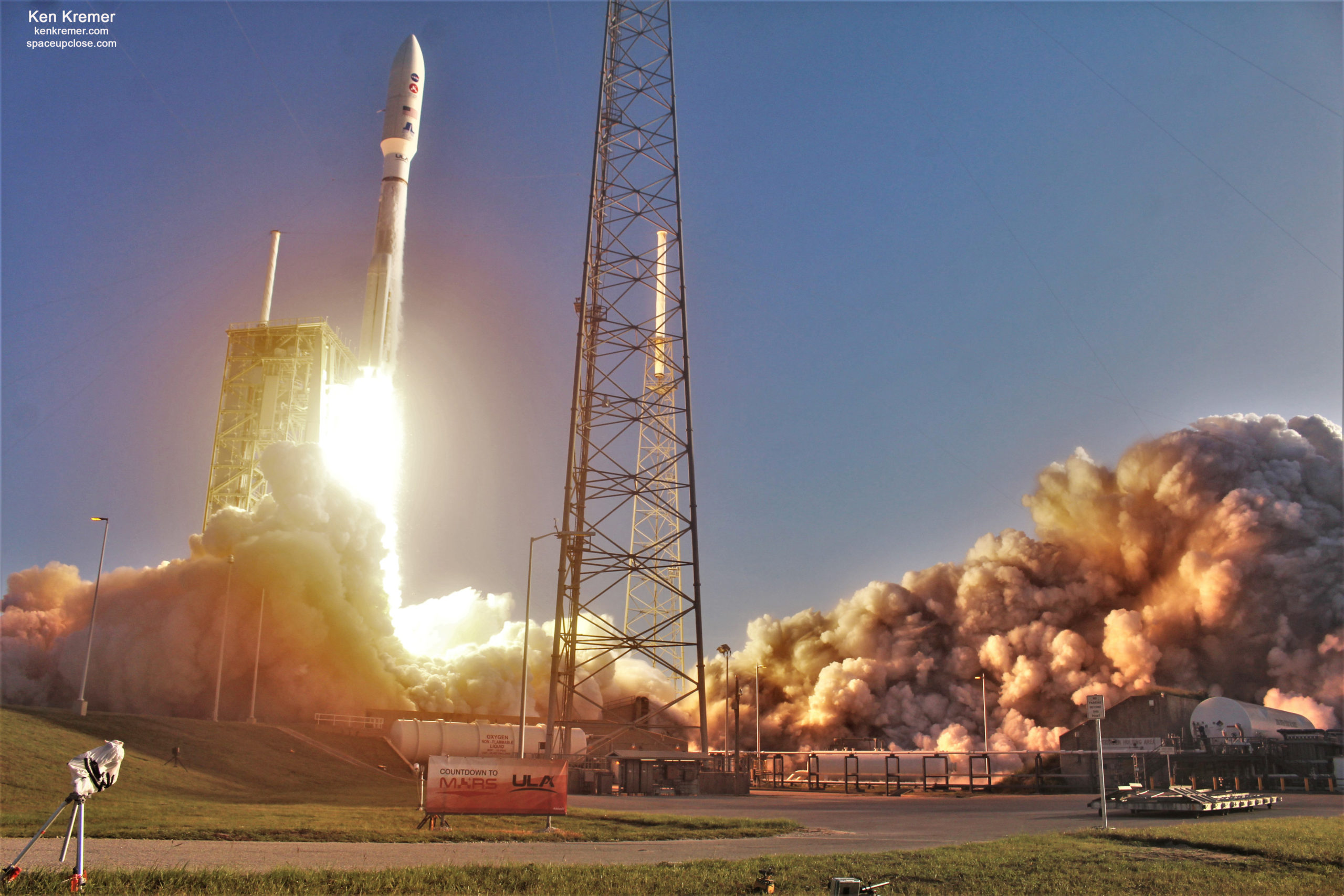 For SpaceUpClose.com & RocketSTEM
CAPE CANAVERAL AIR FORCE STATION/KENNEDY SPACE CENTER, FL –  NASA's $2.7 Billion Mars 2020 Perseverance Rover launched today on a 300 million mile (500 million km) interplanetary journey atop a powerful United Launch Alliance Atlas V rocket under picture perfect skies from the Florida Space Coast to the Red Planet where she will rove an ancient lake bed on a bold mission in search of signs of past microbial life and collect pristine samples to send back to Earth for the first time ever.
Perseverance is humanity's most sophisticated rover ever launched and the mission includes the daring Ingenuity Mars Helicopter rotocraft which will attempt the first ever powered flight on another planet.
Furthermore it definitively starts the 'Holy Grail' goal of Mars Sample Return – sought after by scientists for decades to retrieve Red Planet soil samples and bring them back to Earth for the best possible analysis – to help determine if life ever existed past or present.
Under clear blue sunshine drenched skies the car-sized Perseverance Mars 2020 rover lifted off right on time at 7:50 a.m. EDT (1150 GMT) this morning 30 July 2020 aboard a 19 story tall ULA Atlas V 541 rocket from Space Launch Complex 41 on Cape Canaveral Air Force Station, Florida.
Perseverance launched amidst the global coronavirus pandemic causing severe hardships across the globe and nearly two weeks of delays from the originally planned mid-July launch date.
But the name took on significant added meaning shortly after it was announced and served as a call to action for all involved and all humanity to fight on and 'persevere' against the worldwide COVID-19 public health crisis.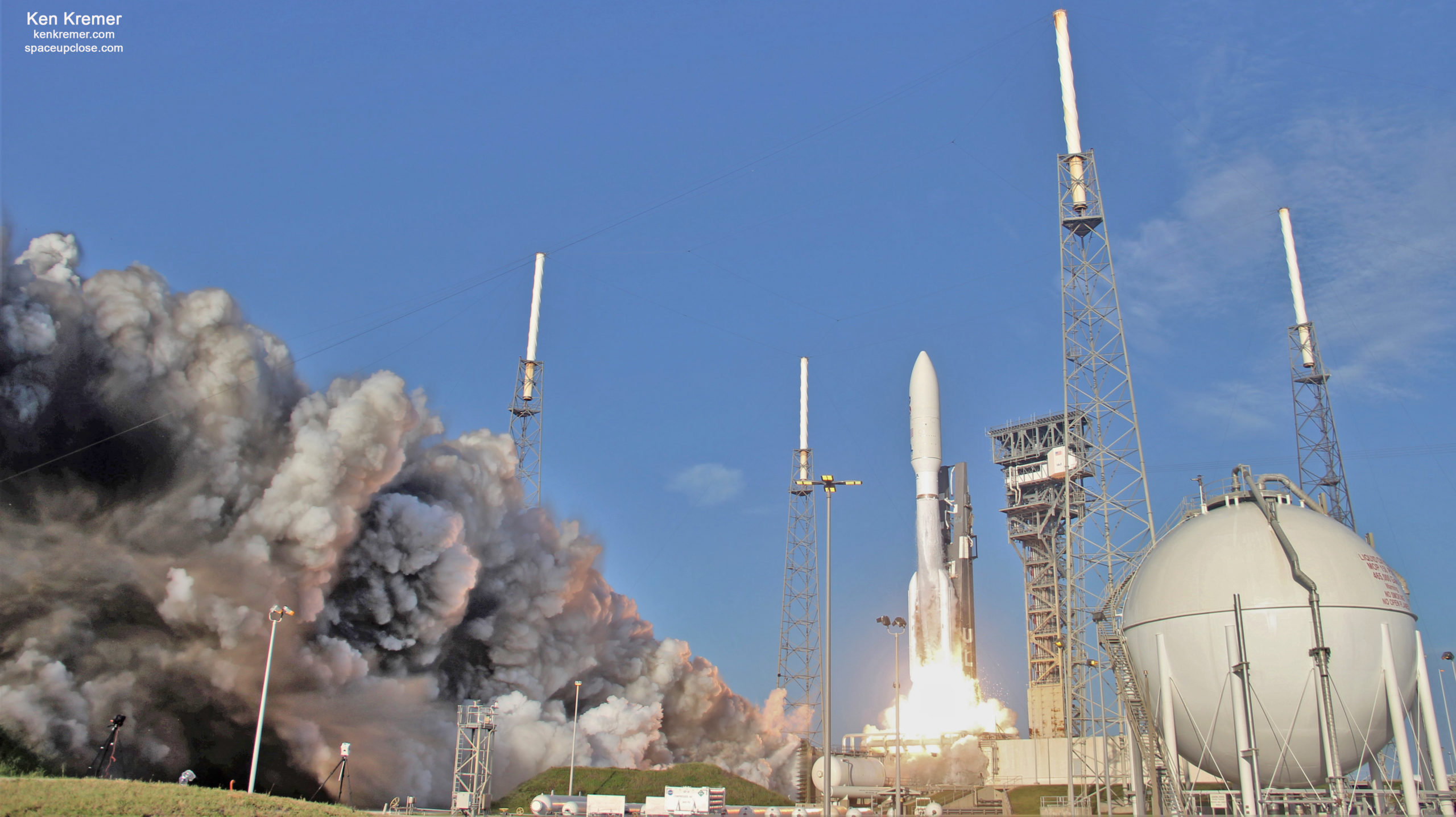 The Atlas V produced a massive and magnificent billowing vapor trail to space – yielding a spectacular sight for all those hordes of lucky spectators.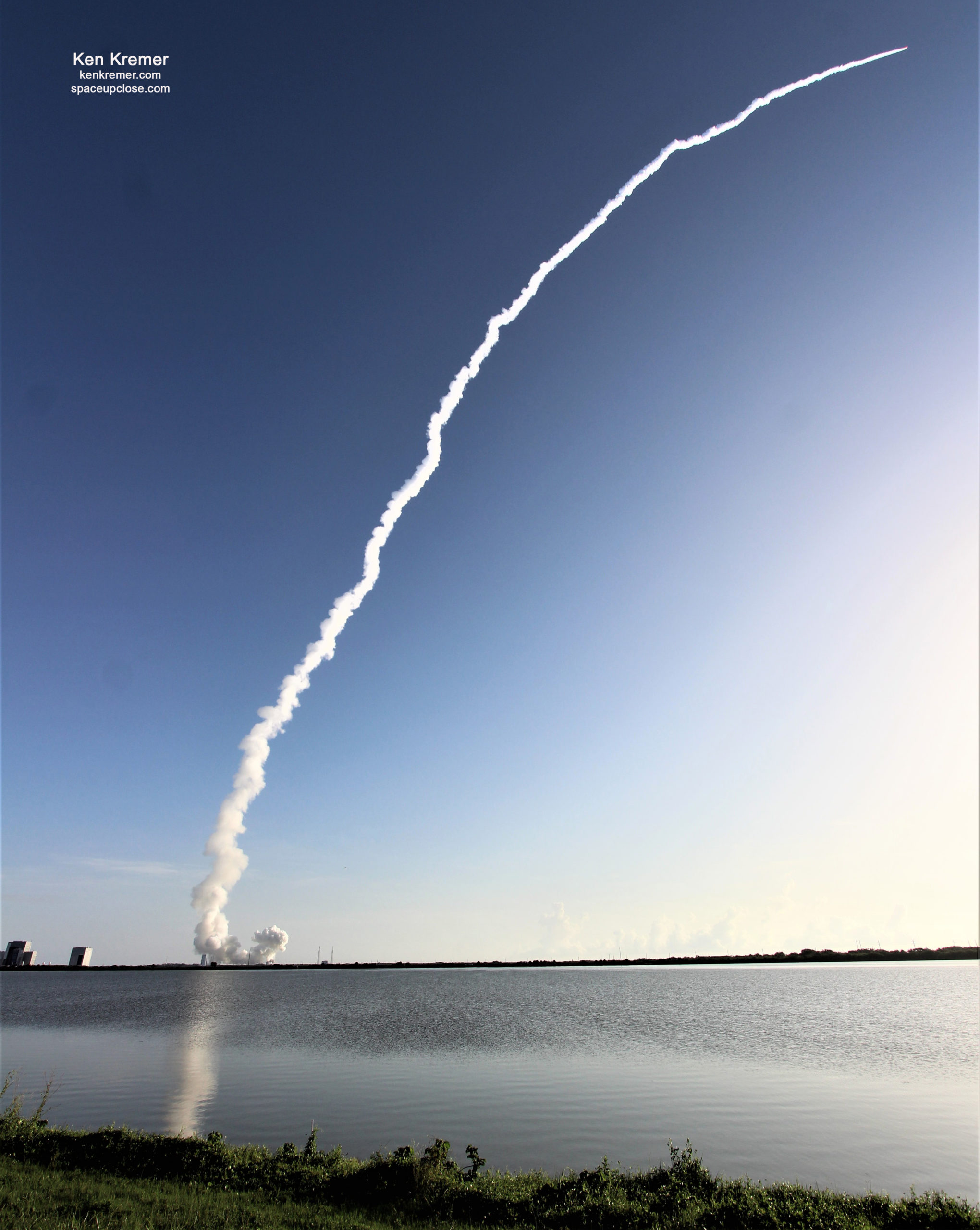 "With the launch of Perseverance, we begin another historic mission of exploration," said NASA Administrator Jim Bridenstine.
"This amazing explorer's journey has already required the very best from all of us to get it to launch through these challenging times. Now we can look forward to its incredible science and to bringing samples of Mars home even as we advance human missions to the Red Planet. As a mission, as an agency, and as a country, we will persevere."
"You add all of the adversity in a project like this and put on top of it the coronavirus… we could not be more proud of what this integrated team was able to pull off."

Administrator @JimBridenstine explains the success of launching @NASAPersevere amidst the global pandemic. pic.twitter.com/NzgMYgnVi4

— NASA (@NASA) July 30, 2020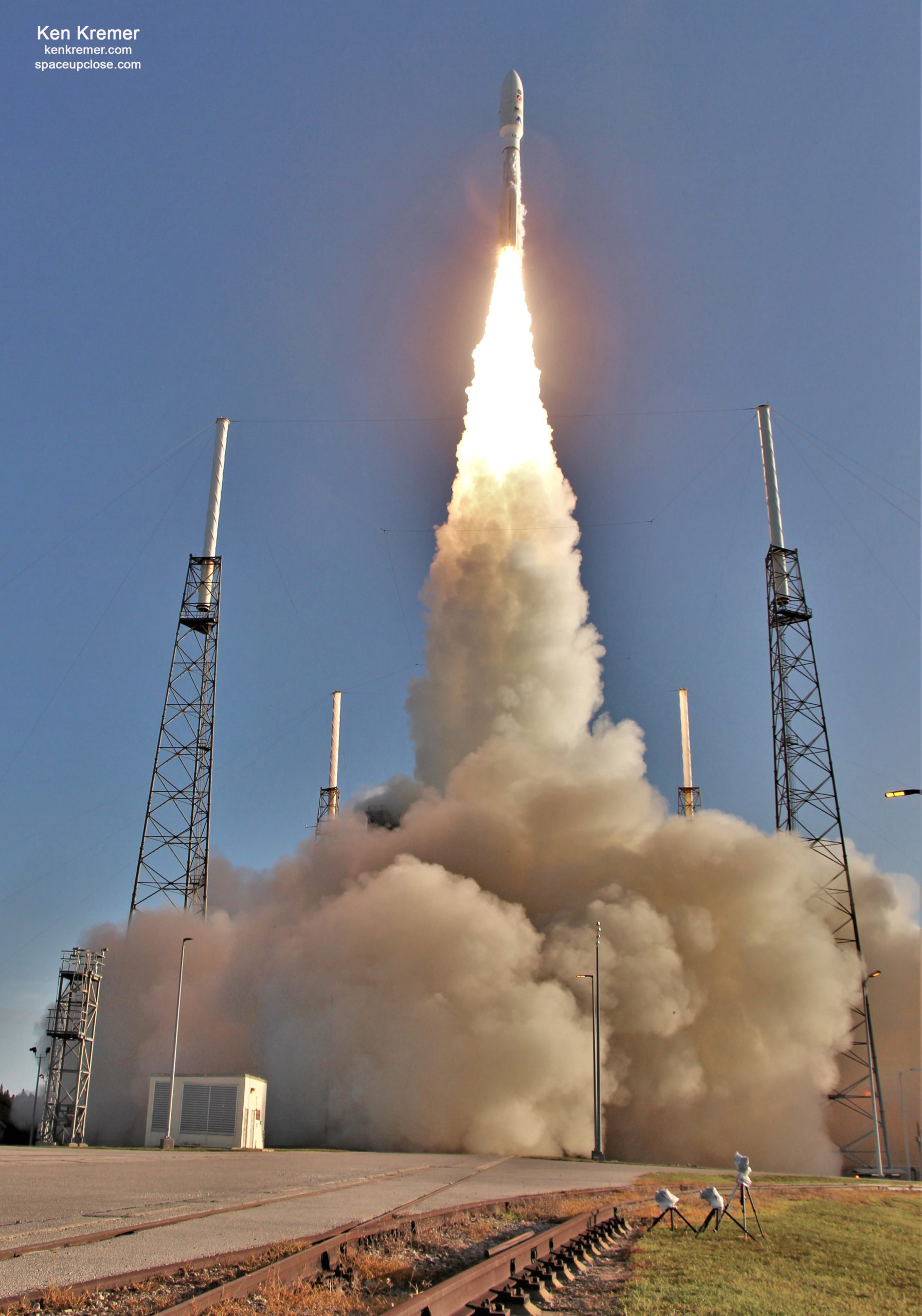 The Perseverance Mars 2020 mission will search for signs of past microbial life, characterize Mars' climate and geology, collect samples for future return to Earth, and pave the way for human exploration of the Red Planet.
Ingenuity, a twin-rotor, solar-powered helicopter attached to the belly of the rover, will become the first aircraft to fly on another world.
We're on our way to Mars – me and the almost 11 million names I carry. One home behind us, and a new one ahead. #CountdownToMars

Post-launch Update: https://t.co/ssXuLjQVez pic.twitter.com/fJmK48hTiL

— NASA's Perseverance Mars Rover (@NASAPersevere) July 30, 2020
The 191 foot tall (58 m) ULA Atlas V performed flawlessly roaring off pad 41 generating 2.3 million pounds of liftoff thrust in its second most powerful configuration – the Atlas V 541.
"I could not be more proud and more humbled by the courage and dedication of my launch team." Tory Bruno, President & CEO of @ULALaunch, explains how the spacecraft was kept clean and powered leading up to the #CountdownToMars — despite the challenges of a global pandemic:," NASA tweeted.
"I could not be more proud and more humbled by the courage and dedication of my launch team."

Tory Bruno, President & CEO of @ULALaunch, explains how the spacecraft was kept clean and powered leading up to the #CountdownToMars — despite the challenges of a global pandemic: pic.twitter.com/Cb9sTfwBh6

— NASA (@NASA) July 30, 2020
Enjoy our Space UpClose gallery of launch imagery from around the Space Coast.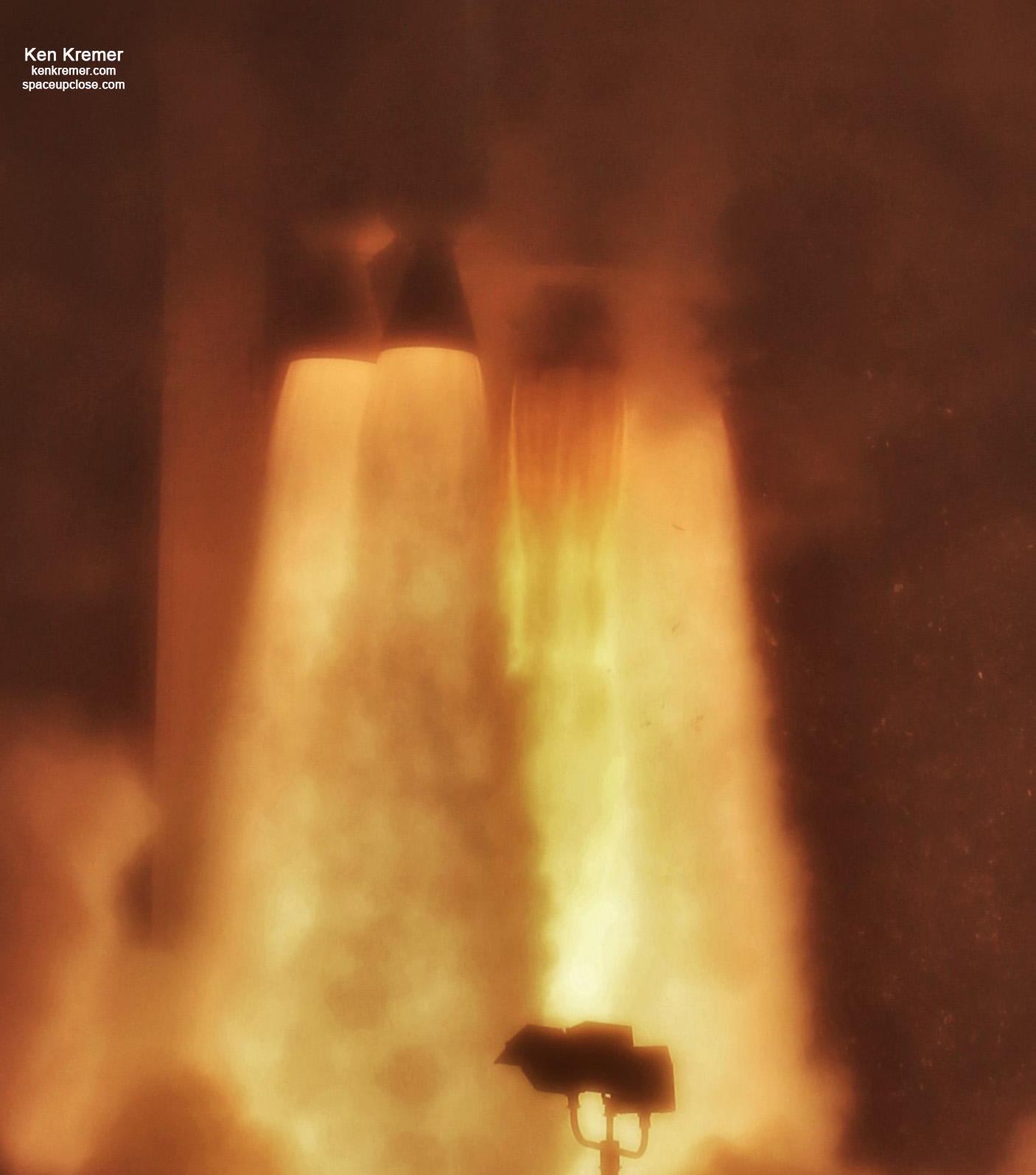 The ULA Atlas V successfully delivered the Perseverance Mars 2020 mission to a hyperbolic orbit and deep space trajectory propelling the 9,000-pound (4.1-metric ton) spacecraft to almost 25,000 MPH (11 km/sec) to escape the pull of  Earth's gravity and break free of the Home Planet for a 1 way trip to the Red Planet.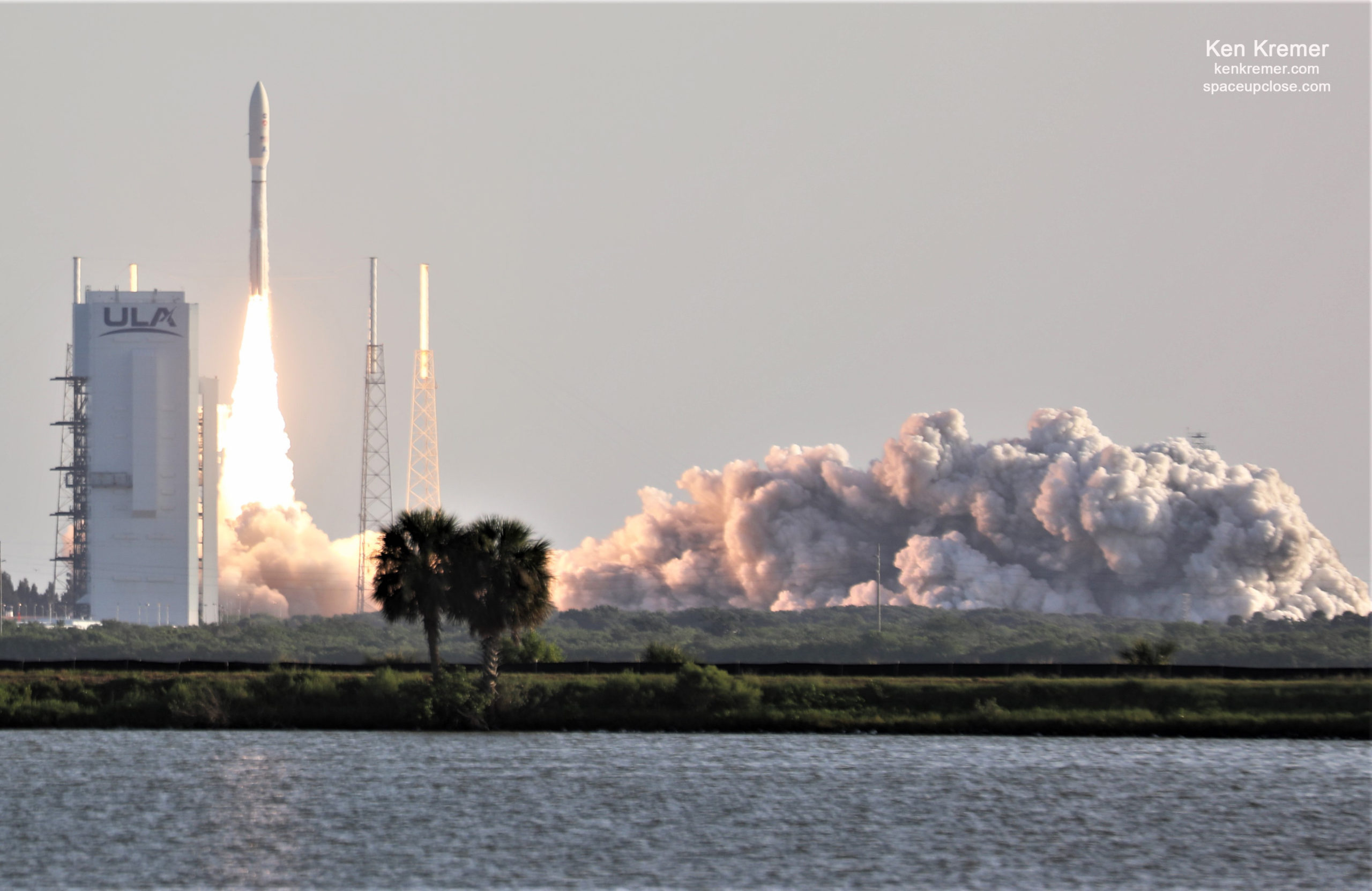 The 541 configuration features a RUAG made 5-meter (17 ft) diameter payload fairing (PLF) encapsulating the rover and upper stage, 4 solid rocket boosters and a single engine Centaur upper stage.
The Atlas first stage was powered by the Russian made RD AMROSS RD-180 engine fueled by cryogenic liquid oxygen (LOX) and highly refined RP-1 kerosene and four strap on AJ-60A SRBs provided by Aerojet Rocketdyne producing 2.3 million pounds of thrust.
The SRBs successfully jettisoned at 1 minute 49 seconds after liftoff – as I observed from my viewing location on the Cape – and the payload fairing at 3 minutes 29 seconds.
The  RL10C-1 engine powers the Centaur upper stage fueled by LOX and liquid hydrogen (LH2) producing 22,900 pounds of thrust.
The Centaur successfully fired twice at 4 minutes and 45 minutes after liftoff to put Perseverance on course for Mars after separating at 57 minutes after liftoff
Watch this cool ULA video from a rocket mounted camera:
"#MarsPerseverance on its way to the Red Planet…" tweeted Tory Bruno.
#MarsPerseverance on its way to the Red Planet… pic.twitter.com/8XeEehuml8

— Tory Bruno (@torybruno) July 30, 2020
The spacecraft is healthy and power positive, reports NASA.
It had briefly entered safe mode likely "because a part of the spacecraft was a little colder than expected while Mars 2020 was in Earth's shadow." But has since exited and is sending good telemetry back to Earth.
"I now have good signal strength with my team back on Earth. They're tracking my location and will keep talking to me as I cruise to Mars. http://go.nasa.gov/3ggbNGu #CountdownToMars," tweeted the rover.
"Update on @NASAPersevere: We have received telemetry (detailed spacecraft data) down from the spacecraft and have also been able to send commands up to the spacecraft. Perseverance is healthy and on its way to Mars," tweeted Bridenstine.
I now have good signal strength with my team back on Earth. They're tracking my location and will keep talking to me as I cruise to Mars. https://t.co/q8GY0wfue5 #CountdownToMars https://t.co/9JZeseTC1M

— NASA's Perseverance Mars Rover (@NASAPersevere) July 30, 2020
Back in 2011 the ULA Atlas V 541 rocket launched NASA's older sister rover Curiosity on its 10-month, 354 million-mile journey to the surface of Mars.
Overall Perseverance is the 5th rover NASA has sent to Mars and will be the 9th mission to land on the Red Planet if all goes well.
"There is still a lot of road between us and Mars," said John McNamee, Mars 2020 project manager at JPL, in a statement.
"About 290 million miles of them. But if there was ever a team that could make it happen, it is this one. We are going to Jezero Crater. We will see you there Feb. 18, 2021."
After a seven month long 314 million miles (505 million kilometers) interplanetary journey Perseverance is scheduled to touch down in an area of Mars known as Jezero Crater on Feb. 18, 2021.
The 28-mile-wide (45-kilometer) crater is home to an ancient dried-up river delta and a lake that once filled it.
"Jezero Crater is the perfect place to search for signs of ancient life," said Thomas Zurbuchen, associate administrator for NASA's Science Mission Directorate at the agency's headquarters in Washington.
"Perseverance is going to make discoveries that cause us to rethink our questions about what Mars was like and how we understand it today. As our instruments investigate rocks along an ancient lake bottom and select samples to return to Earth, we may very well be reaching back in time to get the information scientists need to say that life has existed elsewhere in the universe."
"I think there would be no bigger discovery in the history of humanity than finding life that is not on our own world."@JimBridenstine & @Dr_ThomasZ discuss how they would be impacted if @NASAPersevere successfully finds signs of ancient life on the Red Planet. #CountdownToMars pic.twitter.com/kVnsP8Ui0d

— NASA (@NASA) July 30, 2020
The 1 ton rover will spend at least one Mars year (two Earth years) exploring the landing site region.
Perseverance is a robotic scientist weighing about 2,260 pounds (1,025 kilograms) and includes a robotic arm with a 99-pound (45-kilogram) turret at the end.
The rover is equipped with six advanced aluminum wheels on a rocker-bogie system.
The SUV sized rover dimensions are 10 feet (3 m) long, 9 feet (2.7 m) wide and 7 feet (2.2 m) tall with a 7 feet (2.1 meters) long robotic arm.
The rover is equipped with seven different scientific instruments and the mission includes 25 cameras – the most ever to Mars and deep space. The rover itself is equipped with 19 cameras.
The science payload has a mass of 130 pounds (59 kilograms) for seven instruments: Mastcam-Z, Mars Environmental  Dynamics Analyzer (MEDA), Mars Oxygen In-Situ Resource Utilization Experiment (MOXIE), Planetary  Instrument for X-ray Lithochemistry (PIXL), Radar Imager for Mars' Subsurface Experiment (RIMFAX),  Scanning Habitable Environments with Raman & Luminescence for Organics & Chemicals (SHERLOC) and  SuperCam.
The solar powered Ingenuity helicopter is a technology demonstration experiment aimed at attempting the first flight on Mars.
The four legged Ingenuity has a mass of about 4.0 pounds (1.8  kilograms) and stands 1.6 feet or 19 inches (0.49 meters) high. It is equipped with two counter rotating blades for lift spinning at about 2,400 rpm and two cameras.
The Martian rock and dust Perseverance's Sample Caching System collects could answer fundamental questions about the potential for life to exist beyond Earth.
Altogether there are 43 sample tubes placed aboard Perseverance that can be filled with Martian material gathered by the rover drill over the course of the mission which will last at least 2 Earth years or 1 Martian year.
Two future missions currently under consideration by NASA, in collaboration with ESA (European Space Agency), will work together to get the samples to an orbiter for return to Earth.
The fetch rover and Mars ascent vehicle (MAV) could launch as soon as 2026.
Another orbiter will be launch separately to retrieve the samples after launched to Mars orbit by the MAV.
When they arrive on Earth as soon as 2031 the Mars samples will undergo in-depth analysis by scientists around the world using equipment far too large to send to the Red Planet.
NASA conducted a "Name the Rover" contest for the Mars 2020 rover and helicopter with over 28,000 essays submitted.
The rover was named Perseverance, submitted by Alex Mather, 13, of Lake Braddock Secondary School in Burke, Virginia. The Helicopter was named Ingenuity, submitted by Vaneeza Rupani, 17, of Tuscaloosa County High School in Northport, Alabama.
ULA and its heritage rockets have launched every U.S. led mission to Mars, beginning in the 1960s, explains ULA CEO Tory Bruno with great pride.
To date ULA has now launched its 20th trip to the red planet, the 85th successful launch of an Atlas V rocket and the 140th successful ULA launch across all its rocket families.
The Atlas V has previously launched four missions to Mars, including the Mars Reconnaissance Orbiter in 2005, the Curiosity rover in 2011, the MAVEN orbiter in 2013 and the InSight lander in 2018.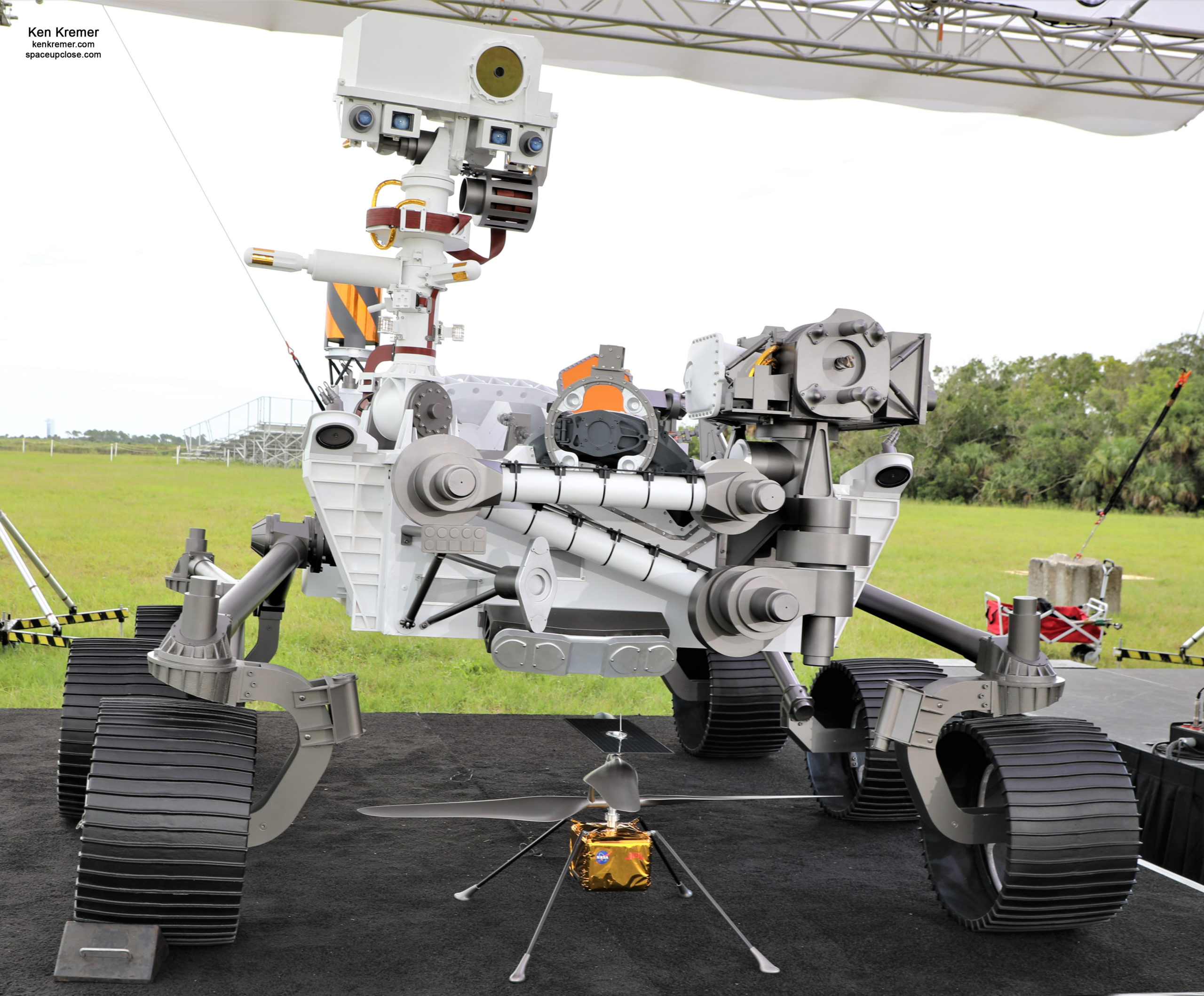 Download our Free "Mars 2020 Exploration Mission Guide" created by RocketSTEM magazine and Space UpClose:
Mars 2020 Exploration Mission Guide from RocketSTEM and Space UpClose: Free Download
https://www.rocketstem.org/2020/07/20/mars-2020-mission-overview/
Link on Space UpClose Home Page  upper right below Social Media links
My 12 page 'Mars 2020 Perseverance Rover Mission Overview':
https://www.rocketstem.org/2020/07/20/mars-2020-mission-overview/
Watch my commentary about all the Mars 2020 missions Perseverance, Hope and Tianwen-1 missions including my Mars rover mosaics and outreach during an interview with WKMG CBS 6 Orlando TV news on July 23:
https://www.clickorlando.com/news/2020/07/23/nasa-is-prepared-for-the-risks-of-launching-nuclear-powered-rover/
.@NASA's most advanced mission to Mars ever is one week away. A closer look at @NASAPersevere with commentary from @ken_kremer on @news6wkmg at 5:30:https://t.co/MKlluiQgLX pic.twitter.com/Y0z2PljIjv

— James Sparvero (@News6James) July 23, 2020
Watch my live prelaunch commentary today July 27 and prior post ULA Atlas V WDR  interview about Mars 2020 rover and more  at the American Space Museum 'Stay Curious' daily weekday show on June 22, 2020
Watch my earlier commentary about the impact of the launch delays at Fox 35 TV News Orlando on July 3:
https://www.fox35orlando.com/video/736211
Watch my July 2 interview on Pressing For Flight about Mars 2020, COVID-19, Artemis, SpaceX GPS/Starlink and more:
Watch Ken's continuing reports about Mars 2020, Commercial Crew and Artemis for live reporting of upcoming and recent NASA, ULA and SpaceX launches including Crew-1, Demo-2, Starlink, X-37B, Solar Orbiter and more at the Kennedy Space Center and Cape Canaveral Space Force Station.
Stay tuned here for Ken's continuing Earth and Planetary science and human spaceflight news: www.kenkremer.com –www.spaceupclose.com – twitter @ken_kremer – email: ken at kenkremer.com
Dr. Kremer is a research scientist and journalist based in the KSC area, active in outreach and interviewed regularly on TV and radio about space topics.
………….
Ken's photos are for sale and he is available for lectures and outreach events
Ken has created hundreds of widely published Mars rover mosaics and lectures also about NASA's Mars rovers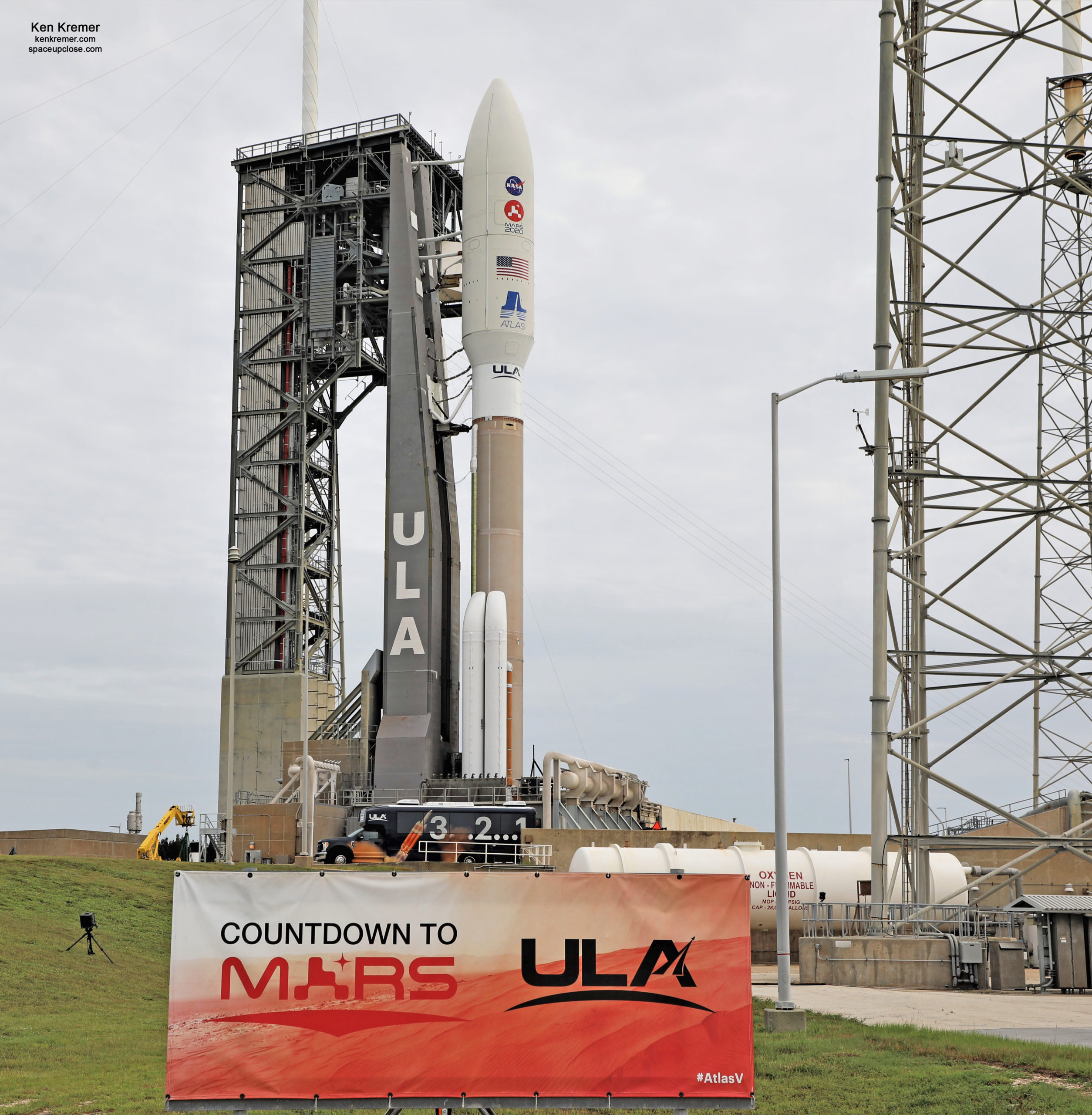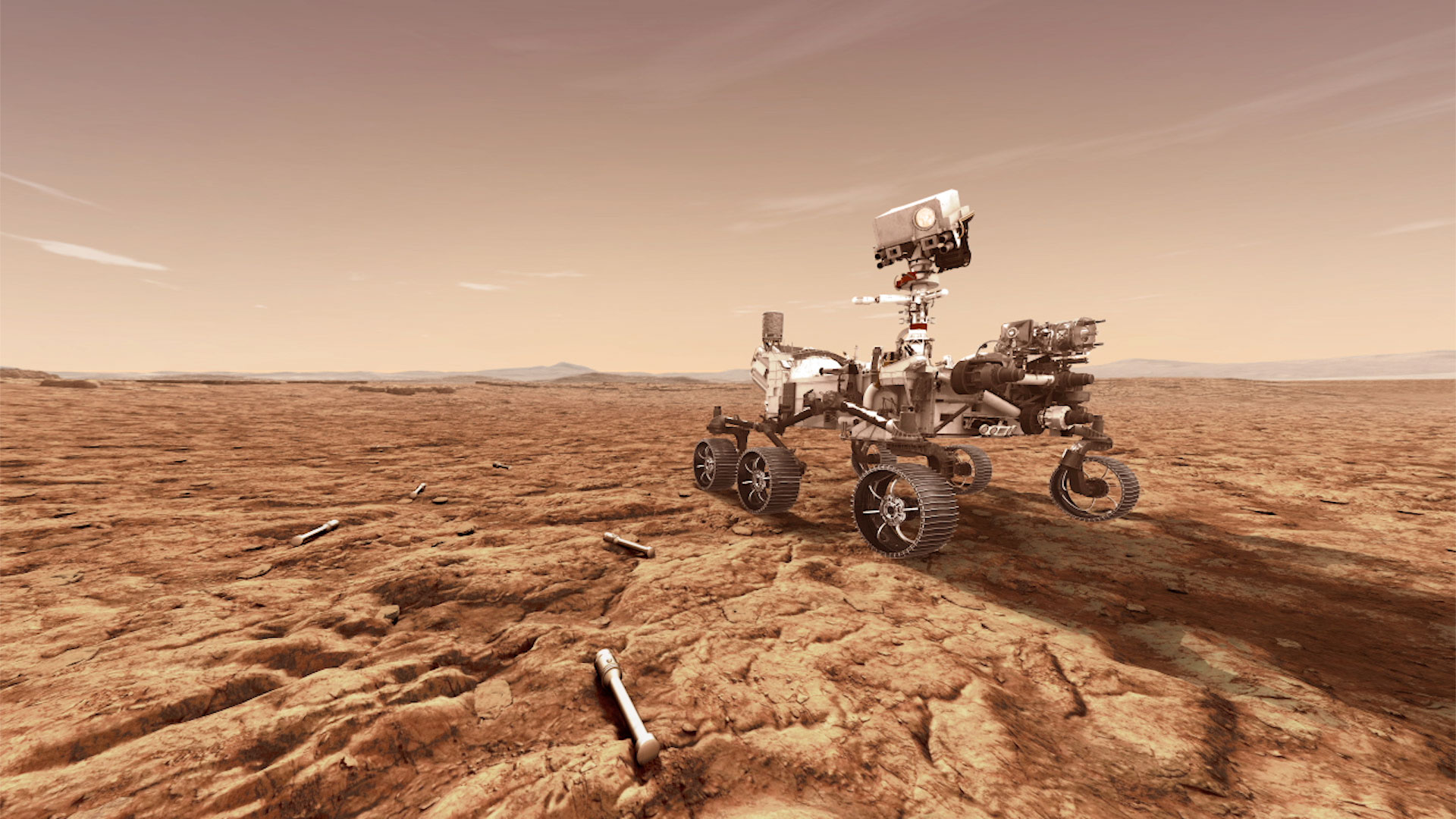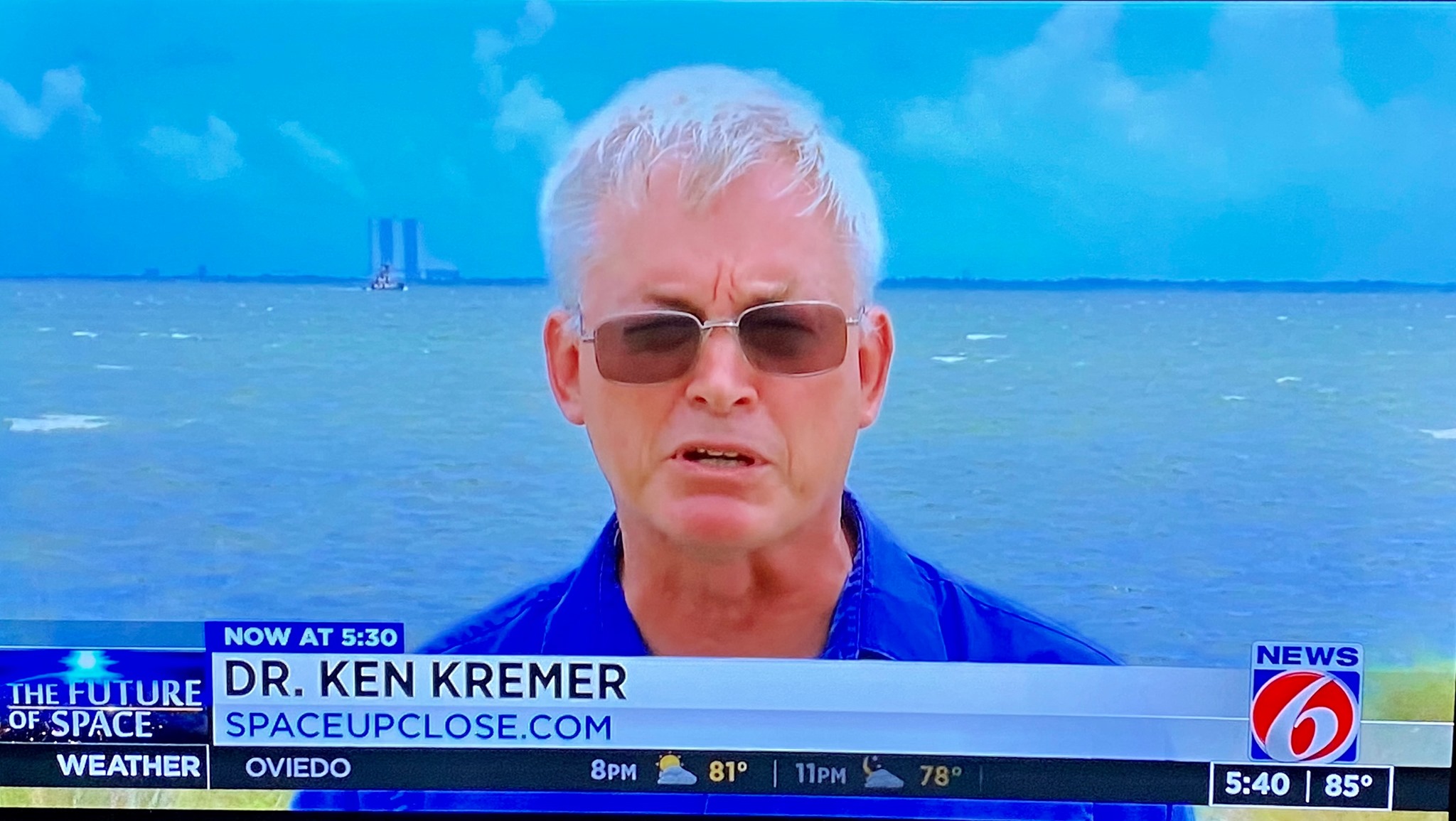 x