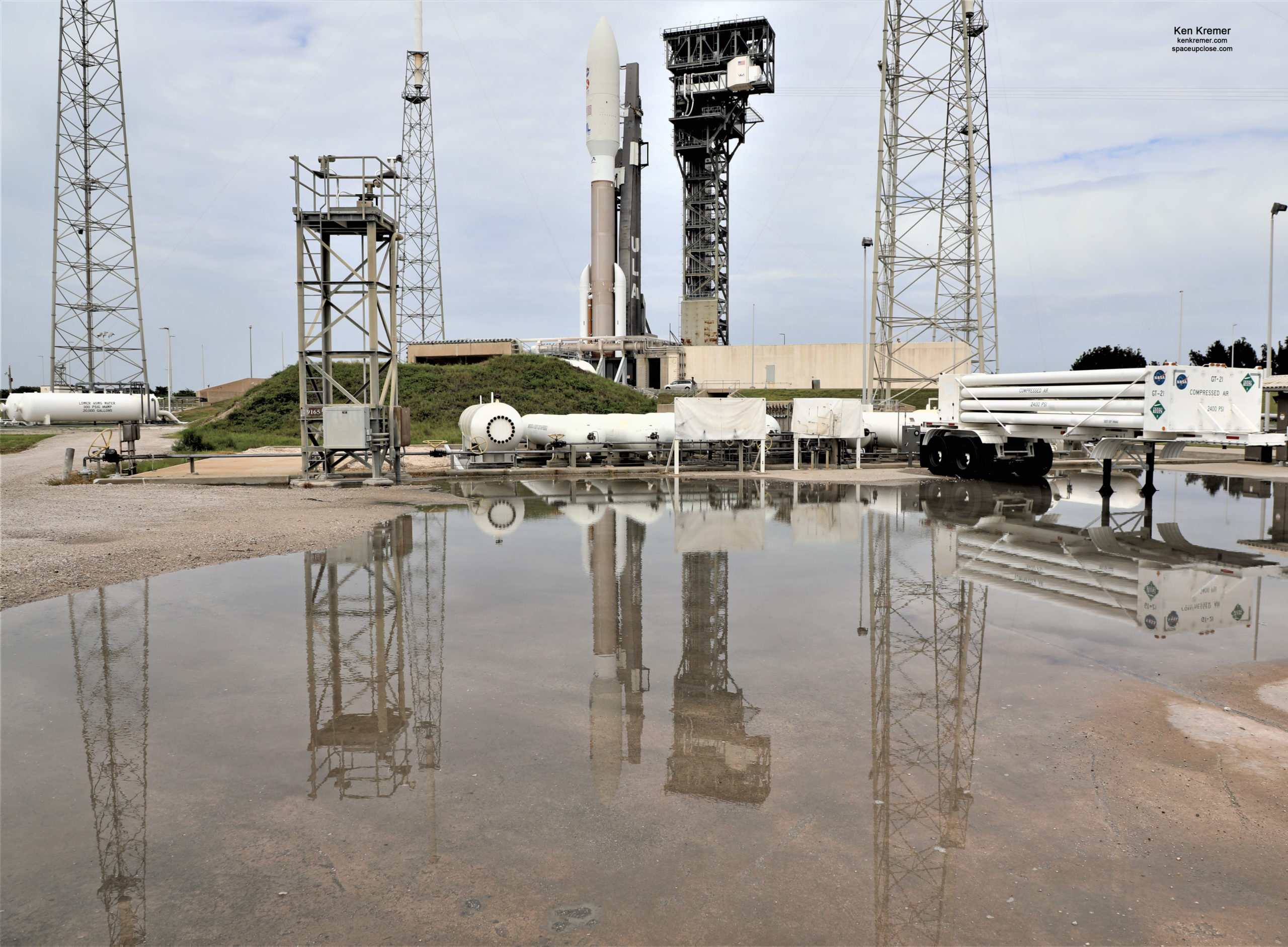 For SpaceUpClose.com & RocketSTEM
CAPE CANAVERAL AIR FORCE STATION/KENNEDY SPACE CENTER, FL –  NASA's $2.7 Billion Mars 2020 Perseverance Rover is poised for liftoff standing vertical for her Destination Mars interplanetary journey – after she rolled out to launch pad 41 yesterday morning bolted atop the powerful United Launch Alliance Atlas V rocket that will propel her to space for the remainder of here 300 million mile (500 million kilometer) journey to the Red Planet where she will rove an ancient lake bed in search of signs of past microbial life.
At T Minus 1 day to liftoff all system remain 'GO' !!
The car-sized Perseverance Mars 2020 rover is targeted for liftoff 30 July 2020 at 7:50 a.m. EDT (1150 GMT) aboard a United Launch Alliance (ULA) Atlas V 541 rocket from Space Launch Complex 41 on Cape Canaveral Air Force Station, Florida.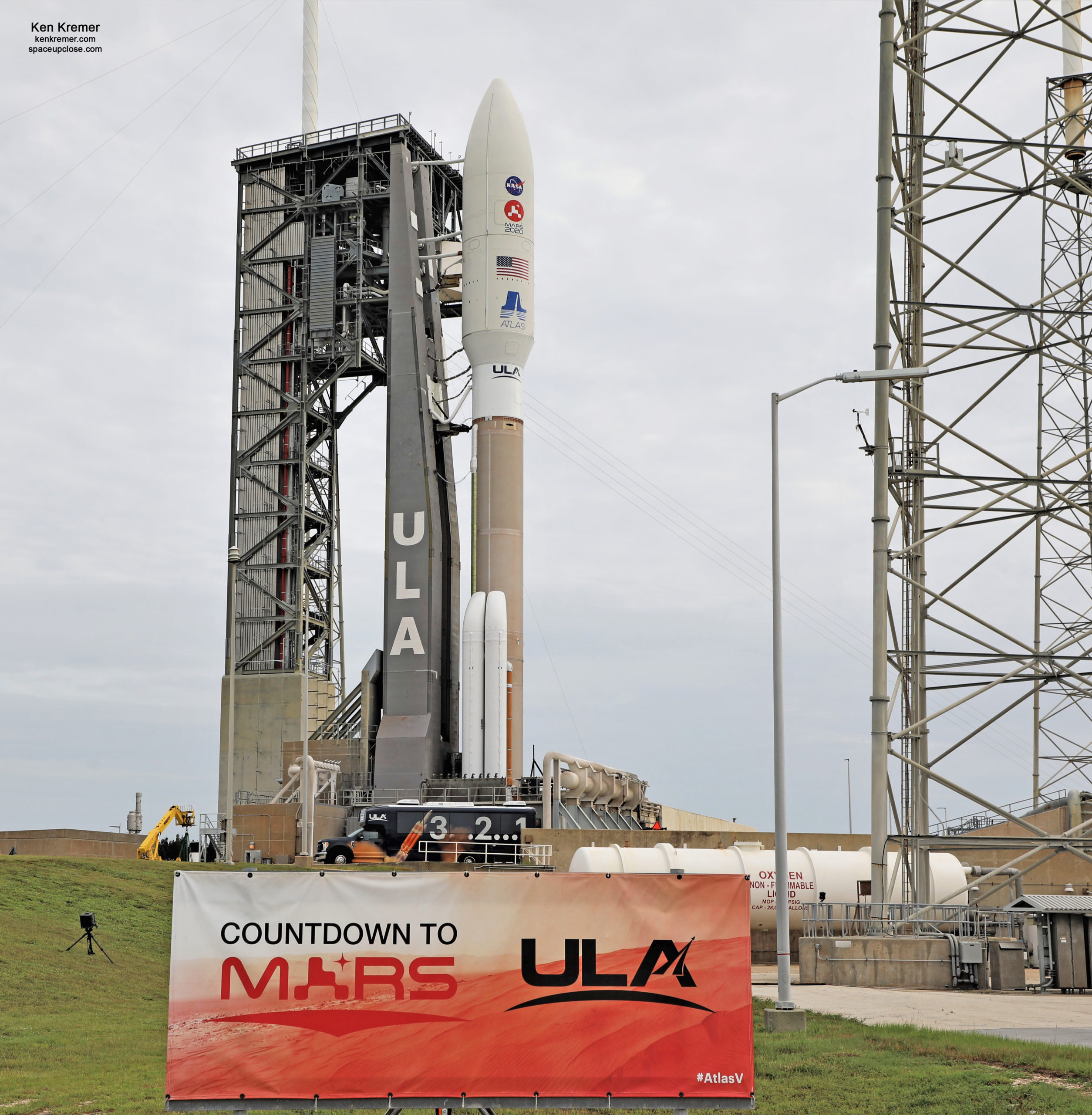 This morning Wednesday, July 29 we set up our remote cameras onsite at pad 41.
Enjoy my Space UpClose photo gallery of Atlas and Perseverance vertical at pad 41.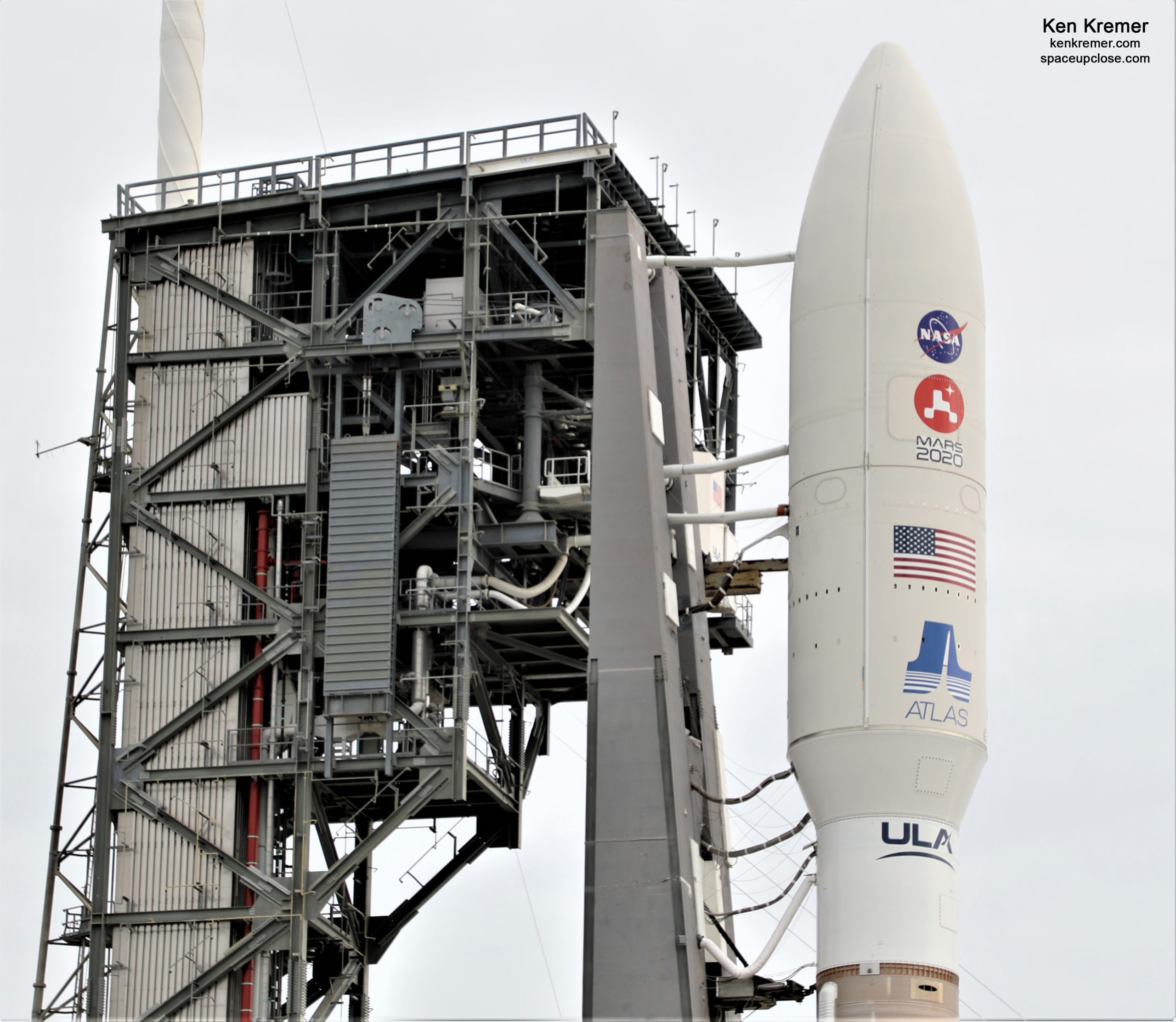 You can watch the launch live on NASA TV.
NASA TV launch coverage begins at 7 a.m. ET July 30
We are three days away from the launch of @NASA's next Mars rover and weather is 80% go for launch. The @ulalaunch rocket carrying @NASAPersevere is targeting liftoff at 7:50 a.m. ET on July 30.

You can watch live launch coverage beginning at 7 a.m. ET: https://t.co/AuL4mQfsyu pic.twitter.com/qzcBJXr1Yw

— NASA's Kennedy Space Center (@NASAKennedy) July 27, 2020
Today's forecast shows an 80 percent chance of favorable weather conditions for launch.
The two-hour launch window on Thursday July 30 extends until 9:50 a.m. EDT.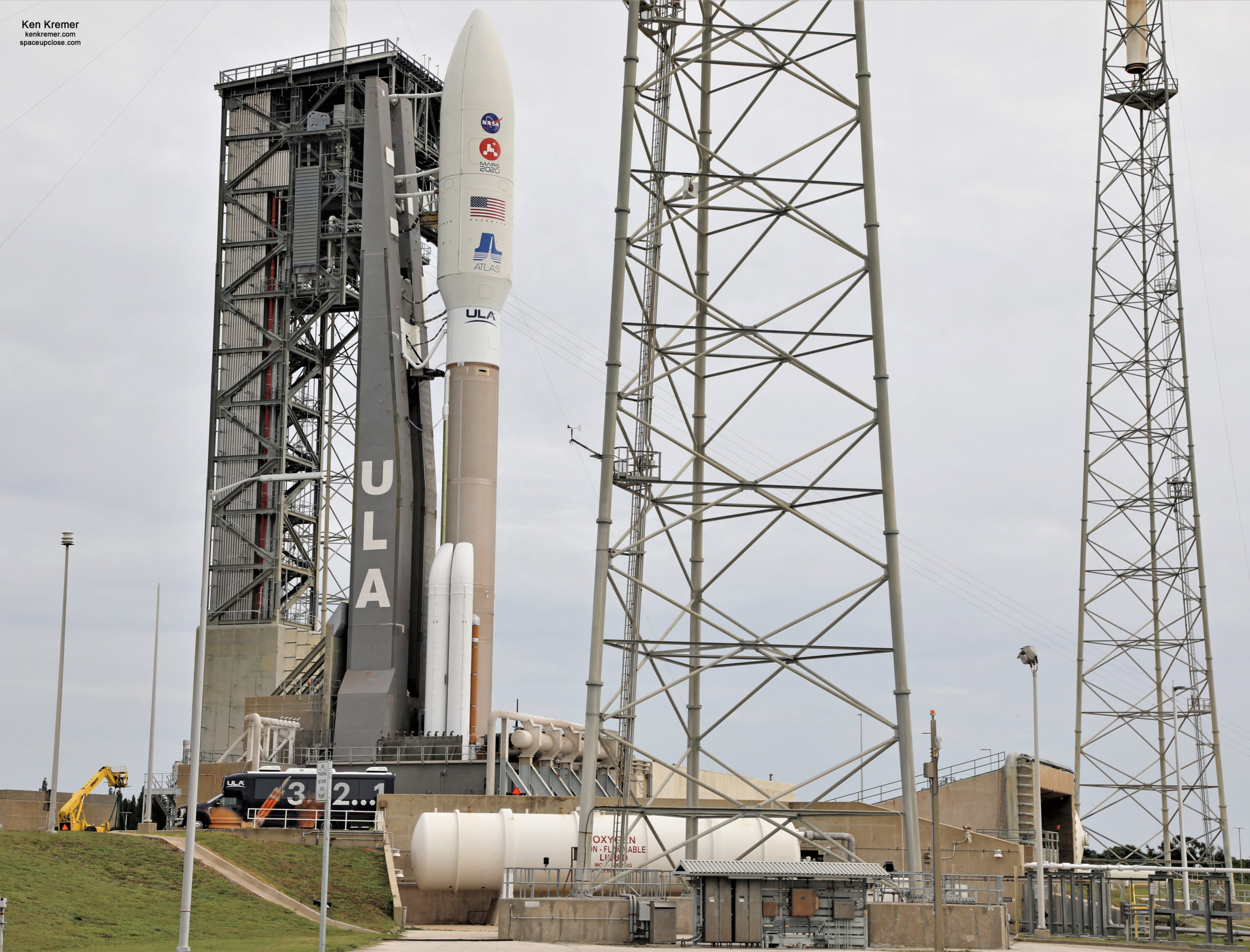 The U.S. Air Force 45th Weather Squadron is predicting an 80% chance of favorable weather conditions for Thursday's launch.
The primary weather concerns are cumulus and thick clouds.
In case of a delay the weather odds rise to 90% GO for a 24 hour delay to Friday and return 80% GO for a 48 hour delay to Saturday.
The Perseverance Mars 2020 mission will search for signs of past microbial life, characterize Mars' climate and geology, collect samples for future return to Earth, and pave the way for human exploration of the Red Planet.
Ingenuity, a twin-rotor, solar-powered helicopter attached to the belly of the rover, will become the first aircraft to fly on another world.
Watch my commentary about all the Mars 2020 missions Perseverance, Hope and Tianwen-1 missions including my Mars rover mosaics and outreach during an interview with WKMG CBS 6 Orlando TV news on July 23:
https://www.clickorlando.com/news/2020/07/23/nasa-is-prepared-for-the-risks-of-launching-nuclear-powered-rover/
.@NASA's most advanced mission to Mars ever is one week away. A closer look at @NASAPersevere with commentary from @ken_kremer on @news6wkmg at 5:30:https://t.co/MKlluiQgLX pic.twitter.com/Y0z2PljIjv

— James Sparvero (@News6James) July 23, 2020
Watch my live prelaunch commentary today July 27 and prior post ULA Atlas V WDR  interview about Mars 2020 rover and more  at the American Space Museum 'Stay Curious' daily weekday show on June 22, 2020
Watch my earlier commentary about the impact of the launch delays at Fox 35 TV News Orlando on July 3:
https://www.fox35orlando.com/video/736211
Watch my July 2 interview on Pressing For Flight about Mars 2020, COVID-19, Artemis, SpaceX GPS/.Starlink and more:
Watch Ken's continuing reports about Mars 2020, Commercial Crew and Artemis for live reporting of upcoming and recent NASA, ULA and SpaceX launches including Crew-1, Demo-2, Starlink, X-37B, Solar Orbiter and more at the Kennedy Space Center and Cape Canaveral Space Force Station.
Stay tuned here for Ken's continuing Earth and Planetary science and human spaceflight news: www.kenkremer.com –www.spaceupclose.com – twitter @ken_kremer – email: ken at kenkremer.com
Dr. Kremer is a research scientist and journalist based in the KSC area, active in outreach and interviewed regularly on TV and radio about space topics.
………….
Ken's photos are for sale and he is available for lectures and outreach events
Ken has created hundreds of widely published Mars rover mosaics and lectures also about NASA's Mars rovers