For SpaceUpClose.com & RocketSTEM
CAPE CANAVERAL, FL –  NASA and rocket partner United Launch Alliance (ULA) have given the GO to proceed with final launch preparations for the agency's $2.7 Billion Mars 2020 Perseverance Rover following a successful conclusion to the Launch Readiness Review (LRR) held this morning at NASA's Kennedy Space Center (KSC) in Florida. The goal is to search for signs of past microbial life.
At T Minus 3 days "everything is GO for launch" of the nuclear powered Red Planet rover now targeted for Thursday morning July 30 from the Florida Space Coast.
And the Sunshine State weather looks like it will cooperate – with an 80% chance of acceptable conditions for launch – at this time.
"The launch readiness review is complete and we are indeed 'go' for launch," NASA Administrator Jim Bridenstine announced during the prelaunch press conference this morning  the  Kennedy Space Center in Florida. "This has been an amazing team effort."
"I just want to say that the launch readiness review is complete and we are 'go' for launch." Administrator @JimBridenstine shares the latest for the July 30 launch of our @NASAPesereve rover. #CountdownToMars https://t.co/JXscvTFIRt pic.twitter.com/yVEHYrHq4J

— NASA (@NASA) July 27, 2020
The Launch Readiness Review has concluded and the team remains a GO for launch for @NASAPersevere! Find out how to join the launch: https://t.co/BfNUWr3Klt #CountdownToMars pic.twitter.com/697HEVK2N7

— Jim Bridenstine (@JimBridenstine) July 27, 2020
The car-sized Perseverance Mars 2020 rover is targeted for liftoff on NET 30 July 2020 at 7:50 a.m. EDT (1150 GMT) aboard a United Launch Alliance (ULA) Atlas V 541 rocket from Space Launch Complex 41 on Cape Canaveral Air Force Station, Florida.
The approximately overall month-long launch window for the Mars 2020 Perseverance rover mission currently extends until August 15.
"We are literally chomping at the bit to take this nuclear powered dune buggy out to Mars," said ULA CEO Tory Bruno at the KSC briefing.
"I cannot tell you how thrilled we are to lift @NASAPersevere. @ulalaunch & its heritage rockets have taken every US mission to Mars, but this one is arguably the most sophisticated & in some ways the most exciting of all of them." – @ToryBruno #CountdownToMars pic.twitter.com/2RHPTIC9P6

— NASA (@NASA) July 27, 2020
"The ULA and NASA Launch Readiness Review is complete and everything is progressing toward the ULA Atlas V launch carrying the Mars 2020 mission for NASA," said ULA.
You can watch the launch live on NASA TV.
NASA TV launch coverage begins at 7 a.m. ET July 30
We are three days away from the launch of @NASA's next Mars rover and weather is 80% go for launch. The @ulalaunch rocket carrying @NASAPersevere is targeting liftoff at 7:50 a.m. ET on July 30.

You can watch live launch coverage beginning at 7 a.m. ET: https://t.co/AuL4mQfsyu pic.twitter.com/qzcBJXr1Yw

— NASA's Kennedy Space Center (@NASAKennedy) July 27, 2020
Today's forecast shows an 80 percent chance of favorable weather conditions for launch.
The two-hour launch window on Thursday July 30 extends until 9:50 a.m. EDT.
The U.S. Air Force 45th Weather Squadron is predicting an 80% chance of favorable weather conditions for Thursday's launch.
The primary weather concerns are cumulus and thick clouds.
What's the weather? @45thSpaceWing Weather Officer Jessica Williams provides the launch day forecast for our @NASAPersevere #CountdownToMars launch on July 30. pic.twitter.com/qWaWZ19ABz

— NASA (@NASA) July 27, 2020
In case of a delay the weather odds rise to 90% GO for a 24 hour delay to Friday and return 80% GO for a 48 hour delay to Saturday.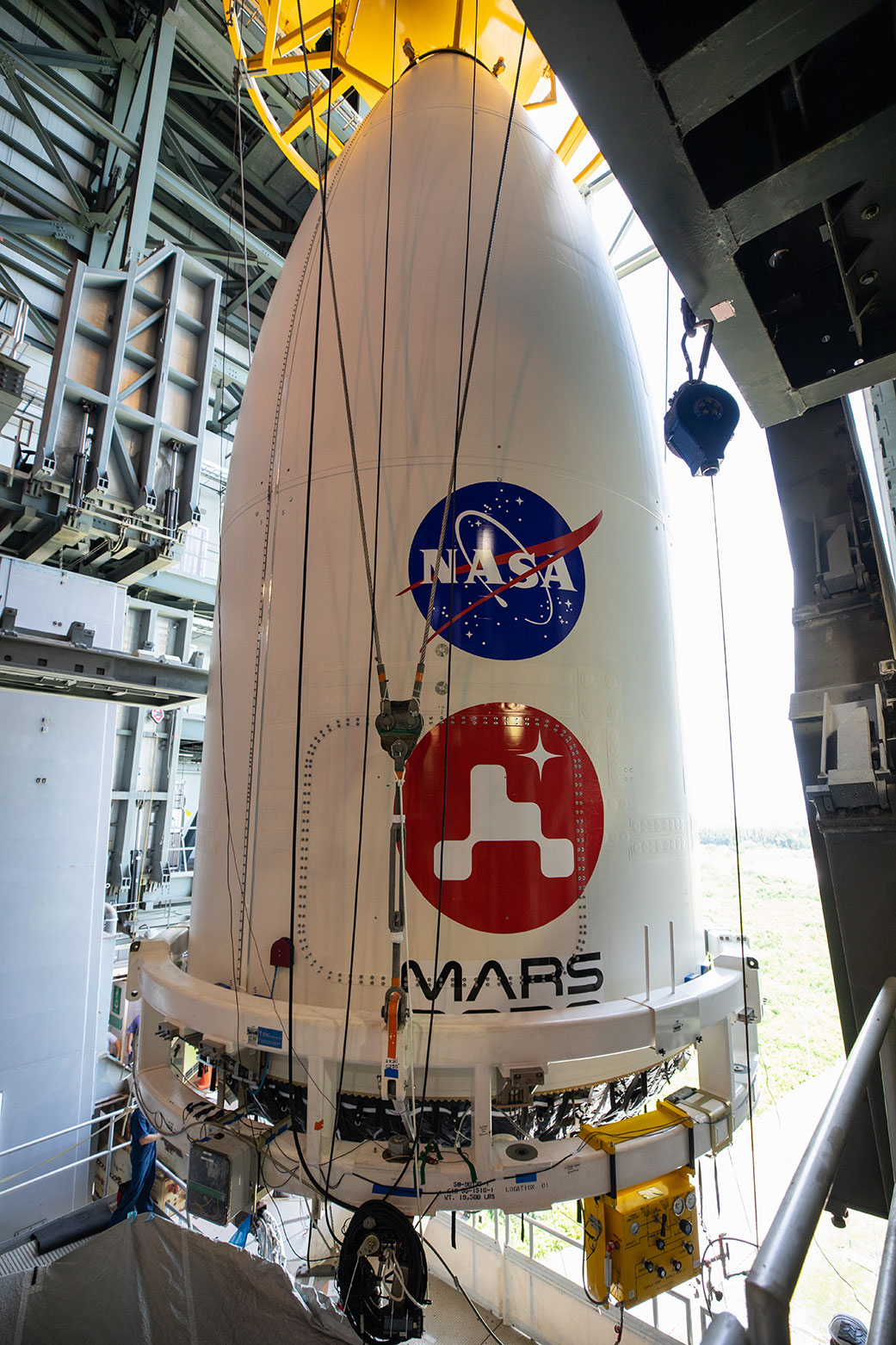 The next big event leading to launch will be rollout of the powerful and venerable ULA Atlas V rocket at Space Launch Complex-41 Tuesday morning July 28 starting around 10 a,m. ET from the 30 story tall Vertical Integration Facility (VIF) to the launch pad.
I will be on site nearby pad 41 for live eyewitness  coverage
But it has been a struggle for the NASA, JPL and ULA team to get to the launch of this historic mission even more then normal due to the devastating impact of the COVID-19 coronavirus pandemic
Listen to these comments from NASA Administrator Jim Bridenstine:
"We are in extraordinary times right now with the coronavirus pandemic, and yet we have, in fact, persevered," Bridenstine said. "And we have protected this mission because it is so impor
The historic mission has remained on track, despite unprecedented challenges from a worldwide pandemic.
The rover's astrobiology mission, developed under NASA's Mars Exploration Program, will search for signs of past microbial life.
"We're doing transformative science; really for the first time, we're looking for signs of life on another planet," said Matt Wallace, deputy project manager, NASA's Jet Propulsion Laboratory.
The Perseverance Mars 2020 mission will search for signs of past microbial life, characterize Mars' climate and geology, collect samples for future return to Earth, and pave the way for human exploration of the Red Planet.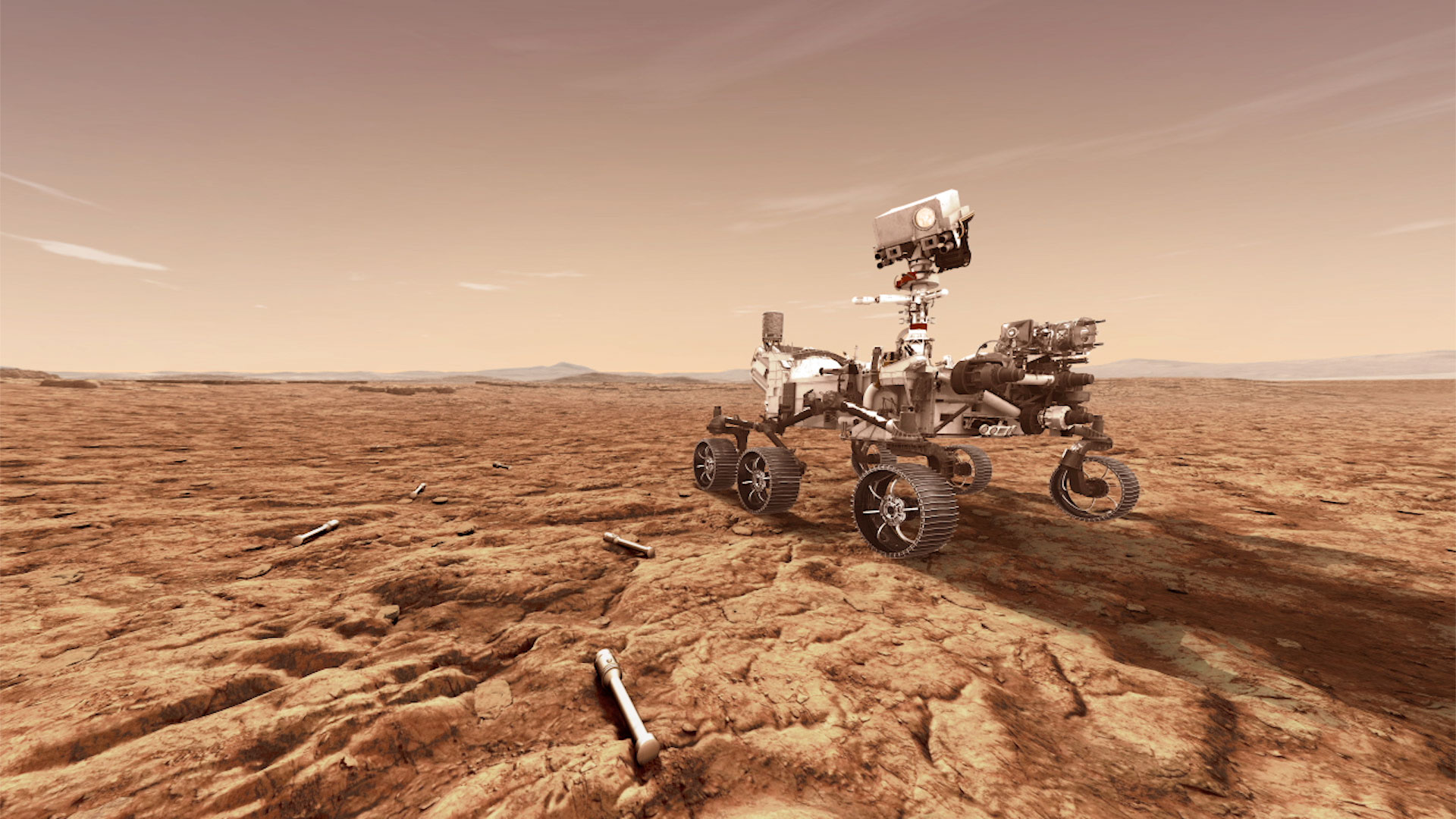 Ingenuity, a twin-rotor, solar-powered helicopter attached to the belly of the rover, will become the first aircraft to fly on another world.
"I just couldn't be happier to be here today and have this amazing mission on top of a rocket and ready to go," said Thomas Zurbuchen, associate administrator, NASA's Science Mission Directorate, at the briefing.
"From this launch readiness review … all the issues are addressed and we are in fact ready now; we're just counting down and really celebrating with the team."
After a seven month long interplanetary journey she is scheduled to touch down in an area of Mars known as Jezero Crater on Feb. 18, 2021. The 28-mile-wide (45-kilometer) crater is home to an ancient dried-up river delta and a lake that once filled it.
Perseverance is a robotic scientist weighing about 2,260 pounds (1,025 kilograms).
The rover is equipped with seven different scientific instruments and 25 cameras.
Earlier this month NASA's $2.7 Billion Perseverance Mars rover was at last joined to the top of the mighty United Launch Alliance (ULA) Atlas V rocket that will hurl it from our Home Planet to the Red Planet as soon as the end of this month – on a breathtaking mission dedicated to the search for signs of life beyond Earth.
And just days ago last week the rovers nuclear power source known as the MMRTG was installed.
The MMRTG is basically the life blood of the Perseverance rover
The MMRTG is essentially a nuclear battery that uses the heat from the natural radioactive decay of plutonium-238 to generate about 110 watts of electricity at the start of a mission – and  slowly declines over time.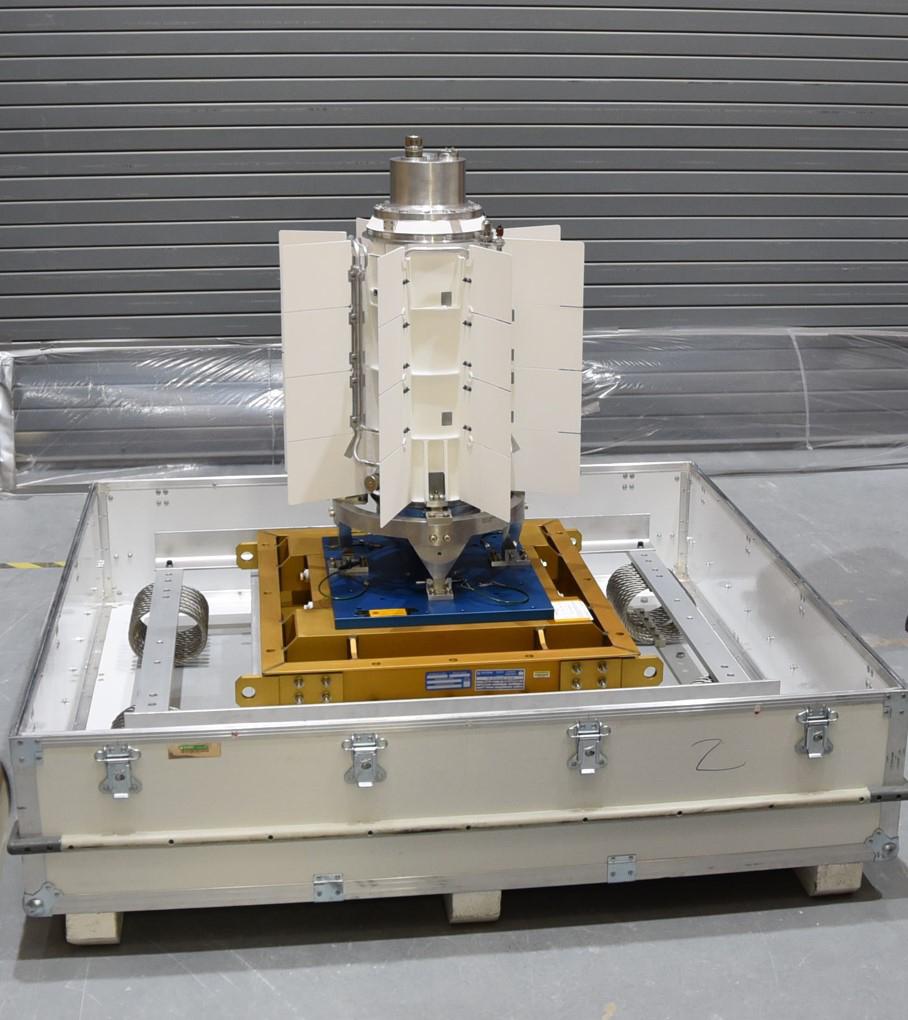 The Multi-Mission Radioisotope Thermoelectric Generator (MMRTG) is provided by the U.S. Department of Energy.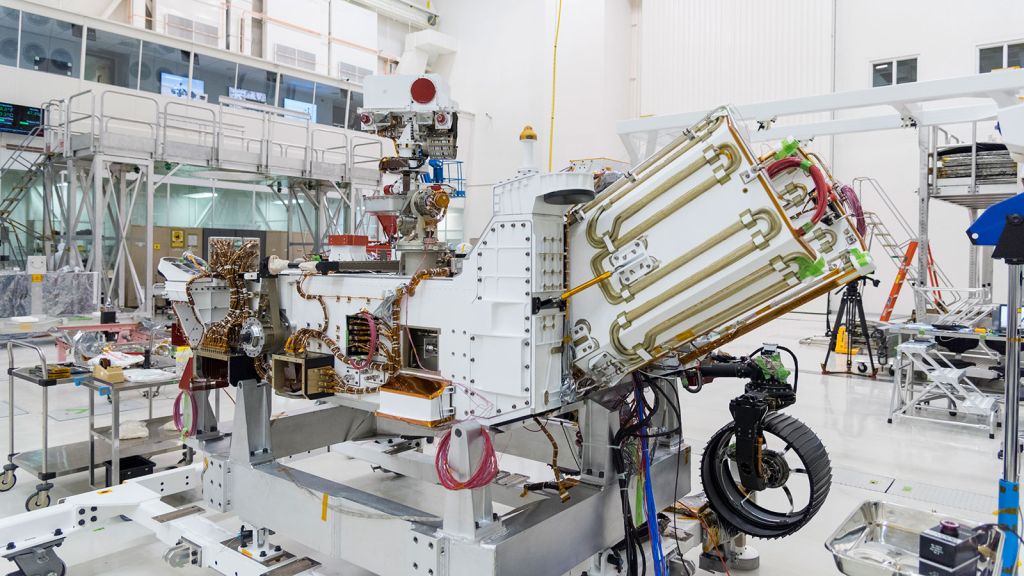 Watch my commentary about all the Mars 2020 missions Perseverance, Hope and Tianwen-1 missions including my Mars rover mosaics and outreach during an interview with WKMG CBS 6 Orlando TV news on July 23:
https://www.clickorlando.com/news/2020/07/23/nasa-is-prepared-for-the-risks-of-launching-nuclear-powered-rover/
.@NASA's most advanced mission to Mars ever is one week away. A closer look at @NASAPersevere with commentary from @ken_kremer on @news6wkmg at 5:30:https://t.co/MKlluiQgLX pic.twitter.com/Y0z2PljIjv

— James Sparvero (@News6James) July 23, 2020
Watch my live prelaunch commentary today July 27 and prior post ULA Atlas V WDR  interview about Mars 2020 rover and more  at the American Space Museum 'Stay Curious' daily weekday show on June 22, 2020
July 27
June 22
Watch my earlier commentary about the impact of the launch delays at Fox 35 TV News Orlando on July 3:
https://www.fox35orlando.com/video/736211
Watch my July 2 interview on Pressing For Flight about Mars 2020, COVID-19, Artemis, SpaceX GPS/.Starlink and more:
Watch Ken's continuing reports about Mars 2020, Commercial Crew and Artemis for live reporting of upcoming and recent NASA, ULA and SpaceX launches including Crew-1, Demo-2, Starlink, X-37B, Solar Orbiter and more at the Kennedy Space Center and Cape Canaveral Space Force Station.
Stay tuned here for Ken's continuing Earth and Planetary science and human spaceflight news: www.kenkremer.com –www.spaceupclose.com – twitter @ken_kremer – email: ken at kenkremer.com
Dr. Kremer is a research scientist and journalist based in the KSC area, active in outreach and interviewed regularly on TV and radio about space topics.
………….
Ken's photos are for sale and he is available for lectures and outreach events
Ken has created hundreds of widely published Mars rover mosaics and lectures also about NASA's Mars rovers
Ken's upcoming outreach events:
Jul 28, 29 – 7 PM: Quality Inn Kennedy Space Center, Titusville, FL. "NASA/ULA Atlas V Mars 2020 rover and SpaceX Crew-1, Demo-2, GPS, Starlink, Anasis-II and more launches." Free. In hotel lobby. Photos for sale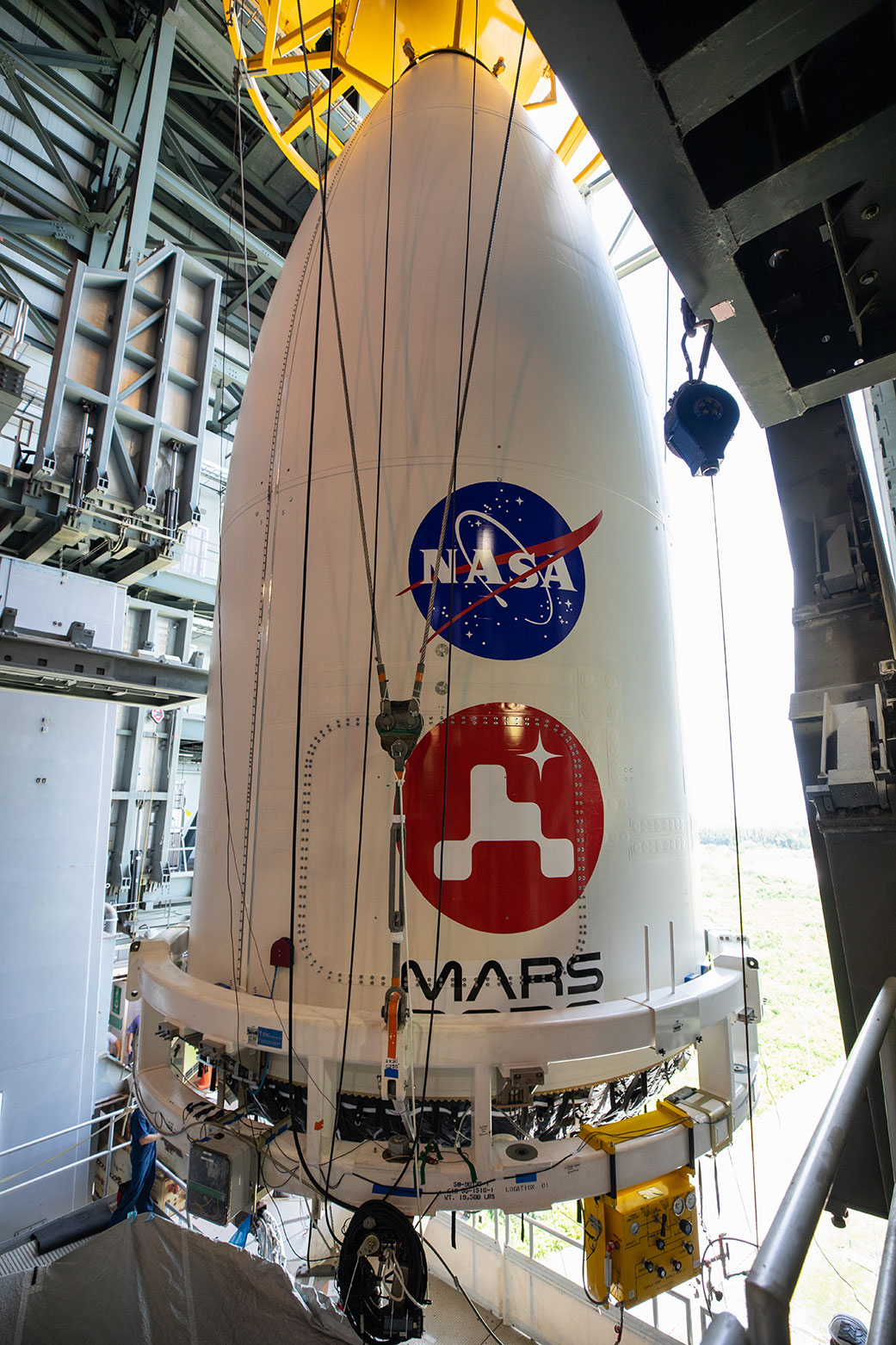 Mars Curiosity mosaic by Ken Kremer & Marco Di Lorenzo featured at CBS 6 Orlando TV News
x