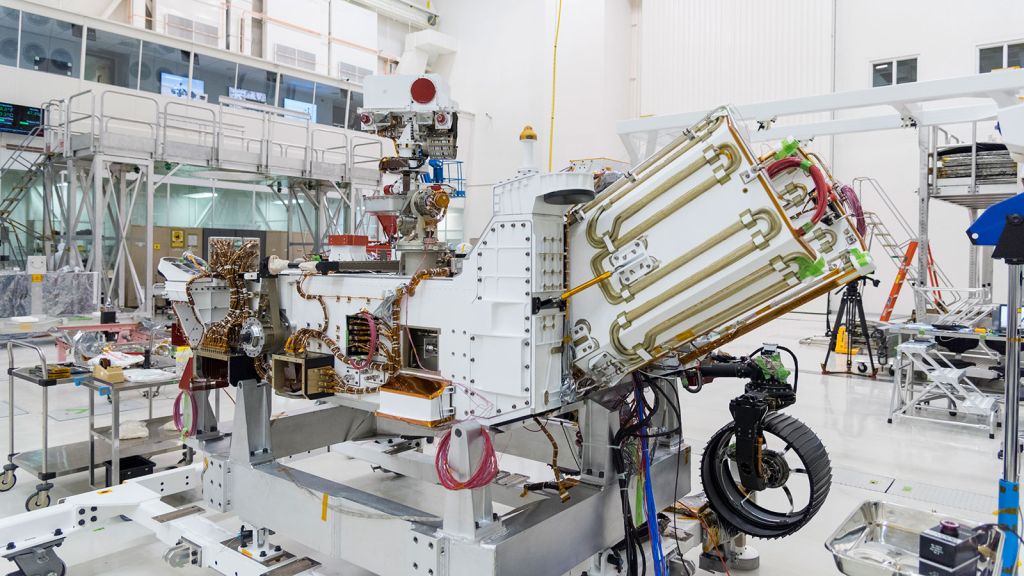 For SpaceUpClose.com & RocketSTEM
CAPE CANAVERAL, FL –  NASA's next mission to the Red Planet the $2.7 Billion Mars 2020 Perseverance rover now has the nuclear power it needs to explore for many years to come – and the liftoff is targeted for July 30 from the Florida Space Coast is now just days away.
The plutonium based power source that gives life to the Mars 2020 Perseverance rover and is the only means of keeping it alive was installed this week while the rover rested atop the mighty United Launch Alliance (ULA) Atlas V rocket that will propel to the Red Planet.
The Perseverance rover nuclear power system is called a Multi-Mission Radioisotope Thermoelectric Generator (MMRTG) and it is provided by the U.S. Department of Energy.
The MMRTG is essentially a nuclear battery that uses the heat from the natural radioactive decay of plutonium-238 to generate about 110 watts of electricity at the start of a mission and slowly declines over time.
This MMRTG unit is virtually identical to the one already powering NASA sister rover Curiosity which was launched in 2011 and landed at Gale Crater in 2012 and has been functioning perfectly ever since.
Confirmation of the successful MMRTG installation came from ULA CEO Tory Bruno by tweet.
"The #MarsPerseverance MMRTG is installed and doing well," Tory Bruno tweeted on Wednesday, July 22.
"This Red Planet dune buggy is fueled and ready to go!"
The #MarsPerseverance MMRTG is installed and doing well. This Red Planet dune buggy is fueled and ready to go!

— Tory Bruno (@torybruno) July 22, 2020
RTGs are "activated" at the moment of assembly because the radio source continuously generates heat which solid state thermoelectric devices turn into voltage.

— Tory Bruno (@torybruno) July 22, 2020
Solar power like that used on NASA's earlier Mars Exploration Rovers (MER) Spirit and Opportunity is totally insufficient to carry out the ambition science mission planned for the 1 ton Perseverance and Curiosity MSL rovers.
Overall the MMRTG unit has with a mass of 99 pounds (45 kg).
The MMRTG fuel source comes in the form of plutonium dioxide (PtO2) powder with a mass of 10.6 pounds (4.8 kg) that is contained within canisters.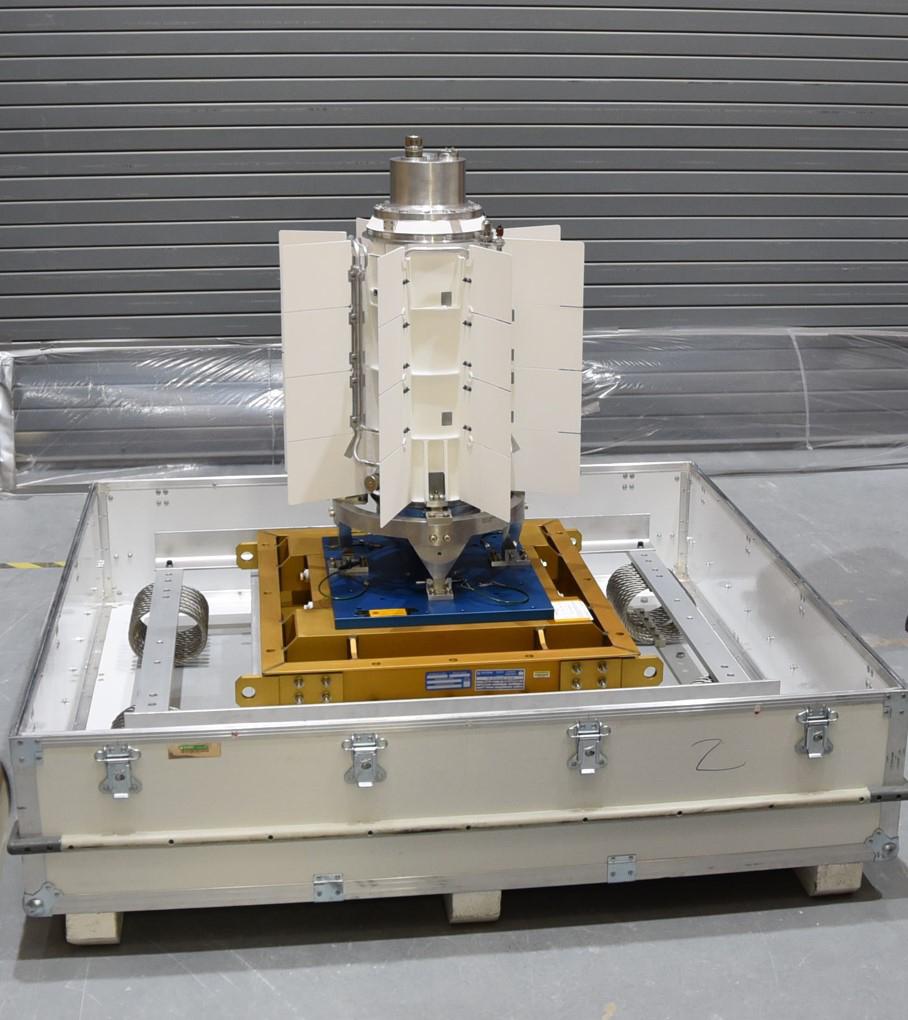 The PtO2 canisters are hardened to resist any explosion that might occur in case of a rocket launch failure  and keep the extremely toxic and deadly material completely contained with no leakage and no contamination to the outside world and environment.
The MMRTG is intentionally the last piece of hardware to be installed on the rover by design.
Furthermore the installation work is done out at the Atlas launch pad 41 complex to keep it protected and minimize exposure.
A joint team from NASA, JPL and DOE carried out the work.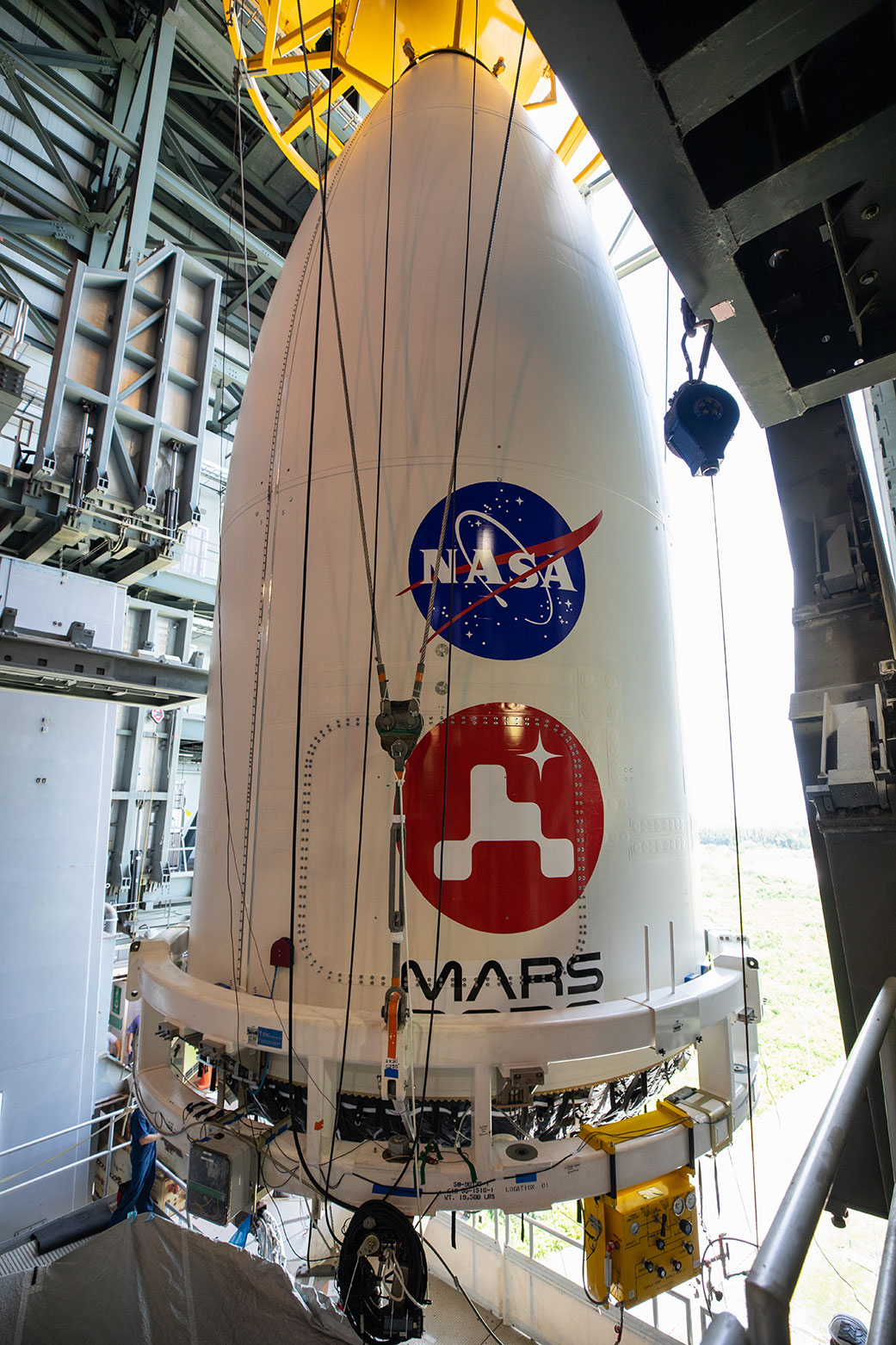 With the rover already encapsulated inside the nose cone and bolted atop the Atlas V rocket, a team of technicians wheeled the MMRTG up to the nose cone
Then they open portholes on the side of the payload fairing and the aeroshell to gain access to Perseverance and load the MMRTG onto the aft holder on the back of Perseverance.
Because it generates significant heat sitting inside the sealed payload fairing active cooling is required to keep the internal temperature under control under climate controlled conditions to prevent any damage to the rover and the rocket hardware.
Heat generated from the natural decay of plutonium-238 will be converted to a steady flow of about 110 watts of electricity.
The MMRTG is equipped with "fins" that radiate excess heat.
Two lithium-ion rechargeable batteries are available to meet peak demands of rover activities when the demand temporarily exceeds the MMRTG's electrical output levels.
The MMRTG is expected to afford Perseverance an overall 14-year operational lifetime.
Curiosity has already been operating with her MMRTG for 9 years.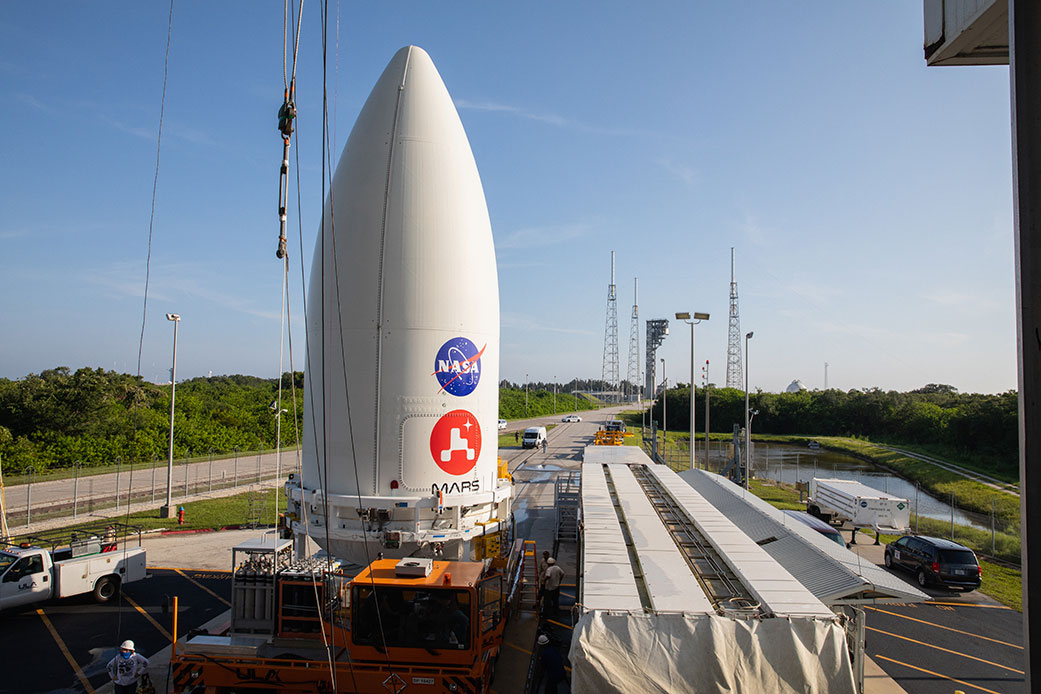 Earlier this month NASA's $2.7 Billion Perseverance Mars rover was at last joined to the top of the mighty United Launch Alliance (ULA) Atlas V rocket that will hurl it from our Home Planet to the Red Planet as soon as the end of this month – on a breathtaking mission dedicated to the search for signs of life beyond Earth.
The car-sized Perseverance Mars 2020 rover is targeted for liftoff on NET 30 July 2020 at 7:50 a.m. EDT (1150 GMT) aboard a United Launch Alliance (ULA) Atlas V 541 rocket from Space Launch Complex 41 on Cape Canaveral Air Force Station, Florida.
The approximately month-long launch window for the Mars 2020 Perseverance rover mission currently extends until August 15.
Watch my commentary about all the Mars 2020 missions Perseverance, Hope and Tianwen-1 missions including my Mars rover mosaics and outreach during an interview with WKMG CBS 6 Orlando TV news on July 23:
https://www.clickorlando.com/news/2020/07/23/nasa-is-prepared-for-the-risks-of-launching-nuclear-powered-rover/
.@NASA's most advanced mission to Mars ever is one week away. A closer look at @NASAPersevere with commentary from @ken_kremer on @news6wkmg at 5:30:https://t.co/MKlluiQgLX pic.twitter.com/Y0z2PljIjv

— James Sparvero (@News6James) July 23, 2020
Watch my earlier commentary about the impact of the launch delays at Fox 35 TV News Orlando on July 3:
https://www.fox35orlando.com/video/736211
Watch my live post ULA Atlas V WDR  interview about Mars 2020 rover and more  at the American Space Museum 'Stay Curious' daily weekday show on June 22, 2020
Watch my July 2 interview on Pressing For Flight about Mars 2020, COVID-19, Artemis, SpaceX GPS/.Starlink and More:
Watch Ken's continuing reports about Mars 2020, Commercial Crew and Artemis for live reporting of upcoming and recent NASA, ULA and SpaceX launches including Crew-1, Demo-2, Starlink, X-37B, Solar Orbiter and more at the Kennedy Space Center and Cape Canaveral Space Force Station.
Stay tuned here for Ken's continuing Earth and Planetary science and human spaceflight news: www.kenkremer.com –www.spaceupclose.com – twitter @ken_kremer – email: ken at kenkremer.com
Dr. Kremer is a research scientist and journalist based in the KSC area, active in outreach and interviewed regularly on TV and radio about space topics.
………….
Ken's photos are for sale and he is available for lectures and outreach events
Ken has created hundreds of widely published Mars rover mosaics and lectures also about NASA's Mars rovers
Ken's upcoming outreach events:
Jul 28, 29 – 7 PM: Quality Inn Kennedy Space Center, Titusville, FL. "NASA/ULA Atlas V Mars 2020 rover and SpaceX Crew-1, Demo-2, GPS, Starlink, Anasis-II and more launches." Free. In hotel lobby. Photos for sale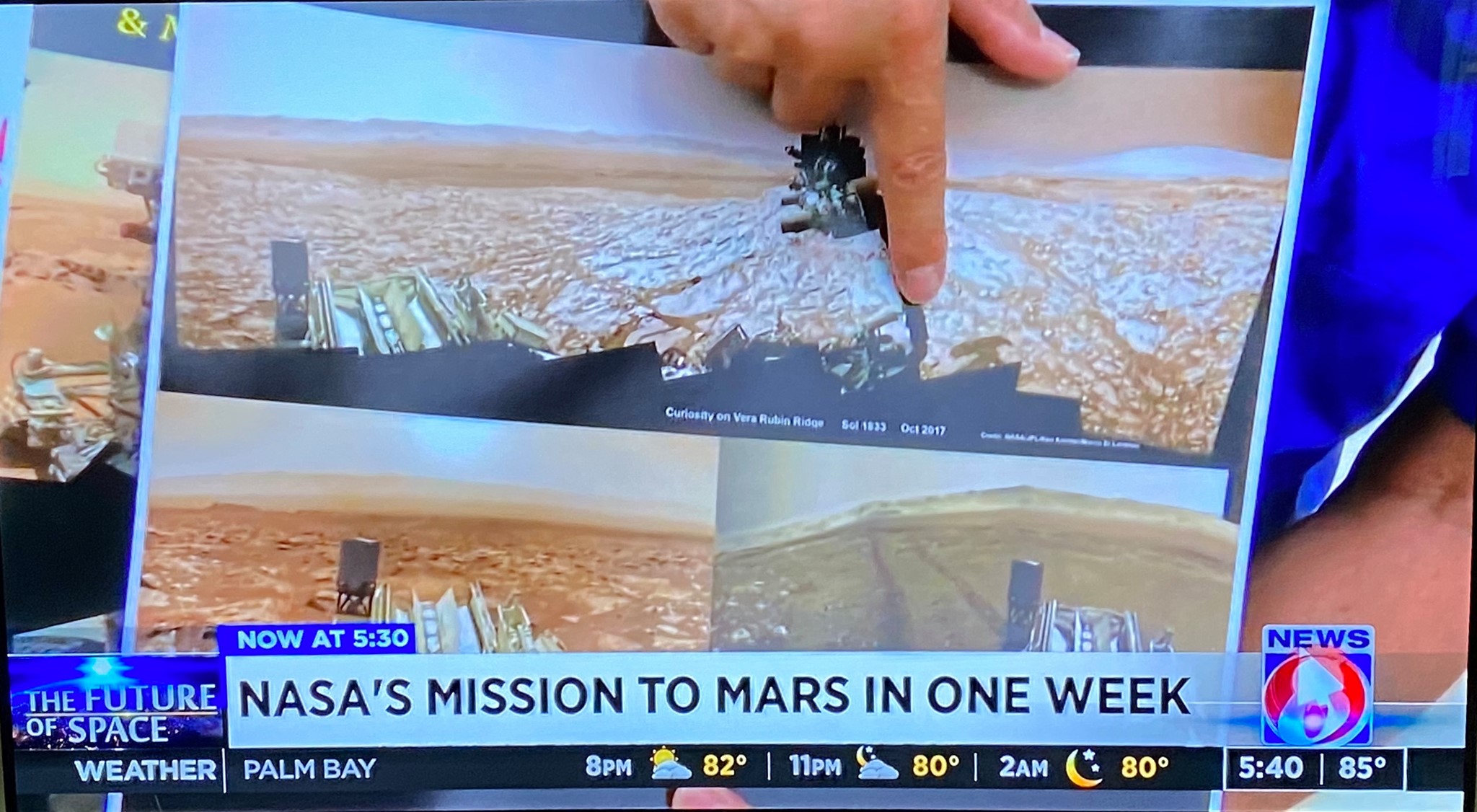 x