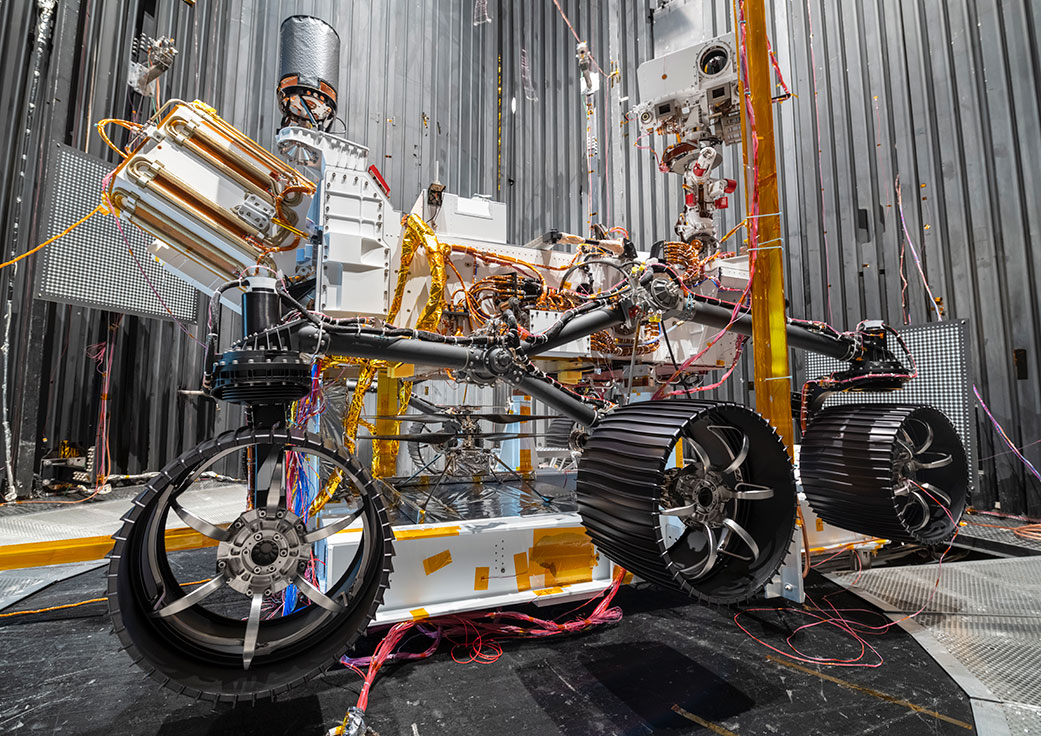 For SpaceUpClose.com & RocketSTEM
CAPE CANAVERAL AIR FORCE STATION/KENNEDY SPACE CENTER, FL – Its been a busy start for NASA's $2.7 Mars 2020 Perseverance rover mission to the Red Planet with a duo of major activities accomplished since blasting off from the Florida Space Coast on July 30.
One week into its seven-month interplanetary journey to Mars NASA's Ingenuity Mars Helicopter recharged its batteries for the first time on Friday, Aug. 7 and the Perseverance cruise stage spacecraft completed her first major course correction after two weeks on Friday, Aug. 14.
Ingenuity, a twin-rotor, solar-powered helicopter attached to the belly of the rover, will become the first aircraft to fly on another world.
"This was a big milestone, as it was our first opportunity to turn on Ingenuity and give its electronics a 'test drive' since we launched on July 30," said Tim Canham, the operations lead for Mars Helicopter at NASA's Jet Propulsion Laboratory in Southern California, in a statement.
"Since everything went by the book, we'll perform the same activity about every two weeks to maintain an acceptable state of charge."
The Aug. 7 operation marked the first time the helicopter was powered up and its batteries charged in the space environment.
During the eight-hour operation, the performance of the rotorcraft's six lithium-ion batteries was analyzed as the team brought their charge level up to 35%. The project has determined a low charge state is optimal for battery health during the cruise to Mars," said NASA.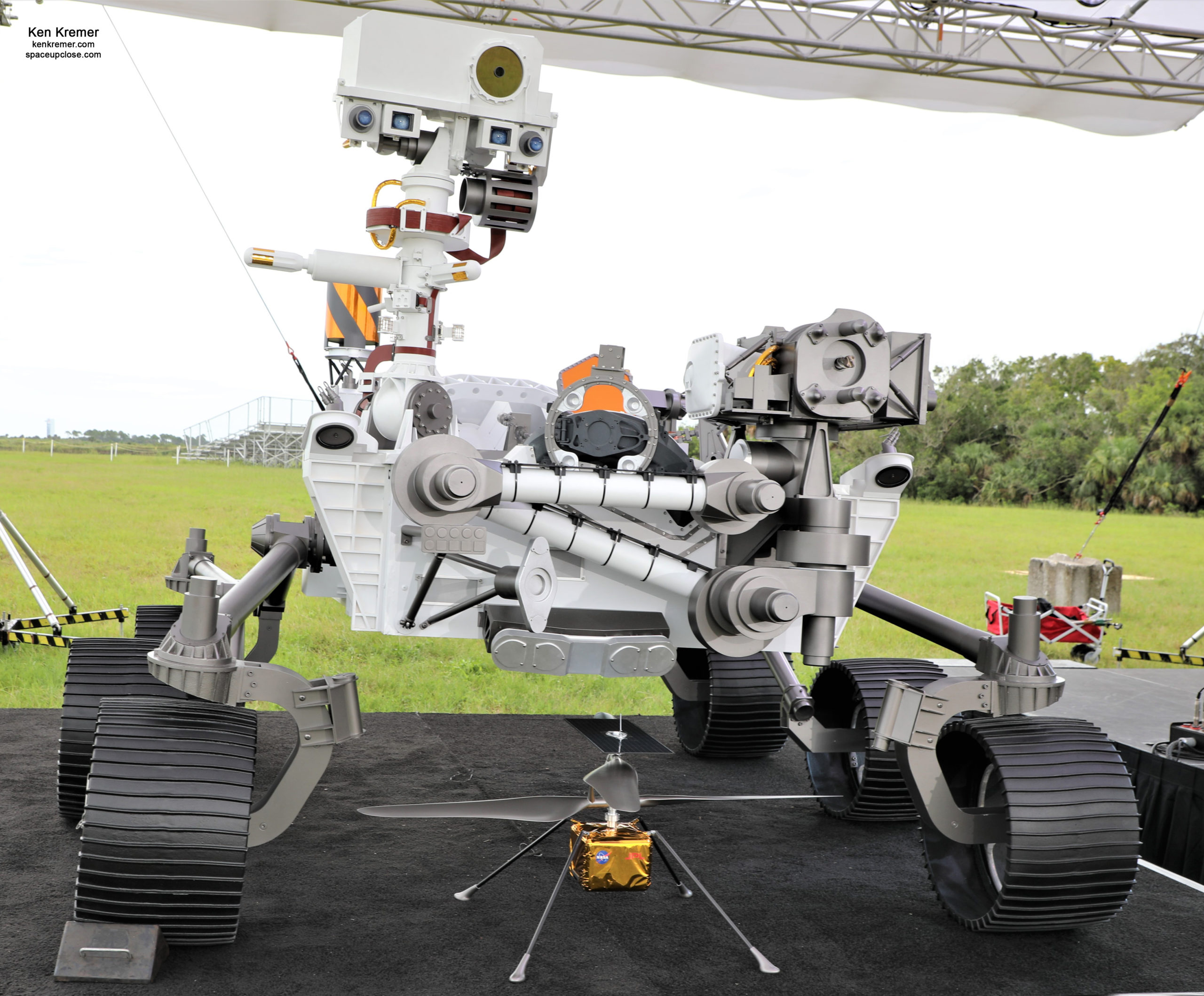 The Trajectory Correction Maneuver known as TCM-1 was the first of six TCM's planned during the 300 million mile (500 million km) interplanetary journey to Mars after launching atop a powerful United Launch Alliance Atlas V rocket on July 30.
The TCMs involve thruster firings on the solar powered cruise stage to refine the Mars 2020 flight path to the Red Planet.
The ensure the spacecraft hits exactly the right spot in the Martian atmosphere to begin the do-or-die Entry Descent and Landing (EDL)  phase known as the '7 minutes of Terror.'
"My first planned Trajectory Correction Maneuver was a success. I do TCMs on my journey to stay on target for a Feb. 18, 2021 date with Mars. I left Earth over 2 weeks ago and already put on 27+ million miles. Only ~265 million more to go! #CountdownToMars ," Perseverance tweeted from 27 million miles away!
My first planned Trajectory Correction Maneuver was a success. I do TCMs on my journey to stay on target for a Feb. 18, 2021 date with Mars. I left Earth over 2 weeks ago and already put on 27+ million miles. Only ~265 million more to go! #CountdownToMars https://t.co/1PJU9YwxvJ pic.twitter.com/wdvVPHqPvJ

— NASA's Perseverance Mars Rover (@NASAPersevere) August 15, 2020
Perseverance is scheduled to touch down in an area of Mars known as Jezero Crater on Feb. 18, 2021.
The Perseverance Mars 2020 mission will search for signs of past microbial life, characterize Mars' climate and geology, collect samples for future return to Earth, and pave the way for human exploration of the Red Planet.
You can follow the Mars 2020 mission flight path here
https://eyes.nasa.gov/apps/orrery/#/sc_perseverance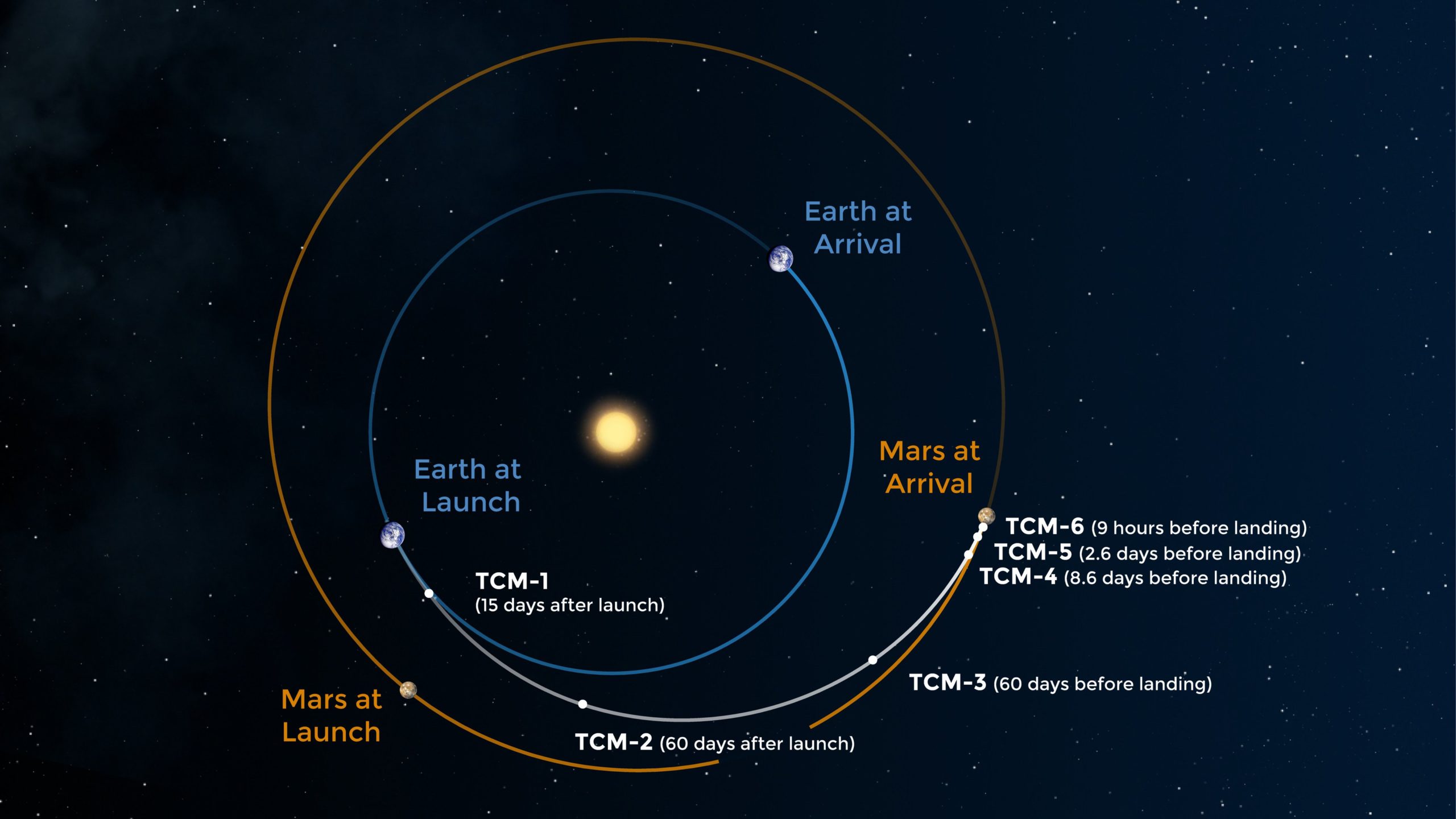 The solar powered Ingenuity helicopter is a technology demonstration experiment aimed at attempting the first flight on Mars.
It is stowed on the belly and receives its charge from the rover's power supply.
The four legged Ingenuity has a mass of about 4.0 pounds (1.8  kilograms) and stands 1.6 feet or 19 inches (0.49 meters) high. It is equipped with two counter rotating blades for lift spinning at about 2,400 rpm and two cameras.
After Ingenuity is deployed on Mars' surface its batteries will be charged solely by the helicopter's own solar panel. If Ingenuity survives the cold Martian nights during its preflight checkout, the team will proceed with testing.
"This charge activity shows we have survived launch and that so far we can handle the harsh environment of interplanetary space," said MiMi Aung, the Ingenuity Mars Helicopter project manager at JPL, in a statement.
"We have a lot more firsts to go before we can attempt the first experimental flight test on another planet, but right now we are all feeling very good about the future."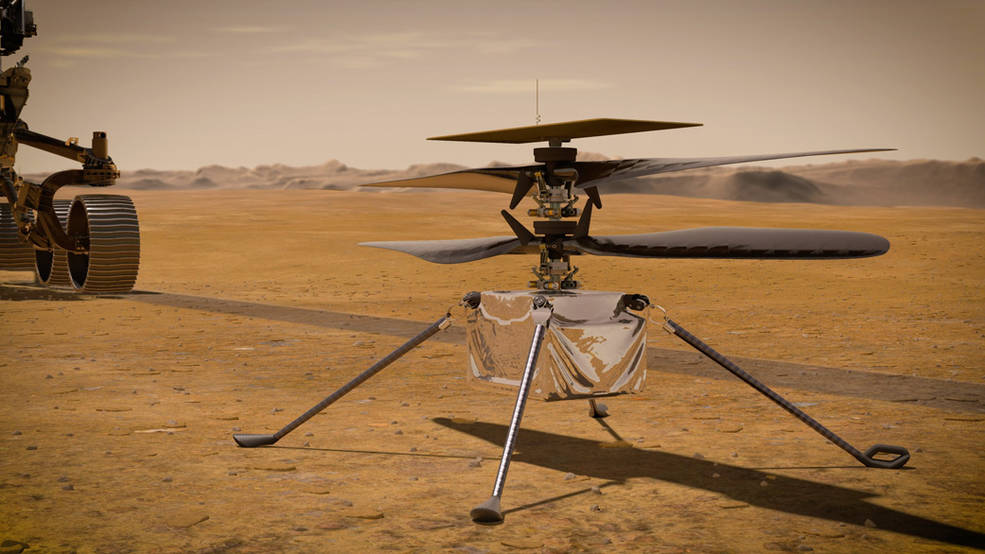 "The small craft will have a 30-Martian-day (31-Earth-day) experimental flight-test window. If it succeeds, Ingenuity will prove that powered, controlled flight by an aircraft can be achieved at Mars, enabling future Mars missions to potentially add an aerial dimension to their explorations with second-generation rotorcraft."
Under clear blue sunshine drenched skies the car-sized Perseverance Mars 2020 rover lifted off right on time at 7:50 a.m. EDT (1150 GMT) 30 July 2020 aboard a 19 story tall ULA Atlas V 541 rocket from Space Launch Complex 41 on Cape Canaveral Air Force Station, Florida.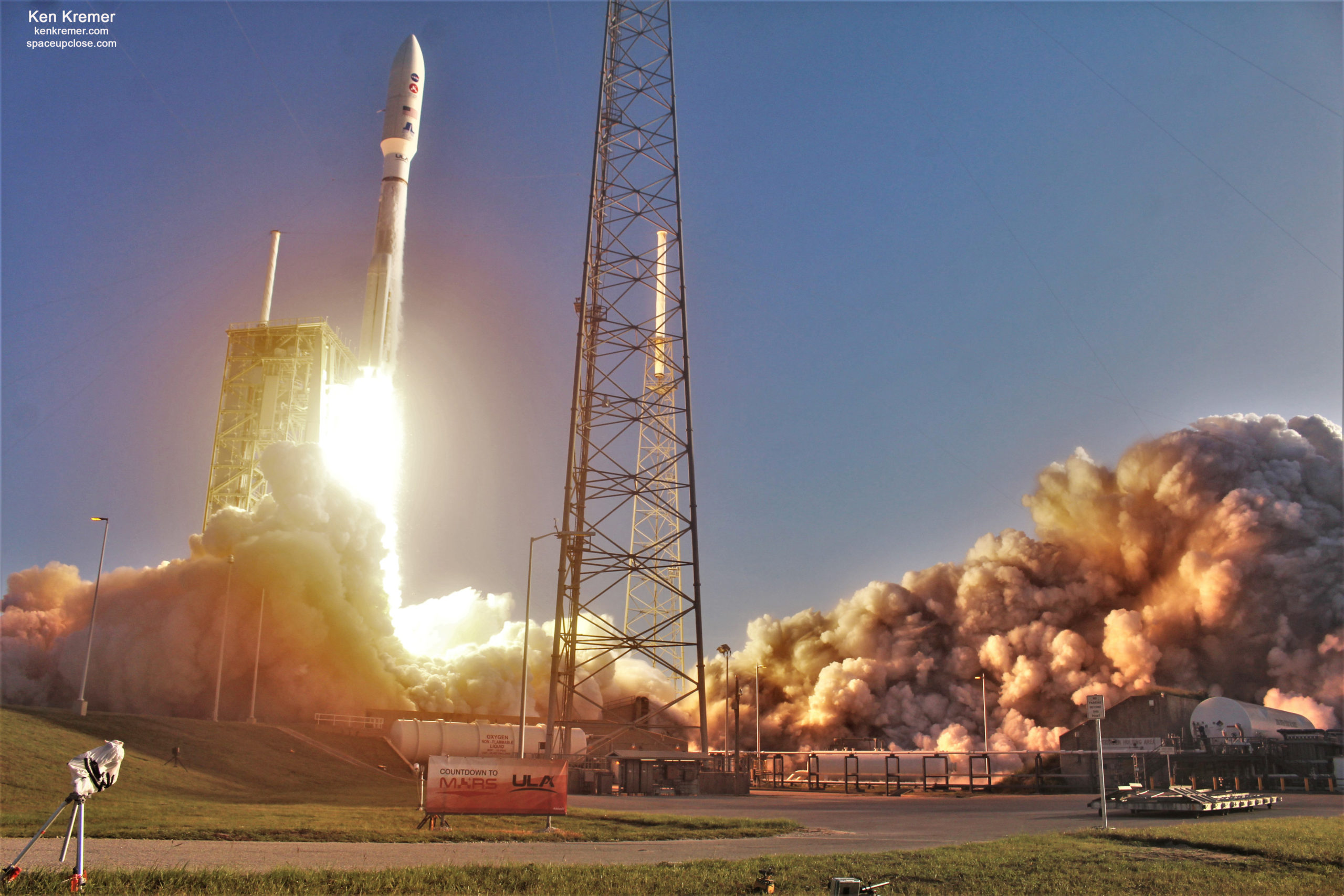 Check out our launch story and launch and prelaunch photos from pad 41
Learn more about Mars 2020 here:
Download our Free "Mars 2020 Exploration Mission Guide" created by RocketSTEM magazine and Space UpClose:
https://www.spaceupclose.com/2020/07/mars-2020-exploration-mission-guide-from-rocketstem-and-space-upclose-free-download/
https://www.rocketstem.org/2020/07/20/mars-2020-mission-overview/
Link on Space UpClose Home Page  upper right below Social Media links
My 12-page 'Mars 2020 Perseverance Rover Mission Overview':
https://www.rocketstem.org/2020/07/20/mars-2020-mission-overview/
Watch my Aug. 14 guest host and Aug 3 interview appearances at 'Stay Curious' show at the American Space Museum about successful Mars Perseverance launch, successful splashdown SpaceX Crew Dragon on Demo-2 1st commercial mission as well as upcoming Crew-1, Artemis Moon mission and more:
My earlier Mars prelaunch commentary on 'Stay Curious' was also featured on July 27 and June 22 at the American Space Museum:
Watch my commentary about all the Mars 2020 missions Perseverance, Hope and Tianwen-1 missions including my Mars rover mosaics and outreach during an interview with WKMG CBS 6 Orlando TV news on July 23:
https://www.clickorlando.com/news/2020/07/23/nasa-is-prepared-for-the-risks-of-launching-nuclear-powered-rover/
.@NASA's most advanced mission to Mars ever is one week away. A closer look at @NASAPersevere with commentary from @ken_kremer on @news6wkmg at 5:30:https://t.co/MKlluiQgLX pic.twitter.com/Y0z2PljIjv

— James Sparvero (@News6James) July 23, 2020
Watch Ken's continuing reports about Mars 2020, Commercial Crew and Artemis for live reporting of upcoming and recent NASA, ULA and SpaceX launches including Crew-1, Demo-2, Starlink and more at the Kennedy Space Center and Cape Canaveral Space Force Station.
Stay tuned here for Ken's continuing Earth and Planetary science and human spaceflight news: www.kenkremer.com –www.spaceupclose.com – twitter @ken_kremer – email: ken at kenkremer.com
Dr. Kremer is a research scientist and journalist based in the KSC area, active in outreach and interviewed regularly on TV and radio about space topics.
………….
Ken's photos are for sale and he is available for lectures and outreach events
Ken has created hundreds of widely published Mars rover mosaics and lectures also about NASA's Mars rovers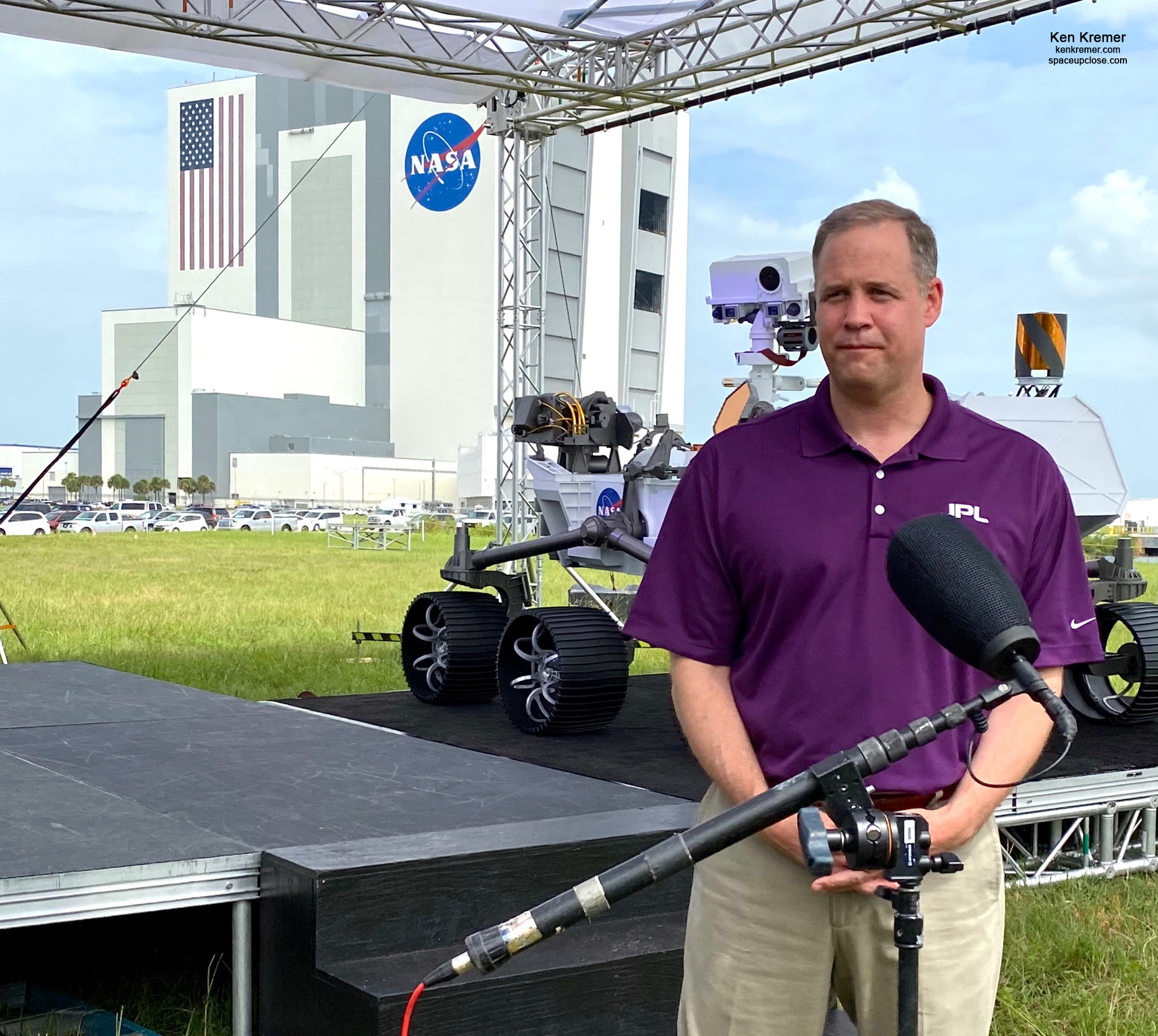 x