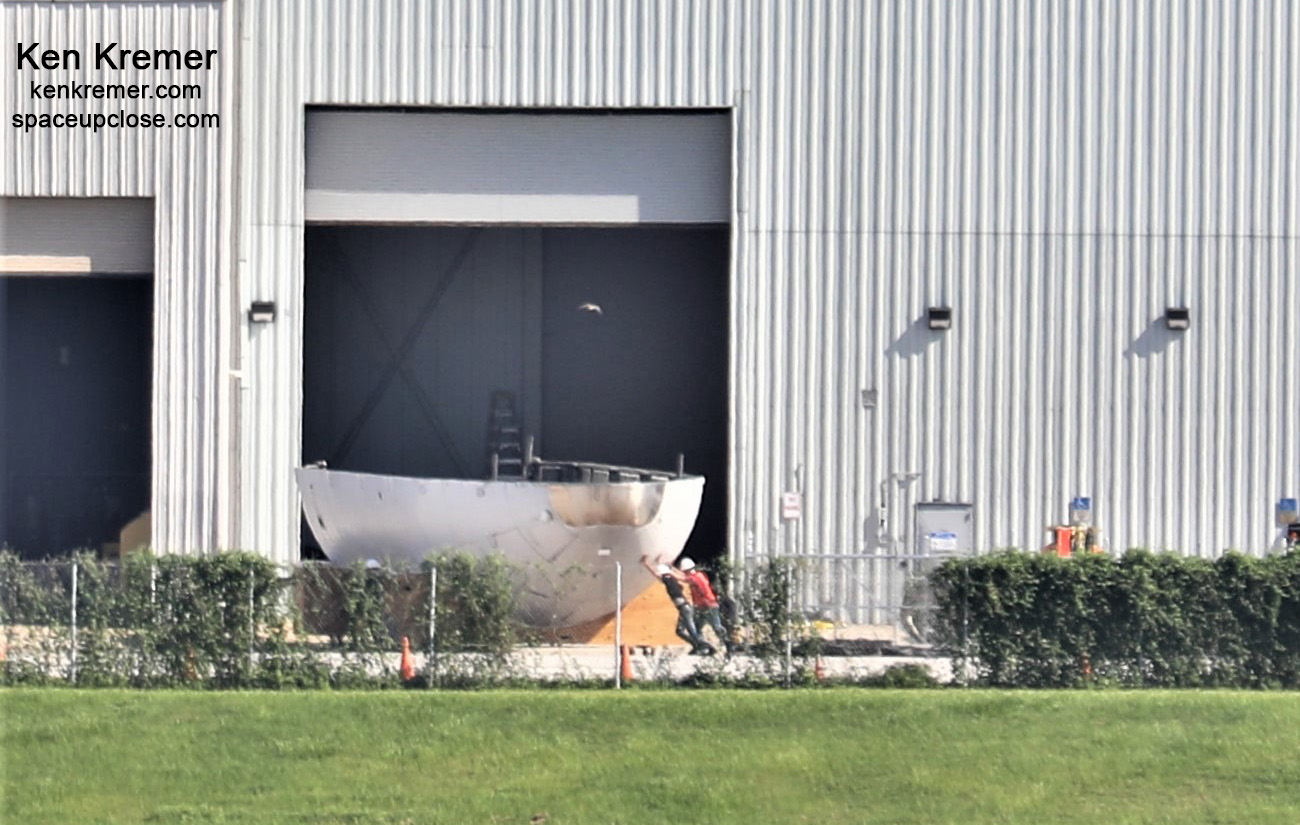 For SpaceUpClose.com & RocketSTEM
PORT CANAVERAL, FL –  Both halves of the nose cone from SpaceX's history making 1st polar launch of a Falcon 9 rocket from Florida on Sunday evening, Aug. 30 were recovered by the SpaceX naval fleet after soft splashdown in the Atlantic Ocean and returned to Port Canaveral overnight a day later this morning, Monday, Sept. 1, looking to be intact and in fairly good shape – from our view across the channel waters.
The 13 m (43 ft) long payload fairing halves encapsulating the commercial Saocom 1B radar imaging satellite mission for Argentina made a parachute assisted thruster guided splashdown in the Atlantic Ocean sea waters off Florida's southern east coast some 40 minutes after launch.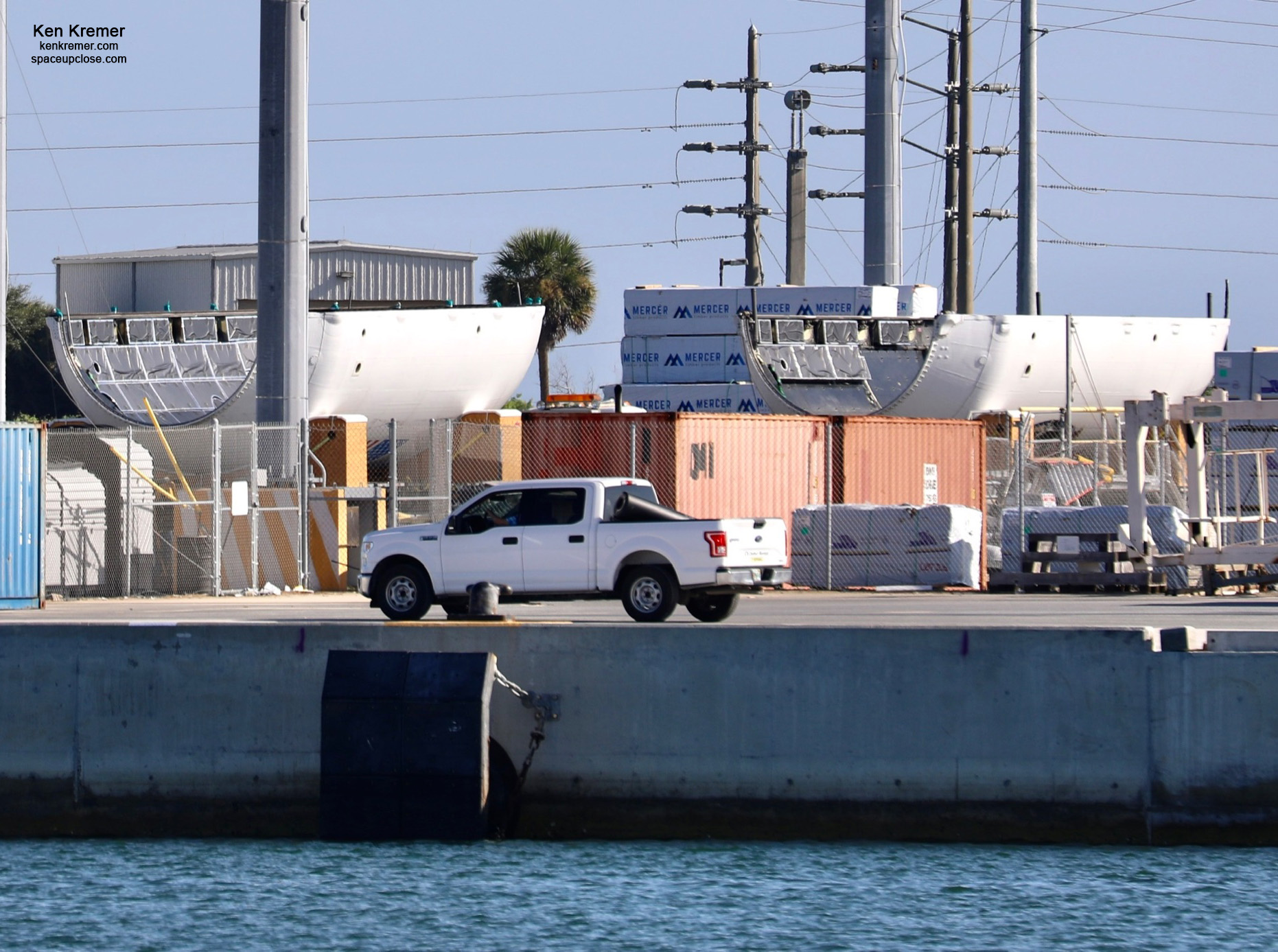 Both nose cones halves were later scooped out of the salt water ocean by the crew of SpaceX's specially designed fairing catcher ship Go Ms. Chief – that had been dispatched days earlier prelaunch along the southern polar launch corridor for the recovery.
Despite poor weather for most of the day Sunday with torrential downpours and thunderstorms in the area, liftoff of the 4x recycled SpaceX Falcon 9 carrying the Saocom-1B Earth radar imaging satellite launch took place Aug. 30 at 7:18 p.m. EDT (2318 GMT) from Space Launch Complex-40 on Cape Canaveral Space Force Station, FL.
SpaceX made history Aug. 30, when they accomplished the 1st polar orbit launch from Cape Canaveral in decades – as well as being the first Falcon 9 rocket do so – on a commercial mission to launch the Saocom 1B radar imaging satellite for Argentina that concluded with a spectacular 1st stage booster land landing back at the Cape minutes later that sent shockingly loud sonic booms screaming across the Florida Space Coast region and well beyond across central Florida.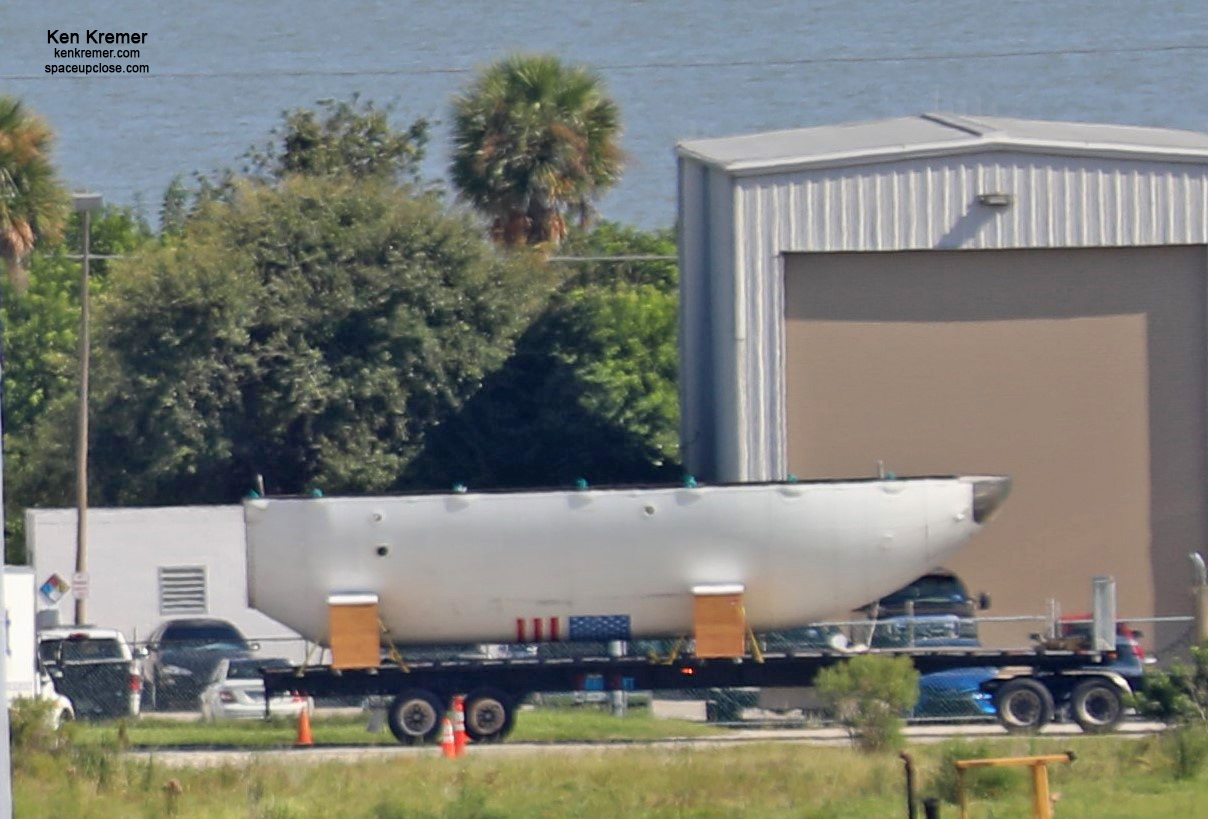 Check out our Space Up Close photos of the fairings by Ken Kremer.
See our Saocom 1B launch and prelaunch articles and photos as well and check back as the galleries grow.
Go Ms. Chief arrived back into Port Canaveral  in the middle of the night Monday morning with both fairing halves secured on deck – sailing past Jetty Park Pier with no fanfare around 2 a.m. ET Sept. 1 and soon docked at the normal spot at North Cargo Pier 6.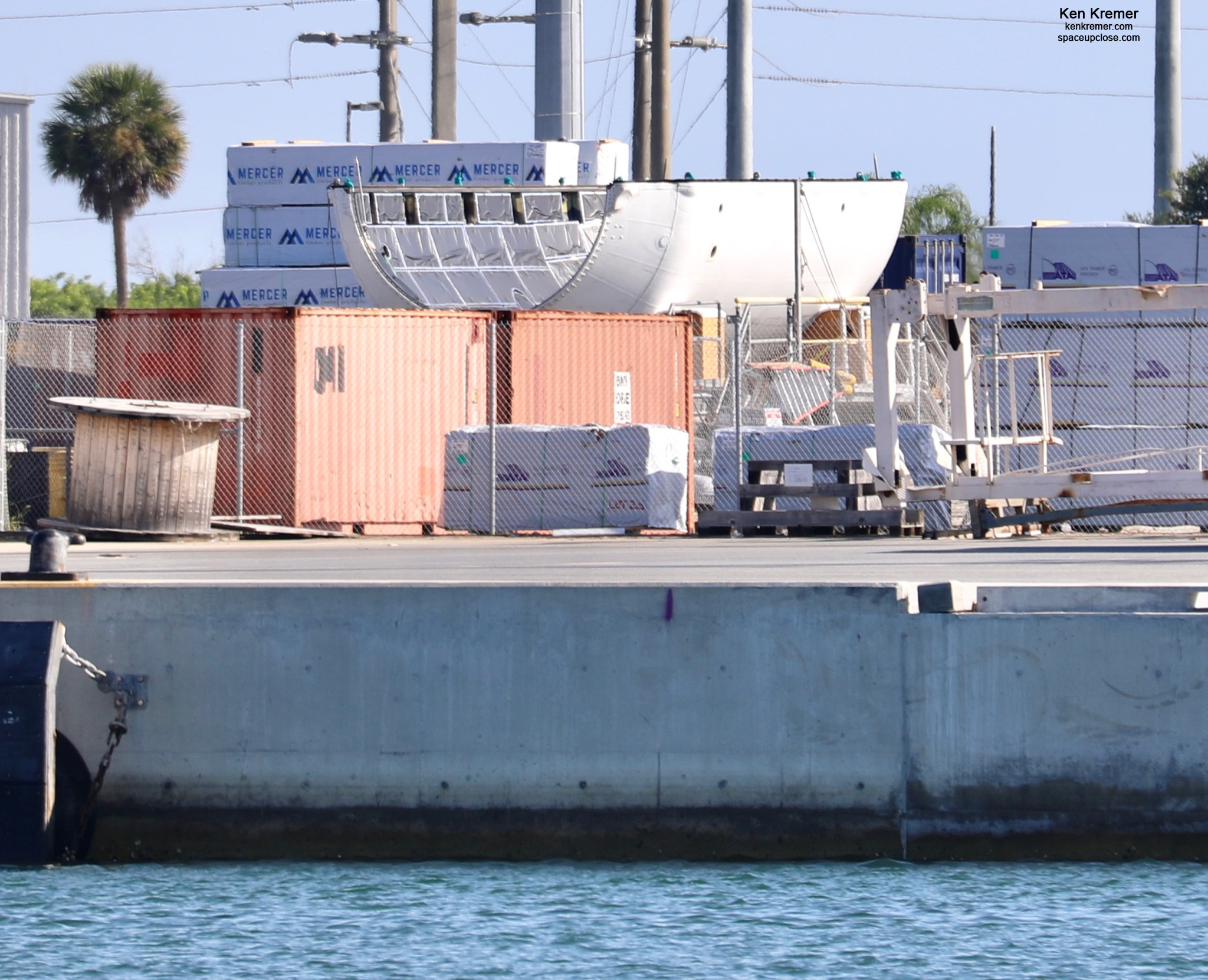 It should be noted that only one fairing ship was dispatched southwards for the Saocom 1B mission since the other catcher ship Go Ms. Tree was deployed northwards to the ocean landing zone for the 12th Starlink mission – slated to launch Sept. 3. See our related story/photos.
Both nose cone segments were hoisted by crane off Go Ms Chief after day break by 9 a.m. Monday onto a pair of cradles mounted on flat beds on the two designated transport trucks.
They were mostly white with just a little bit of charring on one
By roughly 9:30 a.m. the fairing transporters were driven away caravan style following one by one to the regular used SpaceX processing hangar a short distance away in the Port ground facilities.
An hour later by 10:30 a.m. I could see the fairings being driven into the hangar one by one through opened doors and stored side by side.
At one point a pair of technicians actually manually pushed a fairing mounted in the cradles mounted on rollers from one hanger door to the neighboring door
My photos of the fairings and people pushing them gives a great sense of perspective for how big they really are.
The payload fairing is 13 m (43 ft) long, 5.2 m (17 ft) in diameter and weighs approximately 1,900 kg (4200 lbs).
The fairing is constructed of carbon fiber skin overlaid on an aluminum honeycomb core.
The nose cone protects the satellite from aerodynamic and atmospheric forces and frictional atmospheric heating after launch.
The fairings are jettisoned into two halves after the rocket passes through the discernable atmosphere and they are no longer needed for protection of the satellite – so that it can later be deployed from the upper stage.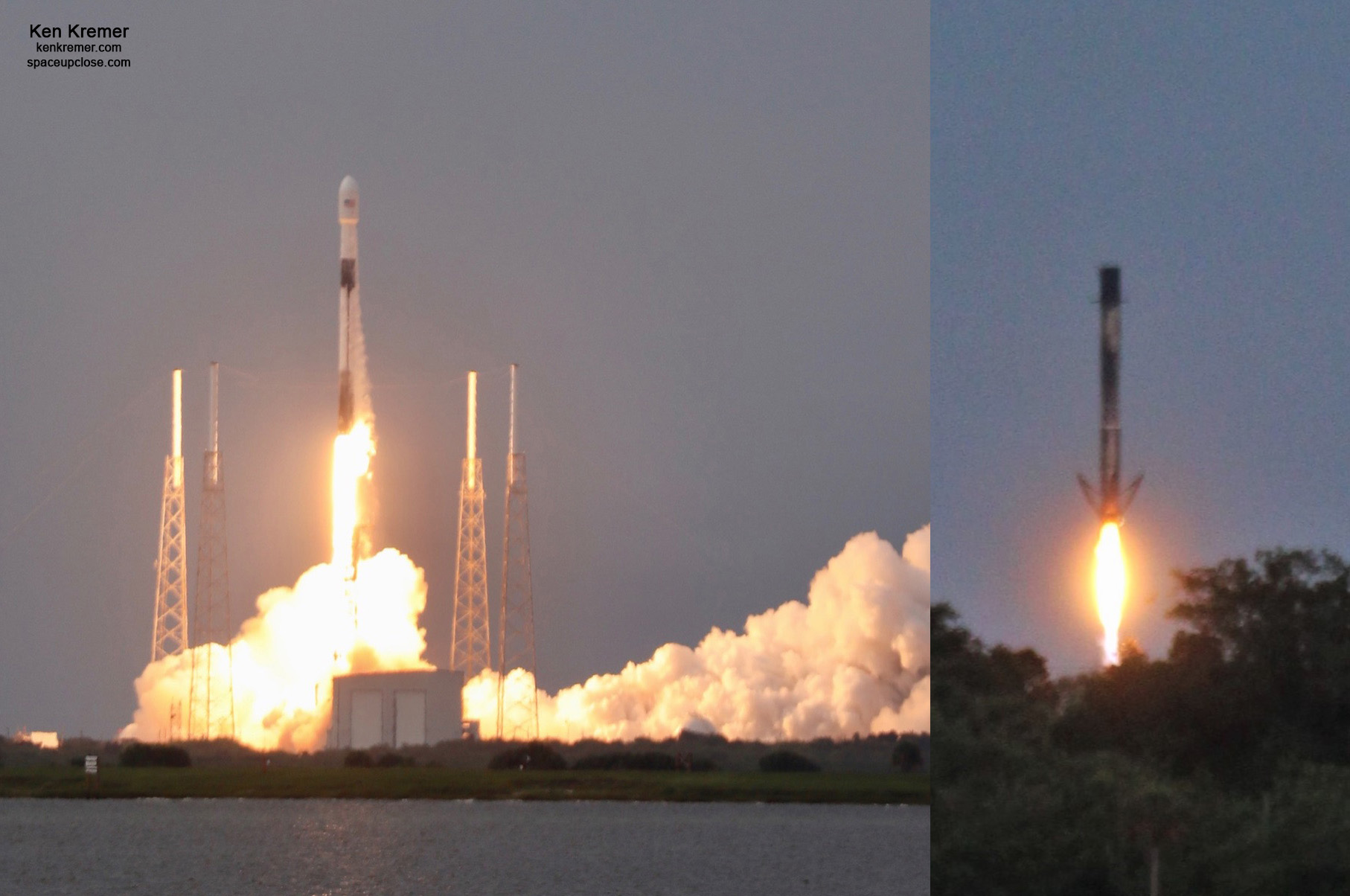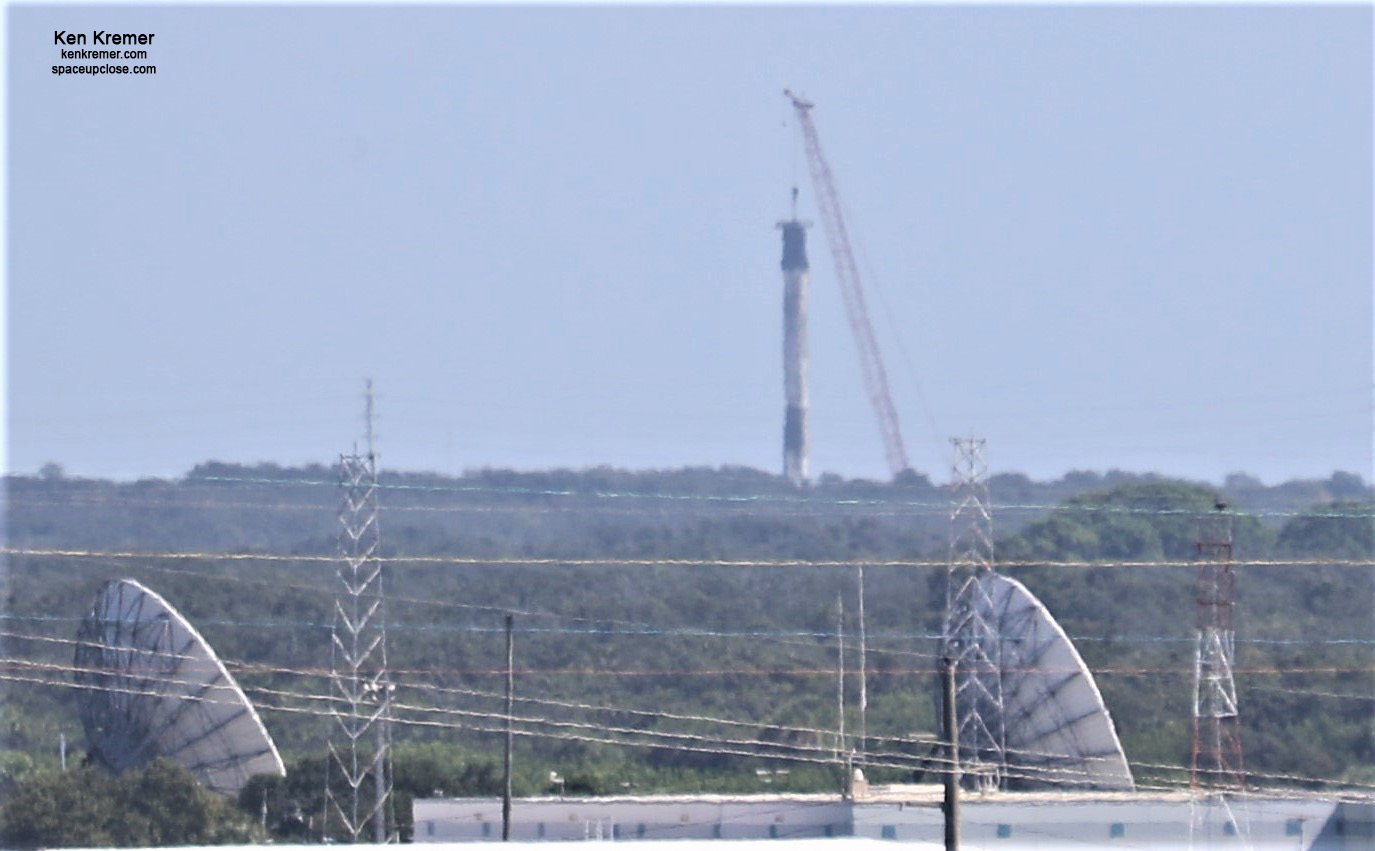 Watch my Aug. 25 commentary at WKMG CBS 6 TV News Orlando as the retraction work was completed on the last Starlink and talking about 3 upcoming launches slated for this past  weekend.
Video Caption: It's going to be a busy three days on the Space Coast with three rocket launches scheduled for a history-making line up but to make this triple-header happen, the weather and rocketry must align. James Sparvero/CBS 6
Watch my Aug. 14 guest host and Aug 3 interview appearances at 'Stay Curious' show at the American Space Museum about successful Mars Perseverance launch, successful splashdown SpaceX Crew Dragon on Demo-2 1st commercial mission as well as upcoming Crew-1, Artemis Moon mission, SpaceX Starlink and more:
https://www.facebook.com/SpaceWalkOfFame/videos/2690117104638099/
https://www.facebook.com/SpaceWalkOfFame/videos/594560917928307/
Watch Ken's continuing reports about Commercial Crew and Artemis and onsite for live reporting of upcoming and recent SpaceX and ULA launches including Demo-2, Starlink, X-37B, Solar Orbiter, Mars 2020 and more at the Kennedy Space Center and Cape Canaveral Space Force Station.
Stay tuned here for Ken's continuing Earth and Planetary science and human spaceflight news: www.kenkremer.com –www.spaceupclose.com – twitter @ken_kremer – email: ken at kenkremer.com
Dr. Kremer is a research scientist and journalist based in the KSC area, active in outreach and interviewed regularly on TV and radio about space topics.
………….
Ken's photos are for sale and he is available for lectures and outreach events
x