For SpaceUpClose.com & RocketSTEM
KENNEDY SPACE CENTER, FL –  SpaceX launched the latest batch of 60 Starlink broadband internet satellites to low Earth orbit on an stunningly beautiful Wednesday morning, Jan. 20, from Florida's Space Coast and carried to space aboard the 1st ever Falcon 9 recycled for a record setting 8th blastoff.
Moreover the breakfast time launch was on a pace that also shattered the record for turnaround time between launches of the now routinely reused first stage boosters.
Coincidentally the spectacular liftoff took place on Inauguration Day 2021 just 4 hours before Joe Biden took the oath of office as 46th President of the United States in Washington, D.C.
Furthermore today was the final day in office for NASA Administrator Jim Bridenstine.
The booster designated as B1051.8 also accomplished its eighth trip to space and back by nailing the soft landing on the sea going droneship 'Just Read the Instructions' (JRTI) in the Atlantic Ocean – thereby setting up a ninth launch in the not too distant future.
Liftoff of the new 'fleet leader' flight-proven Falcon 9 on the seventeenth Starlink mission took place during the instantaneous window at 8:02 a.m. EST, or 13:02 GMT from Launch Complex 39A (LC-39A) at Kennedy Space Center.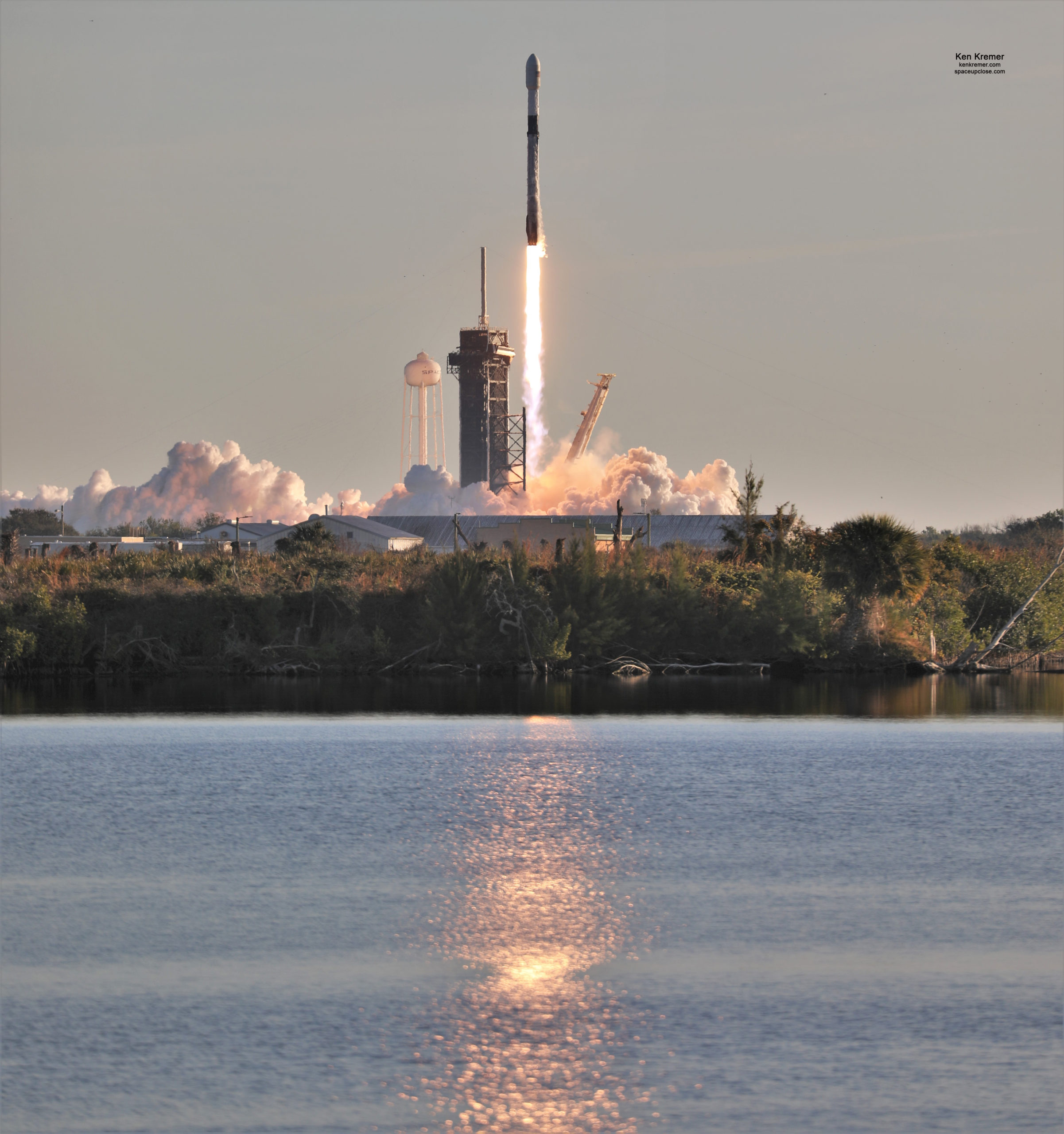 The turnaround time between liftoffs of a recycled Falcon 9 first stage was also slashed to just 38 days – since it last blasted off on the SiriusXM satellite SXM-7 mission on 13 December 2020 also from pad 40.
The brilliant display of rocket fire and fury commenced as the 9 Merlin 1D first stage engines roars to life and ignited with 1.7 million pounds of liftoff thrust fueled by liquid oxygen (LOX) and RP-1 propellants.
Following this latest 17th batch this brings the total number of Starlink satellites launched to 1,015 internet satellites.
SpaceX tweeted this launch video:
Liftoff! pic.twitter.com/zdQNxSv6VC

— SpaceX (@SpaceX) January 20, 2021
Enjoy our eyewitness photos of the Falcon 9 launch from the team of Ken Kremer and Jean Wright at Space UpClose.
The magnificent liftoff delighted spectators gathered all around the Florida's Spaceport as it darted between thin broken and wispy clouds on its way to orbit and a serene morning with pleasant temperatures and low winds.
The 229-foot-tall (70-meter) flight-proven Falcon 9 rocket was rolled out and raised erect Tuesday evening in anticipation of Wednesdays launch for what is designated as Starlink 16.
No prelaunch static fire was conducted.
However the launch was delayed 2 days from the original target of Monday Jan. 18 by a combination poor booster recover weather and the need to perform additional 'mission assurance' inspections.
The mission expanding the Starlink constellation to over 1000 also counts as the 105th flight of a Falcon 9 – an amazing launch cadence with nearly a quarter of those just in the past year and in large part enabled by the now routine reuse of 'flight-proven' and recovered 1st stage boosters.
The new mission thus fortifies the Starlink constellation of relay satellites that one day upcoming will offer a competitive alternative to existing broadband services across North America – including the US and Canada
SpaceX confirmed deployment of the Starlinks with this video:
Deployment of 60 Starlink satellites confirmed pic.twitter.com/XrHInb3aYT

— SpaceX (@SpaceX) January 20, 2021
The Falcon 9 first stage rocket booster supporting this mission previously flew on seven other missions: most recently the SXM-7 mission in December 2020, as well as launch of the RADARSAT Constellation Mission in June 2019, launch of Crew Dragon's first demonstration mission in March 2019, and four Starlink missions.
Following stage separation, SpaceX landed Falcon 9's first stage on the "Just Read the Instructions" droneship, which was located in the Atlantic Ocean.
Falcon 9's first stage has landed on the Just Read the Instructions droneship! pic.twitter.com/3nh3jongIY

— SpaceX (@SpaceX) January 20, 2021
One half of Falcon 9's fairing previously supported a Starlink mission and the other previously supported two.
The next Starlink launch on the 18th mission is tentatively slated for Jan. 27.
Watch Ken's continuing reports about NASA missions and Artemis, Mars Perseverance and Curiosity rovers, SpaceX, Commercial Crew and ISS and onsite for live reporting of upcoming and recent SpaceX and ULA launches including Crew 1 & 2, Demo-2 and Starliner, X-37B, Solar Orbiter, NRO spysats and more at the Kennedy Space Center and Cape Canaveral Space Force Station.
Stay tuned here for Ken's continuing Earth and Planetary science and human spaceflight news: www.kenkremer.com –www.spaceupclose.com – twitter @ken_kremer – email: ken at kenkremer.com
Dr. Kremer is a research scientist and journalist based in the KSC area, active in outreach and interviewed regularly on TV and radio about space topics.
………….
Ken's photos are for sale and he is available for lectures and outreach events
Please consider supporting Ken's work by donating at Patreon:
https://www.patreon.com/kenkremer
x