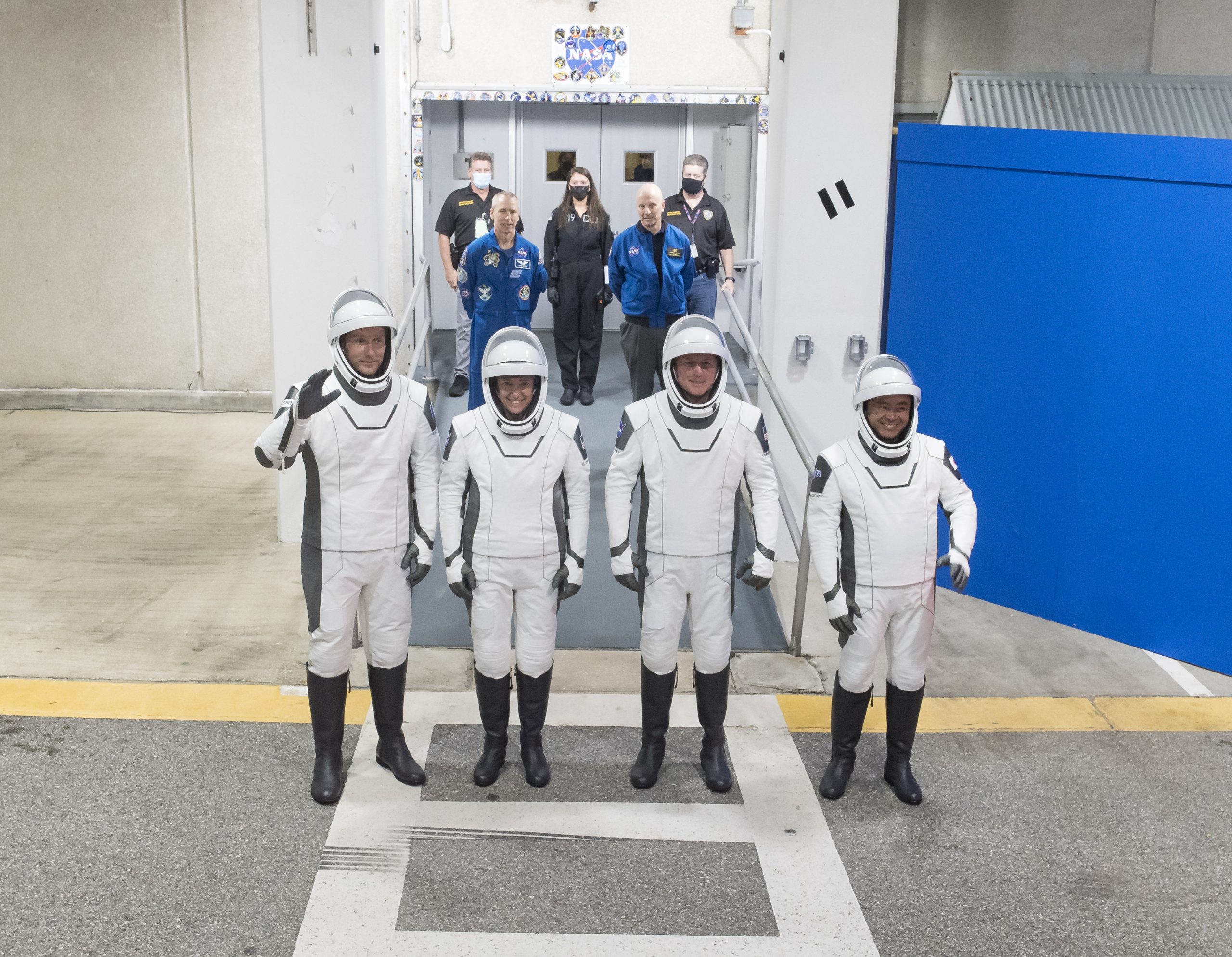 For SpaceUpClose.com & RocketSTEM
KENNEDY SPACE CENTER, FL – Its been a busy weekend of prelaunch activities and accomplishing two key required milestones as the four astronauts flying on the NASA SpaceX Crew-2 mission bound for a six month stay at the International Space Station (ISS) and launch teams completed a full countdown dress rehearsal of the launch day events early this Sunday morning and also conducted a successful static fire test of the first stage Falcon 9 booster early Saturday morning ahead of blastoff planned for later this week on Thursday, April 22 from NASA's Kennedy Space Center (KSC) at Florida's Spaceport.
"Early this morning, Sunday, April 18, Crew-2 mission astronauts Shane Kimbrough and Megan McArthur of NASA, along with JAXA (Japan Aerospace Exploration Agency) astronaut Akihiko Hoshide, and ESA (European Space Agency) astronaut Thomas Pesquet, completed a countdown dress rehearsal of the launch day events," NASA officials wrote in an update Sunday, April 18.
Meanwhile the SpaceX launch team completed a key prelaunch milestone on Saturday, April 17, when the SpaceX Falcon 9 rocket that will launch the Crew Dragon Endeavour spacecraft and Crew-2 astronauts to the International Space Station completed a seven second long hold down static fire engine test of the first stage engines of the integrated stack raised vertical on the launch pad at Launch Complex 39A at the agency's Kennedy Space Center (KSC) in Florida.
"The rocket's nine Merlin first-stage engines were fired for seven seconds for this critical but routine test."
Liftoff of the SpaceX Falcon 9 rocket and Crew Dragon Endeavor spaceship is slated for  6:11 a.m. EDT Thursday, April 22, from Launch Complex 39A at the Kennedy Space Center in Florida.
✔️ Another step closer to launch!

Early this morning, @astro_kimbrough, @Astro_Megan, @Aki_Hoshide and @Thom_astro participated in a dress rehearsal of the Crew-2 launch day events. Lift off is targeted for April 22 at 6:11 a.m. ET: https://t.co/ZGyOV9COzs pic.twitter.com/PxG2fZwVtn

— NASA Commercial Crew (@Commercial_Crew) April 18, 2021
The Crew-2 mission marks the second operational crew rotation flight of the SpaceX Crew Dragon and Falcon 9 to the ISS.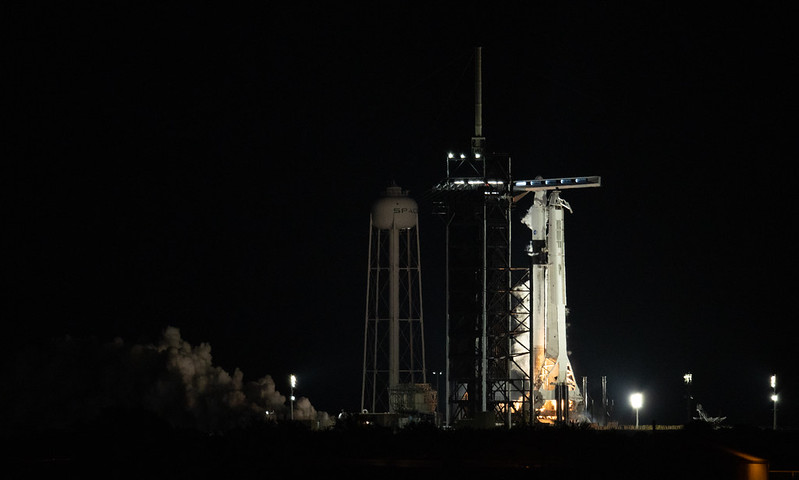 Overall Crew-2 will be the 3rd Crew Dragon mission to fly astronauts to space and the ISS in the last eleven months -a remarkable achievement after no human missions were flown from US soil in 9 years after NASA's space shuttles retired in July 2011.
Furthermore the static fire test was carried out just hours after the safe return and landing of the Russian American trio of spaceflyers including NASA's Kate Rubins about the Soyuz MS-17 capsule just past midnight Saturday.
The brief seven second hold down test of all 9 first stage Merlin 1-D engines was part of the simulated countdown with the full propellant loading up to ignition.
The static hot fire engine test was conducted Saturday morning exactly at 6:11 a.m. EDT April 17– in order to mimic the same exact actual launch preparations, procedures, propellant filling operations and launch time by the launch team they will run through on launch day.
All 9 Merlin 1D first stage engines were ignited exactly at 6:11 a.m. EDT April 17 to generate approx. 1.7 million pounds of thrust for seven seconds while hold-down clamps kept the 22-stpry tall Falcon 9 rocket firmly on the ground at pad 39A.
During the hold down static fire test, the rocket's first and second stages are fueled with liquid oxygen and RP-1 propellants just like an actual launch, and a simulated countdown was carried out to the point of a brief engine ignition lasting seven seconds.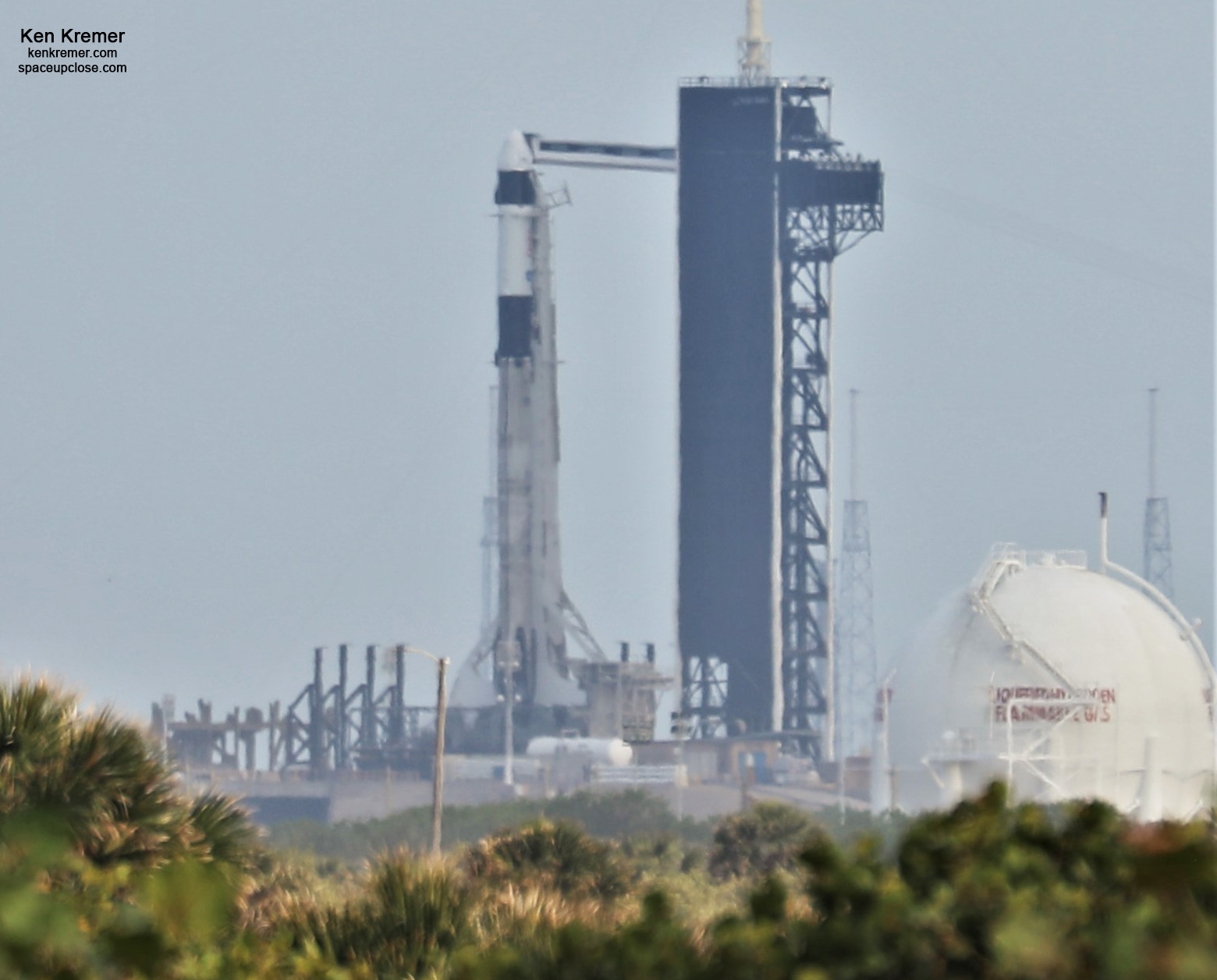 The 215-foot (65-meter)) Falcon 9 rocket was rolled out and up the incline to pad 39A Friday morning April 16 from the hangar outside the pad perimeter fence and raised erect late Friday afternoon April 16 prior to the April 17 engine test and is poised for liftoff to deliver the astronauts to the ISS on April 22.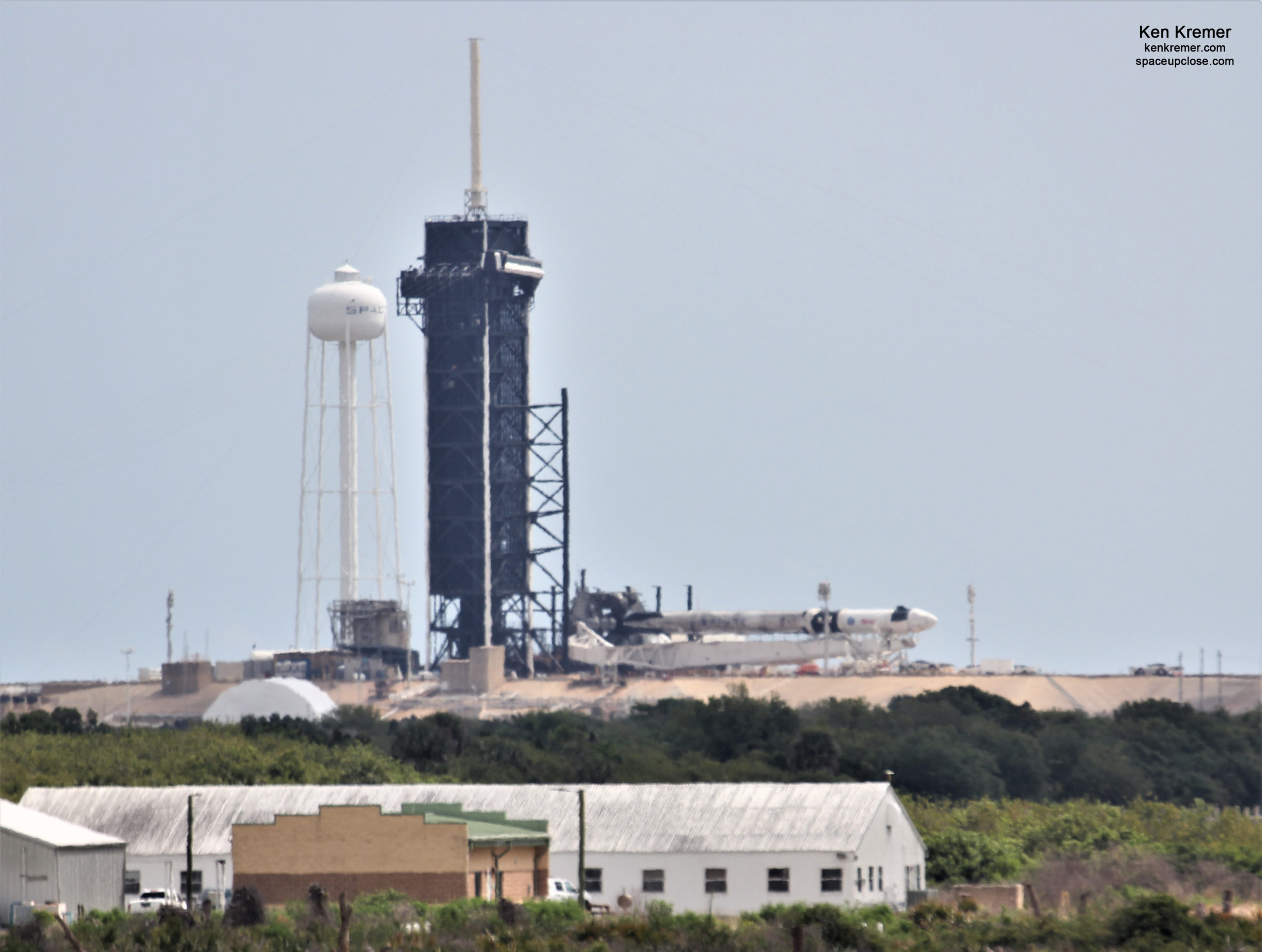 For today's dry dress rehearsal NASA said the four space-suited Crew-2 astronauts simulated everything they will do on launch day practicing all procedures through seating in the Crew Dragon Endeavor capsule and up to 45 minutes prior to engine ignition – but no launch since the Falcon 9 rocket is not fueled with LOX and RP-1 propellants.
"Kimbrough, McArthur, Hoshide, and Pesquet began their day in the Astronaut Crew Quarters inside Kennedy's Neil A. Armstrong Operations and Checkout Building. They put on their black-and-white SpaceX spacesuits, took the elevator down to the ground level and exited through a pair of double doors, where Tesla Model Xs waited to transport them to the launch pad. With smiles and waves, they climbed in for the 20-minute ride to Launch Complex 39A," NASA said.
"All four astronauts entered the Crew Dragon by way of the pad's Crew Access Arm and checked their communications systems before the hatch was closed. The rehearsal concluded about 45 minutes prior to the scheduled launch time; lift off is set for Thursday, April 22 at 6:11 a.m. EDT."
My photo from Crew-1 launch campaign below shows the view of pad 39a at KSC
See more photos below.
NASA and SpaceX announced they were GO for launch of NASA's SpaceX Crew-2 mission with four astronauts to ISS on April 22 following the successful conclusion of the joint Flight Readiness Review (FRR) held at the agency's Kennedy Space Center in Florida on Thursday, April 15.
The backup launch date of Friday, April 23 is available in case of a delay for any reason.
After April 23 the teams will stand down for two days.
The next Falcon 9 launch opportunities are on April 26 and 27.
The instantaneous launch window moves about 23 to 24 minutes earlier each day of any delay.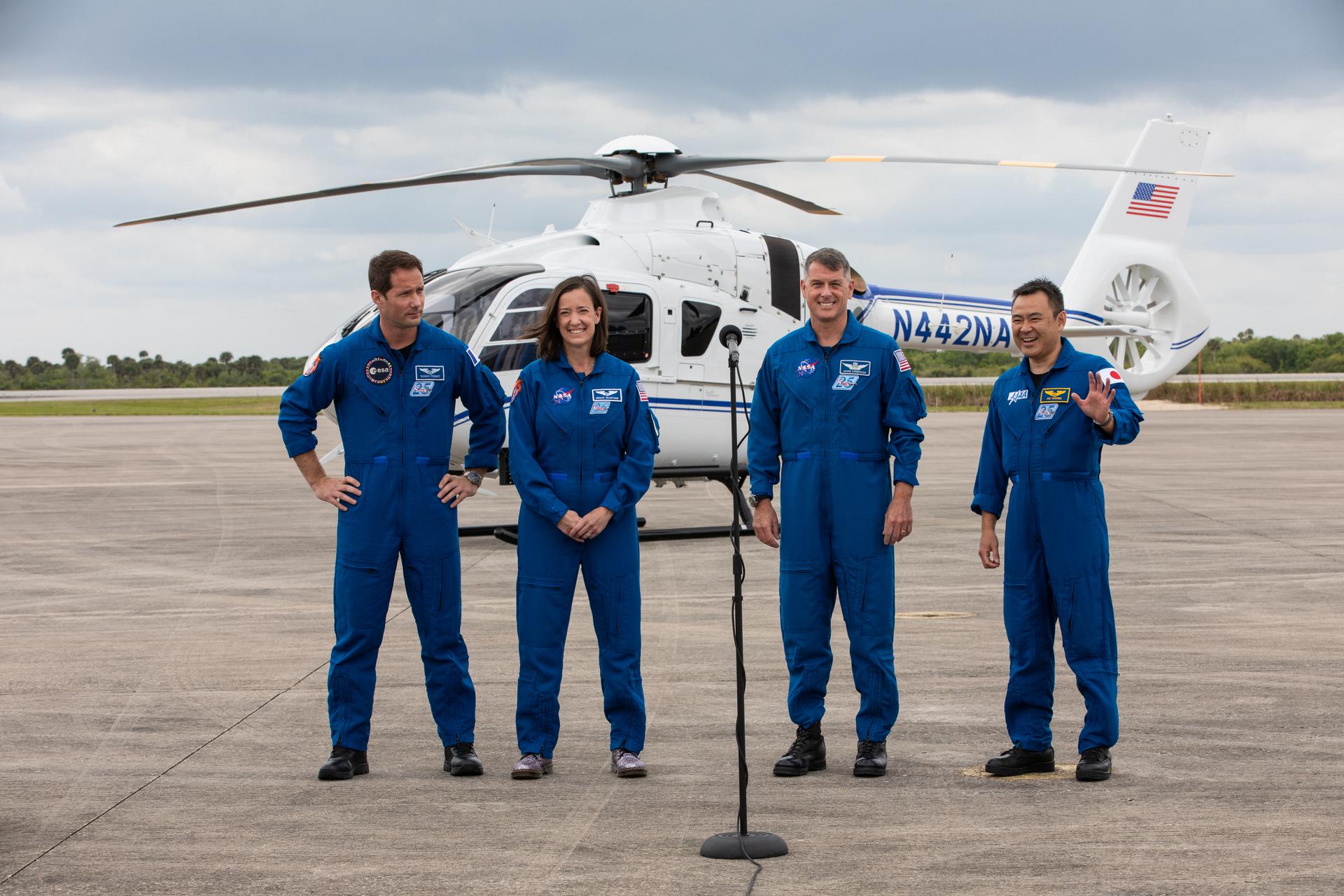 The multinational crew includes two NASA astronauts as well as two from international partners as part of the agency's Commercial Crew Program.
The  all veteran Crew-2 mission quartet of spaceflyers is comprised of NASA astronauts Shane Kimbrough and Megan McArthur, along with JAXA (Japan Aerospace Exploration Agency) astronaut Akihiko Hoshide, and ESA (European Space Agency) astronaut Thomas Pesquet.
Crew-2 arrived Friday, April 16 at 1 p,m. EDT at Kennedy at the Launch and Landing Facility (former SLF) aboard a Gulfstream jet for their flight to the orbiting outpost.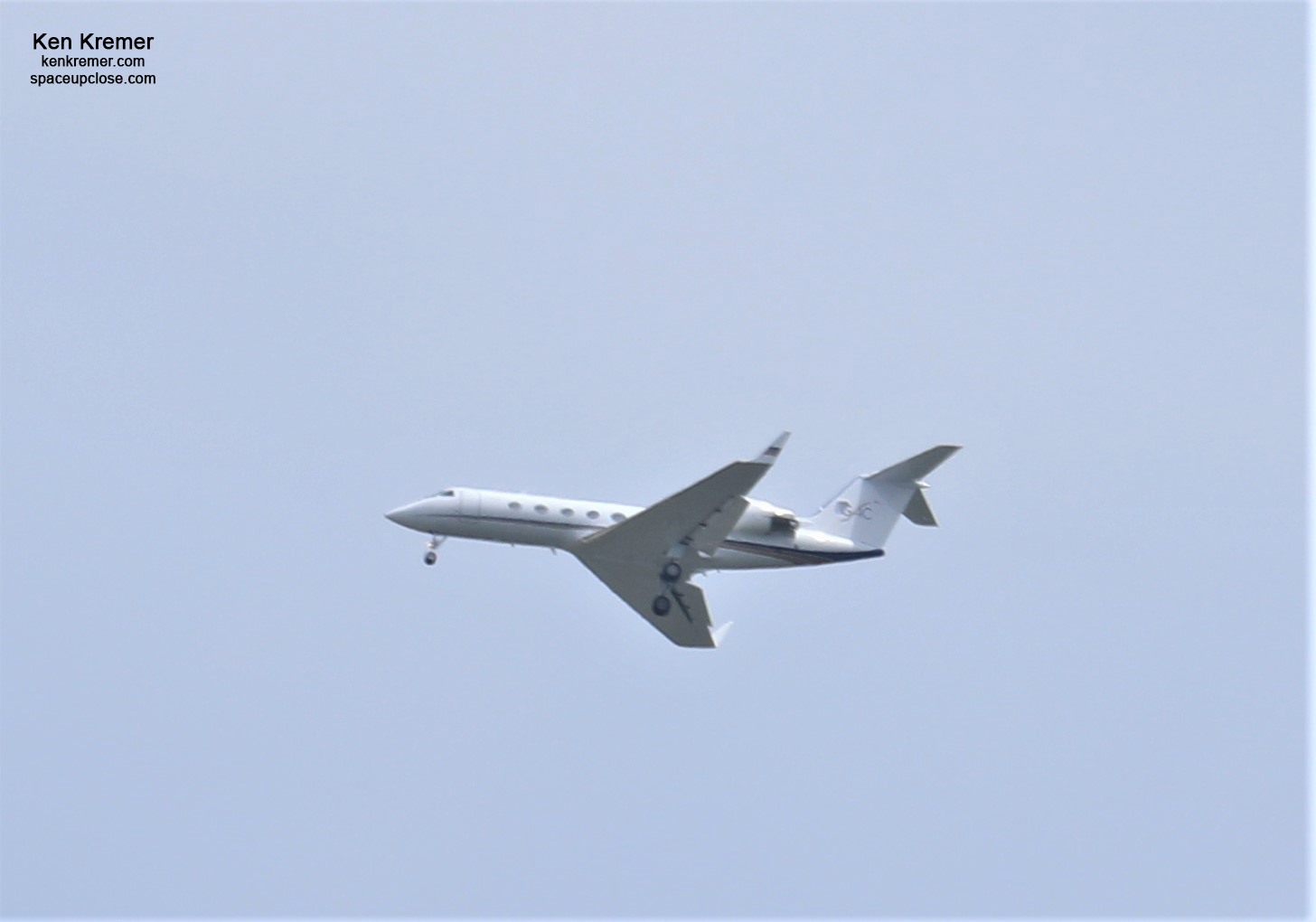 They flew over their Falcon 9 rocket and Crew Dragon as the vehicles were resting horizontal atop Launch Complex-39 at KSC.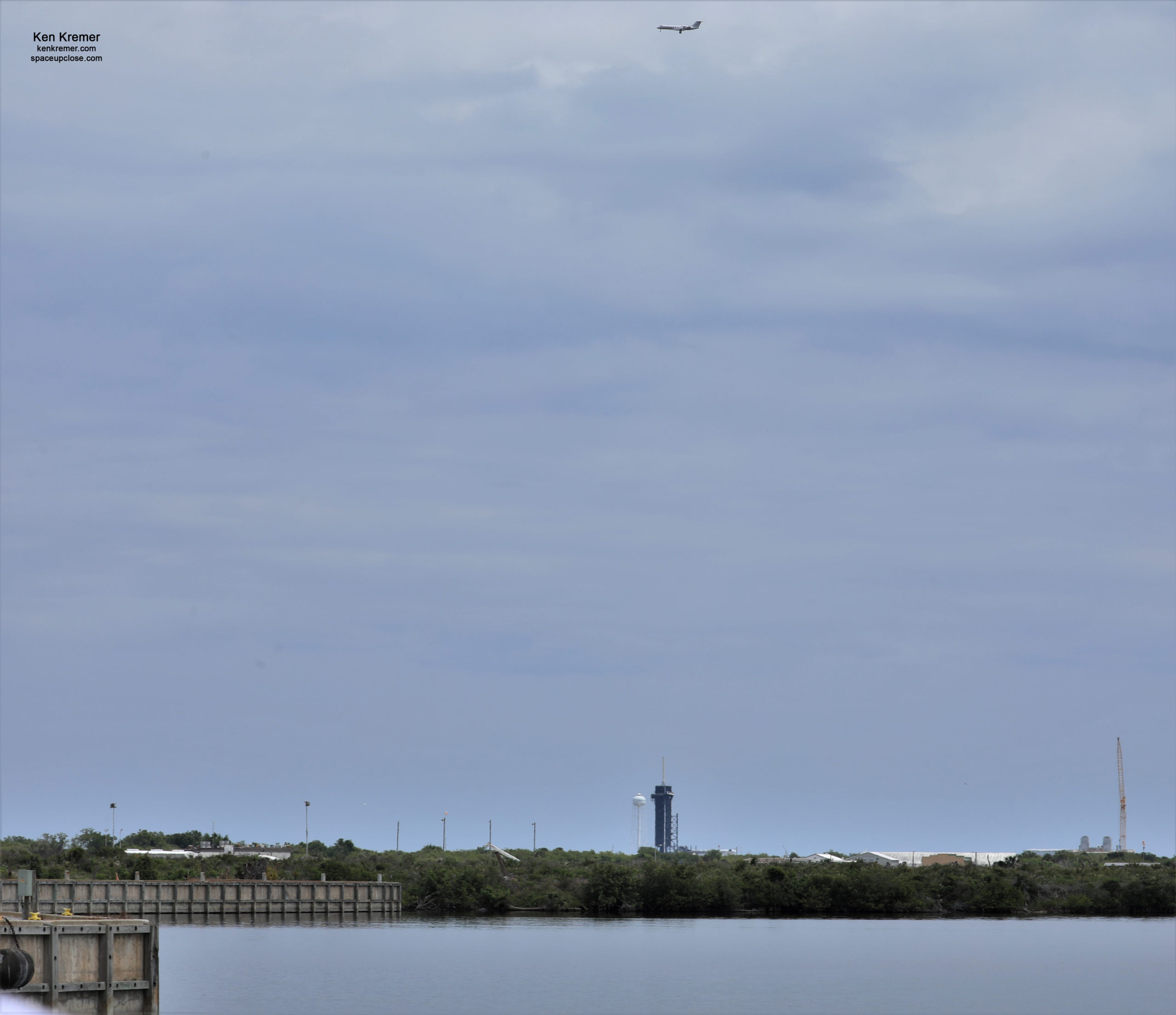 Crew-2 thus counts as the first launch with two international partners as members of the crew.  Crew-1 has one international partner astronaut from Japan
The quartet of astronauts will also be the first crew to ride to space aboard a previously-flown Falcon 9 booster and simultaneously a reused Dragon spacecraft.
Both vehicles are manufactured by SpaceX and have been carefully refurbished for this mission to ensure safety and reliability.
Crew-2 will fly aboard the Crew Dragon "Endeavour" spacecraft — the same spaceship flown by veteran NASA astronauts Doug Hurley and Bob Behnken on the Demo-2 mission to the space station last year in May 2020 which was also the first flight of US astronauts from US soil in nearly a decade.
The Falcon 9 1st stage is recycled from the Crew-1 mission.
"We had to do extensive amount of work to look at both the Dragon for reuse, and also the Falcon 9," said Steve Stich, NASA's commercial crew program manager, at the media briefing Friday.
"We reviewed over 3,000 different products that SpaceX provided us on that vehicle. We had to look at how the structure would perform with an additional flight on both vehicles. We went back and looked at all the requirements to make sure they were met. We made sure that all the hazards on Falcon 9 and Dragon were controlled."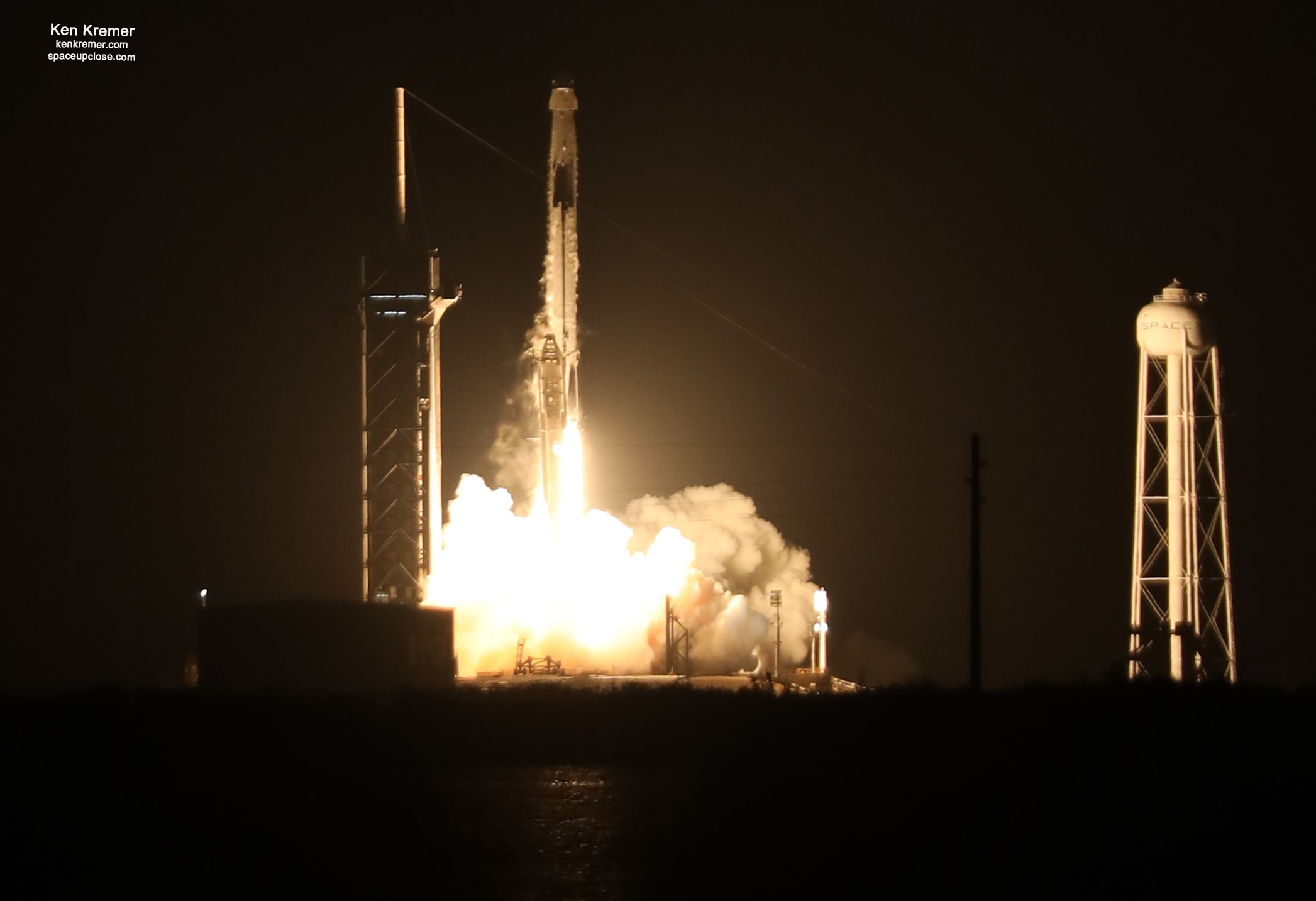 More NASA photos from this mornings  practice sessions:
Check out photos from this morning's dress rehearsal in preparation for the launch of the Crew-2 mission from @NASAKennedy to the @Space_Station. Launch is scheduled for April 22 at 6:11 a.m. EDT More images – https://t.co/56Am0EzZMa pic.twitter.com/IsnwAGizBu

— NASA HQ PHOTO (@nasahqphoto) April 18, 2021
And more fantastic photos from Commander Shane Kimbrough:
Dress rehearsal…✔️ pic.twitter.com/VGcM43WIau

— Shane Kimbrough (@astro_kimbrough) April 18, 2021
Thus with all the upcoming SpaceX Crew and Cargo Dragon missions occupying both available docking ports NASA has now decided to target the launch of the second uncrewed Boeing Starliner Orbital Test Flight-2 mission to the Fall 2021.
There are only 2 docking ports to accommodate US crew vehicles simultaneously. Thus one Crew Dragon must depart to make way before a Starliner can arrive and dock.
Crew-2 will remain aboard until fall 2021 and overlap with SpaceX Crew-3 launching in Fall 2021 – read our story.
Watch my commentary at WKMG CBS 6 Orlando TV news includes my analysis of President Biden's new $24.7 Billion budget proposal for NASA
https://www.clickorlando.com/news/local/2021/04/12/president-biden-proposes-247-billion-nasa-budget/
Ken will be onsite at KSC for the Crew-2 mission launch on NET April 22.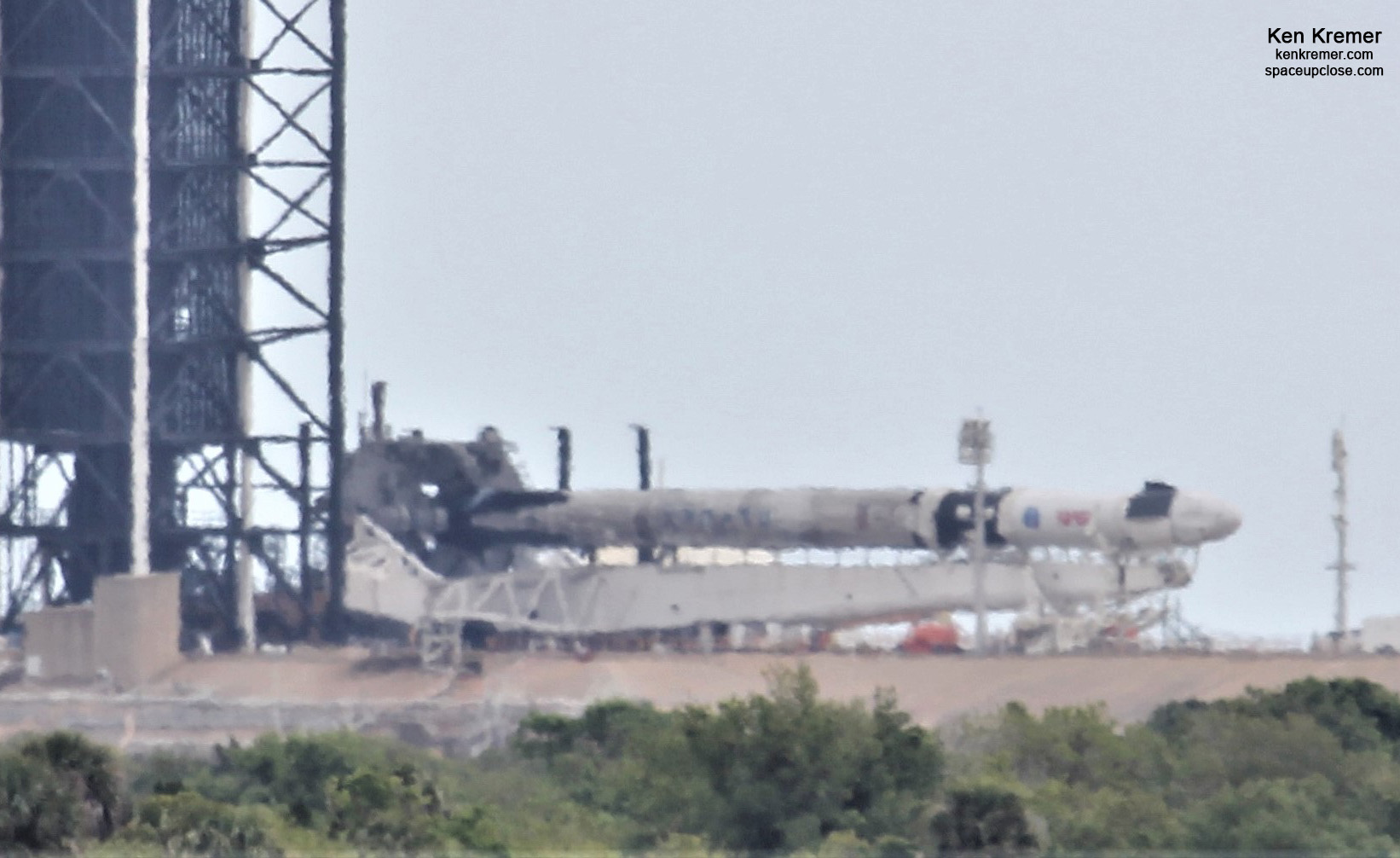 Watch Ken's continuing reports about ISS, Artemis and NASA missions, SpaceX, Starlink, Commercial Crew and Starliner and Crew Dragon and onsite for live reporting of upcoming and recent SpaceX and ULA launches including Crew 1 & 2, Demo-2, ISS, X-37B, Solar Orbiter, Mars 2020 Perseverance and Curiosity rovers, NRO spysats and national security missions and more at the Kennedy Space Center and Cape Canaveral Space Force Station.
Stay tuned here for Ken's continuing Earth and Planetary science and human spaceflight news: www.kenkremer.com –www.spaceupclose.com – twitter @ken_kremer – email: ken at kenkremer.com
Dr. Kremer is a research scientist and journalist based in the KSC area, active in outreach and interviewed regularly on TV and radio about space topics.
………….
Ken's photos are for sale and he is available for lectures and outreach events
Please consider supporting Ken's work by donating at Patreon:
https://www.patreon.com/kenkremer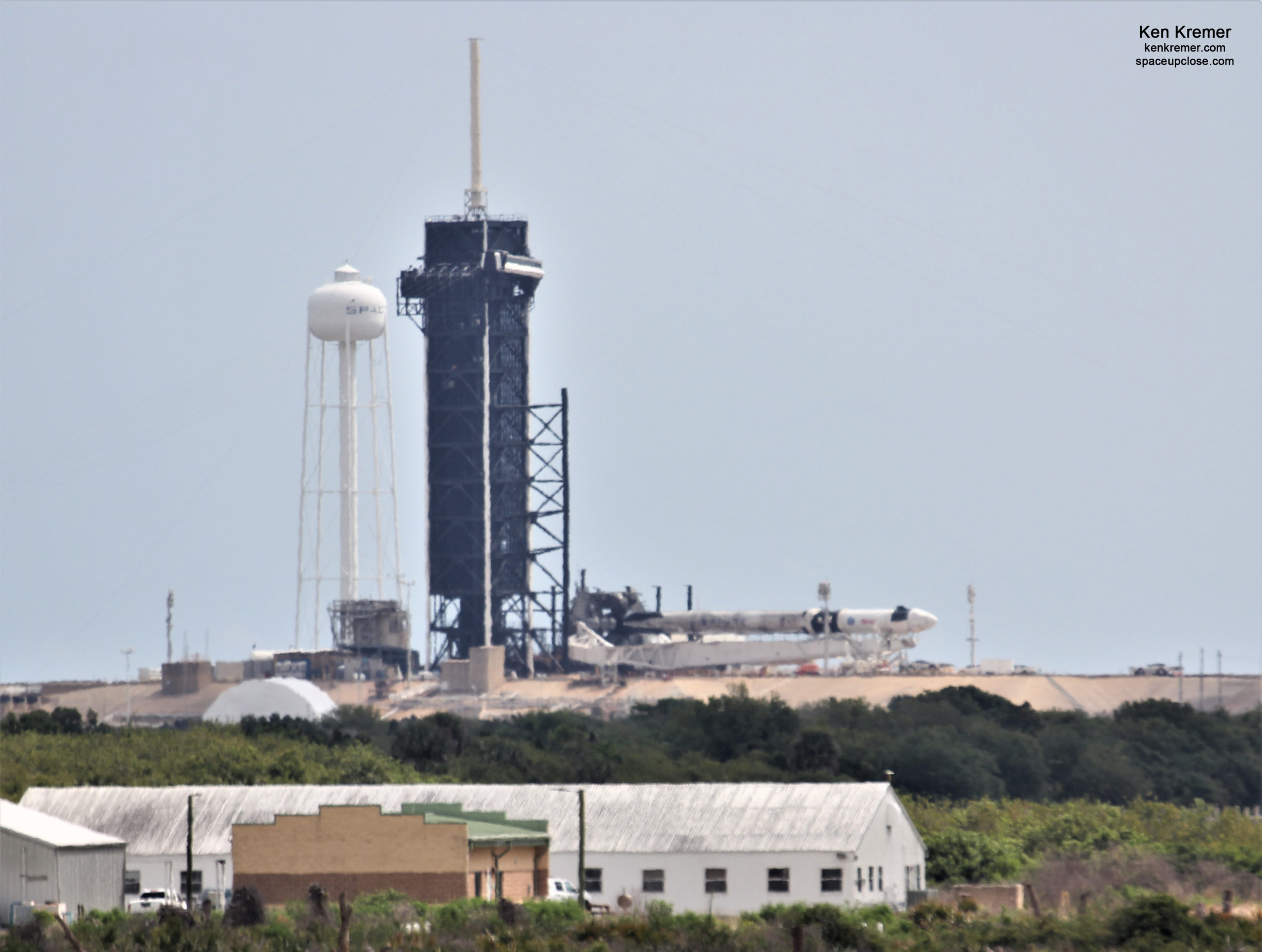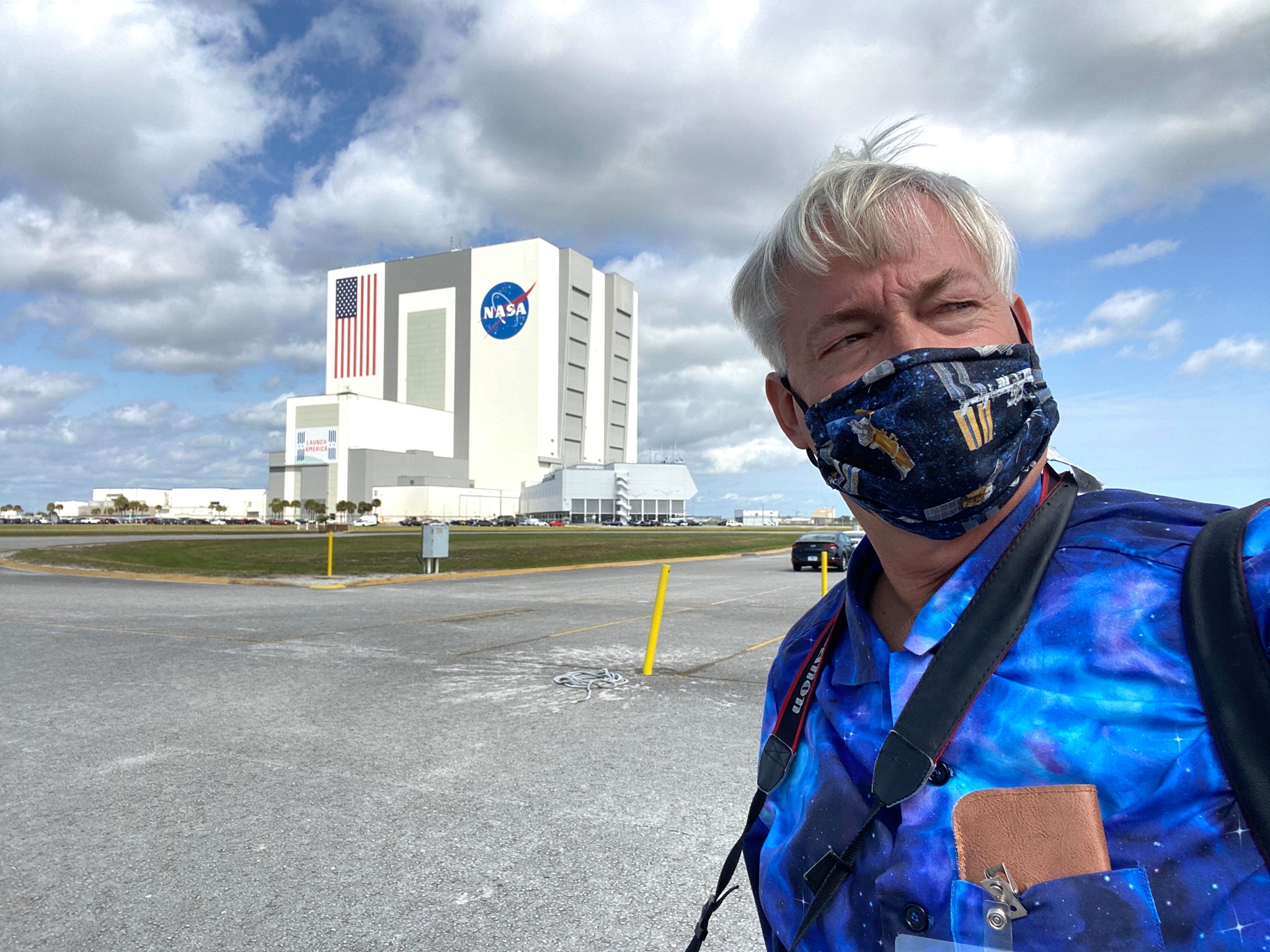 x