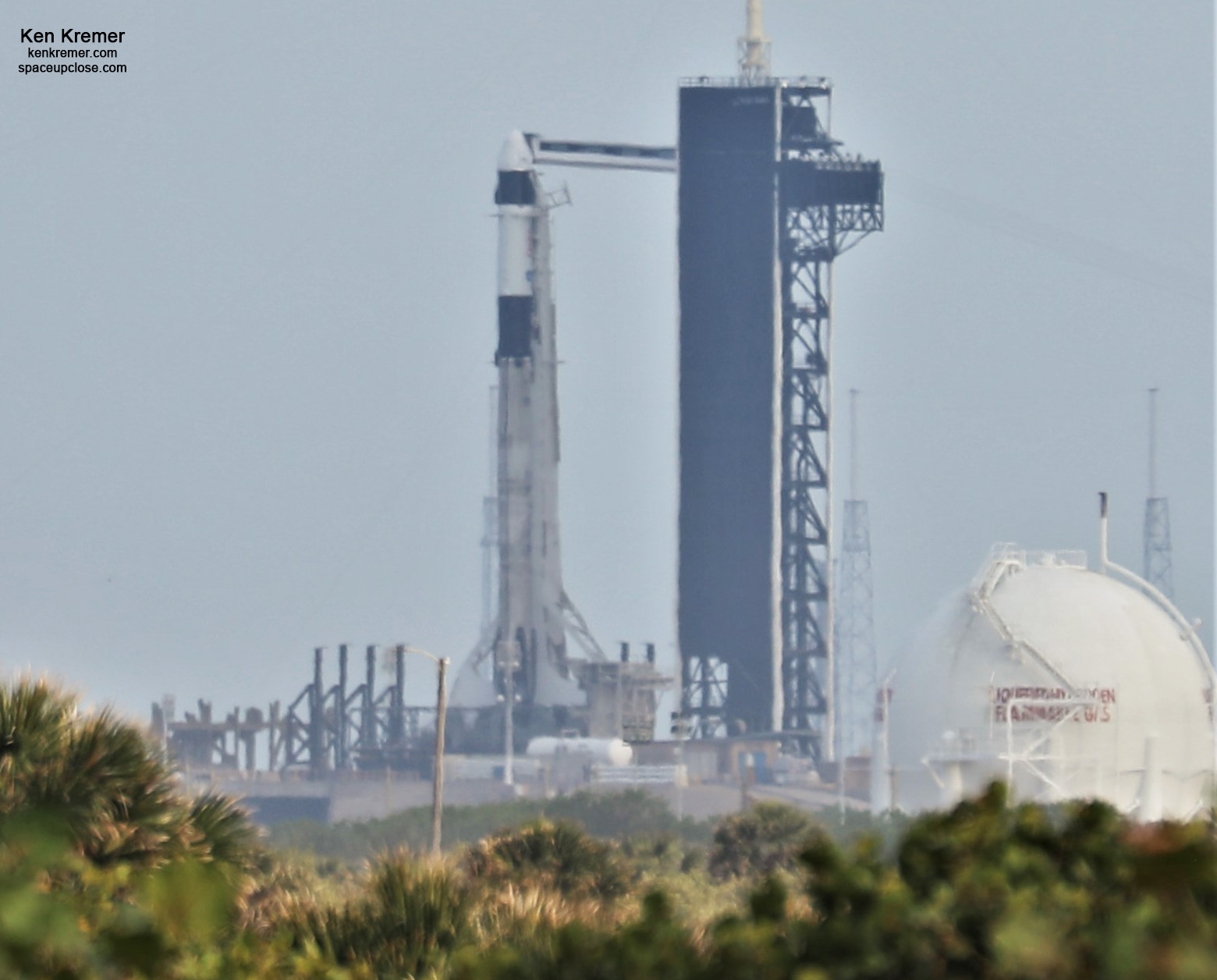 For SpaceUpClose.com & RocketSTEM
KENNEDY SPACE CENTER, FL –  NASA and SpaceX announced they are GO for launch of NASA's SpaceX Crew-2 mission with four astronauts to the International Space Station (ISS) following the successful conclusion of the joint Flight Readiness Review (FRR) held at the agency's Kennedy Space Center in Florida.
The NASA and SpaceX launch teams are proceeding forward with plans for liftoff of the recycled Falcon 9 rocket and Crew Dragon Endeavor spacecraft next week on Thursday, April 22 from Florida's Spaceport, they announced at a media briefing Thursday evening April 15.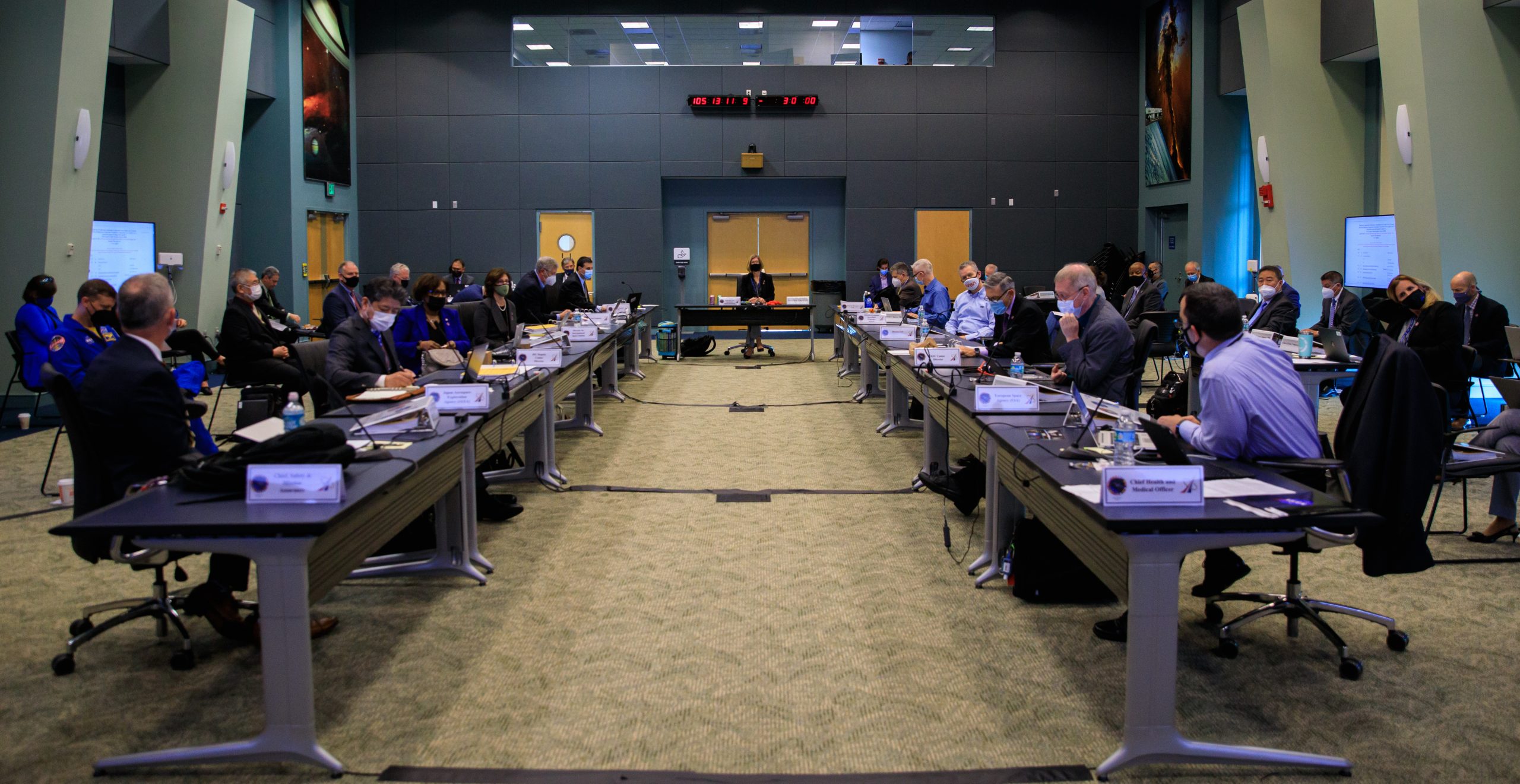 Liftoff of the SpaceX Falcon 9 rocket and Crew Dragon Endeavor is slated for  6:11 a.m. EDT Thursday, April 22, from Launch Complex 39A at the Kennedy Space Center in Florida.
? NASA's @SpaceX Crew-2 mission is GO for launch to the @Space_Station!

Four astronauts are set for liftoff aboard their Crew Dragon Endeavour spacecraft on Thurs., April 22 at 6:11am ET from @NASAKennedy. Watch live starting at 2am: https://t.co/2kpdM37igt pic.twitter.com/li823sOFvA

— NASA (@NASA) April 16, 2021
The Crew-2 mission marks the second crew rotation flight of the SpaceX Crew Dragon to the ISS.
Blastoff will coincide with Earth Day on April 22 if it proceeds on time.
"ISS provides a unique platform to get those measurements and to do Earth science research. It's becoming more and more a part of the ISS mission." — Steve Jurczyk, acting NASA administrator on the @Space_Station's role in studying our home planet. pic.twitter.com/NSHz7Wup0b

— NASA (@NASA) April 16, 2021
They are due to dock at the ISS at the forward docking port about 23 hours after liftoff.
After successfully docking at the space station the Crew-2 astronauts will join the Expedition 65 crew already aboard the orbital outpost, comprising the Crew-1 astronauts still aboard as well as a new multinational Russian-American Soyuz crew just launched last week on April 9 from Baikonur.
That will briefly enlarge the resident crew size on board ISS to 11.
Crew-1, the first long-duration commercial crew mission, will return to Earth on April 28.
Overall Crew-2 will be the 3rd Crew Dragon mission to fly astronauts to space and the ISS in the last eleven months -a remarkable achievement after no human mission were flown from US soil in 9 years after NASA's space shuttles retired in July 2011.
The weather outlook next week is a bit iffy at this time. Only time will tell.
The only issue to be resolved following the FRR is SpaceX has to analyze a LOX loading issue recently discovered wherein slightly more liquid oxygen has been loaded into the first stage propellant tank than previously believed. However this LOX issue does not appear to be a show stopper
"The flight readiness review was very successful. We only had one exception, which needs to be cleared up in the next few days," said Kathy Lueders, head of NASA's human exploration and operations mission directorate, at the media briefing.
"Everybody agreed to proceed toward flight, with us working to clear that one issue."
NASA's longtime chief of human spaceflight operations Bill Gerstenmaier, who now works for SpaceX, addressed the LOX issue.
"There's one item we still need to a little more work on," Gerstenmaier said at the media briefing.
"In Texas, we discovered there was a potential loading error, where we actually may be adding a little extra oxygen in our tank than normal. We've been doing that throughout our flight history."
He said that amounted to about 4 inches (10 cm)  in the Falcon 9 1st stage LOX tank.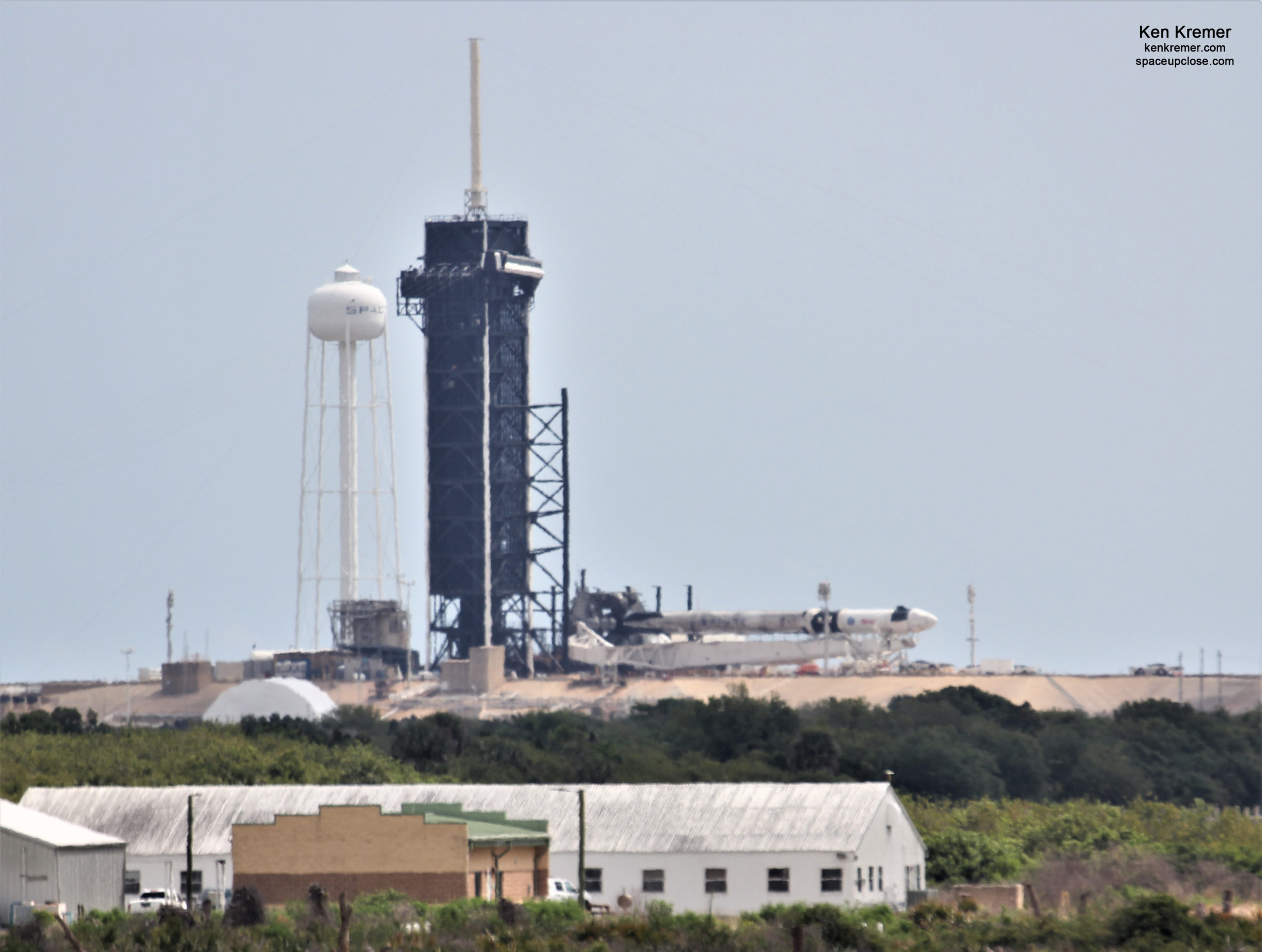 But before the Crew-2 launch can proceed forward the SpaceX Falcon 9 rocket still has to successfully pass the required static fire test – a brief hold down test of all 9 first stage Merlin 1-D engines during a simulated countdown with the full propellant loading
The static hot fire engine test is scheduled for early Saturday morning at 6:11 a.m. EDT April 17– in order to mimic the same exact actual launch preparations, procedures, propellant filling operations and launch time by the launch team.
The backup launch date if Friday, April 23 in case of a delay for any reason.
After April 23 they will stand down for two days.
The next Falcon 9 launch opportunities are on April 26 and 27
The multinational crew includes two NASA astronauts as well as two from international partners as part of the agency's Commercial Crew Program.
The  all veteran Crew-2 mission quartet of spaceflyers is comprised of NASA astronauts Shane Kimbrough and Megan McArthur, along with JAXA (Japan Aerospace Exploration Agency) astronaut Akihiko Hoshide, and ESA (European Space Agency) astronaut Thomas Pesquet.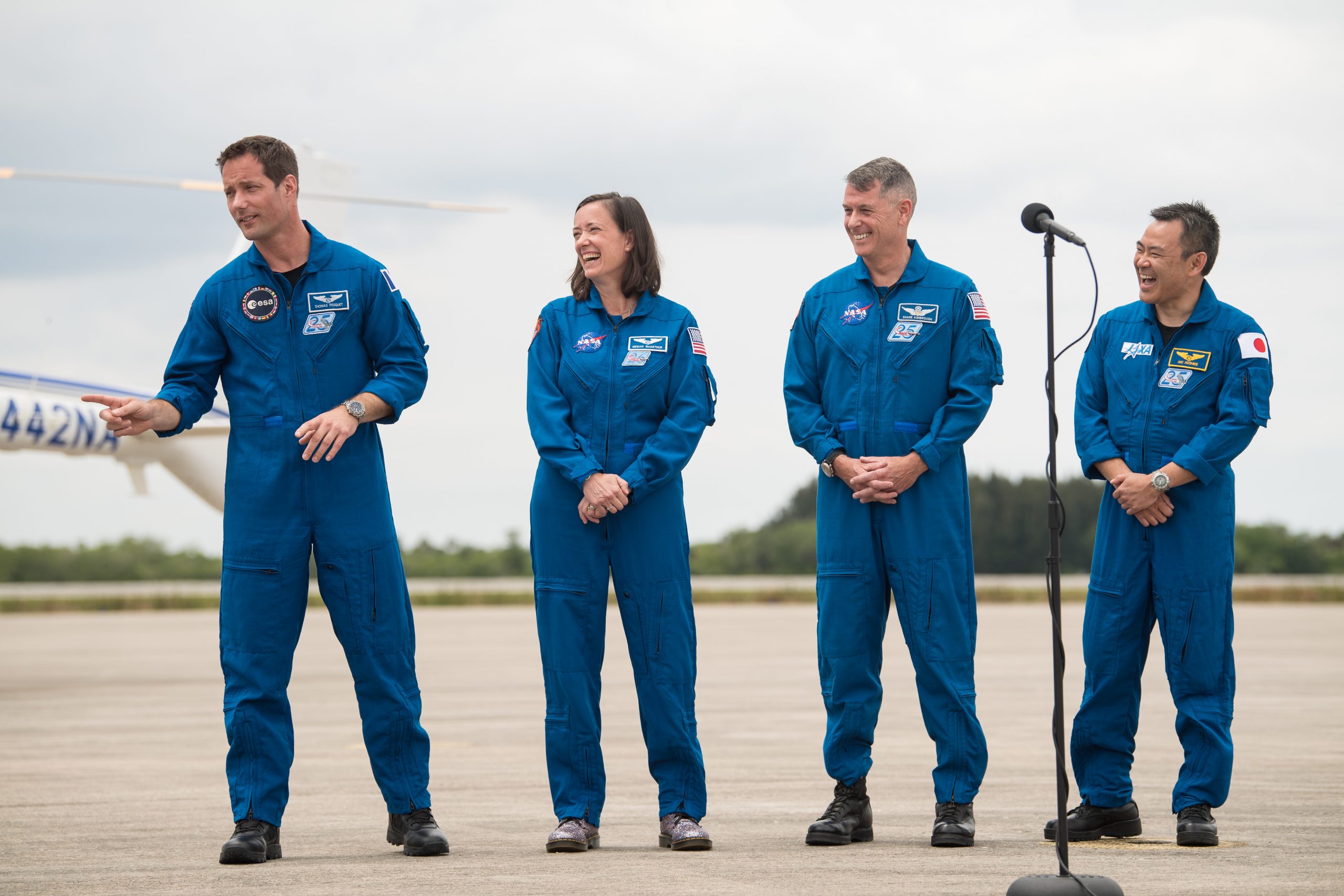 Crew-2 thus counts as the first launch with two international partners as members of the crew.  Crew-1 has one international partner astronaut from Japan
The quartet of astronauts will also be the first crew to ride to space aboard a previously-flown Falcon 9 booster and simultaneously a reused Dragon spacecraft.
Both vehicles are manufactured by SpaceX and have been carefully refurbished for this mission to ensure safety and reliability.
Crew-2 will fly aboard the Crew Dragon "Endeavour" spacecraft — the same spaceship flown by veteran NASA astronauts Doug Hurley and Bob Behnken on the Demo-2 mission to the space station last year in May 2020 which was also the first flight of US astronauts from US soil in nearly a decade.
The Falcon 9 1st stage is recycled from the Crew-1 mission.
"We had to do extensive amount of work to look at both the Dragon for reuse, and also the Falcon 9," said Steve Stich, NASA's commercial crew program manager, at the briefing.
"We reviewed over 3,000 different products that SpaceX provided us on that vehicle. We had to look at how the structure would perform with an additional flight on both vehicles. We went back and looked at all the requirements to make sure they were met. We made sure that all the hazards on Falcon 9 and Dragon were controlled."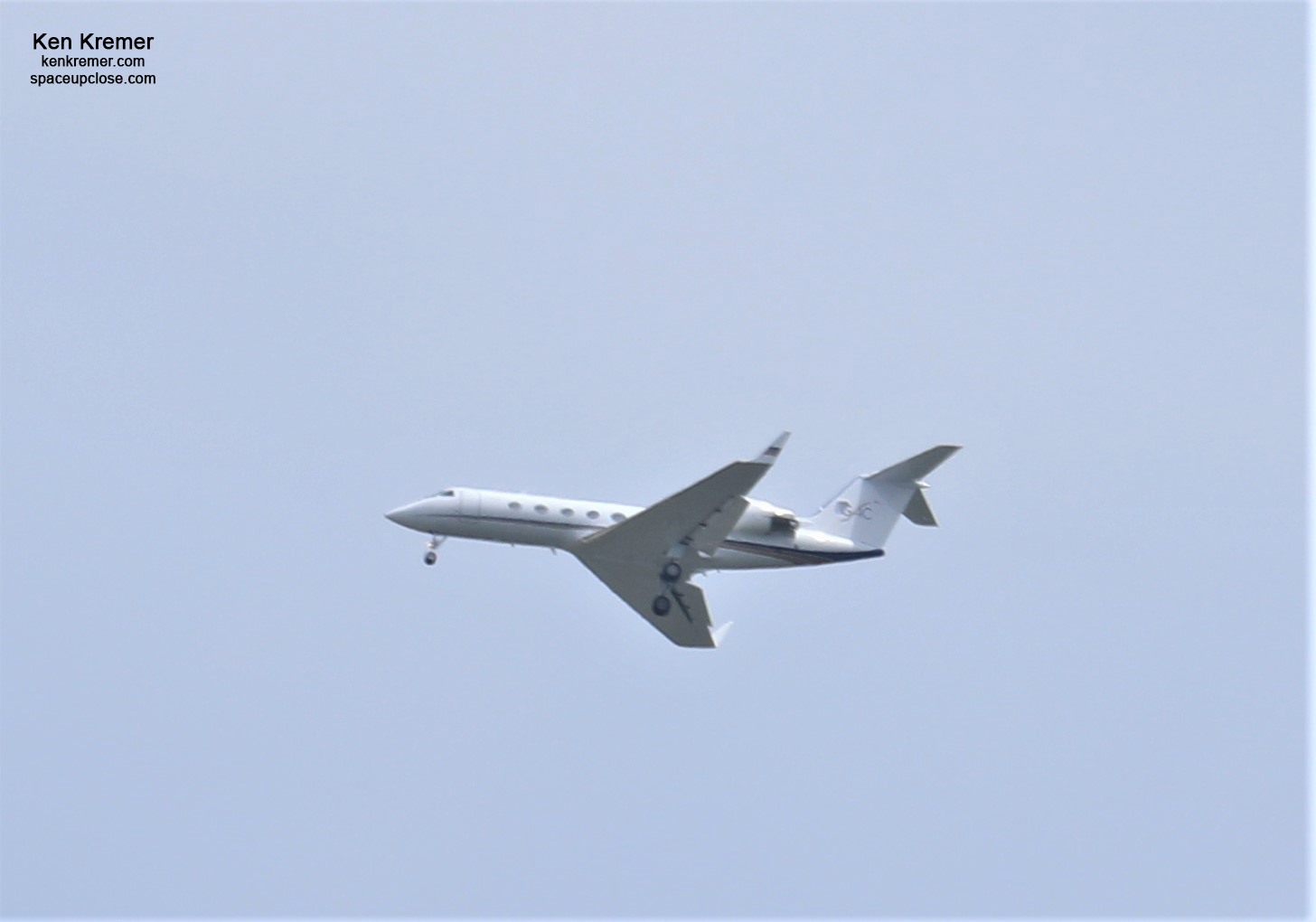 Crew-2 arrived Friday, April 16 at 1 p,m. EDT at Kennedy at the Launch and Landing Facility (former SLF) aboard a Gulfstream jet for their flight to the orbiting outpost.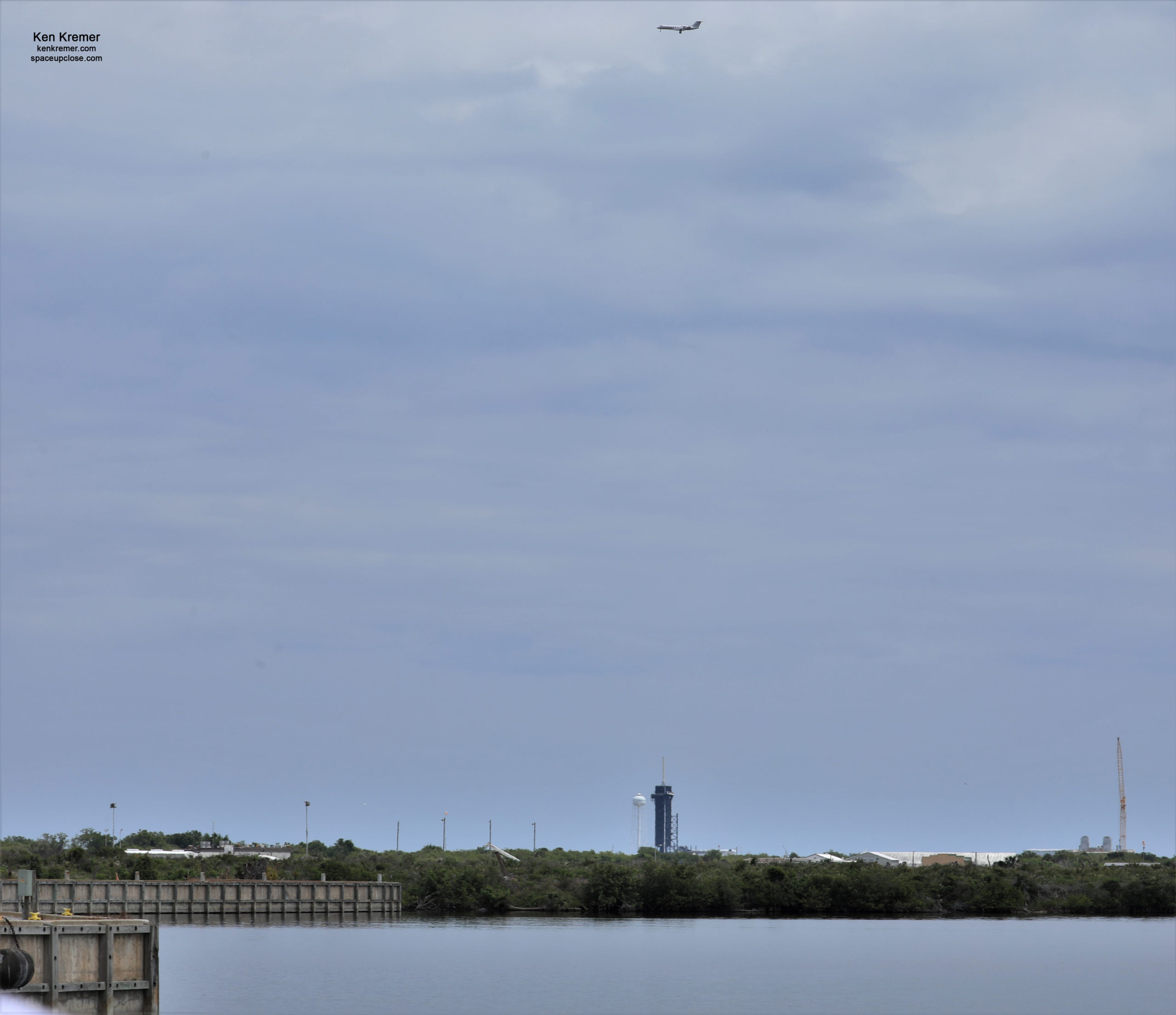 They flew over their Falcon 9 rocket and Crew Dragon as  the vehicles were resting horizontal atop Launch Complex-39 at KSC.
Here's the astronauts KSC arrival view from above in the Gulfsteam jet from ESA astronaut Thomas Pesquet.
Filmé en arrivant au @NASAKennedy : nous avons survolé le pas de tir 39a d'où nous décollerons dans 6 jours ?? #MissionAlpha

We flew around our launchpad 39a before landing @nasakennedy. Landing and then liftoff in 6 days. ?? pic.twitter.com/vb5e3S7dEX

— Thomas Pesquet (@Thom_astro) April 16, 2021
They will now start final preparations for liftoff and participate in a dry dress rehearsal on Sunday
The integrated rocket and astronaut ferry ship rolled out from the processing hangar around 8 a.m. EDT this morning.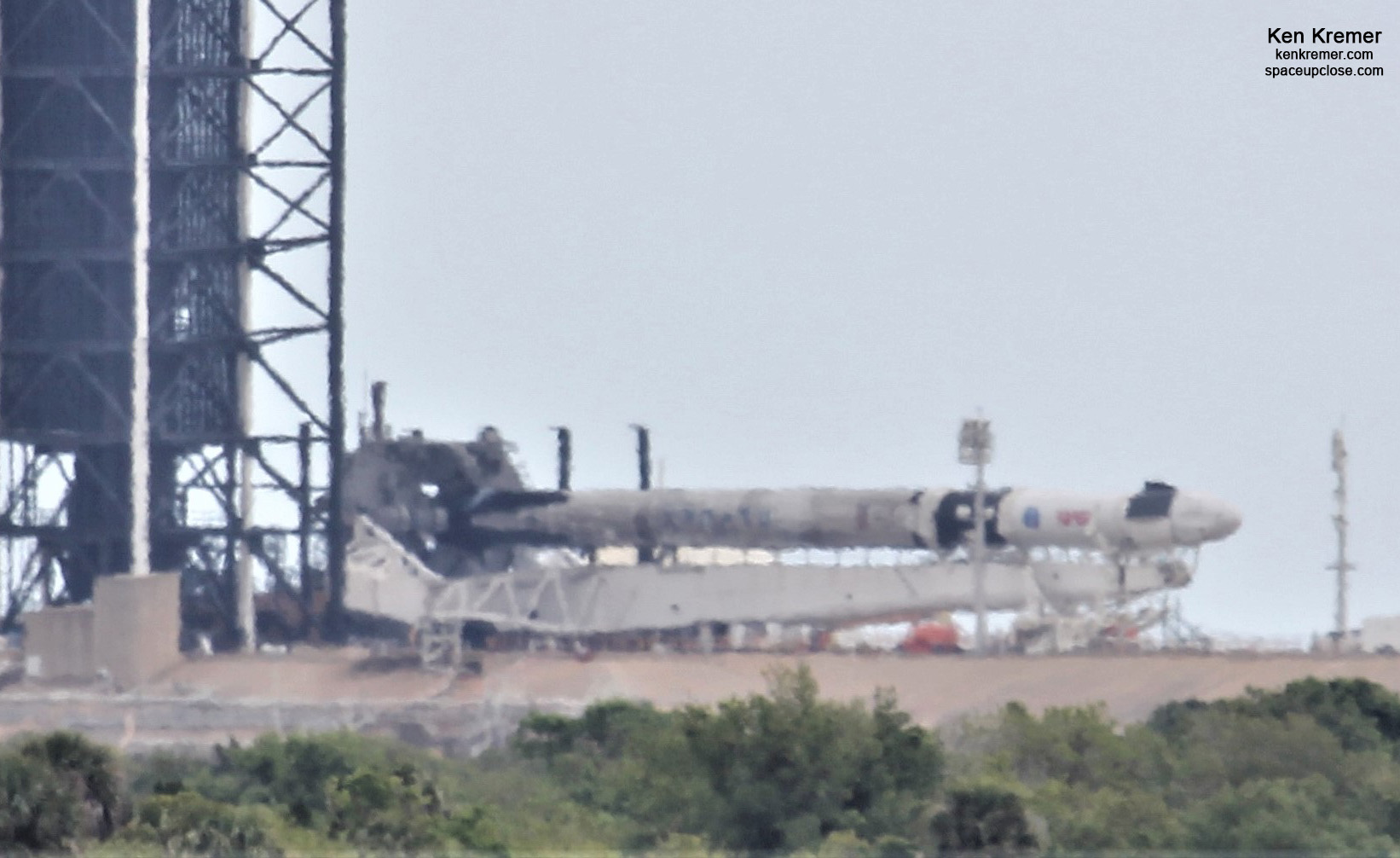 They were raised vertical at pad 39A at about 5:30 p.m. EDT late Friday afternoon, April 16.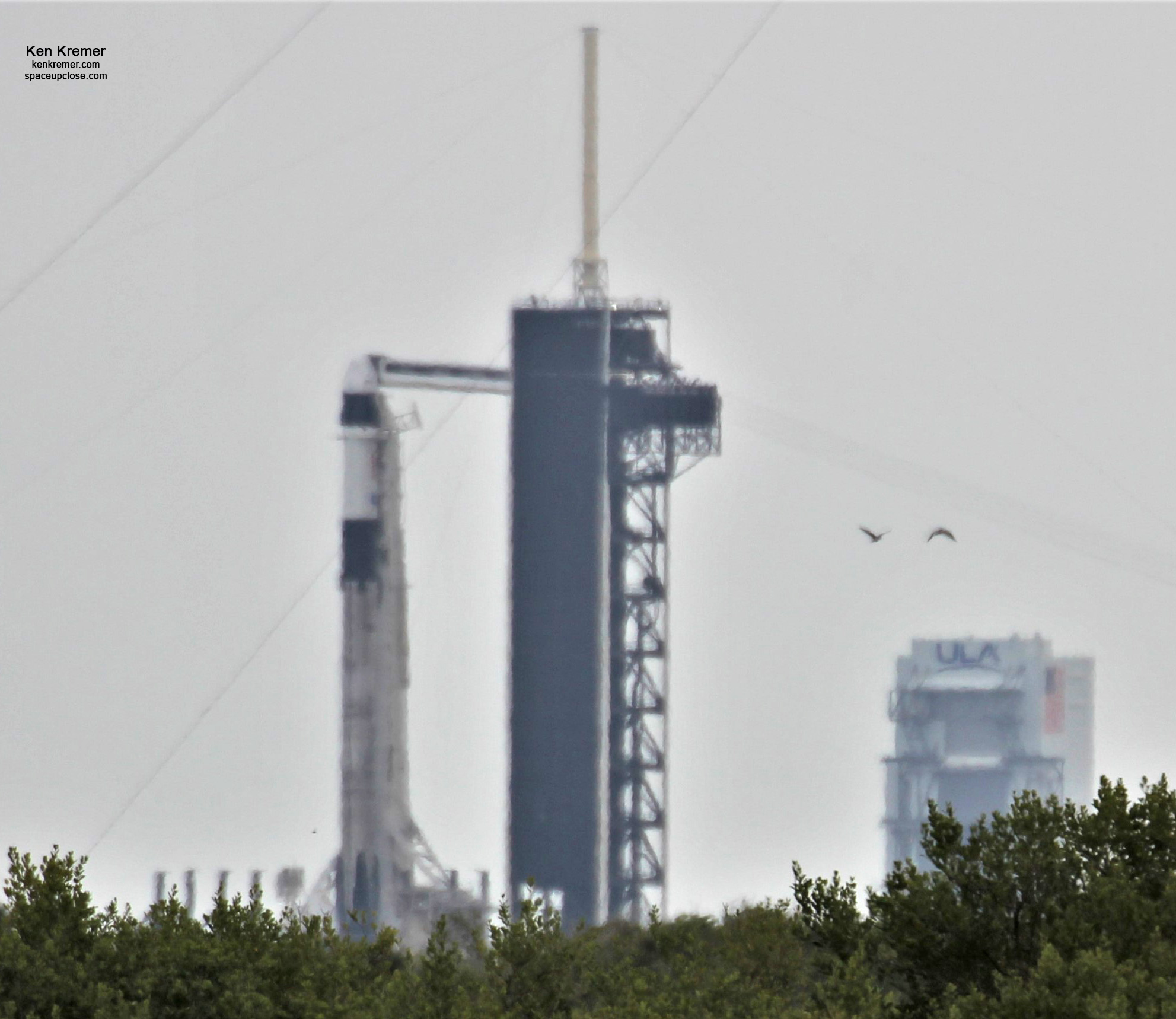 April is a very busy month for visiting vehicles at the ISS.
Overall the crew swaps involve a record setting 14 astronauts – 7 up and 7 down.
The fast paced record setting  crew swaps include 2 launches and 2 landings by four different spaceships occurring every week in April beginning with the Soyuz liftoff April 9.
"This April is a big month in @Space_Station history! For the first time, @NASA_Astronauts are scheduled to launch or land each week in four different spacecraft," NASA tweeted earlier.
4/9 – Exp. 65 launch
4/17 – Exp. 64 landing
4/22 – Crew-2 launch
4/28 – Crew-1 splashdown
This April is a big month in @Space_Station history!

For the first time, @NASA_Astronauts are scheduled to launch or land each week in four different spacecraft.

4/9 – Exp. 65 launch
4/17 – Exp. 64 landing
4/22 – Crew-2 launch
4/28 – Crew-1 splashdownhttps://t.co/CJ31tGbK6P pic.twitter.com/166GnhT1S8

— NASA's Johnson Space Center (@NASA_Johnson) April 2, 2021
Thus NASA has now decided to target the launch of the second uncrewed Boeing Starliner Orbital Test Flight-2 mission to the Fall.
There are only 2 docking ports to accommodate US crew vehicles simultaneously. Thus one Crew Dragon must depart to make way before a Starliner can arrive and dock.
Crew-2 will remain aboard until fall 2021 and overlap with SpaceX Crew-3 launching in Fall 2021 – read our story.
Watch my commentary from this week at WKMG CBS 6 Orlando TV news includes my analysis of President Biden's new $24.7 Billion budget proposal for NASA
https://www.clickorlando.com/news/local/2021/04/12/president-biden-proposes-247-billion-nasa-budget/
Ken will be onsite at KSC for the Crew-2 mission launch on NET April 22.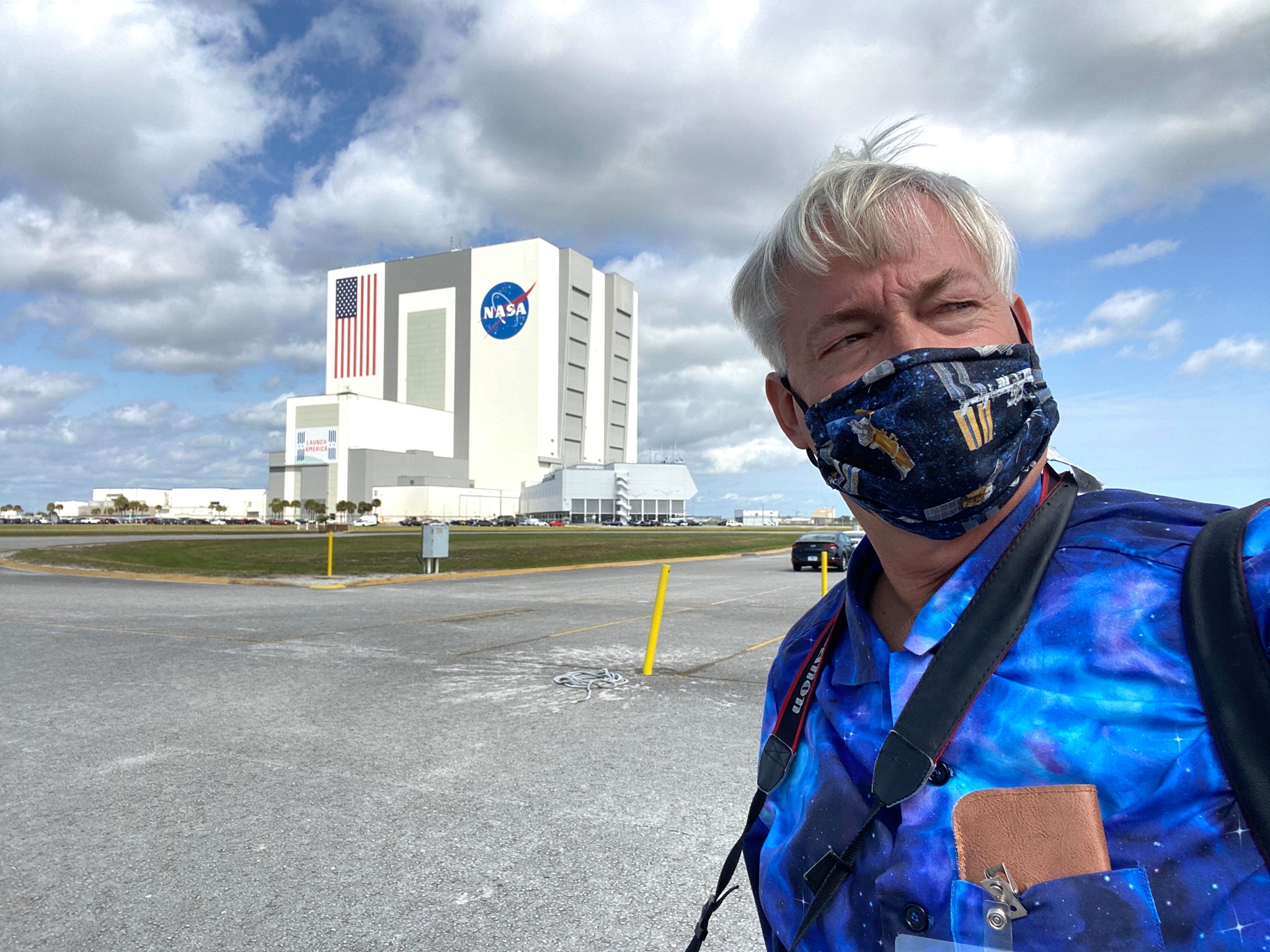 Watch Ken's continuing reports about ISS, Artemis and NASA missions, SpaceX, Starlink, Commercial Crew and Starliner and Crew Dragon and onsite for live reporting of upcoming and recent SpaceX and ULA launches including Crew 1 & 2, Demo-2, ISS, X-37B, Solar Orbiter, Mars 2020 Perseverance and Curiosity rovers, NRO spysats and national security missions and more at the Kennedy Space Center and Cape Canaveral Space Force Station.
Stay tuned here for Ken's continuing Earth and Planetary science and human spaceflight news: www.kenkremer.com –www.spaceupclose.com – twitter @ken_kremer – email: ken at kenkremer.com
Dr. Kremer is a research scientist and journalist based in the KSC area, active in outreach and interviewed regularly on TV and radio about space topics.
………….
Ken's photos are for sale and he is available for lectures and outreach events
Please consider supporting Ken's work by donating at Patreon:
https://www.patreon.com/kenkremer
Upcoming Outreach Events:
April 17: American Space Museum Titusville, FL, from 11 am to 2 pm. Ask me about NASA missions, Mars rovers, human spaceflight and more – with shuttle technician and Sew Sister Jean Wright.  Display of my Mars mosaics and space and rocket photos for sale – as well as Jean Wright custom sewn space face masks and space apparel and more
http://www.americanspacemuseum.org/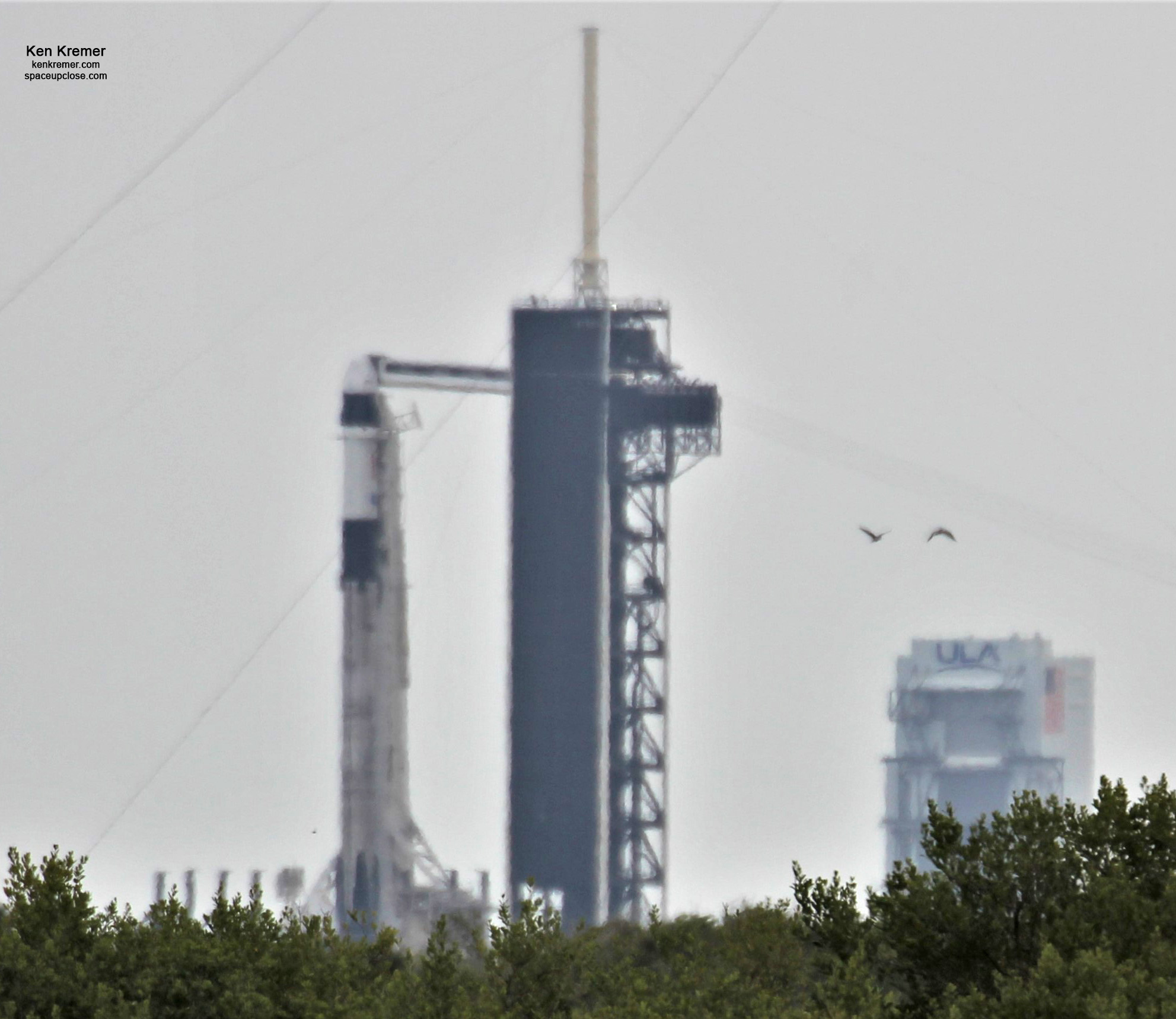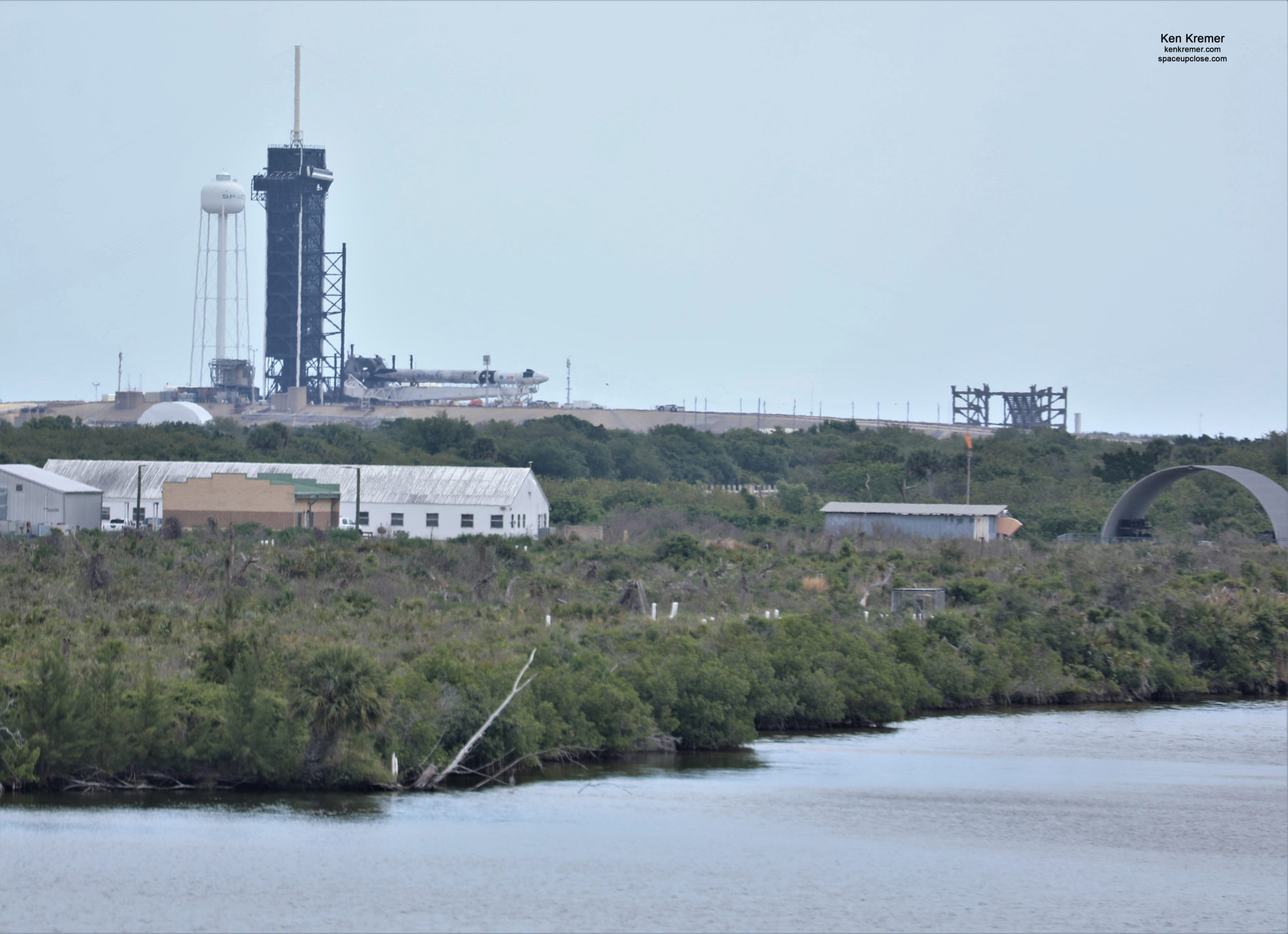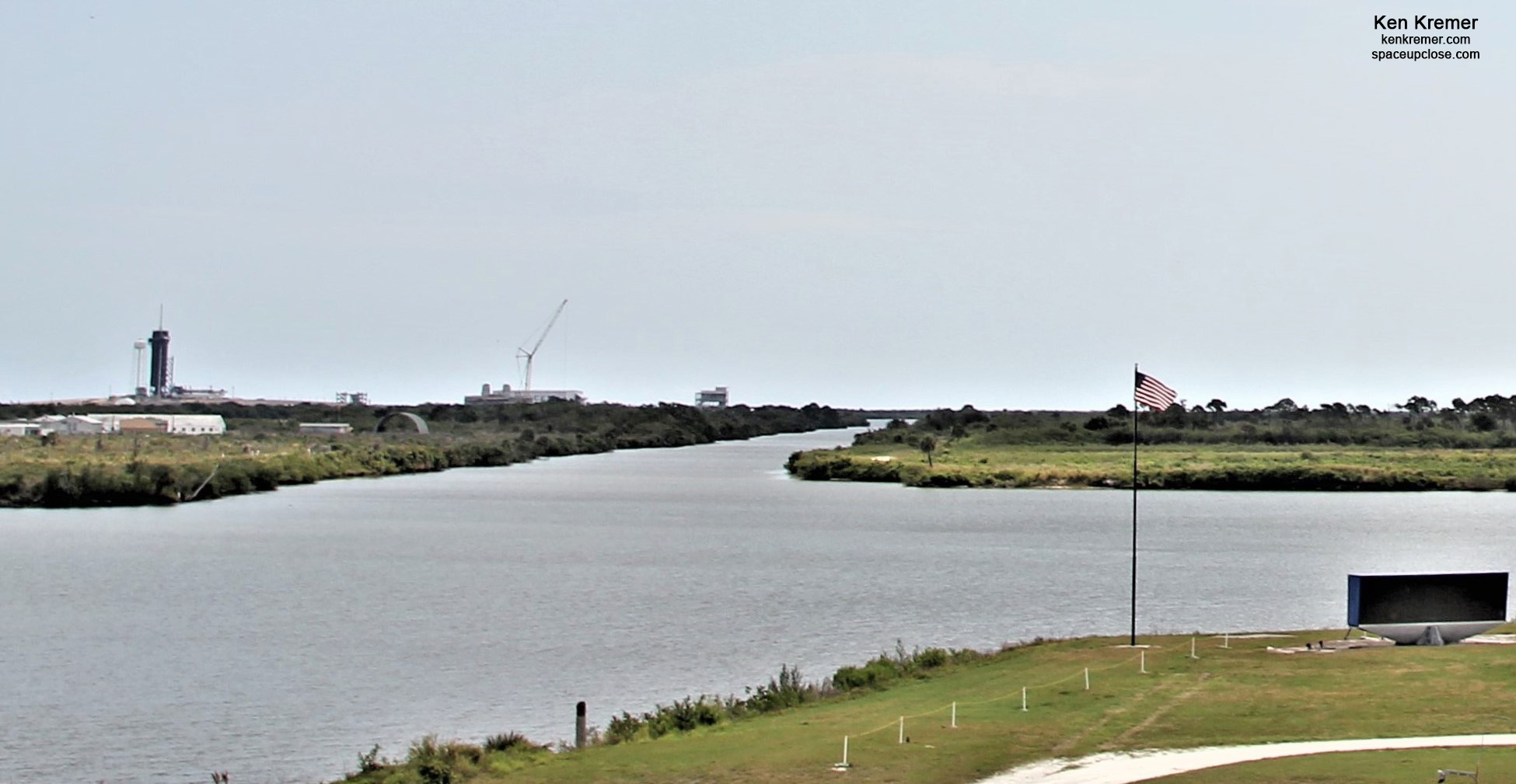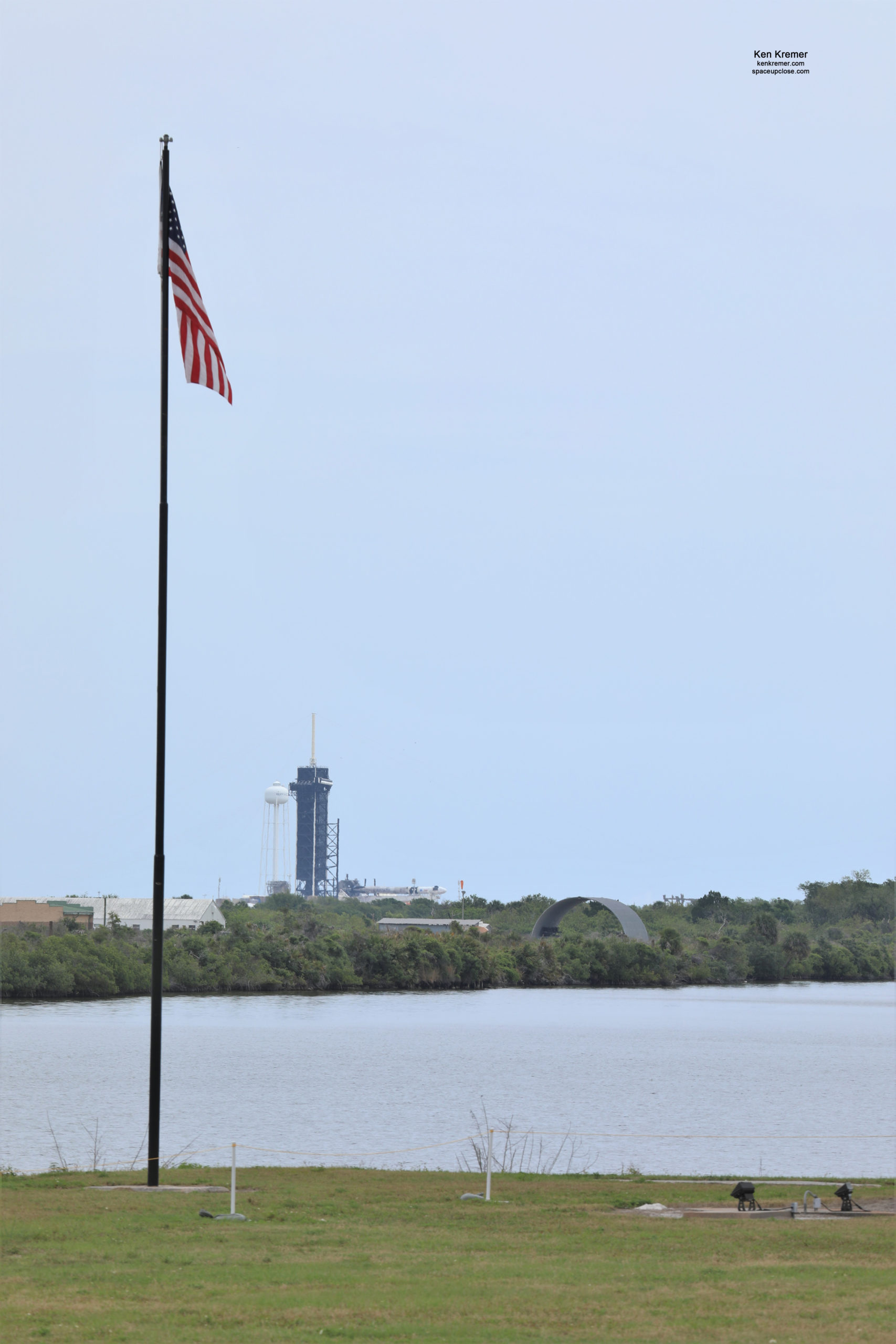 x