For SpaceUpClose.com & RocketSTEM
KENNEDY SPACE CENTER, FL –  Down range sea states have improved along the flight path and in the abort recovery zone for the overnight predawn liftoff Friday, April 23, of the NASA SpaceX Crew-2 mission on the Falcon 9 rocket and Crew Dragon stack carrying a multinational crew of four astronauts bound for the International Space Station (ISS) from the Florida Space Coast.
"Conditions continue to improve along the flight path and recovery area for the mission," said NASA.
Liftoff of the SpaceX Falcon 9 rocket and Crew Dragon Endeavor spaceship is retargeted for 5:49 a.m. EDT Friday, April 23, from seaside Launch Complex 39A at the Kennedy Space Center (KSC) in Florida.
The Falcon 9 launch had been postponed a day from Thursday due to poor sea weather in the recovery zones in case of an emergency abort into the Atlantic Ocean after liftoff
Rough sea states with high winds and waves would make recovery of the astronauts extremely difficult in case they had to abort into the northern Atlantic Ocean along the flight path flying in a northeasterly trajectory after blastoff from KSC
Enjoy our Up Close rocket photos  from pad 39A taken by Ken Kremer for Space UpClose during todays remote camera setup for the media.
The Crew-2 astronauts will fly to the International Space Station for a six-month science mission.
Four NASA's SpaceX Crew-2 astronauts will launch into space Friday & arrive Saturday at the @Space_Station, where they'll spend their time conducting science & @ISS_Research not possible on Earth.

? Find out what makes science in space so exciting: https://t.co/EOeXZrBQfd pic.twitter.com/Hb141js2Gh

— NASA (@NASA) April 23, 2021
The rocket and capsule remain healthy says SpaceX
All systems and weather are looking good for Falcon 9's launch of Dragon with four astronauts on board. Webcast will go live tomorrow at ~1:30 a.m. EDT → https://t.co/bJFjLCzWdK pic.twitter.com/TE6NB3nOJX

— SpaceX (@SpaceX) April 22, 2021
NASA TV coverage of Crew-2 launch preparations and liftoff will begin at 1:30 a.m. Friday, April 23.
Four astronauts are set to launch aboard their Crew Dragon Endeavour spacecraft tomorrow morning at 5:49 a.m. ET! ??

Be sure to tune in starting at 1:30 a.m. ET on April 23 for live coverage. Let's #LaunchAmerica: https://t.co/1XQVlkaW6V pic.twitter.com/43e86smAab

— NASA's Kennedy Space Center (@NASAKennedy) April 22, 2021
The multinational crew includes two NASA astronauts as well as two from international partners as part of the agency's Commercial Crew Program – a first for the CCP program.
The  all veteran Crew-2 mission quartet of spaceflyers is comprised of NASA astronauts Shane Kimbrough and Megan McArthur, along with JAXA (Japan Aerospace Exploration Agency) astronaut Akihiko Hoshide, and ESA (European Space Agency) astronaut Thomas Pesquet.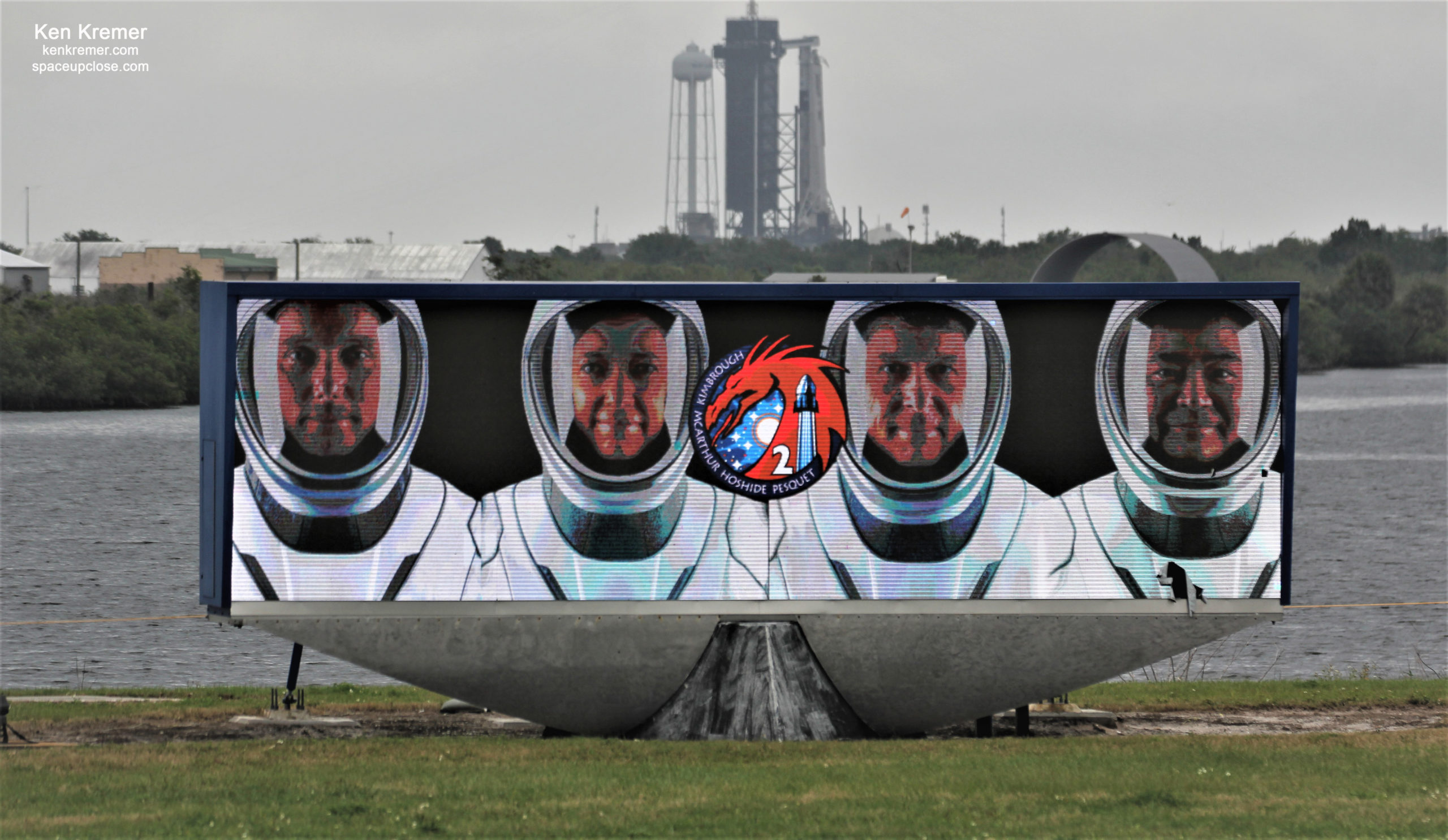 Crew-2 thus counts as the first commercial crew launch with two international partners as members of the crew.  Crew-1 has one international partner astronaut from Japan
For an April 23 launch, the U.S. Space Force 45th Weather Squadron continues to predict a 90% chance of favorable weather conditions at the launch pad for liftoff based on Falcon 9 Crew Dragon launch weather criteria.
The primary weather concerns for the launch area will be flight through precipitation from isolated, low-topped coastal showers and onshore flow.
The forecast is also low risk for upper altitude winds and booster recover on the droneship.
The Crew Dragon is scheduled to dock to the space station Saturday, April 24, at approximately 5:10 a.m. EDT.
Meet the Crew-2 astronauts:
Meet your Crew-2 astronauts, launching to the @Space_Station this Friday aboard the @SpaceX Crew Dragon: https://t.co/YVKzRVXU8V pic.twitter.com/Vl9C4WSPhx

— NASA (@NASA) April 22, 2021
The Crew-2 mission marks the second operational crew rotation flight of the SpaceX Crew Dragon and Falcon 9 to the ISS.
Overall Crew-2 will be the 3rd Crew Dragon mission to fly astronauts to space and the ISS in the last eleven months -a remarkable achievement after no human missions were flown from US soil in 9 years after NASA's space shuttles retired in July 2011.
The quartet of astronauts will also be the first crew to ride to space aboard a previously-flown Falcon 9 booster and simultaneously a reused Dragon spacecraft.
Both vehicles are manufactured by SpaceX and have been carefully refurbished for this mission to ensure safety and reliability.
Crew-2 will fly aboard the Crew Dragon "Endeavour" spacecraft — the same spaceship flown by veteran NASA astronauts Doug Hurley and Bob Behnken on the Demo-2 mission to the space station last year in May 2020 which was also the first flight of US astronauts from US soil in nearly a decade.
The Falcon 9 1st stage is recycled from the Crew-1 mission.
Here are the Crew-2 mission milestones from NASA starting late Thursday overnight into Friday from countdown at KSC to orbit:
April 22
11:09 p.m. EDT:  Crew wakeup
April 23
12:19:02 a.m. EDT: Chief engineer launch readiness briefing
12:49:02 a.m. EDT: Launch shift arrives in Firing Room 4; Dragon IMU align/configure for launch
1:19:02 a.m. EDT: Dragon prop pressurization
1:29:02 a.m. EDT: Crew weather brief
1:30 a.m. EDT: NASA TV coverage begins
1:39:02 a.m. EDT: Crew handoff to SpaceX
1:49:02 a.m. EDT: Suit donning and checkouts
1:49:02 a.m. EDT: Launch director readiness poll for advance team to enter Blast Danger Area
1:54:02 a.m. EDT: Advance team travels to pad 39A
1:59:02 p.m. EDT: ISS state vector uploaded to Dragon
2:29:02 a.m. EDT: Crew walkout from Neil Armstrong O&C Building
2:34:02 a.m. EDT: Crew departs for pad 39A in Tesla Model Xs
2:54:02 a.m. EDT: Crew arrives at pad 39A
3:14:02 a.m. EDT: Astronauts ingress into Crew Dragon
3:29:02 a.m. EDT: Crew communications checks
3:34:02 a.m. EDT: Verify ready for seat rotation
3:35:02 a.m. EDT: Suit leak checks
3:54:02 a.m. EDT: Hatch closed for flight
5:04:02 a.m. EDT: SpaceX launch director verifies go for propellant load
5:07:02 a.m. EDT: Crew access arm retracts
5:11:02 a.m. EDT: Launch escape system armed
5:14:02 a.m. EDT: 1st and 2nd stage RP-1 fuel load begins; 1st stage LOX load begins
5:33:02 a.m. EDT: 2nd stage LOX load begins
5:42:02 a.m. EDT: 1st stage engine chill begins
5:44:02 a.m. EDT: Dragon transitions to internal power
5:44:32 a.m. EST: Strongback retraction begins
5:44:42 a.m. EDT: 1st stage fully loaded with RP-1
5:45:22 a.m. EDT: Autonomous Flight Termination System final setup
5:45:57 a.m. EDT: M-Vac engine igniter purge
5:46:02 a.m. EDT: 1st stage LOX tank full; Strongback at ~1.7 degrees
5:47:02 a.m. EDT: 2nd stage LOX tank full
5:48:02 a.m. EDT: Flight computer begins final pre-launch checks; Falcon 9 propellant tanks begin pressurizing for flight
5:48:17 a.m. EDT: SpaceX launch director verifies go for launch
5:48:59 a.m. EDT: Engine controller commands engine ignition sequence
5:49:02 a.m. EDT: Liftoff
5:49:02 a.m. EDT: Stage 1a abort mode
5:49:12 a.m. EDT: Pitch kick
5:49:55 a.m. EDT: Stage 1 throttle bucket
5:50:04 a.m. EDT: Max-Q
5:50:11 a.m. EDT: Mach 1
5:50:16 a.m. EDT: Stage 1b abort mode
5:51:37 a.m. EDT: Stage 2a abort mode
5:51:38 a.m. EDT: MECO; 1st stage engines cut off
5:51:41 a.m. EDT: Stage separation
5:51:49 a.m. EDT: 2nd stage's M-Vac engine ignites
5:53:22 a.m. EDT: Bermuda ground station acquires F9 and Dragon signals
5:56:29 a.m. EDT: 1st stage entry burn
5:57:49 a.m. EDT: SECO-1; 2nd stage M-Vac engine shuts down; Orbit insertion
5:58:05 a.m. EDT: 1st stage landing burn
5:58:32 a.m. EDT: 1st stage landing on droneship
6:01:00 a.m. EDT: Dragon separates from 2nd stage; Begin Draco thruster checkouts
6:02:04 a.m. EDT: Dragon nosecone open sequence begins
Crew-2 will remain aboard until fall 2021 and overlap with SpaceX Crew-3 launching in Fall 2021 – read our earlier Crew-3 story.
Ken is onsite at KSC for the Crew-2 mission launch on NET April 23.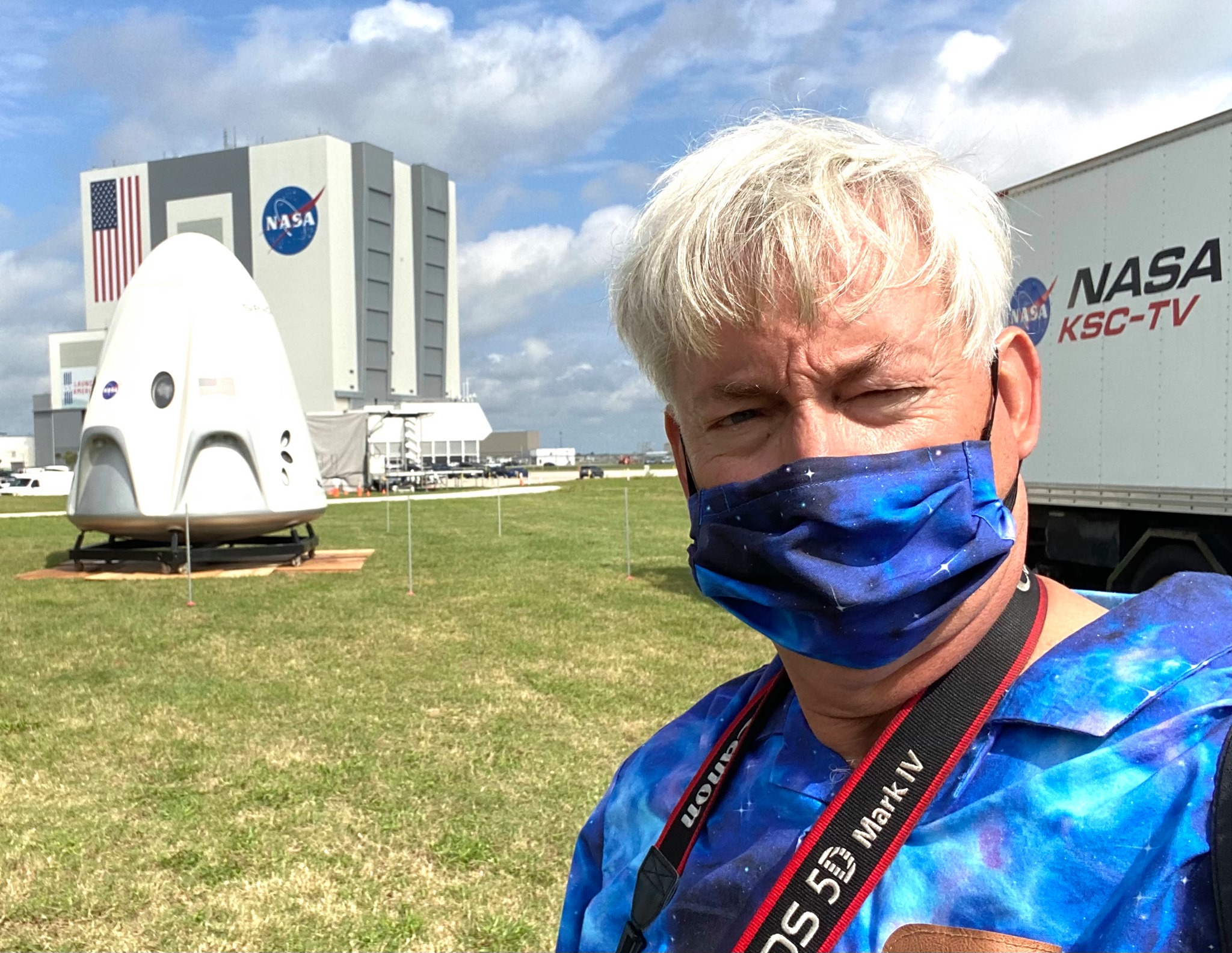 Watch Ken's continuing reports about ISS, Artemis and NASA missions, SpaceX, Starlink, Commercial Crew and Starliner and Crew Dragon and onsite for live reporting of upcoming and recent SpaceX and ULA launches including Crew 1 & 2, Demo-2, ISS, X-37B, Solar Orbiter, Mars 2020 Perseverance and Curiosity rovers, NRO spysats and national security missions and more at the Kennedy Space Center and Cape Canaveral Space Force Station.
Stay tuned here for Ken's continuing Earth and Planetary science and human spaceflight news: www.kenkremer.com –www.spaceupclose.com – twitter @ken_kremer – email: ken at kenkremer.com
Dr. Kremer is a research scientist and journalist based in the KSC area, active in outreach and interviewed regularly on TV and radio about space topics.
………….
Ken's photos are for sale and he is available for lectures and outreach events
Please consider supporting Ken's work by donating at Patreon:
https://www.patreon.com/kenkremer
x