For SpaceUpClose.com & RocketSTEM
CAPE CANAVERAL, FL –  Following up on the paradigm shifting history making 1st flight of NASA's experimental Ingenuity mini helicopter earlier this week on Monday, April 19, the gleeful chopper team is now targeting early Thursday, April 22, for the 2nd and more ambitious test flight of the first powered aircraft beyond Earth – on the Planet Mars!
The plan is to "Go Bigger" to top the Mars Helicopter's historic first flight as the mission has reached the half way point of their Month of Ingenuity and 30 Sol test window – by flying higher, faster and farther.
'The little rotorcraft that could' will spin up its two counter rotating rotor blades to over 2400 rpm again on Thursday.
"We'll attempt a more challenging 2nd flight on April 22: 50-second flight time, climb to ~16 ft (5m), and 5º tilt to accelerate sideways ~7 ft (2m)," tweeted the NASA JPL team managing the project.
The #MarsHelicopter is going bigger and bolder for its second flight. I'm ready to get more photos and video. https://t.co/1ab6cgMyz0

— NASA's Perseverance Mars Rover (@NASAPersevere) April 21, 2021
"We're Getting Ready for Ingenuity's Second Flight," wrote MiMi Aung, Ingenuity project manager at JPL in an April 21 blog post.
"With the first flight of Ingenuity a success, we're looking toward our second taking place on April 22, which is the 18th of the 30 sols (Martian days) of our flight test window."
"For this second flight test at "Wright Brothers Field," we are targeting a takeoff time for 5:30 a.m. EDT (2:30 a.m. PDT), or 12:30 p.m. Local Mean Solar Time. But we're looking to go a little bigger this time."
"On the first flight, Ingenuity hovered 10 feet (3 meters) above the surface. This time around, we plan to trying climbing to 16 feet (5 meters) in this flight test."
"Then, after the helicopter hovers briefly, it will go into a slight tilt and move sideways for 7 feet (2 meters). Then Ingenuity will come to a stop, hover in place, and make turns to point its color camera in different directions before heading back to the center of the airfield to land."
The solar-powered Ingenuity, the first aircraft dispatched by humanity from Earth performed flawlessly on April 19, (Sol 58) and became the first aircraft in history to make a powered, controlled flight on another planet
An absolutely breathtaking black and while still image taken by the helicopter looking down at the surface showing the in-flight drama of its shadow dead center between the Mars rover Perseverance mother ship wheel tracks that delivered Ingenuity to the surface of Jezero Crater was all the confirmation needed of this once in a lifetime first moment – see below.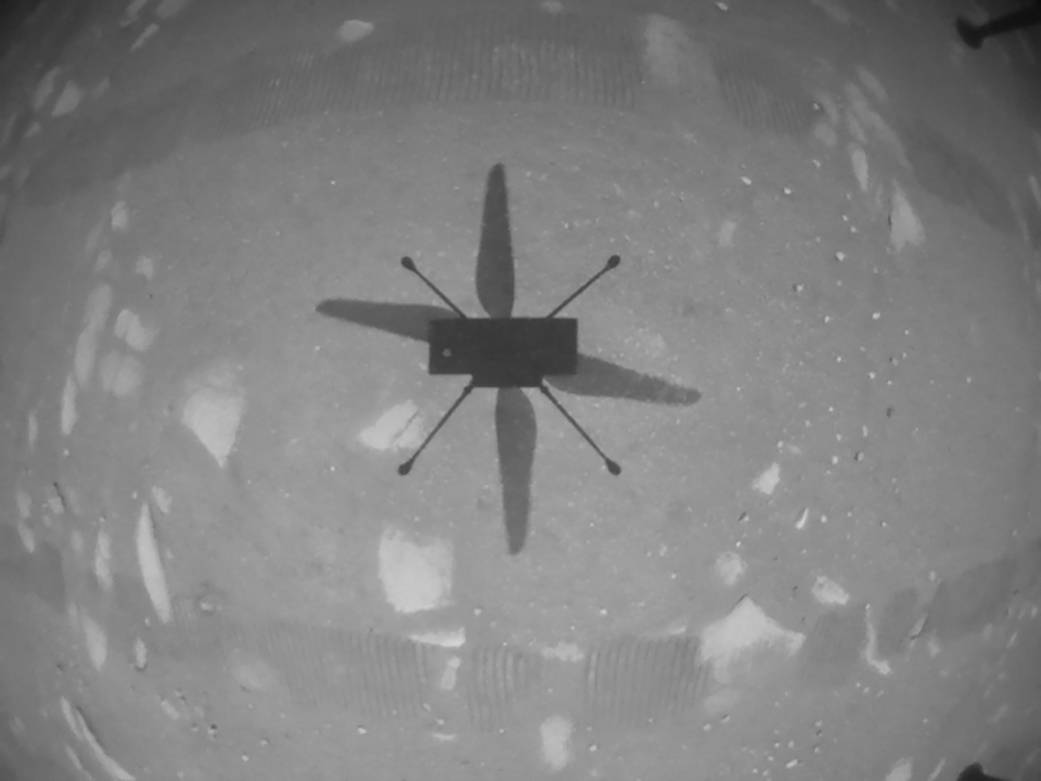 Like the first flight the second flight will be done fully autonomously, based on commands the team sent to Perseverance to relay to Ingenuity the night before. 
Watch this zoomed in video of the first flight taken by the Mastcam-Z camera
Zoom In ?@NASAPersevere's Mastcam-Z captured the #MarsHelicopter's first flight. This video was intentionally targeted on the takeoff and landing zone. The helicopter flew out of the camera's field of vision but the shadow of it hovering is visible. https://t.co/TNCdXWcKWE pic.twitter.com/ArAUGfDbPU

— NASA JPL (@NASAJPL) April 22, 2021
"We're expecting more phenomenal imagery on this second flight test, which will come down beginning at approximately 9:21 a.m. EDT (6:21 a.m. PDT) that same day, April 22," wrote MiMi Aung.
Stay tuned for the results later when they are announced by the NASA JPL team.
Perseverance has moved a safe distance away and will observe the test flight from about 211 feet (64.3 meters) away at Van Zyl Overlook– see map below.
I've taken several turns and made about 0.17 miles (270 meters) of wheel tracks from where I started to my current spot overlooking the #MarsHelicopter.

Check in on my location any time with this interactive map: https://t.co/uPsKFhW17J pic.twitter.com/AO5LJu41f0

— NASA's Perseverance Mars Rover (@NASAPersevere) April 15, 2021
Meanwhile enjoy my version of the Sol 46 double selfie mosaic of Ginny and Percy together.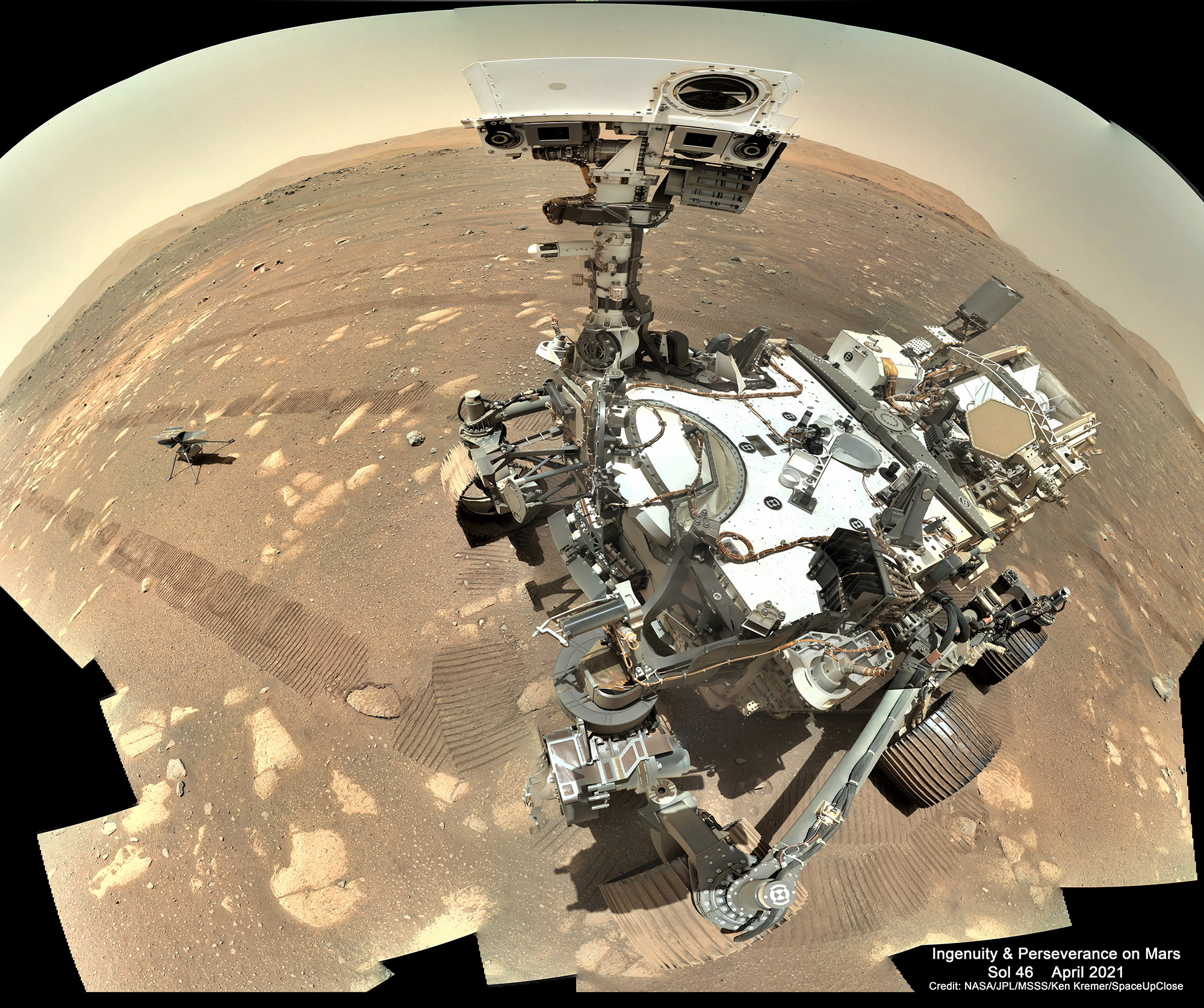 Ginny and Percy (nicknames for Ingenuity and Perseverance) are seen together in my new mosaic here about 13 feet (4 meters) apart in imagery taken on April 6, 2021, on Sol 46 of the mission.
The solar powered Ingenuity helicopter is a technology demonstration experiment aimed at attempting the first flight on Mars.
The four legged Ingenuity has a mass of about 4.0 pounds (1.8  kilograms) and stands 1.6 feet or 19 inches (0.49 meters) high.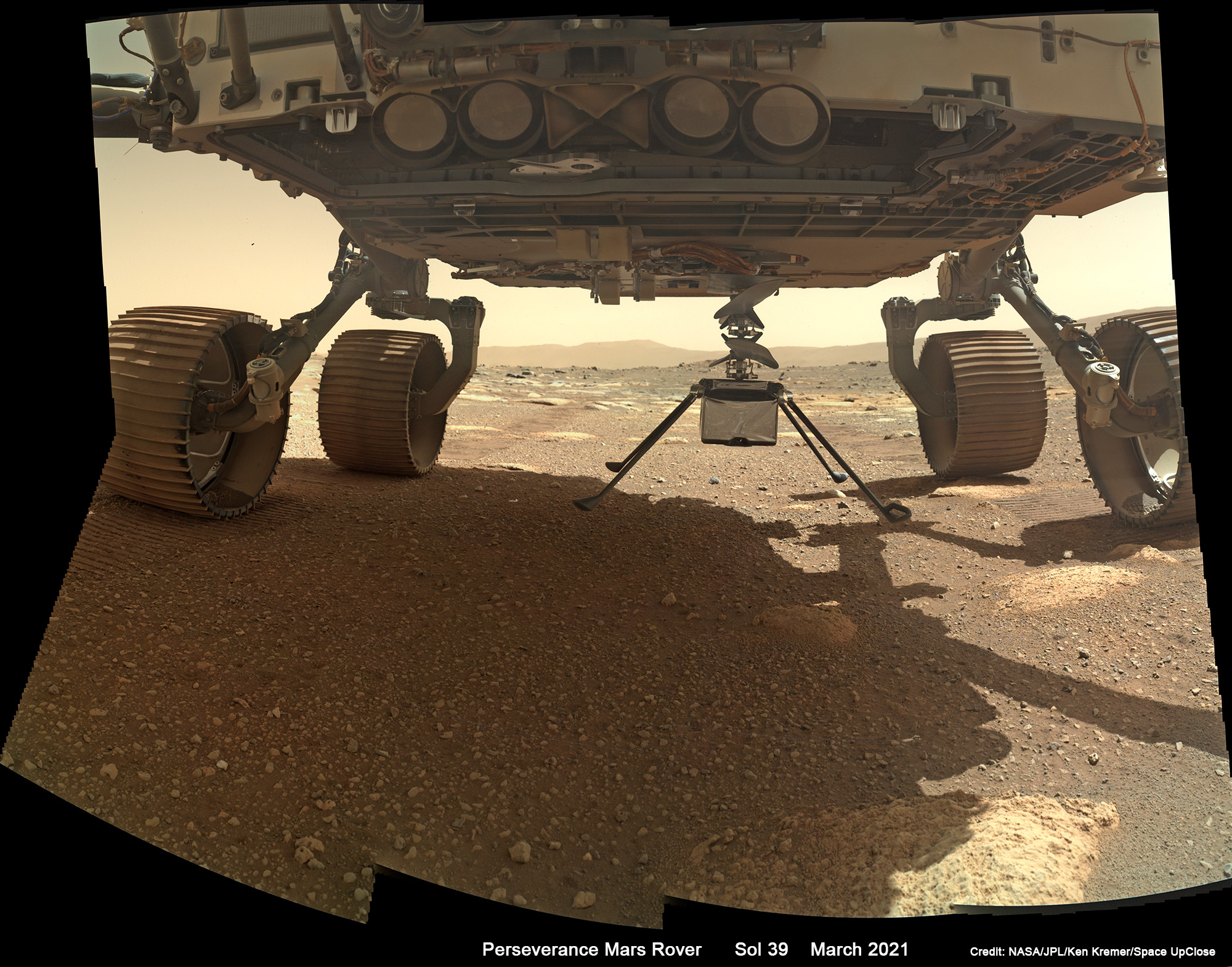 Watch Ken's continuing reports about Mars 2020 Perseverance and Curiosity rovers, Artemis and NASA missions, SpaceX, Starlink, Commercial Crew and Starliner and Crew Dragon and onsite for live reporting of upcoming and recent SpaceX and ULA launches including Crew 1 & 2, Demo-2, ISS, X-37B, Solar Orbiter, NRO spysats and national security missions and more at the Kennedy Space Center and Cape Canaveral Space Force Station.
Stay tuned here for Ken's continuing Earth and Planetary science and human spaceflight news: www.kenkremer.com –www.spaceupclose.com – twitter @ken_kremer – email: ken at kenkremer.com
Dr. Kremer is a research scientist and journalist based in the KSC area, active in outreach and interviewed regularly on TV and radio about space topics.
………….
Ken's photos are for sale and he is available for lectures and outreach events
Ken has created hundreds of widely published Mars rover mosaics and lectures also about NASA's Mars rovers
Please consider supporting Ken's work by donating at Patreon:
https://www.patreon.com/kenkremer
x