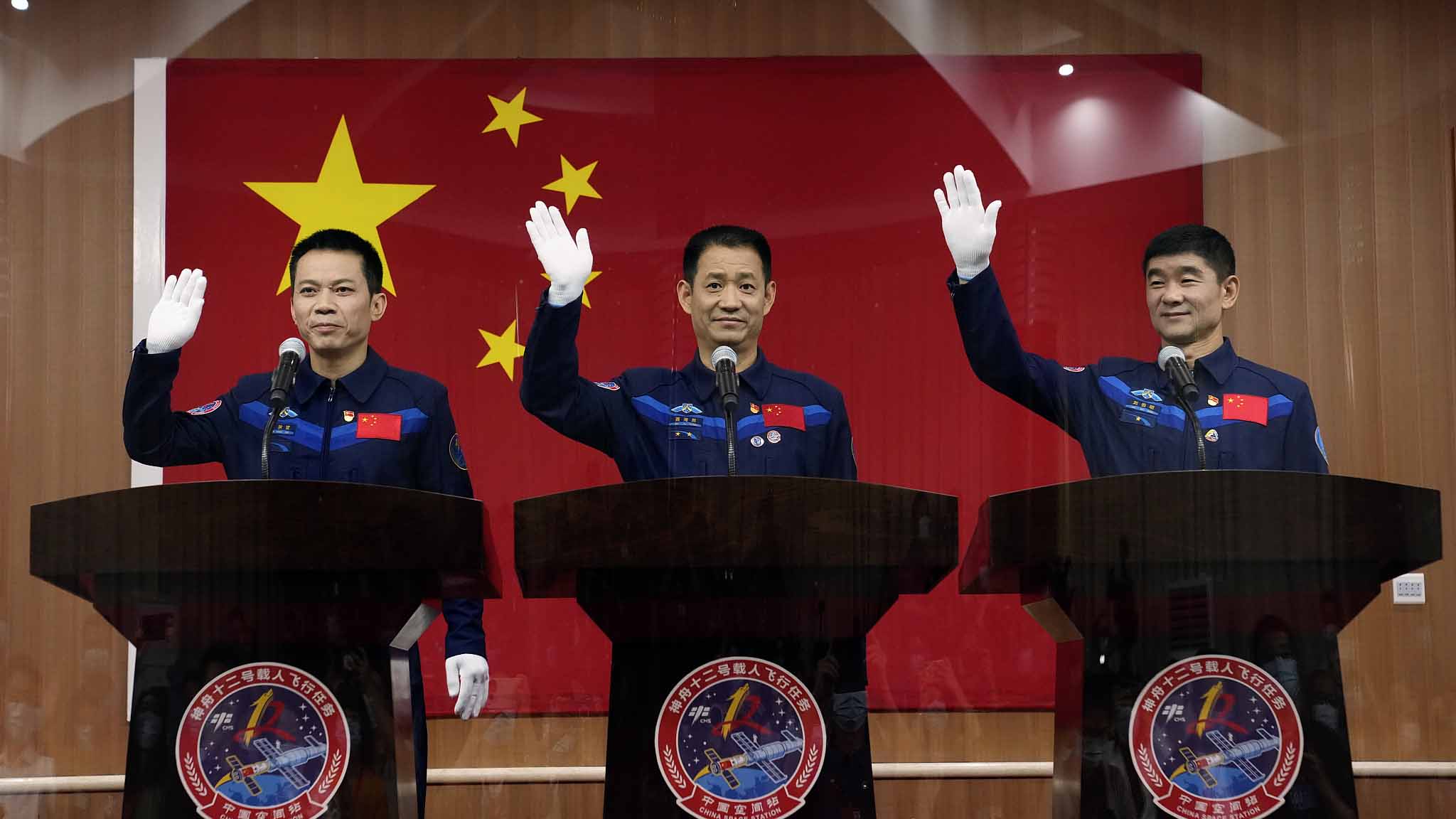 For SpaceUpClose.com & RocketSTEM
CAPE CANAVERAL, FL – Chinese space officials named the crew for the country's next human spaceflight mission now targeting launch on the Shenzhou-12 capsule on Thursday, June 17 on the first crewed mission to their new space station Tiangong – orbiting in low Earth orbit since liftoff in late April.
The three man crew was revealed and introduced at a press conference held today, June 16 at China's military operated Jiuquan Satellite Launch Center in northwest China's Gansu Province and comprises a mix of two veterans and one rookie spaceflyer.
The three Chinese men are Nie Haisheng, a veteran of two prior Shenzhou missions, Liu Boming, a veteran of one mission, and Tang Hongbo, the rookie member of the crew.
"China will launch its Shenzhou-12 spacecraft, carrying astronauts Nie Haisheng, Liu Boming and Tang Hongbo at 9:22 a.m. on Thursday, [June 17 Beijing time, 9:22 p.m. EDT Wednesday, June 16, 0122 GMT June 17] the China Manned Space Engineering Office announced today, June 16.
Shenzhou-12 will launch atop the Long March 2F rocket and dock about six hours later to the new core module of the fledgling space station named Tianhe which means "Harmony of the Heavens."
The Tianhe core module serves as the docking hub and provides life support, sleeping quarters and propulsion for the Chinese Space Station.
Video from the press conference:
Video: Astronauts from China's Shenzhou-12 mission meet the press pic.twitter.com/0ULklM9v2H

— CGTN (@CGTNOfficial) June 16, 2021
After achieving orbit the Shenzhou-12 spaceship will conduct rendezvous and docking in fast automated mode on to the front port of the 22 ton Tianhe core module.
Together it will form the initial space station configuration with the core module and the Tianzhou-2 cargo ship attached at the rear of Tianhe.
Watch: China's first space station core module #Tianhe in 60 seconds pic.twitter.com/8hf8DxU8RE

— CGTN (@CGTNOfficial) June 16, 2021
The Long March 2F carrier rocket and Shenzhou-12 spacecraft are currently erect at the launch pad at Jiuquan Satellite Launch Center in northwest China after being rolled out last week.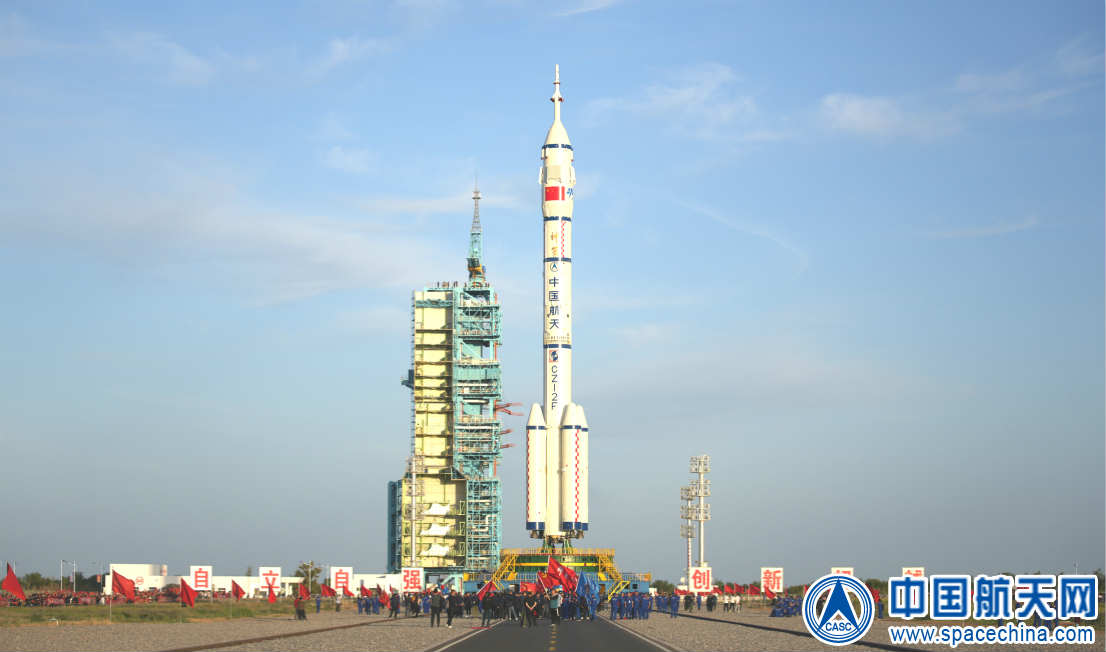 The  191-foot-tall (58-meter) Shenzhou-12 manned spaceship integrated atop the Long March 2F rocket previously rolled out on rail tracks about one-mile (1.6-kilometer) to the pad at the Jiuquan Satellite Launch Center in the Gobi Desert in remote northwestern China one week ago on June 9, in anticipation of the launch and to commence preparations for the country's first human spaceflight mission in five years since 2016.
"The Long March-2F Y12 rocket carrying the Shenzhou-12 spacecraft will be refueled with propellant this morning," CGTN state affiliated media reported from today's press conference.
"All the pre-launch preparations have also been basically completed," said Ji Qiming, assistant to the director of the CMSE office.
Nie will serve as the commander of the Shenzhou flight crew – after previously flying on the Shenzhou 6 mission in 2005 and Shenzhou 10 mission in 2013.
He also counts as China's oldest astronaut at age 56.
Liu previously flew on Shenzhou-7 in 2008 and is age 54.
The rookie Tang was confident of success.
#Shenzhou12 crew member confident of successful space mission #SpaceChina pic.twitter.com/8QN99Wyjj4

— CGTN (@CGTNOfficial) June 16, 2021
Three other astronauts, Zhai Zhigang, Wang Yaping and Ye Guangfu, make up the backup crew.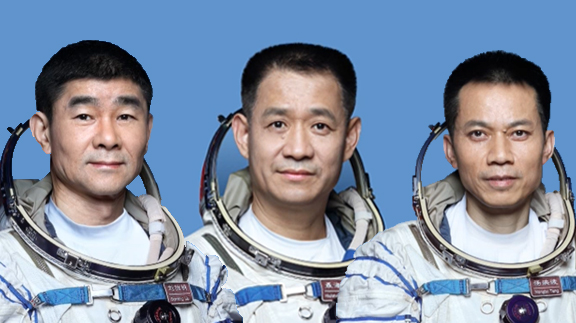 "We have the blessings of the people, the support of the staff and the skills learned from training," Nie told reporters at the press conference.
"I'm confident we can successfully carry out this mission."
Once on board the Chinese astronaut trio will have multiple tasks including technology verification related to the astronauts' long-term stay in orbit, space supply replenishment, extravehicular activities and operations, and in-orbit maintenance.
They will also be tasked with unloading the Tianzhou-2 cargo ship.
Furthermore they will carry out extravehicular activities (EVAs) and operations with robotic arms outside the module for future equipment installation, repair and maintenance.
More about the Shenzhou-12 crew in this CGTN graphic:
Facts about the Shenzhou-12 crew members. Credit: CGTN
The 19 story tall Shenzhou-12 manned spacecraft and the Long March-2F carrier rocket were developed by the China Aerospace Science and Technology Corp. (CASC) that is the prime contractor for China's space program.
The planned liftoff of Shenzhou-12 will continue China's fast-paced assembly schedule  of the country's new space station following the successful April 29 launch of the massive 22 ton core module named Tianhe to orbit on a Chinese Long March-5B rocket that kicked off a very ambitious series of 11 launches aiming to complete the construction of the T-shaped station by the end of next year.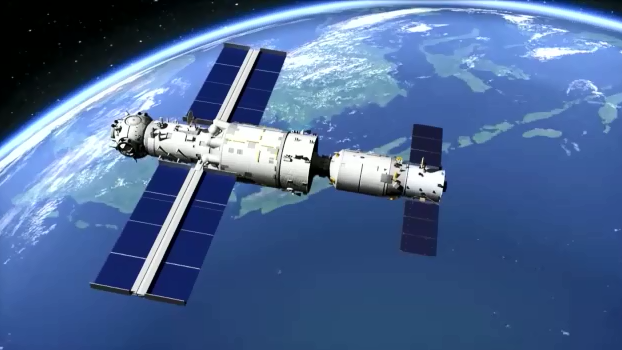 The Tianhe launch was followed up by China's Tianzhou-2  cargo ship launch on May 29 which successfully docked eight hours later on May 30 with the core module on a mission to deliver nearly seven tons of supplies, equipment, science, spacesuits and propellant to the fledgling outpost circling in low Earth orbit ahead of the first crew launch now slated for June 17.
The Tiangong space station is traveling in low Earth orbit circling about 390 kilometers (240 miles)  above the surface and inclined about 41.5 degrees north and south of the equator.
The three Chinese astronauts will begin a three-month in-orbit residency in the combination of the Tianhe core module, the Tianzhou-2 cargo spacecraft and the Shenzhou XII manned spacecraft,"the CASC confirmed.
The three-month long term stay aboard the space station by the Shenzhou-12 crew will count as China's longest duration human spaceflight by Chinese astronauts to date.
Overall Shenzhou-12 will be China's seventh crewed spaceflight since 2003.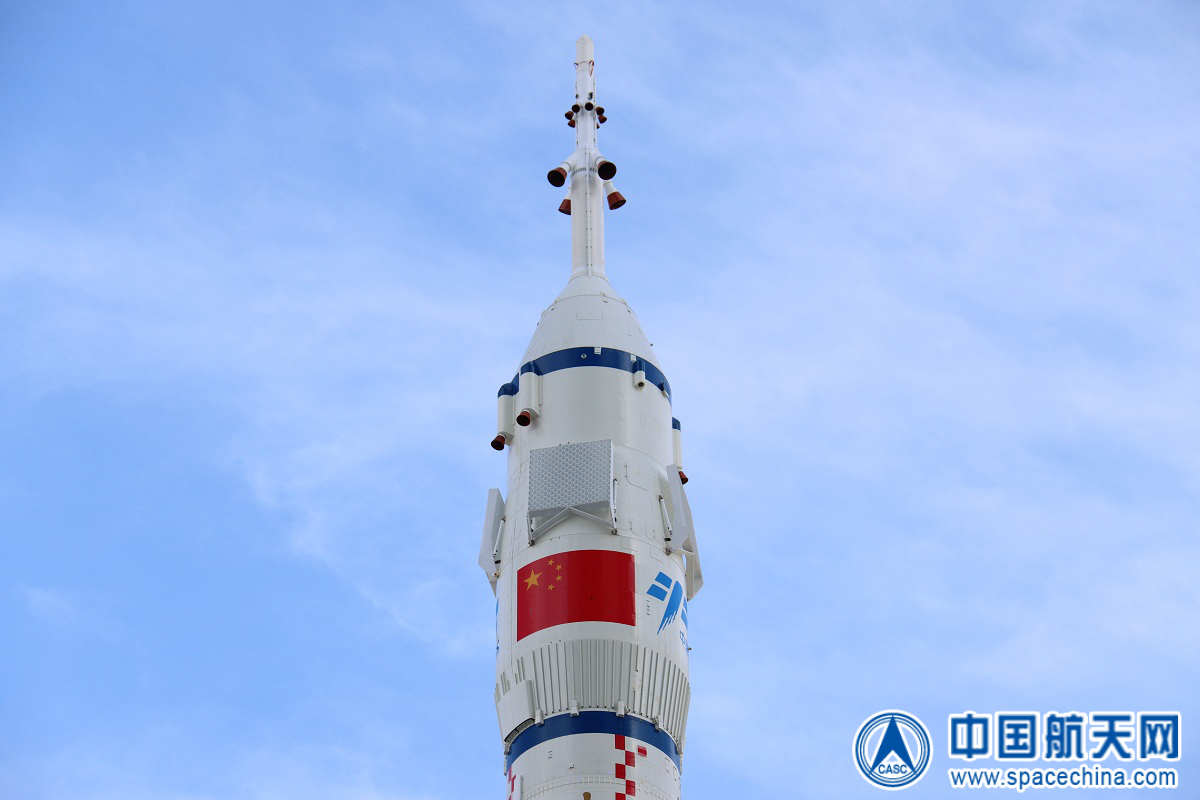 All three crew members are males selected from China's first two astronaut selection groups, said Yang Liwei, China's first astronaut and now a manager in the human spaceflight program in prior remarks to Chinese state media.
Female Chinese astronauts will be included on subsequent missions, Yang said.
After Shenzhou 12 departs they will be replaced by a new three person crew on the Shenzhou 13 later this year in September.
"It is expected that in September and October this year, China will also carry out the Tianzhou 3 cargo spacecraft and Shenzhou 13 manned spacecraft missions," CASC said.
The new Space Station counts as the most ambitious program ever in the history of China's human space flight program.
China plans a series of 11 missions to complete assembly on an accelerated schedule by the end of 2022.
These 11 station assembly missions include three launches of space station modules, four cargo vessel flights, and four manned missions.
"Tianhe will act as the management and control hub of the space station Tiangong, meaning Heavenly Palace, with a node that could dock with up to three spacecraft at a time for short stays, or two for long," said Bai Linhou, deputy chief designer of the space station at the China Academy of Space Technology (CAST), under the China Aerospace Science and Technology Corporation.
Five space station mission launches are scheduled this year and six in 2022.
Another three person crew including the first female Chinese crew member will launch later this year on the Shenzhou-13 mission for the start of routine six month stays aboard.
Two additional habitable laboratory modules that are similarly sized to Tianhe will be added next year – each with a mass of 20 tons.
They are named the Wentian and Mengtian lab modules.
The space station will take on a T shape when complete with the core module at the center and a lab capsule on each side.
At times the overall mass will reach to about 100 tons when cargo and manned spacecraft are docked.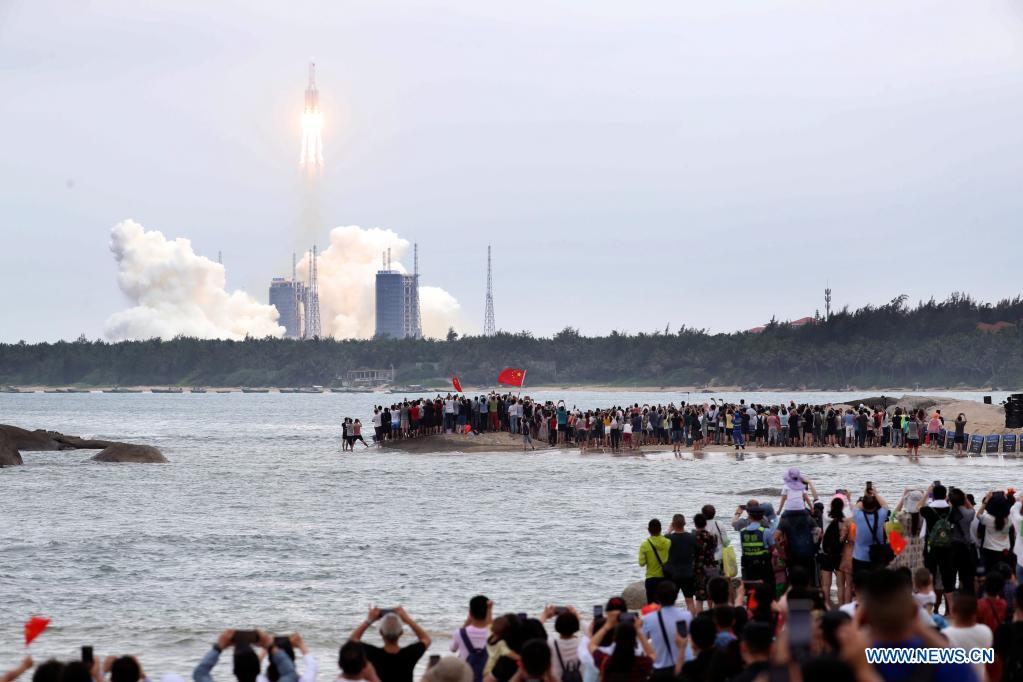 Two additional Tianzhou cargo spacecraft and two additional Shenzhou manned spaceships will also launch next year for a total of six flights in 2022 remaining to complete the construction of the space station.
When complete the Tiangong Space Station will be about the size of Russia's Mir space station and 1/5 the size of the ISS.
Tiangong space station mission involves 11 journeys pic.twitter.com/AP8ogT2vTB

— CGTN (@CGTNOfficial) June 16, 2021
It has been designed for a lifespan of 10 years, but Chinese experts say it could last much longer to 15 years or more with appropriate maintenance and repairs.
The ISS has also lasted much longer than expected and its lifetime has been extended several times already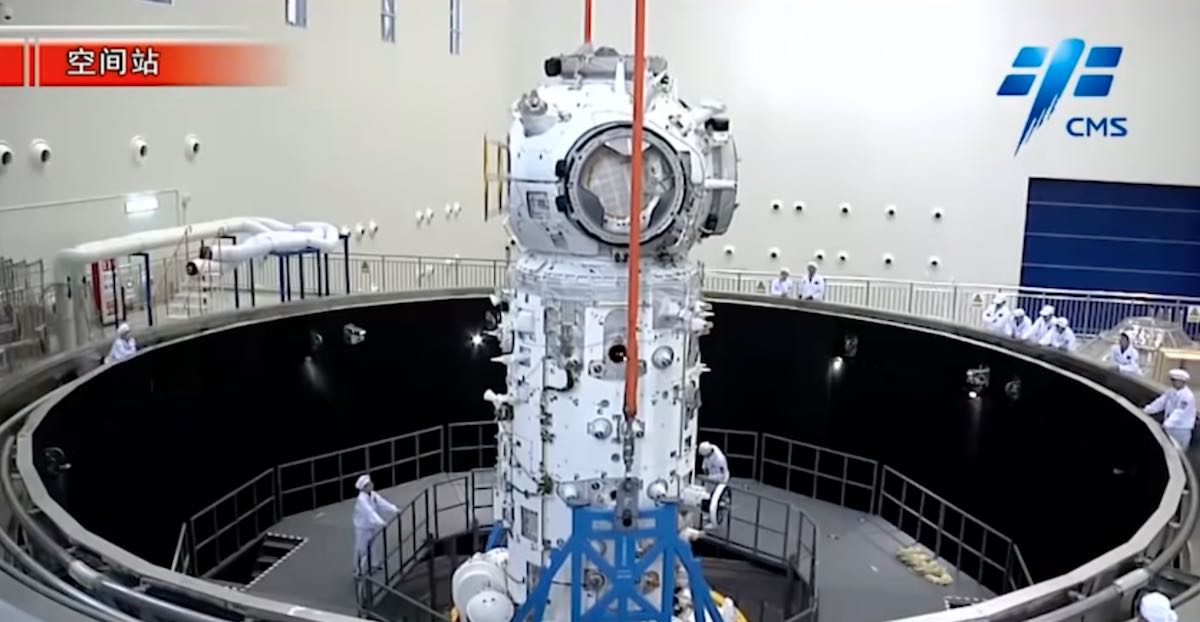 Watch Ken's continuing reports about China's space program, NASA  Planetary and Space Science, SpaceX Cargo and Crew Dragons, Artemis and NASA missions, SLS, Orion, SpaceX  Starlink, Commercial Crew and Starliner and Crew Dragon and onsite for live reporting of upcoming and recent SpaceX and ULA launches including Crew 1 & 2, ISS, Solar Orbiter, Mars 2020 Perseverance and Curiosity rovers, NRO spysats and national security missions and more at the Kennedy Space Center and Cape Canaveral Space Force Station.
Stay tuned here for Ken's continuing Earth and Planetary science and human spaceflight news: www.kenkremer.com –www.spaceupclose.com – twitter @ken_kremer – email: ken at kenkremer.com
Dr. Kremer is a research scientist and journalist based in the KSC area, active in outreach and interviewed regularly on TV and radio about space topics.
………….
Ken's photos are for sale and he is available for lectures and outreach events
Please consider supporting Ken's work by purchasing his photos and/or donating at Patreon or Paypal:
https://www.patreon.com/kenkremer

x