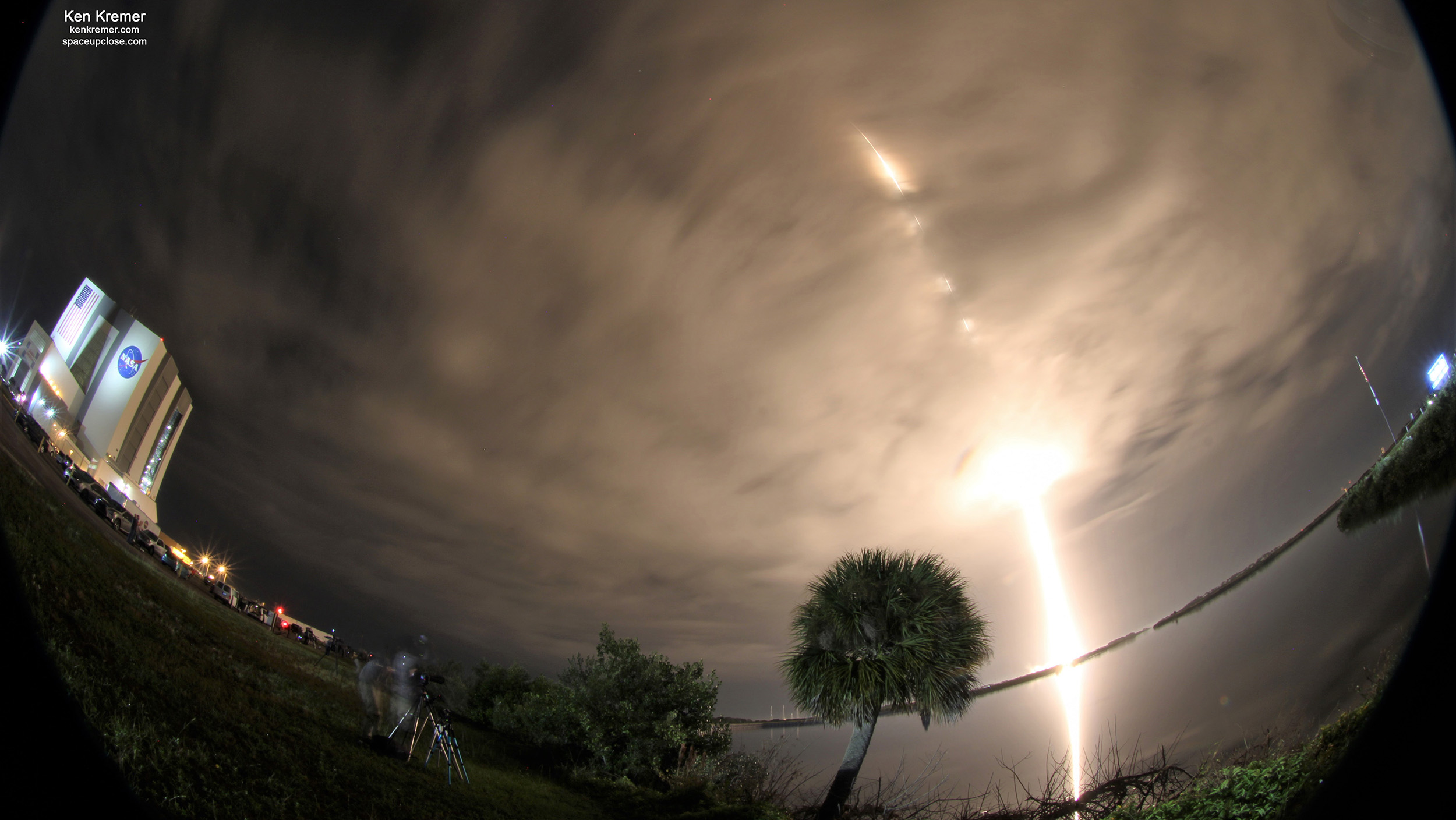 For SpaceUpClose.com & RocketSTEM
KENNEDY SPACE CENTER, FL –  After multiple postponements for poor weather and a 'minor medical issue' affecting one of the four multinational crew members, the NASA, ESA SpaceX Crew-3 mission streaked to orbit during a spectacular nighttime launch of US and German astronauts beginning a half year science mission to the International Space Station (ISS) Wednesday evening, Nov. 10 – but only after threatening rain storms that drenched the Kennedy Space Center barely an hour before liftoff added even more unneeded last minute drama and thankfully moved off shore in time.
The SpaceX Falcon 9 darted in and out of thick clouds before disappearing quickly behind them on the roadway to the ISS delighting spectators ringing the Space Coast with a stunning and thrilling sky show.
NASA's SpaceX Crew-3 mission lifted off at launch 9:03 p.m. EST Wednesday, Nov. 10 (0203 GMT on Nov. 11), on a 22-story-tall SpaceX Falcon 9 rocket integrated with the SpaceX Crew Dragon Endurance commercial crew astronaut ferry ship to the orbiting ISS microgravity  research laboratory from Launch Complex 39A at NASA's Kennedy Space Center in Florida.
Falcon 9 and Crew Dragon Endurance soared off pad 39A on a northeasterly trajectory flying flawlessly along the US East Coast inclined 51 degrees to the equator bound for rendezvous and docking with the ISS some 22 hours later on Veteran's Day, Thursday evening, Nov. 11.
The multinational Crew-3 team comprises NASA astronauts Raja Chari, Tom Marshburn, and Kayla Barron, along with ESA (European Space Agency) astronaut Matthias Maurer from Germany.
"With Raja, Thomas, Kayla and Mattias on their way to the International Space Station just days after Crew-2's return, we're seeing the power of American ingenuity right before our eyes," Nelson said. "NASA's partnership with SpaceX is not only critical for cutting-edge research, but also for international collaboration. The space station brings together nations around the world for the benefit of all. Godspeed, Crew-3 – I can't wait to see all that you accomplish."
Wednesday's Crew-3 launch also comes very closely on the heels of the safe splashdown just 48 hours ago Monday evening, Nov. 8, of NASA's SpaceX Crew-2 team of four multinational astronauts from the US, France and Japan in the Gulf of Mexico off the coast of Florida nearby Pensacola after some 200 days in orbit aboard the Crew Dragon Endeavour spacecraft, at about 10:33 p.m. ET (0333 GMT on Nov. 9).
That Crew-2 & Crew-3 event marked the shortest ever time between a US human spaceflight mission splashdown and launch since the space age began.
The Crew-3 astronauts are the third crew to fly a full-duration six-month long science mission to the orbiting laboratory on a SpaceX Crew Dragon, the fourth to the station and the 5th human spaceflight overall on a SpaceX Crew Dragon over the past 18 months.
With the continuing launch delays NASA decided against a direct on orbit handover from the Crew-2  astronauts already on board to the Crew-3 astronauts.
Chari, Maurer, and Barron are flying as rookies on their first spaceflight each and are designated as astronauts 599, 600 and 601.
Matthias Maurer from Germany enjoys the distinction of being the 600th human to reach space when he launched with the Crew-3 quartet.
Chari is the 599th and Barron is the 601st person to reach space since 1961 when Soviet cosmonaut Yuri Gagarin became the first human into space reaching orbit at the dawn of the Space Age.
"What a beautiful evening for a launch. It was another great experience seeing those four guys take off into space on top of that Falcon 9 on that Dragon," said NASA Associate Administrator Bob Cabana.
"It is a huge challenge to safely get humans to and from low-Earth orbit, and the partnerships that we have with our international partners and our commercial crew partners has enabled this space economy that we have right now. What a great time to be part of America's space program."
Crew Dragon Endurance will dock autonomously to the forward port of the station's Harmony module around 7:10 p.m. Thursday, Nov. 11.
You can watch live on NASA Television, the NASA app, and the agency's website. They are providing ongoing live coverage through docking, hatch opening, and the ceremony to welcome the crew aboard the orbital outpost.
"Ensuring our crews have safe transportation and continued access to space is an enormous responsibility," said Steve Stich, manager with NASA's Commercial Crew Program.
"We know the crew is excited to get on station and settle into their long duration mission. The NASA and SpaceX team remains vigilant in support of their safe arrival and eventual return to Earth."
The new Crew-3 quartet will join the already on-orbit Expedition 66 crew of NASA astronaut Mark Vande Hei and cosmonauts Anton Shkaplerov and Pyotr Dubrov of Roscosmos.  Crew-3 is the second consecutive commercial crew mission to fly an ESA astronaut – following Thomas Pesquet on Crew-2 .
"It is always thrilling to watch a rocket launch, especially when an international crew of astronauts is sitting atop it. Matthias Maurer is the second ESA astronaut to be launched in a Crew Dragon spacecraft under the U.S. Commercial Crew Program," said Josef Aschbacher, ESA director general.
"We are delighted to see him fly alongside NASA astronauts to the International Space Station, continuing a long history of international collaboration in space for the benefit of Earth. On behalf of ESA, I'd like to wish all Crew-3 astronauts a productive and enjoyable mission."
The Crew-3 astronauts will spend approximately six months aboard the space station conducting new and exciting scientific research in areas such as materials science, health technologies, and plant science to prepare for human exploration beyond low-Earth orbit and to benefit life on Earth.
Maurer's mission is named Cosmic Kiss. The mission's name "is a declaration of love for space, for the Space Station as a link between humanity and the cosmos and for what people there do and will do in the future. At the same time, it stands for the value of exploring space in partnership, and for the respectful and sustainable treatment of Earth."
The 51-year old Maurer, born in the German state of Saarland in Sanky Wendel, will conduct over 100 experiments – including 36 with involvement from German researchers in a range of diverse fields including biology life sciences, materials science, physics, biology, medicine and Earth observation.
Ken post launch comments about Crew-3 were featured on local ABC, NBC and Fox TV News outlets in Orlando on Nov. 10 & 11:
https://www.wftv.com/news/local/crew-3-set-dock-iss-ahead-schedule/WTWJDQPWPVCKZIRHW6Y7QMNCOY/
https://www.wesh.com/article/crew-3-launch-wednesday/38212223
Ken's prelaunch comments about the Crew-2 & Crew-3 missions were featured on local CBS, NBC and Fox TV News outlets in Orlando:
Nov. 8 & 9 broadcasts on WESH 2 NBC and Fox 35:
https://www.wesh.com/article/crew-2-splashdown-monday/38192367
https://www.fox35orlando.com/video/999350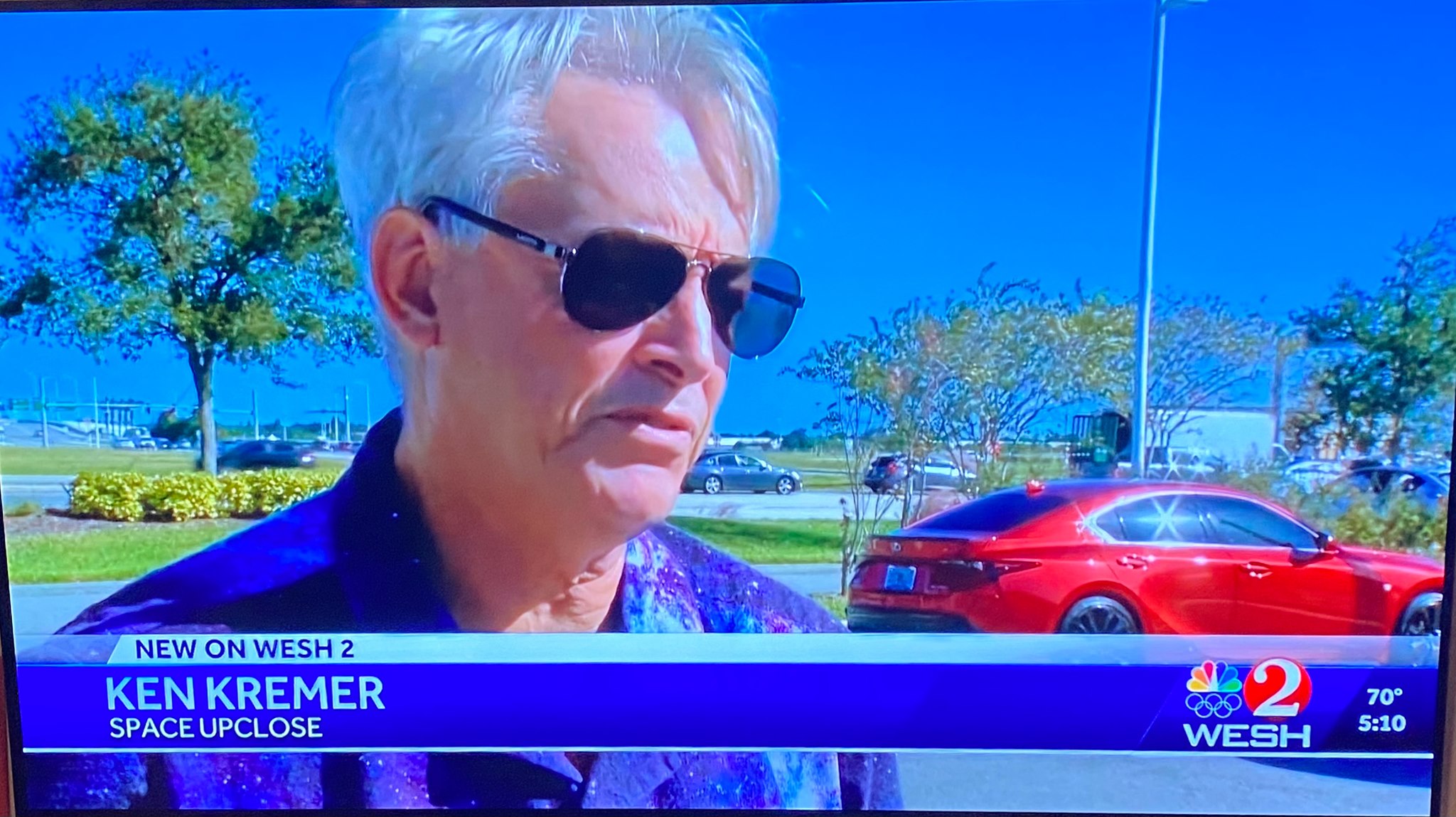 Nov. 5 broadcast on WKMG CBS 6 Orlando TV News:
https://www.clickorlando.com/news/local/2021/11/05/spacex-nasa-weigh-astronaut-rotation-schedule-as-bad-weather-continues-launch-delay/
Ken's photos of the static fire test were featured on WKMG CBS 6 Orlando TV News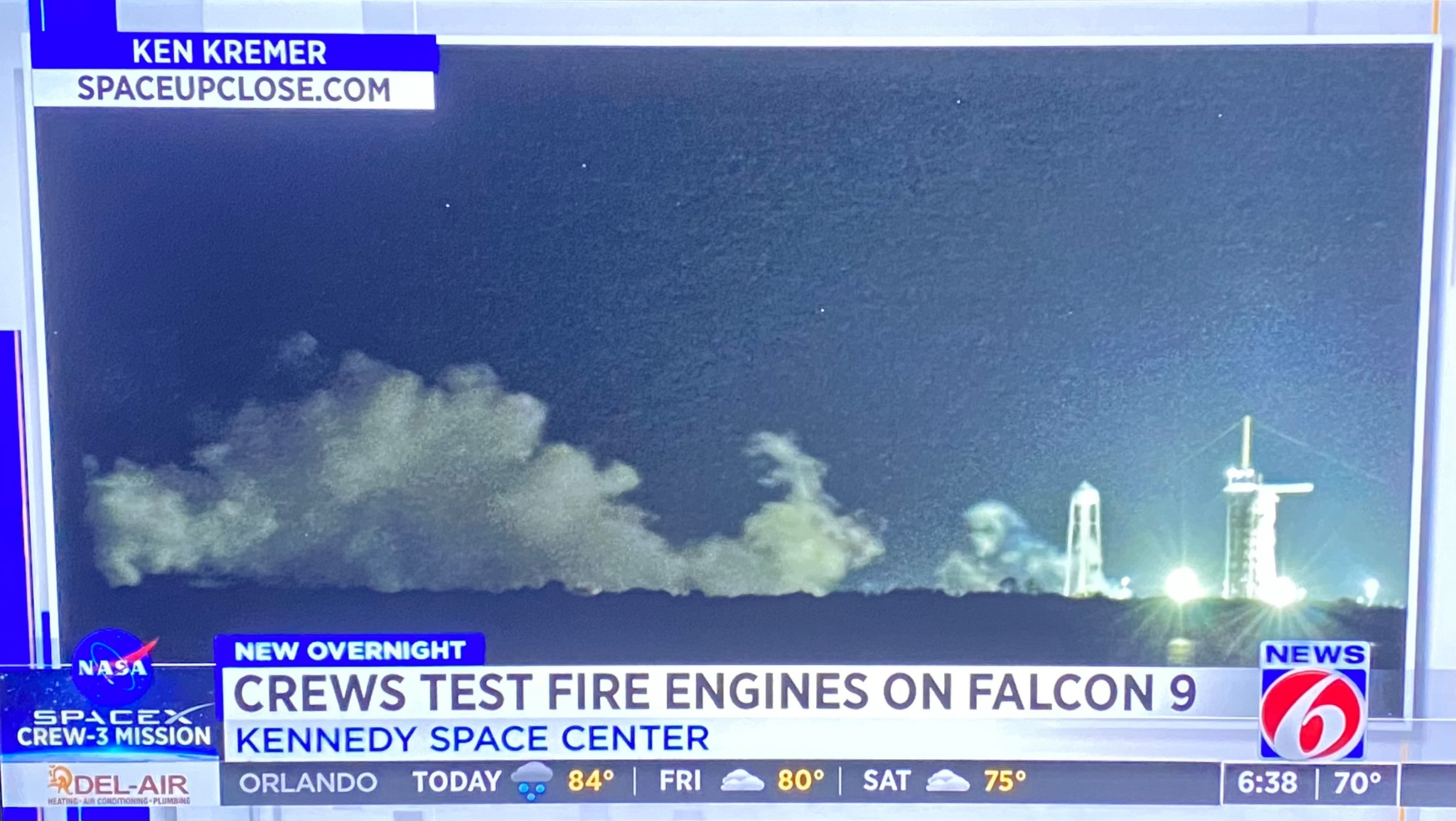 Ken is onsite at KSC for the Crew-3 mission launch campaign
Watch Ken's continuing reports about SpaceX Crew and Cargo Dragons, Artemis, SLS, Orion and NASA missions, Lucy Asteroid mission, Blue Origin and Space Tourism, SpaceX  Starlink, Commercial Crew and Starliner and Crew Dragon and onsite for live reporting of upcoming and recent SpaceX and ULA launches including Crew 1 & 2 & 3, ISS, Solar Orbiter, Mars 2020 Perseverance and Curiosity rovers, NRO spysats and national security missions and more at the Kennedy Space Center and Cape Canaveral Space Force Station.
Stay tuned here for Ken's continuing Earth and Planetary science and human spaceflight news: www.kenkremer.com –www.spaceupclose.com – twitter @ken_kremer – email: ken at kenkremer.com
Dr. Kremer is a research scientist and journalist based in the KSC area, active in outreach and interviewed regularly on TV and radio about space topics.
………….
Ken's photos are for sale and he is available for lectures and outreach events
Please consider supporting Ken's work by purchasing his photos and/or donating at Patreon:
https://www.patreon.com/kenkremer
x