For SpaceUpClose.com & RocketSTEM
JETTY PARK BEACH/CAPE CANAVERAL SPACE FORCE STATION, FL – Spectacularly sunny Space Coast skies greeted SpaceX on their 2nd launch of 2022, Thursday morning, Jan. 13, on the Transporter-3 mission as part of their commercial rideshare program – carrying over 100 smallsats and cubesats to low earth orbit (LEO) on a veteran Falcon 9 booster now flown to space and back 10 times that flew out along a rare southerly polar trajectory route to space.
Furthermore, the terrific looking launch also concluded with the 1st stage booster also nailing the propulsive landing – in fact a rare and daring ground touchdown back at the Cape some eight minutes later that sent sonic booms screaming out across the region, on the first since last June.
Huge crowds ringed the Space Coast viewing areas with delighted spectators enjoying another rather uncommon daylight launch under absolutely stunning and dry non-humid weather conditions that enabled crystal clear viewing of the streak to orbit heading south, stage separation and boost back return firing cold gas nitrogen-fed thrusters that flip the booster for touchdown at Landing Zone-1 about 9 miles (13 km) south of the pad 40 launch site.
The flawless blastoff of the Falcon 9 booster designated as B1058 comes just 1 week after the first of 2022 exactly one week ago – and continues an absolutely blistering launch pace this year that could very well exceed the record setting 31 liftoffs SpaceX achieved in 2021.
Liftoff of the veteran and very sooty SpaceX Falcon 9 on the Transporter-3 mission using the 10x recycled 1st stage booster B1058 took place right on time at 10:25 a.m. EST, or 1525 GMT at the opening of the 29 minute-long launch window from Space Launch Complex 40 (SLC-40) at Cape Canaveral Space Force Station in Florida.
The 229 foot tall (70 meters) Falcon 9 lifted off with 1.7 million pounds of thrust generated by 9 Merlin 1D main engines fueled by RP-1 kerosene and liquid oxygen propellants and headed south to southeast along Florida's east coast.
After surpassing the speed of sound, the stages separated approximates two and a falf minutes into flight
The second stage continued to orbit firing for about another six minutes.
Transporter-3 is SpaceX's 3rd dedicated rideshare mission and was loaded with 105 spacecraft – including CubeSats, microsats, PocketQubes, and orbital transfer vehicles from a wide variety of commercial, industry, academic and government users.
By distributing and sharing the costs among many users the rideshare program drastically reduces the launch to orbit costs by cutting those for the individual users – rather than paying some $60 million for an entire dedicated Falcon 9.
The rideshare program started in 2019 and has proven popular. Up to three more Falcon 9 rideshare missions are slated for 2022.
SpaceX is thus directly competing with small satellite launch services offered by firms like Rocket Lab and their Electron rocket and Virgin Orbit.
The veteran Falcon 9 first stage booster B1058 previously launched Crew Demo-2, ANASIS-II, CRS-21, Transporter-1, and five Starlink missions.
Booster B1058 previously launched the Starlink 4-1 mission through dense fog on Nov. 13, 2021 and returned to Port Canaveral landed atop the JRTI drone ship on Nov. 18, 2021.  See our prior story and photos.
Enjoy our launch and prelaunch pad photos taken by the team of Ken Kremer and Jean Wright for Space UpClose during our media remote camera setup on Jan. 12 late afternoon looking into blinding sun glare that created some cool silhouettes.
Transporter-3 launched on a rare south polar trajectory hugging the south Florida coastline and and may have been visible from cities like Fort Lauderdale and Miami and beyond to Cuba and the Caribbean if the weather was clear.
We witnessed the launch looking north from Jetty Park Beach in order to get a different view of the landing compared to what we have seen from on the Cape and to see it with crowds – as demonstrated in our launch and landing photos and daylight streaks.
Also was my first time to witness a rocket launch from Jetty Park beach.
Multiple shockingly loud sonic booms were set off as the Falcon 9 returned and descended towards the Cape reigniting the center engine of its 9 Merlin-1D first stage engines – screaming out across the Space Coast and portions of central Florida as the booster touched down at Landing Zone-1 (LZ-1) about eight and a half minutes after liftoff.
SpaceX had issued a sonic boom advisory.
Overall this marked the 102nd booster landing for SpaceX.
B1058 is the 3rd booster to achieve 10 flights to space and back.
"Stage 1 landing is confirmed," SpaceX officials said on the live launch webcast.
"As you heard, the Falcon 9 has landed for the 10th time," SpaceX reliability engineering manager Kate Tice said during the webcast. "This marks our 102nd overall recovery."
SpaceX is also recovering the payload fairing halves and recycling them – using new recovery ships Bob and Doug named after the NASA Demo-2 astronauts.
Bob deployed this time
The payload deployments started at T Plus 59 minutes and continued for nearly a half hour to T Plus 1 Hour and 27 minutes to an altitude of 328 mi (525 km) and a Sun Synchronous Orbit (SSO).
Rideshare deployment sequence complete

— SpaceX (@SpaceX) January 13, 2022
Among the customers was Berlin-based Exolaunch with 29 customer satellites from 17 countries:
The team of Exolaunch has integrated 29 customer satellites from 17 countries with @SpaceX Falcon 9 #Transporter3 mission.

We look forward to the launch tomorrow🚀 pic.twitter.com/3RaVUzjlls

— Exolaunch (@EXOLAUNCH) January 12, 2022
Normally launches from Kennedy and the Cape avoid the southerly trajectory to avoid populated areas and thus prevent polar launches.
However improvements in rocket maneuvering technology and innovation by SpaceX has enabled the use of the southern corridor and south polar launches favored for science and some surveillance missions because they provide a different global view of Earth.
The first southerly launch from the Cape involved Saocom-1B in 2019 and they have flown two more since then.
The southeasterly route is also more favorable for booster landings and fairing recoveries in the winter months says SpaceX compared to the harsher weather off the Carolina's coast
Last weeks SpaceX Starlink 4-5 mission also involved flying the Falcon 9 on a south easterly trajectory
Watch my UpClose video of Transporter-3 launch:
Video Caption:  UpClose video shows blastoff of Transporter-3 rideshare mission at 10:25 a.m. EST, Jan. 13, 2022, carrying 105 small satellite payloads from Space Launch Complex 40 (SLC-40) at Cape Canaveral Space Force Station in Florida. Credit: Ken Kremer/kenkremer.com/SpaceUpClose.com
This year 2022 will see even more south polar launches than ever before and feature perhaps as many as five just in January, according to a statement from the U.S Space Force.
Last year 2021 was a record-breaking year of 31 launches by SpaceX and ULA from the Space Coast and another launch record breaker is expected in 2022.
The next SpaceX launch is slotted for Jan 17 at 7:26 p.m. ET on the next Starlink mission.
The following week SpaceX will launch CSM-2 on Jan 24.
ULA will launch on Atlas 5 on Jan 21 on the USSF-8 military mission
Ken's prelaunch photos of Falcon 9 at pad 40 were featured at WKMG CBS 6 Orlando: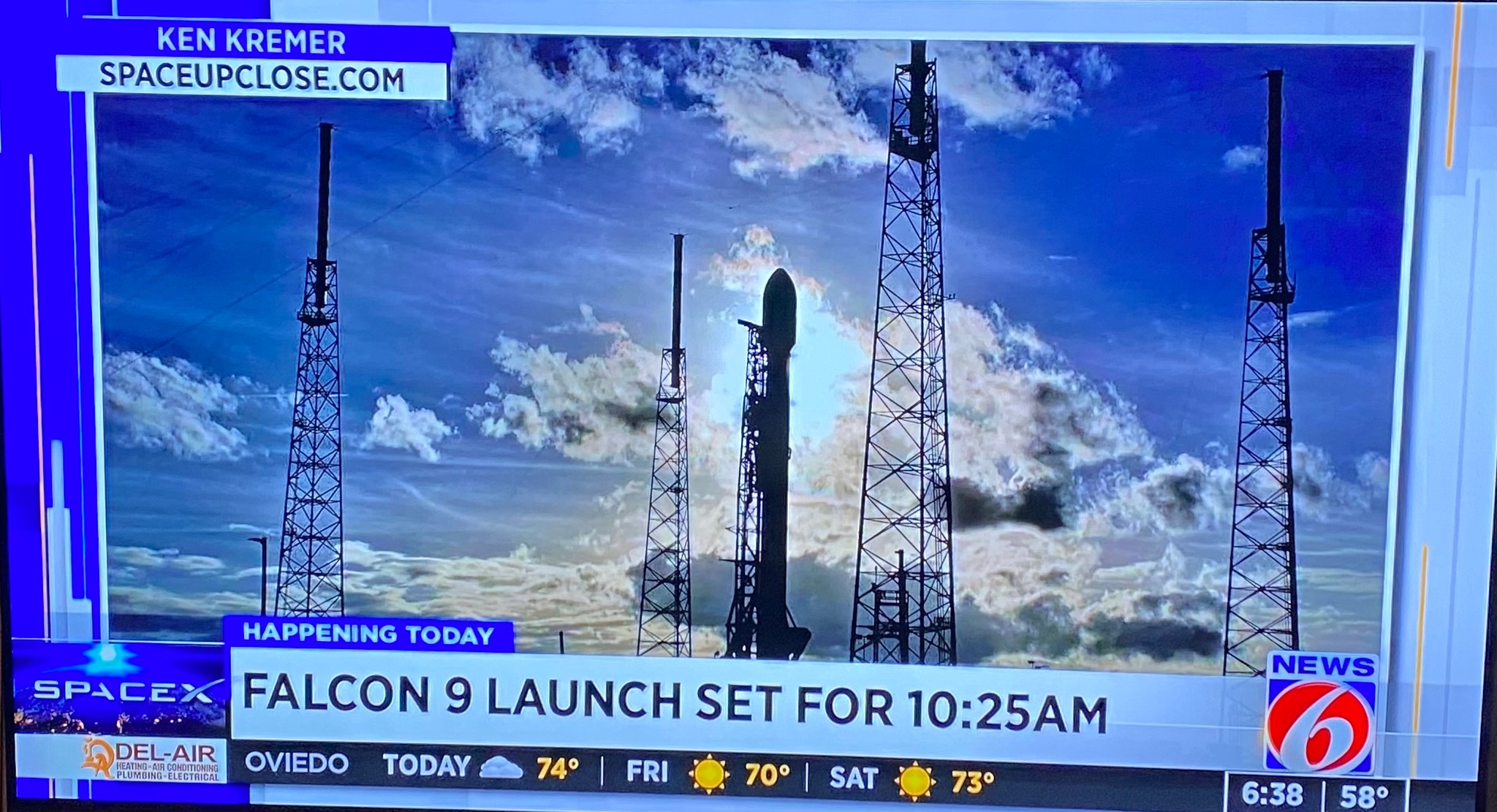 Ken's prelaunch commentary about SpaceX missions and What's Ahead for NASA human and science missions and Florida Space Coast were featured on Fox 35 News Orlando and WFTV ABC 9 Orlando TV News
https://www.fox35orlando.com/news/spacex-preparing-for-first-starlink-launch-of-2022-how-to-watch
Launch and landing photos from SpaceX:
Falcon 9 launches 105 spacecraft to orbit and lands at Landing Zone 1 pic.twitter.com/JapUxU6oMU

— SpaceX (@SpaceX) January 13, 2022
Landing video from SpaceX:
10th landing of this Falcon 9 first stage booster pic.twitter.com/6HmNAdU7NY

— SpaceX (@SpaceX) January 13, 2022
Falcon 9's first stage has landed on Landing Zone 1 pic.twitter.com/XUQWHtB7kJ

— SpaceX (@SpaceX) January 13, 2022
Watch Ken's continuing reports about SpaceX  Starlink , SpaceX Crew and Cargo Dragons, Artemis, SLS, Orion and NASA missions, DART,  Lucy Asteroid mission, Blue Origin and Space Tourism, Commercial Crew and Starliner and Crew Dragon and onsite for live reporting of upcoming and recent SpaceX and ULA launches including Crew 1 & 2 & 3, ISS, Solar Orbiter, Mars 2020 Perseverance and Curiosity rovers, NRO spysats and national security missions and more at the Kennedy Space Center and Cape Canaveral Space Force Station.
Stay tuned here for Ken's continuing Earth and Planetary science and human spaceflight news: www.kenkremer.com –www.spaceupclose.com – twitter @ken_kremer – email: ken at kenkremer.com
Dr. Kremer is a research scientist and journalist based in the KSC area, active in outreach and interviewed regularly on TV and radio about space topics.
………….
Ken's photos are for sale and he is available for lectures and outreach events
Please consider supporting Ken's work by purchasing his photos and/or donating at Patreon:
https://www.patreon.com/kenkremer
x