PLAYALINDA BEACH/CANAVERAL NATIONAL SEASHORE, FL – Continuing poor weather in the form of excessively high winds and waves forced SpaceX to postpone today's, Jan. 17, planned liftoff of the 35th Starlink internet satellite mission on a veteran Falcon 9 by one day from Monday to Tuesday evening, Jan. 18 from the Kennedy Space Center – thus continuing a rapid fire launch cadence with their 3rd launch of 2022.
Vast swaths of Florida suffered high and damaging winds, rains and even terrible tornadoes in southern Florida over the weekend and winds continued throughout the Space Coast region all day today.
The Monday prime time liftoff of the 10x recycled Falcon 9 booster carrying a payload of 49 Starlink high speed broadband internet satellites to low Earth orbit on the Starlink 4-6 mission had to be delayed 24 hours because of high ground winds at the Kennedy Space Center, excessive upper altitude shear winds, and risky prospects for the droneship recovery weather at sea.
SpaceX announced the delay to Tuesday via tweet
With more favorable weather conditions for liftoff and booster recovery, now targeting Tuesday, January 18 at 7:04 p.m. ET for Falcon 9's launch of Starlink satellites → https://t.co/bJFjLCzWdK

— SpaceX (@SpaceX) January 17, 2022
See our Space UpClose photos of the Falcon 9 vertical at pad 39A taken this afternoon at Playalinda Beach.
As I told station WFTV local ABC TV News in Orlando before the delay was announced a postponement was likely based on both the poor launch and landing weather conditions.
Originally liftoff was slated for Monday, Jan. 17.
Targeting Monday, January 17 at 7:26 p.m. ET for a Falcon 9 launch of 49 Starlink satellites to low Earth orbit from LC-39A in Florida

— SpaceX (@SpaceX) January 17, 2022
Blastoff of the 229 foot tall (70 meters) SpaceX Falcon 9 Starlink 4-6 mission is now scheduled for 7:04 p.m. EST Tuesday, Jan. 18 (0004 GMT Wednesday, Jan. 19), from Launch Complex-39A on NASA's Kennedy Space Center in Florida during an instantaneous launch window.
You can watch all the action via a SpaceX live webcast that will begin about 15 minutes prior to liftoff – starting around 6:50 p.m.:
spacex.com/launches
Playalinda Beach will not be open for launch viewing since it closes at 6 p.m.
Many viewing locations ring the pad in Titusville and Port Canaveral, Jetty Park Beach and points south
The Falcon 9 rocket and integrated Starlink payload encapsulated inside the nose cone were rolled out horizontally to pad 39A on Sunday, Jan. 16.
The recycled booster supporting this mission is designated as tail number B1060 and will be flying on its 10th mission to space and back as B1060.10
Falcon 9 booster B1060.10 previously launched GPS III-3, Turksat 5A, Transporter-2, and six Starlink missions.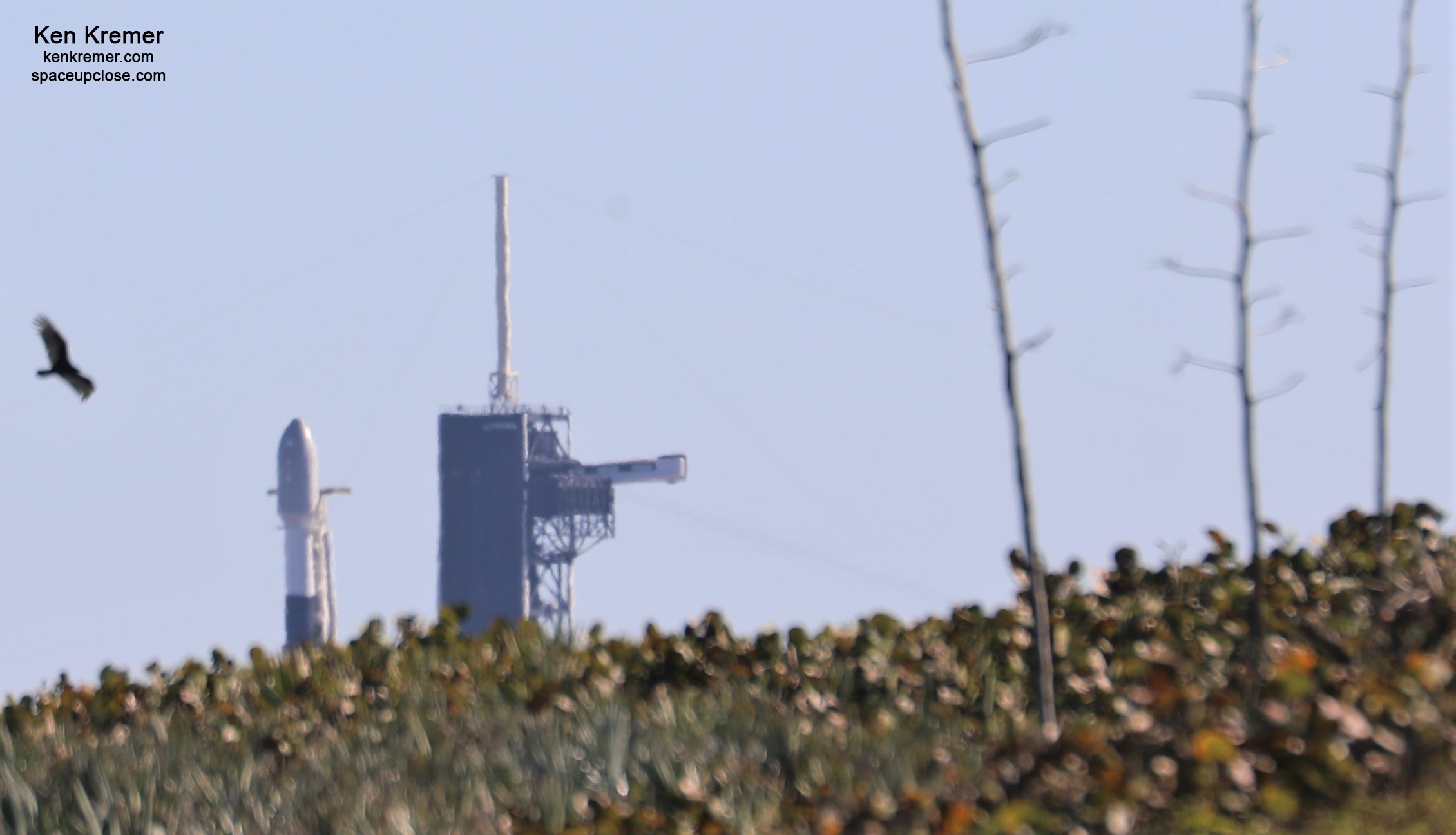 Most recently it flew as B1060.9 on the Starlink 4-3 mission on Dec. 2, 2021.
The SpaceX Falcon 9 will fly away and aloft on a rare southerly trajectory heading southeast and just north of the Bahamas at an inclination of 53.2 degrees into the second of five Starlink orbital 'shells.'
The approx. 500 pound flat panel solar powered Starlink satellites are planned for release at T + 15 minutes and 32 seconds into an initial orbit ranging in altitude between 130 miles and 210 miles (210 x 339 kilometers).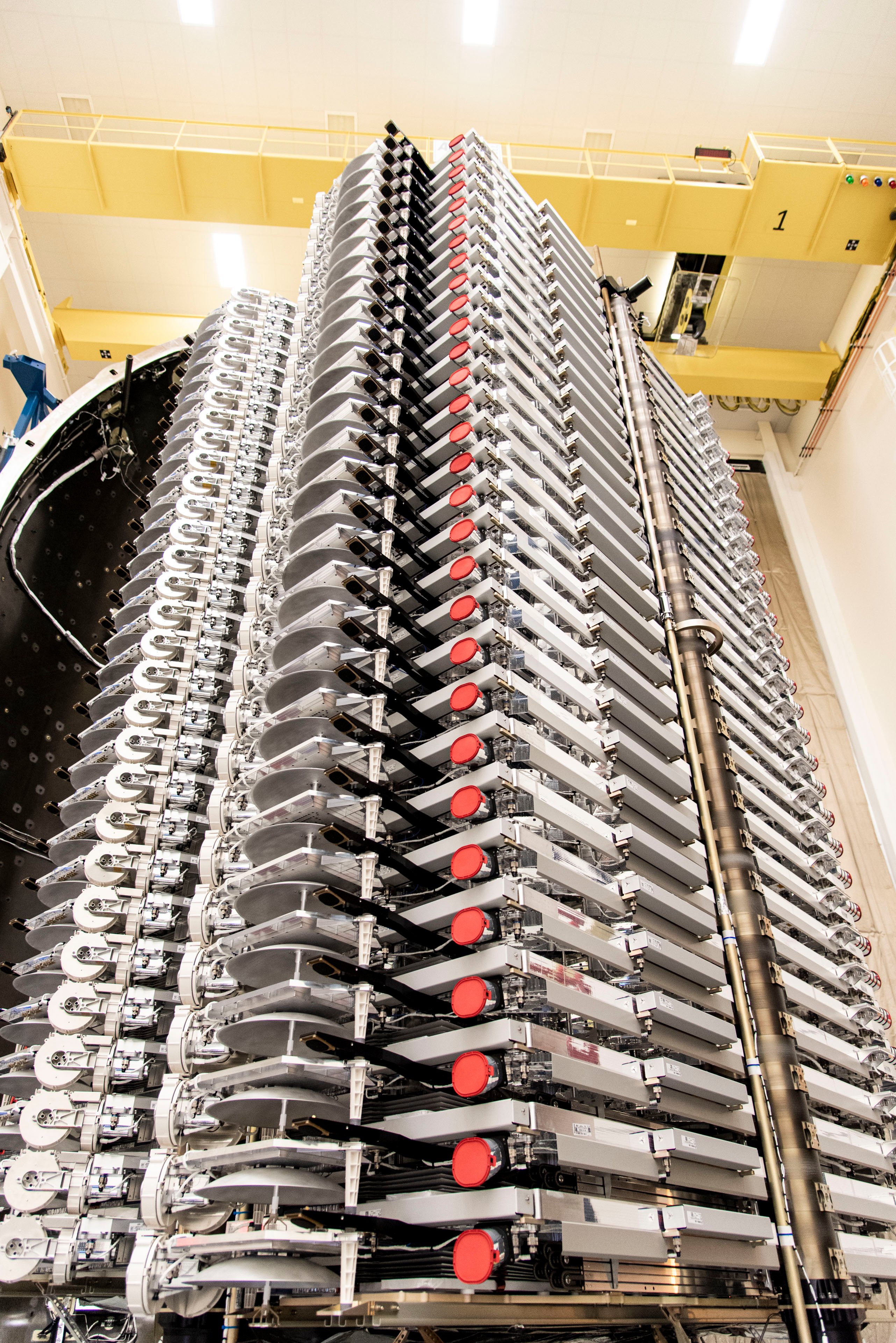 On board ion thrusters will gradually raise them to their operating altitude
The weather outlook is currently excellent at 90% GO.
"On Tuesday, high pressure will settle overhead, making for another chilly morning with low temperatures near 45 degrees at the spaceport," Space Launch Delta 45 forecasters, said in an update forecast Monday.
"Skies will continue to be mostly cloud-free and with winds becoming light and variable, making excellent weather conditions for a Tuesday evening launch attempt."
Furthermore, the upper altitude wind shear and booster recovery issues are rated as low risk on Tuesday, an improvement from Monday risks rated as moderate and high.
The payload comprises 49 upgraded Starlink internet communications satellites manufactured by SpaceX in their Redmond, Washington production facility – enlarging the existing and burgeoning broadband constellation to over 2000 launched thus far.
The goal of SpaceX's Starlink constellation is to provide low cost, high-speed, low-latency broadband connectivity around the world.
SpaceX is targeting an initial constellation of about 4,400 satellites that could grow to literally tens of thousands over time.
Following stage separation, SpaceX will land Falcon 9's first stage on the A Shortfall of Gravitas (ASOG) droneship, which will be stationed in the Atlantic Ocean north of the Bahamas.
Each of Falcon 9's fairing halves previously supported one Starlink mission, SpaceX announced.
Enjoy my prelaunch photos of the Falcon 9 Starlink 4-6 mission taken at Playalinda Beach this afternoon for Space UpClose.
Starlink 4-6 also continues the incredible launch pace of as many as 7 planned launches in January by SpaceX, ULA and startup Astra
SpaceX has already launched two Falcon 9 rockets in January on the Starlink 4-5 mission Jan. 6 from pad 39A with a droneship landing and Transporter-3 with 105 smallsats on Jan. 13 from pad 40 with a rare and thrilling ground touchdown back at the Cape at Landing Zone-1.
Another Starlink flight is planned in late January.
The next Falcon 9 after Tuesdays will launch the CSG-2/Cosmo-SkyMed-2 satellite south to polar orbit on January 27.
Normally launches from Kennedy and the Cape avoid the southerly trajectory to avoid populated areas and thus prevent polar launches in the past.
However improvements in rocket maneuvering technology and innovation by SpaceX has enabled the use of the southern corridor and south polar launches favored for science and some surveillance missions because they provide a different global view of Earth.
The first southerly launch from the Cape involved Saocom-1B in 2019 and they have now flown three more since then.
The southeasterly route is also more favorable for booster landings and fairing recoveries in the winter months says SpaceX compared to the harsher weather off the Carolina's coast
Early January's SpaceX Starlink 4-5 mission involved flying the Falcon 9 on a south easterly trajectory and Transporter 3 flew south.
This year 2022 will see even more south polar launches than ever before and feature perhaps as many as five just in January, according to a statement from the U.S Space Force.
Last year 2021 was a record-breaking year of 31 launches by SpaceX and ULA from the Space Coast and another launch record breaker is expected in 2022.
Ken's prelaunch photos featured at WKMG CBS 6 Orlando
Ken's prelaunch commentary about Starlink and What's Ahead for NASA human and science missions and Florida Space Coast were featured on Fox 35 News Orlando and WFTV ABC 9 Orlando TV News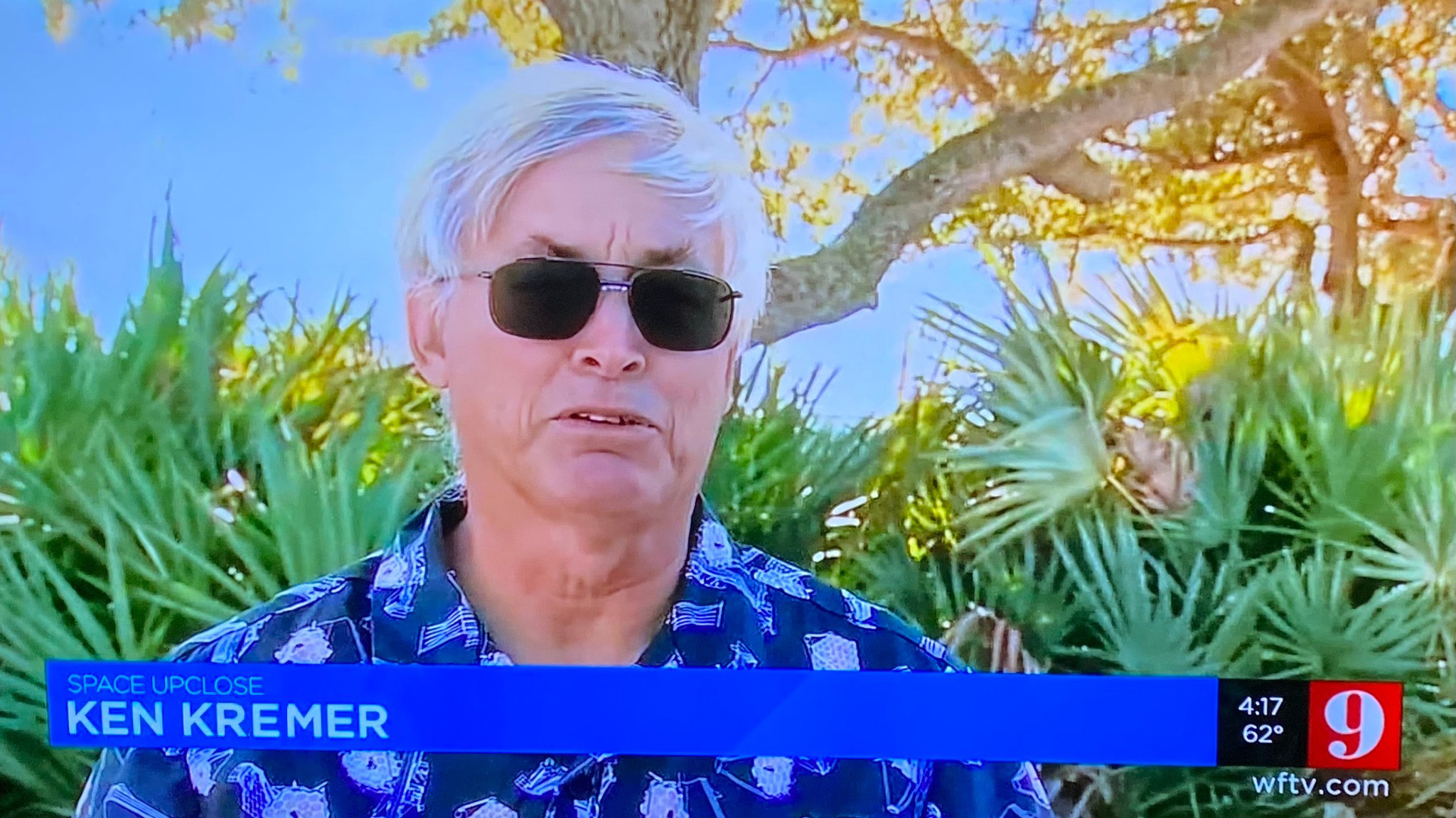 https://www.fox35orlando.com/news/spacex-preparing-for-first-starlink-launch-of-2022-how-to-watch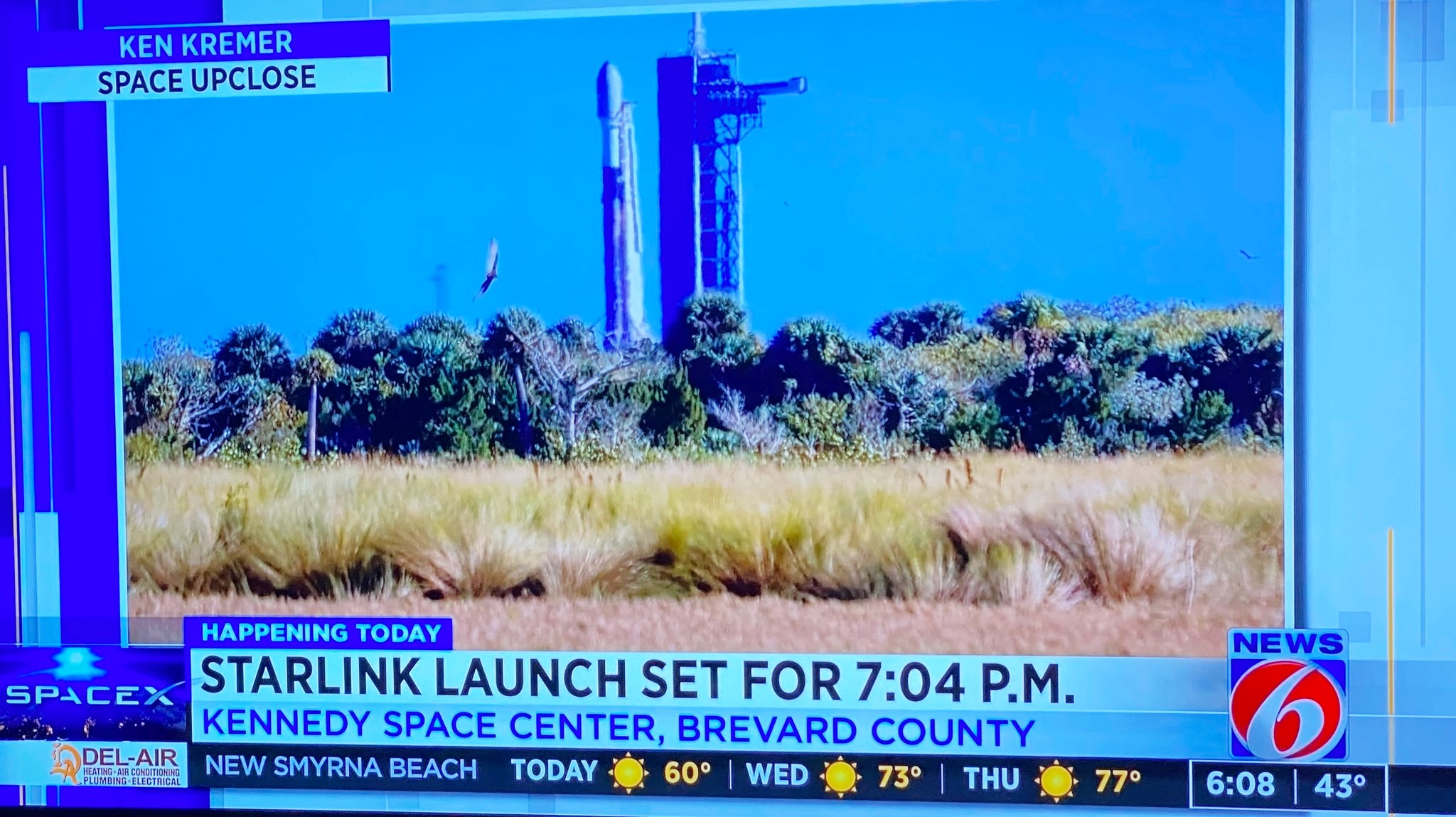 Watch Ken's continuing reports about SpaceX  Starlink , SpaceX Crew and Cargo Dragons, Artemis, SLS, Orion and NASA missions, DART,  Lucy Asteroid mission, Blue Origin and Space Tourism, Commercial Crew and Starliner and Crew Dragon and onsite for live reporting of upcoming and recent SpaceX and ULA launches including Crew 1 & 2 & 3, ISS, Solar Orbiter, Mars 2020 Perseverance and Curiosity rovers, NRO spysats and national security missions and more at the Kennedy Space Center and Cape Canaveral Space Force Station.
Stay tuned here for Ken's continuing Earth and Planetary science and human spaceflight news: www.kenkremer.com –www.spaceupclose.com – twitter @ken_kremer – email: ken at kenkremer.com
Dr. Kremer is a research scientist and journalist based in the KSC area, active in outreach and interviewed regularly on TV and radio about space topics.
………….
Ken's photos are for sale and he is available for lectures and outreach events
Please consider supporting Ken's work by purchasing his photos and/or donating at Patreon:
https://www.patreon.com/kenkremer
x