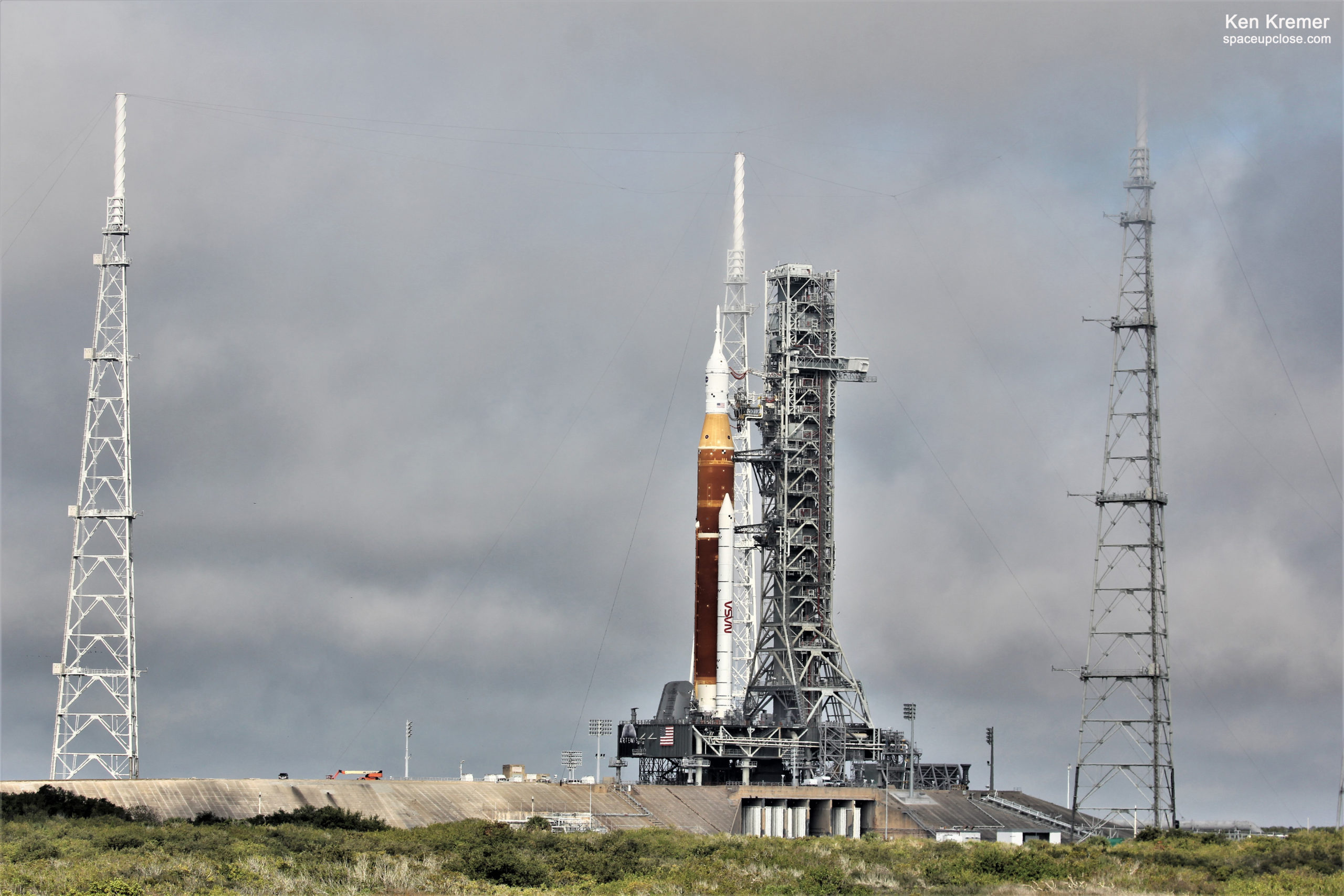 For SpaceUpClose.com & RocketSTEM
KENNEDY SPACE CENTER, FL –  NASA's first ever Space Launch System (SLS) Mega Moon rocket topped by the Orion deep space human capsule stands proudly tall at its launchpad at the Kennedy Space Center (KSC) as of Friday morning, March 18, following its absolutely stunning ten and a half hour roll out from the iconic Vehicle Assembly Building (VAB) on a spectacular 4 mile trip commencing late Thursday afternoon, March 17, that truly begins the agency's Project Artemis 'Return to the Moon' quest hearkening back to Project Apollo that landed the first humans on another celestial body over half a century ago.
The integrated SLS and Orion stack will remain several weeks at Launch Complex 39B  to undergo a critical countdown and fueling test known as the Wet Dress Rehearsal (WDR) in early April and eventually launch on the history making unpiloted Artemis 1 lunar mission as soon as June.
Preparations for the two day long WDR test are going very well so far NASA officials reported today, March 23.
"Following arrival of the Space Launch System rocket and Orion spacecraft for Artemis I at Launch Pad 39B at NASA's Kennedy Space Center in Florida on March 18, teams have connected numerous ground support equipment elements to the rocket and spacecraft, including electrical, fuel environmental control system ducts, and cryogenic propellant lines," NASA reported March 23.
"Teams successfully powered up all elements of the integrated system at the pad for the first time on March 21 in preparation for the wet dress rehearsal test planned for April 1-3."
"Engineering testing is underway to ensure systems continue to operate as planned with the rocket and spacecraft now configured at the pad."
Stacked on the mobile launcher and mounted on the crawler-transporter-2 (CT-2) for a journey from the Vehicle Assembly Building to Launch Pad 39B, it took 10-hours and 28 minutes for the 3.5-million-pound SLS and Orion to arrive at the launch pad 4.2 miles (6.8 km) away.
The 322-foot-tall (98 m) Artemis 1 stack arrived at Launch Complex-39B under dense fog at 4:15 a.m. EDT  (0815 GMT) on Friday, March 18 on a momentous trip along the same crawlerway that previously hosted NASA's Saturn V and Space Shuttle rockets for more than five decades of America's ambitious space exploration programs.
The upgraded crawler-transporter-2 (CT-2) originally built for NASA's Apollo Moon landing program in the 1960s and 1970s moved the stack at a maximum of 0.82 mph (1.3 kph) toward the pad.

The Space UpClose team of Ken Kremer and Jean Wright attended and witnessed the SLS/Orion rollout from the VAB at the KSC Press Site and OSB-2
Enjoy our photos of SLS/Orion at pad 39B after the dense obscuring fog finally lifted and the rollout and check back as we add more.
Read my earlier detailed story about the rollout illustrated with our photos
Now we know what NASA's Apollo Moon rocket rollout looked like.
We both witnessed multiple Space Shuttle rollouts
Years in the making NASA's SLS Moon rocket is destined to return American astronauts to the lunar surface for the first time in over 50 years later this decade.
SLS is the most powerful rocket NASA has ever built, generating some 8.8 million pounds of liftoff thrust at ignition – about 15% more powerful than NASA's legendary Saturn V that hurled the first humans to land on the Moon back in 1969 on the Apollo 11 moon landing mission.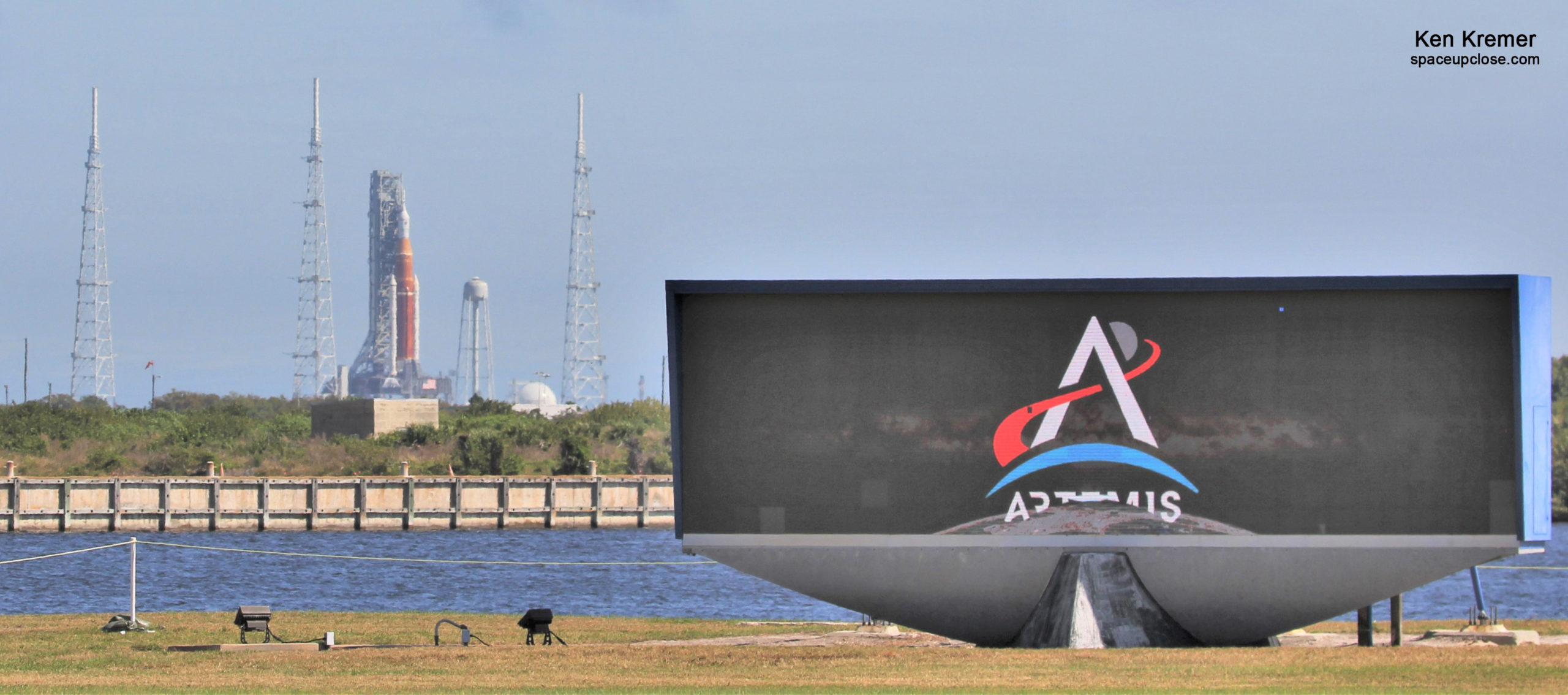 The maiden SLS/Orion rocket rolled to the pad Thursday, March 17 for the critical WDR fueling and countdown demonstration test – which is the final major final fueling test before launch.
"From this sacred and historical place, humanity will soon embark on a new era of exploration," said NASA administrator Bill Nelson.
"Artemis I will demonstrate NASA's commitment and capacity to extend humanity's presence on the Moon – and beyond."
Just days earlier technicians retracted the last two work platforms surrounding the 32 story tall rocket inside the Vehicle Assembly Building (VAB) where its components have been assembled together over the past year.
The rollout was broadcast live on NASA TV starting around 5 p.m. EDT March 17
"At these launch pads, remarkable individuals achieve unthinkable things," Administrator Nelson said during NASA's live rollout broadcast at KSC.
"Today, a new generation — not the Apollo generation, but it's the Artemis generation — is preparing to reach new frontiers. This generation will return astronauts to the moon, and this time, we will land the first woman and the first person of color on the surface to conduct groundbreaking science."
"NASA's Artemis program will pave the way for humanity's giant leap — future missions to Mars," Nelson added.
"There is no doubt we are in a golden era of human space exploration, discovery and ingenuity in space. And it all begins with Artemis 1."
"Artemis 1 will demonstrate NASA's commitment and capacity to extend humanity's presence on the moon and beyond."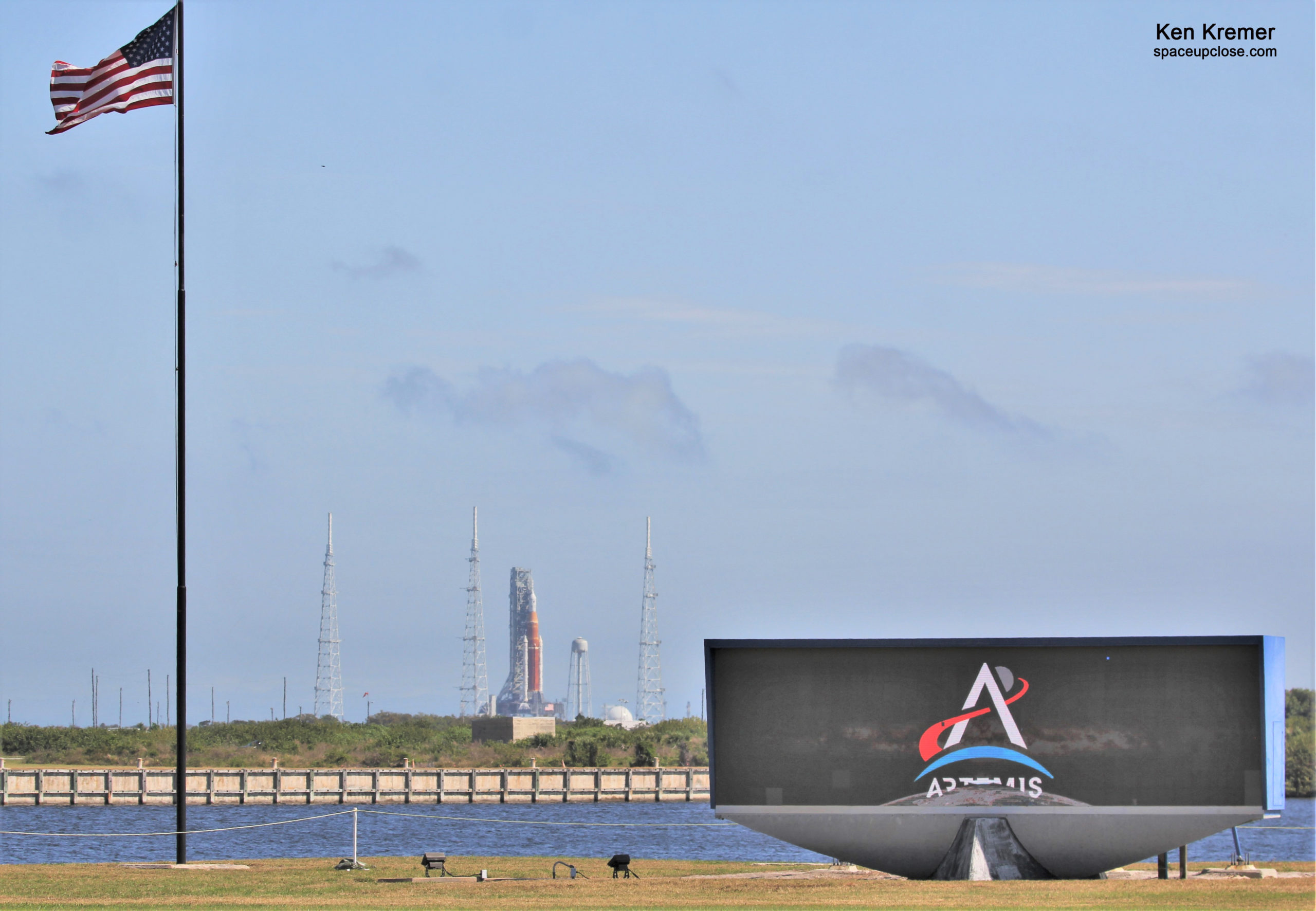 SLS serves as the backbone of the Artemis program and the nation's future deep space exploration missions.
Overall SLS stands 322 feet (98 meters) tall and weighs 5.75 million pounds.
Here are some up close NASA photos of Orion atop SLS at pad 39B
A breathtaking view for Orion 😲 nearly 30 stories up, stacked atop the @NASA_SLS at @NASAKennedy Launch Pad 39B. pic.twitter.com/TdTyQIgzFc

— Orion Spacecraft (@NASA_Orion) March 23, 2022
Here are some NASA photos of the SLS/Orion stack at pad 39B at sunrise on March 23
🌅 Being an early bird definitely has its perks here at @NASAKennedy! Here, the sun is seen rising on the Space Launch System at Launch Pad 39B. pic.twitter.com/0WRWifLlzd

— NASA_SLS (@NASA_SLS) March 23, 2022
During the WDR the Artemis I launch team will "run through operations to load propellant into the rocket's tanks, conduct a full launch countdown, demonstrate the ability to recycle the countdown clock, and also drain the tanks to practice the timelines and procedures the team will use for launch."
The WDR is currently targeted for April 3. The call to stations is expected on April 1 for the two day test.
Both stages of SLS will be fueled during the WDR.
The stages will be fueled with cryogenic liquid oxygen (LOX) and liquid hydrogen (LH2) starting around 7 a.m. EDT (1100 GMT) on WDR test day.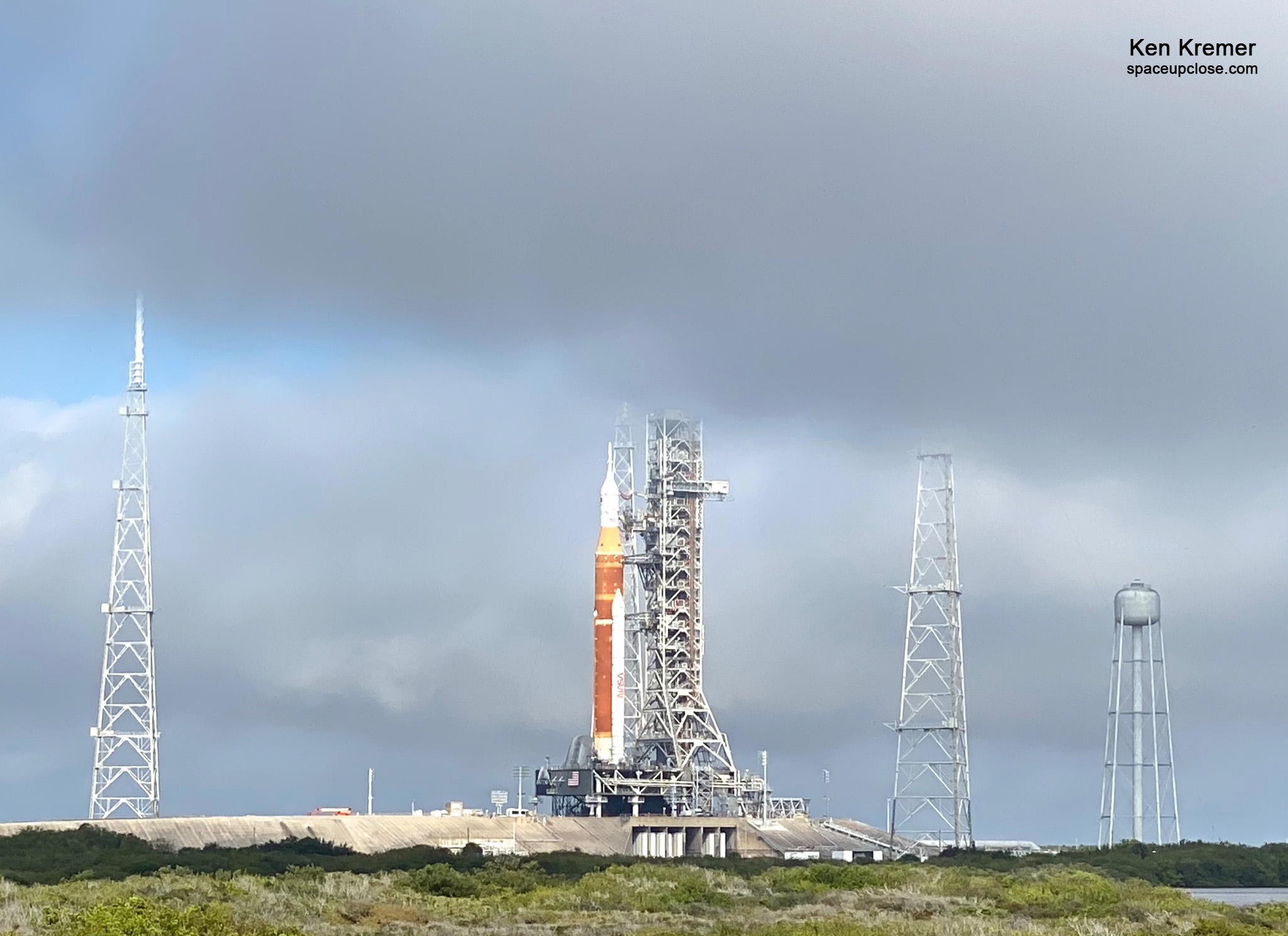 Following a successful WDR campaign the SLS/Orion will roll back to the VAB for final checkouts and refurbishments before the Artemis 1 launch campaign commences.
NASA will announce a target launch date for Artemis 1 after thoroughly analyzing all the WDR test results.
"The approximately two-day wet dress rehearsal test will demonstrate the team's ability to load cryogenic, or super-cold, propellants into the rocket, conduct a launch countdown, and practice safely removing propellants at the launch pad. After wet dress rehearsal, engineers will roll the rocket and spacecraft back to the Vehicle Assembly Building for final checkouts before launch," said NASA in the March  23 blog update.
The uncrewed Artemis 1 flight test will pave the way for the Artemis 3 mission to land the first woman and first person of color on the Moon under Project Artemis
NASA is still targeting launch of Artemis 3 as soon as 2025.
Liftoff of the uncrewed Artemis 1 mission is slated for no earlier than June 2022 from Launch Complex 39B at NASA KSC on the first in a series of increasingly complex missions to test the SLS heavy lift mega rocket and Orion crew capsule as an integrated system prior to crewed flights to the Moon starting with Artemis 2 – targeting launch in 2024.
SLS 1 will launch the Orion crew spacecraft on the Artemis 1 mission lasting between 4 to 6 weeks on a journey of some 280,000 miles (450,000 kilometers)  from Earth to many thousands of miles past the moon and then return to Earth.
A crew of four NASA and Canadian astronauts will fly aboard Artemis 2 in 2024 in the Orion capsule on the first crewed mission to the Moon in more than 50 years
SLS was built by prime contractor Boeing at NASA's Michoud Assembly Facility in New Orleans.
Orion was built by prime contractor Lockheed Martin at the Kennedy Space Center.
The SLS stack was assembled in VAB High Bay 3 and the right side doors were opened late Thursday morning to expose the rocket for rollout to pad 39B.
WFTV Channel 9 ABC News Orlando featured Ken's pre-rollout commentary about how critical NASA's Space Launch System  Artemis 1 launch to the Moon is to NASA – with 1st ever rocket rollout to pad 39B just completed at NASA's Kennedy Space Center
Watch Ken's continuing reports about Artemis, SLS, Orion and NASA missions, JWST, IXPE, DART, Lucy Asteroid mission, GOES, SpaceX Cargo and Crew Dragons, SpaceX Starlink, Commercial Crew and Starliner and Crew Dragon, Blue Origin and Space Tourism, and onsite for live reporting of upcoming and recent SpaceX and ULA launches including Crew 1 & 2 & 3, ISS, Solar Orbiter, Mars 2020 Perseverance and Curiosity rovers, NRO spysats and national security missions and more at the Kennedy Space Center and Cape Canaveral Space Force Station.
Stay tuned here for Ken's continuing Earth and Planetary science and human spaceflight news: www.kenkremer.com –www.spaceupclose.com – twitter @ken_kremer – email: ken at kenkremer.com
Dr. Kremer is a research scientist and journalist based in the KSC area, active in outreach and interviewed regularly on TV and radio about space topics.
………….
Ken's photos are for sale and he is available for lectures and outreach events
Please consider supporting Ken's work by purchasing his photos and/or donating at Patreon:
https://www.patreon.com/kenkremer
x