For SpaceUpClose.com & RocketSTEM
PORT CANAVERAL, FL –  'Super Sooty!' That's my nickname for the first SpaceX Falcon 9 first stage booster to launch and land for the 12th time and which returned safely to Port Canaveral on Wednesday, March 23, after nailing an upright touchdown atop the firms ocean droneship in the Atlantic Ocean and delivered another batch of Starlink satellites to low Earth orbit (LEO) from the Florida Space Coast.
The record setting booster was so blackened from soot from top to bottom that the Falcon 9 and SpaceX logos were barely visible
The first stage Falcon 9 booster B1051 was towed into Port Canaveral, Wednesday morning by tug Zion Falgout passing by Jetty Park Pier just before sunrise and four days after a post-midnight liftoff.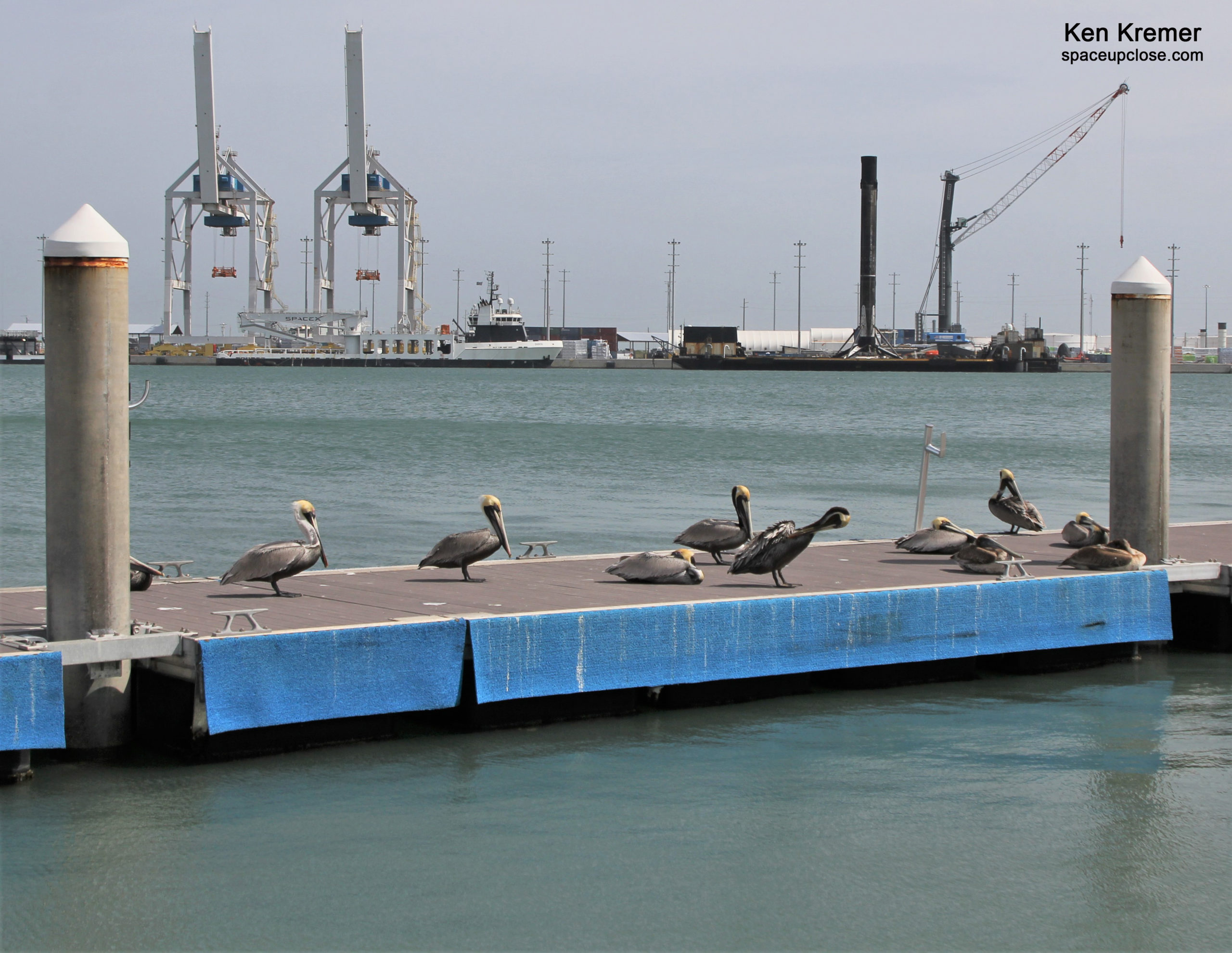 B1051 became the first 12th launched and landed first stage upon liftoff upon liftoff of the 229-foot-tall (70-meter) SpaceX Falcon 9  on Saturday, March 19 at 12:42 a.m. EDT  from Space Launch Complex 40 (SLC-40) at Cape Canaveral Space Force Station in Florida, carrying another 53 Starlink broadband internet satellites to low-Earth orbit
This is the first time a Falcon 9 first stage has launched and landed 12 times!

— SpaceX (@SpaceX) March 19, 2022
It made a precision guided touchdown on the 'Just Read the Instructions' (JRTI) droneship some eight minutes later.
JRTI and the Falcon 9 berthed at the normal spot at North Cargo Pier 6 with an hour.
Enjoy our booster return into Port Canaveral photos of the Falcon 9 booster B1051 atop JRTI on the Starlink 4-12 mission taken by Ken Kremer and Jean Wright for Space UpClose.
To date SpaceX has launched 11 missions in the first quarter of 2022
The goal of SpaceX's Starlink constellation is to provide low cost, high-speed, low-latency broadband connectivity around the world.
This Falcon 9 first stage booster B1051 previously launched Dragon's first crew demonstration mission Demo-1 to the International Space Station (ISS) for NASA in March 2019, followed by the RADARSAT Constellation Mission, SXM-7, and now nine Starlink missions namely Starlink 3, 6. 9, 13, 16, 21, 27, and most recently Starlink 4-4.
This Starlink 4-12 mission counts as the 41st Starlink internet satellite mission and raises the total number of Starlink satellites launched to 2,335 including prototypes and test versions.
A running tally is maintained by astrophysicist Jonathan McDowell of Harvard
https://planet4589.org/space/stats/star/starstats.html
Approximately 2112 of them remain in orbit and 2083 are still working and about 1600 are actually operational
The most recent SpaceX Falcon 9 Starlink launch from Cape Canaveral took place on March 9 on the Starlink 4-10 mission also from SLC-40.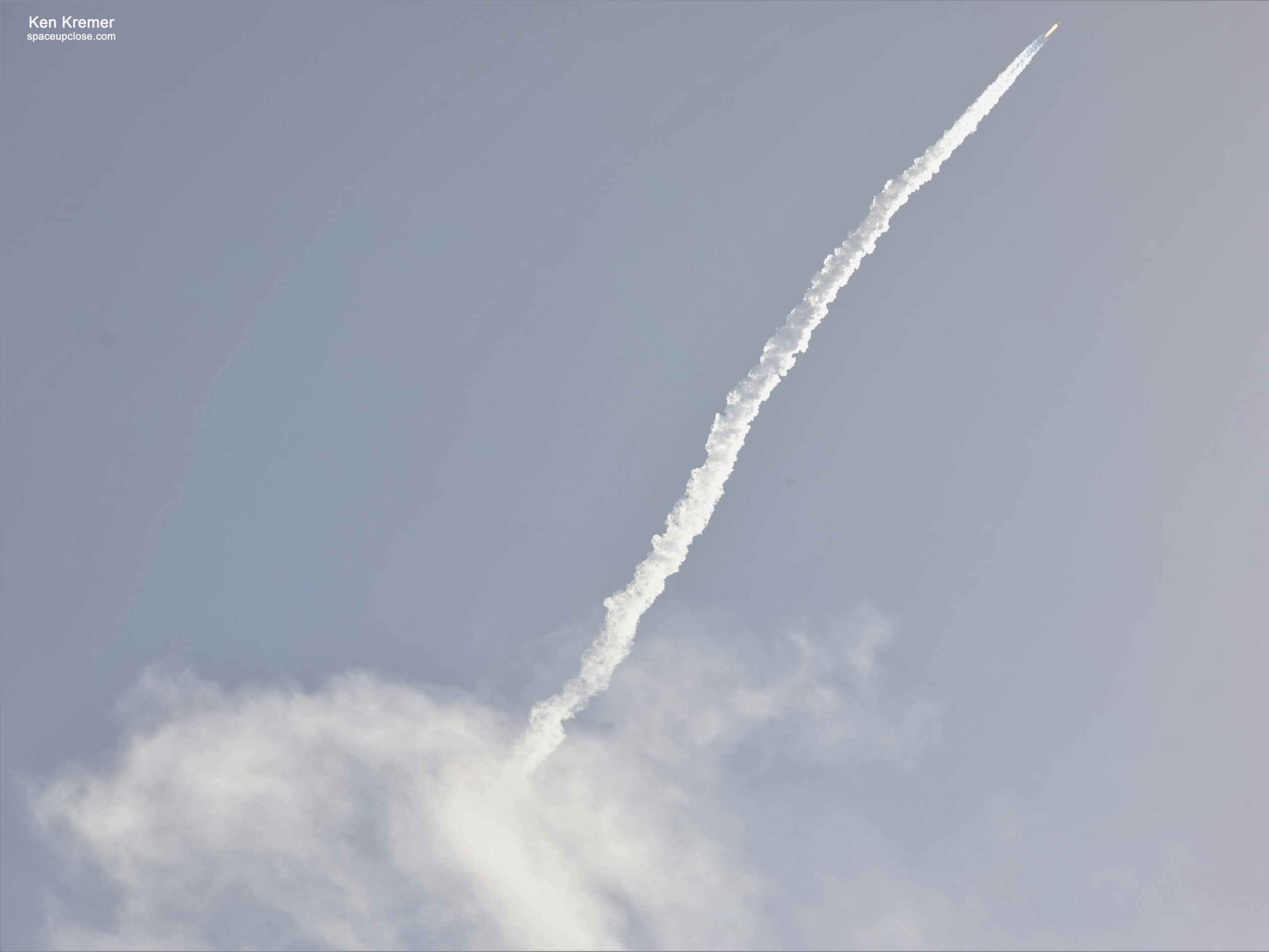 Watch Ken's continuing reports about SpaceX  Starlink, SpaceX Crew and Cargo Dragons, Artemis, SLS, Orion and NASA missions, DART,  Lucy Asteroid mission, Blue Origin and Space Tourism, Commercial Crew and Starliner and Crew Dragon and onsite for live reporting of upcoming and recent SpaceX and ULA launches including Crew 1 & 2 & 3, ISS, Solar Orbiter, Mars 2020 Perseverance and Curiosity rovers, NRO spysats and national security missions and more at the Kennedy Space Center and Cape Canaveral Space Force Station.
Stay tuned here for Ken's continuing Earth and Planetary science and human spaceflight news: www.kenkremer.com –www.spaceupclose.com – twitter @ken_kremer – email: ken at kenkremer.com
Dr. Kremer is a research scientist and journalist based in the KSC area, active in outreach and interviewed regularly on TV and radio about space topics.
………….
Ken's photos are for sale and he is available for lectures and outreach events
Please consider supporting Ken's work by purchasing his photos and/or donating at Patreon:
https://www.patreon.com/kenkremer
x