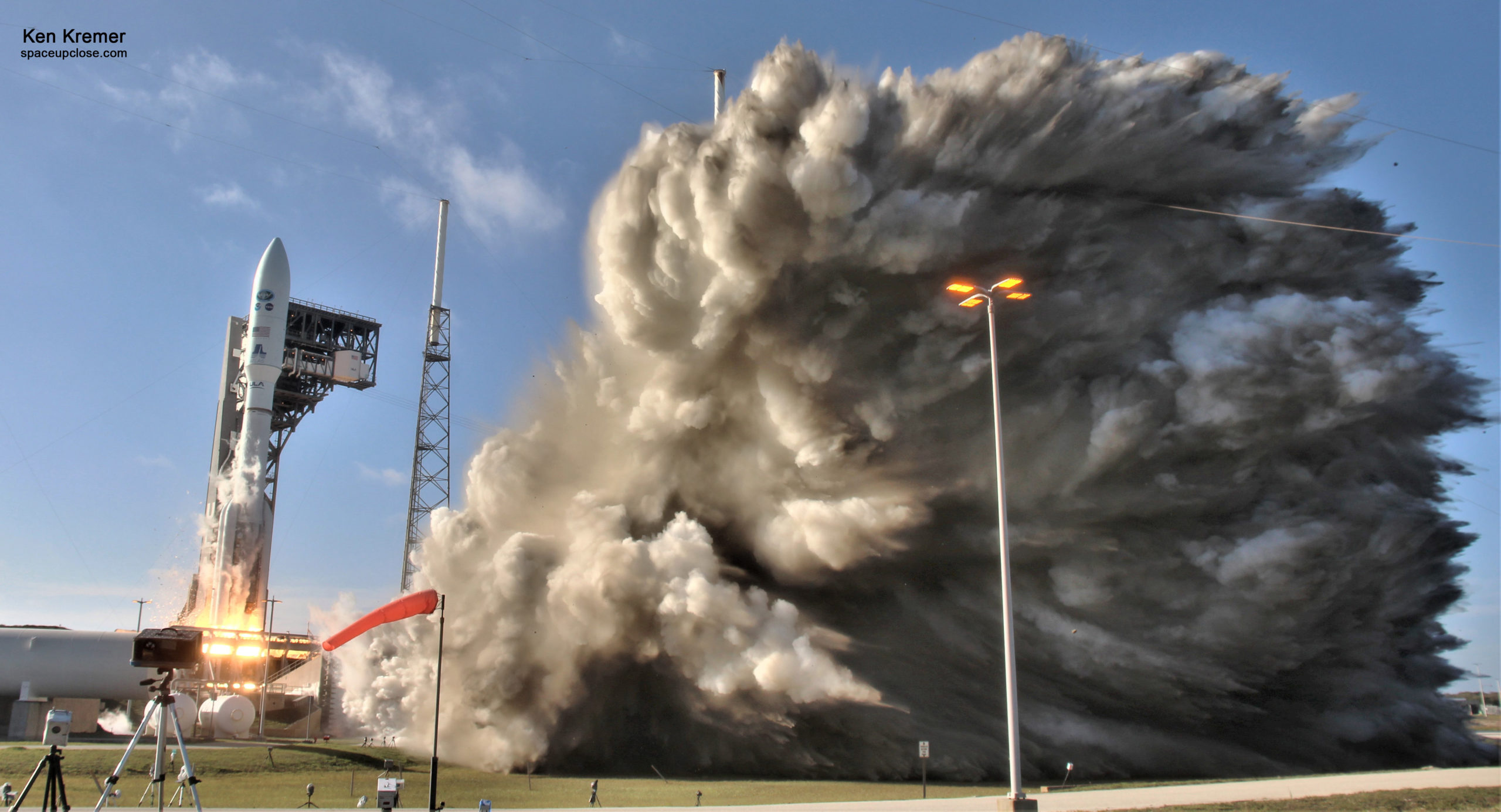 For SpaceUpClose.com & RocketSTEM
KENNEDY SPACE CENTER/CAPE CANAVERAL SPACE FORCE STATION, FL –  Despite gusty ground winds America's newest and most powerful weather observation satellite dubbed GOES-T blasted off Tuesday afternoon, March 1, into clear blue skies aboard a powerful United Launch Alliance (ULA) Atlas V rocket from Florida's Space Coast and was successfully delivered to geostationary transfer orbit (GTO) on a mission to continuously measure hemispheric weather events and severe storms and use the real time data potentially save lives.
The Geostationary Operational Environmental Satellite-T (GOES-T) satellite is the third in a series of four next-generation weather satellites in a joint collaboration between NASA and NOAA.
GOES-T is destined to serve as the primary weather observatory to track and provide invaluable storm coverage over the western United States and Pacific Ocean from geostationary orbit.
Liftoff of the ULA Atlas V stacked with the NASA NOAA GOES-T weather satellite to geostationary orbit took place right on time Tuesday, March 1, at 4:38 p.m. EST  (2138 GMT)  from seaside Space Launch Complex 41 at Cape Canaveral Space Force Station.
GOES-T will replace the prior satellite GOES-S (GOES-17) in geostationary orbit 22,300 miles (36000 km) above Earth over the western U.S. launched four years ago in 2018 which suffered some instrument glitches post launch and the main Advanced Baseline Imager (ABI) instrument operates in a slightly degraded state.
Post launch and upon achieving its geostationary orbit position and after checkout GOES-T will be renamed GOES-18.
"We at NASA feel honored to continue to work with NOAA on this strategic and successful partnership. Besides our work on spacecraft development and launch, NASA supported science teams are looking forward to analyzing the precious data that GOES-T will provide," said Thomas Zurbuchen, the associate administrator for the Science Mission Directorate at NASA Headquarters in Washington, in a statement.
"These observations are a key part of our research towards improving understanding and models of climate, weather, and space weather – models that, in turn, support NOAA's crucial work as they lead the weather and space weather forecasts for the nation."
Successful delivery of GOES-T to its initial GTO orbit was confirmed by mission managers about three and a half hours after liftoff at 8:38 p.m. ET when the spacecraft separation from the Atlas V rockets Centaur upper stage stage following a series of three engine burns was observed in telemetry and video and the spacecraft's solar arrays successfully deployed and the spacecraft was operating on its own power.
Let's see that spacecraft separation! #AtlasV #GOEST // @NOAA @NASA @NOAASatellites @NASA_LSP pic.twitter.com/KRsWt7jHWE

— ULA (@ulalaunch) March 2, 2022
"That is what it's all about – when we get to the spacecraft separation. It's years of work going into that one event," said NASA Launch Director Tim Dunn, during NASA's live launch webcast.
"Today, we were blessed with a smooth and successful countdown."
The GOES weather observing satellite network commenced in 1975 and will continue into the 2030s following the delivery of GOES-T to orbit.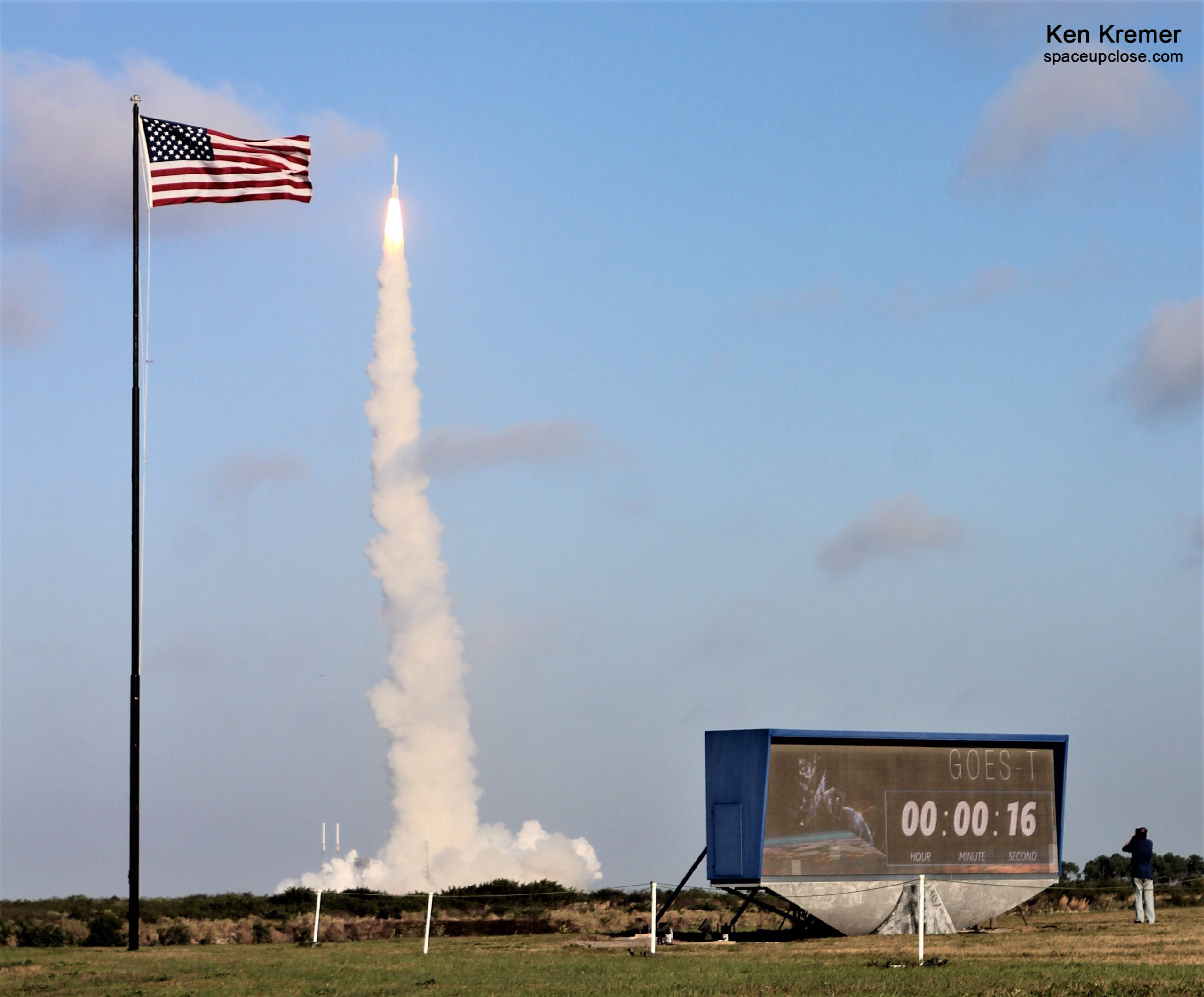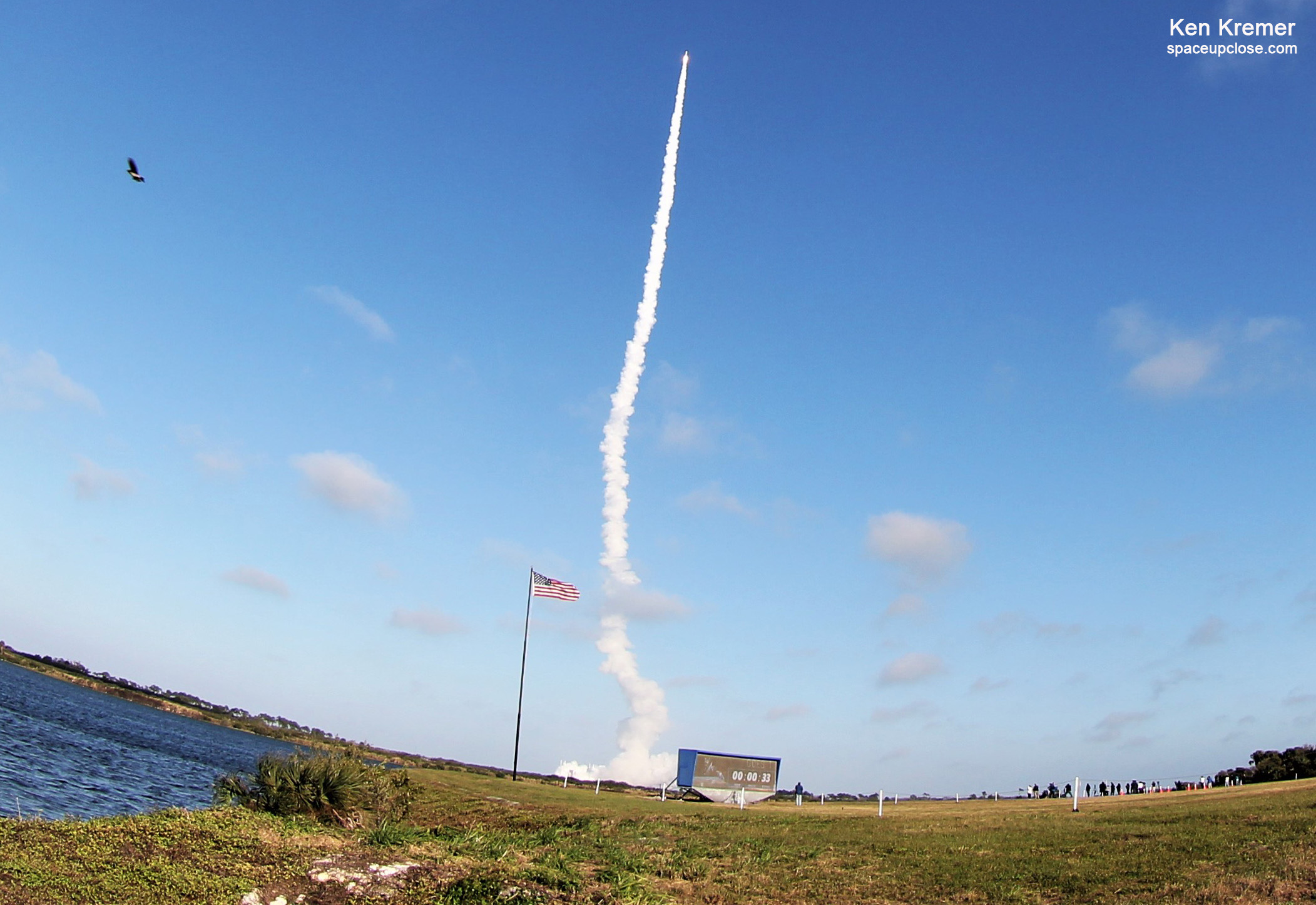 "The GOES satellite network helps meteorologists observe and predict local weather events, including thunderstorms, tornadoes, fog, hurricanes, flash floods, and other severe weather. In addition, GOES observations have proven helpful in monitoring dust storms, volcanic eruptions, and forest fires," says NASA.
"The GOES-R Series [which include GOES-T] provides advanced imagery and atmospheric measurements, real-time mapping of lightning activity, and space weather monitoring."
The small school bus sized 11,500 pound (5 metric ton) GOES-T weather observatory was built by prime contractor Lockheed Martin.
GOES-T will provide continuous coverage of weather and hazardous environmental conditions in the Western Hemisphere.
The GOES program also predicts space weather near Earth that can interfere with satellite electronics, GPS, and radio communications.
"We at NASA are proud to support our joint agency partner, NOAA, and their mission to provide critical data and imagery to forecasters and researchers tracking hazardous weather," said NASA Deputy Administrator Pam Melroy, in a statement.
"While the GOES-R series satellites' main job is to help with weather prediction, these satellites produce observations that also help with NASA science. Our agencies' collaboration brings great benefits toward understanding our planet."
GOES-T is the third satellite in NOAA's GOES-R series – the Western Hemisphere's most sophisticated weather observing and environmental monitoring system.
The first two GOES-R series satellites namely GOES-R and GOES-S were launched by ULA in 2016 and 2018 respectively.
The last in the series namely GOES-U will be launched in 2024.
After a checkout period of several months GOES-18 at 87 degrees West longitude it will be moved to 137 degrees West longitude and replace  GOES-17 which will then serve as an orbital spare.
The GOES-R series will maintain the two-satellite system on the US East and West coasts and extend the operational lifetime of this series through December 2036.
"This launch continues a 48-year history of NOAA, NASA, industry, and academia working together on geostationary satellite observations," said John Gagosian, director of NASA's Joint Agency Satellite Division, in a statement.
"GOES satellites help us every day. They bring advanced new capabilities to help forecasters better monitor and predict dangerous environmental conditions like hurricanes, thunderstorms, floods, and fires."
The 196 feet (59.7 meters) tall ULA Atlas V and designated as tail number AV-095 launched in the 541 configuration – its second most powerful variant spewing over 2.3 million pounds of liftoff thrust and nicknamed 'The Dominator'.
The Atlas V 541 variant comprises a 5.4-meter (17.7-foot) diameter short payload fairing, four first stage Graphite Epoxy Motor (GEM) 63 strap on solid rocket boosters strap-on boosters provided by Northrop Grumman, and a single Aerojet Rocketdyne provided RL10 Centaur upper stage engine.
The first stage is powered by the Russian built RD AMROSS RD-180 engine fueled by RP-1 and LOX
ULA CEO Tory Bruno stated that ULA has stockpiled all the RD-180 engines they need for the remaining Atlas V launches and they don't need any help from Russian technicians.
This marked the 92nd flight of an Atlas 5 rocket since August 2002 and the 149th launch overall for ULA with 100% mission success – which is a 50:50 collaboration between Boeing and Lockheed Martin.
It also counts as the eighth flight to use the "541" version, following two previous GOES satellites, NASA's Curiosity and Perseverance Mars rovers, and three national security spy satellite launches for the NRO.
MISSION SUCCESS! United Launch Alliance's #AtlasV delivers @NOAA's #GOEST weather satellite into orbit to provide rapid, high-quality data to improve forecasts and save lives. Success #149 for ULA! Thank you to our customers @NOAASatellites and @NASA_LSP! https://t.co/qN2icnfu0O pic.twitter.com/s6AOvTwL3o

— ULA (@ulalaunch) March 2, 2022
From NASA: NASA's Goddard Space Flight Center in Greenbelt, Maryland, oversees the acquisition of the GOES-R spacecraft and instruments and built the Magnetometer instrument for GOES-T, as well as for the future GOES-U satellite. NASA's Launch Services Program, based at the agency's Kennedy Space Center in Florida, provided launch management for the mission. NOAA oversees the GOES-R Series Program through an integrated NOAA-NASA office, managing the ground system, operating the satellites, and distributing their data to users worldwide. Lockheed Martin designs, builds, and tests the GOES-R series satellites. L3Harris Technologies provides the main instrument payload, the Advanced Baseline Imager, along with the ground system, which includes the antenna system for data reception.
Ken post launch commentary about how GOES satellites can save lives and prelaunch Atlas V rocket photos were featured on WFTV ABC News Orlando and WKMG CBS Orlando
Watch Ken's continuing reports about GOES weather satellites, Mars Perseverance and Curiosity rovers, JWST, IXPE, DART, SpaceX Crew and Cargo Dragons, Artemis, SLS, Orion and NASA missions, Lucy Asteroid mission, SpaceX Starlink, Blue Origin and Space Tourism, Commercial Crew and Starliner and Crew Dragon and onsite for live reporting of upcoming and recent SpaceX and ULA launches including Crew 1 & 2 & 3, ISS, Solar Orbiter, NRO spysats and national security missions and more at the Kennedy Space Center and Cape Canaveral Space Force Station.
Stay tuned here for Ken's continuing Earth and Planetary science and human spaceflight news: www.kenkremer.com –www.spaceupclose.com – twitter @ken_kremer – email: ken at kenkremer.com
Dr. Kremer is a research scientist and journalist based in the KSC area, active in outreach and interviewed regularly on TV and radio about space topics.
………….
Ken's photos are for sale and he is available for lectures and outreach events
Please consider supporting Ken's work by purchasing his photos and/or donating at Patreon:
https://www.patreon.com/kenkremer
x