For SpaceUpClose.com & RocketSTEM
KENNEDY SPACE CENTER, FL – The Crew-4 multinational team of astronauts from the US and Italy blasted off in the wee hours overnight in spectacular fashion,  Wednesday, April 27, atop a recycled SpaceX Falcon 9 rocket from NASA's Kennedy Space Center in Florida while seated inside the brand new SpaceX Crew Dragon Freedom spacecraft, bound for the International Space Station (ISS) on a nearly half year science mission.
The stunning SpaceX liftoff took place just 39 hours after the poor weather delayed splashdown homecoming return for the private Axiom Mission-1 crew on Monday, April 25. that cascaded into nearly day for day delays for the Crew-4 astronauts launch until the Axiom astronauts departed Sunday from the space station and freed up a required docking port for the new crew.
Lift off of the 215-foot-tall (65 m) SpaceX Falcon 9 occurred as scheduled at 3:52 a.m. EDT (0712 GMT) on Wednesday, April 27 from Launch Complex 39A at NASA's Kennedy Space Center during an instantaneous launch window.
All nine Merlin 1D first stage engines to generate 1.7 million pounds of liftoff thrust fueled by liquid oxygen (LOX) and highly refined kerosene (RP-1)
Crew-4 roared skywards in the middle of the night on a northeasterly trajectory on a now 4x flown SpaceX Falcon 9 rocket on the maiden voyage of the Crew Dragon astronaut taxi capsule – briefly turning night into day.
The F9 booster designated as B1067.4 safely and successfully nailed a precision guided upright touchdown on the SpaceX droneship A Shortfall of Gravitas (ASOG) droneship eight minutes later
The ASOG drone ship was prepositioned off the coast of the Carolinas some 400 miles (640 km) northeast and downrange from KSC
The SpaceX Falcon 9 rocket propelled Crew Dragon Freedom into orbit carrying the Crew-4 astronaut quartet comprising Mission Commander Kjell Lindgren, Pilot Bob Hines, and Mission Specialist Jessica Watkins, all NASA astronauts, and Italian Mission Specialist Samantha Cristoforetti of ESA (European Space Agency).
They are a mixture of 2 veteran (Lindgren, Cristoforetti) and 2 rookie (Hines, Watkins) space flyers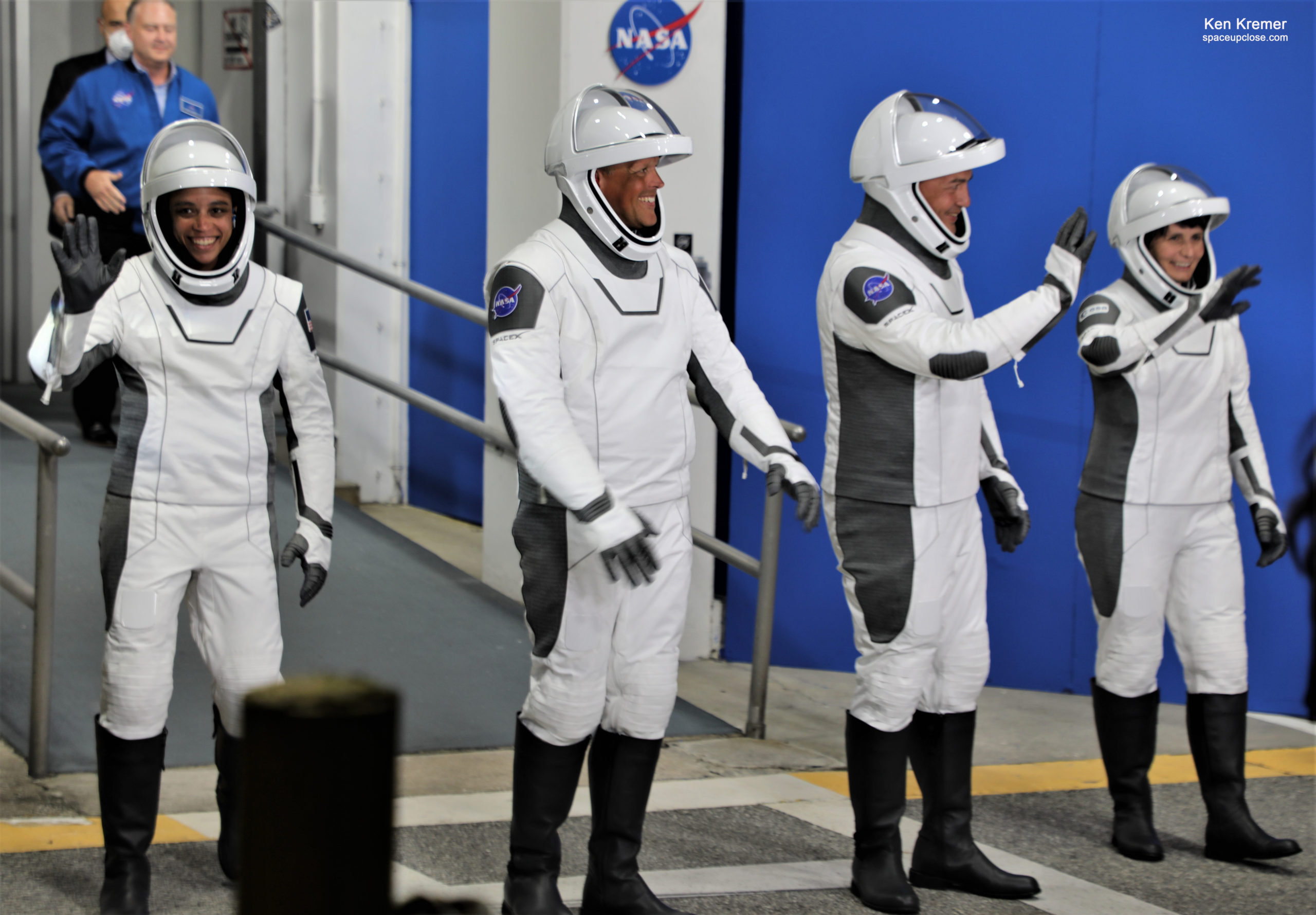 Just over 17 hours after launch, the crew is expected to rendezvous and dock at the orbiting research laboratory at the space facing port on the Harmony module just vacated and made available after the departure of the AX-1 crew just days ago.
Docking is planned for approximately 8:15 p.m. EDT later on Wednesday, April 27 – a record fast time for a Dragon that is simply due to orbital mechanics, not any special phasing or maneuvering.
"Liftoff! The past few days at Kennedy Space Center have been inspiring and busy with the return of the Axiom crew and now the successful launch of Crew-4 astronauts to the International Space Station," said NASA Administrator Bill Nelson.
"Aboard station, Kjell, Bob, Jessica, and Samantha will carry out research investigations that will help NASA prepare for longer duration stays on the Moon – and eventually Mars. These missions wouldn't be possible without the dedicated NASA and SpaceX teams here on Earth. Godspeed, Crew-4!"
The Crew-4 launch culminates a remarkably amazing cadence of two human spaceflight launches to the ISS on commercial spaceships in the span of just two weeks apart and less than 48 hours between splashdown of Axiom Mission 1 and blastoff of Crew-4
They will join the Expedition 67 multinational crew of 7 astronauts and cosmonauts already living and serving  onboard from Crew-3 and Soyuz from the US, Russia and Germany.
"This is our fourth crew rotation flight – it's kind of hard to believe," said Steve Stich, manager, Commercial Crew Program, NASA's Johnson Space Center in Houston.
"It seems like Demo-2 was just yesterday, and it's exciting to be here. We had a really clean countdown today – the Falcon 9 rocket did great; the Dragon vehicle did great. It was great to see the crew get in. You could tell they were excited to start their flight off."
NASA plans about a 5 day overlap and handover from Crew-3 to Crew-4.
Crew-3 quartet from US and Germany will depart ISS in early May.
"NASA, SpaceX and our international partners have worked tirelessly to ensure that the International Space Station continues conducting important research in microgravity, and working on a whole host of activities that benefit humanity and opens up access to more people in space," said Kathryn Lueders, associate administrator for NASA's Space Operations Mission Directorate in Washington.
"Crew-4's launch, less than two days after the return of the first all-private mission to station, exemplifies the spirit and success of the Commercial Crew Program to help maximize use of low-Earth orbit for years to come, testing the technologies we need for the Artemis program and beyond."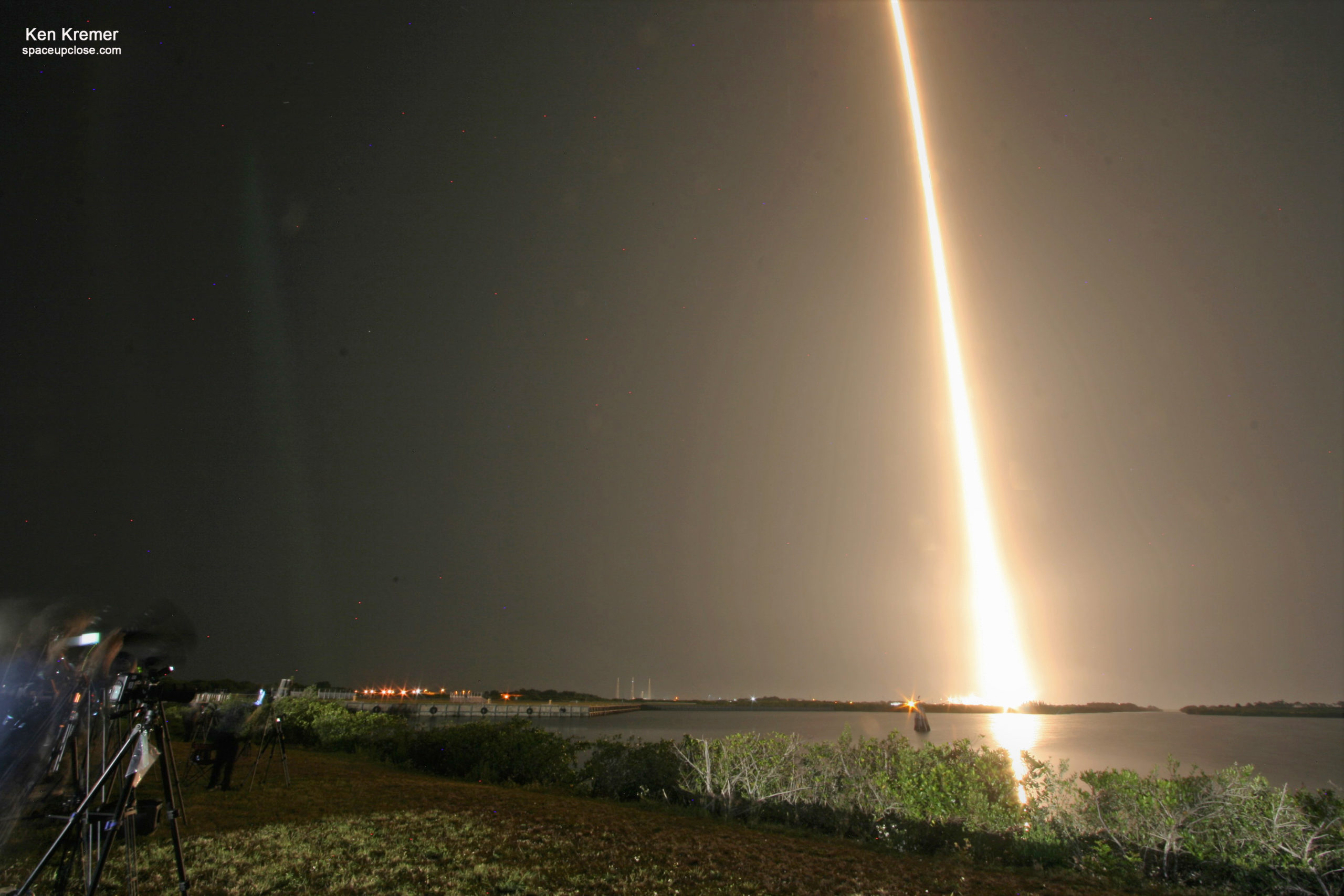 NASA truly needs more docking ports on the ISS to accommodate the traffic jam at the ISS – but it will be at least two years before anything becomes available hopefully by the end of 2024 with the launch of a private Axiom commercial space station module.
The crew will conduct a nearly six month science expedition in microgravity aboard the Earth orbiting research complex carrying out over 250 experiments.
"The Crew-4 astronauts will conduct new and exciting scientific research in areas such as materials science, health technologies, and plant science to prepare for human exploration beyond low-Earth orbit and benefit life on Earth. Experiments will include studies on the aging of immune systems, organic material concrete alternatives, and cardiorespiratory effects during and after long-duration exposure to microgravity. These are just some of the more than 200 science experiments and technology demonstrations that will take place during their mission."
The multinational crew of NASA and ESA astronauts arrived at KSC on April 18, at NASA's Kennedy Space Center (KSC)  from their training base in Texas to start final preparations for their launch aboard a brand new SpaceX Crew Dragon bound for the International Space Station (ISS) for a nearly half year science mission.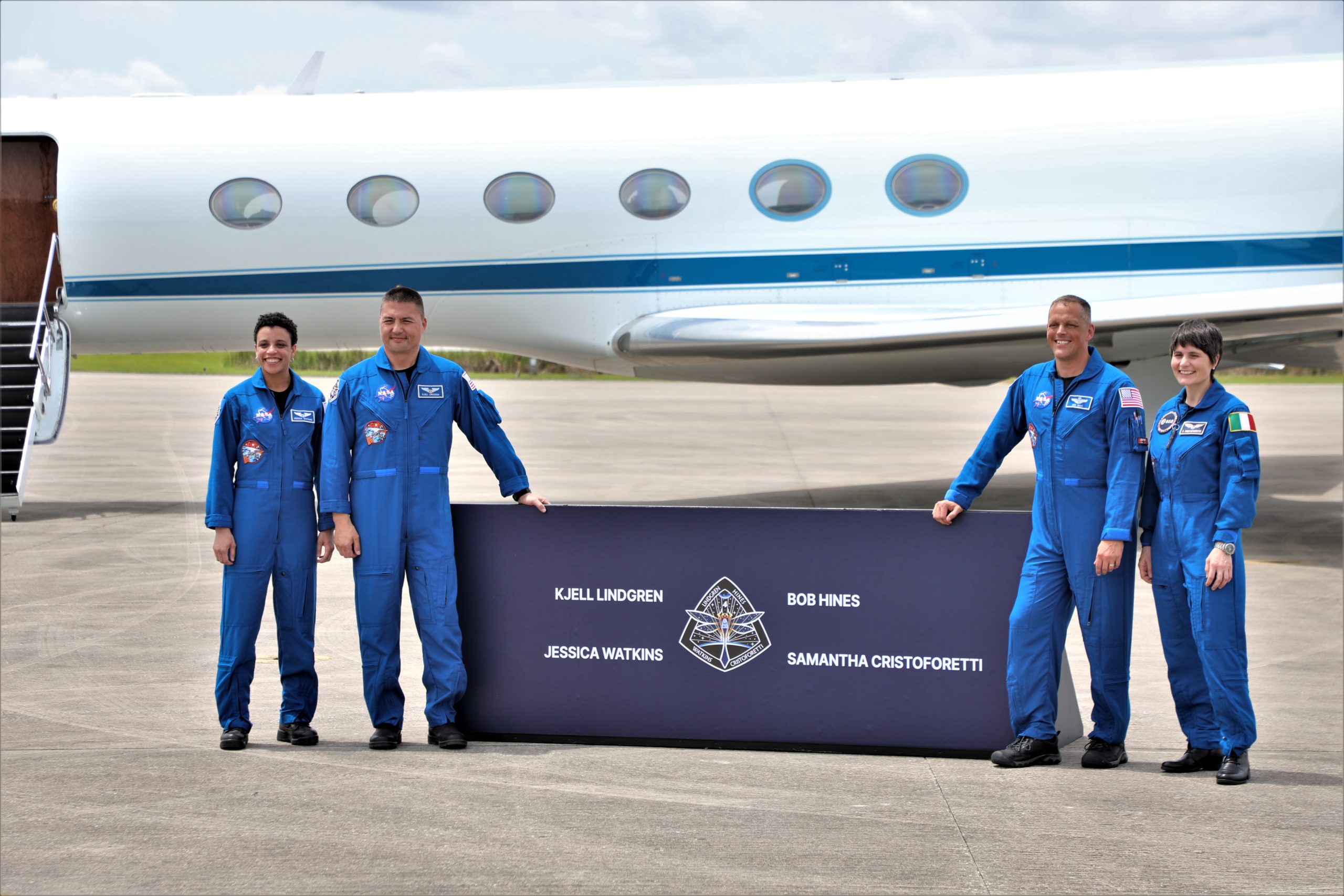 Their mission is dubbed Crew 4
The Crew 4 quartet landed at the Launch and Landing Facility (LLF) at KSC around 12:30 p.m. EDT aboard a NASA Gulfstream jet aircraft after departing earlier today from from Ellington Field near the agency's Johnson Space Center (JSC) in Houston.
NASA's SpaceX Crew-4 mission counts as the fourth crew rotation mission of the SpaceX Crew Dragon spacecraft and Falcon 9 rocket to the ISS as part of the agency's Commercial Crew Program.
This counts as the first time NASA fly's astronauts on a Falcon 9 first stage booster recycled for the fourth time.
The booster is designated tail number B1067 and previously flew a Dragon cargo mission CRS-22 last June, the NASA ESA Crew-3 astronaut flight last November and the Turksat 5B communications satellite also in December last year.
The Dragon spacecraft is also newly manufactured flying on its maiden mission and named 'Freedom' by the crew. 
Here are bios of the crew from NASA:
Lindgren is commander of the Dragon spacecraft and the Crew-4 mission. He is responsible for all phases of flight, from launch to re-entry, and will serve as an Expedition 67 flight engineer. This will be Lindgren's second spaceflight since becoming an astronaut in 2009. In 2015, he spent 141 days aboard the orbital laboratory as a flight engineer for expeditions 44 and 45. Board certified in emergency medicine, he previously worked at NASA Johnson as a flight surgeon supporting space station training and operations and served as a deputy crew surgeon for space shuttle flight STS-130 and Expedition 24. Lindgren was born in Taipei, Taiwan, and spent most of his childhood in England before graduating from the U.S. Air Force Academy.
Hines is the pilot of the Dragon spacecraft and second in command for the mission. He is responsible for spacecraft systems and performance. Aboard the station, he will serve as an Expedition 67 flight engineer. This will be his first flight since his selection as an astronaut in 2017. Hines has served more than 22 years in the U.S. Air Force as a test pilot, fighter pilot, and instructor pilot. Before his selection in 2017, he was a research pilot at Johnson.
Watkins is a mission specialist for Crew-4 and will work closely with the commander and pilot to monitor the spacecraft during the dynamic launch and re-entry phases of flight. Once aboard the station, she will seve as a flight engineer for Expedition 67. Watkins grew up in Lafayette, Colorado, and studied geology at Stanford University, Palo Alto, California, and the University of California, Los Angeles. As a geologist, she studied the surface of Mars and was a science team collaborator at NASA's Jet Propulsion Laboratory in Pasadena, California, working on the Mars Science Laboratory rover Curiosity. She also was selected as a NASA astronaut in 2017, and this will be her first trip to space.
Cristoforetti will also serve as a mission specialist, working to monitor the Dragon spacecraft during the dynamic launch and re-entry phases of flight. She will serve as a flight engineer for Expedition 67. This will be her second trip to space following five months in 2015 as a flight engineer for Expeditions 42 and 43. Born in Milan, Italy, she was a fighter pilot in the Italian Air Force prior to being selected as an ESA astronaut in 2009. In 2019, she served as commander for NASA's 23rd Extreme Environment Mission Operations mission on a 10-day stay in Aquarius, the world's only undersea research station.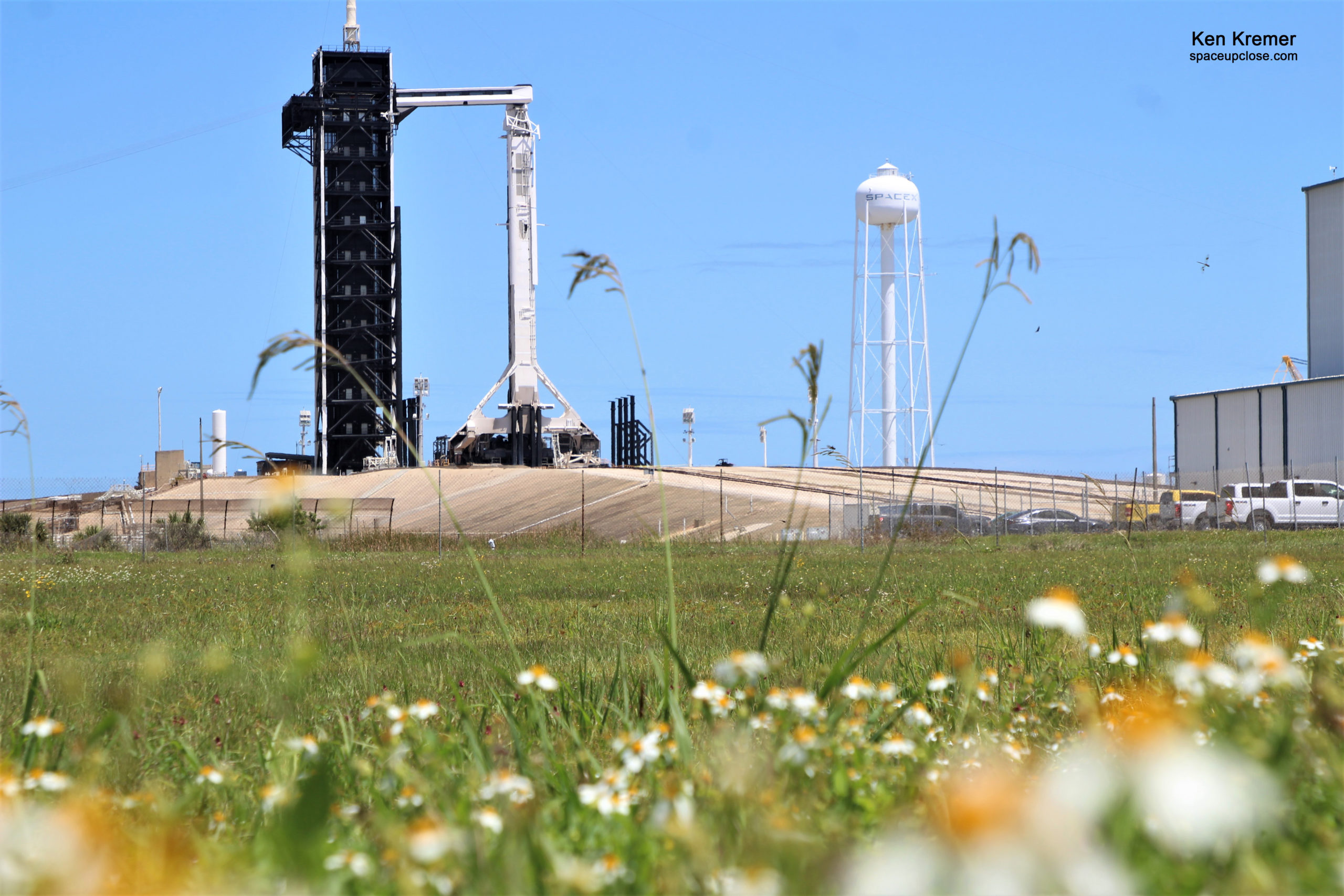 Watch Ken's commentary about NASA SLS WDR demo test, NASA Crew 4 and SpaceX AX-1 mission
Apr 22: Fox 35 Orlando features my analysis of the busy week ahead in space with weather delayed Earth return of #AX1 crew this weekend, launch of 4 NASA/ESA #Crew4 astronauts on #SpaceX #CrewDragon NET Apr 26 & rollback of NASA SLS to VAB for repairs
https://www.fox35orlando.com/video/1060937
Apr 20:  WFTV ABC News Orlando features my commentary about the SpaceX static fire and impact of weather induced delays to departure of Ax-1 and launch of Crew-4.
https://www.wftv.com/news/local/unfavorable-weather-delays-axiom-1-splashdown/JT7VT5AMLZHU7NHAHTAR2265PA/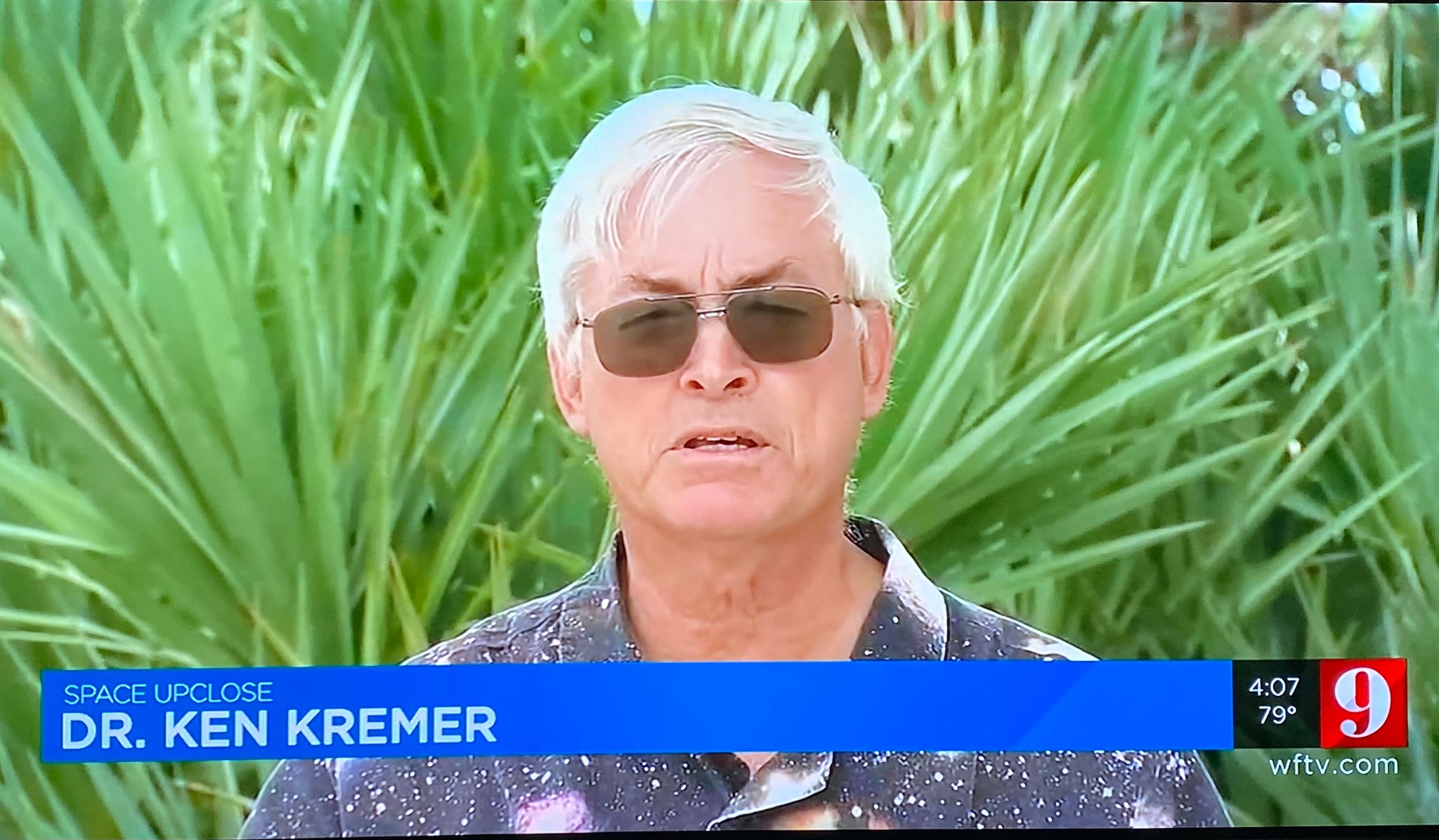 Apr 15/16 & Apr 12/13:  WFTV ABC News Orlando and WKMG CBS 6 Orlando featured my comments about NASA SLS WDR wet dress rehearsal countdown and fueling demo test and human launches to ISS:
https://www.wftv.com/news/video-small-valve-forcing-nasa-modify-critical-test-artemis-i/83355ff1-ce09-4b83-bbf0-23446b95abf7/
https://www.clickorlando.com/news/local/2022/04/12/nasa-resumes-final-test-before-launch-of-sls-moon-rocket/
Apr 6: WFTV ABC 9 Orlando featured my comments about 1st fully private astronaut launch to ISS by SpaceX on AX-1 mission:https://www.wftv.com/news/local/brevard-county/first-all-private-astronaut-mission-iss-set-liftoff-kennedy-space-center-this-week/FYE5QAT735BA7G42O6IVCJGB4Q/
Apr 4 & 5: WFTV ABC News Orlando and Fox 35 Orlando featured my comments about NASA SLS WDR wet dress rehearsal countdown and fueling demo test and human launches to ISS
https://www.wftv.com/news/local/nasa-artemis-mission-hold-testing-delayed-second-time/L637Y3454VDJPBZRH4RZMM2XRQ/
https://www.fox35orlando.com/news/nasa-resumes-artemis-i-wet-dress-rehearsal-countdown
Watch Ken's continuing reports about Artemis, SLS, Orion and NASA missions, SpaceX Axiom-1, JWST, IXPE, DART, Lucy Asteroid mission, GOES, SpaceX Cargo and Crew Dragons, SpaceX Starlink, Commercial Crew and Starliner and Crew Dragon, Blue Origin and Space Tourism, and onsite for live reporting of upcoming and recent SpaceX and ULA launches including Crew 1 & 2 & 3 & 4, ISS, Solar Orbiter, Mars 2020 Perseverance and Curiosity rovers, NRO spysats and national security missions and more at the Kennedy Space Center and Cape Canaveral Space Force Station.
Stay tuned here for Ken's continuing Earth and Planetary science and human spaceflight news: www.kenkremer.com –www.spaceupclose.com – twitter @ken_kremer – email: ken at kenkremer.com
Dr. Kremer is a research scientist and journalist based in the KSC area, active in outreach and interviewed regularly on TV and radio about space topics.
………….
Ken's photos are for sale and he is available for lectures and outreach events
Please consider supporting Ken's work by purchasing his photos and/or donating at Patreon:
https://www.patreon.com/kenkremer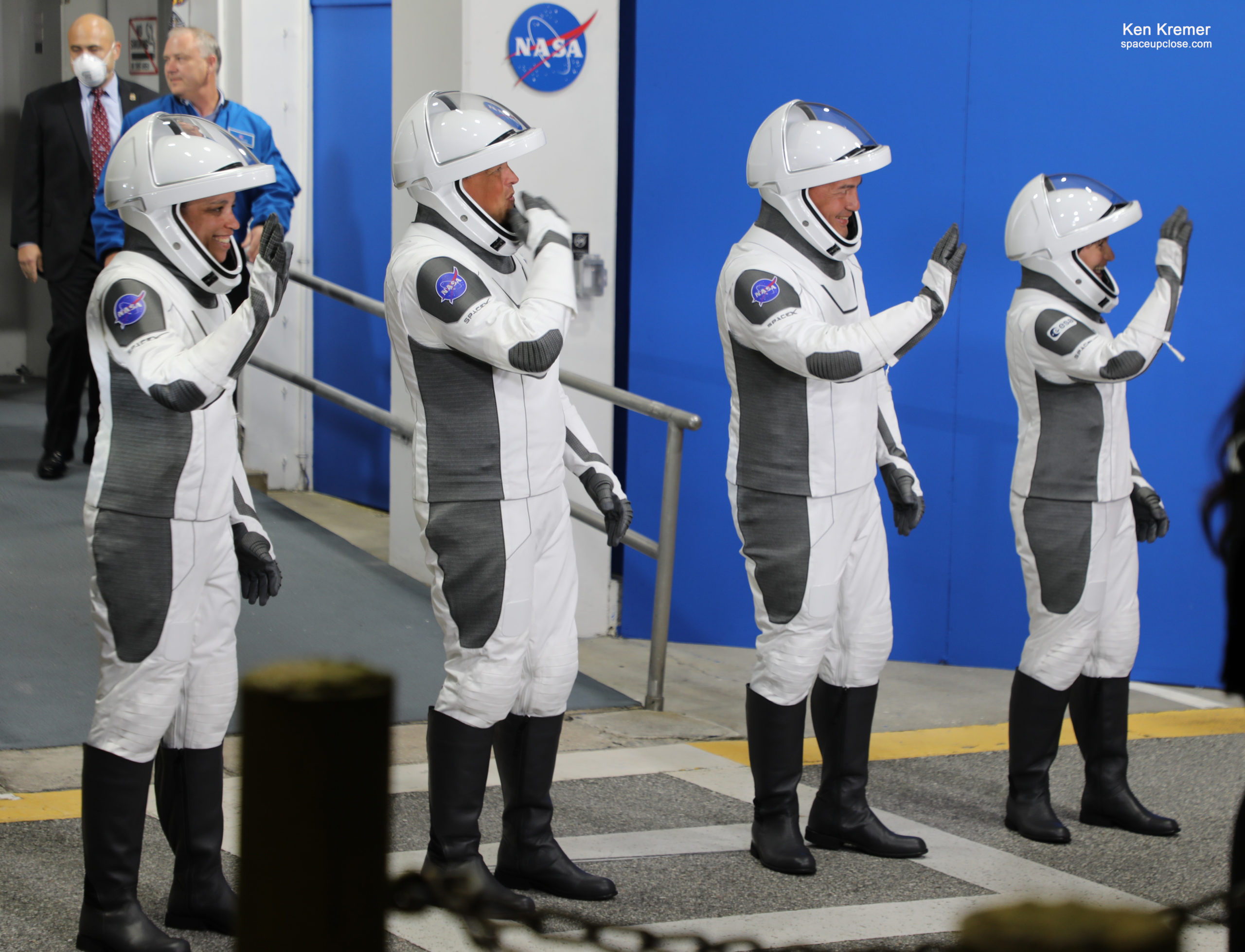 x