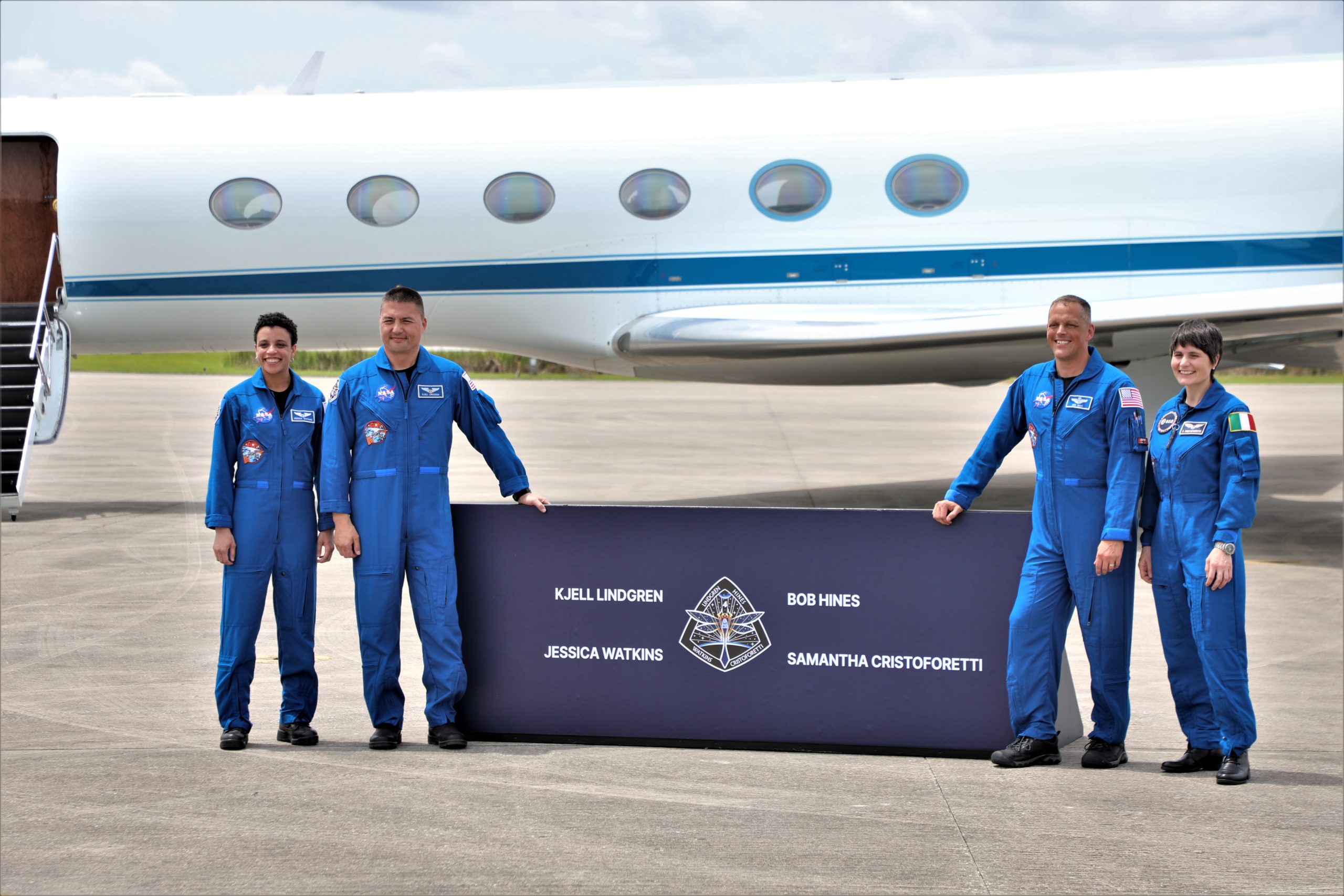 For SpaceUpClose.com & RocketSTEM
KENNEDY SPACE CENTER, FL –  A multinational crew of NASA and ESA astronauts arrived at lunchtime today, April 18, at NASA's Kennedy Space Center (KSC)  from their training base in Texas to start final preparations for their launch aboard a brand new SpaceX Crew Dragon on Saturday, April 23, bound for the International Space Station (ISS) for a nearly half year science mission..
Their mission is dubbed Crew 4 and everything is progressing well at this time
The Crew 4 quartet comprising NASA astronauts Kjell Lindgren, Robert Hines, and Jessica Watkins, and ESA (European Space Agency) astronaut Samantha Cristoforett from Italy, landed at the Launch and Landing Facility (LLF) at KSC around 12:30 p.m. EDT aboard a NASA Gulfstream jet aircraft after departing earlier today from Ellington Field near the agency's Johnson Space Center (JSC) in Houston.
Liftoff of the 215-foot-tall (65 m) SpaceX Falcon 9 on the NASA ESA SpaceX Crew-4 mission is targeted for 5:26 a.m. EDT (0926 GMT) Saturday, April 23, from Launch Complex 39A at NASA's Kennedy Space Center in Florida.
Blastoff will take place 2 weeks after the first ever all private astronaut crew successfully launched to the ISS on the Axiom Mission-1 (AX-1) that took place on April 8.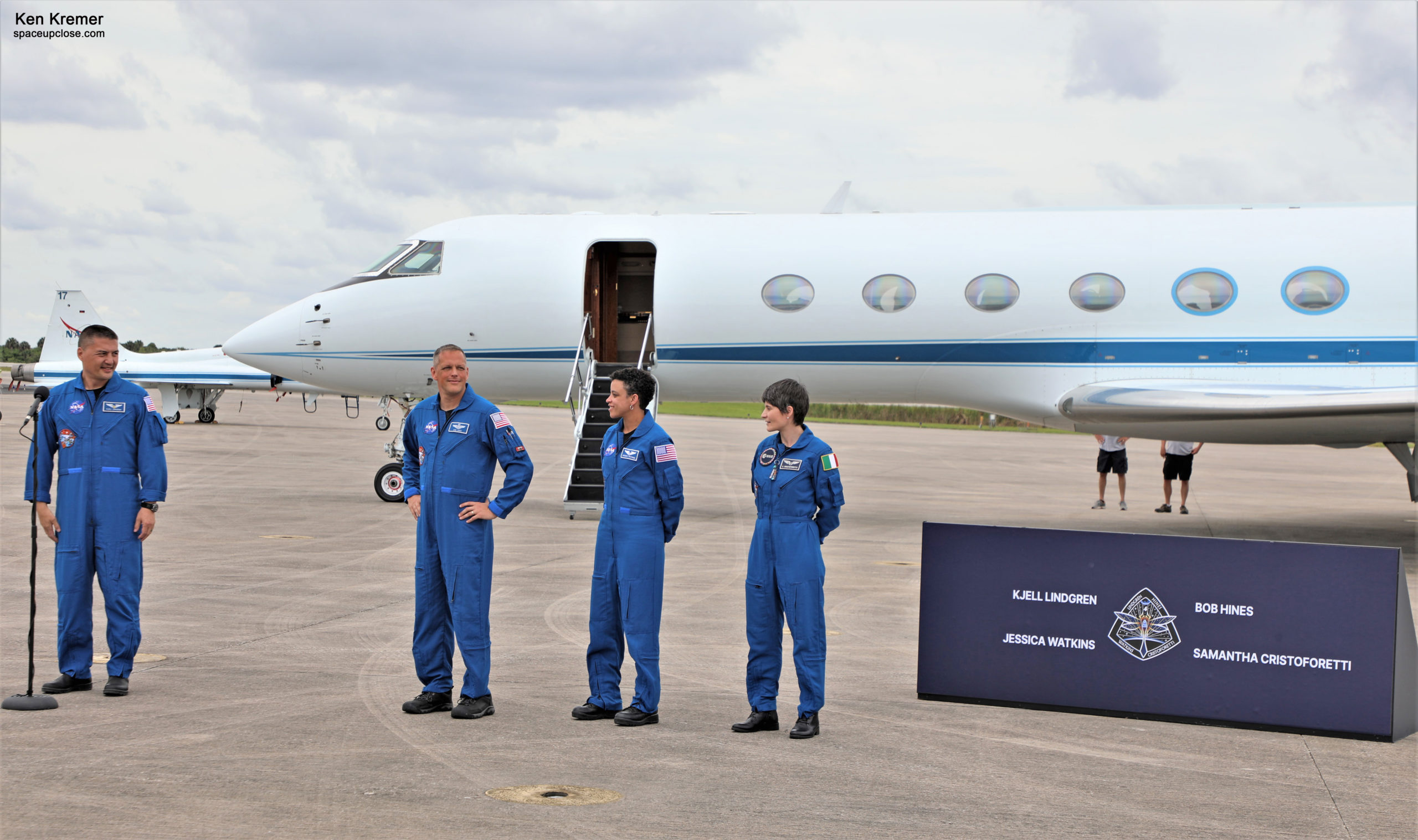 Upon arrival the astronauts were greeted by KSC Director Janet Petro along with NASA Associate Administrator, Space Operations Kathy Lueders, and ESA Houston Office Team Leader Barbara Nucera and a small contingent of the news media for a brief Q & A.
Lindgren and Cristoforetti are spaceflight veterans of prior long term stays aboard the ISS while Hines and Watkins are rookies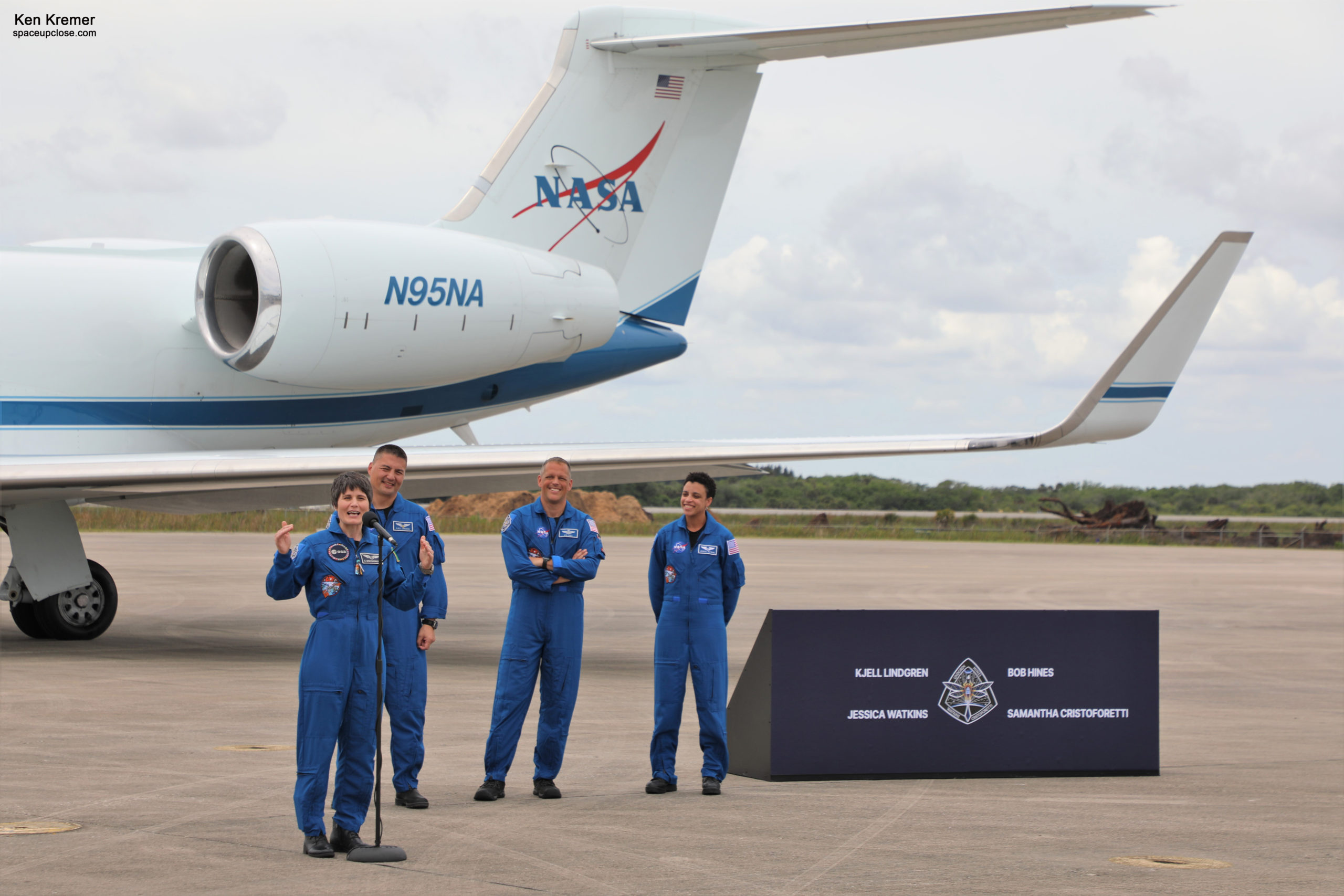 They entered quarantine soon thereafter and were driven by NASA to be housed inside the Neil Armstrong Operations and Checkout (O&C) Building, until launch.
The O & C is the "crew quarters are where the astronauts remain while awaiting launch once they arrive at the Florida spaceport. The facility dates back to the Apollo Program and was also used for missions under the Space Shuttle Program. Inside the crew quarters are 23 bedrooms – each with its own bathroom – and the iconic suit room, where astronauts are helped into their spacesuits before exiting the O&C and making the short journey to the launch pad," according to a NASA description.
NASA's SpaceX Crew-4 mission is the fourth crew rotation mission of the SpaceX Crew Dragon spacecraft and Falcon 9 rocket to the ISS as part of the agency's Commercial Crew Program.
This counts as the first time NASA fly's astronauts on a Falcon 9 first stage booster recycled for the fourth time.
The Dragon spacecraft is also newly manufactured flying on its maiden mission and named 'Freedom' by the crew.
"Crew-4 chose "Freedom" to celebrate a fundamental human right, and the industry and innovation that emanate from the unencumbered human spirit."
The Falcon 9 first stage flew previously on SpaceX's 22nd commercial resupply mission to the station in June 2021, NASA's SpaceX Crew-3 mission in November 2021, and SpaceX's Turksat 5B mission in December 2021.
If all goes well the multinational quartet will dock at the station just over 24 hours later on Sunday, April 24 at around 6:00 a.m. EDT at the port just being vacated by the AX-1 crew.
NASA has reserved three consecutive days on the Eastern range for the Crew 4 launch
This provides three consecutive Crew 4 launch opportunities with backups on Sunday, April 24, and Monday, April 25.
After Crew 4 arrives at the orbiting laboratory this will enable a short overlap of about 5 days with the already on board astronauts who flew to the station as part of NASA's SpaceX Crew-3 mission in November 2021.
Return of Crew-3 astronauts Raja Chari, Tom Marshburn, Kayla Barron, and Matthias Maurer is planned for late April, with a splashdown of Crew Dragon Endurance at one of seven landing zones off the coast of Florida.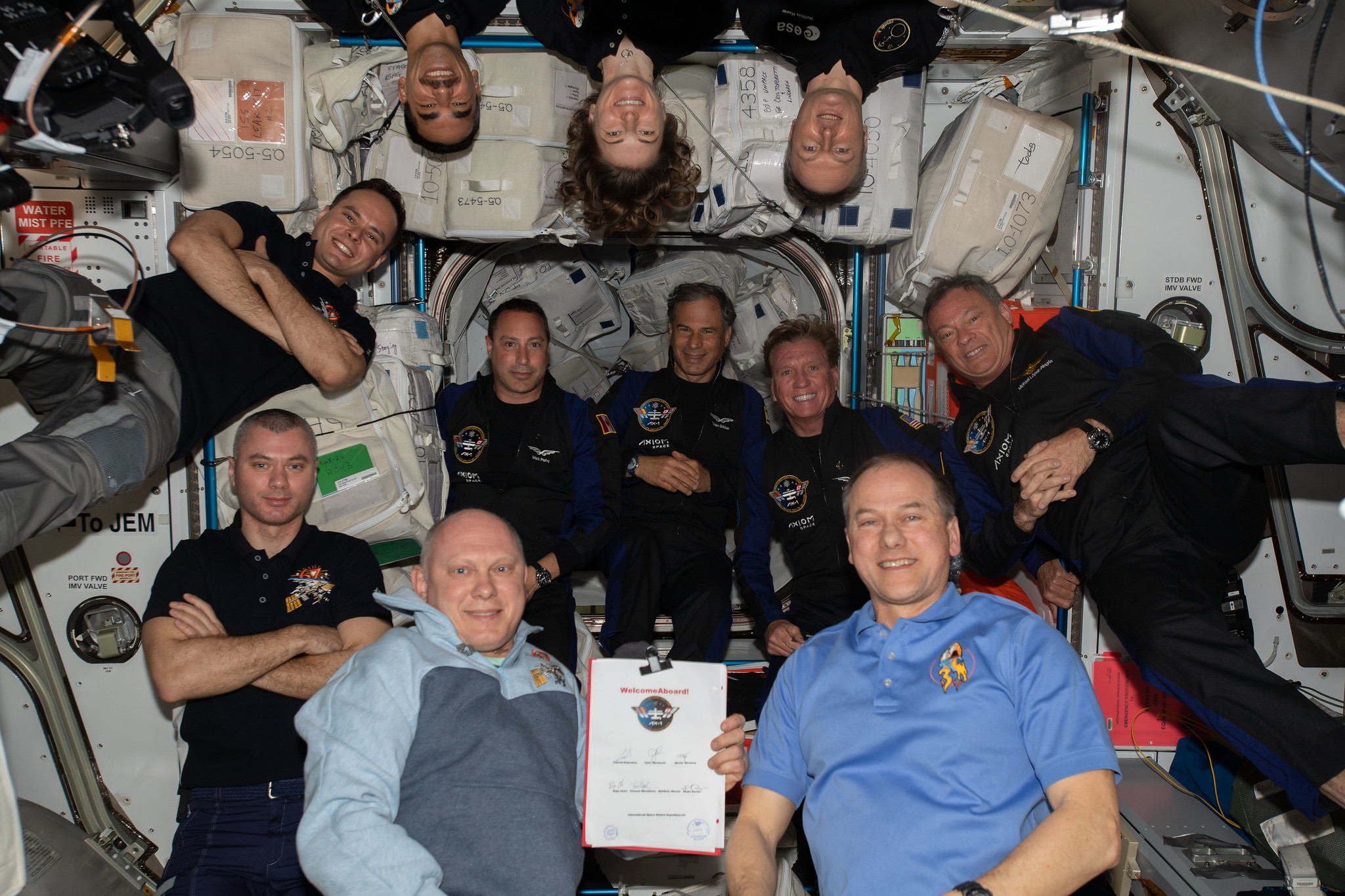 Crew-4 astronauts will conduct over 27 new experiments as part of their science mission, living and working as part of what is expected to be a 7-member crew along with three Russian cosmonauts launched on a Soyuz.
Watch Ken's commentary about NASA SLS WDR demo test, NASA Crew 4 and Space AX-1 mission
Apr 15/16 & Apr 12/13:  WFTV ABC News Orlando and WKMG CBS 6 Orlando featured my comments about NASA SLS WDR wet dress rehearsal countdown and fueling demo test and human launches to ISS:
https://www.wftv.com/news/video-small-valve-forcing-nasa-modify-critical-test-artemis-i/83355ff1-ce09-4b83-bbf0-23446b95abf7/
https://www.clickorlando.com/news/local/2022/04/12/nasa-resumes-final-test-before-launch-of-sls-moon-rocket/
Apr 6: WFTV ABC 9 Orlando featured my comments about 1st fully private astronaut launch to ISS by SpaceX on AX-1 mission:https://www.wftv.com/news/local/brevard-county/first-all-private-astronaut-mission-iss-set-liftoff-kennedy-space-center-this-week/FYE5QAT735BA7G42O6IVCJGB4Q/
Apr 4 & 5: WFTV ABC News Orlando and Fox 35 Orlando featured my comments about NASA SLS WDR wet dress rehearsal countdown and fueling demo test and human launches to ISS
https://www.wftv.com/news/local/nasa-artemis-mission-hold-testing-delayed-second-time/L637Y3454VDJPBZRH4RZMM2XRQ/
https://www.fox35orlando.com/news/nasa-resumes-artemis-i-wet-dress-rehearsal-countdown
Watch Ken's continuing reports about SpaceX Axiom-1, Artemis, SLS, Orion and NASA missions, JWST, IXPE, DART, Lucy Asteroid mission, GOES, SpaceX Cargo and Crew Dragons, SpaceX Starlink, Commercial Crew and Starliner and Crew Dragon, Blue Origin and Space Tourism, and onsite for live reporting of upcoming and recent SpaceX and ULA launches including Crew 1 & 2 & 3, ISS, Solar Orbiter, Mars 2020 Perseverance and Curiosity rovers, NRO spysats and national security missions and more at the Kennedy Space Center and Cape Canaveral Space Force Station.
Stay tuned here for Ken's continuing Earth and Planetary science and human spaceflight news: www.kenkremer.com –www.spaceupclose.com – twitter @ken_kremer – email: ken at kenkremer.com
Dr. Kremer is a research scientist and journalist based in the KSC area, active in outreach and interviewed regularly on TV and radio about space topics.
………….
Ken's photos are for sale and he is available for lectures and outreach events
Please consider supporting Ken's work by purchasing his photos and/or donating at Patreon:
https://www.patreon.com/kenkremer
x