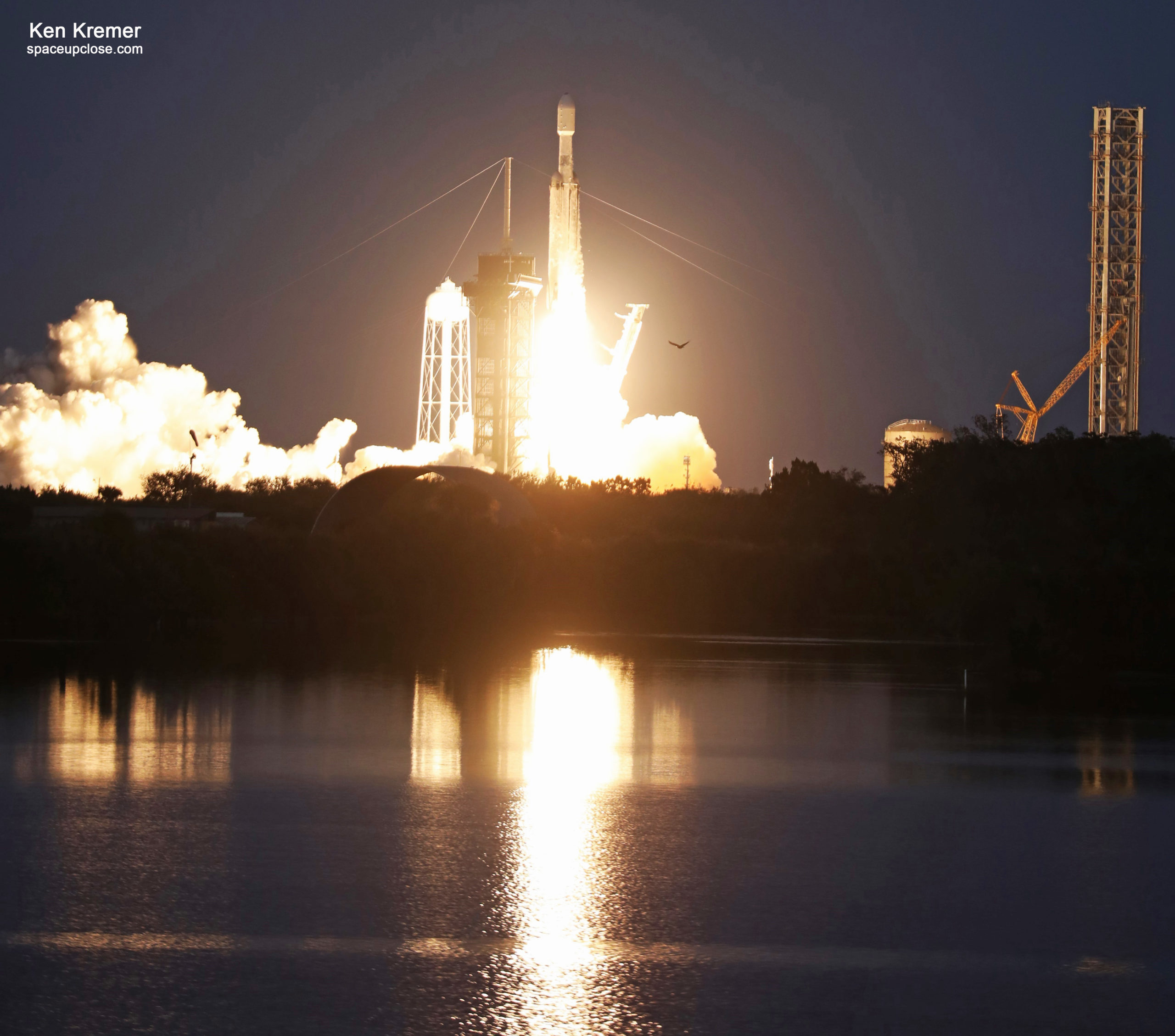 For SpaceUpClose.com & RocketSTEM
KENNEDY SPACE CENTER, FL –  A SpaceX Falcon Heavy sprang to life at the golden hour Sunday evening, Jan. 15, roaring skyward at  the golden hour on the first flight of the powerful triple stick rocket in 2023 from Florida's Space Coast, on a  mission sending several national security payloads including relay and research satellites to space and directly into geosynchronous orbit for the United States Space Force.
The mammoth Falcon Heavy vehicle on a semi-classified military mission put on a spectacular sky show at sunset delighting spectators under ideal weather conditions while generating 5.1 million pounds of liftoff thrust and a thunderous roar – plus landing the two side boosters back at the Cape generating tremendous sonic booms reverberating across the Space Coast and beyond.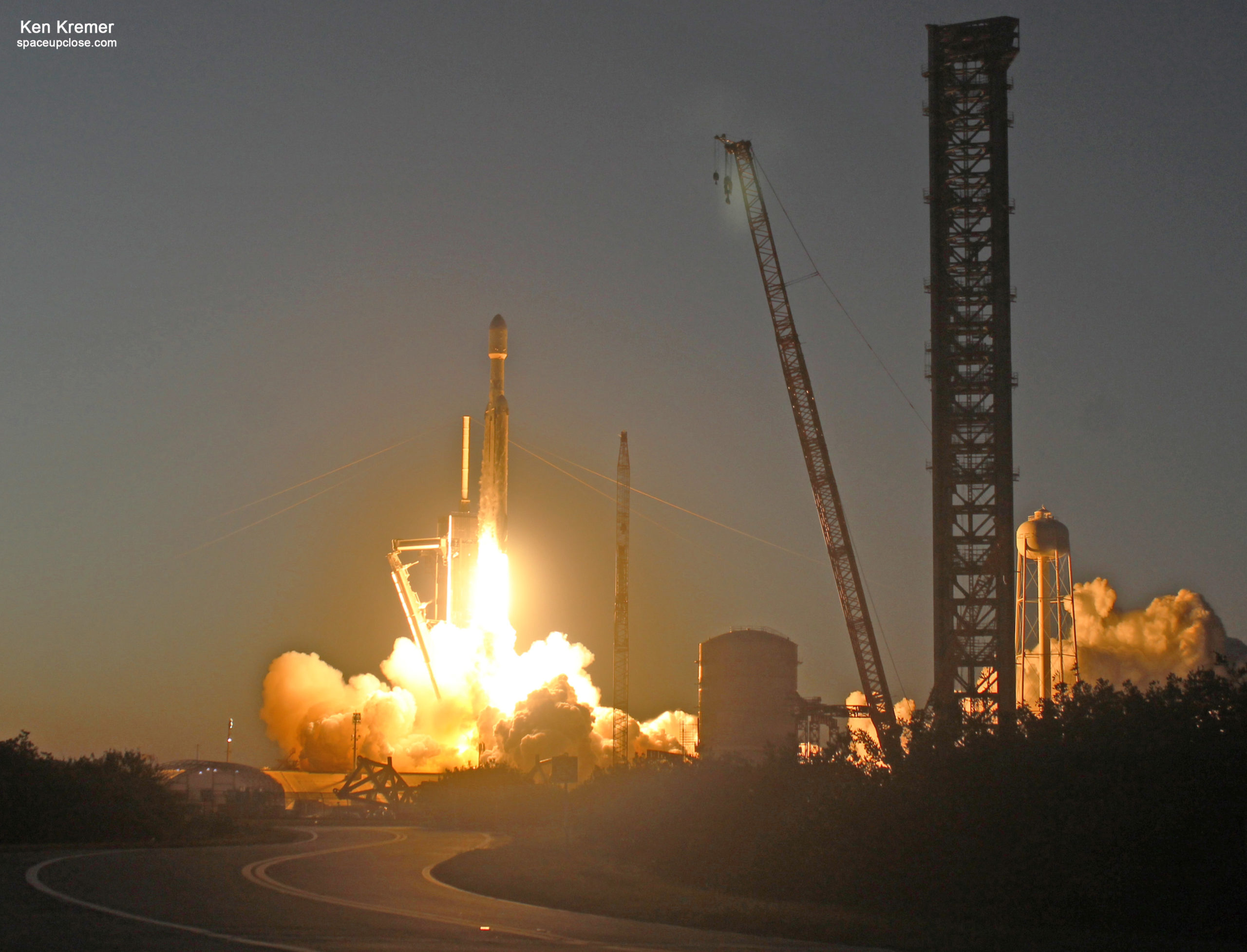 The stunning liftoff to the 229-foot-tall (70-meter) SpaceX Falcon Heavy took place on Sunday, Jan. 15 at 5:56 p.m. EDT (2256 GMT) from Launch Complex 39A on NASA's Kennedy Space Center and successfully delivered its payloads comprising the USSF-67 military mission with a communications relay satellite CBAS-2 and technology development rideshare satellites on LDPE-3A to geosynchronous orbit into virtually picture prefect and cloud free twilight skies.
"USSF-67 marks another mission success for the Space Force! At #SpaceSystemsCommand, we empower our people with the tools they need to efficiently create and deliver space capabilities that make America safer," tweeted Space Systems Command for the US Space Force, following the successful liftoff.
USSF-67 marks another mission success for the Space Force! At #SpaceSystemsCommand, we empower our people with the tools they need to efficiently create and deliver space capabilities that make America safer. #USSF pic.twitter.com/LUsLivqKoZ

— Space Systems Command (@USSF_SSC) January 17, 2023
The prior Falcon Heavy launched on 1 Nov. 2022 was also a National Security Space Launch  classified mission for the U.S. Space Force on USSF-44.
"We had another fantastic launch today on a Falcon Heavy, just two months after our first National Security Space Launch mission using this launch system, and while the launch itself was impressive, I am most proud of the fact that we placed important capabilities into space that help our nation stay ahead of very real and growing threats,"  said Maj. Gen. Stephen Purdy, program executive officer for assured access to space at the Space Force's Space Systems Command, in a statement.
"We're certainly on a roll with 96 consecutive successful national security space launches, and the takeaway is that we've really got a spectacular team working together on our most challenging launch profiles to ensure our mission partners get on orbit with confidence."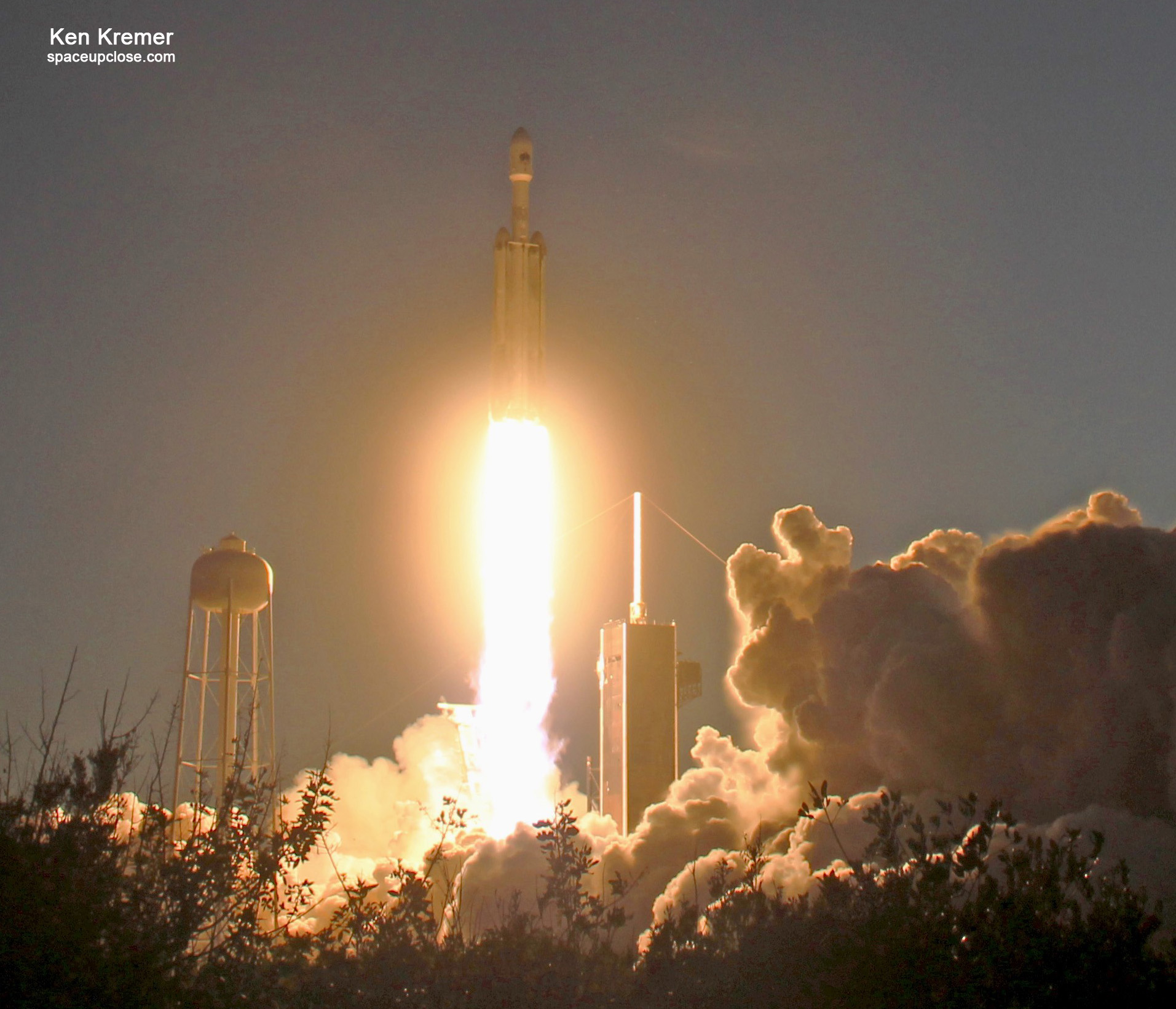 This 2nd Falcon Heavy flying a National Security Space Launch mission performed exactly as hoped for and expected the Space Force told Space UpClose.
"The Falcon Heavy launched the USSF satellites aboard exactly to where they needed to go," told Dr. Walter Lauderdale, SSC Falcon Division Chief and Deputy Mission Director, to Space UpClose at a GPS 3 media briefing post launch.
"Everything with the Falcon Heavy USSF-67 for the Space Force launch was nominal," told Michael Ellis, Director, National Security Space Launch, SpaceX, at a GPS 3 media briefing post Falcon Heavy launch.
Because of the clear skies everyone enjoyed a stunning and long multi-minute view of nearly the entire launch through booster separation, flip around and double 1st stage landings!
This 5th flight overall for the Falcon Heavy could be followed by as many as four additional Falcon Heavy launches throughout the calendar year.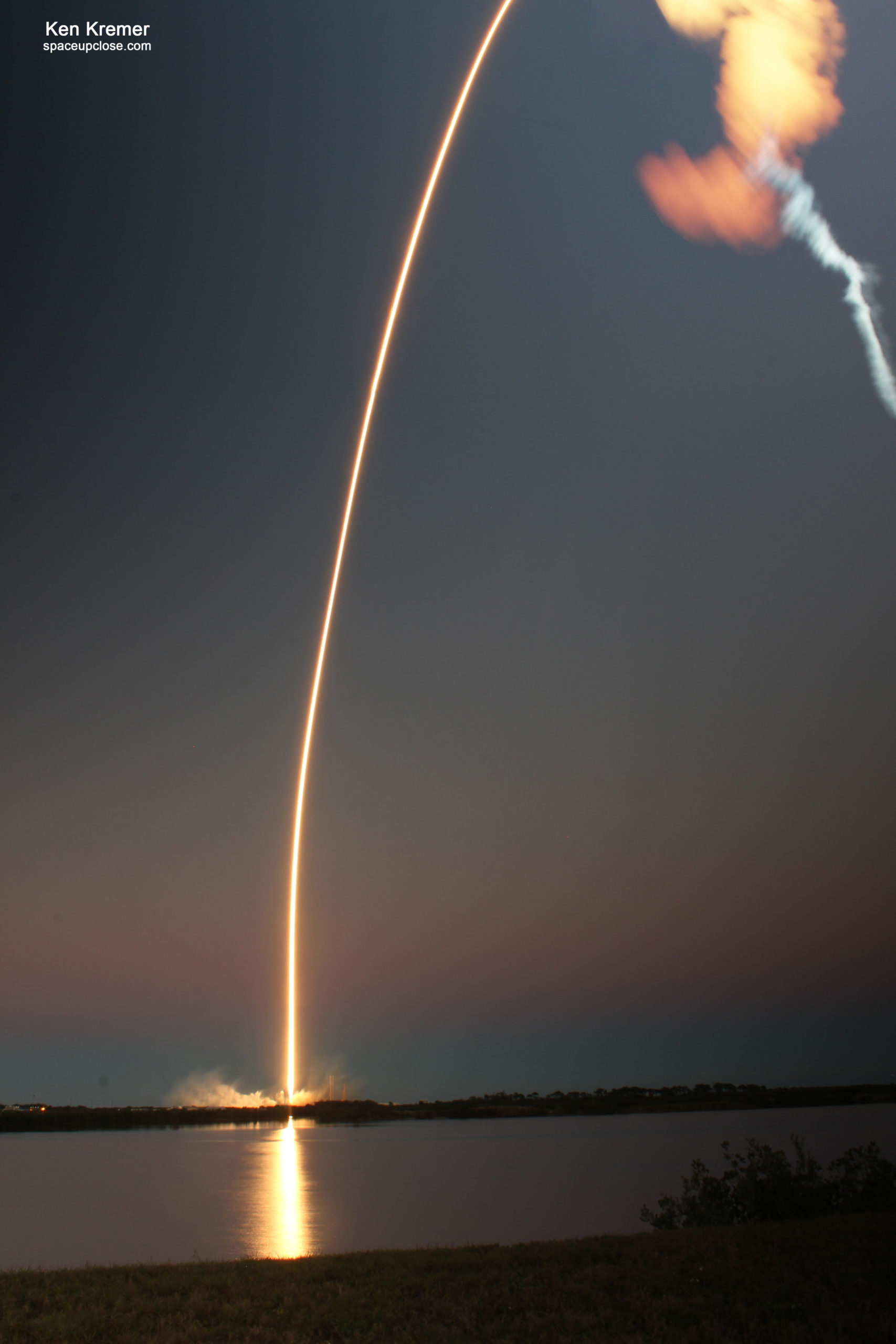 The Falcon Heavy flew aloft without a hitch following a 1 day delay from Saturday
No explanation was publicly given for the launch delay.
USSF-67 is comprised of two co-manifested military satellites stacked on top of one another inside the nose cone used to transmit military communications data between top military and government leaders and to transport experimental research and technology development payloads to space, per the Space Force.
Overall the 2 satellites aboard comprise 5 payloads that were delivered to geosynchronous orbit and some 22,000 miles (36,000 km) above the equator.
This USSF-67 mission counts as only the 5th launch of the still sparsely used Falcon Heavy rocket since its first launch in 2018.
The semi-classified mission designated USSF-67 for the United States Space Force is carrying a pair of critical military satellites in a stacked configuration encapsulated in the nose cone to geosynchronous orbit (GEO).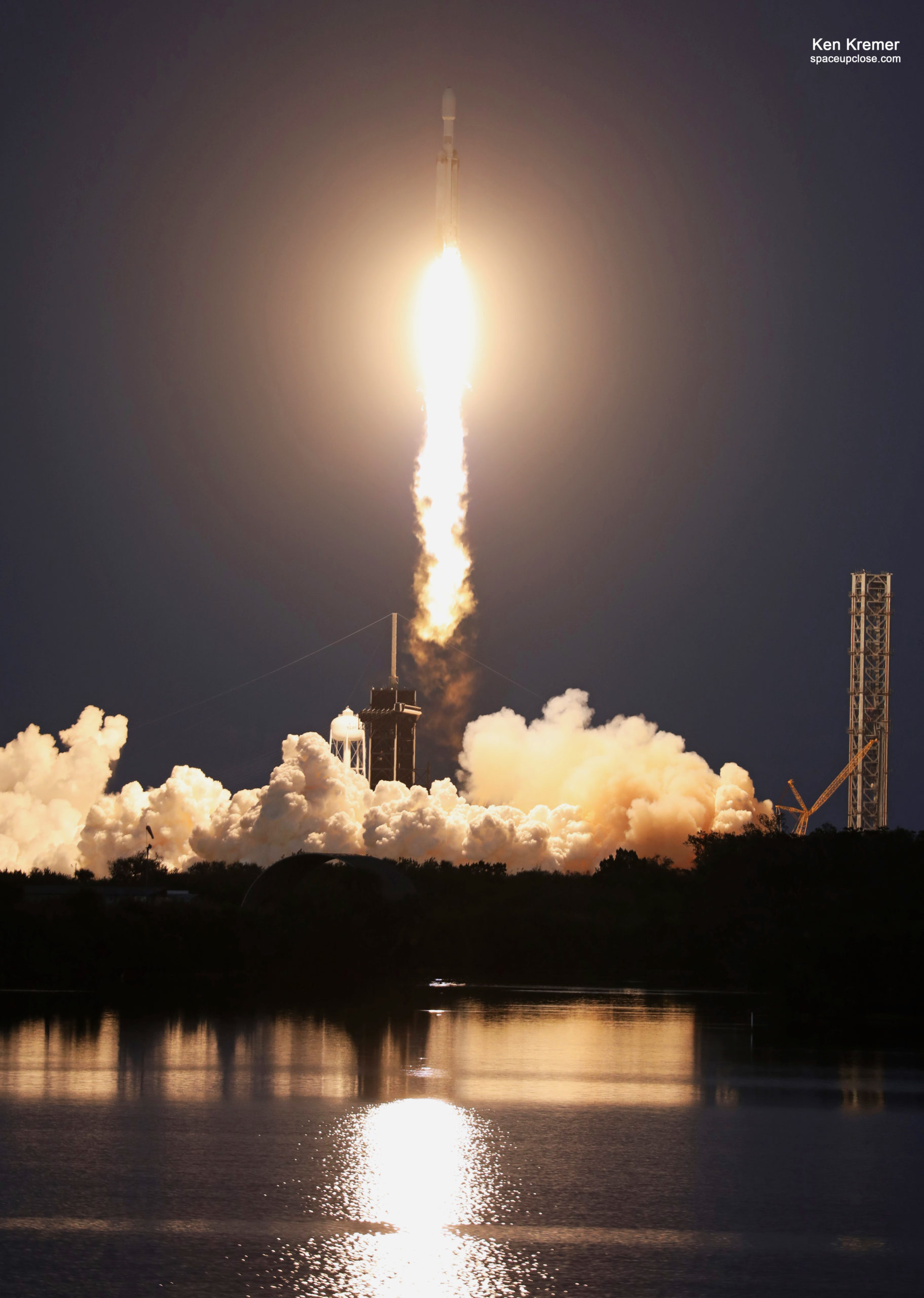 Enjoy our photos of the Falcon Heavy launch and prelaunch periods taken for Space UpClose by the team of Ken Kremer and Jean Wright.
The Space Force's USSF-67 launch of multiple satellites into a geosynchronous orbit and some 22,000 miles above the equator marks the second national security mission on a Falcon Heavy and is certain to be critically important for U.S. national defense.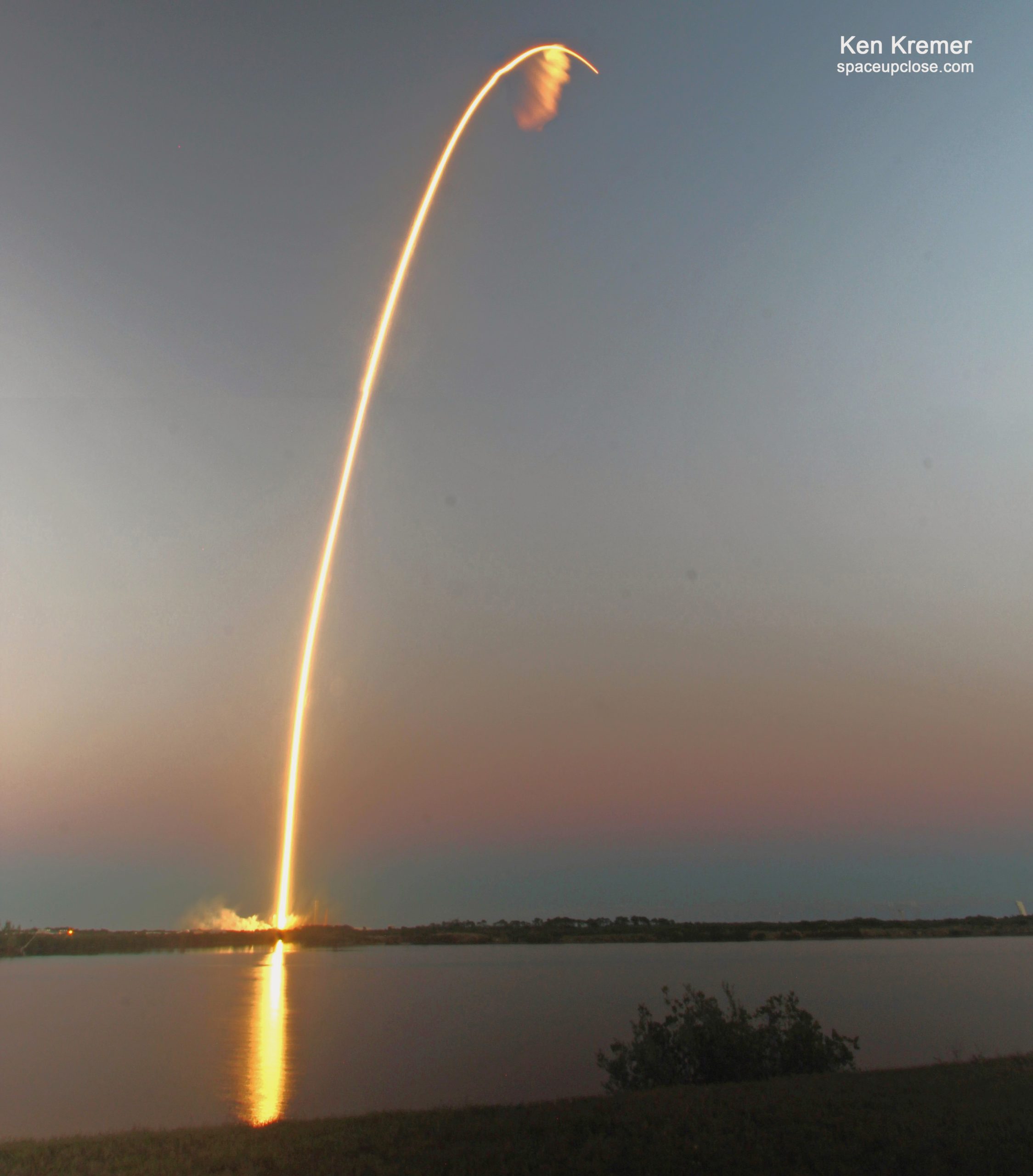 The CBAS-2 and LDPE-3A satellites are manifested together and stacked on top of one another inside the nose cone.
Very little is known about the upper CBAS-2 satellite other than that it will augment and work in concert with capabilities from a constellation of several other classified military communications relay satellites already function in orbit over the past half century
"The forward or upper spacecraft, SSC's Continuous Broadcast Augmenting SATCOM (CBAS)-2, is a satellite destined for geosynchronous orbit to provide communications relay capabilities in support of our senior leaders and combatant commanders. The mission of CBAS-2 is to augment existing military satellite communication capabilities and continuously broadcast military data through space-based satellite relay links," according to the Space Force.
The second spacecraft, the Long Duration Propulsive ESPA (LDPE)-3A, is used to rapidly place multiple, diverse payloads into orbit and provide critical data to inform and influence future U.S. Space Force programs. This LDPE-3A mission includes two SSC payloads: catcher and WASSAT, and three payloads developed by the Space Rapid Capabilities Office (SRCO). The SRCO payloads include two operational prototypes for enhanced situational awareness, and an operational prototype crypto/interface encryption payload providing secure space-to-ground communications capability. The LDPE spacecraft will continue to provide access to space for multiple DoD space Science & Technology (S&T) demonstration experiments.
"This is a complex mission and truly represents what Assured Access to Space is about and is why we're so enthusiastic about this upcoming launch…our second Falcon Heavy in just months," said Maj. Gen. Stephen Purdy, program executive officer for Assured Access to Space, in a statement.
"The teamwork I've seen preparing for this launch has just been exceptional. We've worked side-by-side with SpaceX to ensure all boxes are checked…that all systems are GO. And our processes for getting to that 'go' decision at LRR are thorough and constantly evolve, so they're also more efficient than ever."
Following stage and booster separation about two and a half minutes into flight, Falcon Heavy's two first stage side boosters flipped around and reignited a subset of the first stage Merlin engines to target a return to Earth and completed a soft landing on LZ-1 and LZ-2 back at Cape Canaveral and the Space Coast – for near simultaneous and very exciting touchdowns some eight minutes after liftoff – sending screaming sonic booms across the region.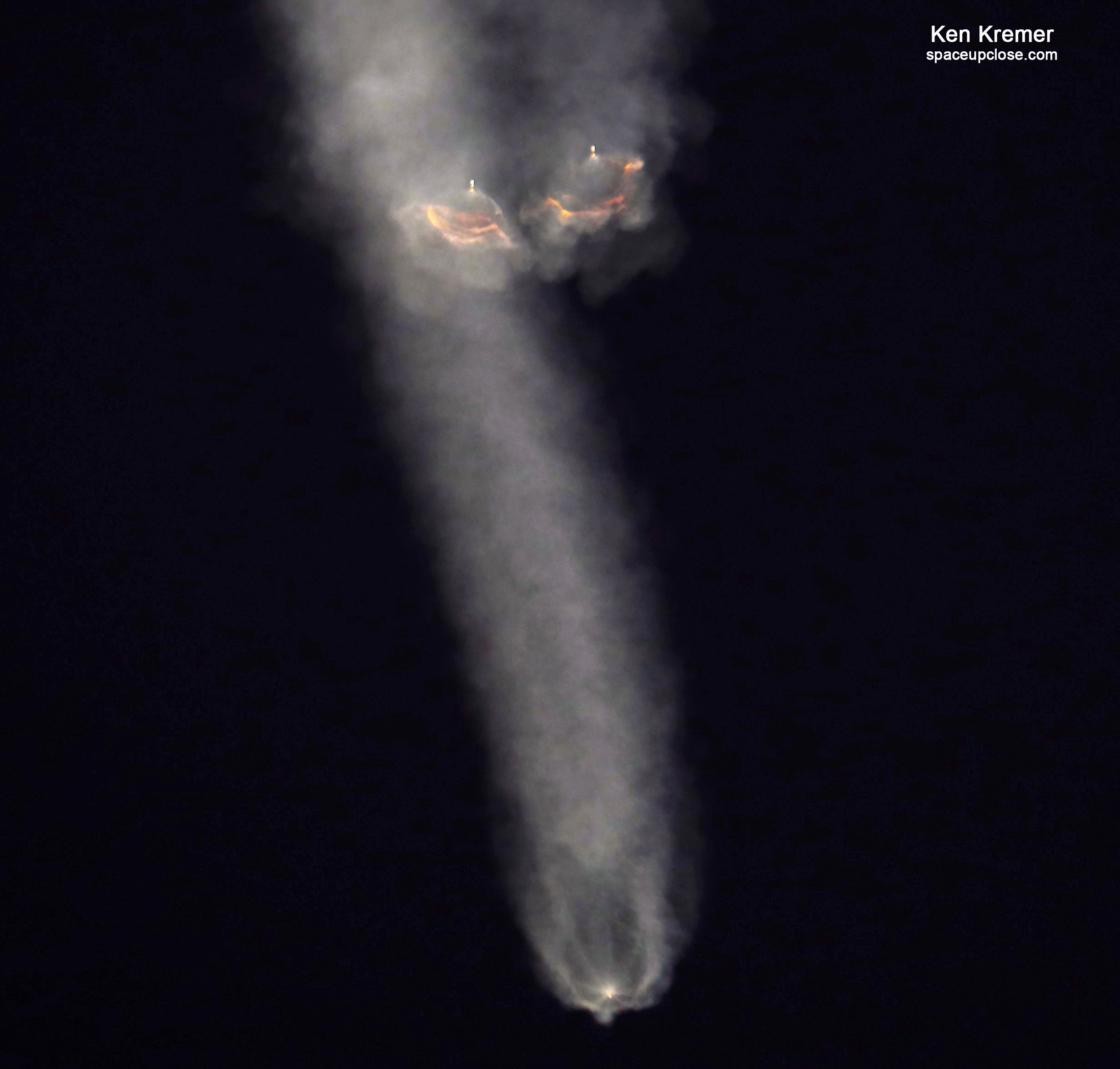 The Falcon Heavy is currently the second most powerful operational rocket in the world – having been recently eclipsed by NASA's Artemis Moon rocket in Nov. 2022
The Falcon Heavy is comprised of three Falcon 9 boosters lashed together and measures nearly 40 feet (12.2 meters) wide.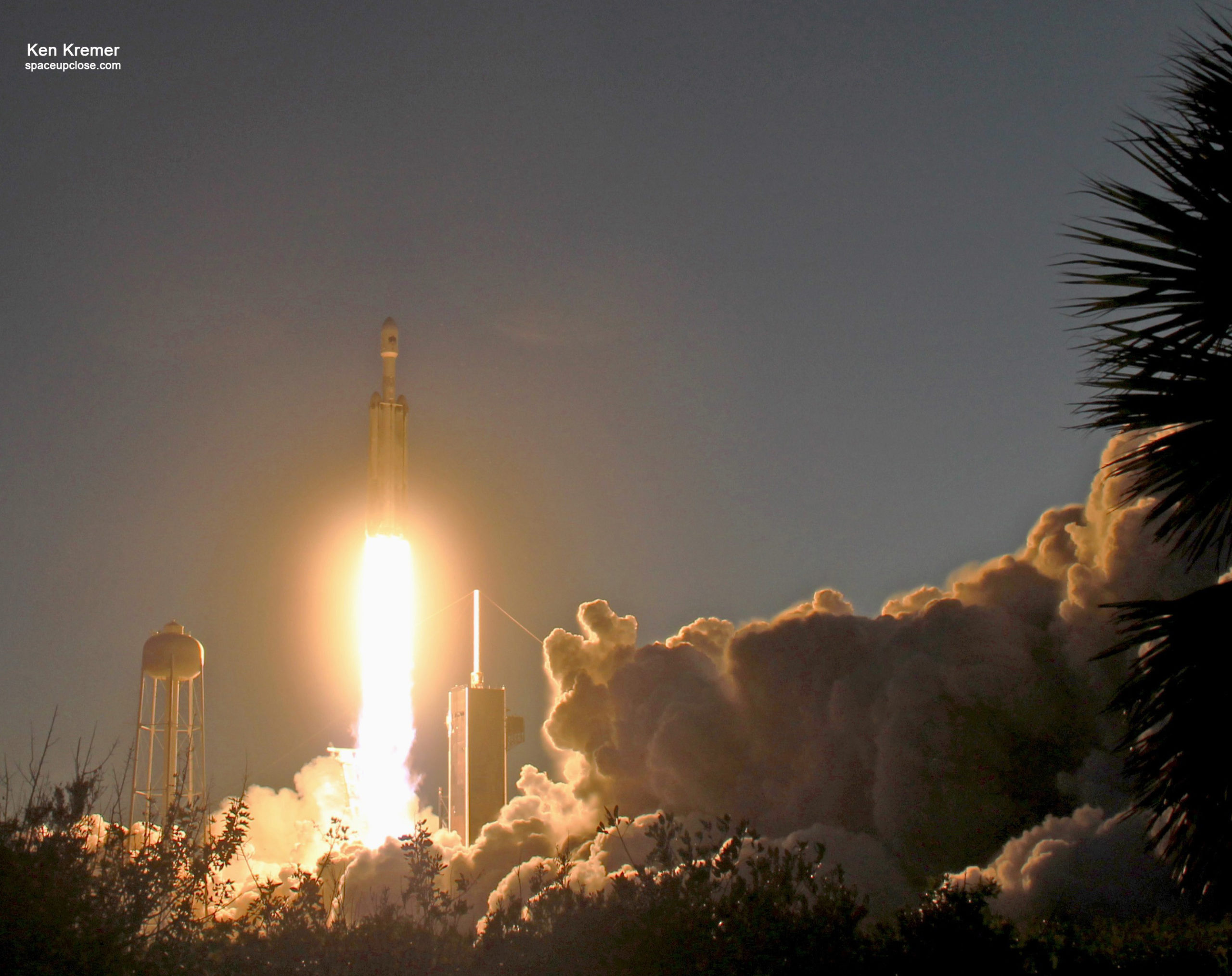 It was launched only 4 times previously since its debut test flight mission in 2018 with a Tesla Roadster car from SpaceX CEO Elon Musk.
The USSF-67 mission for the United States Space Force counts as the fifth Falcon Heavy mission.
Up to 5 Falcon Heavy missions will be launched in 2023
The five Space Force satellites were carried to orbit by the Falcon Heavy featuring 1 new booster cores and two recycled side cores from the prior launch on Nov. 1of the USSF-44 classified mission, and will save significantly on launch costs.
The center core was expended since the Space Force needs to use all the thrust available from the rocket.
"The efficiencies garnered from reusability benefit all customers, adding flexibility to a dynamic launch queue and cost savings," said the Space Force.
The path to launch was paved after SpaceX conducted a full duration static fire test of the first stage engines on Tuesday, Jan. 10.
The Falcon Heavy was tested in the 'headless' configuration of the first and second stages – meaning there was no nose cone or payload on top to keep the multi-billion dollar collection of U.S. Space Force satellites codenamed USSF-67 safe in case something went awry during the engine firing.
After SpaceX engineers fueled the Falcon Heavy with RP-1 and liquid oxygen propellants they ignited all 27 first stage Merlin 1D engines on all three Falcon 9 cores at 12:45 PM EDT Tuesday (1745 GMT) – thereby generating 5.1 million pounds of thrust while hold down clamps kept the triple core rocket firmly on top of the pad at Launch Complex 39A on NASA's Kennedy Space Center.
The brief but full duration test fire lasted several seconds and sent a massive exhaust vapor cloud spewing from the base of the rocket and out through the flame trench and upwards swirling and whipping in the winds.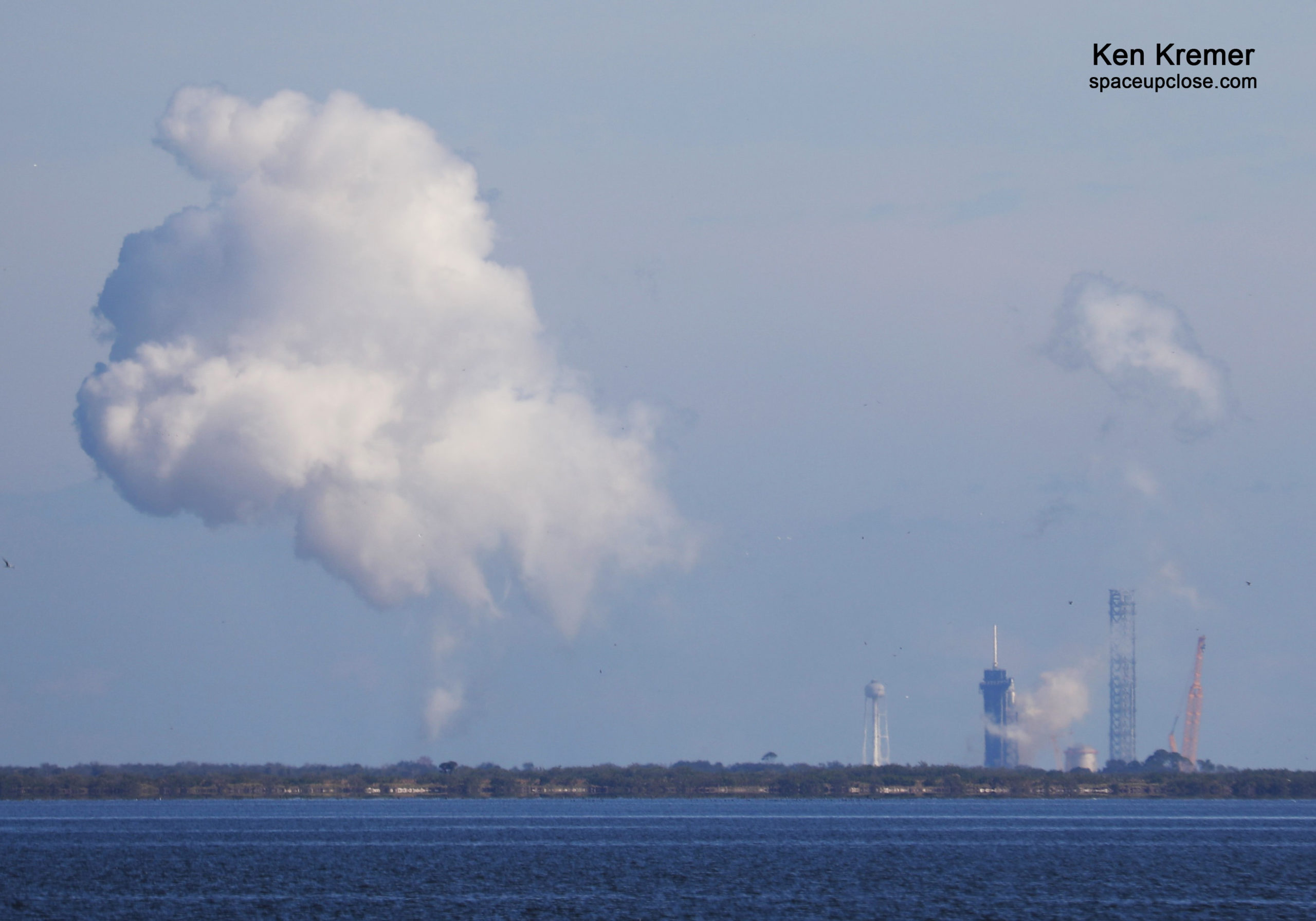 Watch Ken's commentary about Project Artemis, SpaceX Falcon Heavy, Crew-5,  NASA SLS cryo and WDR tests, NASA SpaceX Crew & Cargo Dragons and more
Jan 3/4: WFTV ABC News Orlando interview about todays Jan 3 SpaceX Transporter 6 launch – 1st of 2023 – and record setting year ahead with many exciting missions for NASA and private astronauts, science probes, mission, US Space Force, new rockets like ULA Vulcan & more!
Dec 28/29: Fox 35 Orlando – Watch my commentary about NASA's fantastic success in space exploration in 2022 and ambitious schedule of whats ahead in 2023:
https://www.fox35orlando.com/video/1159922
Dec 11/12: BBC World News TV interview about  successful splashdown of NASA Orion concluding the 25 day Artemis 1 lunar test flight around the Moon and back, and how that sets up a human return to the Moon on Artemis 2 and landing on Artemis 3. Plus what's beyond for NASA deep space exploration to Mars and the search for life beyond Earth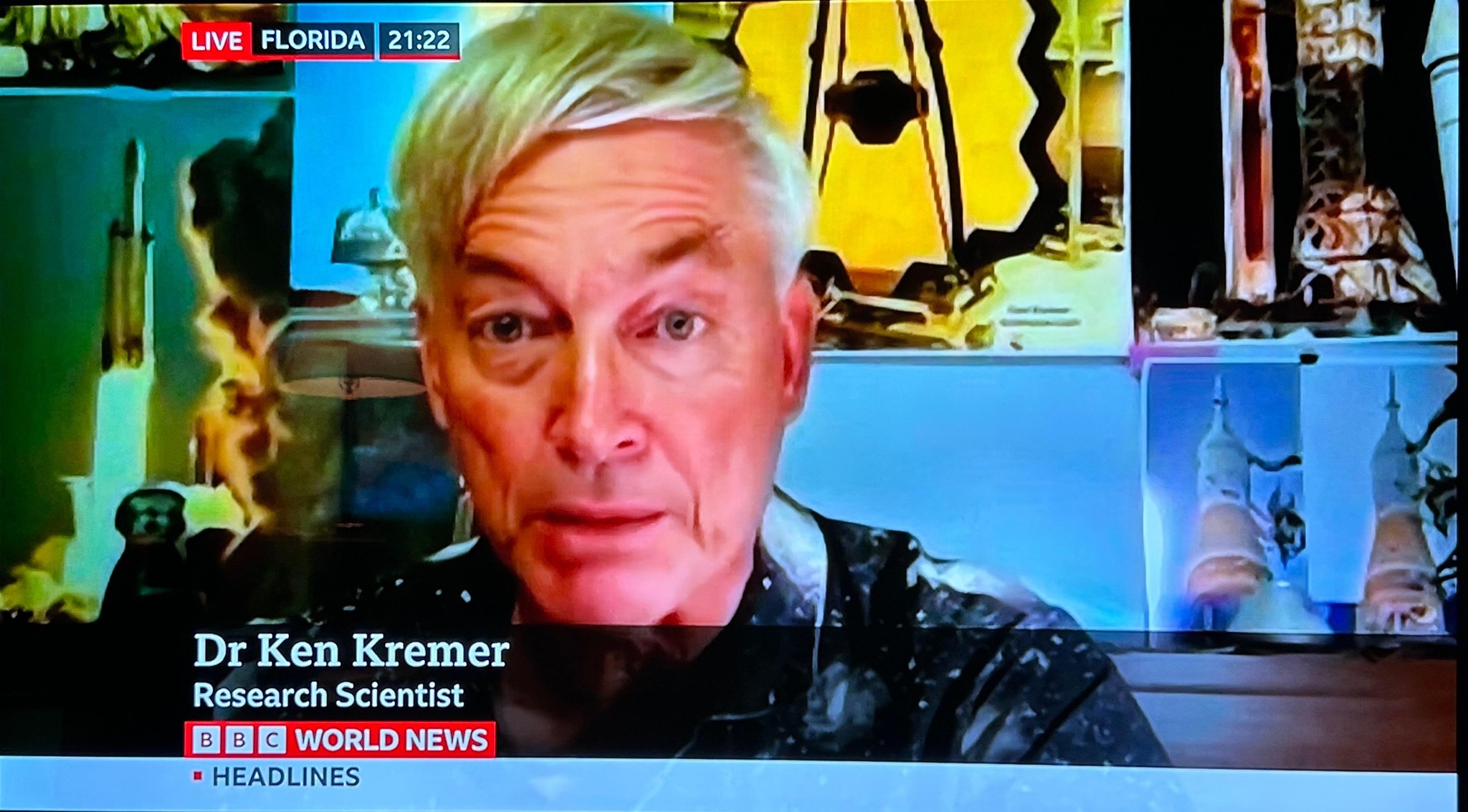 Watch Ken's continuing reports about Artemis, SpaceX missions, SLS, Orion and NASA missions, SpaceX Crew and Cargo Dragons, SpaceX Axiom, JWST, DART, Lucy Asteroid mission, GOES, SpaceX Starlink, Commercial Crew and Starliner and Crew Dragon, Blue Origin and Space Tourism, and onsite for live reporting of upcoming and recent SpaceX and ULA launches including Crew 1 & 2 & 3 & 4 & 5, ISS, Solar Orbiter, Mars 2020 Perseverance and Curiosity rovers, NRO spysats and national security missions and more at the Kennedy Space Center and Cape Canaveral Space Force Station.
Stay tuned here for Ken's continuing Earth and Planetary science and human spaceflight news: www.spaceupclose.com – twitter @ken_kremer – email: ken at kenkremer.com
Dr. Kremer is a research scientist and journalist based in the KSC area, active in outreach and interviewed regularly on TV and radio about space topics.
………….
Ken's photos are for sale and he is available for lectures and outreach events
Please consider supporting Ken's work by purchasing his photos and/or donating at Patreon
https://www.patreon.com/kenkremer
Upcoming and recent space events and talks by Ken Kremer & Jean Wright
Jan 12, 2023: 10 AM at Westminster Retirement Center in Orlando/Winter Park, Florida: Presentation by Jean Wright – "Sew Sister to the Stars- How the Humble Art of Sewing Transformed the World of Flight"+ Artemis 1 Moon rocket update
Nov 29 at UCF, Orlando Florida: Presentation by Jean Wright – "Sew Sister to the Stars- How the Humble Art of Sewing Transformed the World of Flight"
Upcoming and recent space events and talks by Ken Kremer & Jean Wright
Jan 7/11/13, 2023; Dec 7/10/15 and Nov 25/29 from 7 to 9 PM Quality Inn, Titusville, FL:  Join Ken and Jean for Artemis 1, Falcon Heavy and space mission and rocket launch outreach. Ask us anything. plus display our photos and space apparel items for sale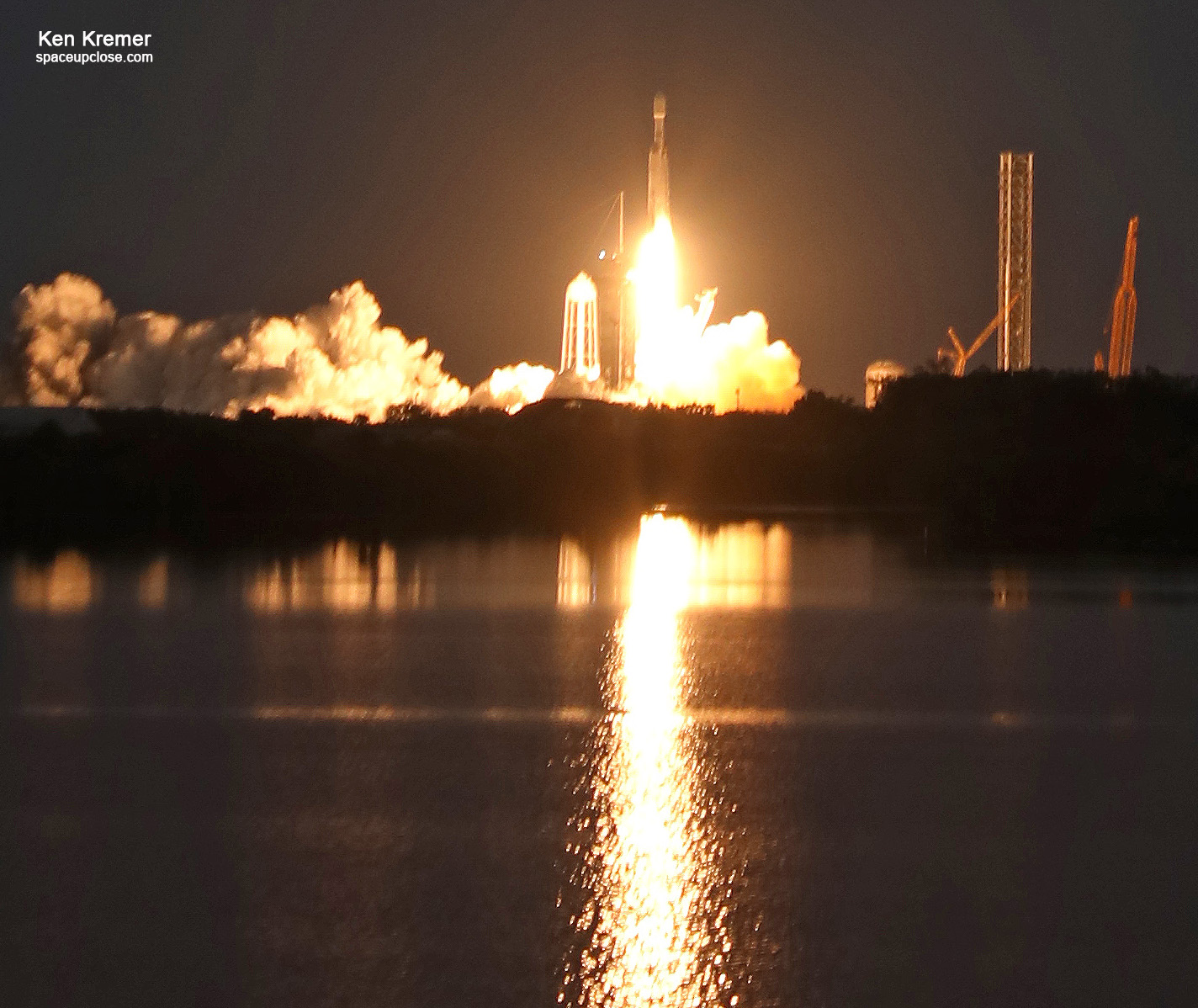 x