For SpaceUpClose.com & RocketSTEM
KENNEDY SPACE CENTER, FL – The four-person multinational team of NASA Crew-6 mission spaceflyers arrived at NASA's Kennedy Space Center in Florida around lunchtime Tuesday, Feb. 21, to complete final training and preparations prior to their launch on a SpaceX Falcon 9 and Crew Dragon spacecraft now delayed to overnight Monday, Feb. 27 and bound for the International Space Station (ISS) on a six month science expedition.
The four man Crew-6 team comprising NASA astronauts Stephen Bowen and Warren "Woody" Hoburg, UAE (United Arab Emirates) astronaut Sultan Alneyadi, and Roscosmos cosmonaut Andrey Fedyaev arrived at Kennedy's Launch and Landing Facility (former Shuttle Landing Facility (SLF) aboard a NASA Gulfstream jet at approximately 12:20 p.m. today, Feb. 21, for a media event after departing Ellington Field near the agency's Johnson Space Center in Houston.
They represent the US, Russia and the UAE (United Arab Emirates) and are a mix of a veteran commander and trio of rookies.
Bowen serves as Crew-6 Dragon commander and Hoburg serves as pilot.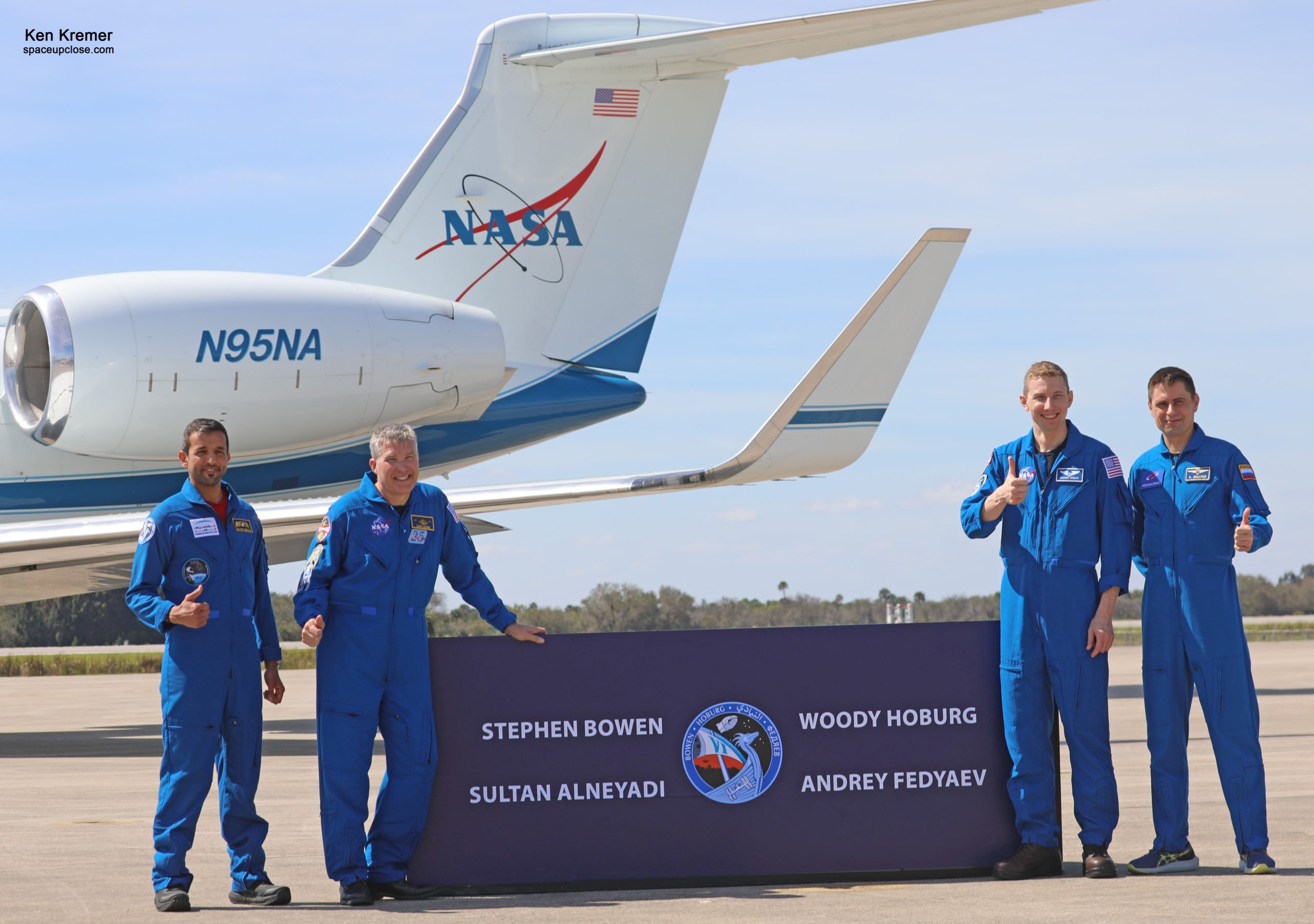 Alneyadi and Fedyaev serve as mission specialists
The quartet all expressed excitement to launch to the station and carry out science experiments at the media Q & A opportunity.
A few hours after their arrival at Florida's Spaceport and completion of the mission's Flight Readiness Review (FRR) in preparation for this sixth SpaceX crew rotation mission NASA announced Tuesday evening that the Crew-6 launch was delayed a day from Feb. 26 to Feb. 27 – since more time was needed to close out the remaining tasks, technical issues and open items discussed and reviewed in detail at the FRR.
Liftoff, from Kennedy's seaside Launch Complex 39A, of the brand new Falcon 9 integrated with the thrice flown Crew Dragon Endeavour spacecraft is now slated for Monday, Feb. 27, at 1:45 a.m. EST (0645 GMT).
Live launch-day coverage on NASA TV and the agency's website begins at 10 p.m. EST. Sunday, Feb. 26.
Enjoy our photos of the Crew Arrival event and upcoming launch campaign taken by the Space UpClose team of Ken Kremer and Jean Wright.
"When we looked at the work remaining to go on the vehicle, getting Dragon and Falcon 9 ready to go, we were a little bit behind on that work and so we need a little bit more time to do that," Steve Stich, manager of NASA's commercial crew program, told reporters at a media briefing after the conclusion of the FRR.
"We're taking our time each step of the way getting Dragon ready to go, doing the proper analysis, getting Falcon 9 ready to go, and making sure we'll go fly when we're ready."
Managers from NASA and SpaceX, along with international partners, met throughout the day Tuesday as part of the mission's Flight Readiness Review (FRR) in preparation for Crew-6
"The FRR focused on the preparedness of SpaceX's crew transportation system, the space station, and its international partners to support the flight, as well as the certification of flight readiness."
Crew-6 will spend up to six months at the space station before returning to Earth.
The mission marks the fourth spaceflight for Bowen, who flew space shuttle missions STS-126 in 2008, STS-132 in 2010, and STS-133 in 2011.
Crew-6 will be the first spaceflight for Hoburg, Alneyadi, and Fedyaev.
Alneyadi is the 1st astronaut to serve on a long duration mission from a non ISS partner nation and also the 1st long duration mission for the burgeoning UAE astronaut and space programs.
Fedyaev is only the 2nd cosmonaut to fly on a Crew Dragon.
Anna Kikina was the first cosmonaut on a Crew Dragon and serves on the Crew-5 mission and is still onboard the ISS.
The international crew will fly aboard the SpaceX Dragon Endeavour spacecraft, which previously flew 3 human spaceflight missions – including NASA's Crew-1 to the ISS, and 2 private Inspiration4, and Axiom Mission-1 astronauts.
Thus Endeavour will launch on its 4th human spaceflight.
Currently the Crew Dragons are certified by NASA to fly astronauts 5 times.
Both NASA and SpaceX are continuing evaluation after each flight and they hope to certify Crew Dragons to fly more than 5 times.
The Falcon 9 1st stage is newly manufactured and flying for the first time on Crew-6
It is designated as tail number B1078.
The team plans an integrated static fire test of the first stage at 5:45 a.m. ET and dry dress rehearsal with the crew on Friday prior to launch.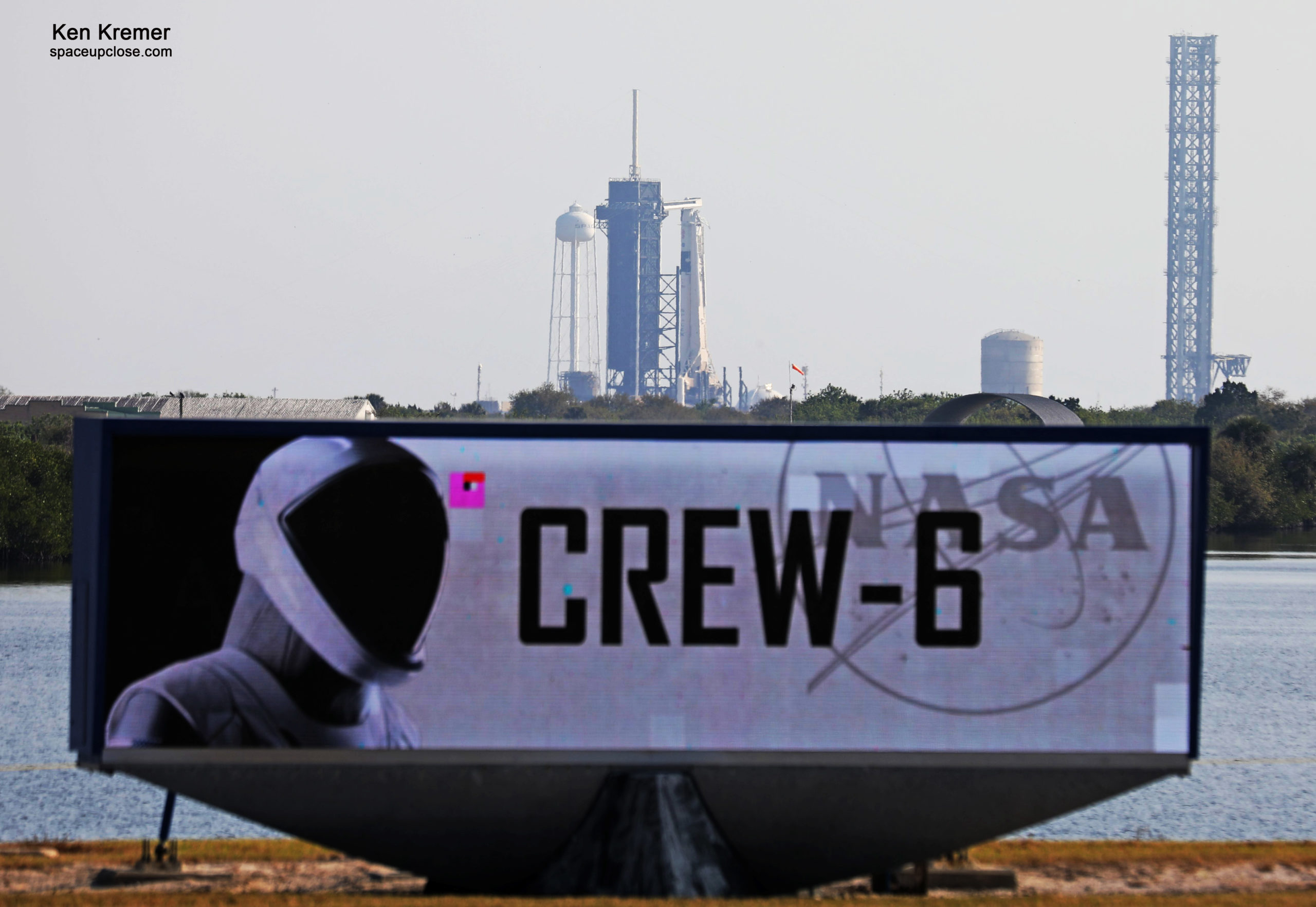 Assuming an on-time launch of Crew-6 the foursome would arrive and dock to the orbiting outpost to the space-facing port of Harmony module at 2:29 a.m. ET on Tuesday, Feb. 28  and live and work aboard the microgravity lab complex  for six months conducting critical space research.
NASA TV also plans for live docking coverage that's set to begin at 12:45 a.m. on Tuesday.
Crew-6 will briefly join the current Expedition 68 crew comprising  7 astronauts and cosmonauts – including the 4 member Crew-5 team.
Ctew-5 launched to the station on the NASA SpaceX Crew-5 mission on Oct. 5, 2022.
A roughly 5 day handover between Crew-6 and Crew-5 is planned before Crew-5 departs in their SpaceX Crew Dragon Endurance  for the journey back home and ocean splashdown.
Watch Ken's commentary about NASA. Project Artemis SLS and Orion, SpaceX Falcon Heavy, Crew-5 & 6, NASA SpaceX Crew & Cargo Dragons and more
Feb 9/10:  WFTV ABC News Orlando interview about SpaceX Starship successful static fire test of 31 Raptor engines at Boca Chica
https://www.wftv.com/news/local/brevard-county/spacex-completes-successful-static-fire-test-33-engine-starship-booster/LDYL2CDXS5ETHG7TGG2RH2JV7I/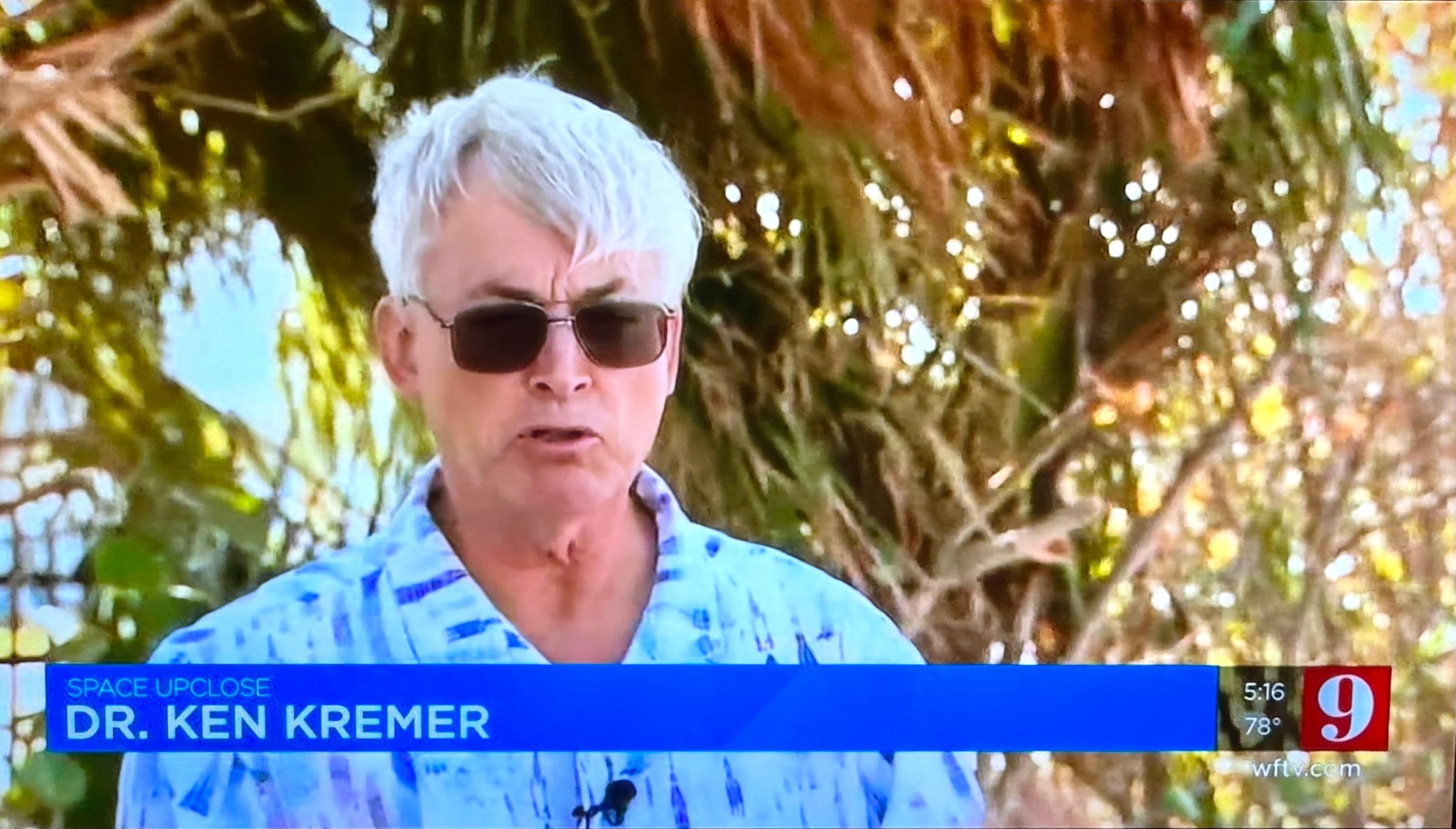 Feb 8/9:  WFTV ABC News Orlando interview about how NASA needs a definitive and fully funded plan to deorbit the ISS safely in case of an emergency and serious debris hit causing it to lose control b4 it's terminated in 2030- in light of the recent Soyuz crew capsule leak from micrometeoroid impact
Jan 3/4: WFTV ABC News Orlando interview about Jan 3 SpaceX Transporter 6 launch – 1st of 2023 – and record setting year ahead with many exciting missions for NASA and private astronauts, science probes, mission, US Space Force, new rockets like ULA Vulcan & more!
Dec 28/29: Fox 35 Orlando – Watch my commentary about NASA's fantastic success in space exploration in 2022 and ambitious schedule of whats ahead in 2023:
https://www.fox35orlando.com/video/1159922
Dec 11/12: BBC World News TV interview about  successful splashdown of NASA Orion concluding the 25 day Artemis 1 lunar test flight around the Moon and back, and how that sets up a human return to the Moon on Artemis 2 and landing on Artemis 3. Plus what's beyond for NASA deep space exploration to Mars and the search for life beyond Earth
Watch Ken's continuing reports about Artemis, SpaceX missions, SLS, Orion and NASA missions, SpaceX Crew and Cargo Dragons, SpaceX Axiom, JWST, DART, Lucy Asteroid mission, GOES, SpaceX Starlink, Commercial Crew and Starliner and Crew Dragon, Blue Origin and Space Tourism, and onsite for live reporting of upcoming and recent SpaceX and ULA launches including Crew 1 & 2 & 3 & 4 & 5, ISS, Solar Orbiter, Mars 2020 Perseverance and Curiosity rovers, NRO spysats and national security missions and more at the Kennedy Space Center and Cape Canaveral Space Force Station.
Stay tuned here for Ken's continuing Earth and Planetary science and human spaceflight news: www.spaceupclose.com – twitter @ken_kremer – email: ken at kenkremer.com
Dr. Kremer is a research scientist and journalist based in the KSC area, active in outreach and interviewed regularly on TV and radio about space topics.
………….
Ken's photos are for sale and he is available for lectures and outreach events
Please consider supporting Ken's work by purchasing his photos and/or donating at Patreon
https://www.patreon.com/kenkremer
Upcoming and recent space events and talks by Ken Kremer & Jean Wright
Jan 21-28: Carnival Cruise Ship Mardi Gras: "What Happening at NASA and Space Exploration" & SpaceX Falcon 9 Starlink 5-2 launch viewing party Jan 26
Jan 12, 2023: 10 AM at Westminster Retirement Center in Orlando/Winter Park, Florida: Presentation by Jean Wright – "Sew Sister to the Stars- How the Humble Art of Sewing Transformed the World of Flight"+ Artemis 1 Moon rocket update
Nov 29 at UCF, Orlando Florida: Presentation by Jean Wright – "Sew Sister to the Stars- How the Humble Art of Sewing Transformed the World of Flight"
Feb 4, 11, 24, 25, 26; Jan 7,11- 2023; from 7 to 9 PM Quality Inn, Titusville, FL:  Join Ken and Jean for Artemis 1, Falcon Heavy and space mission and rocket launch outreach. Ask us anything. plus display our photos and space apparel items for sale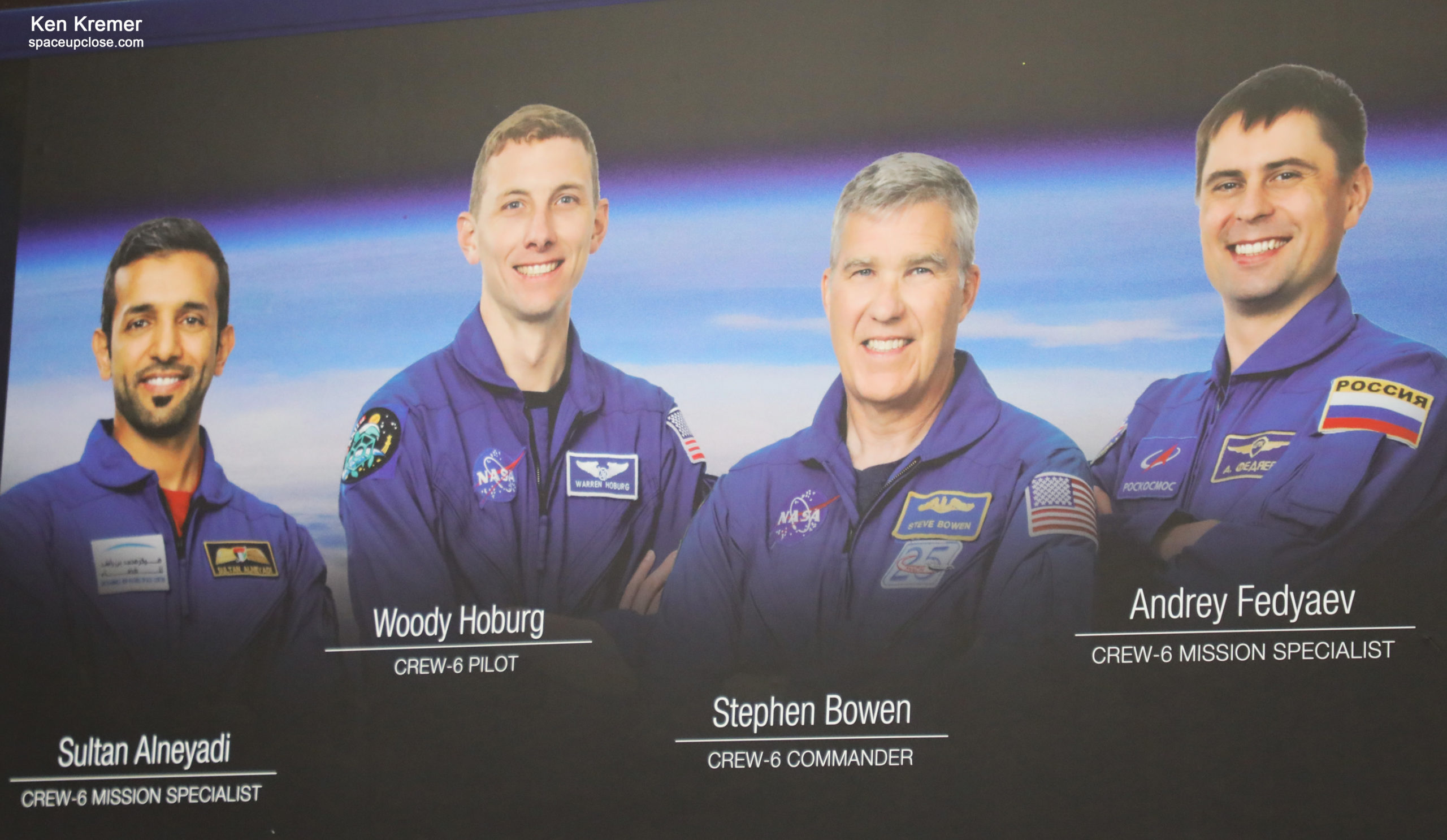 x