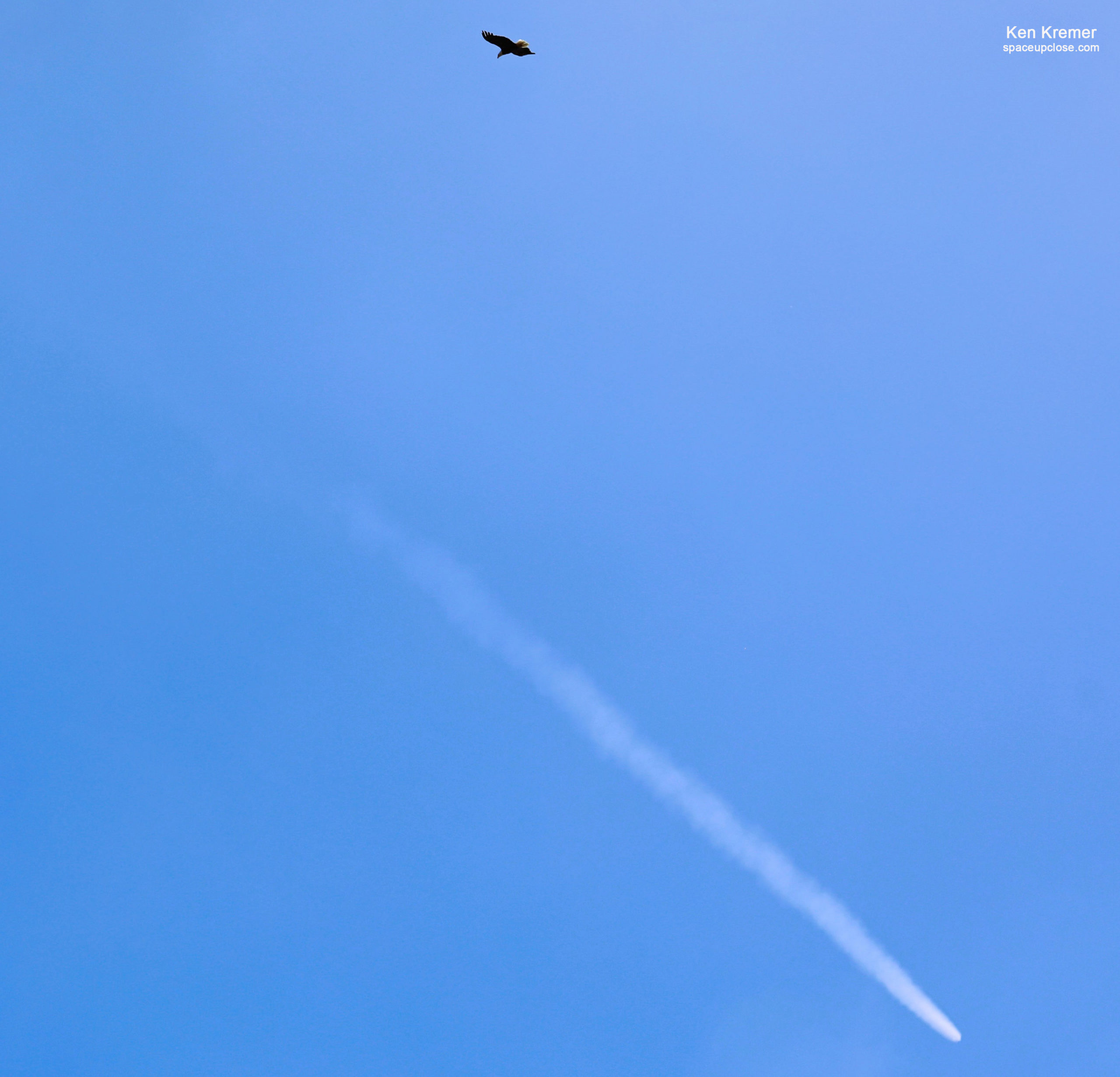 For SpaceUpClose.com & RocketSTEM
KENNEDY SPACE CENTER VISITOR COMPLEX, FL – As a majestic eagle flew by and for the first time ever we witnessed a rocket launch from the Kennedy Space Center Visitor Complex (KSCVC) – namely the SpaceX Starlink 5-5 mission launched at lunchtime Friday, Mar 24, soaring southeastwards from Cape Canaveral into virtually cloud free skies carrying another batch of older generation Starlink broadband satellites to low Earth orbit.
It was quite different and thrilling to watch with a gigantic crowd of many hundreds counting down in unison to T-Zero looking to the spot where it should rise from behind trees from our spot on the lawn behind the Space Shuttle Atlantis Pavilion – along with a simulcast projected from a huge outdoor jumbotron.
There is no direct view of launch pad 40, or any other pads, from the grounds of the Atlantis lawn – which is about 6.7 miles away.
Direct pad views are available from the Apollo-Saturn Center pavilion on KSCVC – but we didn't have enough time to hop on the bus to get there in time to see the launch.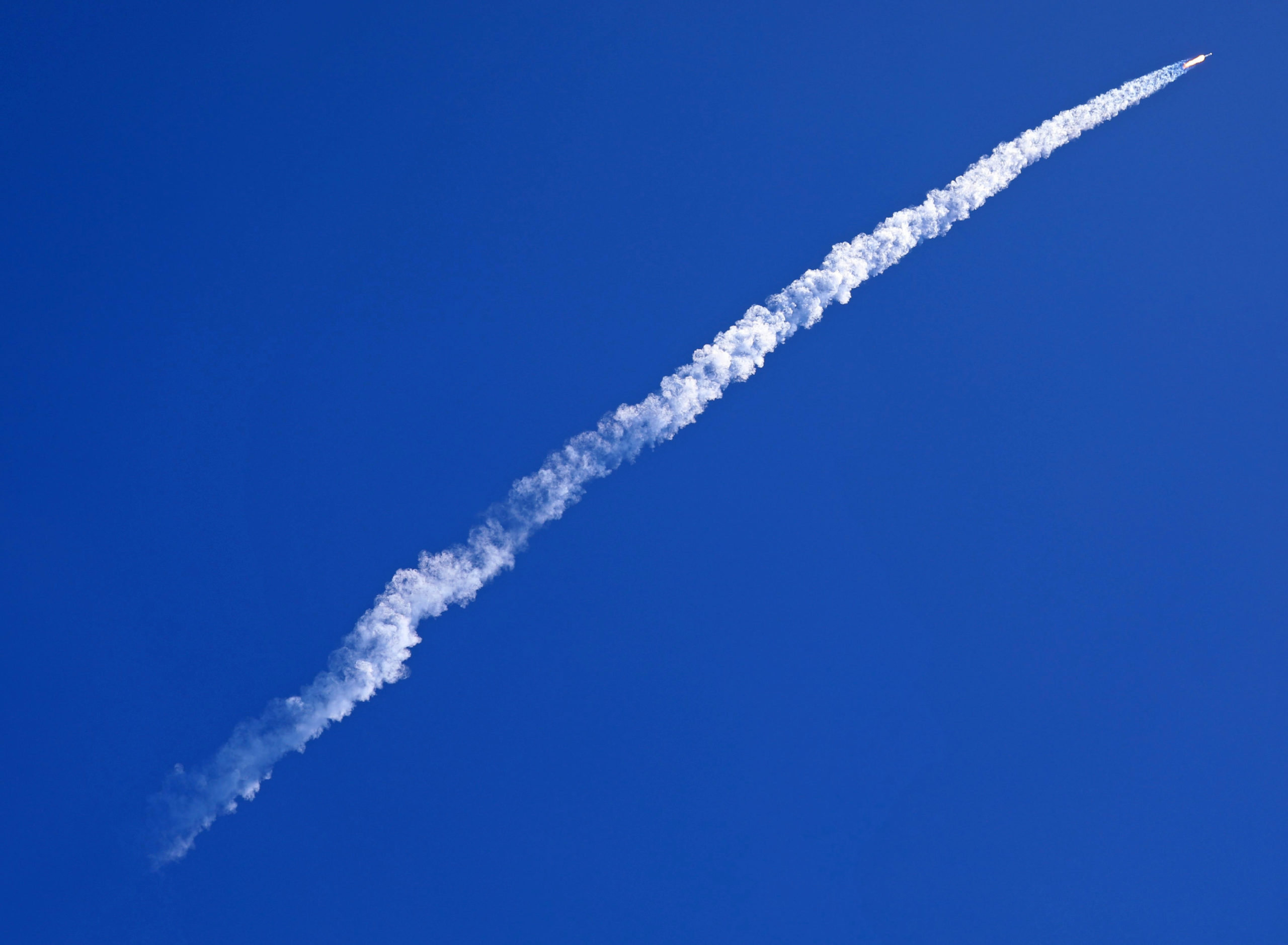 Liftoff of the veteran 229-foot-tall (70-meter) Falcon 9 booster B1067.10 on the Starlink 5-5 mission delivered 56 more Starlinks to orbit and took place during lunchtime at 11:43 a.m. EDT (1543 GMT) Friday, March 24, from Space Launch Complex 40 (SLC-40) at Cape Canaveral Space Force Station in Florida.
The skies were so clear that we could easily see stage separation in the exhaust plume forming overhead about two and a half minutes after liftoff.
My lead launch image 'The Falcon and the Eagle' was featured as 'Image of the Day' or 'IMMAGINE DEL GIORNO' by Alive Universe – an Italian space news website:
https://aliveuniverse.today/immagine-del-giorno/7623-il-falco-e-l-aquila
Enjoy our launch photos taken by the Space UpClose team of Ken Kremer and Jean Wright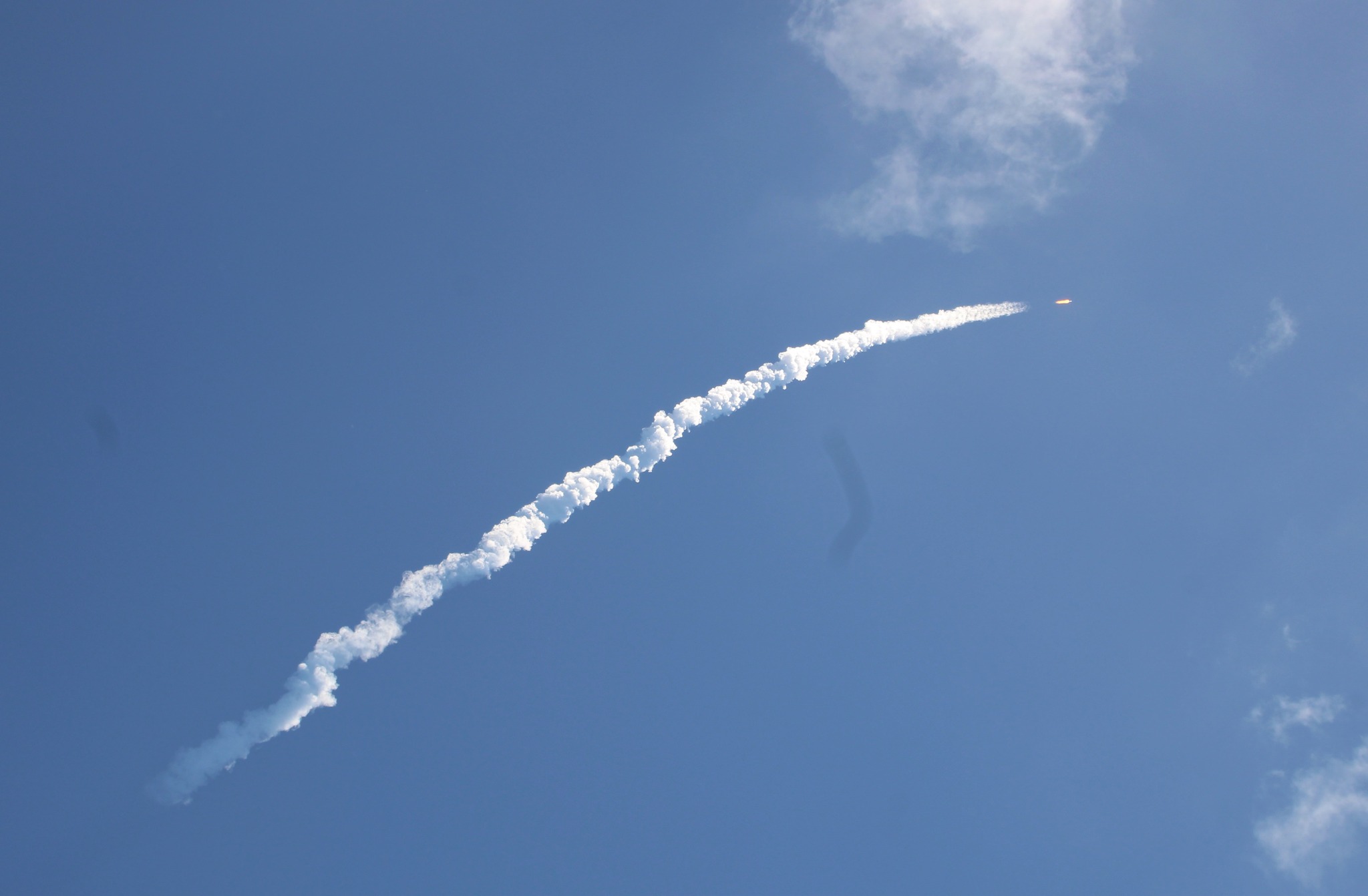 We happened to be at the Visitor Complex for another media event – the spectacular premiere of the new Snoopy and the Peanuts Gang live show 'All Systems are Go."
So we stayed at KSCVC to enjoy the liftoff from a different spot Friday which took place just 30 minutes after the Peanuts Gang show concluded.
The lawn was absolutely jam packed with hundreds and hundreds of very happy spectators from all across the globe – many seeing a launch the first time.
And we did a lot of outreach explaining the SpaceX mission.
Even a few of our fans recognized us and engaged with nice chats.
During our outreach events we explain the pros and cons of various rocket launch viewing locations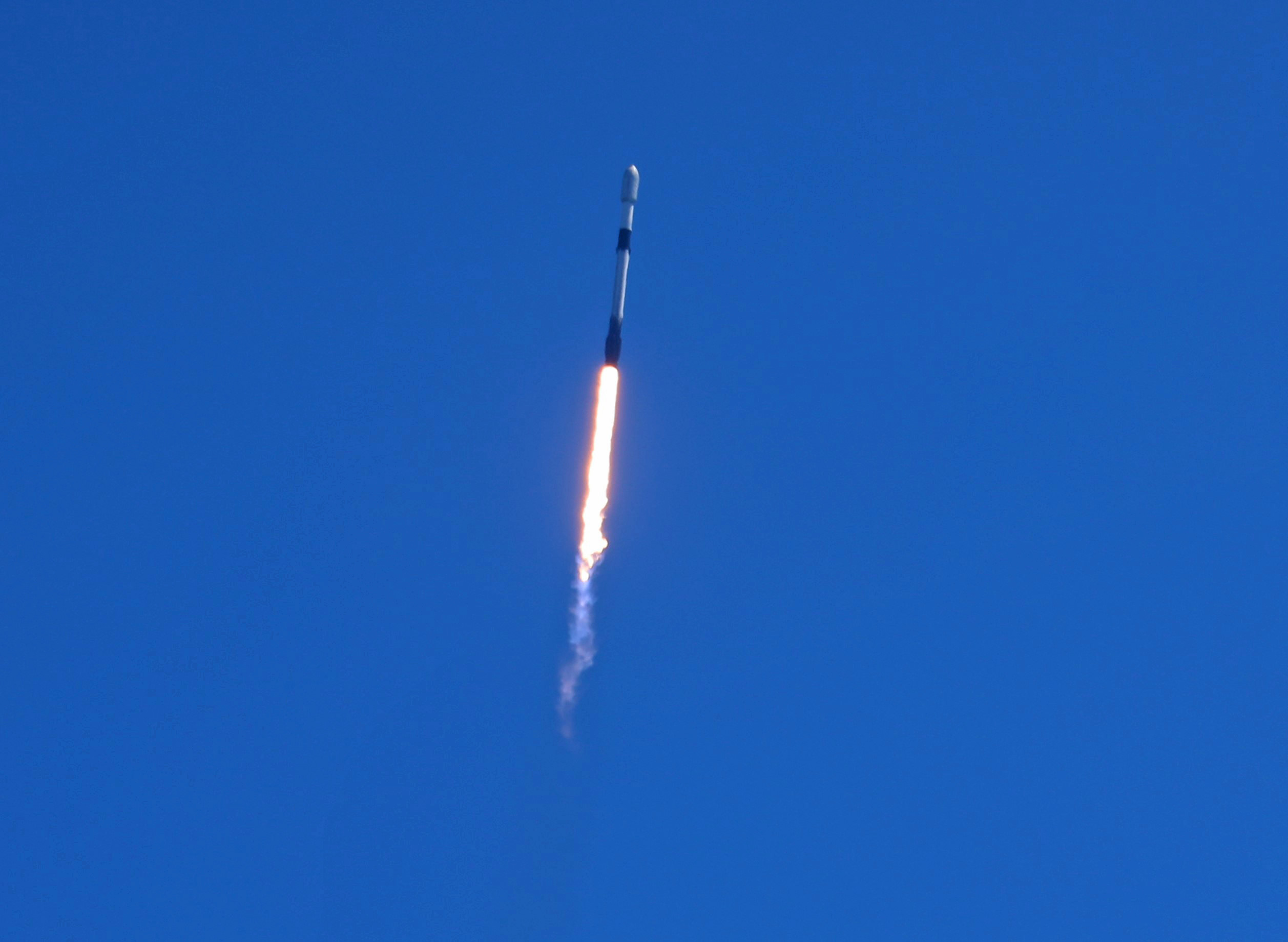 The first stage booster B1067.10 supporting this mission previously launched 8 astronauts and 10 missions altogether – including CRS-22, Crew-3, Turksat 5B, Crew-4, CRS-25, Eutelsat HOTBIRD 13G, mPOWER-a, and two Starlink missions.
Following stage separation, the first stage landed on the 'A Shortfall of Gravitas' (ASOG)  droneship, which as stationed some 410 miles (660 kilometers) offshore of Florida and southeast of Cape Canaveral, in the Atlantic Ocean and north of the Bahamas some eight minutes after liftoff.
Falcon 9's first stage has landed on the A Shortfall of Gravitas droneship pic.twitter.com/34f8zYCKbz

— SpaceX (@SpaceX) March 24, 2023
Overall Starlink 5-5 counts as SpaceX's 20th launch of the new year!  From pads in Florida and California.
SpaceX continues its blistering launch pace – now once every 4 days since Jan. 1.
Absolutely remarkable!
They are hoping to launch as many as 100 Falcon rockets in 2023 – far surpassing the record breaking 61 launches in 2022! – and 31 in 2021.
Starlink provides high speed, low latency broadband internet connectivity now on a global basis to all 7 continents.
SpaceX manufactures the Starlinks in-house in Redmond, Washington.
These Starlinks are part of the prior V1.5 version comprises most of the Starlink orbital constellation.
Each one weighs about 660 pounds or 300 kg
The overall weight of 17.4 metric tons, or over 38,000 pounds, ties the record for the heaviest payload ever launched on a Falcon 9 – per Spaceflight Now
SpaceX has at least temporarily halted launching the Gen2 upgraded version due to problems encountered on orbit with the first two batches
The flat-paneled, solar powered refrigerator-sized satellites were deployed into an initial elliptical orbit about 200 miles (300 kilometers) above Earth and at an inclination of 43 degrees to the equator.
SpaceX confirmed they were deployed as planned about an hour after liftoff:
Deployment of 56 Starlink satellites confirmed

— SpaceX (@SpaceX) March 24, 2023
The Starlink satellites will use on-board krypton ion propulsion to raise themselves to their final operating circular orbit some 329 miles (530 kilometers) above Earth.
To date SpaceX has launched 4161 Starlink satellites including prototype and test versions and failed ones, according to a tabulation from astronomer Jonathan McDowell, at the Harvard-Smithsonian Center for Astrophysics.
https://planet4589.org/space/con/star/stats.html
Currently SpaceX has more than 3858 in orbit, 3,811 functioning Starlink satellites in space, with about 3,284 operational
SpaceX has FAA approval to deploy 12,000 Starlinks and eventually hopes to deploy well over 30,000.
The next Falcon 9 launch from the Cape is scheduled for March 29 at 4:01 p.m. EDT for the Starlink 5-10 mission.
Watch Ken's commentary about NASA. Project Artemis SLS and Orion, SpaceX Falcon Heavy, Crew-5 & 6, NASA SpaceX Crew & Cargo Dragons and more
Mar 22/23: Fox 35 News Orlando post launch interview about historic Terran 1 launch on Mar 22:
https://www.fox35orlando.com/news/3d-printed-rocket-fails-to-reach-orbit-now-somewhere-in-atlantic-ocean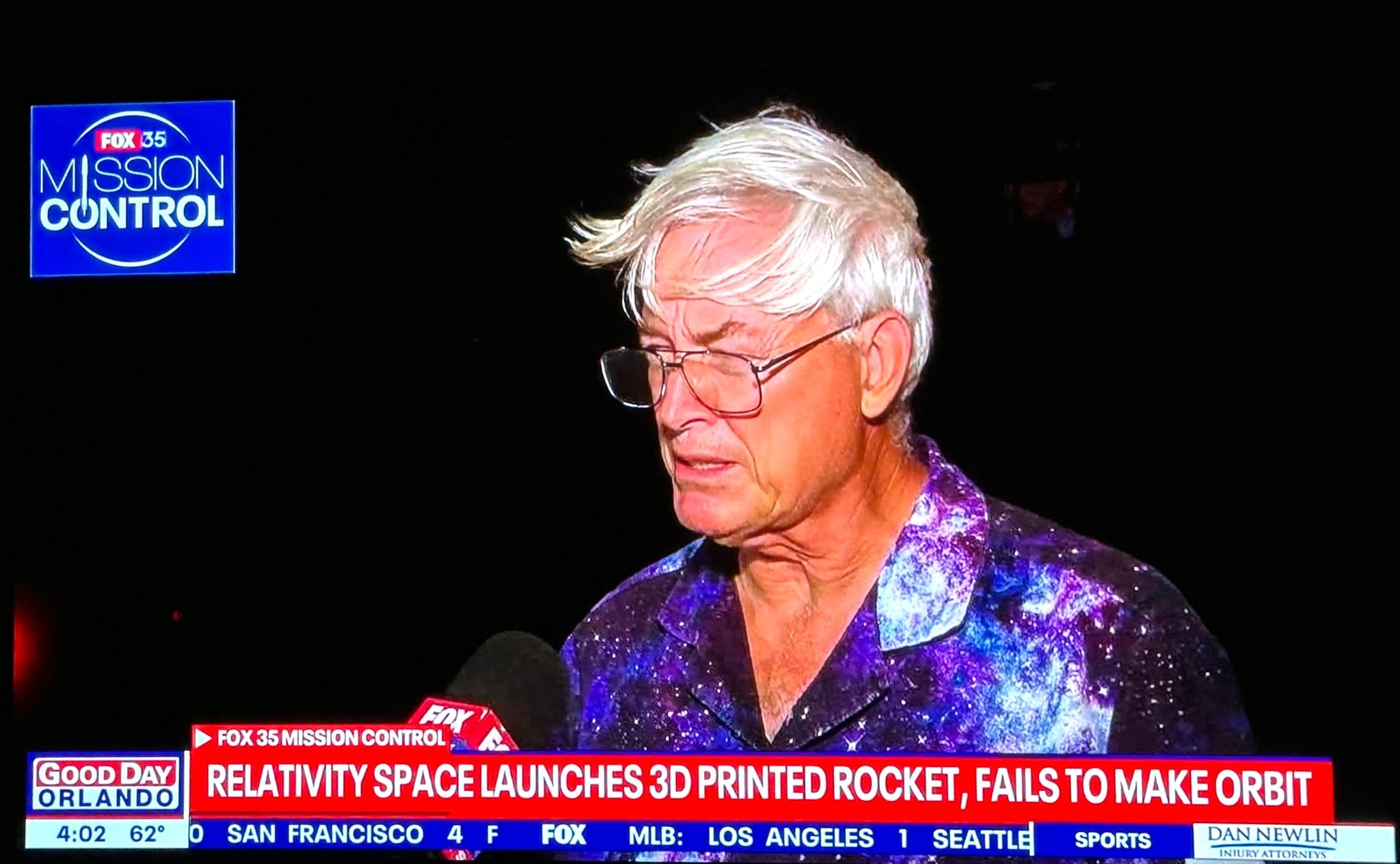 Mar 22: Fox 35 live interview about next Terran 1 launch attempt on Mar 22:
https://www.fox35orlando.com/video/1196740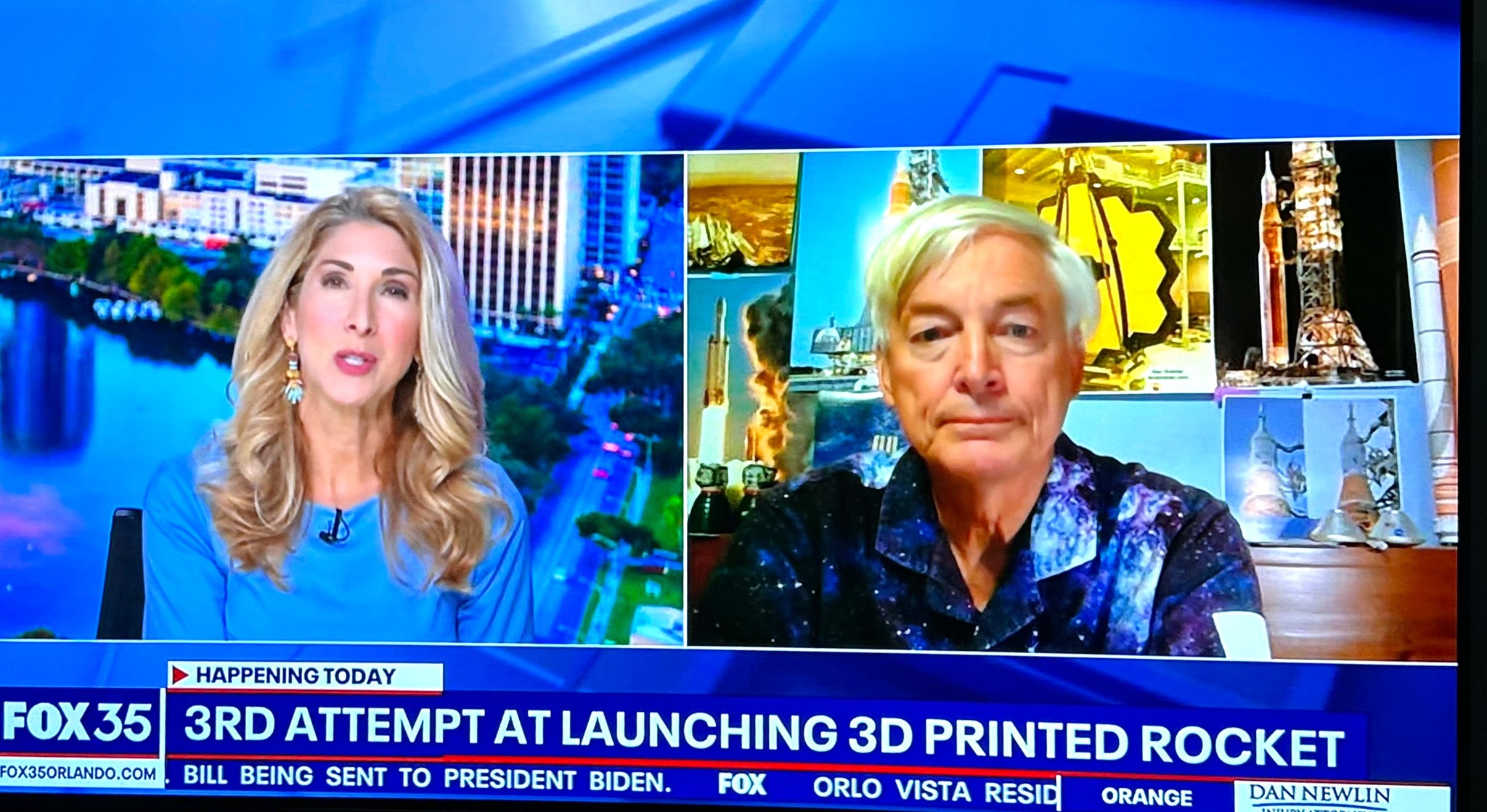 Mar 21:  WFTV ABC News Orlando interview about next Terran 1 launch attempt on Mar 22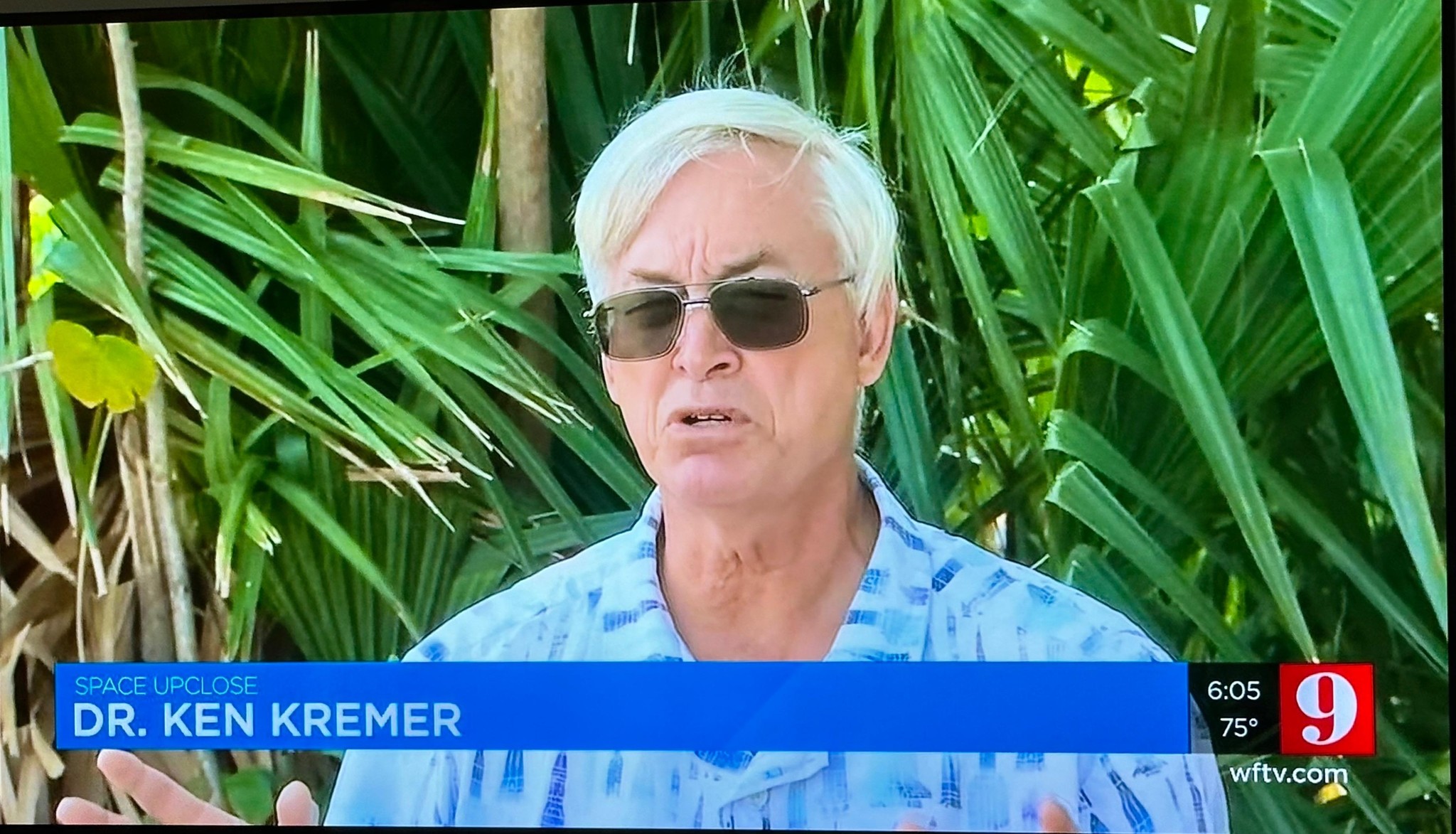 Mar 17:  Fox 35 News Orlando update about next Terran 1 launch attempt:
https://www.fox35orlando.com/news/new-launch-date-announced-for-first-3d-printed-rocket-from-florida
Mar 16/17:  WKMG CBS 6 Orlando News interview about Virgin Orbit pausing operations today and why this is not a good sign as they seek to enter the small satellite market with many competitors like Relativity Space Terran1 rocket trying 1st launch – as well as established competitors like SpaceX & RocketLab.
https://www.clickorlando.com/news/space-news/2023/03/16/virgin-orbit-pausing-all-work-reportedly-furloughs-staff/
Mar 8/9: WFTV ABC News and Fox 35 New Orlando pre and post scrub interview about maiden Terran 1 launch attempt:
https://www.fox35orlando.com/news/i-will-be-here-scrubbed-3d-printed-rocket-launch-isnt-turning-people-away-from-second-try
Mar 7: WFTV ABC News Orlando interview about upcoming maiden Terran1 launch by Relativity Space on Mar 8
https://www.wftv.com/news/video-3-rocket-launches-planned-floridas-space-coast-this-week/90d4e160-806f-49fd-b7d9-04d46a2c9402/
Mar 6/7: WFTV ABC News Orlando interview about upcoming maiden #Terran1 launch by Relativity Space on Mar 8 from pad 16 CCSFS. Worlds 1st 3D printed rocket:
https://www.wftv.com/news/video-first-3d-printed-rocket-set-blast-off-space-coast-this-week/bab1dd1f-6927-45c9-8359-e1e7d7a08e99/
Mar 2: Fox 35 Orlando live interview about the Crew-6 mission launch to the ISS
Feb 26/27/28: On 3 local Networks CBS WKMG , ABC WFTV and Fox 35 Orlando -I did series of live and taped interviews pre and post scrub explaining why NASA  SpaceX Crew6 astronaut launch to ISS was scrubbed at T Minus 2 minutes to keep the crew and rocket safe and what needs to be done to resolve the issue why TEA-TEB (triethylaluminum triethylboron) igniter fluid failed to fully load on Falcon 9 rocket
Feb 9/10:  WFTV ABC News Orlando interview about SpaceX Starship successful static fire test of 31 Raptor engines at Boca Chica
https://www.wftv.com/news/local/brevard-county/spacex-completes-successful-static-fire-test-33-engine-starship-booster/LDYL2CDXS5ETHG7TGG2RH2JV7I/
Feb 8/9:  WFTV ABC News Orlando interview about how NASA needs a definitive and fully funded plan to deorbit the ISS safely in case of an emergency and serious debris hit causing it to lose control b4 it's terminated in 2030- in light of the recent Soyuz crew capsule leak from micrometeoroid impact
Jan 3/4: WFTV ABC News Orlando interview about Jan 3 SpaceX Transporter 6 launch – 1st of 2023 – and record setting year ahead with many exciting missions for NASA and private astronauts, science probes, mission, US Space Force, new rockets like ULA Vulcan & more!
Watch Ken's continuing reports about Artemis, SpaceX missions, SLS, Orion and NASA missions, SpaceX Crew and Cargo Dragons, SpaceX Axiom, JWST, DART, Lucy Asteroid mission, GOES, SpaceX Starlink, Commercial Crew and Starliner and Crew Dragon, Blue Origin and Space Tourism, and onsite for live reporting of upcoming and recent SpaceX and ULA launches including Crew 1 & 2 & 3 & 4 & 5, ISS, Solar Orbiter, Mars 2020 Perseverance and Curiosity rovers, NRO spysats and national security missions and more at the Kennedy Space Center and Cape Canaveral Space Force Station.
Stay tuned here for Ken's continuing Earth and Planetary science and human spaceflight news: www.spaceupclose.com – twitter @ken_kremer – email: ken at kenkremer.com
Dr. Kremer is a research scientist and journalist based in the KSC area, active in outreach and interviewed regularly on TV and radio about space topics.
………….
Ken's photos are for sale and he is available for lectures and outreach events
Please consider supporting Ken's work by purchasing his photos and/or donating at Patreon
https://www.patreon.com/kenkremer
Upcoming and recent space events and talks by Ken Kremer & Jean Wright
Mar 1, 2, 12,13, 22, 23; Feb 4, 11, 24, 25, 26; Jan 7,11- 2023; from 7 to 9 PM Quality Inn, Titusville, FL:  Join Ken and Jean for Artemis 1, Falcon Heavy and space mission and rocket launch outreach. Ask us anything. plus display our photos and space apparel items for sale
Apr 29-May 6 & Jan 21-28: Carnival Cruise Ship Mardi Gras: "What Happening at NASA and Space Exploration" & SpaceX Falcon 9 Starlink 5-2 launch viewing party Jan 26
Jan 12, 2023: 10 AM at Westminster Retirement Center in Orlando/Winter Park, Florida: Presentation by Jean Wright – "Sew Sister to the Stars- How the Humble Art of Sewing Transformed the World of Flight"+ Artemis 1 Moon rocket update
Nov 29 at UCF, Orlando Florida: Presentation by Jean Wright – "Sew Sister to the Stars- How the Humble Art of Sewing Transformed the World of Flight"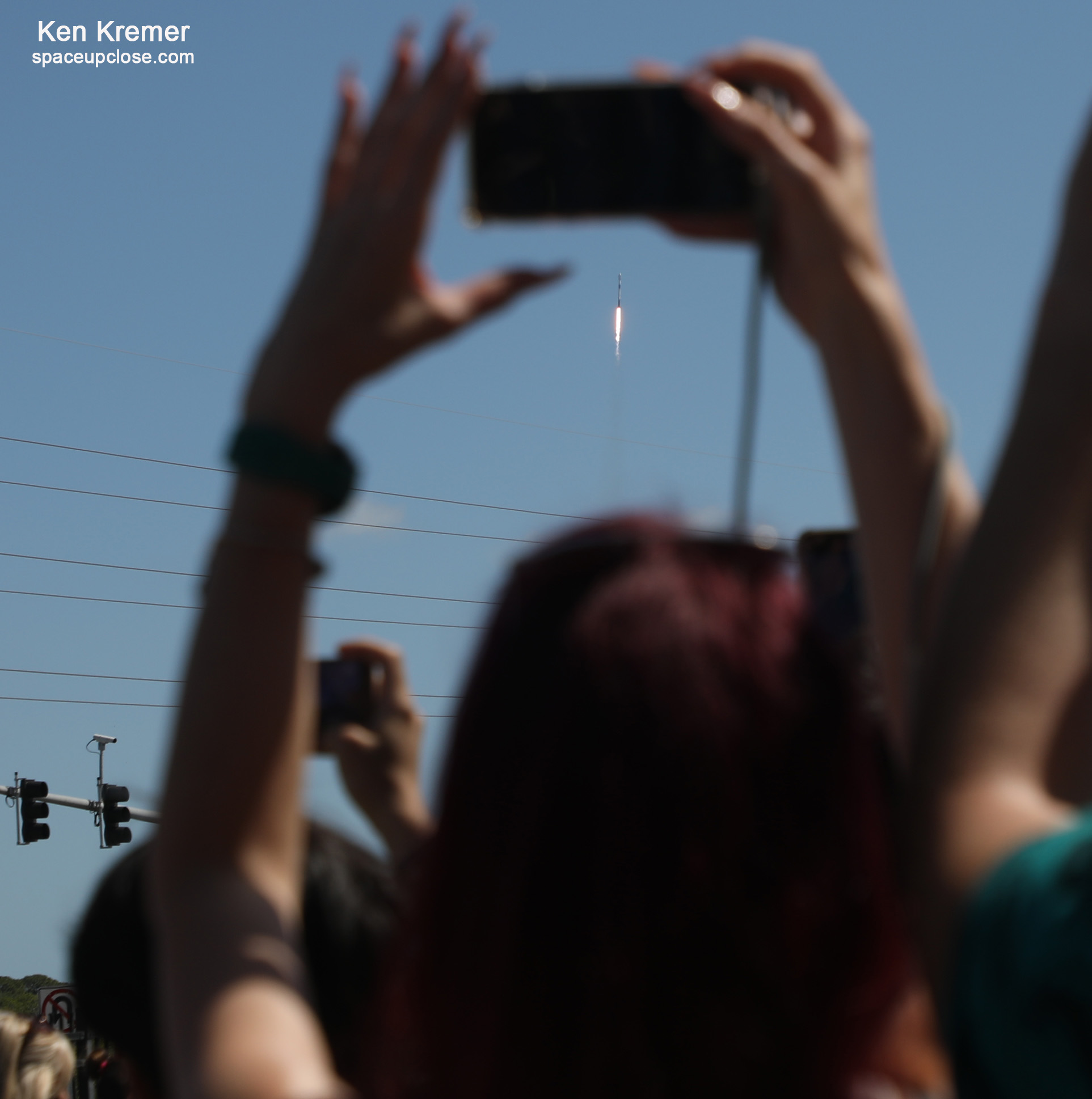 x