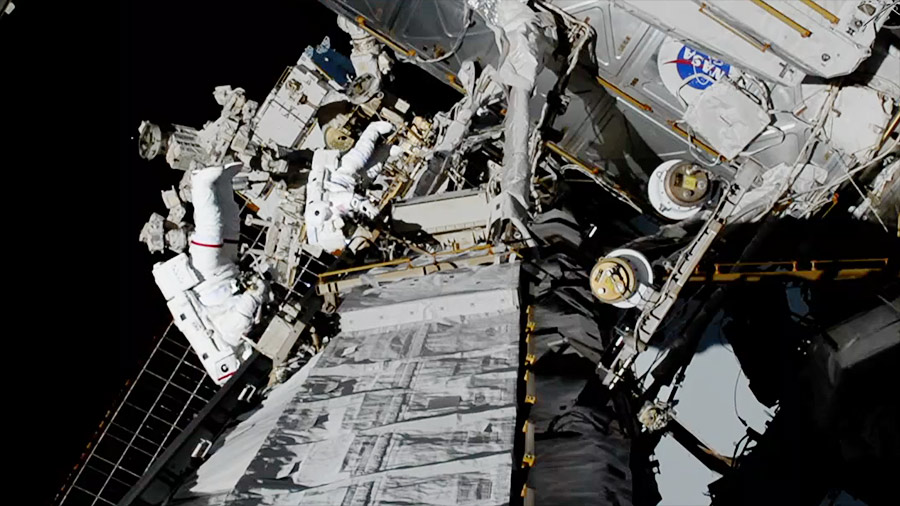 For Spaceupclose.com and RocketSTEM
Cape Canaveral, FL – A dynamic duo of NASA women astronauts – Christina Koch and Jessica Meir – made history Friday, Oct. 18 when they carried out and successfully completed history's 1st all-female spacewalk soaring some 250 miles (400 km) above Earth while working and floating outside the International Space Station (ISS) on a critical job to swap out a failed power distribution unit and thereby restored full power to the orbiting research complex – all the while generating enormous global interest from the public.
During the 7-hour, 17-minute history making spacewalk the female pair – both on their rookie space flights – swapped out and replaced a faulty 230 pound power controller component, known as a battery charge-discharge unit (BCDU), with a new one.
The BCDU regulates the charge to the space stations batteries that collect and distribute solar power to the orbiting lab's systems – and power was reduced by about 4 to 5 kilowatts as a result of the BCDU failure thus curtailing work.
Mission controllers on the ground at Johnson Space Center in Houston activated the newly installed BCDU and reported it was operating properly towards the end of the EVA.
Ever since the first human spacewalk by Russian Cosmonaut Alexei Leonov in 1965 – who passed away just days ago – there have been hundreds of spacewalks carried out by humans both male and female.
The first ever female spacewalk was carried by Russian cosmonaut Svetlana Savitskaya on July 24, 1984. She was followed three months later by the first American female to walk in space – namely NASA astronaut Kathryn Sullivan in October 1984.
But this was the first ever conducted only by a team of women astronauts. And it attracted interest from President Trump as well.
In fact Trump made a surprise call Friday afternoon from the White House to the orbiting duo joined by NASA Administrator Jim Bridenstine. VP Mike Pence and the president's daughter Ivanka in an event televised live on NASA TV.
"I just want to congratulate you, what you do is incredible. You're very brave people, I don't think I want to do it, I must tell you that," President Trump said during the call with the EVA in progress. "But you are amazing people. … Congratulations, Christina and Jessica, on this historic event."
"Thank you," Meir replied from orbit. "We don't want to take too much credit because there have been many other female spacewalkers before us. This is just the first time there have been two women outside at the same time. … For us, this is really just us doing our job."
"At the same time, we recognize that it is an historic achievement and we do, of course, want to give credit to all those who came before us. There has been a long line of female scientists, explorers, engineers and astronauts, we are following in their footsteps to get us where we are today."
And this was the 221st EVA at the ISS for assembly and maintenance since construction started in 1998 – for a cumulative total of 57 days, 20 hours, and 29 minutes working outside the station.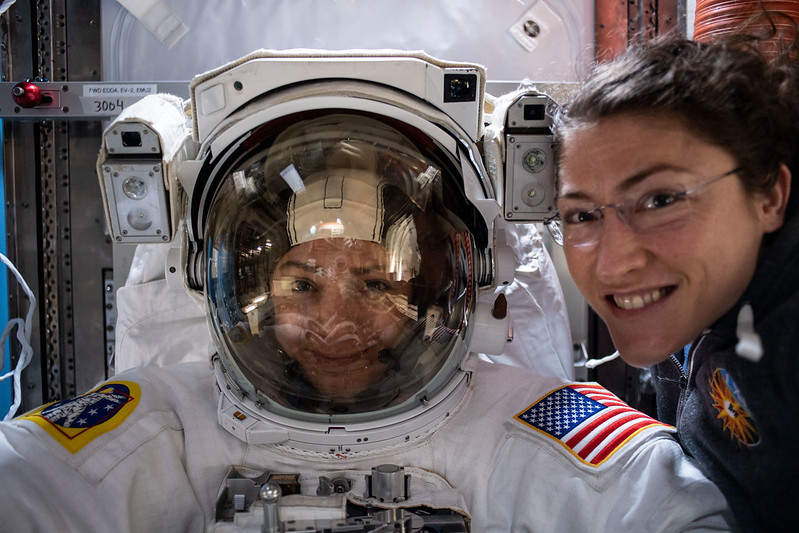 The spacewalk also called an EVA or extravehicular activity by Expedition 61 Flight Engineers Christina Koch and Jessica Meir began at 7:38 a.m. EDT from inside the Quest airlock when they switched their spacesuits to battery power and concluded at 2:55 p.m. EDT when they returned inside.
The entire EVA was carried live on NASA TV – see video below.
They were assisted by Expedition 61 Commander Luca Parmitano of ESA and NASA Flight Engineer Andrew Morgan. Parmitano operated the 57 foot long Canadarm2 robotics arm (SSRMS) moving the astronauts and unit and Morgan provided airlock and spacesuit support.
Altogether there are 24 BCDU units on the ISS with 3 or 4 spares, said NASA's station manager Kenny Todd in a preview briefing. There are no functioning spares on the ground, Todd told Space UpClose.
The BCDU unit they replaced failed to activate following the Oct. 11 installation of new lithium-ion solar array batteries on the space station's exterior structure – that were recently transported up to the ISS by Japan's HTV-8 cargo ship in late September.
The BCDU remove and replace work all went very well with no issues.
It is located on the P6 truss segment that is too far away from the reach of the Canadian robotic arm. Thus the astronauts were called upon to do the repair work unlike an earlier BCDU exchange carried out in March – which was within reach of the robotic arms grasp.
This counts as the fourth spacewalk for Koch and the first for Meir. Koch has now accumulated a total of 27 hours and 48 minutes spacewalking. And more EVAs for both are on tap in the coming weeks and months.
They both belong to the 2013 group of 8 NASA astronauts selected – equally divided between men and women.
Meir thus became the 15th woman to spacewalk, and the 14th U.S. woman. It was the 43rd spacewalk to include a woman. Altogether 228 people have walked in space since Leonov in 1965, followed months later by NASA astronaut Ed White on Gemini 4 .
The historic first all woman EVA spacewalk generated public interest worldwide since it was recently announced. Some schools set up TV monitors for excited students to watch in real time.
Then this planned EVA by Koch and Meir was actually accelerated by about a week when the BCDU unit suddenly failed and NASA officials completely changed and revamped the purpose of this spacewalk to focus on replacement of the BCDU component.
Initially they had planned to install another set of Li ion batteries. That job is now tasked for upcoming spacewalks in November and December and later.
In fact the first all female spacewalk was initially scheduled for March 2019 with Koch and NASA astronaut Anne McClain. But that opportunity was cancelled by NASA when it was unexpectedly determined there were not enough of the needed medium size spacesuits on board the ISS to accommodate the two women, McClain said at the time.
Koch arrived at the ISS in March 2019 and she will remain in space for an extended duration mission of 11 months – also setting a new record mission duration for a woman in space – to provide researchers the opportunity to observe effects of long-duration spaceflight on a woman to prepare for human missions to the Moon and Mars.
Meir just arrived at the station some 23 days earlier on the Russian Soyuz MS-15 mission that launched from the Baikonur Cosmodrome in Kazakhstan on Sept. 25 and docked six hours later.
Koch's flight overall will fall just short of being the longest ever duration mission set by an American in space – a record held by NASA astronaut Scott Kelly.
Koch and Meir are members of the six-person Expedition 61 crew currently serving on board which also includes Russian and Italian nationals at this time.
The crew consists of NASA astronauts Christina Koch, Jessica Meir and Andrew Morgan as well as cosmonauts Alexander Skvortsov and Oleg Skripochka of Roscosmos and ESA astronaut Luca Parmitano.
The faulty BCDU is due to return to Earth on the next SpaceX Dragon resupply ship for inspection on the CRS-19 mission set to launch perhaps in December.
"Station managers will reschedule the three battery replacement spacewalks for a future date. In the meantime, the five planned spacewalks to repair a cosmic particle detector, the Alpha Magnetic Spectrometer, are still on the calendar for November and December," says NASA.
The next cargo freighter launch to the ISS is set for Nov. 2 on the Northrop Grumman Cygnus NG-12 commercial resupply mission from NASA Wallops in Virginia. I will be there at Wallops reporting for Space UpClose.
Watch the complete video of the historic 1st all female spacewalk in its entirety here:
Video Caption: On Friday, Oct. 18, NASA astronauts Christina Koch and Jessica Meir completed NASA's first all-woman spacewalk. During the 7-hour, 17-minute spacewalk, the pair replaced a failed power controller and completed several other tasks in preparation for future spacewalks. Credit: NASA TV
Stay tuned here for Ken's continuing Earth and Planetary science and human spaceflight news: www.kenkremer.com –www.spaceupclose.com – twitter @ken_kremer – email: ken at kenkremer.com