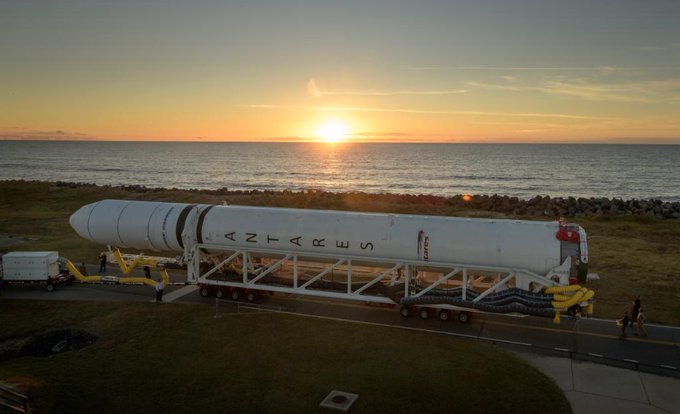 For SpaceUpClose.com & RocketSTEM
NASA WALLOPS FLIGHT FACILITY, VA – The upgraded commercial Antares rocket and Cygnus cargo freighter from Northrop Grumman rolled out Monday morning Oct 29 about 1 mile from the processing hanger to NASA's oceanside pad on the eastern shore of Virginia on a resupply mission to the International Space Station carrying over 4 tons of research science and supplies -including an oven to bake the first 'Cookies in Space' as well as gear to repair the Alpha Magnetic Spectrometer experiment looking back to the origins of the Universe – for the six person multinational crew.
Liftoff of the Antares Cygnus mission on Northrop Grumman's 12th commercial resupply mission for the space station will launch from Virginia Space's Mid-Atlantic Regional Spaceport at NASA's Wallops Flight Facility at 9:59 a.m. EDT Saturday, Nov. 2 from launch pad 0A.
The breakfast time launch may be visible, weather permitting, to tens of millions of residents putting on a stunning sky show throughout the mid-Atlantic region and the East Coast of the United States.
See a gallery of NASA rollout photos herein.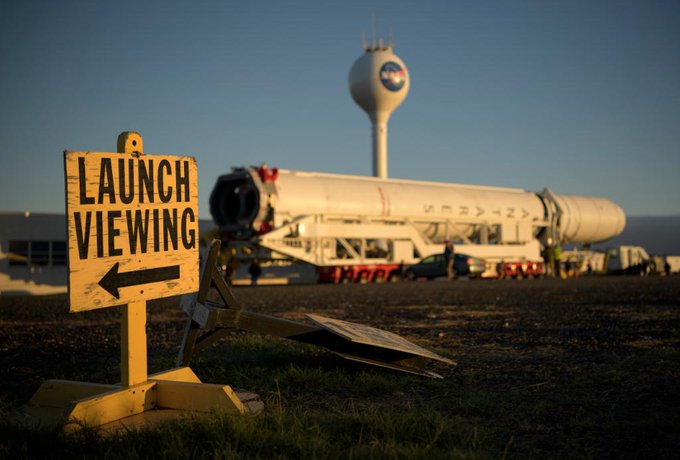 The Antares rocket has gone vertical for the moment as launch preparations begins.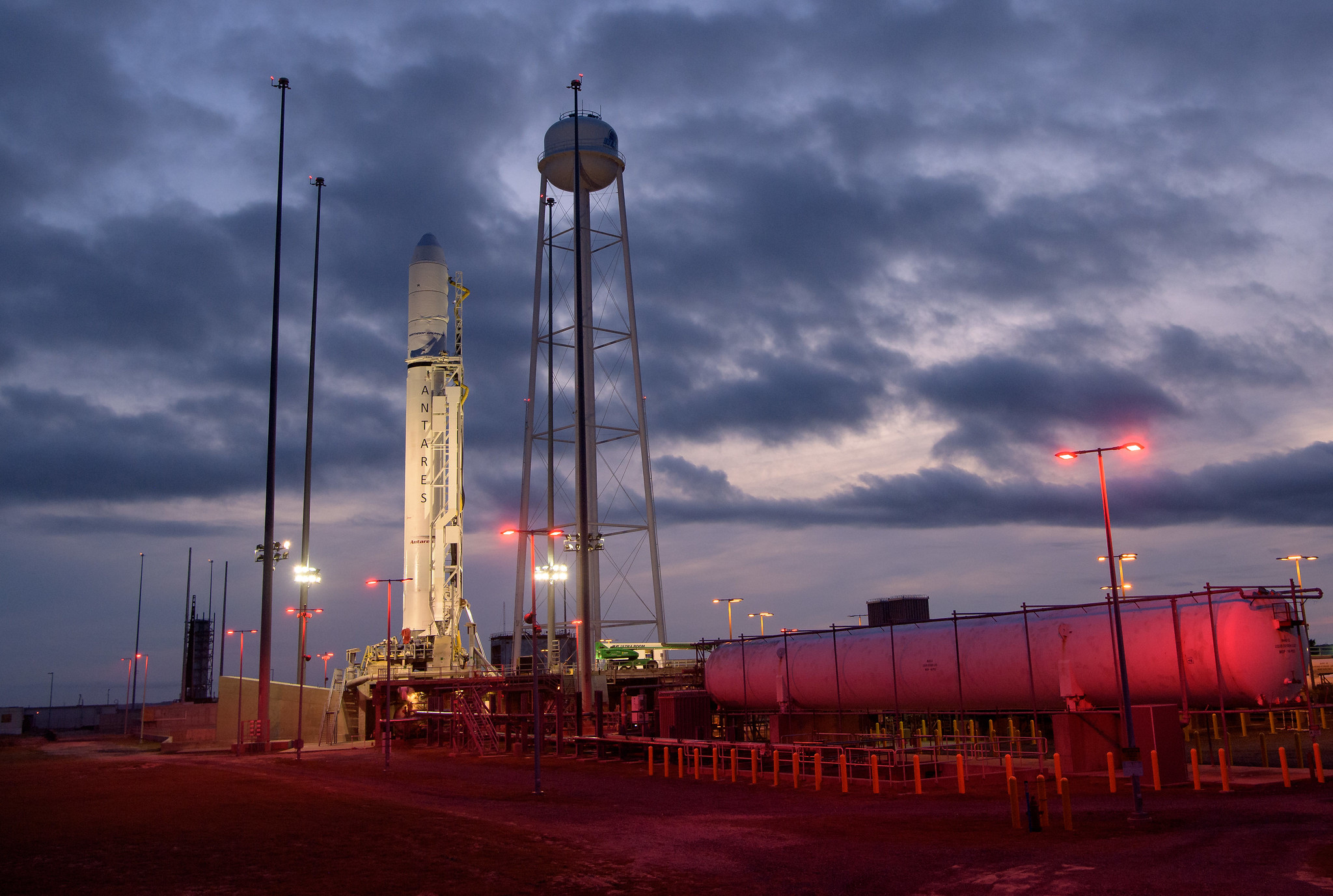 However, Northrop Grumman will use a new 24-hour late load capability on this mission for the first time- thus the rocket will go horizontal once more oprior to liftoff Saturday.
This innovative system includes a mobile clean room and a removable portion of the payload fairing that will permit time-sensitive science experiments to be loaded into Cygnus as late as 24 hours before liftoff, Northrop Grumman and NASA officials have told Space UpClose. See our prior photos.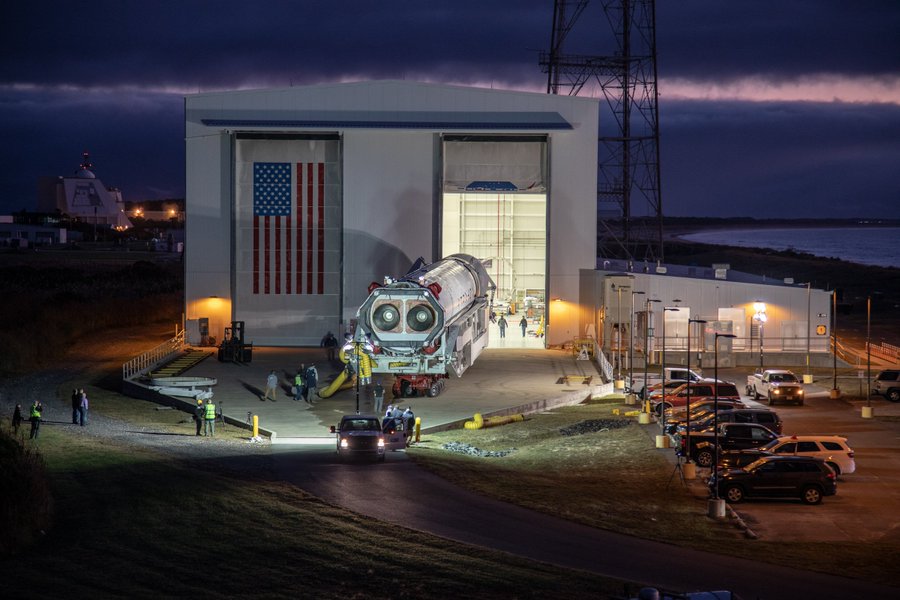 Space UpClose will be onsite for complete coverage of the Antares Cygnus NG-12 mission. See a sampling of our photos herein from the prior NG-11 mission launched 6 months ago in April 2019
The Cygnus NG-12 spacecraft is loaded with around 8,200 pounds of research, crew supplies, and hardware.
NASA's prelaunch coverage will air live on NASA Television and the agency's website beginning Friday, Nov. 1 with the prelaunch briefings from NASA Wallops.
The Cygnus spacecraft, dubbed the SS Alan Bean, is named after the late Apollo and Skylab astronaut who died on May 26, 2018, at the age of 86.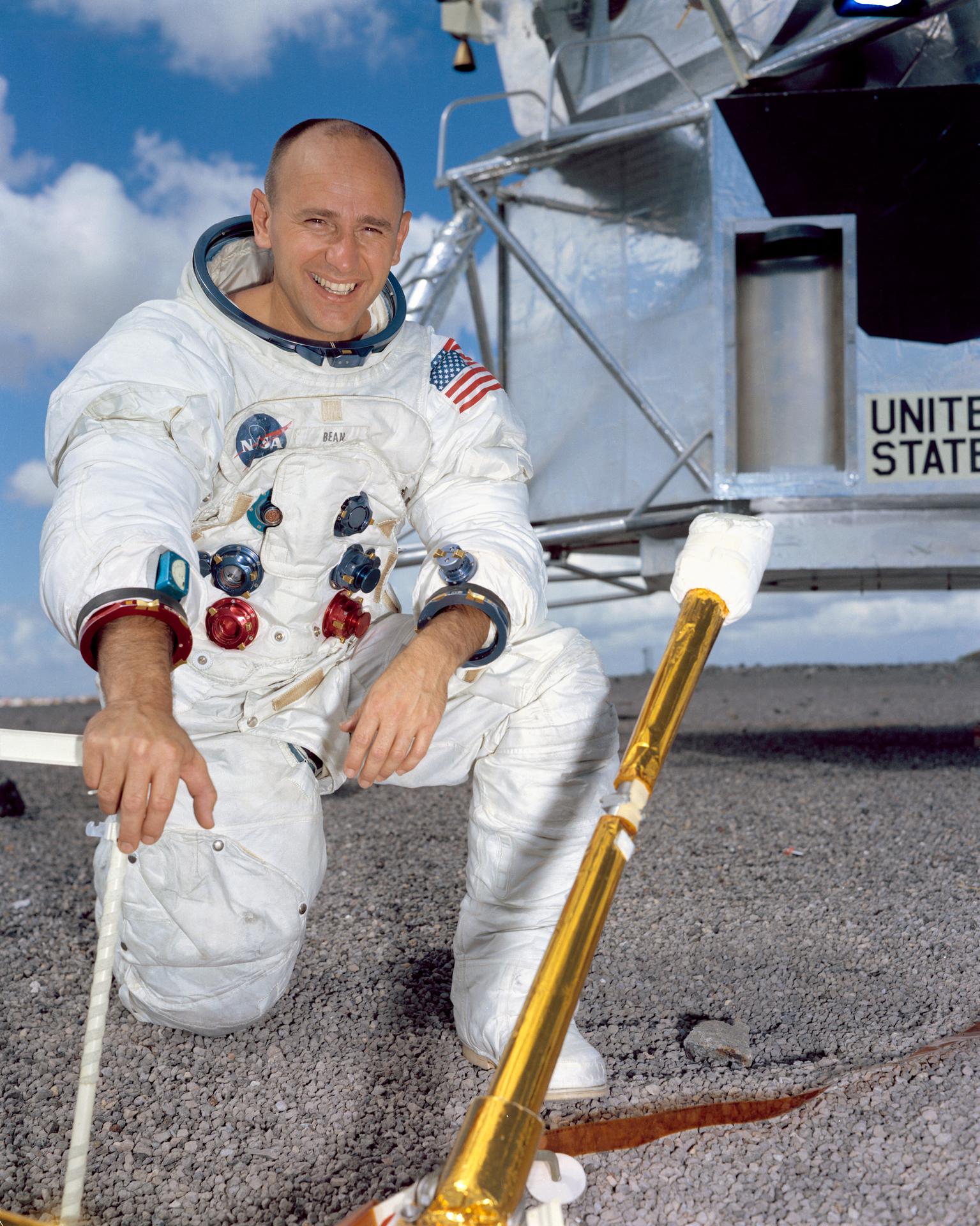 This Cygnus will launch 50 years to the month after Bean, Pete Conrad and Dick Gordon flew to the Moon on NASA's Apollo 12 mission, during which Bean became the fourth human to walk on the lunar surface. Bean was the lunar module pilot aboard Intrepid with mission commander Conrad when they landed on Moon at the Ocean of Storms on Nov. 19, 1969.
If all goes well with launch on Nov. 2 the Cygnus spacecraft will carry out two days of carefully choreographed orbit raising maneuvers to rendezvous with the space station Monday, Nov. 4 at about 5:45 a.m.
The plan then is for Expedition 61 NASA astronaut Jessica Meir to grapple the SS Alan Bean spacecraft using the station's 57 foot long Canadian built robotic arm.
Meir will be backed up by NASA astronaut Christina Koch. After Cygnus capture, ground controllers will command the station's arm to rotate and install Cygnus on the bottom of the station's Unity module.
Here are some highlights of space station research that will be facilitated by research aboard the Cygnus NG 12 mission from NASA:
• The Alpha Magnetic Spectrometer-02 (AMS-02), mounted on the exterior of the International Space Station, looks for evidence of dark, strange and anti-matter to help us understand how our universe was formed. A series of spacewalks are planned for later this year to prolong the operational life of the AMS-02. Astronauts will cut and reconnect fluid lines, a feat not done before in space, which could prove valuable for future missions at NASA's upcoming lunar Gateway or missions to Mars.
• The AstroRad Vest tests a special vest designed to protect astronauts from radiation caused by unpredictable solar particle events. Astronauts will provide input on the garment as they wear it while performing daily tasks, including how easy it is to put on, how it fits and feels, and the range of motion it allows. Garment developers can use this input to improve design. Use of the vest could protect crew members on missions to the Moon and Mars.
• The Zero-G Oven examines heat transfer properties and the process of baking food in microgravity. It uses an oven designed specifically for use aboard the space station, and may have application on future long-duration missions by offering a way to increase variety in flavor and nutrition of food for crew members.
• The Made in Space Recycler will test systems needed to reprocess plastic into 3D printing filament that can then be transferred for use to the Made in Space Manufacturing Device, a 3D printer that has operated on the orbiting laboratory since 2016. This has implications for space conservation and deep space missions.
Read our detailed story about the Zero-G Oven here.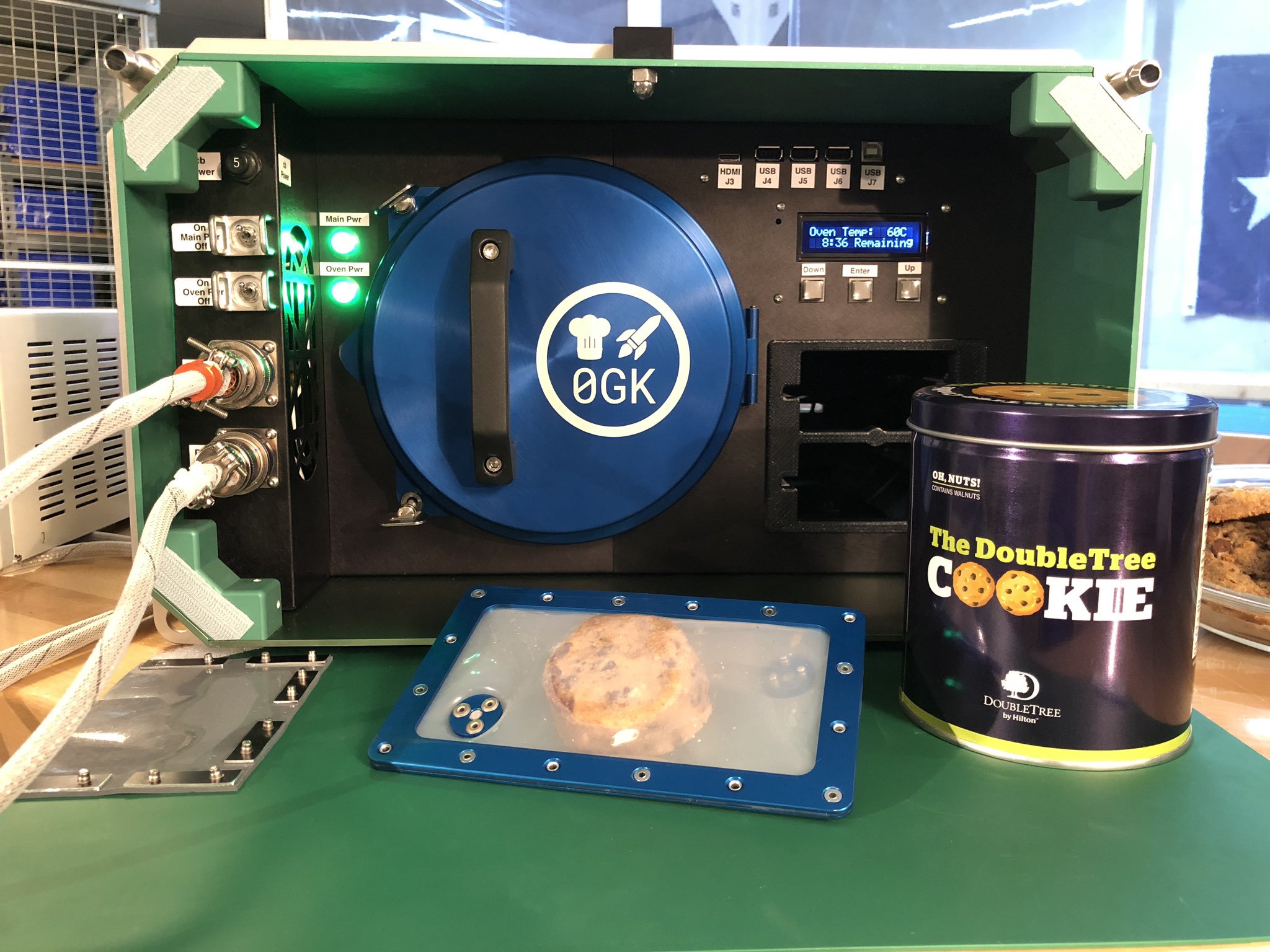 The prior Cygnus launch on the NG-11 mission was witnessed by the largest crowd ever gathered for an Antares liftoff as the rocket soared in its upgraded 230 configuration at 4:46 p.m. EDT (2046 GMT) Wednesday, April 17 from seaside Launch Pad 0A at the Virginia Space Mid-Atlantic Regional Spaceport (MARS) at NASA's Wallops Flight Facility in Virginia.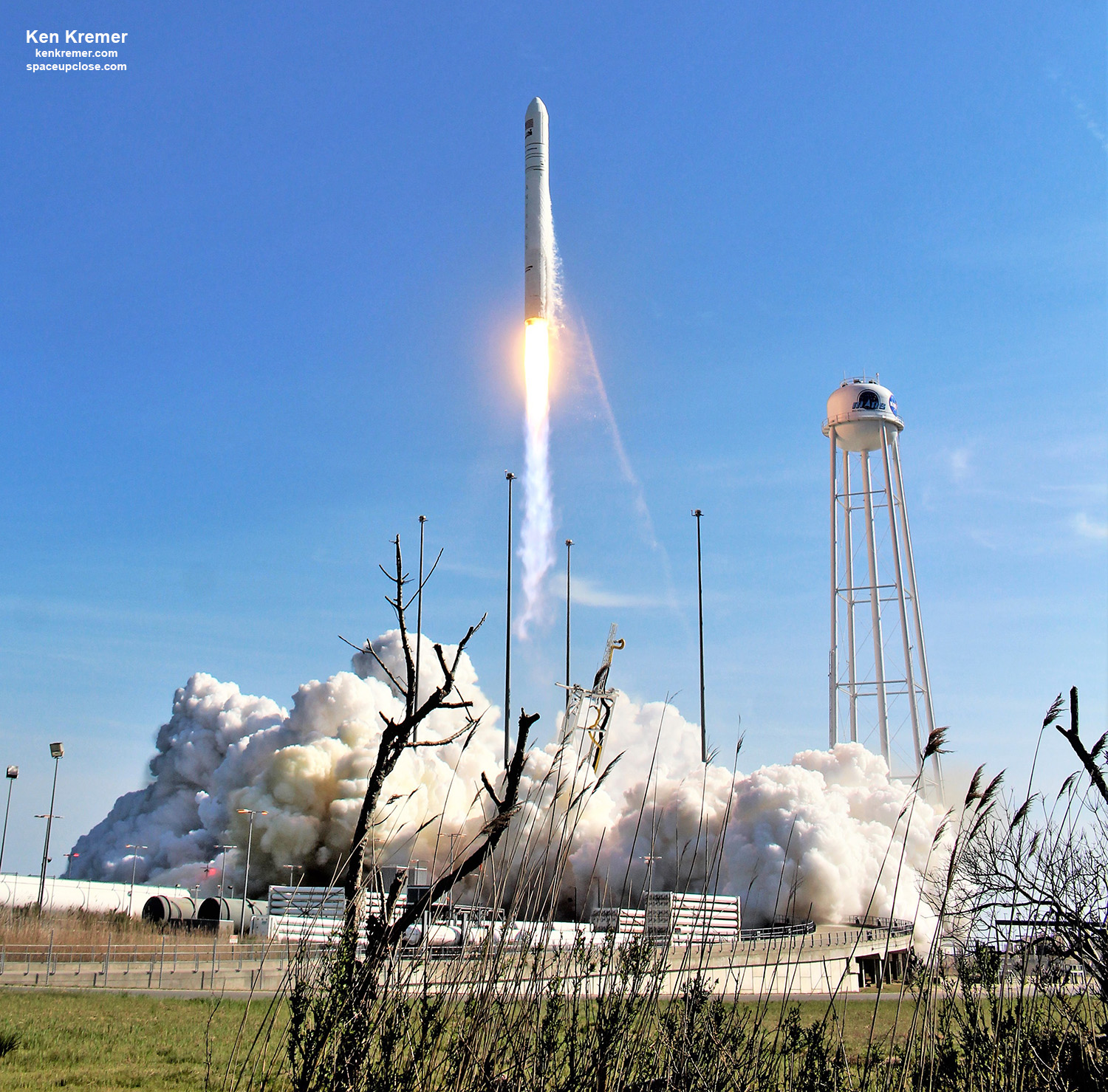 This will be the first mission under Northrop Grumman's CRS-2 contract with NASA starting this fall of 2019. Under Northrop Grumman's Commercial Resupply Services contract, the company will flew 11 missions to the ISS.
Watch for Ken's continuing onsite coverage of the NG-12 mission from onsite at NASA Wallops.
Stay tuned here for Ken's continuing Earth and Planetary science and human spaceflight news: www.kenkremer.com –www.spaceupclose.com – twitter @ken_kremer – email: ken at kenkremer.com
Dr. Kremer is a research scientist and journalist based in the KSC area, active in outreach and interviewed regularly on TV and radio about space topics.
………….
Ken's photos are for sale and he is available for lectures and outreach events
Nov 23, 1 PM, Titusville, FL: "50th Anniversary Apollo 12 and NASA Return to the Moon with Project Artemis" at American Space Museum, Titusville, FL. Lecture free. open to the public.
Website: www.spacewalkoffame.org