For SpaceUpClose.com & RocketSTEM
PORT CANAVERAL, FL – Scorched like a toasty marshmallow after surviving the scorching heats of reentry into Earth's atmosphere upon departing the International Space Station (ISS) and safely splashing down in the Gulf Of Mexico near Pensacola, Florida, days ago on Monday evening, Nov. 8 – carrying a multinational quartet of astronauts back home from the Crew-2 mission – the recovered SpaceX Crew Dragon Endeavour sailed triumphantly into Port Canaveral, arriving Saturday morning, Nov. 13, aboard the recovery ship that hoisted the spaceship from the sunshine states west coast waters and then journeyed all the way around the peninsula back to home port on the east coast during the week over some 4.5 days.
The orange and black striped toasted marshmallow looking colored Crew -2 Crew Dragon Endeavour arrived at the mouth of Port Canaveral atop the Go Navigator recovery vessel at about 8:15 a.m. ET, Saturday, Nov. 13 sailing due east past Jetty Park Pier after traveling north up Florida's Atlantic coast following a voyage past the Keys and Miami.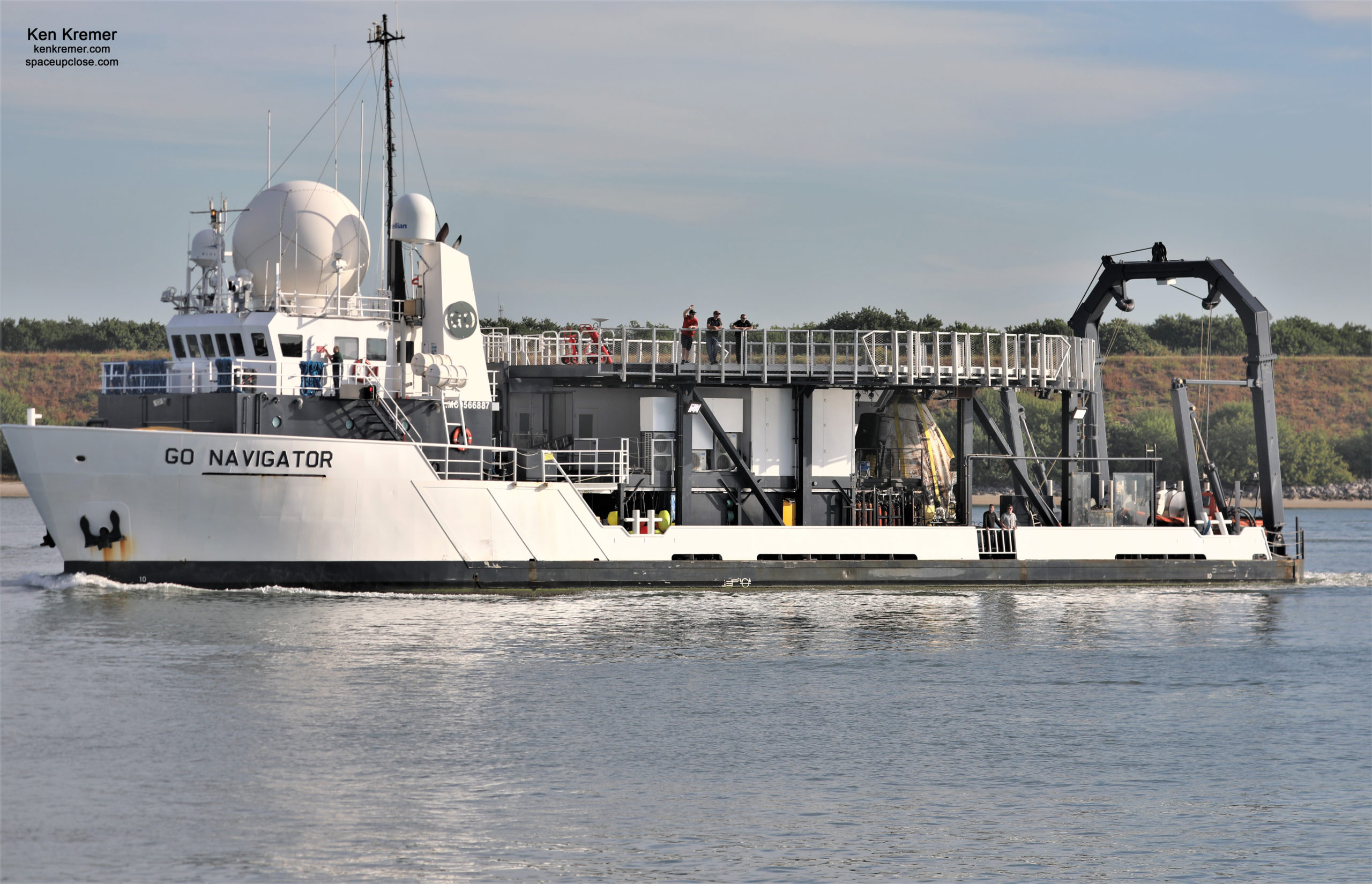 Crew Dragon's slow speed arrival at Port Canaveral came just an hour after the 7:19 a.m. ET fast speed blastoff of a SpaceX Falcon 9 on the Starlink 4-1 mission hauling a batch of 53 upgraded Starlink broadband internet satellites to low Earth Orbit (LEO) from Cape Canaveral Space Force Station.
Be sure to check out our Crew Dragon arrival photos and Starlink launch story and photos from the Space UpClose team of Ken Kremer and Jean Wright.
Quite a few crew members onboard GO Navigator waved at us while passing by in the channel.
Overall it took about 30 minutes from the entrance into port until Crew Dragon and Go Navigator berthed at SpaceX's normal location at the North Cargo Pier 6 spot where the SpaceX Naval Fleet including the Falcon 9 recovery droneships also dock
Recovered scorched marshmallow looking @SpaceX #CrewDragon Endeavour sailed into @PortCanaveral moments ago on GO Navigator -just 1 h after #spacex #StarLink 4-1 launch 719 am. 1st quick looks. Credit: Ken Kremer https://t.co/G4fyocB13Q pic.twitter.com/qtbPsA85Vz

— Ken Kremer (@ken_kremer) November 13, 2021
About a day later Endeavour was craned off GO Navigator and returned to the Cape for checkouts, analysis and processing.
The gumdrop shaped Crew Dragon measures  4 m (13 ft) in diameter, 8.1 m (27 ft) in height with the trunk with a sidewall angle of 15°.
The pressurized volume is 9.3 m3 (330 cu ft), 12.1 m3 (430 cu ft) unpressurized and 37 m3 (1,300 cu ft) unpressurized with extended trunk section.
The NASA SpaceX Crew-2 mission finally came to an end after some 200 days in orbit for the team of four multinational astronauts from the US, France and Japan when Crew Dragon Endeavour spacecraft safely splashed down in the Gulf of Mexico off the west coast of Florida nearby Pensacola, Monday evening, Nov. 8, at about 10:33 p.m. ET (0333 GMT on Nov. 9).
The astronaut quartert comprised NASA astronauts Shane Kimbrough and Megan McArthur, JAXA (Japan Aerospace Exploration Agency) astronaut Akihiko Hoshide, and ESA (European Space Agency) astronaut Thomas Pesquet.
They returned to Earth via a parachute-assisted splashdown at 10:33 p.m. EST just over eight hours after undocking from the space station at about 2:05 p.m. ET, Nov. 8.
Crews aboard SpaceX recovery vessels successfully quickly recovered the spacecraft and astronauts and hoisted it onboard the SpaceX GO Navigator vessel in record time of about 40 minutes.
The astronauts had at last departed their home for the past six months – the International Space Station (ISS) – after several delays related to weather as well as juggling the competing priorities with the new Crew-3 mission launch from Florida's other coast namely the Space Coast.
Crew-2 completed NASA's second long-duration commercial crew mission and second SpaceX crew rotation mission to the orbiting research outpost.
Crew Dragon Endeavour has also now completed two astronaut flights to the ISS for NASA.
The SpaceX Crew Dragons are being certified to fly 5 times to space and back.
Endeavour's first flight involved the history making Demo-2 mission that launched on May 30, 2020 with NASA astronauts Doug Hurley and Bob Behnken and stayed two months at the orbiting research outpost.
Demo-2 marked the resumption of US human space flights from American soil since the shutdown of the NASA's space shuttle program after its final flight on the STS-135 mission to the ISS in July 2021
The Crew-2 mission set a record for the longest spaceflight by a U.S. crewed spacecraft.
The international crew of four spent over 199 days in orbit, surpassing the old record of 168 days set by NASA's SpaceX Crew-1 mission earlier this year – by more than a month.
The Crew-2 mission launched April 23 on a Falcon 9 rocket from NASA's Kennedy Space Center in Florida. Crew Dragon Endeavour docked to the Harmony module's forward port of the space station April 24, nearly 24-hours after liftoff.
Kimbrough, McArthur, Hoshide, and Pesquet traveled 84,653,119 statute miles during their mission, stayed 198 days aboard the space station, and completed 3,194 orbits around Earth.
Crew-2 contributed to hundreds of experiments for months aboard the @Space_Station. Here's a look at some of the science that just splashed down with them, ranging from medical @ISS_Research to the first chiles grown in space: https://t.co/QhpdA03kYR pic.twitter.com/jdoPcN290S

— NASA (@NASA) November 9, 2021
Here are more NASA photos from the Crew-2 splashdown:
Check out the additional images from the @SpaceX Crew Dragon Endeavour splashdown from @Space_Station with #Crew2 @NASA_Astronauts @astro_kimbrough and @Astro_Megan, @esa astronaut@Thom_astro, & @JAXA_en astronaut @Aki_Hoshide. 📷https://t.co/274TuZrwkS pic.twitter.com/uvJ386VoCm

— NASA HQ PHOTO (@nasahqphoto) November 9, 2021
The Crew-2 flight is part of NASA's Commercial Crew Program, which has worked with the U.S. aerospace industry to launch astronauts on American rockets and spacecraft from American soil to the space station.
The splashdown of Crew-2 comes just before the nearly two week delayed launch of NASA's SpaceX Crew-3 mission on Wednesday, Nov. 10, on another long duration mission of approximately six months.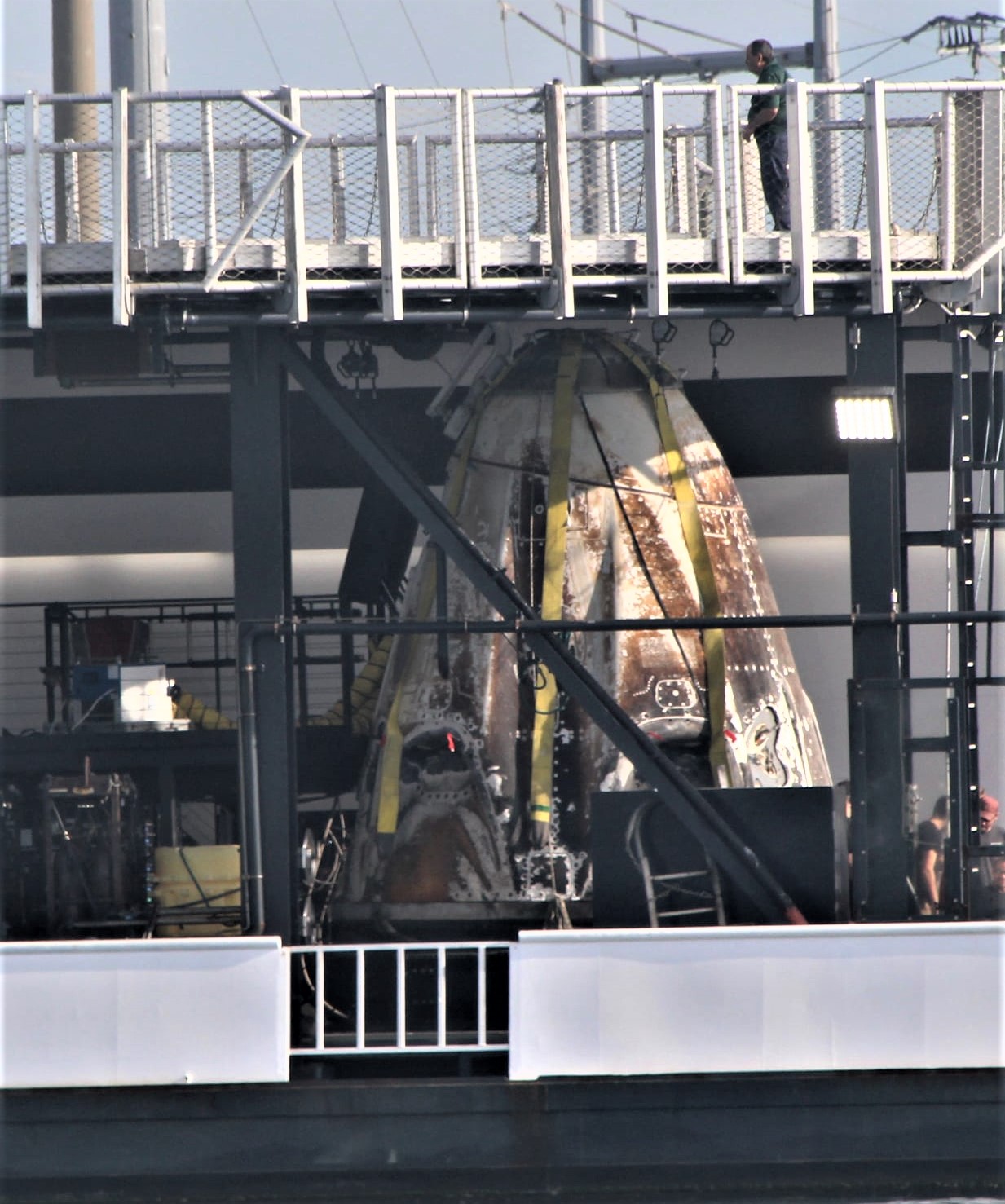 Endeavour will now be returned for inspection and processing to 'SpaceX's Dragon Lair' in Florida, where teams will examine the spacecraft's data and performance throughout the flight – and prepare it for another future flight to space.
Meanwhile NASA's Crew-3 quartet of astronauts from the US and Germany are serving aboard the ISS for the next six months until the Crew-4 mission launches around NET mid-April 2022.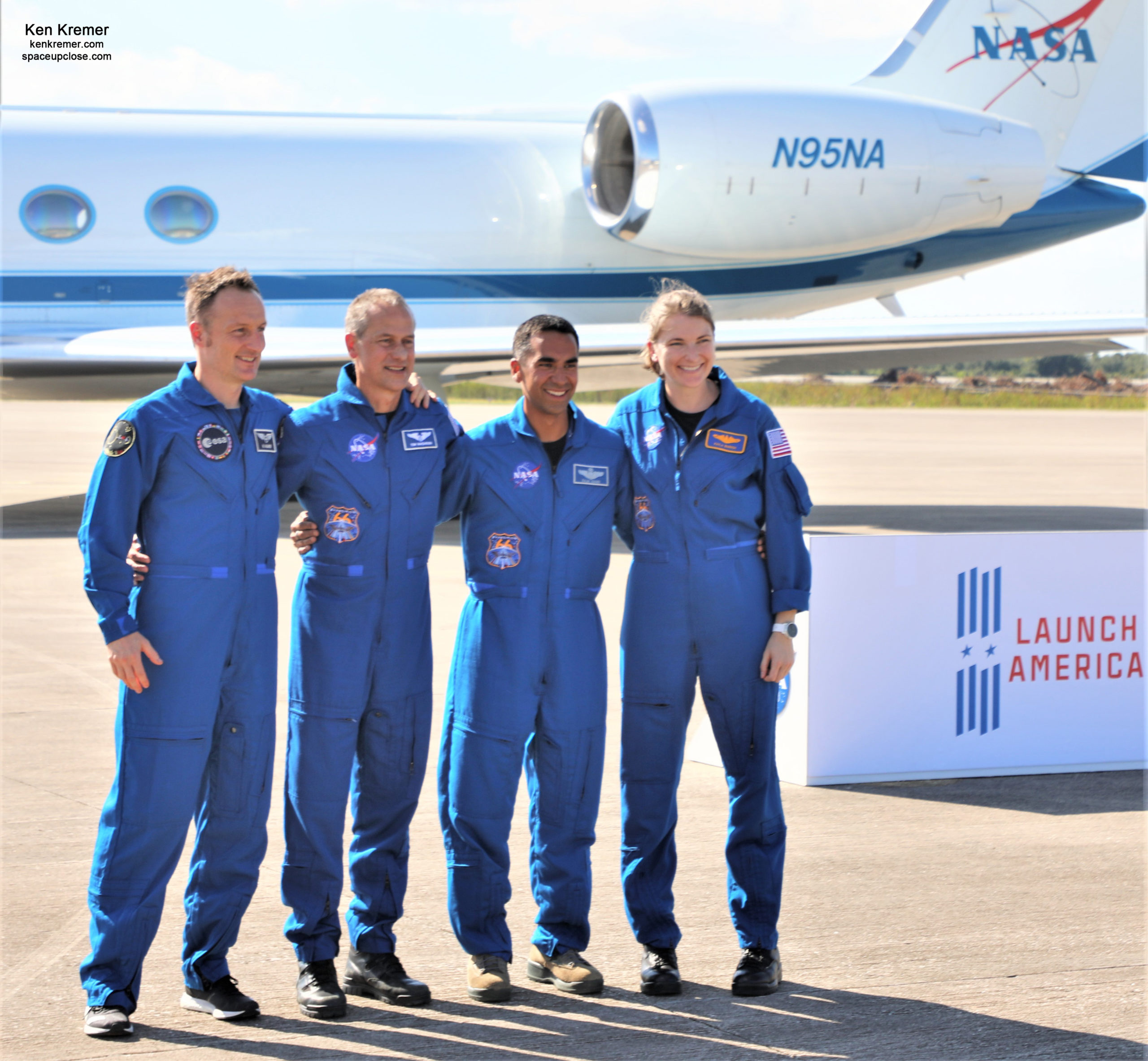 Ken's post launch comments about Crew-3 were featured on local ABC, NBC and Fox TV News outlets in Orlando on Nov. 10 & 11:
https://www.wftv.com/news/local/crew-3-set-dock-iss-ahead-schedule/WTWJDQPWPVCKZIRHW6Y7QMNCOY/
https://www.wesh.com/article/crew-3-launch-wednesday/38212223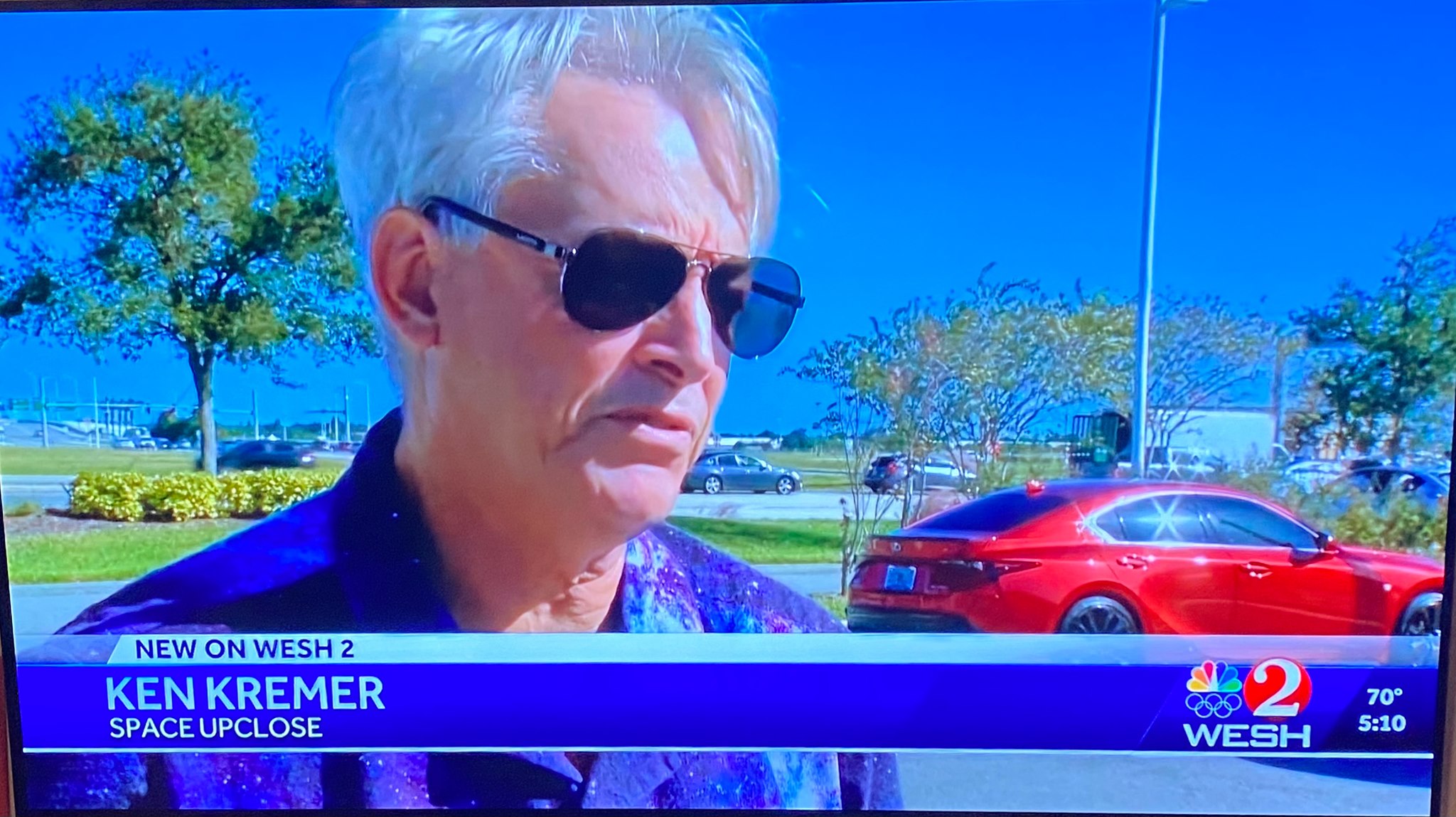 Ken's prelaunch comments about the Crew-2 & Crew-3 missions were featured on local CBS, NBC and Fox TV News outlets in Orlando:
Nov. 8 & 9 broadcasts on WESH 2 NBC and Fox 35:
https://www.wesh.com/article/crew-2-splashdown-monday/38192367
https://www.fox35orlando.com/video/999350
Nov. 5 broadcast on WKMG CBS 6 Orlando TV News:
https://www.clickorlando.com/news/local/2021/11/05/spacex-nasa-weigh-astronaut-rotation-schedule-as-bad-weather-continues-launch-delay/
Ken's photos of the Crew-3 static fire test were featured on WKMG CBS 6 Orlando TV News
Ken is onsite at KSC for the Crew-3 mission launch campaign
Watch Ken's continuing reports about SpaceX Crew and Cargo Dragons, Artemis, SLS, Orion and NASA missions, Lucy Asteroid mission, Blue Origin and Space Tourism, SpaceX  Starlink, Commercial Crew and Starliner and Crew Dragon and onsite for live reporting of upcoming and recent SpaceX and ULA launches including Crew 1 & 2 & 3, ISS, Solar Orbiter, Mars 2020 Perseverance and Curiosity rovers, NRO spysats and national security missions and more at the Kennedy Space Center and Cape Canaveral Space Force Station.
Stay tuned here for Ken's continuing Earth and Planetary science and human spaceflight news: www.kenkremer.com –www.spaceupclose.com – twitter @ken_kremer – email: ken at kenkremer.com
Dr. Kremer is a research scientist and journalist based in the KSC area, active in outreach and interviewed regularly on TV and radio about space topics.
………….
Ken's photos are for sale and he is available for lectures and outreach events
Please consider supporting Ken's work by purchasing his photos and/or donating at Patreon:
https://www.patreon.com/kenkremer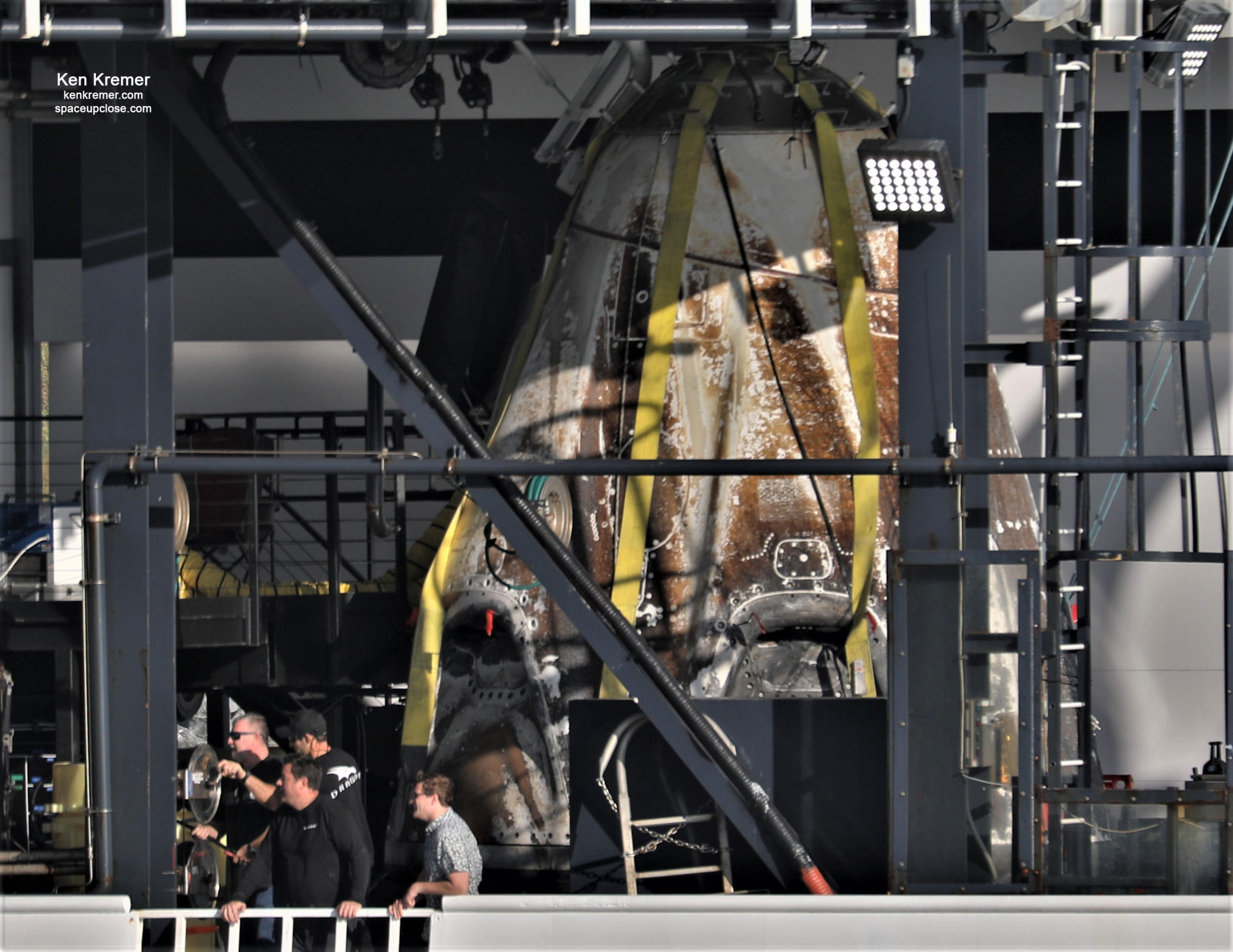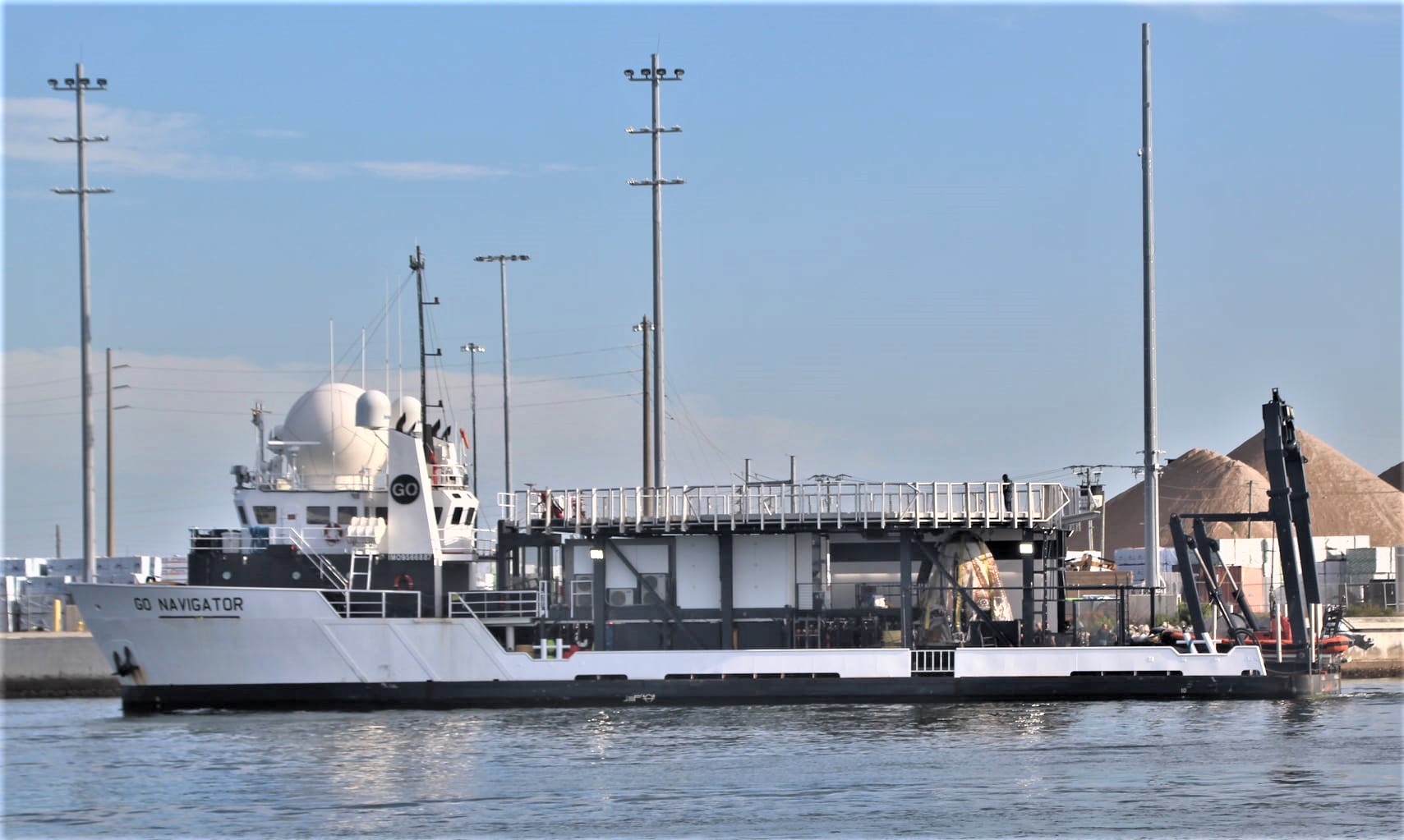 x