For SpaceUpClose.com & RocketSTEM
KENNEDY SPACE CENTER/CANAVERAL NATIONAL SEASHORE, FL –  A serious leak of hazardous hydrogen forced NASA to halt the 3rd attempt to complete the critical countdown and fueling test of cryogenic propellants known as the Wet Dress Rehearsal (WDR) on Thursday, April 14, for the first ever Space Launch System (SLS) Mega Moon rocket planned to launch on the unpiloted Artemis 1 lunar mission.
Upon further evaluation NASA announced late Saturday night, April 16, that the SLS rocket will have to be rolled back to the VAB to locate, fix and repair the source of the hydrogen leak discovered in the tail service mast umbilical at the base of the mobile launcher during loading of liquid hydrogen (LH2) propellent into the SLS core stage  Thursday afternoon – and resolve other significant problems as well such as the faulty upper stage Helium (He) check valve.
"NASA will take advantage of the opportunity to roll SLS and Orion back to the Vehicle Assembly Building," NASA wrote in a statement late Saturday, April 16.
Initially NASA announced at a telecon on Friday afternoon they would try the next WDR attempt for NET April 21 – but only if the LH2 leak was satisfactorily resolved in time.
During the attempt to carry out a modified version of the two-day long Wet Dress Rehearsal the SLS launch team encountered multiple problems starting early Thursday due to outages off-site supplier of gaseous nitrogen used for the test, excessively high pressures encountered during the propellant loading operations of both some 730,000 gallons of LH2 and liquid oxygen (LOX) into the booster's humongous first stage known as the core stage.
"Teams concluded today's wet dress rehearsal test at approximately 5:10 p.m. EDT after observing a liquid hydrogen (LH2) leak on the tail service mast umbilical, which is located at the base of the mobile launcher and connects to the rocket's core stage. The leak was discovered during liquid hydrogen loading operations and prevented the team from completing the test," NASA officials wrote Thursday.
During Thursday's test the SLS launch team was only able to fuel the core stage with about 49% of LOX and 5% of LH2 when the official scrub was called at approximately 4 p.m. EDT.
"Hydrogen is extremely hazardous, cold, and a small molecule that is known for leaking," tweeted Jeremy Parsons, deputy manager of NASA's exploration ground systems program at Kennedy.
"All of these systems have been sealed, leak checked and tested to the highest extent possible prior to wet dress rehearsal."
I was observing the WDR from Playalinda Beach and Canaveral National Seashore Wildlife Refuge Thursday afternoon.
Enjoy my photos of the SLS rocket showing LOX venting from the bottom and top of the core stage featured herein.
SLS is standing vertical atop launchpad 39B atop the Mobile Launcher at the Kennedy Space Center (KSC) in Florida since rolling out from the iconic VAB on March 17 – detailed in our earlier stories and photos.
The call to stations for the NASA SLS launch team had taken place as planned on Tuesday, April 12 for the modified two-day long Wet Dress Rehearsal with the clock ticking towards cryogenic tanking slated to start on Thursday, April 14 at Launch Complex 39B at KSC.
The modified WDR was already planned to focus on core stage cryogenic tanking and mostly skip tanking of the upper stage known as the  interim cryogenic propulsion stage (ICPS)  because of a faulty helium purge valve that forced the scrub of the second WDR attempt last Monday, April 4 and because it cannot be replaced while the SLS stack is standing at the pad.
However the accumulated problems have now forced NASA to scrub the WDR and plan to roll SLS back to the VAB sometime soon.
"Due to upgrades required at an off-site supplier of gaseous nitrogen used for the test, NASA will take advantage of the opportunity to roll SLS and Orion back to the Vehicle Assembly Building to replace a faulty upper stage check valve and a small leak on the tail service mast umbilical. During that time, the agency also will review schedules and options to demonstrate propellant loading operations ahead of launch," NASA wrote in a statement late Saturday, April 16.
The problems with the gaseous nitrogen vendor Air Liquid caused two rather long WDR countdown delays right from the start and must be rectified quickly to prevent this from happing again during further attempts which could forced scrubs to WDRs and an actual Artemis launch.
The rollback date has not been announced and further details should be forthcoming at the next media teleconference scheduled for 3 p.m. EDT on Monday, April 18.
NASA will "discuss the status of the next wet dress rehearsal test of the agency's Space Launch System (SLS) rocket and Orion spacecraft at Launch Complex 39B at the agency's Kennedy Space Center in Florida ahead of the uncrewed Artemis I lunar mission."
This week is a busy week already with the return of the Axiom Mission-1 (AX-1) from the International Space Station (ISS) planned for Tuesday and Wednesday, April 19 and 20 and the launch of NASA's Crew-4 mission to the station planned for Saturday, April 23, on a recycled SpaceX Falcon 9 and the new Crew Dragon Freedom.
This counted as the third attempt to carry out the WDR after two earlier scrubs called on April 3 & 4.
Before the scrub the team was able to accomplish several other important objectives such as chilling down the lines used to load propellant into the upper stage
"Before ending the test, teams also met test objectives for the interim cryogenic propulsion stage by chilling down the lines used to load propellant into the upper stage. They did not flow any propellant to the stage because of an issue with a helium check valve identified several days ago." NASA said.
The rollback for repairs is certain to push the Artemis launch date to the right by several weeks.
The WDR is a practice countdown simulation, propellant fueling and verification of every activity on launch day except for ignition and liftoff – so its a critical learning process to help ensure all goes well on the real launch day for the unpiloted Artemis 1 lunar test mission now likely NET July.
When the faulty ICPS helium check valve and other issues are fixed SLS will again rollout to pad 39B for a second time.
The launch team will fuel the SLS core stage with hundreds of thousands of gallons of propellants – including 537,000 gallons of liquid hydrogen fuel and 196,000 gallons  of liquid oxygen and also proceed to the upper stage,
Thus the primary objectives related to fueling the ICPS should then be achieved.
The faulty helium check valve is rather small in size measuring only about 1 inch by 3 inches and is easily replaceable once back in the VAB but is not easily accessible for a swap out at pad 39B.
During the WDR the Artemis I launch team will "run through operations to load propellant into the rocket's tanks, conduct a full launch countdown, demonstrate the ability to recycle the countdown clock, and also drain the tanks to practice the timelines and procedures the team will use for launch."
The countdown dress rehearsal will proceed two times to the terminal countdown sequence : First to the T Minus 33 second mark and then be intentionally aborted before engine ignition to demonstrate that the countdown can be recycled and then restarted to aborted a second time at T Minus 9.3 seconds, explained NASA Artemis launch director Charlie Blackwell-Thompson at NASA media briefings.
The propellant loading of both stages is expected to last about eight hours or so, said Blackwell-Thompson
The malfunctioning helium check valve is required to complete the ICPS tanking which will now be part of the WDR whenever it takes place.
"Engineers have identified a helium check valve that is not functioning as expected, requiring these changes to ensure safety of the flight hardware. Helium is used for several different operations, including purging the engine, or clearing the lines, prior to loading propellants during tanking, as well as draining propellant. A check valve is a type of valve that allows liquid or gas to flow in a particular direction and prevents backflow. The helium check valve is about three inches long and prevents the helium from flowing back out of the rocket," NASA said earlier
The next few potential target launch windows are as follows and depend on orbital mechanics between the Earth, the Moon and interactions with other physical factors:  June 6 to 16, June 29 to July 17 and July 26 to Aug. 9,
Enjoy our photos of the NASA SLS moon rocket vertical at pad 39B taken by the Space UpClose team of Ken Kremer and Jean Wright taken during and after rollout and different locations at KSC and offsite on Canaveral National Seashore
Following a successful WDR campaign the SLS/Orion will likely roll back to the VAB for data reviews, final checkouts and refurbishments so they can commence the actual Artemis 1 launch campaign.
NASA will announce a target launch date for Artemis 1 only after thoroughly analyzing all the WDR test results.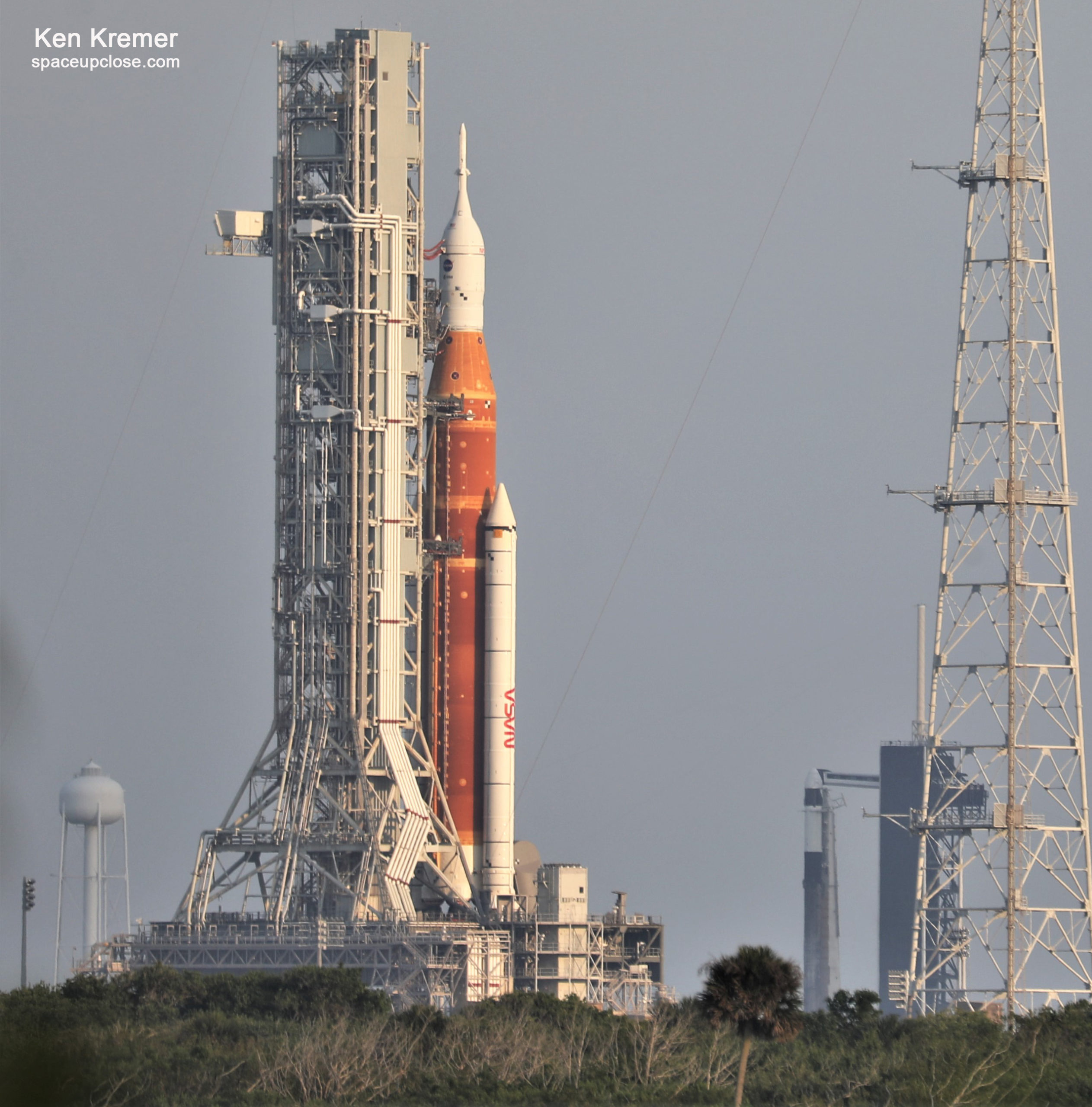 Watch Ken's commentary about NASA SLS WDR demo test, NASA Crew 4 and Space AX-1 mission
Apr 15/16 & Apr 12/13:  WFTV ABC News Orlando and WKMG CBS 6 Orlando featured my comments about NASA SLS WDR wet dress rehearsal countdown and fueling demo test and human launches to ISS:
https://www.wftv.com/news/video-small-valve-forcing-nasa-modify-critical-test-artemis-i/83355ff1-ce09-4b83-bbf0-23446b95abf7/
https://www.clickorlando.com/news/local/2022/04/12/nasa-resumes-final-test-before-launch-of-sls-moon-rocket/
"The SLS rocket is a great rocket but it's very expensive," Space UpClose journalist Dr. Ken Kremer said. "But that's the only way we can really get our astronauts to the moon."
Apr 6: WFTV ABC 9 Orlando featured my comments about 1st fully private astronaut launch to ISS by SpaceX on AX-1 mission:https://www.wftv.com/news/local/brevard-county/first-all-private-astronaut-mission-iss-set-liftoff-kennedy-space-center-this-week/FYE5QAT735BA7G42O6IVCJGB4Q/
Apr 4 & 5: WFTV ABC News Orlando and Fox 35 Orlando featured my comments about NASA SLS WDR wet dress rehearsal countdown and fueling demo test and human launches to ISS
https://www.wftv.com/news/local/nasa-artemis-mission-hold-testing-delayed-second-time/L637Y3454VDJPBZRH4RZMM2XRQ/
https://www.fox35orlando.com/news/nasa-resumes-artemis-i-wet-dress-rehearsal-countdown
Watch Ken's continuing reports about SpaceX Axiom-1, Artemis, SLS, Orion and NASA missions, JWST, IXPE, DART, Lucy Asteroid mission, GOES, SpaceX Cargo and Crew Dragons, SpaceX Starlink, Commercial Crew and Starliner and Crew Dragon, Blue Origin and Space Tourism, and onsite for live reporting of upcoming and recent SpaceX and ULA launches including Crew 1 & 2 & 3, ISS, Solar Orbiter, Mars 2020 Perseverance and Curiosity rovers, NRO spysats and national security missions and more at the Kennedy Space Center and Cape Canaveral Space Force Station.
Stay tuned here for Ken's continuing Earth and Planetary science and human spaceflight news: www.kenkremer.com –www.spaceupclose.com – twitter @ken_kremer – email: ken at kenkremer.com
Dr. Kremer is a research scientist and journalist based in the KSC area, active in outreach and interviewed regularly on TV and radio about space topics.
………….
Ken's photos are for sale and he is available for lectures and outreach events
Please consider supporting Ken's work by purchasing his photos and/or donating at Patreon:
https://www.patreon.com/kenkremer
x