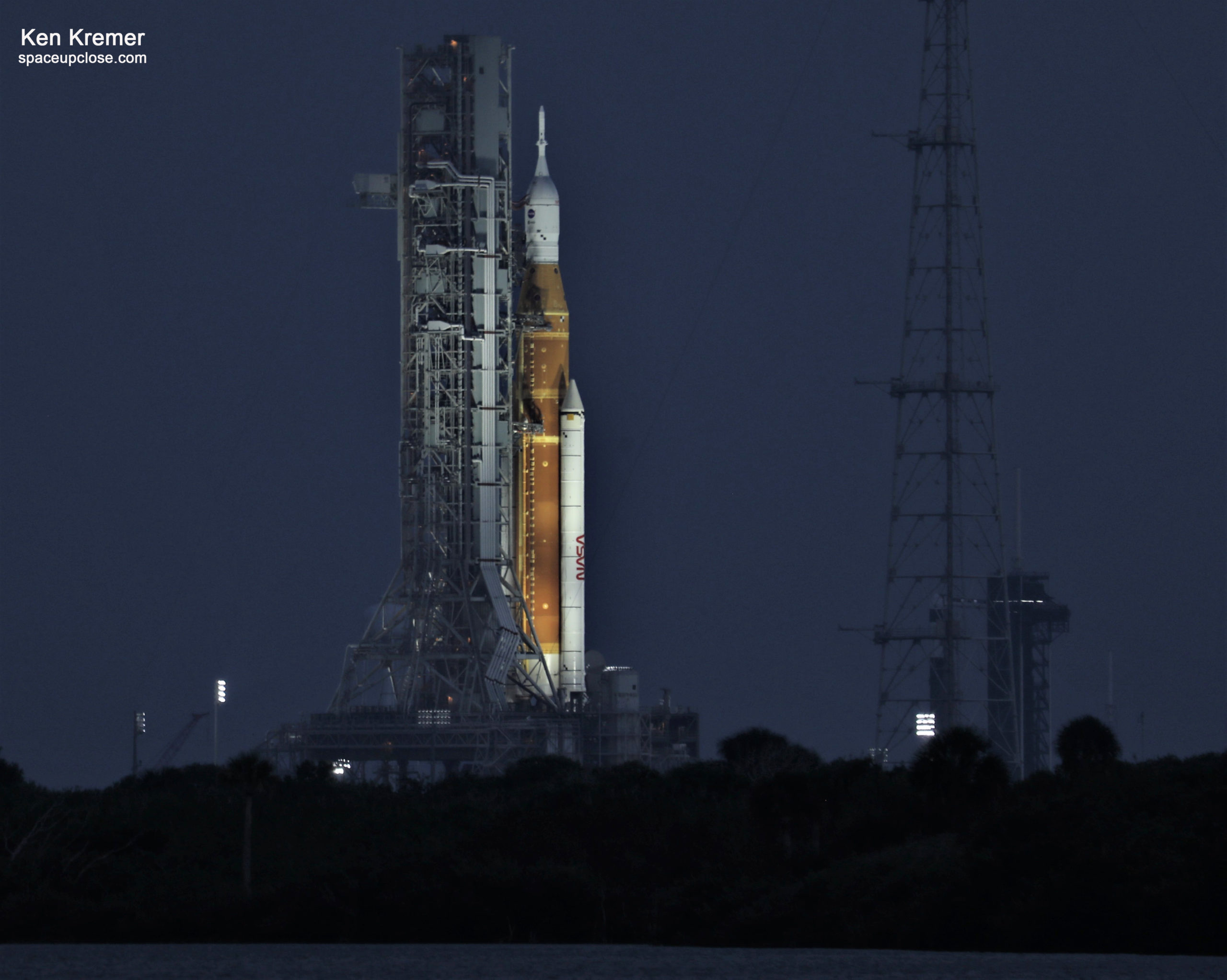 For SpaceUpClose.com & RocketSTEM
KENNEDY SPACE CENTER/CANAVERAL NATIONAL SEASHORE, FL –  The countdown has begun ! –  as NASA restarts its new plan to proceed with a modified version of the critical countdown and fueling test known as the Wet Dress Rehearsal (WDR) for the first ever Space Launch System (SLS) Mega Moon rocket rolled out to its launchpad atop the Mobile Launcher at the Kennedy Space Center (KSC) in Florida.
The call to stations for the NASA SLS launch team took place as planned on Tuesday, April 12 for the modified two-day long Wet Dress Rehearsal with the clock ticking towards cryogenic tanking slated to start on Thursday, April 14 at Launch Complex 39B at KSC.
All elements of SLS will be powered up overnight leading to the tanking operation and terminal countdown.
This counts as the third attempt to carry out the WDR after scrubs called on Apr 3 & 4.
The mission management team will meet Thursday morning, April 14, and decide  whether to proceed with a GO for tanking.
The core stage tanking is expected to take about 8 hours and will proceed twice to the terminal countdown sequence point before being intentionally aborted before engine ignition.
The modified WDR will focus on core stage cryogenic tanking and mostly skip tanking of the upper stage known as the  interim cryogenic propulsion stage (ICPS)  because of a faulty helium purge valve that forced the scrub of the second WDR attempt last Monday, April 4 and because it cannot be replaced while the SLS stack is standing at the pad.
"Teams are proceeding with a modified test, primarily focused on tanking the core stage and minimal propellant operations on the interim cryogenic propulsion stage (ICPS) with the ground systems at Kennedy," NASA said.
The WDR is a practice countdown simulation, propellant fueling and verification of every activity on launch day except for ignition and liftoff – so its a critical learning process to help ensure all goes well on the real launch day for the unpiloted Artemis 1 lunar test mission now likely NET later June but TBD
Therefore the launch team will only fuel the SLS core stage with hundreds of thousands of gallons of propellants – including 537,000 gallons of liquid hydrogen fuel and 196,000 gallons  of liquid oxygen – but not the ICPS upper stage.
Thus the primary objectives related to fueling the ICPS will not be achieved.
At a media briefing Monday, April 11, NASA officials defended their decision to conduct the modified WDR minus ICPS tanking.
"We believe that this is the best option moving forward," said Charlie Blackwell-Thompson, NASA Artemis launch director, during the briefing.
"We believe that we'll be able to meet the majority of our test objectives and provide us with a reasonably good set of data prior to rollback" to the Vehicle Assembly Building (VAB)."
NASA officials would not say whether another WDR would be needed after SLS is rolled back to the VAB to replace the helium check valve.
"We'll take a look at where we're at and ask ourselves what's the right next step," said Tom Whitmeyer, deputy associate administrator for common exploration systems development at NASA Headquarters.
"There's a value of taking a step-by-step approach."
The faulty helium check valve is rather small in size measuring only about 1 inch by 3 inches and is easily replaceable once back in the VAB but is not easily accessible for a swap out at pad 39B.
The core stage will be fueled with cryogenic liquid oxygen (LOX) and liquid hydrogen (LH2) that was planned to start around 7 a.m. EDT (1100 GMT) on WDR test day.
The ICPS propellent lines will be chilled down as a valuable check for any leaks in the systems – but no LOX or LH2 fuel will flow.
In response to my question at the briefing John Blevins, NASA SLS chief engineer, said it was not possible to do a tanking test of just the ICPS upper stage alone – in case another WDR tanking test is needed. The SLS core stage must be loaded first.
If all goes well on Thursday the team is targeting completion with cutoff for 2:40 p.m.
The team has given the GO on Wednesday, April 13, to continue with WDR preparations and the weather looks favorable.
"The mission management team for Artemis I met this morning to review the status of operations and continues to press ahead toward terminal countdown for the wet dress rehearsal test."
"Meteorologists with the U.S. Space Force Space Launch Delta 45 currently predict favorable weather conditions for tanking on April 14. There is currently a 5% chance of lightning within five nautical miles of the launch pad when tanking begins. Weather constraints stipulate there must be less than a 20% chance lightning within 5 nautical miles of pad during the first hour of tanking. Winds must not be above 37.5 knots and the temperature cannot be below 41 degrees Fahrenheit."
Late Wednesday technicians completed the umbilical connections and completed a pad walkdown for verify that all connections and configured correctly and there is no extraneous and potentially hazardous debris or FOD is anywhere near the rocket.
"Final preparations on the umbilicals to ensure connectivity between the mobile launcher, the Space Launch System rocket and Orion spacecraft were completed this evening."
"The umbilicals provide power, communications, coolant, and fuel to different parts of the rocket. Additional accessories provide access and stabilize the rocket and spacecraft. During launch, each umbilical releases from its connection point, allowing the rocket and spacecraft to lift off safely from the launch pad."
"Teams have also completed a final walkdown at the pad to verify the rocket and ground equipment are in the correct configuration for tanking operations checking to ensure no foreign object debris is present near the rocket that could present a hazard during the test."
During the WDR the Artemis I launch team will "run through operations to load propellant into the rocket's tanks, conduct a full launch countdown, demonstrate the ability to recycle the countdown clock, and also drain the tanks to practice the timelines and procedures the team will use for launch."
The countdown dress rehearsal will proceed two times to the terminal countdown sequence: First to the T Minus 33 second mark and then be intentionally aborted before engine ignition to demonstrate that the countdown can be recycled and then restarted to aborted a second time at T Minus 9.3 seconds, explained NASA Artemis launch director Charlie Blackwell-Thompson at NASA media briefings.
The propellant loading is expected to last about eight hours or so, said Blackwell-Thompson
The malfunctioning helium check valve is required to complete the ICPS tanking which will not now be part of the WDR
"Engineers have identified a helium check valve that is not functioning as expected, requiring these changes to ensure safety of the flight hardware. Helium is used for several different operations, including purging the engine, or clearing the lines, prior to loading propellants during tanking, as well as draining propellant. A check valve is a type of valve that allows liquid or gas to flow in a particular direction and prevents backflow. The helium check valve is about three inches long and prevents the helium from flowing back out of the rocket." 
"Following the modified test, the Space Launch System rocket and Orion spacecraft will return to the Vehicle Assembly Building (VAB) where engineers will evaluate the valve and replace if needed. Teams are confident in the ability to replace the valve once back in the VAB."   
The team would not speculate on the impact on a launch date for Artemis 1
However the potential target launch windows are as follows and depend on orbital mechanics between the Earth, the Moon and interactions with other physical factors:  June 6 to 16, June 29 to July 17 and July 26 to Aug. 9,
Enjoy our photos of the NASA SLS moon rocket vertical at pad 39B taken by the Space UpClose team of Ken Kremer and Jean Wright taken during and after rollout and different locations at KSC and offsite on Canaveral National Seashore
Following a successful modified WDR campaign the SLS/Orion will roll back to the VAB for data reviews, final checkouts and refurbishments and then the team will decide if another WDR is needed or they can commence the actual Artemis 1 launch campaign commences.
NASA will announce a target launch date for Artemis 1 after thoroughly analyzing all the WDR test results.
For a brief few days in early April a pair of rockets and spaceships designed to carry humans to space were standing simultaneously vertical at the sister pads at the same time Launch Pads 39B and 39A at the Kennedy Space Center (KSC) in Florida for the first time since 2009 – namely NASA's SLS and SpaceX's Falcon 9.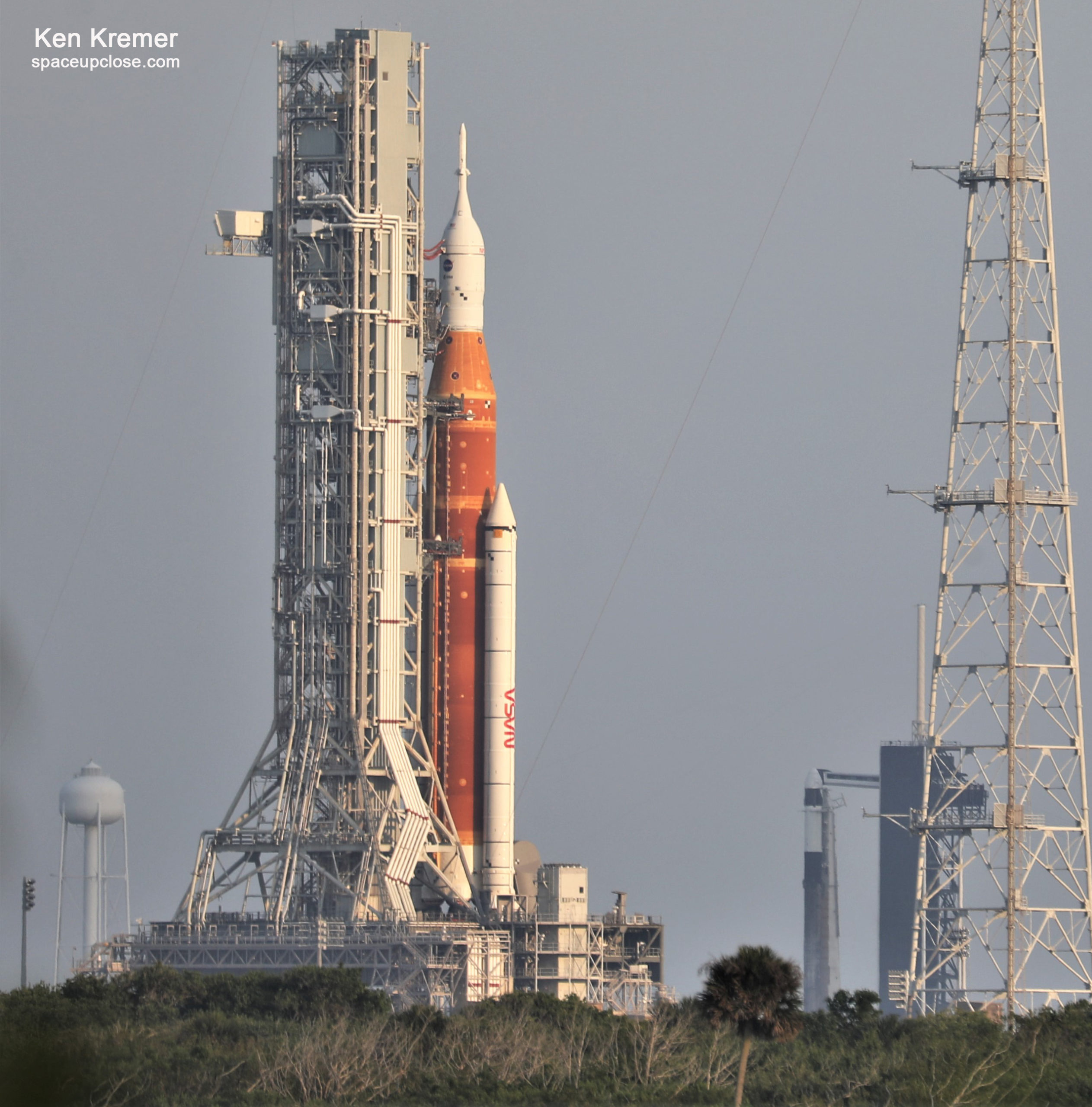 Watch Ken's commentary about NASA SLS WDR demo test, NASA Crew 4 and Space AX-1 mission
Apr 12/13:  WFTV ABC News Orlando and WKMG CBS 6 Orlando featured my comments about NASA SLS WDR wet dress rehearsal countdown and fueling demo test and human launches to ISS:
https://www.wftv.com/news/video-small-valve-forcing-nasa-modify-critical-test-artemis-i/83355ff1-ce09-4b83-bbf0-23446b95abf7/
https://www.clickorlando.com/news/local/2022/04/12/nasa-resumes-final-test-before-launch-of-sls-moon-rocket/
"The SLS rocket is a great rocket but it's very expensive," Space UpClose journalist Dr. Ken Kremer said. "But that's the only way we can really get our astronauts to the moon."
Apr 6: WFTV ABC 9 Orlando featured my comments about 1st fully private astronaut launch to ISS by SpaceX on AX-1 mission:https://www.wftv.com/news/local/brevard-county/first-all-private-astronaut-mission-iss-set-liftoff-kennedy-space-center-this-week/FYE5QAT735BA7G42O6IVCJGB4Q/
Apr 4 & 5: WFTV ABC News Orlando and Fox 35 Orlando featured my comments about NASA SLS WDR wet dress rehearsal countdown and fueling demo test and human launches to ISS
https://www.wftv.com/news/local/nasa-artemis-mission-hold-testing-delayed-second-time/L637Y3454VDJPBZRH4RZMM2XRQ/
https://www.fox35orlando.com/news/nasa-resumes-artemis-i-wet-dress-rehearsal-countdown
Watch Ken's continuing reports about SpaceX Axiom-1, Artemis, SLS, Orion and NASA missions, JWST, IXPE, DART, Lucy Asteroid mission, GOES, SpaceX Cargo and Crew Dragons, SpaceX Starlink, Commercial Crew and Starliner and Crew Dragon, Blue Origin and Space Tourism, and onsite for live reporting of upcoming and recent SpaceX and ULA launches including Crew 1 & 2 & 3, ISS, Solar Orbiter, Mars 2020 Perseverance and Curiosity rovers, NRO spysats and national security missions and more at the Kennedy Space Center and Cape Canaveral Space Force Station.
Stay tuned here for Ken's continuing Earth and Planetary science and human spaceflight news: www.kenkremer.com –www.spaceupclose.com – twitter @ken_kremer – email: ken at kenkremer.com
Dr. Kremer is a research scientist and journalist based in the KSC area, active in outreach and interviewed regularly on TV and radio about space topics.
………….
Ken's photos are for sale and he is available for lectures and outreach events
Please consider supporting Ken's work by purchasing his photos and/or donating at Patreon:
https://www.patreon.com/kenkremer
x