For SpaceUpClose.com & RocketSTEM
CAPE CANAVERAL/KENNEDY SPACE CENTER, FL – The multinational four person team of Crew-3 astronauts representing NASA and ESA splashed down overnight this morning just past midnight, May 6, after concluding their 6 month science expedition aboard the International Space Station (ISS) and returning safely to Earth in their SpaceX Crew Dragon spacecraft – during an extremely busy period of crew arrivals and departures.
The NASA ESA SpaceX Crew-3 astronauts seated inside the Crew Dragon Endurance spacecraft safely splashed down Friday, May 6 in the Gulf of Mexico off the coast of Tampa, Florida, on its maiden voyage to space thereby completing the agency's third long-duration commercial crew mission to the ISS.
After a successful splashdown at 12:43am ET (04:43 UTC), the hatch is open and the #Crew3 astronauts are home. pic.twitter.com/0WpMtIdnxX

— NASA (@NASA) May 6, 2022
Crew-3 splashdown comes amid an incredibly busy time of comings and goings at the ISS.
Overall, there have been a total of 6 crew launches and landing in less than 2 months.
"Thanks for letting us take Endurance on its shakedown cruise," said Raja Chari, a U.S. Air Force colonel and veteran fighter pilot ande Crew-3 commander. "Looking forward to watching many more flights of Endurance in the future. It was a great ride. Enjoyed working with the NASA and SpaceX teams. Thanks for getting us up to the space station and back safely."
Crew-4 arrived last week and docked on April 27 and the AX-1 crew departed just days prior on April 24.
In fact there only about 39 whirlwind hours between the departure of AX-1 and the launch of Crew-4 on two separate SpaceX Crew Dragon spaceships
The international crew of four from the US and Germany spent 177 days in orbit and 175 days living and working on the orbiting research outpost as members of Expeditions 66 and 67.
And… splashdown! Dragon has safely made it home with precious cargo aboard: four #Crew3 astronauts!

Now they wait for the recovery vehicle, which is named after Shannon Walker, mission specialist for the first crewed @SpaceX mission to the @Space_Station: pic.twitter.com/VDDXdsxkbH

— NASA (@NASA) May 6, 2022
NASA astronauts Kayla Barron, Raja Chari, and Tom Marshburn, and ESA (European Space Agency) astronaut Matthias Maurer returned to Earth in an absolutely flawless parachute-assisted splashdown at 12:43 a.m. EDT.
The Crew Dragon Endurance – looking like a toasted marshmallow – and astronauts were hoisted aboard the SpaceX recovery ship  Shannon soon after splashdown.
The #Crew3 mission is officially complete!

After launching from Kennedy on Nov. 10, 2021, @SpaceX's Dragon Endurance splashed down off the coast of Florida today at 12:43am ET, bringing @Astro_Raja, @AstroMarshburn, Kayla Barron, and @Astro_Matthias home: https://t.co/wGNaM6g04x pic.twitter.com/48fiA9sNca

— NASA's Kennedy Space Center (@NASAKennedy) May 6, 2022
After returning to shore, the astronauts will fly back to NASA's Johnson Space Center in Houston.
"NASA's partnership with SpaceX has again empowered us to deliver a crew safely to the space station and back, enabling groundbreaking science that will help our astronauts travel farther out into the cosmos than ever before. This mission is just one more example that we are truly in the golden era of commercial spaceflight," said NASA Administrator Bill Nelson, in a statement.
"Kayla, Raja, Tom, and Matthias, thank you for your service and welcome home!"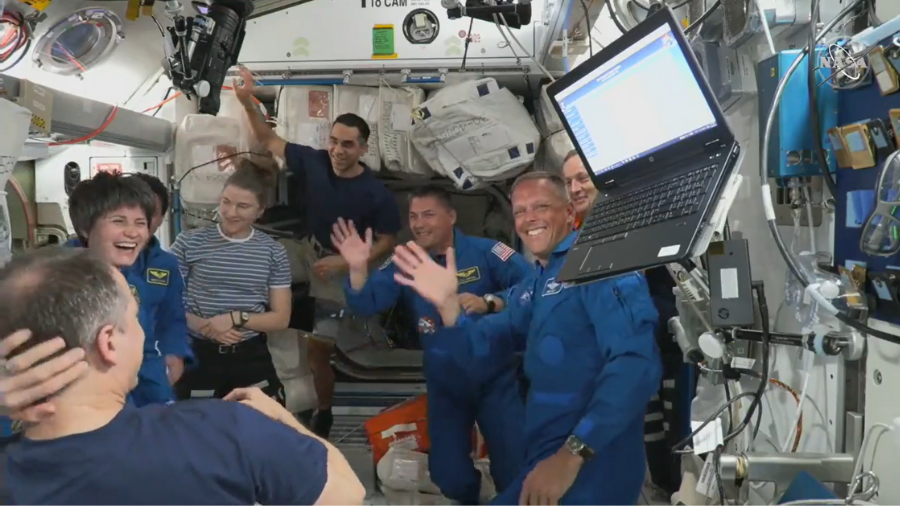 The astronauts undocked Crew Dragon Endurance from the forward port on the Harmony module one day earlier at 1:05 a.m. Thursday, May 5, to begin the trip home.
The recovered Crew Dragon Endurance should arrive back into Port Canaveral aboard recovery ship Shannon in roughly 5 days or so – depending on weather
It will be refurbished by SpaceX technicians and assigned to a future Crew Dragon mission – yet to be specified.
Watch this cool video of the flawless parachute deployment at night shortly before splashdown.
Parachutes deployed! After 175 days aboard the @Space_Station, the #Crew3 astronauts will soon splash down off the coast of Tampa and become reacquainted with our home planet. pic.twitter.com/zZImlmNMgC

— NASA (@NASA) May 6, 2022
NASA's SpaceX Crew-3 mission lifted off at 9:03 p.m. EST Wednesday, Nov. 10 (0203 GMT on Nov. 11), on a 22-story tall SpaceX Falcon 9 rocket integrated with the SpaceX Crew Dragon Endurance commercial crew astronaut ferry ship to the orbiting ISS microgravity  research laboratory from Launch Complex 39A at NASA's Kennedy Space Center in Florida.
The four multinational German and American astronauts on the NASA, ESA Crew-3 mission safely and successfully docked to the International Space Station (ISS) Thursday evening, Nov. 11 gliding into port aboard SpaceX's commercial Crew Dragon Endurance spaceship on its inaugural flight – kicking off a half year science mission at the orbiting microgravity research outpost as members of the newly enlarged Expedition 66 and later Expedition 67 crews.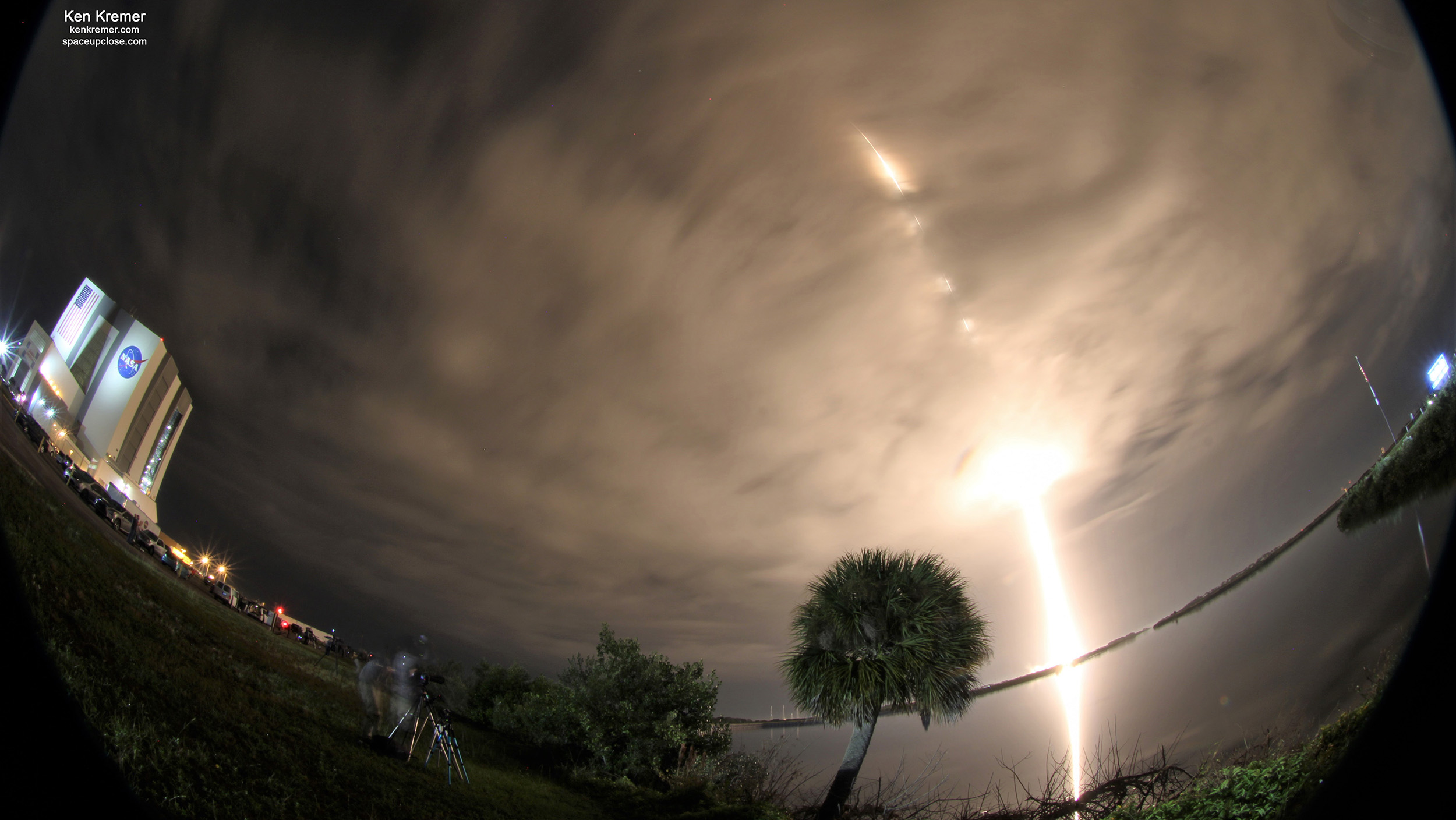 Crew-3 docked at 6:32 p.m. EST (2332 GMT) Thursday, Nov. 11, to the forwrtad Harmony port less than 24 hours after launching from the Kennedy Space Center in Florida.
Unlike the Crew-1 and Crew-2 missions there were no port relocation actions.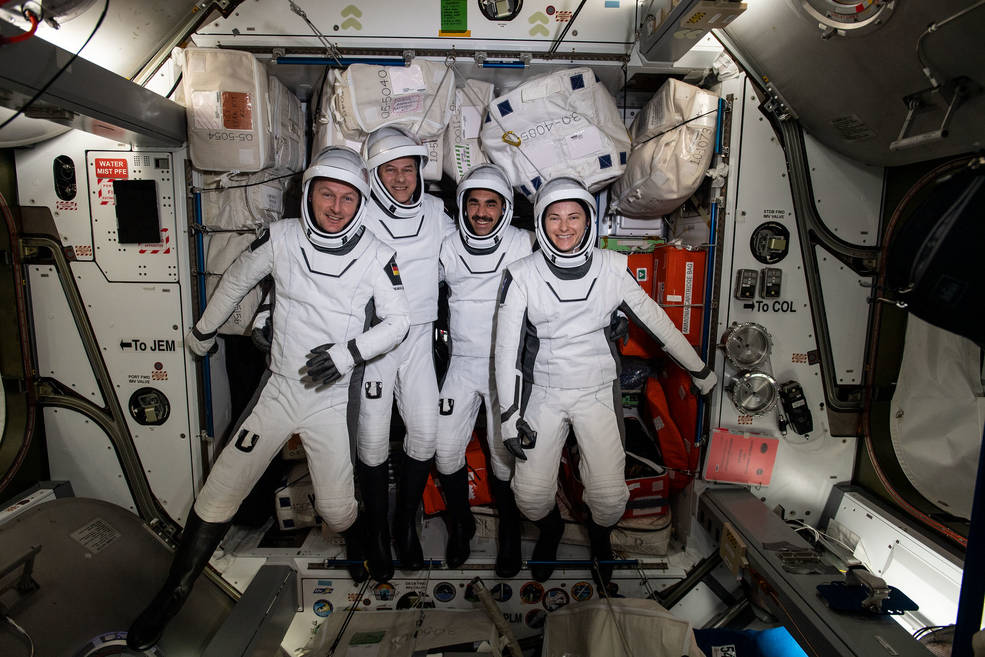 Overall Barron, Chari, Marshburn, and Maurer traveled 75,060,792 miles during their mission, spent 175 days aboard the space station, and completed 2,832 orbits around Earth.
Marshburn has logged 339 days in space over his three flights. The Crew-3 mission was the first spaceflight for Barron, Chari, and Maurer.
From NASA:
Throughout their mission, the Crew-3 astronauts contributed to a host of science and maintenance activities and technology demonstrations. In addition, they conducted three spacewalks to perform station maintenance and upgrades outside the space station. This brought the total number of spacewalks for Marshburn to five, while Chari and Barron have each completed two, and Maurer one.
Crew-3 built on previous work investigating how fibers grow in microgravity, used hydroponic and aeroponic techniques to grow plants without soil or other growth material, captured imagery of their retinas as part of an investigation that could detect eye changes of astronauts in space automatically in the future, and performed a demonstration of technology that provides measurements of biological indicators related to disease and infection, among many other scientific investigations. The astronauts took hundreds of photos of Earth as part of the Crew Earth Observation investigation, one of the longest-running investigations aboard the space station, which helps track natural disasters and changes to our home planet.
Endurance will return to Florida for inspection and processing at SpaceX's Dragon Lair, where teams will examine the spacecraft's data and performance throughout the flight.
….
Watch Ken's commentary about NASA Crew 3 and Crew 4, SpaceX AX-1 mission, NASA SLS WDR demo test, and Starlink
Apr 29: WKMG CBS 6 with my commentary about the record setting Falcon 9 turnaround of 21 days since the Axiom-1 launch
Apr 22: Fox 35 Orlando features my analysis of the busy week ahead in space with weather delayed Earth return of AX-1 crew this weekend, launch of 4 NASA/ESA Crew-4 astronauts on SpaceX Crew Dragon NET Apr 26 & rollback of NASA SLS to VAB for repairs
https://www.fox35orlando.com/video/1060937
Apr 20:  WFTV ABC News Orlando features my commentary about the SpaceX static fire and impact of weather induced delays to departure of Ax-1 and launch of Crew-4.
https://www.wftv.com/news/local/unfavorable-weather-delays-axiom-1-splashdown/JT7VT5AMLZHU7NHAHTAR2265PA/
Apr 15/16 & Apr 12/13:  WFTV ABC News Orlando and WKMG CBS 6 Orlando featured my comments about NASA SLS WDR wet dress rehearsal countdown and fueling demo test and human launches to ISS:
https://www.wftv.com/news/video-small-valve-forcing-nasa-modify-critical-test-artemis-i/83355ff1-ce09-4b83-bbf0-23446b95abf7/
https://www.clickorlando.com/news/local/2022/04/12/nasa-resumes-final-test-before-launch-of-sls-moon-rocket/
Apr 6: WFTV ABC 9 Orlando featured my comments about 1st fully private astronaut launch to ISS by SpaceX on AX-1 mission:https://www.wftv.com/news/local/brevard-county/first-all-private-astronaut-mission-iss-set-liftoff-kennedy-space-center-this-week/FYE5QAT735BA7G42O6IVCJGB4Q/
Apr 4 & 5: WFTV ABC News Orlando and Fox 35 Orlando featured my comments about NASA SLS WDR wet dress rehearsal countdown and fueling demo test and human launches to ISS
https://www.wftv.com/news/local/nasa-artemis-mission-hold-testing-delayed-second-time/L637Y3454VDJPBZRH4RZMM2XRQ/
https://www.fox35orlando.com/news/nasa-resumes-artemis-i-wet-dress-rehearsal-countdown
Watch Ken's continuing reports about SpaceX Crew and Cargo Dragons, SpaceX Axiom-1, Artemis, SLS, Orion and NASA missions, JWST, IXPE, DART, Lucy Asteroid mission, GOES, SpaceX Starlink, Commercial Crew and Starliner and Crew Dragon, Blue Origin and Space Tourism, and onsite for live reporting of upcoming and recent SpaceX and ULA launches including Crew 1 & 2 & 3 & 4, ISS, Solar Orbiter, Mars 2020 Perseverance and Curiosity rovers, NRO spysats and national security missions and more at the Kennedy Space Center and Cape Canaveral Space Force Station.
Stay tuned here for Ken's continuing Earth and Planetary science and human spaceflight news: www.kenkremer.com –www.spaceupclose.com – twitter @ken_kremer – email: ken at kenkremer.com
Dr. Kremer is a research scientist and journalist based in the KSC area, active in outreach and interviewed regularly on TV and radio about space topics.
………….
Ken's photos are for sale and he is available for lectures and outreach events
Please consider supporting Ken's work by purchasing his photos and/or donating at Patreon:
https://www.patreon.com/kenkremer
x