For SpaceUpClose.com & RocketSTEM
CAPE CANAVERAL, FL –  NASA's Perseverance Mars rover has captured dramatic new imagery of the Martian moon Phobos during a solar eclipse as seen from the surface of Mars last month.
The solar eclipse video of potato shaped Phobos was captured as it transited the Sun with Perseverance's zoomable and high resolution mast mounted Mastcam-Z camera on April 2, 2022 or Sol 397 of the mission in Jezero Crater.
The Phobos eclipse lasted a little over 40 seconds – much shorter than a typical solar eclipse involving Earth's Moon, says NASA.
Video Caption: NASA's Perseverance Mars rover used its Mastcam-Z camera to shoot video of Phobos, one of Mars' two moons, eclipsing the Sun. It's the most zoomed-in, highest-frame-rate observation of a Phobos solar eclipse ever taken from the Martian surface.   Credits: NASA/JPL-Caltech/ASU/MSSS/SSI
Phobos, the larger of Mars two moons is also much smaller than Earth's moon by about 157 times.  smaller than Earth's Moon. Mars' other moon, Deimos, is even smaller.
Besides pure beauty, there is also important and useful science to be learned from theses eclipse observations, as well as finely tuning the orbital parameters of the Martian moons.
"These observations can help scientists better understand the moon's orbit and how its gravity pulls on the Martian surface, ultimately shaping the Red Planet's crust and mantle," said NASA.
Further details from NASA:
The images are the latest in a long history of NASA spacecraft capturing solar eclipses on Mars. Back in 2004, the twin NASA rovers Spirit and Opportunity took the first time-lapse photos of Phobos during a solar eclipse. Curiosity continued the trend with videos shot by its Mastcam camera system.
But Perseverance, which landed in February 2021, has provided the most zoomed-in video of a Phobos solar eclipse yet – and at the highest-frame rate ever. That's thanks to Perseverance's next-generation Mastcam-Z camera system, a zoomable upgrade from Curiosity's Mastcam.
"I knew it was going to be good, but I didn't expect it to be this amazing," said Rachel Howson of Malin Space Science Systems in San Diego, one of the Mastcam-Z team members who operates the camera.
Howson noted that although Perseverance first sends lower-resolution thumbnails that offer a glimpse of the images to come, she was stunned by the full-resolution versions: "It feels like a birthday or holiday when they arrive. You know what's coming, but there is still an element of surprise when you get to see the final product."
Color also sets this version of a Phobos solar eclipse apart. Mastcam-Z has a solar filter that acts like sunglasses to reduce light intensity. "You can see details in the shape of Phobos' shadow, like ridges and bumps on the moon's landscape," said Mark Lemmon, a planetary astronomer with the Space Science Institute in Boulder, Colorado, who has orchestrated most of the Phobos observations by Mars rovers. "You can also see sunspots. And it's cool that you can see this eclipse exactly as the rover saw it from Mars."
As Phobos circles Mars, its gravity exerts small tidal forces on the Red Planet's interior, slightly deforming rock in the planet's crust and mantle. These forces also slowly change Phobos' orbit. As a result, geophysicists can use those changes to better understand how pliable the interior of Mars is, revealing more about the materials within the crust and mantle.
Scientists already know that Phobos is doomed: The moon is getting closer to the Martian surface and is destined to crash into the planet in tens of millions of years. But eclipse observations from the surface of Mars over the last two decades have also allowed scientists to refine their understanding of Phobos' slow death spiral….
Perseverance recently marked its 1 year landiversery' on Mars in February 2022
My Perseverance Mars rover mosaic titled 'Perseverance Sol 354' was published on Astronomy Picture of the Day (APOD) on Feb. 25, 2022 which I created to celebrate the first 'landiversary' of the six wheeled robot since touching down on the Red Planet one year ago, on Feb. 18, 2021 along with the first Martian helicopter her cohort Ingenuity at the Jezero Crater landing site – and is displayed as the lead image above with the APOD explanation caption.
Here is the APOD explanation caption as featured on Feb. 25, 2022 at this link:
https://apod.nasa.gov/apod/ap220225.html
APOD Explanation: This Navcam mosaic from Perseverance looks out over the car-sized rover's deck, across the floor of Jezero crater on Mars. Frames used to construct the mosaic view were captured on mission sol 354. That corresponds to Earth calendar date February 17, 2022, nearly one Earth year after the rover's landing. With a mass of over 1,000 kilograms, six-wheeled Perseverance is the heaviest rover to touch down on Mars. During its first year of exploration the rover has collected six (so far) rock core samples for later return to planet Earth, served as the base station for Ingenuity, the first helicopter on Mars, and tested MOXIE (Mars Oxygen In-Situ Resource Utilization Experiment), converting some of the Red Planet's thin, carbon dioxide-rich atmosphere into oxygen.
Credit: NASA/JPL/Ken Kremer/spaceupclose.com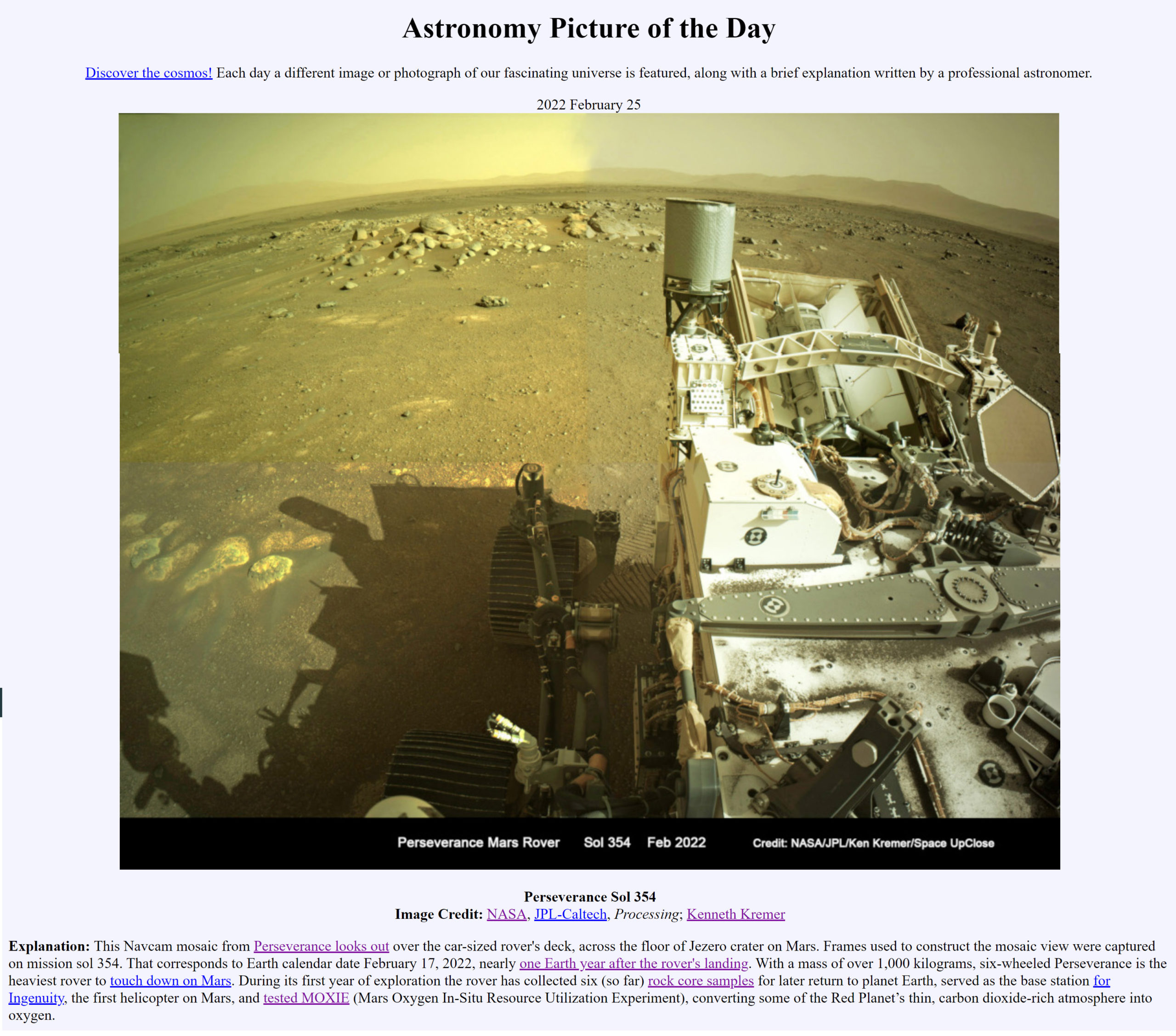 The SUV-sized 1 ton 1,025 kilograms) Perseverance is the heaviest and most technologically advanced emissary from Earth ever to soft land on the 4th rock from the Sun
You can see and experience some of the magnificent vistas visible to Perseverance traversing at her approximate current location, via my four new Mars mosaics image creations included here and stitched together from raw images snapped by Perseverance on Sol 353, 354 and 358 – corresponding to Earth days Feb. 16, 17 and 22, 2022.
Perseverance has made a series of great scientific accomplishments during Year 1 on Mars' with much more in store in the years to come in the continuing journey of exploration and discovery and searching for signs of potential ancient life at Jezero Crater.
The Perseverance rover accomplishments include; collecting the first six rock core samples for return to Earth, serving as a base station for the Ingenuity Mars helicopter she brought along from the Home Planet and deployed to the surface, and carrying out  the first 'in situ' demonstrations to convert Martian atmospheric carbon dioxide into oxygen, and set distance driving records on Mars on the floor of Jezero Crater.
To date Perseverance has gathered and stored six rock core samples that will eventually be transported back to Earth for high powered analysis by the most advanced science and research instruments available – as part of the first leg of the joint NASA-ESA Mars Sample Return (MSR) campaign culminating in the early to mid-2030s.
Perseverance also served as a kind of control station for the Ingenuity Mars helicopter  – the first aircraft to fly on another planet. Ginny has far surpassed expectation flying 19 increasing complex times so far – compared to a goal of merely 5 more simple sorties.
Watch Ken's continuing reports about Mars Perseverance and Curiosity rovers, SpaceX Crew and Cargo Dragons, SpaceX Axiom-1, Artemis, SLS, Orion and NASA missions, JWST, IXPE, DART, Lucy Asteroid mission, GOES, SpaceX Starlink, Commercial Crew and Starliner and Crew Dragon, Blue Origin and Space Tourism, and onsite for live reporting of upcoming and recent SpaceX and ULA launches including Crew 1 & 2 & 3 & 4, ISS, Solar Orbiter, Mars 2020 Perseverance and Curiosity rovers, NRO spysats and national security missions and more at the Kennedy Space Center and Cape Canaveral Space Force Station.
Stay tuned here for Ken's continuing Earth and Planetary science and human spaceflight news: www.kenkremer.com –www.spaceupclose.com – twitter @ken_kremer – email: ken at kenkremer.com
Dr. Kremer is a research scientist and journalist based in the KSC area, active in outreach and interviewed regularly on TV and radio about space topics.
………….
Ken's photos are for sale and he is available for lectures and outreach events
Please consider supporting Ken's work by purchasing his photos and/or donating at Patreon:
https://www.patreon.com/kenkremer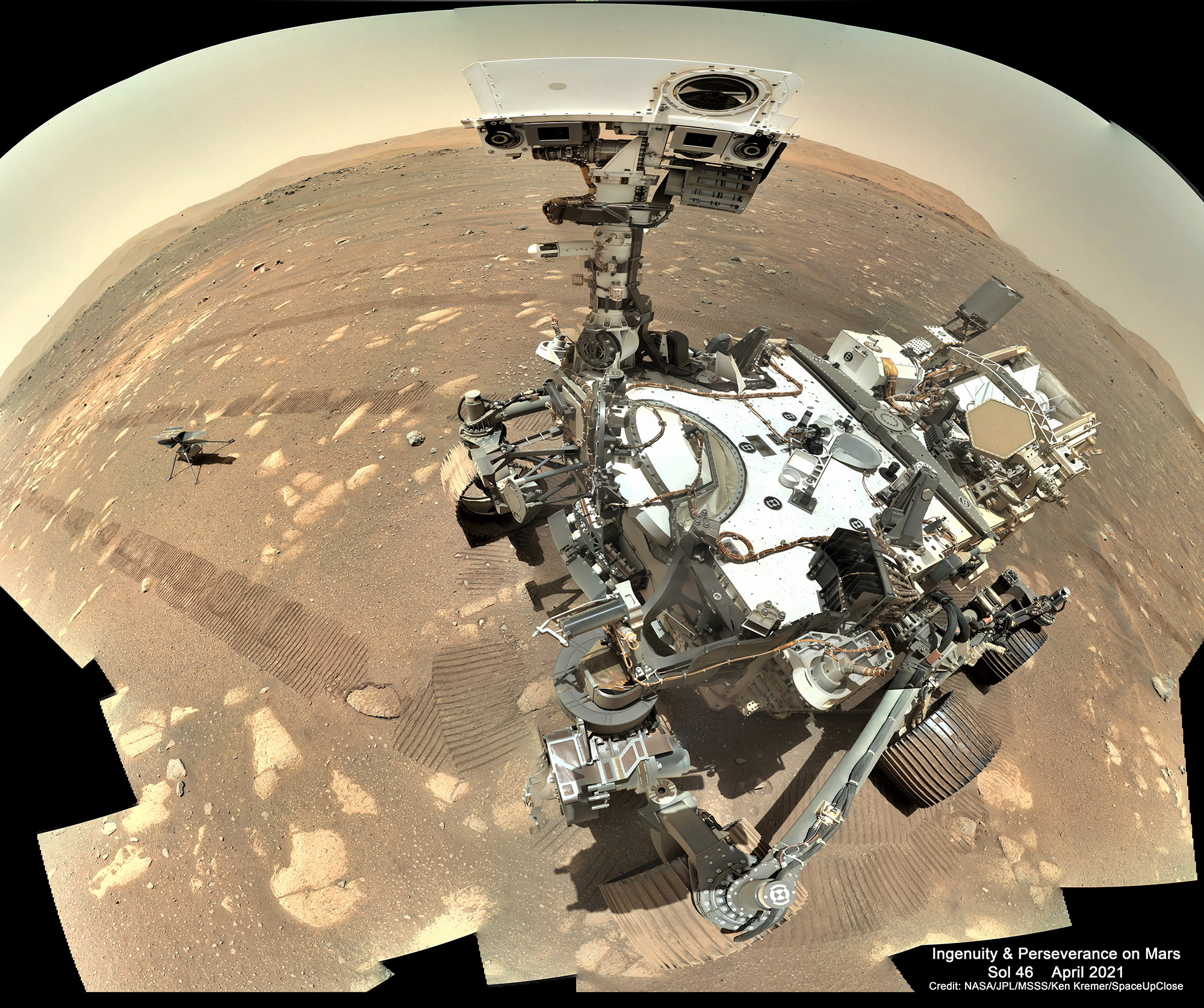 x